Many web hosts claim to offer high-traffic hosting, but few of them have the means to actually provide it.
For instance, your website won't load in less than 1 second during rush hour if your host uses outdated network hardware or software. You need a lot of bandwidth and a web server to match it, like NGINX or LiteSpeed. Imagine working for months or years to increase traffic to your website only to see all that hard work go to waste because of slow loading speeds, poor security, or, even worse, excessive downtime.
Choosing the right web host for traffic-intensive sites will deliver a better user experience.
In turn, this can help
increase visitor count, gain more leads, and generate higher conversion rates. I investigated dozens of web hosts to see if they could handle serious web traffic. I tested and researched everything from web server resources and infrastructure to bandwidth, content delivery networks (CDNs), and additional performance-enhancing features. Many hosts didn't make the cut. These are the ones that did.
In a hurry? These are the best web hosting services for high-traffic sites:
Kamatera – Low-cost, fully customizable cloud hosting that's easy to scale
Liquid Web – Fully-managed cloud hosting that's hassle free
FastComet – Powerful, secure dedicated servers with free backups
What We Look For in the Best Web Hosting for High-Traffic Sites
These are the things I looked for in a web host that can deliver good performance under load:
Server resources. Things like bandwidth, storage space, CPU, and RAM are the foundation of a smooth user experience during peak traffic. I included hosts that primarily offer SSD storage and keep their infrastructure up to date.
Server software. I've only included the web hosts that have software capable of handling intense traffic. These solutions make better use of the server resources you provision, which gives you more value for your purchase.
Data center location. If your servers are in a different part of the world, there's a good chance your content will experience delays on delivery. Being closer to your audience helps deliver optimal user experience.
Scalability. If your hosting environment cannot handle increased capacity, you could lose sales and brand trust when they matter the most. If your site starts getting millions of hits, your host needs to adapt quickly.
Network capacity. Bandwidth is essential for fast-loading websites, and it's one of the main reasons shared hosting plans aren't good if you're getting a lot of traffic. The hosts on this list don't place unreasonable limits on your bandwidth.
Additional features critical to performance. This is where advanced tools, like caching, load balancers, and SSL (TSL) accelerators come into play. Easy access to these can have a significant impact on sites with a high volume of traffic.
If you're looking for an affordable cloud solution that you can get up and running quickly, Kamatera's Express configurations include scalable, up-to-date technology for a bargain.
Kamatera provides excellent bandwidth no matter which package you go with. Regardless of your configuration, the connection is capable of 10Gbs, which will pretty much guarantee your network is never a bottleneck for your website's performance.
See our expert review for full details about how Kamatera performed in our tests
.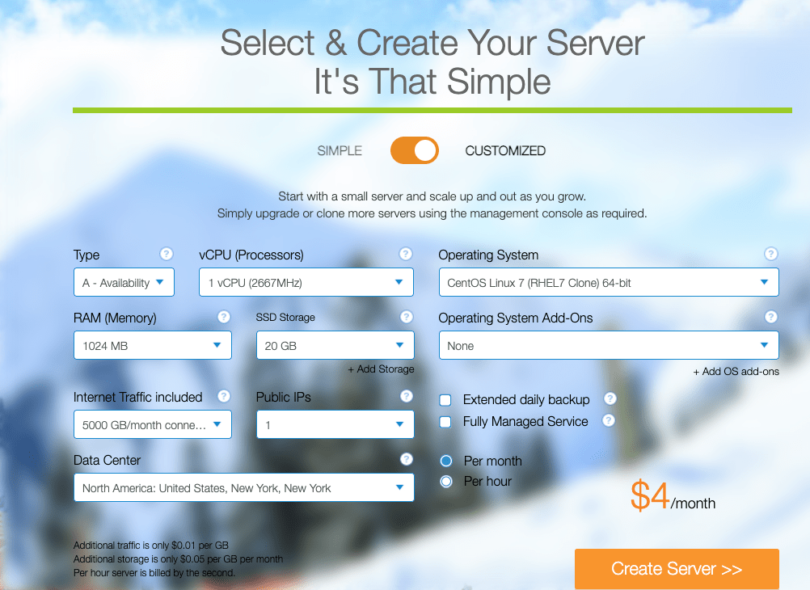 You can opt in for Kamatera's fully managed cloud hosting at any point, and it has a fixed monthly price for each server.
 This is a straightforward and cost-effective pricing model for high-end traffic platforms. With a modern infrastructure that resembles Liquid Web's setups, you can potentially save a lot of money with Kamatera if Liquid Web is too expensive.
That said, Kamatera's global network of data centers is bigger than InterServer's or Liquid Web's.
Features:
Worldwide locations. Kamatera is one of the few international hosting services with data centers in the Middle East. If you want your website to load quickly in this region, this is the company that will help you get results.
State-of-the-art infrastructure. In addition to providing 10Gbs for each virtual machine, Kamatera's servers run on the latest Xeon Platinum processors. These servers are fast.
Affordable managed services. Kamatera's managed services give you a lot of value for your money. Regardless of how massive your server is, the cost is the same. Get help with systems administration, migration, firewall management, and more.
Diagonal scaling. This is a reliable and cost-effective way to scale resources. Kamatera gradually improves each server until it's no longer cost-effective to do so (vertical scaling). Then, it replicates that machine or configuration until your needs are met (horizontal scaling).
Speed Optimizations
Load balancers
Bandwidth
1TB to 5TB
Data Center Locations
North America, Europe, Middle East, Asia
Managed Services
Available for a fixed fee
Starting Price

$

4.00
Liquid Web's high-performance hosting plans are specifically designed to handle millions of daily visitors.
 The host offers some of the best hardware and software configurations that can withstand the pressure of increased load. The reason Liquid Web came in second is its high prices. However, if you don't mind the extra expense, you get a lot of value with its hosting solutions. Don't forget that speed equals revenue.

Liquid Web offers special VPS bundles that include premium business email, a control panel license, 100GB of daily backup, and site remediation.
There are tons of add-ons you can purchase with any cloud, VPS, or dedicated plan. They might seem unnecessary, but things like load balancers, CDNs, or security and compliance solutions are often mandatory for high-traffic websites.
Read more about what Liquid Web offers in our expert review
.
If your site needs additional resources to handle peak traffic times, you can resize Liquid Web's virtual instances on-demand.
 Assign as much CPU, RAM, or storage as you see fit and scale down afterwards.
Features:
Site remediation and protection. This is a fairly new service that better protects Liquid Web's clients against attacks and ensures security compliance (such as PCI and HIPAA). It includes routine security scans as well as antivirus, malware clean-up, and restore services.
Cloudflare firewall plan. This add-on is available on all of Liquid Web's managed plans and is included for free in the VPS bundles. The Cloudflare web application firewall (WAF) provides DDoS mitigation and a series of critical performance optimizations for your website.
Premium business email. Another add-on service included for free in the VPS bundles, the business email service gives you large email inboxes, free and unlimited aliases, webmail chat with mobile-ready applications, and more.
Fully managed environment. An expert team takes care of migration and provides onboarding support. Afterwards, you get round-the-clock infrastructure management. The tech team will even suggest performance and security optimizations where necessary.
Speed Optimizations
Server, browser, and proxy caching; CDN; load balancers
Bandwidth
5TB to 15TB
Data Center Locations
North America and Europe
Managed Services
Included on most plans
Starting Price

$

15.00
If your target audience is in Asia, FastComet is one of the best web hosts for you.
With four data centers in the Asia-Pacific region and another six across the world, FastComet can guarantee excellent performance for any traffic-intensive website.

Like many of the leading web hosting solutions, FastComet has its own control panel, Smart Control.
There's a client area that lets you easily manage multiple websites and another area for performance monitoring. You also have the standard tools included, like domain management.
Its hosting plans are budget-friendly, too
.
FastComet prioritizes web hosting security. First of all,
the team uses Cloudflare to mitigate DNS and DDoS threats. Moreover, FastComet isolates separate accounts, maintains an AI firewall to filter out malicious traffic, and more. Everything is included. Really.
Read more about FastComet (including how it performed in our tests) in our expert review
.
Features:
EPYC security and performance. FastComet switched to the AMD EPYC CPUs for its dedicated servers. These microprocessors provide superior performance and stability for high-volume sites as compared to equivalent Intel products. EPYC processors also have more up-to-date security features.
Open Atrium. Open Atrium is collaboration software that helps connect remote professionals. Team members can securely share knowledge and easily interact on any number of projects. Atrium also lets you optimize things like caching and bandwidth, so that traffic spikes don't slow your website down.
RocketBooster speed optimization. This is a WordPress optimization suite that relies on several forms of caching. It comes free of charge with managed WordPress hosting, as well as with higher-tier cloud plans.
Free backup and restore. FastComet includes daily and weekly backups for your cloud and/or dedicated website. These give you peace of mind if something goes wrong, and you can easily restore them when needed.
Speed Optimizations
Server, proxy, and browser caching
Bandwidth
2TB to 8TB
Data Center Locations
North America, Europe, Asia, Australia
Managed Services
Available
Starting Price

$

2.19
A2 Hosting has a special, high-performance hosting solution available on shared, VPS, and dedicated machines.
A2 calls them Turbo Servers, and there's a more powerful version called Turbo Max, which has additional RAM.

Turbo Servers pretty much guarantee that your high-traffic site runs at optimal speed.
 These machines have more allocated CPU and RAM resources, they're more stable than Apache servers, and they handle connections more efficiently. There are a few drawbacks for developers, such as the fact that you can't run Ruby or Python applications. But if you have a WordPress site, a Magento store, or use any content management system (CMS) that runs on PHP,
A2's
Turbo machines will run your website at impressive speed.
See how A2 Hosting performed when we tested it for our expert review
.
Features:
High-speed network. In addition to 10Gbs throughput, you can enable Cloudflare to benefit from its CDN, SPDY protocol, WAF, and other performance optimizations. A2 also offers ESI integration, which lets you designate portions of your pages to be cached to decrease loading times.
Advanced security for dedicated servers. When you purchase one of A2 Hosting's dedicated servers, you get the Perpetual Security suite, which includes DDoS protection, virus scanning, brute force defense, and more.
Risk-free hosting. You can ask for your money back at any time. If you want to either shut down your site or transfer it to another service, you can get a prorated refund for the remainder of your term.
Quadruple-redundant network. It's not every day that you come across a hosting service with no fewer than three backups for its data centers and network connections. Moreover, the backup hardware offers the same level of performance. 
Speed Optimizations
Server, browser, and proxy caching; Turbo Servers; ESI optimizations
Bandwidth
2TB to 20TB
Data Center Locations
North America, Europe, Asia
Managed Services
Available
Starting Price

$

2.99
InterServer offers excellent cloud VPS and dedicated servers to suit all budgets and use-case scenarios.
 Its hardware is built to handle intense web traffic, so traffic spikes are less likely to result in slow-loading pages or downtime.
You get access to a premium global network via InterServer's Tier 1 IP transit providers. This means your high-traffic site will perform well not only in the US but on a global scale.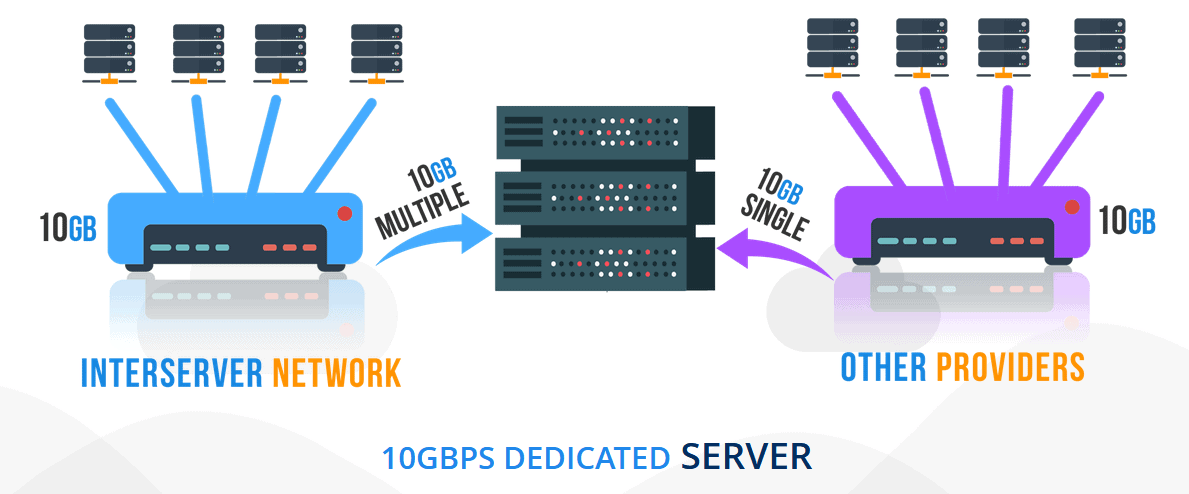 Depending on your budget, you can opt for cloud VPS hosting or dedicated, rapid-deploy servers from InterServer.
The network's throughput is clearly specified no matter what type of hosting you buy, making it easier for you to provision and estimate costs for your web hosting. InterServer's dedicated solutions let you upgrade your bandwidth separately, which is an excellent, cost-effective way of improving your hosting capacity.
If you buy a dedicated server or at least four slices of cloud VPS, InterServer gives you managed hosting free of charge. 
Slices are InterServer's way of simplifying VPS upgrades and downgrades. A slice is basically a bundle of resources: 1 vCPU core, 2GB RAM, 30GB SSD storage, and 1TB data transfer.
Read more about InterServer in our expert review
.
Features:
E-commerce ready. If you're looking to enter the e-commerce industry, InterServer has you covered with one-click installations for platforms like PrestaShop, Magento, or AbanteCart. For beginners, this simplifies the process of setting up an online store.
Bring your own server. If you already have a server with a site on it, you can opt for InterServer's managed colocation service. Ship your server to the company's data center in New Jersey and they'll process and plug it in according to your specs.
Remote backup service. Sites with a lot of visitors are more prone to failures than those with less traffic, making backups extra important. InterServer's managed server backups preserve your architecture and let you restore your systems as needed. The company uses Acronis software, which is recognized as a leading data protection solution.
Rapid deploy servers. If you already have a popular website and need a web host to support your growth, you'll be glad to know that InterServer's rapid deploy servers can be up and running for you in less than half an hour.
Speed Optimizations
Server and browser caching, CDN
Bandwidth
1TB to 16TB
Data Center Locations
North America
Managed Services
Included with higher-tier plans
Starting Price

$

2.50
Scala Hosting offers some of the best deals for high-traffic websites because its VPS solutions come with unlimited bandwidth.
 This is a great opportunity for major platforms with hundreds of thousands or even millions of visitors. Plus, it's prices aren't horribly high!
A free domain name is included with some hosting plans from ScalaHosting
Another helpful feature is Scala's proprietary control panel, SPanel.
The dashboard has built-in cyber-security features and makes VPS management much easier. You can add or remove resources for your hosting environment, install high-performance web servers like NGINX, and more.

The downside with Scala Hosting is that live chat support is sometimes more confusing than helpful. However, you can always use the ticketing system to get in touch with real experts.
Find out more about what Scala has to offer in our expert review
.
Features:
SShield Security. This fully automated, AI-based in-house security solution monitors all websites in real time by scanning both files and processes. If there are any threats, you'll receive a detailed report on what was found and what you can do to fix it.
Unmetered bandwidth on VPS. Officially, Scala Hosting's VPS plans are limited to 3TB. Unofficially, support confirmed to me that the limit is not enforced.
SWordPress Manager. If you manage one or more WordPress websites, Scala has a software solution that makes your life easier. What does it do? Everything you can think of, from automatic updates to a security lock, website staging, backups, and more.
Free migration for unlimited websites. Whether you have 1, 10, or 50 websites, Scala Hosting will migrate them all, free of charge. This is a great perk, since dozens of things can go wrong during the transfer of one website, let alone several.
Speed Optimizations
Server caching
Bandwidth
Unmetered
Data Center Locations
North America, Europe
Managed Services
Available
Starting Price

$

20.00
SiteGround is one of the leading choices for WordPress websites
, and
it's recommended by WordPress and WooCommerce.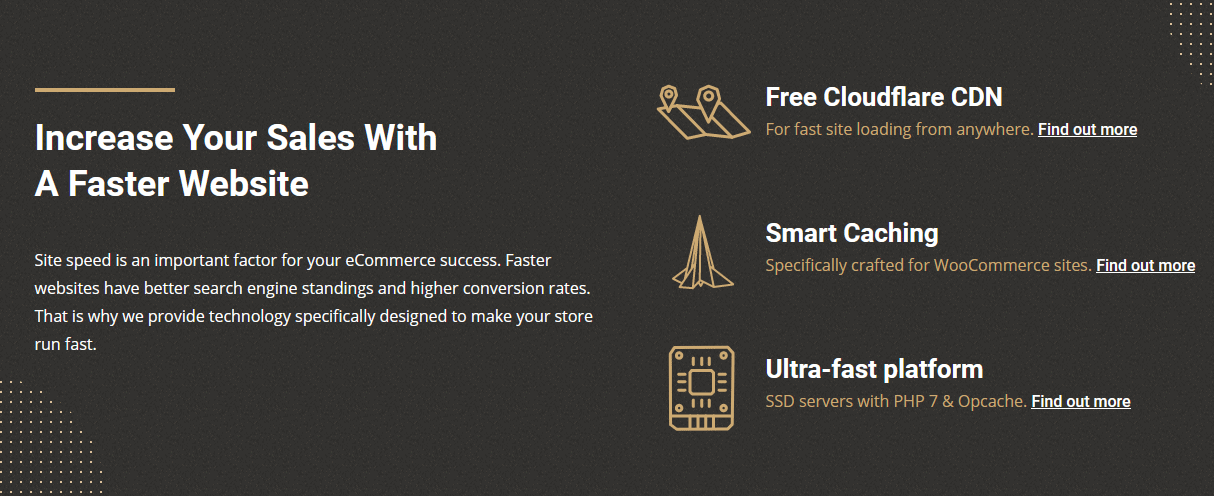 SiteGround's managed cloud hosting offers easy scaling for high-traffic websites.
 You can scale up your server yourself or turn on the auto-scale feature, which will add more resources to your account when they're needed. No unexpected traffic spike will slow your website down.
A free domain name is included with some hosting plans from SiteGround
The service is a little expensive, but you do benefit from a fully managed infrastructure and collaboration tools. Create as many sub-accounts as you need to easily work with systems administrators, developers, or designers.
See what our expert thought of SiteGround in our in-depth review
.
Features:
SG Optimizer. SiteGround developed a WordPress plugin that can significantly improve page loading speeds for your visitors through a series of environment, content, and front-end optimizations.
Google Cloud Platform. You get all the benefits of Google's state-of-the-art cloud infrastructure and none of the drawbacks. A VM can be difficult for beginners to set up, but SiteGround does this for you.
Software stack optimized for high performance. There's custom PHP handling with OPCache, NGINX as a reverse proxy, an in-house caching solution, and more.
Advanced security included. The company's dedicated security team performs real-time server health checks every half a second and constantly improves its security firewall custom rules. There's also an AI system that monitors malicious traffic and prevents threats from ever reaching your site.
Speed Optimizations
Server, browser, and proxy caching; special WordPress plugin; custom web server stack
Bandwidth
5TB
Data Center Locations
North America, Europe, Asia, Australia
Managed Services
Included on cloud plans
Starting Price

$

2.99
Alongside SiteGround, DreamHost is one of the managed WordPress services recommended by the WordPress Foundation.
DreamHost's custom control panel streamlines website management, and you can easily scale RAM resources, create databases, and more.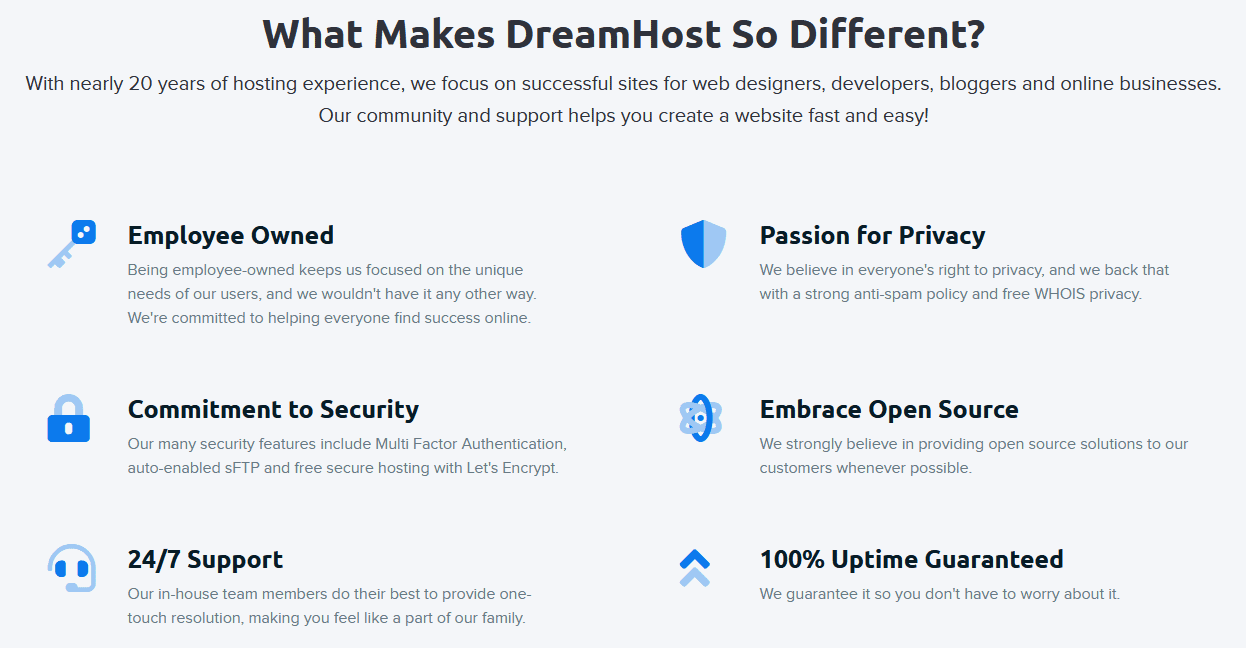 Like Scala, DreamHost is one of the few providers that don't limit bandwidth or traffic on VPS or dedicated hosting plans.
 This is big, especially if your site gets a lot of traffic.
A free domain name is included with some hosting plans from DreamHost
That said, there are some rules in place to prevent abuses. For example, you can't use your hosting account to generate spam or run a file upload or sharing site.
DreamHost's VPS and dedicated machines come with managed services.
Your hosting is maintained, patched, and updated by the company's experts on a regular basis.
You can find out more about hosting your website with DreamHost in our expert review
.
Features:
100% uptime guarantee. This is one of the few hosts that commits to 100% uptime and compensates clients with a days' worth of hosting credit for each hour of unscheduled downtime.
Built-in caching for WordPress. If you run a WordPress website, there's built-in caching you can enable with just a couple of clicks. With a DreamPress plan, caching comes pre-installed and upgraded to the latest version.
Web design services. If you prefer not to create a website yourself and desire a professional-looking one, you have the option to acquire professional web design services from DreamHost. RipeConcepts powers these services, offering solutions tailored to various types of sites and services, encompassing branding, marketing, and more.
Free WHOIS privacy. Newly registered domains with DreamHost benefit from free WHOIS privacy, which keeps people from finding out who owns a domain name and their personal information.
Speed Optimizations
Server, proxy, and browser caching
Bandwidth
Unmetered
Data Center Locations
North America
Managed Services
Available
Price

$

2.95
Which Host Is Right for Your High-Traffic Site?
Hosting a high-traffic site requires you to consider additional requirements. You need to closely examine what each hosting provider offers, including server resources, network capabilities, and web server configuration. You don't want to limit your business' success with a host that just doesn't have what it takes to scale as you grow.
You can't go wrong with InterServer's 10Gbps hosting.
 You also get fully managed services on most plans, so you can rest assured that you won't have to handle the entire burden of maintenance tasks.
If you don't mind the extra cost, Liquid Web's VPS bundles pack a lot of value.
 Between the premium business email, Cloudflare, and the site remediation services, you're getting your money's worth and then some.
Kamatera is an affordable cloud whose main strengths are its servers in the Middle East and Asia-Pacific region.
Few international web hosts can rival Kamatera's coverage in these areas. Still not sure? I've included the main features of each web host for high traffic in the table below:
Standout Feature
Best For
Starting Price
Kamatera
Affordable and highly customizable cloud servers
High-traffic sites in the APAC or Middle East regions

$

4.00

Liquid Web
VPS bundles that include a lot of premium tools and services
High-volume traffic sites that need enterprise-grade resources

$

15.00

FastComet
Powerful control panel and AMD EPYC dedicated servers
Mid- to high-traffic sites

$

2.19

A2 Hosting
High-performance Turbo Servers and ESI content optimizations
Starter websites that might scale to high-traffic web hosting

$

2.99

InterServer
Guaranteed high-capacity deployment with multiple bandwidth options
Mid- to high-traffic sites with frequent traffic spikes

$

2.50

Scala Hosting
Unmetered bandwidth on VPS
Traffic-intensive site owners who want affordable bandwidth

$

20.00

SiteGround
One of the best web hosts for popular WordPress sites
Developers or website owners who work with collaborators

$

2.99

DreamHost
Free WHOIS privacy for newly registered domains
Popular websites with a lot of add-on domains

$

2.95
FAQ
1. Can shared hosting handle a high-traffic website?
Overall, it's unlikely that shared hosting will handle high volumes of traffic consistently. In some cases, shared hosting plans have what it takes to handle a medium to high volume of traffic. This is true especially for the companies that underload shared servers in order to accommodate traffic spikes – like InterServer or A2 Hosting. As a rule, you should go with cloud, VPS, or dedicated solutions for high-traffic websites. The price of an excellent hosting service is far smaller than the cost of a slow-loading website. If you want to try cloud VPS hosting risk-free, you can take advantage of Kamatera's 30-day free trial.
2. Which web hosting provider has the fastest loading speeds?
Page loading speeds depend on many factors, from data center location to server hardware, server software, the network, and more. That said, some hosting providers go the extra mile to ensure that everything is optimized for speed and performance. For example, many hosts use web servers capable of handling intense traffic, like NGINX or LiteSpeed, and they offer add-ons like load balancers or diagonal scaling. To find the web hosts with the fastest speeds, you can check out our list of the best hosting services.
3. Which web hosting provider is best for an e-commerce site?
It depends. A new e-commerce platform has different needs compared to an established store with thousands of daily visitors. If you're looking for a web host where you can start small and keep your costs low to begin with, FastComet is a great choice, especially since you can scale up later on. Another solid choice would be A2 Hosting, which has plans specifically for WooCommerce and Magento. However, if cost is not an issue and you want a plan that can accommodate high-traffic conditions from the start, Liquid Web has end-to-end e-commerce solutions on its managed WordPress hosting plans.
4. Is InterServer a good web hosting provider for high-traffic business sites?
Yes. InterServer has cloud VPS and dedicated servers capable of handling any high-traffic business site. Unlike many companies, InterServer does not overload its machines or network.
5. Is hosting a high-traffic site expensive?
Yes and no. It depends on the load that your site sees on a daily basis. If you have up to 50,000 unique daily visitors, there's a good chance you can get really affordable web hosting, especially from the top hosting providers, such as A2 Hosting or FastComet. But it's another story if your site sees more than 100,000 unique daily visitors or has traffic spikes that might send it beyond 1 million. At this point, the only way to maintain reasonable page loading speeds is by scaling up, which will likely cost more. If you want a great deal on hosting for your high-traffic site, you should definitely check out our coupons page.