Black Friday 2022 is now behind us, but we still have our eyes peeled for special Cyber Monday offers from top recommended web hosting services. Below, you'll find the best web hosting deals that are active right now!
Some of these offers might be extended into December (and possibly beyond), but there are no guarantees. My advice? Take advantage of the discounts while you still can.
In a hurry? These are the best web hosting offers for Black Friday & Cyber Monday 2022:
Remember that these deals are available for a limited time only. And don't worry: We'll continue to update our list on a daily basis. If a new deal comes up, you'll be the first to know!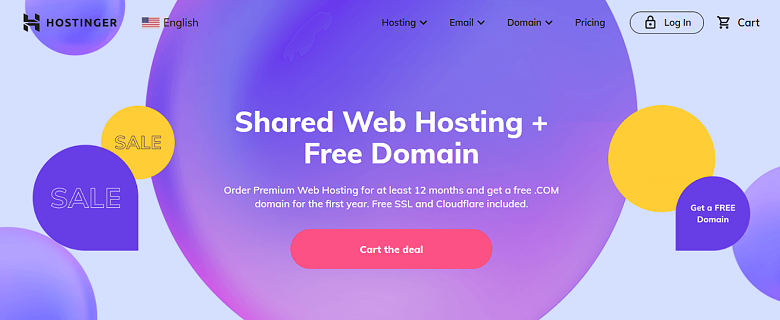 Hostinger has outdone itself in 2022. This Black Friday & Cyber Monday, you can grab the Premium Shared Hosting plan with an 80% discount – and shave another 10% off using our coupon (included below)! If you opt for a yearly subscription, you also get a free domain for your first year.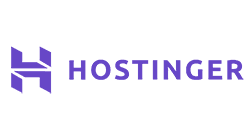 Get an additional 10 % OFF any Hostinger plan!
This special offer applies on top of Hostinger's discounts for annual plans.
63 users used this coupon!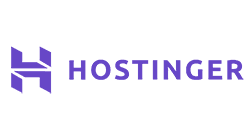 Hostinger-Special Discount for WSP
Copy and paste this code at Hostinger
It's no secret: at Website Planet, we really like Hostinger. That's because Hostinger gives you:
Incredibly cheap, but fast and reliable hosting.
Free SSL certificates on every plan, to protect your users.
Access to optimized servers built on LiteSpeed technology and caching.
Looking for more details? Read our in-depth Hostinger review to see why it's our top recommended host for September 2022.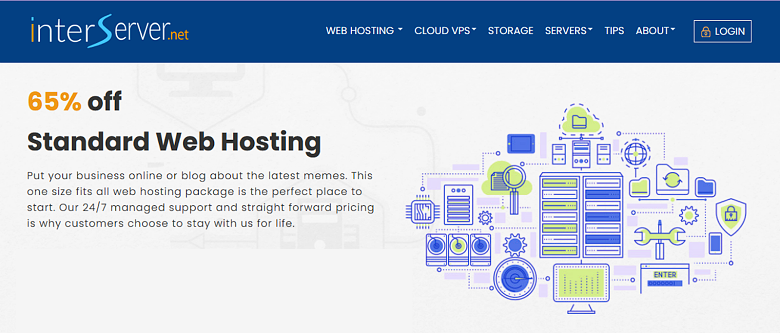 InterServer's Standard Shared Hosting plan is now only $2.50 per month. You'll be hard-pressed to find a cheaper plan with unlimited storage, bandwidth, email, and more. The best thing about it? You only pay $0.01 for your first month of hosting – so you can try the service risk-free.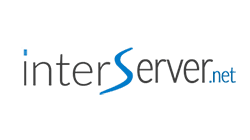 Get your first month of hosting for just $0.01!
Take advantage of this exclusive deal to try out InterServer.
424 users used this coupon!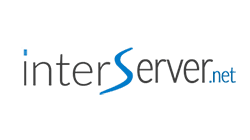 Pay $0.01 for your first month of Web Hosting
Copy and paste this code at InterServer
When we tested InterServer earlier this year, these were the features that stood out:
Affordable pricing for unlimited resources and the ability to host as many websites (with unique domains) as you want.
Fantastic performance with LiteSpeed server tech and Cloudflare CDN.
Excellent security features, including a hack-fix guarantee from InterServer's support team.
Head over to our expert InterServer review for more information.

Nexcess offers fully managed hosting for WordPress, WooCommerce, Magento, and more. Every plan comes with Smart Monitoring, which means that a team of experts will take care of your website's performance and security, while you take care of the rest.
For a limited time, you can pay 75% less on your first four months of hosting with any Nexcess plan. And although Nexcess isn't the cheapest host out there, it does offer:
Fully managed hosting that includes performance and security optimizations for your website.
Built-in website staging, so you can test changes before you publish them to your site.
Several performance monitoring tools that can help you deliver the best possible experience for your customers.
Head over to our in-depth Nexcess review to find out more.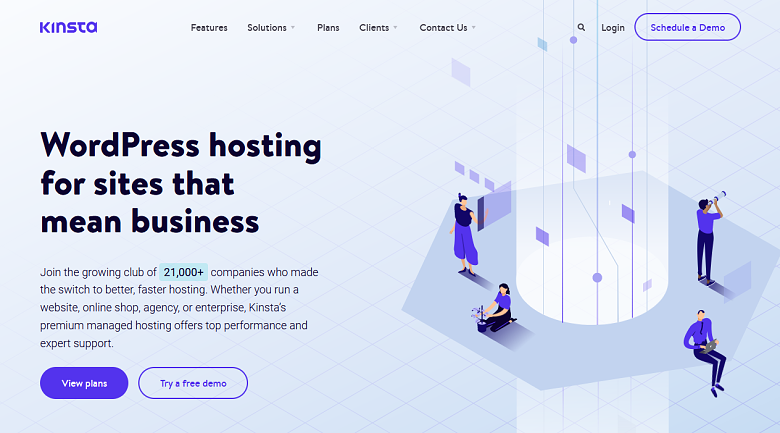 My colleagues can't stop talking about Kinsta, and for good reason. Time and again, it performs exceptionally well in our tests. Yeah, it comes with a premium price tag, but if you want the fastest possible WordPress hosting for your website, Kinsta is the place to get it.
Plus, if you sign up now, your first two months of hosting are free. Included are:
Completely managed WordPress hosting, run by WordPress experts.
Auto-scaling servers that keep your site up under heavy traffic (even Black Friday traffic!).
24 Global data centers (7 in the US), built on Google Cloud for exceptionally fast page loading speeds.
Find out more about Kinsta in our comprehensive review.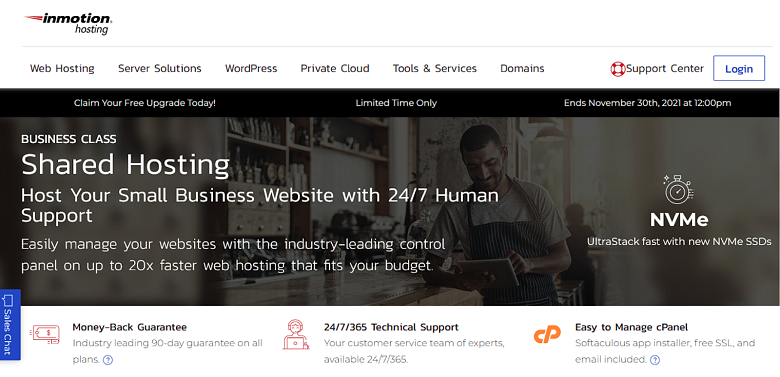 InMotion Hosting's two- and three-year shared hosting plans are up to 60% off throughout September 2022. All plans are backed by a rare 90-day money-back guarantee, so you can take your time to try out the service. If you don't like it, no harm done.
We've tested InMotion Hosting over several months, and we were impressed with its performance. If your audience is in the US, you can expect:
Outstanding loading speeds, guaranteed by InMotion Hosting's UltraStack servers.
Dependable customer support, offered by a US-based team of experts.
A massive knowledge base with updated, super useful guides on everything hosting.
Want to learn more? Check out our expert InMotion Hosting review.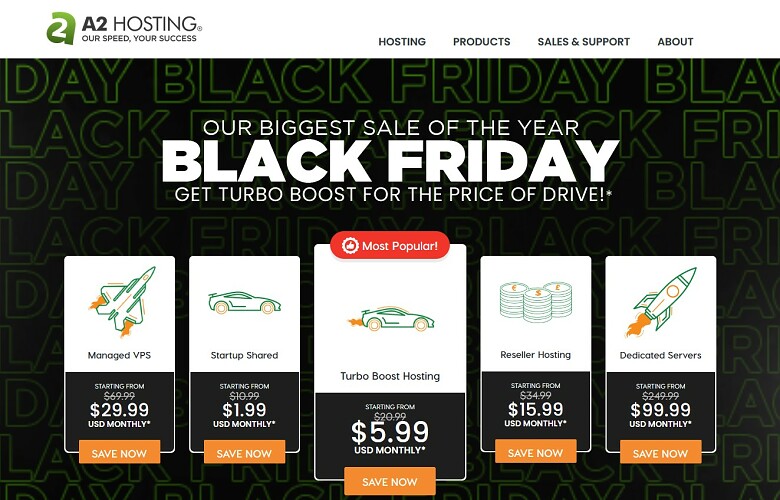 A2 Hosting's Cyber Monday deals are now live! You can grab discounts of up to 81% on shared hosting, up to 60% on WordPress hosting, and up to 57% on managed VPS hosting. All discounts apply to yearly plans only.
Why go with A2 Hosting? I'm glad you asked. According to our tests, this host delivers:
Faster loading times than most shared hosting providers – with the option for Turbo Servers for even faster speeds.
The A2 Optimized plugin for WordPress to speed up your site further.
An anytime money-back guarantee, which makes A2 Hosting risk-free. You can get a pro-rata refund at any time if you're not happy.
To get all the details on A2 Hosting's plans, read our expert A2 Hosting review.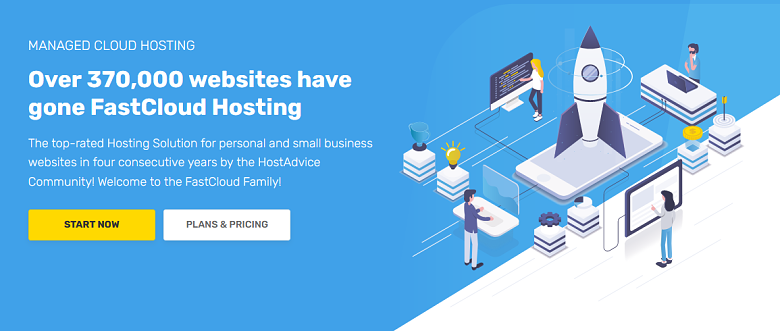 FastComet may not be the fastest host out there, nor does it give you the most features. That said, it's one of the few affordable shared hosting services with servers in Asia and Oceania. If that's the audience you want to reach, FastComet is almost always a better alternative to a local host.
More importantly, FastComet's shared hosting plans are all 65% off this November! Here are some of the things you can expect from this host:
 ModSecurity firewall and security tools to protect your website against hacks.
 Excellent technical support that's staffed 24/7 by true experts.
 4 Servers in Asia and Oceania, making FastComet the best host for reaching visitors in these regions.
Find out more about FastComet in our in-depth review.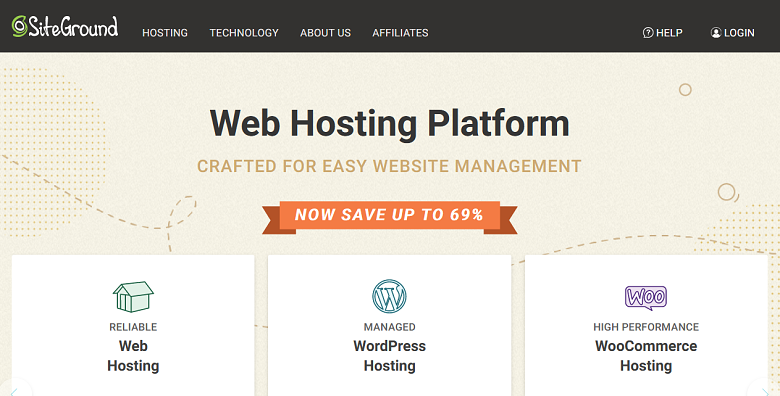 Throughout September 2022, SiteGround's shared hosting (and managed WordPress) plans are all 69% cheaper. This deal is only available for yearly plans, but with a discount so big, I'd say that's a good thing.
If you're looking to host a WordPress website, SiteGround is one of the easiest ways to do it. Regardless of the plan you choose, you'll get:
Access to SiteGround's proprietary, super simple Site Tools control panel, so you can easily manage all aspects of your hosting.
A neat step-by-step website setup wizard that walks you through installing WordPress and creating a basic site.
Plenty of built-in security and performance tools to boost your website.
Read more about SiteGround's shared hosting plans in our expert SiteGround review.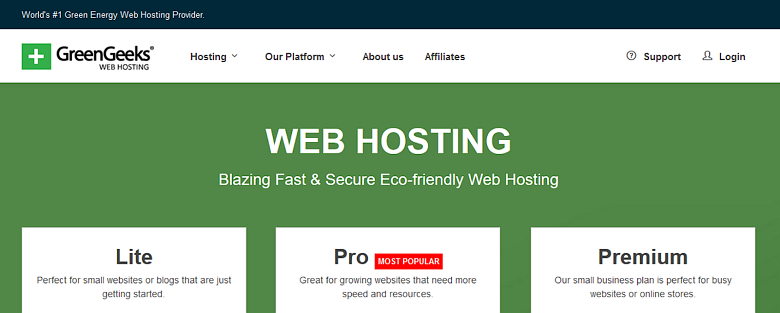 Worried about setting up your very first website? GreenGeeks is your best option if you need a host that'll actually help you get started (and optimize your site). We've tested their customer support repeatedly, and got impeccable service on every occasion.
That's the good news. The great news is that GreenGeeks's Lite and Pro plans are 75% off for Cyber Monday 2022. Go with either plan to get:
Outstanding customer support, staffed by real experts who don't shy away from doing the work for you.
Unlimited bandwidth and plenty of storage space.
Green, eco-friendly hosting that won't increase your carbon footprint.
Get all the details in our expert GreenGeeks review.
The Best Cyber Monday 2022 Deals at a Glance
| | | | |
| --- | --- | --- | --- |
| Provider | Best Deal | Pricing | |
| Hostinger | Shared hosting plans are up to 85% off | $ | |
| InterServer | First month is only $0.01 (99% off) | $ | |
| Nexcess | First four months are 75% cheaper | $$$ | |
| Kinsta | First two months are completely free | $$$ | |
| InMotion Hosting | Shared hosting is up to 60% cheaper | $ | |
| A2 Hosting | Shared hosting is up to 81% cheaper | $$ | |
| FastComet | All shared hosting plans are 65% off | $$ | |
| SiteGround | All shared hosting plans are 69% off | $ | |
| GreenGeeks | Lite and Pro plans are 75% cheaper | $ | |
FAQ
What are Black Friday and Cyber Monday web hosting deals?Black Friday is the day we all worship money… I kid. Mostly. Basically, it's the Friday after Thanksgiving Day in the U.S. For some reason, pretty much every store decided to put pretty much everything on sale that day, and it's become something of an event. Soon, online retailers started joining the party, and now you can get Black Friday discounts on just about everything imaginable – including web hosting, domain names, dedicated servers – and much more! Cyber Monday is the Monday right after Black Friday – when the discounts continue. Some retailers have turned Cyber Monday into Cyber Week, so the deals just keep coming! For us, Black Friday and Cyber Monday represent a chance to help out budding webmasters by pointing them to the best web hosts in 2022, at a time when hosting will be nice and cheap. You can save massively on top recommended hosts, with exclusive deals that are too good to miss.How often will this page be updated with web hosting Black Friday deals?Daily. That's right, we'll be scouring the Internet for the best new deals every single day until the event is over, to make sure you get the cheapest deal you can, at a hosting company you'll like. Is it weird that we like deals that much? No. No, it's not.I don't see a web host I like mentioned, do they not have any deals?Oh, they probably do, and we probably have a link to it. See, listing every deal we've got would make this page about two miles long, and there are better ways to organize that sort of information. If you haven't found what you're looking for here, take a look at our web hosting deals page for the full list of deals. I'm pretty sure you'll find something you like.