many of them start as low as $5
. Yet it can still be tough to identify which creators offer the best value, especially since there are so many to choose from.
Do you have to spend a lot to get high-quality artwork? Or can you get a beautiful watercolor illustration on a small budget?
To find the watercolor artist with the best value,
I hired three skilled creators at low, medium, and high price points
. See which freelancer delivered the best work for the price, and take a look at my list of the top 10 watercolor illustrators.
Hiring 3 Watercolor Illustrators to Test
Fiverr is home to nearly 1,500 watercolor illustration gigs, and they include anything from
$5 portrait sketches
 to
$500 children's books
. To test a wide range of price points, I hired an inexpensive creator for $15, a midrange artist for $45 and an expensive illustrator for $100. For consistency,
I asked all three artists to paint the same thing: a digital portrait of a woman in a flower crown, using their own watercolor style
.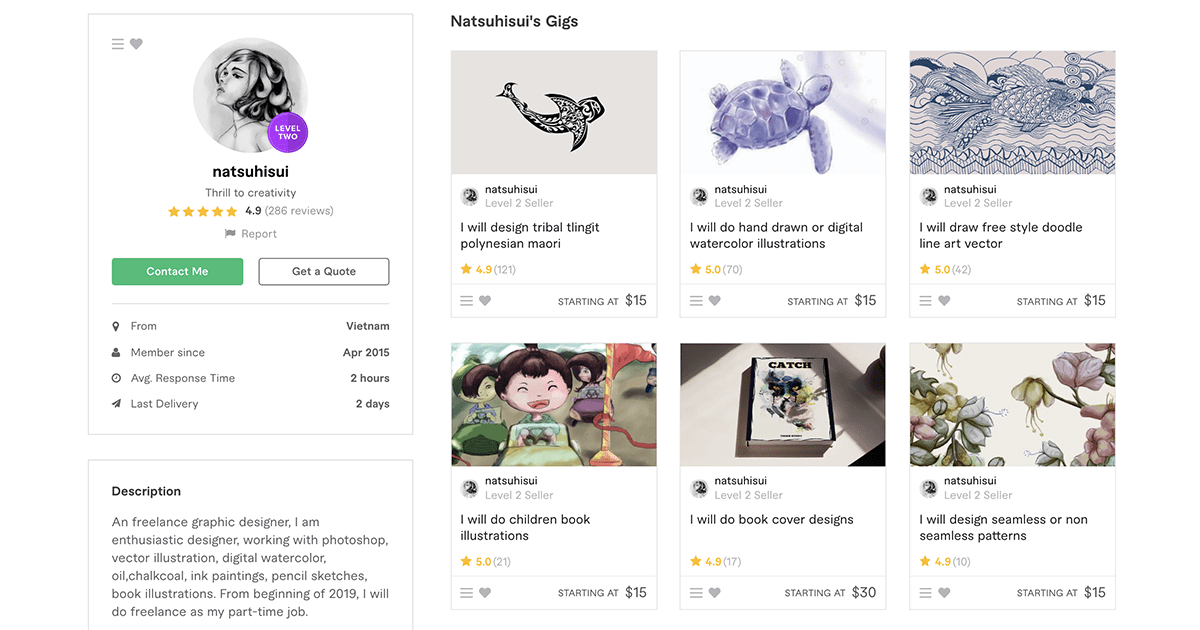 When searching for freelancers to hire, I often prioritize those who have Fiverr credentials.
 I liked that Natsuhisui had Level Two Seller status, which meant she'd delivered at least 50 orders and maintained at least a 4.7-star rating for several months. I also liked the fantasy-inspired style and use of color throughout her portfolio and thought this would work nicely for my brief.
I booked her starter package
, which cost just $15. It included an illustration of a single figure and one revision if needed. The turnaround time was seven days.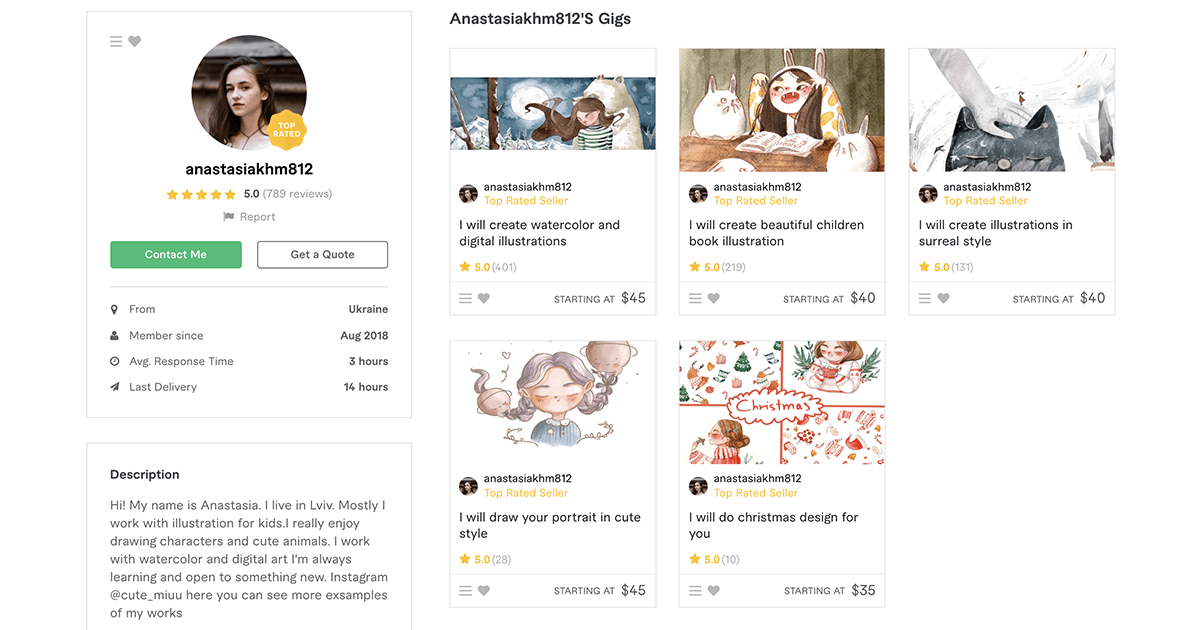 Next, Anastasiakhm812 caught my eye thanks to her Fiverr's Choice label and Top Rated Seller credential.
 The latter is an elite status for freelancers who have delivered over 100 orders and earned at least $20,000 via Fiverr, which is no small feat. Anastasia also had almost 800 reviews and a five-star rating, which made hiring her an obvious choice.
I purchased the basic $45 watercolor drawing gig
. It included a few extras that the cheaper artist didn't offer, such as a source file, a commercial use license, and up to three revisions which I felt could be worth the month. Once again, the deadline was seven days.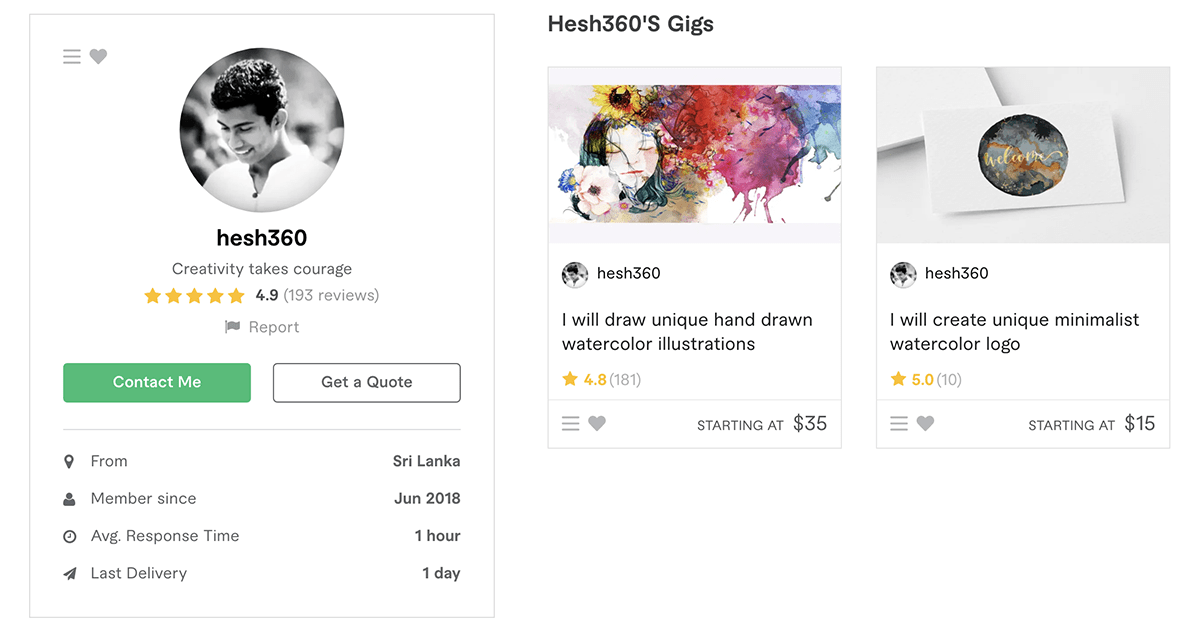 Finally, Hesh360's 4.9-star rating and eye-catching style grabbed my interest.
Although he had fewer reviews and none of the Fiverr credentials of the less expensive creators, I thought Heshan's dreamy style would be a nice fit for this project. Plus, I wanted to see if it would really be worth spending extra for a watercolor illustration.
I bought his premium $100 gig, which included a commercial use license. Like the other two, the turnaround time for this project was seven days.
My Experience Working With These Fiverr Freelancers
Before placing any orders, I messaged each creator with a short brief. All responded within 10 minutes, which got the project off to an efficient start. Here's what happened next:
To get started, the least expensive creator (Natsuhisui) asked for a reference image and a short description of what I wanted the illustration to include. Then she confirmed the order and told me I could expect a draft in a few days. I liked that she provided a timeline, and I was happy to learn that I could offer input before receiving the final illustration.
The midrange artist (Anastasia) requested reference images and asked what style I wanted, so I sent a screenshot of a drawing from her portfolio along with my photos. She also asked what size I wanted and sent a quick sketch to confirm that it would be in portrait orientation.
The most expensive illustrator (Heshan) kept the onboarding process short and sweet. He simply asked me to describe the project and provide some images that reflected the concept.
Comparing the Final Results
All of the watercolor illustrations were lovely and arrived on time, some faster than others. While all of the pieces were high-quality and showed a lot of skill, it was easy to choose a favorite.
The $15 Watercolor Illustration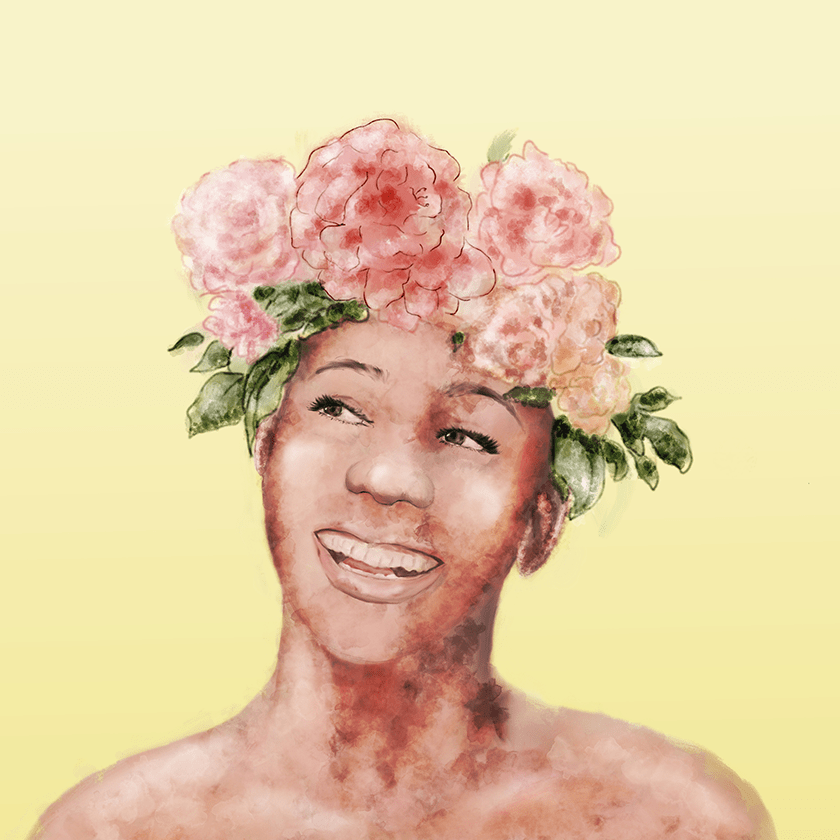 About two days after confirming my order, Natsuhisui sent the first draft of the illustration. The drawing was already nearly complete, so this check-in was a great opportunity to request changes without using up my one revision. I asked the artist to change the background color, and she sent me a few different options about 12 hours later. I chose the color that looked best, and she delivered the high-resolution file.
The project took three days to complete, making it the fastest of these tests. If I wanted a realistic watercolor illustration, I wouldn't hesitate to hire her artist again.
The $45 Watercolor Illustration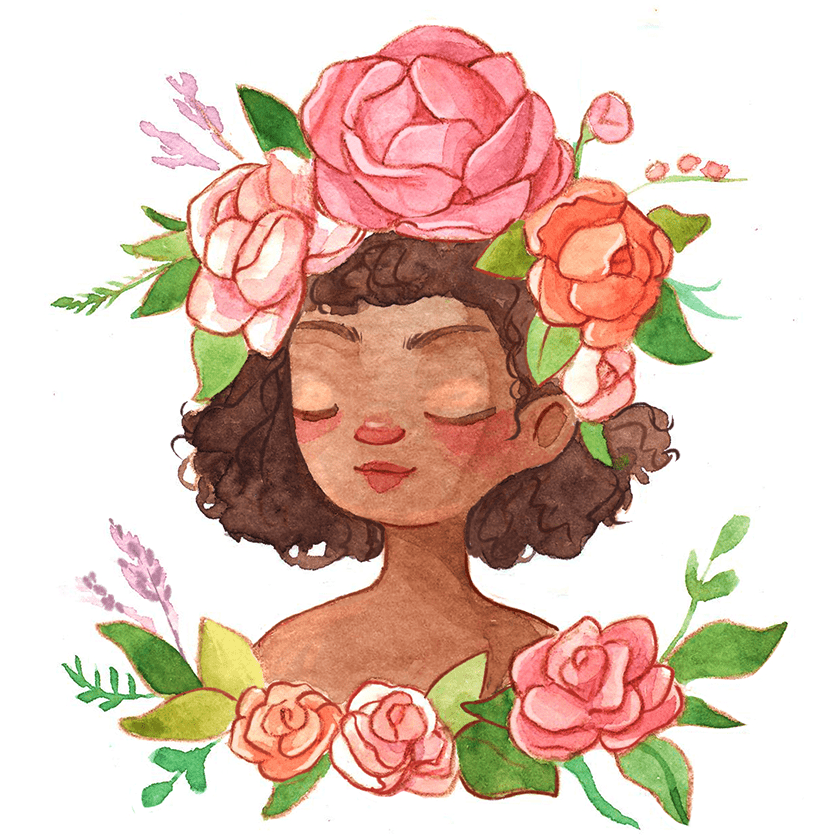 Four days after I placed my order, Anastasiakhm812 sent me a line drawing of the portrait. I approved the sketch, and we messaged about which color scheme to include in the final illustration. Again, I appreciated that this was an excellent opportunity for me to offer input without having to go through the revision process. Two days later, I received the final version, including all the details we'd discussed. The project took about six days to complete, which means it was finished about a day ahead of schedule, which is always a bonus.
Although this watercolor is certainly less realistic than the $15 option, it's a lovely example of the artist's whimsical style. I'd definitely hire her again, as she was the easiest to work with and the most receptive to my input.
The $100 Watercolor Illustration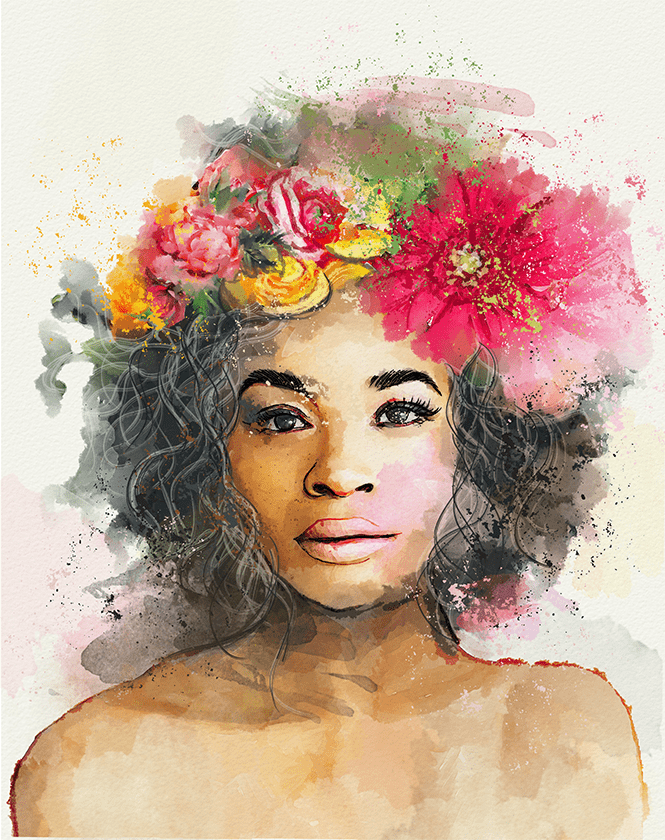 I didn't receive a sketch from Hesh360, so I was especially curious how the final product would look and a little skeptical considering I was investing a lot more money. I received this illustration right at the end of the seven-day deadline, so it took the longest to complete, again slightly risky if I hadn't liked the end result and needed revisions. Fortunately, I think it was worth the wait.
Although it's a digital illustration, it still has the distinctive watercolor look along with some interesting textures from the splashes of metallic paint and scratchy lines.
Because of its standout style and eye-catching details, this artwork is my favorite of the three.
Ultimately, you can get lovely watercolor artwork on Fiverr, even on a small budget.
 The $15 creator's illustration would work well for digital or print purposes, and it was finished the fastest, which added to the overall value. If you have a bigger budget and want a specific style, it could make sense to spend more. I love the Heshan's masterpiece, but it's also pretty subjective when it comes illustrations so I'd let you decide.
I'd personally recommend purchasing a more expensive gig from an artist whose style you especially liked.
In this case though, paying a premium didn't get me the piece any quicker, but some Fiverr sellers offer add-on services for super speedy delivery .
Hiring a Freelancer for Watercolor Illustration on Fiverr
In my experience, Fiverr is the ideal place to find freelance artists and there's a clear reason why it tops the list of the
best freelance websites in 2023
. It's super easy to use and scored an impressive
4.9
out of 5 in our
Fiverr review
. Long story short though, here are some of my top reasons for using this online marketplace:
Experienced creators: Fiverr doesn't require all sellers to go through a vetting process, so the platform does have its fair share of newer creators. However, it's easy to find a professional with the qualifications you want. You can look for Verified Pros – whom Fiverr does vet – or Top Rated Sellers. Alternatively, you can check a freelancer's profile to learn about their experience and browse their portfolio.
Wide range of price points: Pricing for Fiverr gigs spans a huge spectrum. Gigs can cost as little as $5 and over $1,000. Whether you want to test out the platform with a small, inexpensive task or you're ready to invest in a major project, Fiverr has the right gig for your budget.
Personalized offers: Most of the time, I find a gig that offers all the features I require at a budget-friendly price. However, when I desire additional services, such as a shorter project timeline or a more intricate illustration, I promptly approach the freelancer I intend to hire. Many Fiverr freelancers are eager to accommodate such requests and will gladly provide customized offers tailored to your specific needs.
The 10 Best Watercolor Artists in 2023
I searched far and wide to find the best watercolor artists, and
my top choice is
Heshan
 because of his beautiful artwork and attention to detail. Hire him for your next project or find a new favorite in my list of the top 10 best watercolor illustrators:
FAQ
Can I get a cheap watercolor illustration on Fiverr?
You can absolutely get inexpensive watercolor artwork via Fiverr. Pricing for Fiverr gigs starts at $5, so you can hire an artist even on a small budget.
Do more expensive Fiverr sellers produce better quality work?
It's natural to assume that if you spend more, you'll receive better quality work. However, that assumption isn't always true. While my favorite result was from the most expensive creator in this experiment, I really liked working with the midrange ($45) artist. My colleague preferred the inexpensive ($5) creator they hired in our Fiverr logo design review.
When do you pay for a Fiverr gig?
Fiverr charges you as soon as you confirm your order, and the platform accepts PayPal and major credit cards. After you pay for the gig, Fiverr freezes the funds for up to 14 days. Once this timeline expires, the seller you hired receives their payment.
Is Fiverr easy to use?
Using Fiverr is easy, even if you don't know exactly what you're looking for. We gave it 4.9 out of 5 in our Fiverr review for its ease of ease, value for money and range of features. You can click through the main categories to browse marketing, design, or programming gigs, or you can search for more unusual topics like celebrity impersonators. When you find the right gig, you can purchase it with a few clicks.
Which is better – Fiverr or Upwork?
Fiverr and Upwork are two of the biggest platforms for finding freelancers. However, I think when we compared Fiverr vs Upwork, Fiverr came out on top because its gig-based interface is ideal when hiring freelancers for one-time jobs. Fiverr's visual focus makes it ideal for creative projects, and it offers gigs for every budget, from $5 to $1,500.