I've tracked down the best restaurant templates available for WordPress as well as the leading website builders.
If you want an entirely unique template, jump ahead to discover how you can
get a great custom template for a low price
.
WordPress Themes
Rosa
is one of
ThemeForest's
most distinctive WordPress themes for restaurants. Its champagne and shark-gray color palette communicates class and elegance. And its typography is a chic combination of formal and cursive fonts, which together create a sense of exclusivity and make it
ideal for high-end restaurants
. The parallax scrolling draws you in, and there's a great balance of images and text to display your menu offerings while telling your restaurant's story. The theme features an intuitive online reservation system, a blog to keep your customers informed of upcoming events, an online menu, and an ordering system to serve your customers through delivery.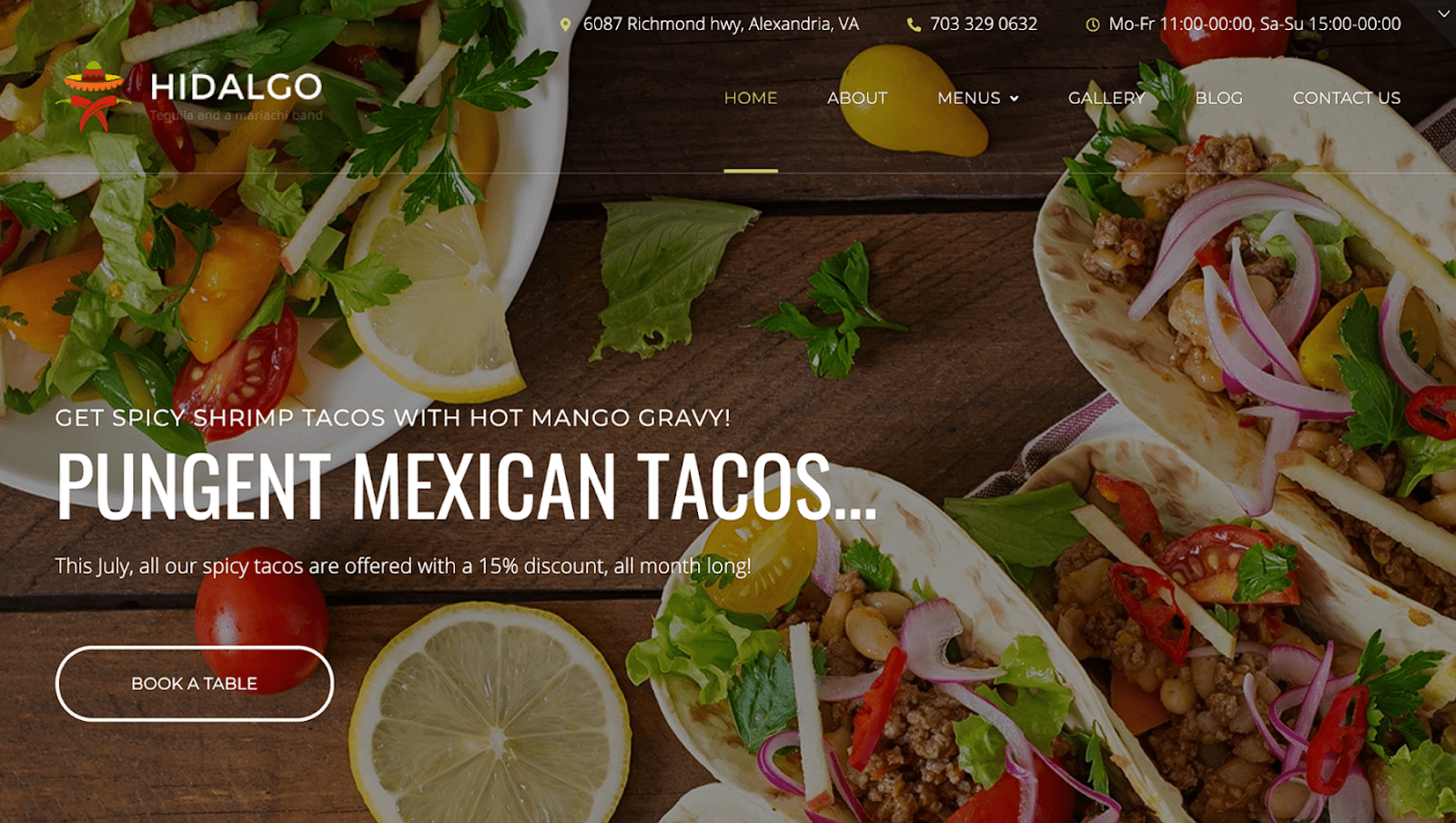 Hidalgo
is available from
TemplateMonster
, and it seems to have one goal in mind: to get your customers salivating. It prioritizes food images over text and, combined with its chartreuse and gray on white color scheme, channels thoughts of guacamole and savory burritos.
Because Hidalgo includes bigger product grids to visually display a lot of menu items, it's great for restaurants with a large menu.
 Think carne asada tacos rather than steak, tapas rather than duck a l'orange. It features a gallery to showcase your food and give potential visitors a feel for your restaurant's interior; a blog to keep your guests informed about upcoming specials and events; a video section on the About page to tell your restaurant's story; and slide-in visuals to keep your customers engaged.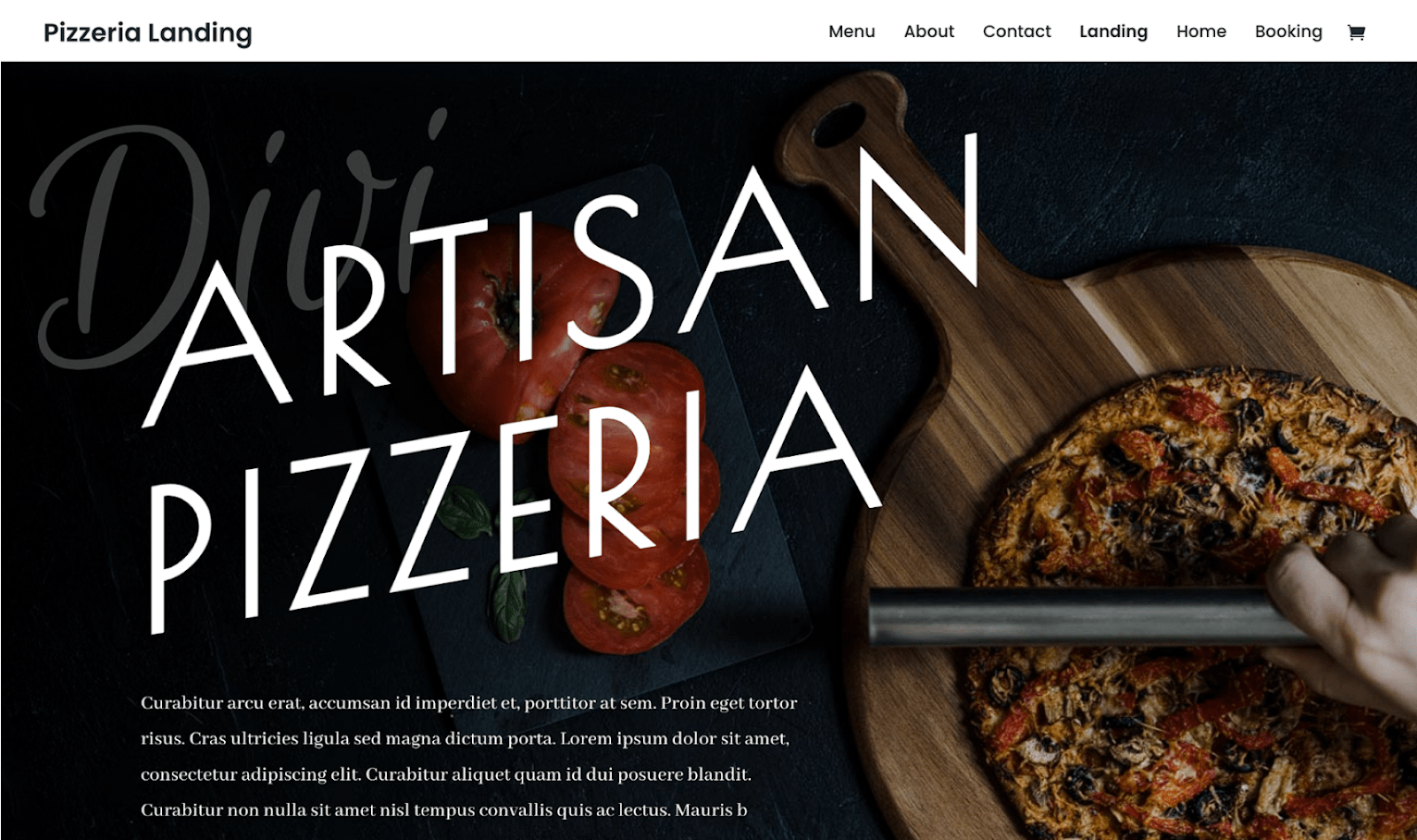 Divi
is Elegant Themes's drag-and-drop website builder for WordPress. Its themes are called "layout packs" and it has more than 200 to choose from. Each layout pack includes several layouts – think of these as pages.
Pizzeria
is a beautiful layout pack for restaurants from Divi.
Its interactive visuals combine with modern fonts to create a trendy, contemporary aesthetic.
 Its default color palette is a mix of charcoal gray, orange, white, and goldenrod, which is easy on the eye and conjures up images of tomato sauce and cheese. While this layout pack was clearly designed with the independent pizzeria in mind, it can be customized to suit any restaurant that wants an eye-catching and interactive site for its customers. Its layouts include an online menu, an About page with a video section, a Contact page, online ordering and reservations, and a landing page – complete with a teaser menu, parallax scrolling, and scroll-responsive animations.
Website Builder Templates
If you haven't started building your website yet, you might want to consider using a popular website builder rather than WordPress. Why?
Website builders have easy-to-use drag-and-drop editors, so you don't need any tech experience or coding knowledge.
This means building your site will take less of your time so you can focus on promoting your restaurant. Website builder templates are very easy to customize so that the layouts, fonts, colors, images, and features can be perfectly suited to your restaurant.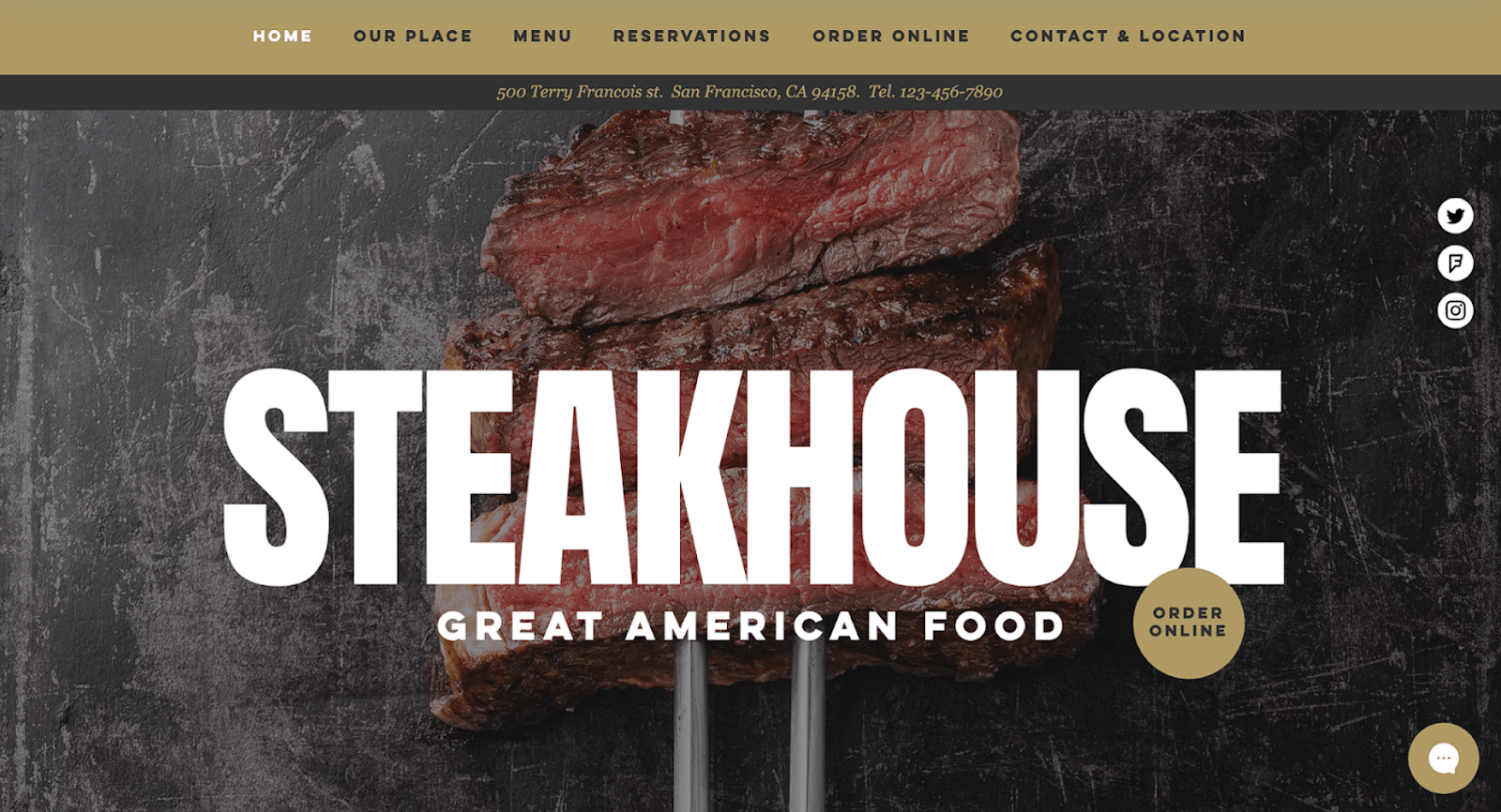 This option from
Wix's extensive template gallery
 is great because it doesn't place flashy design over function, yet it's very visually satisfying and easy to navigate. Its default teak, gray, white, and tobacco-brown color scheme, combined with its illustrated background imagery, creates a rustic, homey feel. The simple, no-frills fonts are bold and easy to read, conveying a direct and matter-of-fact attitude that's perfect for highlighting specials and upcoming events. The template features parallax scrolling, online reservations and ordering, and a large image gallery to showcase your restaurant's distinct vibe to would-be guests. All of this, combined with its built-in chat feature, creates
a down-to-earth template that aims to show your guests that their comfort and satisfaction is your top priority
 – making it great for homestyle restaurants with a flair for after-dinner cocktails.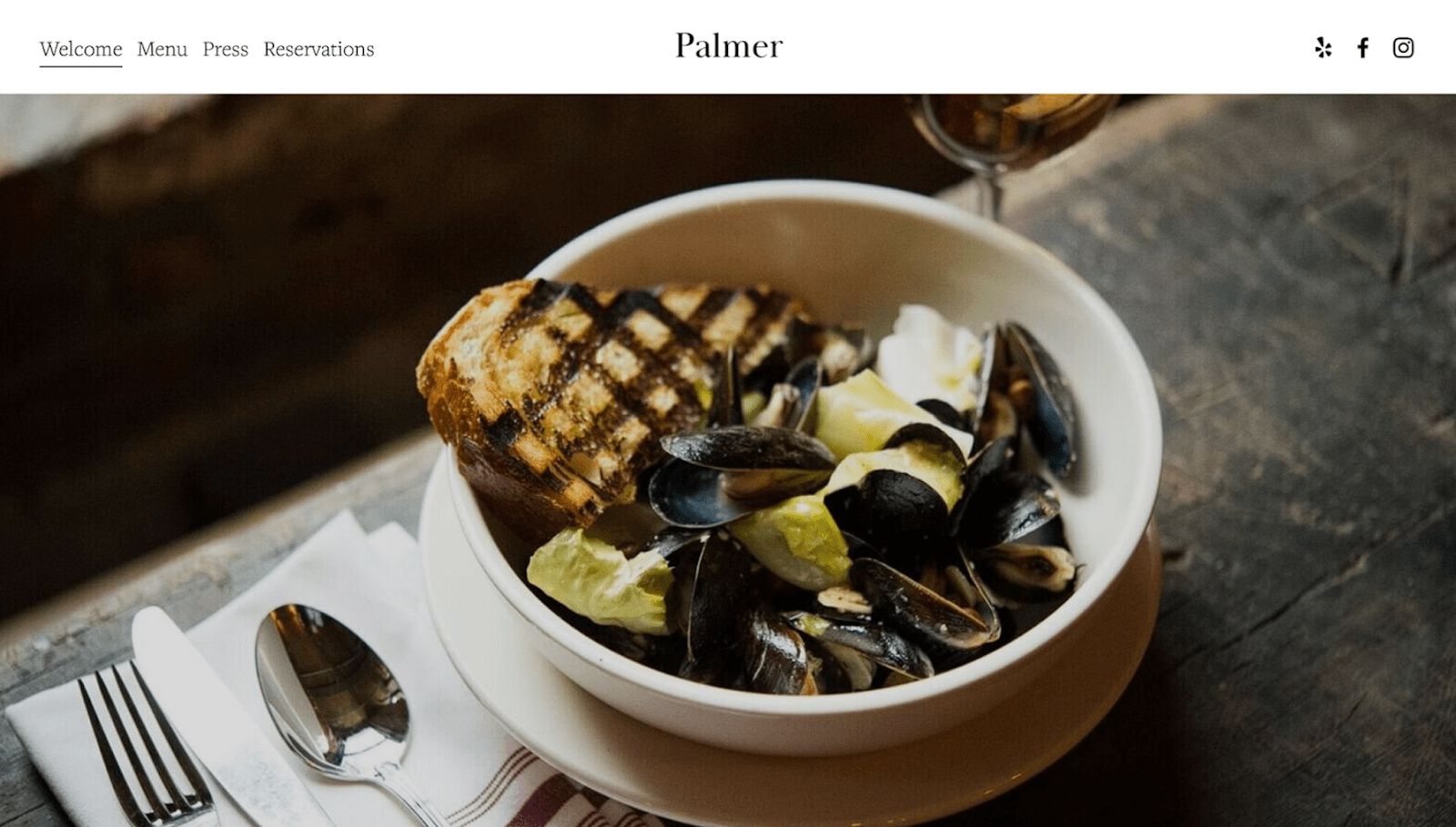 Palmer
 is a stylish and minimalistic
template from Squarespace
 that showcases your distinctive menu. Its default fonts are traditional, imparting a trustworthy and reliable vibe. It features a Menu page, a Press page to show off your media mentions, and a built-in, easy-to-use online reservation system. The homepage includes a teaser menu, a testimonials section, and a large, asymmetric image gallery so that you can display your tempting food offerings while conveying your restaurant's original feel to your visitors.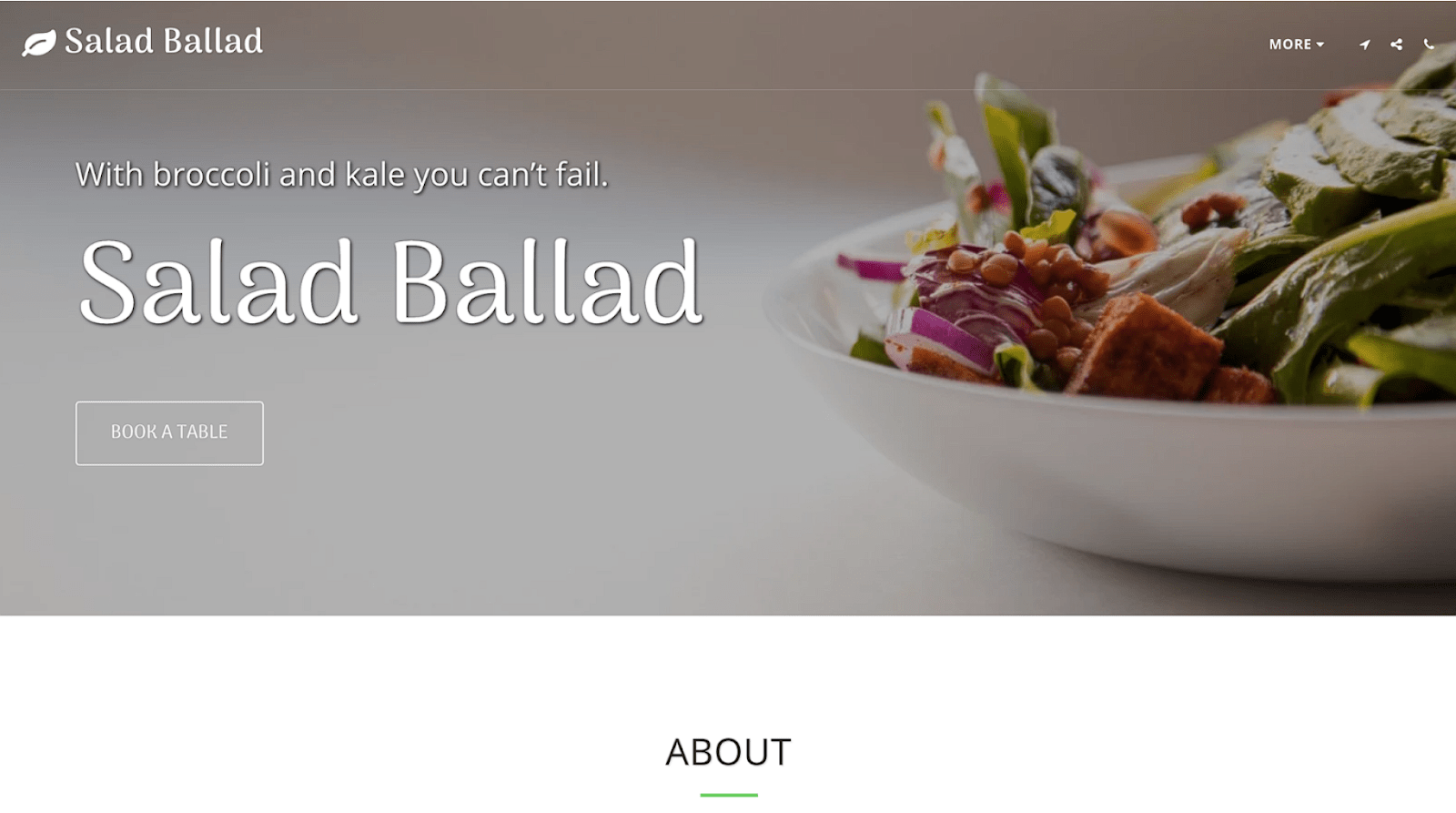 Salad Ballad
from
SITE123's template gallery
comes with a default gray, white, and green color palette that imparts
freshness, health, and vitality
. The font is trendy but mature, and the typography is easy to read against the white background. The template also has a great balance of text and images. It's a highly responsive one-page template that includes a "quick view" feature of your restaurant's vital information.
This means that it opens a window on the landing page instead of taking you to another page, which can be slower.
Salad Ballad
has a video section above the contact form. This allows you to highlight your dine-in experience or how your food is prepared. Your menu is beautifully displayed, and accepting reservations is easy with the built-in reservation form.
How to Get a Custom Template for a Great Price
Your restaurant is unique, and a custom-made template is one way to reflect that. Customizing an existing template can be time-consuming, so you may want to instead create a template from scratch that meets your specific needs. Thankfully, this option doesn't have to break the bank.
My go-to site for great freelance designers at low prices is Fiverr.
 I searched for the best website template designers on Fiverr, and here's what I found:
Silentart
designs websites with a professional, polished look. The designer has a lot of UX experience and a colorful aesthetic that would be well-suited to a restaurant site.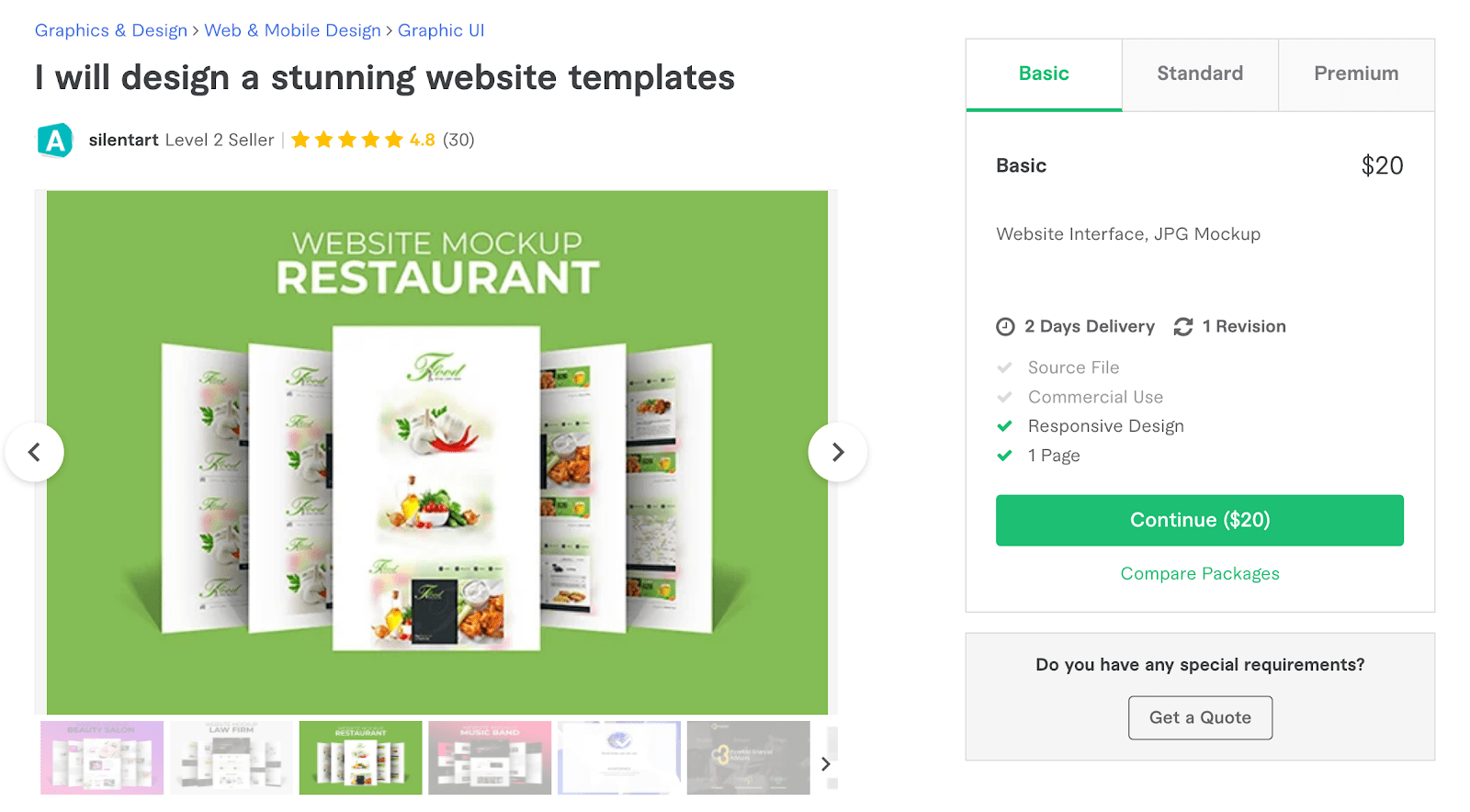 For a restaurant template, you'll likely want Silentart's Premium package, which includes a fully responsive template with a gallery, blog, About page, Contact page, and a Google Maps section to show your location. This package is delivered within five days, includes up to nine revisions, and is a very reasonable price. If you want an even more affordable designer, consider
Zavyaar
. He is an experienced UI/UX designer and WordPress developer who builds fully responsive templates and, according to his reviews, delivers on time.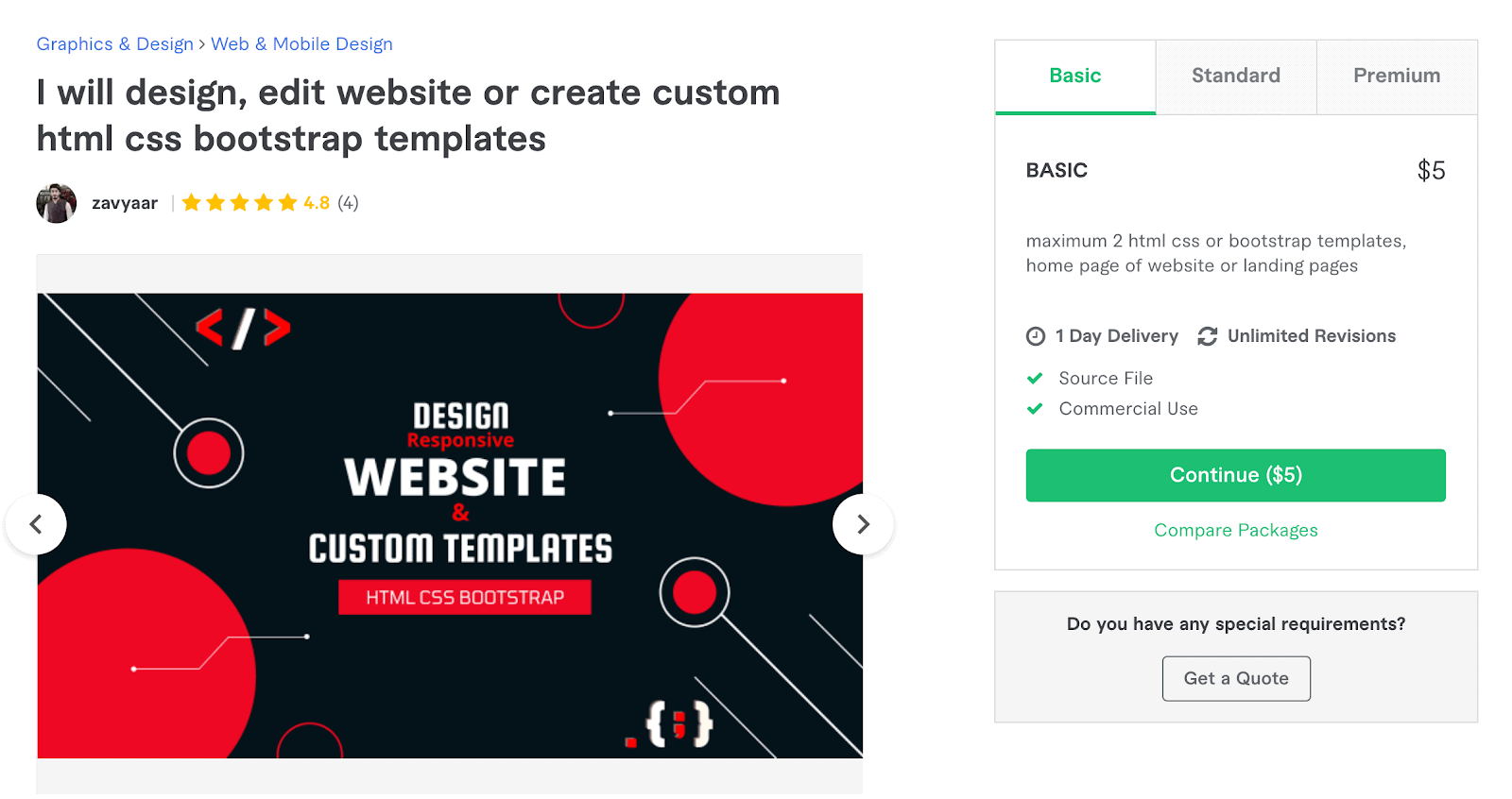 Even his Premium package, which includes six template pages with JavaScript effects (if desired) is inexpensive. And he delivers in three days with as many revisions as required.
Choosing a Tempting Template for Your Restaurant
You'll find a plethora of templates available, and it might feel overwhelming to select the one that best suits your restaurant. However, all the templates and themes I've discussed remain customizable, user-friendly, and don't demand any coding or website-building expertise. They're designed with your customer's user experience in mind, which means that it's easy to reserve a table, check out your menu, find your hours/location, and reach out to you with special requirements or requests. If none of my suggestions are quite the right fit for you, I recommend checking out
Wix's huge template gallery
. Or, if you're thinking about getting a custom design, have a look around
Fiverr
. Ultimately, you'll want to choose a template that best captures
your
 restaurant's particular mix of cuisine and ambiance.
FAQ
Which website builder is the best for restaurants?
I have to go with Wix on this one. Out of all the builders, it's the most customizable, which is important since every restaurant is unique. Because of its flexibility, it's also great for content marketing, as it includes video templates and blogging features. Another great thing about Wix is that it has a free plan. Granted, if you want to sell through your site or have the Wix branding removed, you'll need a paid plan, but the free plan is a great way to get started. And there are plenty of plugins for event calendars, reservations, online ordering – whatever your needs. It can be hard to decide between builders though, so consider checking out our selection of the best website builders for restaurants in 2023.
How do I build a website for my restaurant?
There are a couple of ways to do this. If you already know how to code, you can code and design one yourself. But it's much simpler to customize a predesigned template from a website builder or third-party vendor. Before you start designing, spend some time deciding what you want your site to include. If you want an online menu, image gallery, or blog, you'll want to know that before you start. And this is true whether you decide to customize a template, have one designed for you, or code one for yourself. If you're considering a template from one of the popular builders out there, you should read our comparison of the best website builders in 2023 before you commit.
What does it mean for a website template to be responsive?
"Responsive" means the website template has been optimized for smooth navigation and viewing across a range of devices, including desktop, tablet, and mobile. If you purchase a theme or template from third-party providers, you'll want to make sure that "responsive" is listed in its description.
What is the best free website builder?
The best free website builder is Wix. It has an easy-to-use drag-and-drop editor, and many of the apps in the Wix App Market are free as well. It comes with a ton of marketing tools to help you with things like SEO and email marketing, and it has more than 900 templates to choose from. Its free plan also gives you more freedom than other website builders, but it won't let you do everything. For example, if you want to sell through your site, you'll need to upgrade to one of its business plans. Check out our expert review of other free builders if you want to scope out the competition. Or, if you're ready to upgrade to a paid plan, there are plenty of discounts available.