builder
 for restaurants follows the same logic:
it doesn't have to be fancy to be effective, but it does need to have the right tools.
To give you the best list of website builders for restaurants,
I extensively researched and personally tested all of the builders on this list
 (and a bunch more that didn't make the cut). Whether you run a cafe, a burger joint, or a fine dining establishment, any one of these builders can help you create a site that looks like it was designed by a professional – even if you've never built a website before.
Short on Time? These Are the Best Website Builders for Restaurants:
Wix – Fantastic features specially designed for restaurant websites
Squarespace – Beautiful online menus and image galleries
SITE123 – One of the easiest builders to use, with built-in menu pages
What We Look For in the Best Website Builders for Restaurants
Website builders for restaurants should be simple and cost-effective, but still give you the tools to provide a smooth user experience for your customers.
 You'll want easy integrations for menus, online reservations, interactive maps, and other contact information. Because restaurant information may change often, such as with daily specials or menu item availability, these website builders should also be easy to use. Here are some other key features I looked for:
Design flexibility to let you personalize your website to match your unique restaurant branding
Email marketing features to notify customers of specials, deals, and events
Lots of options for displaying menus
In addition, all of these website builders
include some standard and essential features to ensure your website (and restaurant) can be found
 by anyone. These include mobile-friendliness, SEO tools, contact forms, and Google Maps.
Wix shines among the best website builders for restaurants, offering a ton of easy-to-use features and tools that make it simple to manage every aspect of your restaurant's website. For starters,
it offers 64 restaurant-specific templates
 divided into five subcategories:
Catering & Chef
Restaurant
Cafe & Bakery
Bar & Club
Food & Drinks
Wix's templates feel much more unique
 than what other website builders offer, and every element can be easily customized to perfectly match your restaurant's branding.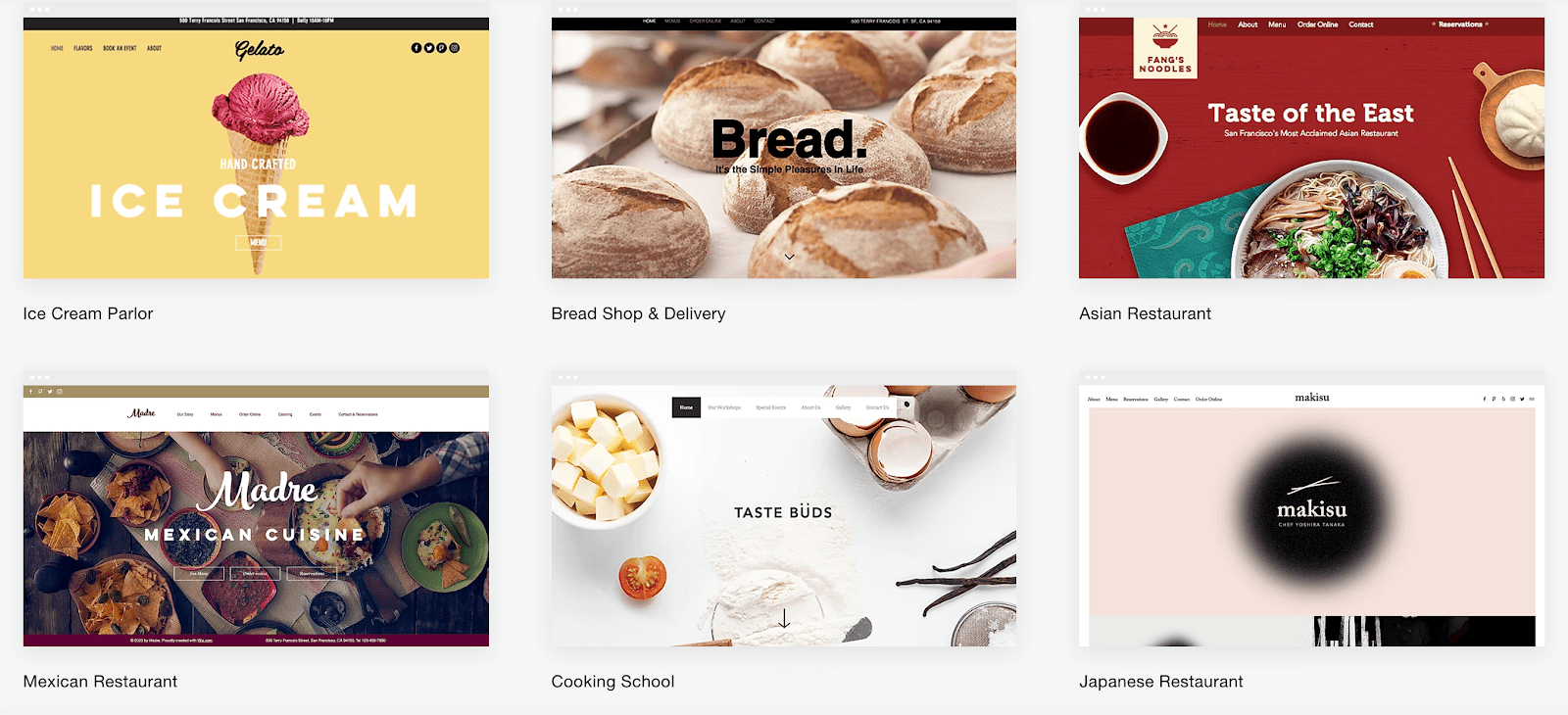 Wix App Market offers a wealth of apps for everything from creating online menus to taking orders and reservations via your website. You can also easily connect your social media accounts.
Everything can be managed and analyzed in your website dashboard,
 and to make things even easier, many of the restaurant templates come preloaded with the Wix Restaurant apps.
The Wix Menu app creates some truly stunning and useful menus, allowing you to add labels such as "Vegan" or "Spicy" and feature special dishes
. It's SEO and mobile-friendly, as well as very intuitive to use.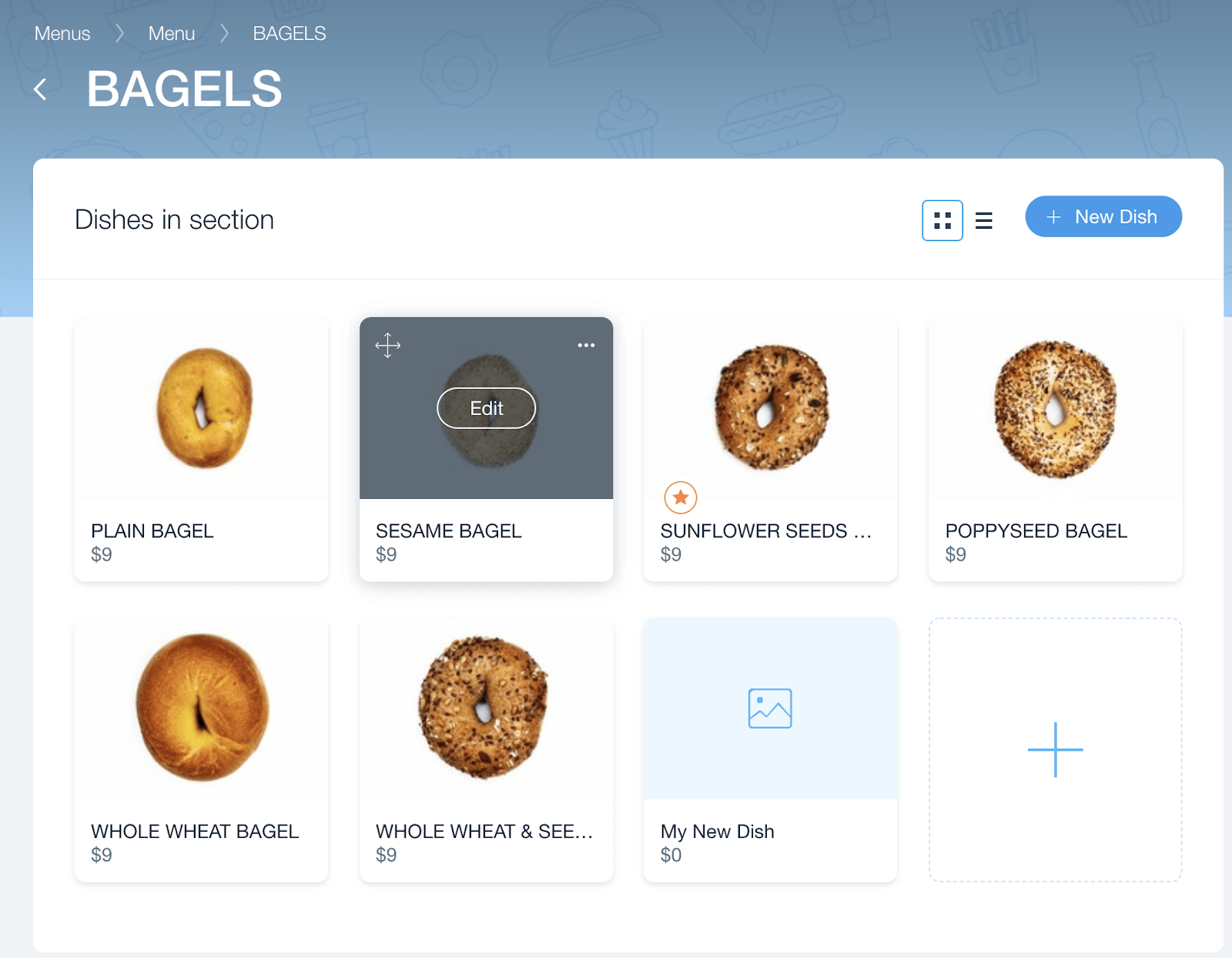 When it comes to pricing, Wix also can't be beat.
In fact, Wix has the best free site builder plan for restaurants (it includes all of the features above!).
If you want to take online orders, though, you'll need to upgrade to one of the Business plans. Once you upgrade, you can also connect your own domain name to make your site easier to find.
Wix Restaurants Orders, the online ordering app, is completely commission-free and even lets you add special discounts to customer orders.
Restaurant Analytics provides order tracking and other restaurant-specific analytics on designated restaurant sites automatically.
Wix Reservations provides automatic email confirmation for customers reserving tables.
For a full list of features, don't miss our
in-depth Wix review
.
Free Plan?
Yes, with most features included
Starting Price
Combo Plan:

$

16.00

Menu Options?
Native menu app with unlimited pages & items
Restaurant Templates
64, divided into 5 subcategories
Squarespace is well-known for its exceptionally designed templates (some of the best in the industry), and its 10 restaurant templates are no exception.
 The beautiful, image-focused templates bring an immediate feel of class and professionalism to your website, keeping your food as the main focus.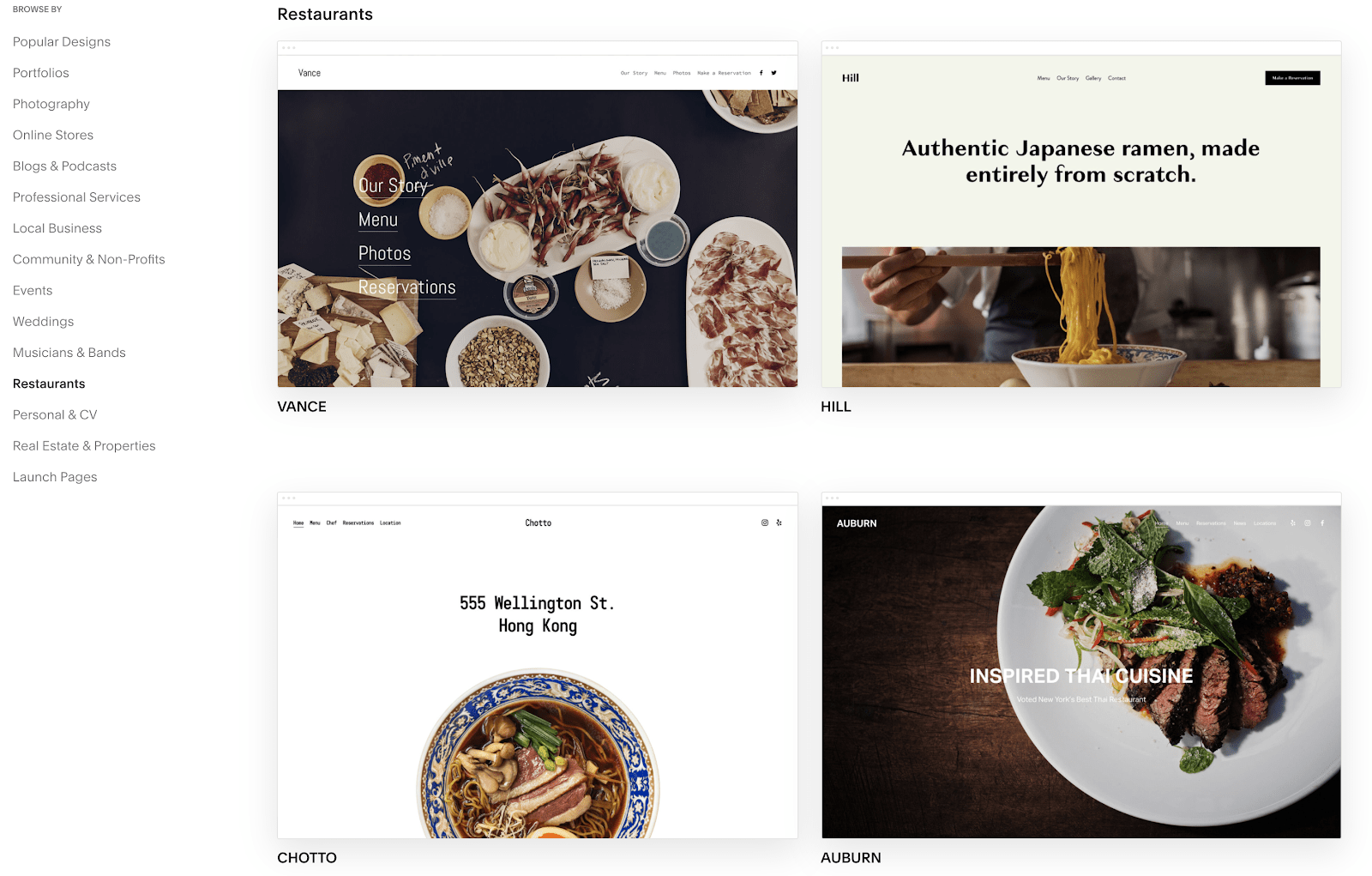 The editor lets you build custom page layouts using content blocks. There's also a series of menu page layouts, and built-in guidelines provide
a
good balance of customization freedom and design assistance
. You can construct your menu in any way you wish, and
Squarespace provides online reservations and online ordering through integrations with OpenTable and ChowNow
, respectively. These integrations function as additional block options in the editor, and since they are the exclusive options for these functions, you can receive support from Squarespace itself. While there's no free plan on Squarespace,
there is a 14-day free trial
. You'll need to be on the Business plan to use the ChowNow and OpenTable integrations, which does raise the price point. However,
Squarespace provides top value
for your money,
as our expert found while testing the service.
Here are a few other standout features for restaurants:
E-commerce features are seamlessly integrated to sell gift cards, merchandise, and more from your restaurant website.
Email campaigns can be built and sent from your website editor or dashboard, so you can easily promote deals and discounts to your loyal customers.
Free Plan?
No, but 14-day free trial
Starting Price
Personal plan:

$

16.00

Menu Options?
Menu page layouts & blocks you can customize
Restaurant Templates
10
SITE123 is
almost
as good as Wix. It's easy to use and has built-in menu and reservation options, but it lacks a few features that would make it truly stellar.
Compared to other options, the site editor is a bit simpler to use.
This means that building a site goes more quickly, but the downside is that the 21 restaurant template options don't look all that different from each other.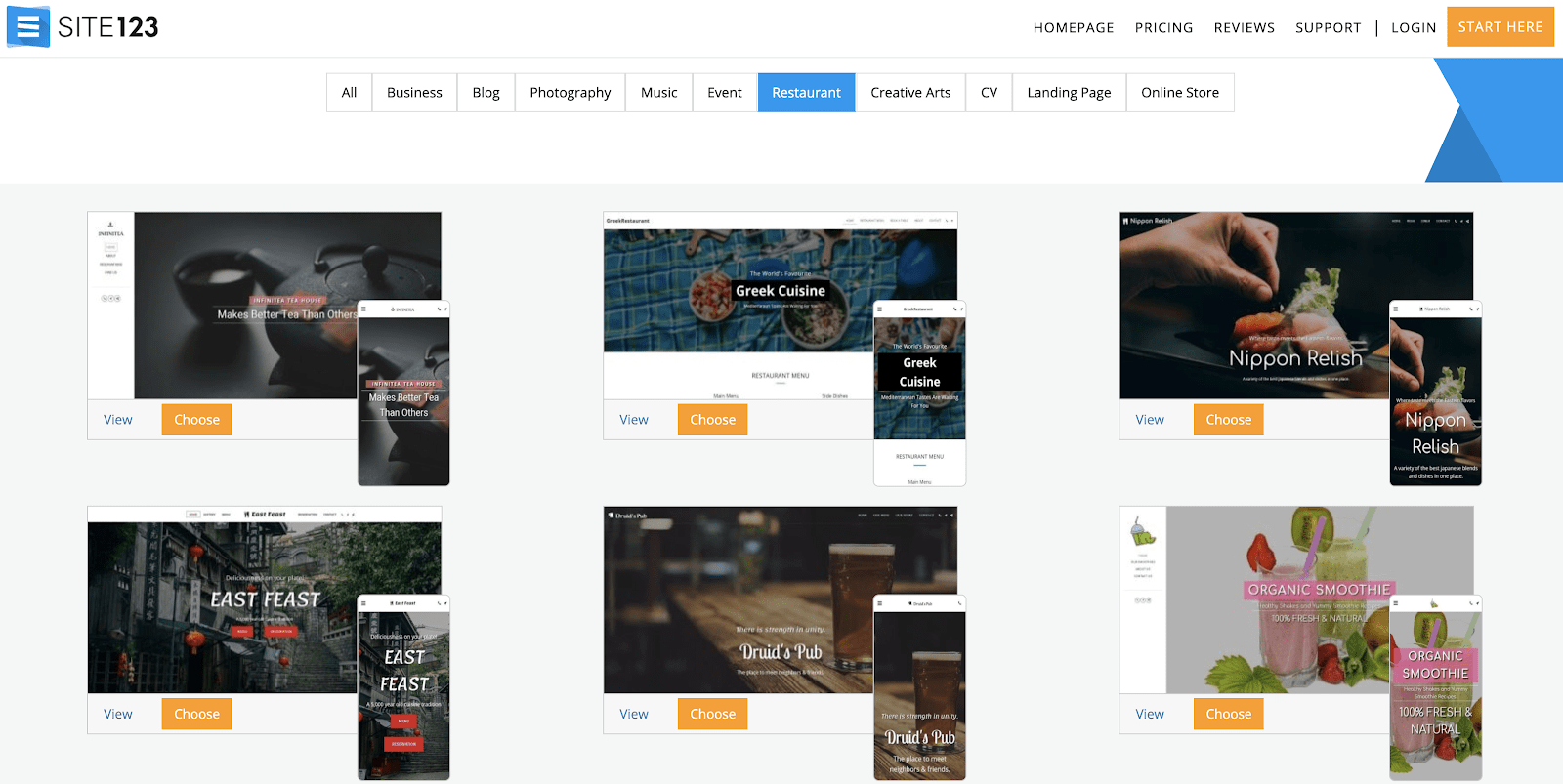 You can create menu pages using the built-in page templates, and reorder and adjust content sections to your liking.
The online reservations tool, which comes preloaded on restaurant templates, allows you to include table size options and choose manual or automatic confirmation of a reservation.
 You can also manage your reservations within your site dashboard.
What SITE123 lacks is any other restaurant-specific apps
, most notably anything that can efficiently conduct online ordering. You'll have to use a third-party tool and link to it or embed it in your site. Price-wise, it's comparable to Wix, but with fewer features, so it's not the best value on this list. Here are some things I do like about SITE123:
Single-page websites are really easy to build, so you can maintain a simple site while offering all the essential information.
The contact form builder is very simple to use and you can customize your form to your needs.
Predetermined page layouts help you design your site quickly, while still offering a good amount of customization.
If you're not sure if this site builder is the right solution for you, read our
expert SITE123 review
 to find out more.
Free Plan?
Yes
Starting Price
Premium plan:

$

12.80

Menu Options?
Built-in menu page layouts
Restaurant Templates
21
Why pay for more than you need?
Square Online is the only builder on this list that offers a full suite of restaurant-friendly tools
– including menus, reservations, and online food orders –
without monthly fees
. You only pay when you make a sale. 
Square Online doesn't do templates, per se – there's just one default template that you can personalize. There are enough customization options to make you feel like you have some control over the look of your site, but
you don't get the creative freedom other builders can provide
. I also didn't find the Square Online interface super intuitive.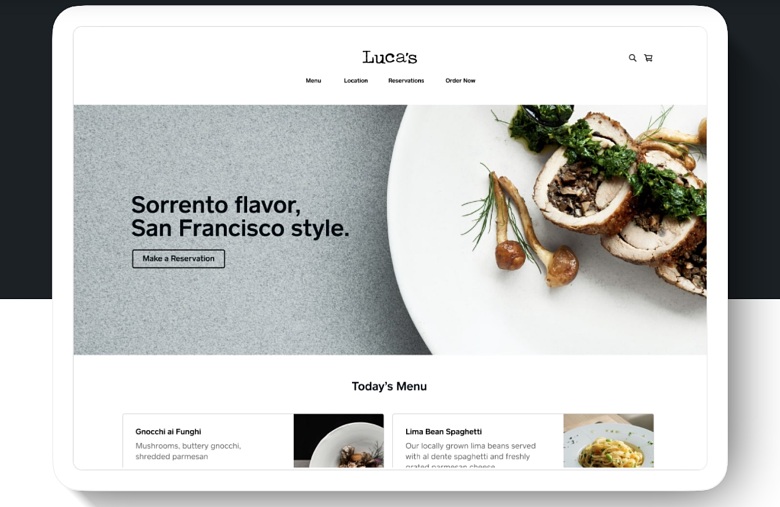 Square Online more than makes up for this lack of creative control with its many features, however.
Even on the free plan, you can:
Set pickup and delivery options

Add service charges or discounts

Let your customers place pickup orders for a future date and time

Limit the number of orders you can accept in a set time period

Integrate with on-demand delivery services like DoorDash and Postmates (for an extra fee)

Connect with other Square solutions, if you have them
Please keep in mind the significant point: if all those features appear excessively generous without a price tag, you must still cover transaction fees amounting to 2.9% + 30¢ per transaction. Nevertheless, for a small business, this could potentially turn out to be more economical than certain other alternatives mentioned in this list. Your website will also showcase Square Online branding, and the usage of a custom URL will not be possible.
You have to upgrade to the Professional Plan (

$

12.00

) to remove Square branding
and use your own custom domain.
And it's only when you upgrade to the highest-tier plan that Square lowers its transaction fees (and only then by a measly 0,3%). Once you factor in all the features you're getting for those prices, though, it's not necessarily a bad deal. 
Check out our
in-depth Square Online review
for more info.
Free Plan?

Yes, but with transaction fees of 2.9% + 30¢ on every sale

Starting Price
Professional plan:

$

12.00

Menu Options?

Built-in menu page layouts

Restaurant Templates?

1, with limited customization options
You can create a professional restaurant website on WordPress.com, but you'll likely find it's a bit more "DIY" than some of the other builders on this list.
There aren't any restaurant templates offered by WordPress.com itself,
 but if you cross-filter by "food" and "business" you'll find 15+ decent options. Any special menu features or reservations tools will also need to be added via plugins.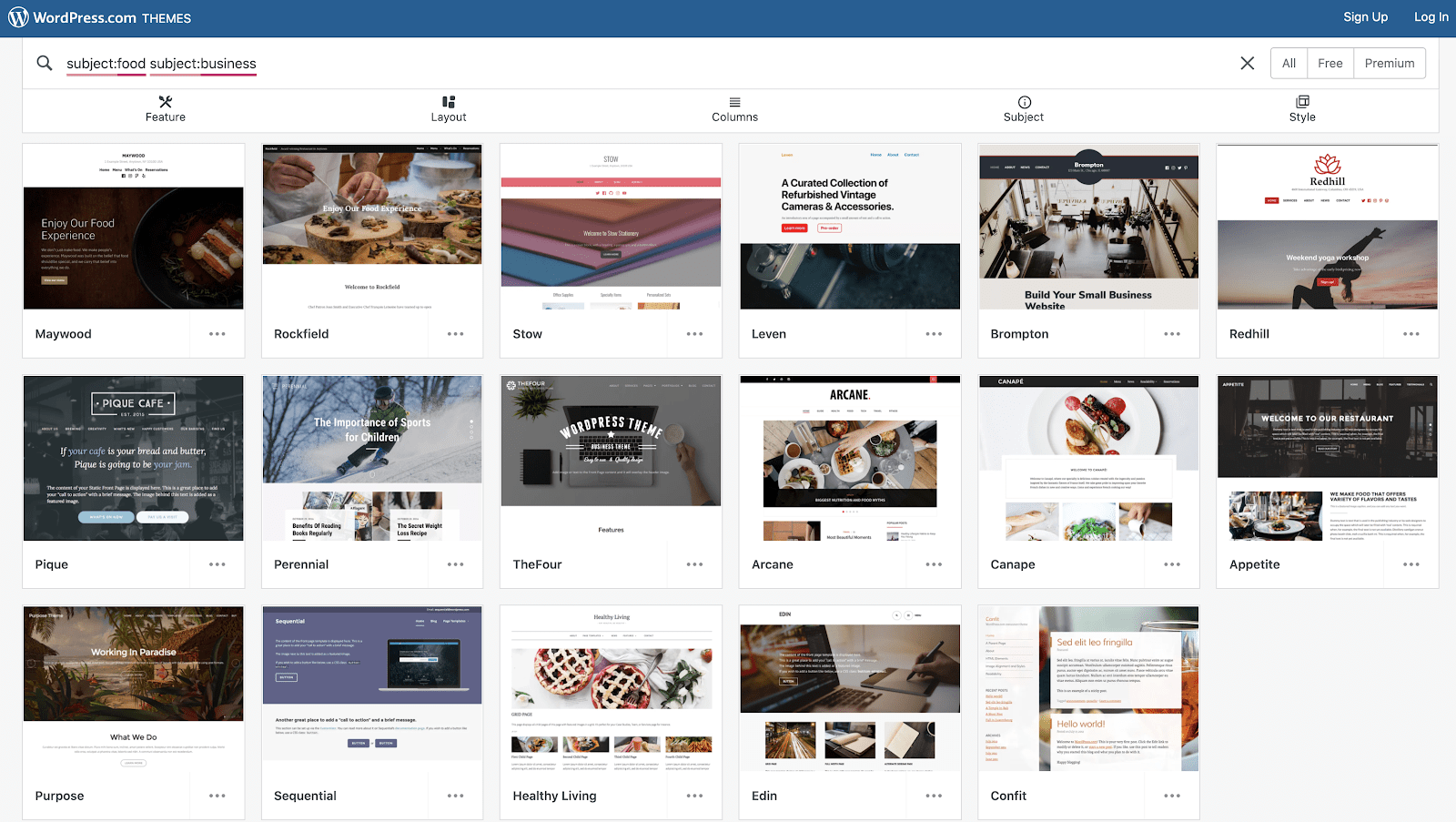 That said, when you look to third-party themes and plugins, your options increase rapidly.
You can find great plugins that offer more robust features than some of the restaurant features on other website builders.
The caveat is that this route is more pricey – you need to be on the Business plan or higher to add plugins, making WordPress.com the most expensive option on this list. Alternatively, you could build a simple, no-frills site – no online orders or reservations, and a PDF menu instead of interactive – for the lowest price on this list, while still getting a custom domain name for consistent branding. These features and plugins are just some of the best options that can expand the capability of your restaurant website:
Multiple options for menu and ordering plugins, including FoodPress, WPPizza, and even a plugin designed especially for beer menus.
Use the OpenTable integration on the Premium plan (a lower price point than Business) to take reservations.
Display a Yelp widget to show your restaurant reviews and entice customers to leave their own.
To learn why many of the pros prefer WordPress, read our
full WordPress.com review
.
Free Plan?
Yes, but very limited
Starting Price
Personal plan:

$

45.00

Menu Options?
Through third-party plugins available on a business plan or higher
Restaurant Templates
No, but may be available through third-party sites
Which Website Builder Is Right for Your Restaurant Site?
All the website builders listed here excel in simplifying the process of crafting a high-quality website with essential features suitable for restaurants of all sizes. These website builders also offer affordability. In most instances, you can access almost all the crucial restaurant features, including specialized apps or plugins, even on the free or entry-level plans. I have two personal favorites, though: I like how
Wix lets you manage your menus, orders, and reservations all in one place
.
Besides, no other website builder gives you so much creative freedom.
Squarespace lets you design custom menu pages and add third-party integrations
 like OpenTable or ChowNow, and it has some of the most beautiful templates out there.
| | | |
| --- | --- | --- |
| Builder | Top Feature | |
| Wix | Manage all restaurant functions in one place with Wix Restaurant apps | |
| Squarespace | Beautiful designs that integrate with OpenTable and ChowNow | |
| SITE123 | Menu page layouts to create custom menus | |
| Square Online | Get all of the features your restaurant website needs on a free plan | |
| WordPress.com | Use third-party plugins to add extra features, like a dedicated beer menu | |
FAQ
What is the best website builder for restaurants?
The best website builder for your restaurant depends on your needs. If you want to manage everything in one place, Wix is the best option. If you need integrations with other restaurant tools, like OpenTable or ChowNow, Squarespace is a good pick. If you need a simple and cost-effective website builder for your restaurant, SITE123 might be the right choice.
What are the best restaurant plugins?
The best restaurant plugins will depend on your exact needs, but there are a few frontrunners to keep in mind:
The Wix Restaurants app suite provides all your functionality in a single interface, for free.
GloriaFood makes Weebly's Restaurant System app as well as plugins for WordPress.com.
FoodPress is a robust restaurant management plugin for WordPress sites.
Should I use third-party tools like ChowNow and OpenTable?
These third-party tools can expand your restaurant's reach by giving you a presence on other platforms that hungry diners may use to find restaurant recommendations. Integrating them into your site can provide a smoother experience for your customers. However, using these platforms requires you to have multiple accounts that you may need to maintain, rather than keeping everything in one place, such as with Wix's Restaurant apps.