Several free website builders will let you design a decent site – but the one thing none of these builders will give you is a custom domain. If you want your site to look professional (and keep in tone with your brand), you need a paid plan. As far as I'm concerned, Squarespace is my absolute favorite. It has the best-looking templates around, and even its cheapest plan includes a free custom domain plus unlimited storage.
Squarespace has a 14-day free trial
, so you can test all of its features before you buy.
The right website builder for your music site will give you tools
 to upload photos and videos from shows, sell merchandise and concert tickets, and let fans sign up for newsletters to stay up to date on your future plans.
If you choose the wrong website builder, you may not only waste your time and money, but also get stuck with a long-term commitment for a website you're not happy with.
You wouldn't want to sign up for a 2-year plan, just to find out that you can't track your music downloads or display a concert schedule. Choosing from hundreds of website builders can get confusing, so
we tested the best website builders out there
and found the best website builders for musicians
. Now go pick the one that plays your tune, and get your music LIVE!
Best Website Builders for Musicians – Our Top Picks:
Wix – Has 50+ templates specifically designed for musicians and bands, so you're sure to find the one that suits your sound
Site123 – Allows you to easily build a multilanguage site, perfect for worldwide tours
Squarespace –

Offers a native audio player and SoundCloud integration

WordPress.com – Has great blogging features to help you tell the story of your music
SimpleSite – Lets you sell merchandise even on the free plan
Weebly – Is so easy to use that your website can be live in less than an hour
Wix remains one of the most popular website builders because it truly simplifies the process of creating a professional-looking website, regardless of the industry you're in. It all starts with Wix's templates.
There are dozens of templates for the music industry
, including:
Solo Artist
Band
DJ & Producer
Music Industry
Music Promotion
Among the music-themed templates, a couple stand out.
Wix's Musician Teaser template is set up nicely to introduce an artist's music with great backgrounds, sections for artists videos, and even clips of the artist's music.
It's also pre-setup for fan mailing lists and social media for the artist. The Music Booking Agency template is also a good choice, and I feel this one is multifaceted. While it's set up to highlight artists, it can just as well be modified to create an individual artist or band page. In addition to the features in the Musician Teaser template, it also has sections to book talent, and to showcase more information about the agency or band.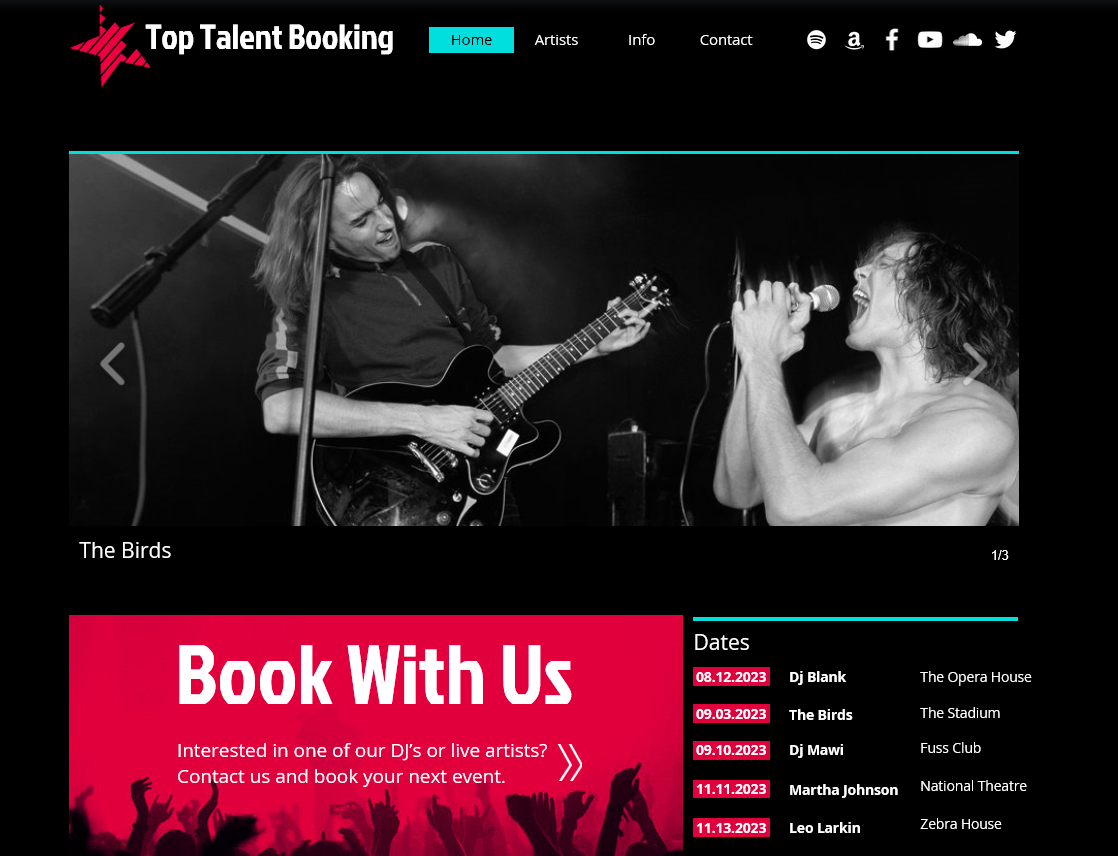 Music Booking Agency – Try this template now
If you find that one of the templates is lacking a feature you need, you can always check out the Wix App Market for a wide variety of tools. You can add custom photo and video galleries, video backgrounds, booking forms, calendars, and even product webpages to sell your music or merchandise.
The main catch with using Wix is that you're locked into whatever template you pick. If you decide to change it, you have to rebuild your website. Wix offers a
free plan
, but it's not the best choice if you're serious about promoting your brand, as you have to use a subdomain and you have limited bandwidth and storage.
The Unlimited plan is your best option, as it offers the ability to host an hour of video directly from your webpage.
And if you want to sell merchandise, pick Business Basic; it allows for e-commerce and is only a few bucks more per month than Unlimited.
Click here
to get a better understanding of Wix's plans and pricing, or head on over to our
in-depth Wix review
.
Site123 offers a decent selection of templates and has a collection of music-themed templates. Most templates are straightforward and feature blog-style setups offering information on the musician, band, or producer.
You can also list upcoming tour dates, provide video and music clips, and give your potential clients a way to contact you to book gigs and ask questions.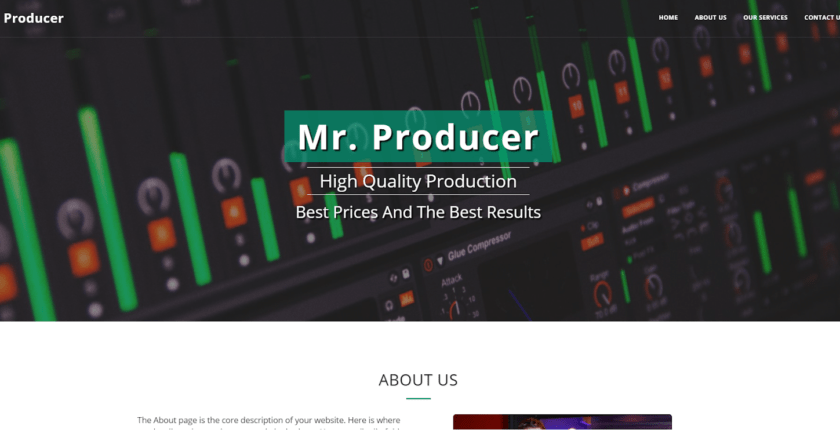 Mr. Producer – Try this template now
Similar to Wix, you can use the App Market to set up any features you want to add to your website. Want to create a concert gallery or fan webpage? If so, the Huzzaz or Cincopa apps can help. There are options for setting up online store products, adding social media functionality, and more.
There are two advantages to using Site123 over other options. Many plans offer the opportunity to publish your website in multiple languages.
They support over 80 languages, allowing you to market your music or services to a much wider audience.
The other advantage is that Site123 offers an
inexpensive e-commerce platform.
All paid plans provide at least some e-commerce functionality.
You can sell tickets, T-shirts, digital downloads, and more via your website.
If you have only a few products, then the Basic plan will work fine. If you have a more extensive line, there are plans that will support whatever sized store you need for your website, and for cheaper than what other website builders charge. If you'd like to learn more about Site123, don't miss our
expert review
.
Squarespace is the only website builder on this list that doesn't have a free plan, yet it's here for good reason. With its own music player and SoundCloud integration, Squarespace offers lots of added value for musicians at a fair price.
It does, however, have a 14-day free trial
– no credit card required.
Squarespace is known for offering beautiful, mobile-responsive templates that make your website stand out.
All of its templates will work for your music website, but it does have a few templates that are designed with musicians in mind. These include
Horizon, Polaris, Vandam, Kitui,
and
Cruz.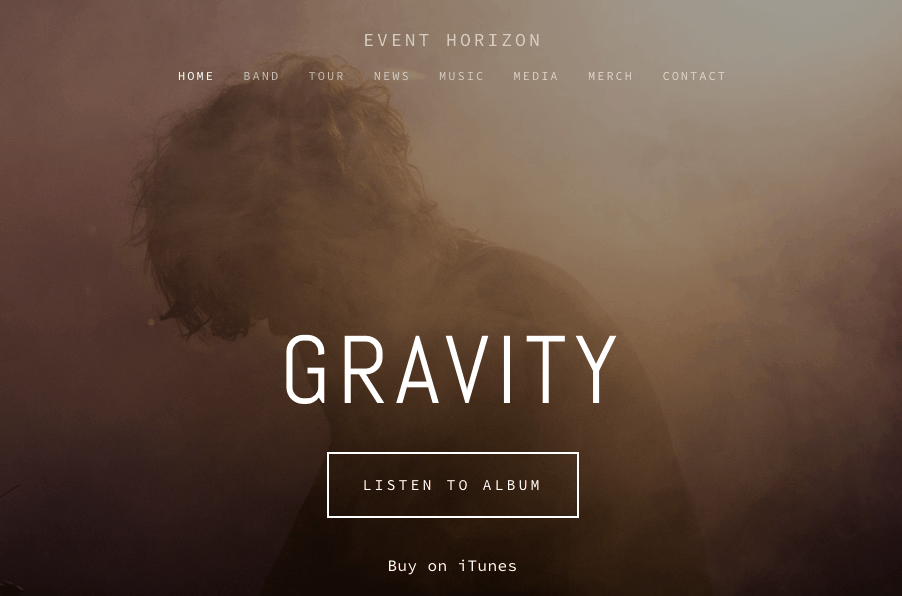 Horizon – Try this template now
Unlike Wix and other website builders, Squarespace doesn't have a large app market. It does, however, have a range of music-focused features built-in to enable you to create your music website.  In addition to its own native music player, Squarespace allows you to create album pages and upload your music files for your visitors to enjoy using audio blocks. It's easy to add album artwork and tracklists, too.
Squarespace also has a Soundcloud block that you can drag onto your webpages to stream music from your Soundcloud account.
Or, you can take advantage of the e-commerce features to sell digital downloads, physical copies of your albums, and merchandise such as t-shirts.
Want to keep fans up to date with tour dates and appearances? Simply create an events page and use calendar blocks on your homepage to highlight upcoming events.
There's even a detailed guide to using Squarespace as a music showcase in the support center.
For e-commerce features, you'll have to choose the business plan or above – but you can start with a lower-priced plan and only upgrade when you need to. All plans come with unlimited bandwidth and storage, so you don't have to worry about the size of your music files. 
If you want to learn more about what Squarespace has to offer, check out our expert review
.
WordPress.com is the hosted version of the popular CMS. This means that you can have all the power of this strong platform, without having to learn how to code. The Free and Personal plans are minimal concerning templates and design features. In fact, it offers only one free template related to the music industry.
If you want full access to premium themes, you have to go with the Premium subscription.
Then you'll have a much more robust selection of templates to choose from, including over two dozen music-themed templates. The Wayfarer template caters perfectly to individual artists and bands, providing an exceptional layout that smartly arranges videos, photos, and information in a modern-looking theme. It also allows for seamless integration of a blog and fan subscriptions directly within the template.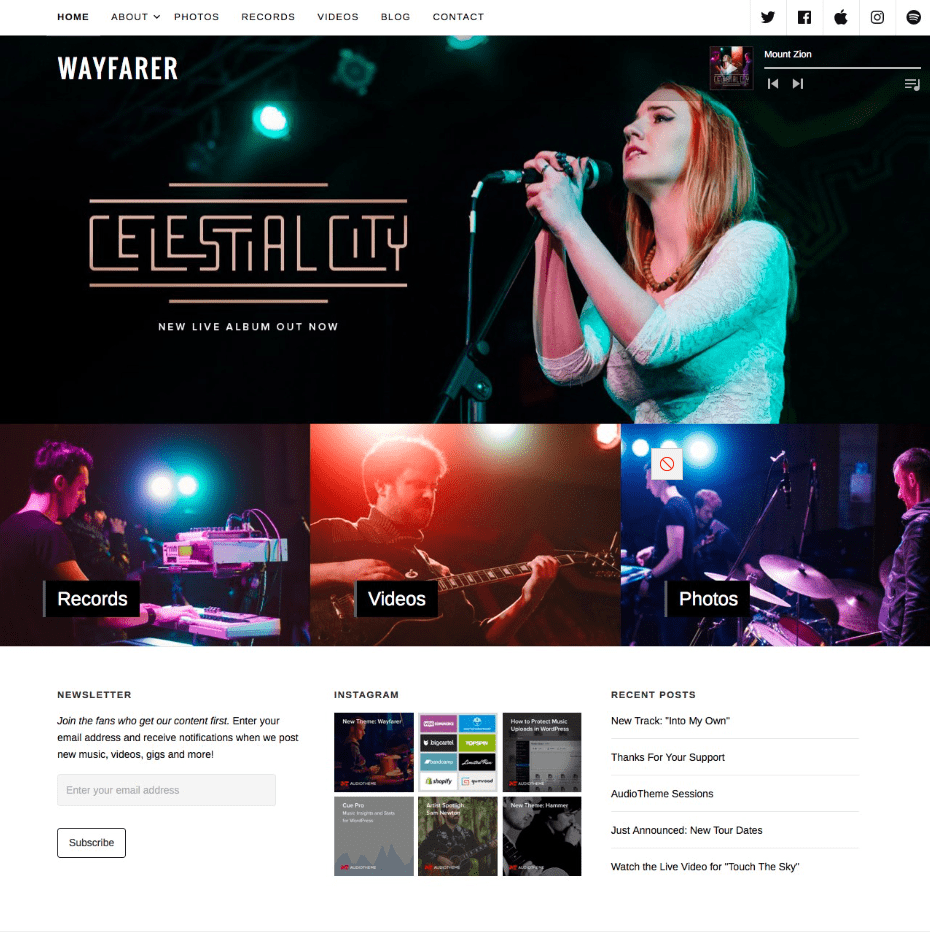 Wayfarer – Try this template now
The great thing about WordPress, if you choose to go with Premium or better, is that you can fully modify your theme's features, including changing the HTML and CSS code of the website, which is a great option if you have some technical knowledge or would like to hire a web developer to enhance your site down the line. You can also set up an e-commerce store for your brand.
Want to know more? Read our
in-depth WordPress review
.
Let's be honest for a second: SimpleSite is probably one of the blandest website builders on the list. Its templates are very simplistic, and there's none in the music genre. That said,
SimpleSite does offer blank template designs and a group of functional blog style templates that can be used to create a great-looking music website with a little work
.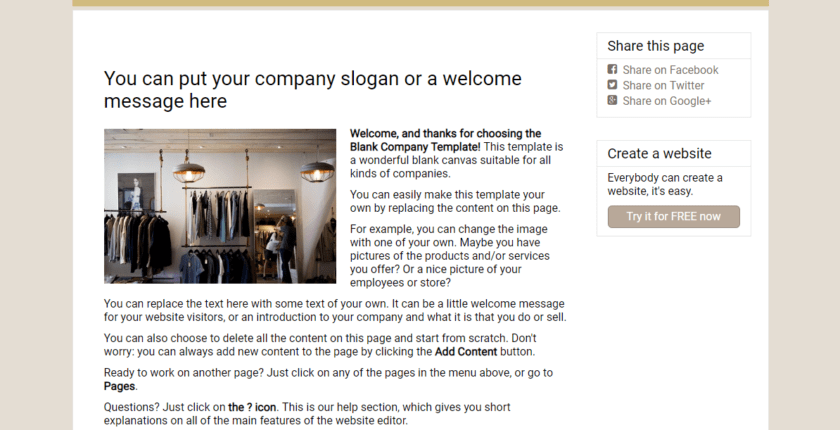 So why mention SimpleSite? Two reasons. First,
SimpleSite is the only provider on this list that allows for unlimited multimedia on paid plans.
There are no limits to the amount of video, audio, or HD images you can post on your website, outside of your storage limit of course. The other reason is that
you can sell online products on all plans — even the free Basic plan
. While the free plan isn't ideal due to design limitations and the use of a subdomain, it's still a nice touch. If you need a larger web store, the E-commerce plan is a lot cheaper than similar plans offered by other providers on this list. SimpleSite is best for groups just starting and who want to get their name out there fast and host a lot of content on their website. If you're not sure if SimpleSite is the right choice for you, read our
in-depth review
.
While SimpleSite's templates are unremarkable, Weebly's themes will blow you away.
Weebly has the most modern-looking templates out of anyone on this list.
That said, the selection is not the most robust. However, there are a few that are appropriate for those in the music industry. One that I like is the Backstage template in the Blog section. This one is set up more like a music events or concerts blog, but can easily be modified to be a group or artist blog. The Personal section has the Oasis and Venue 2 templates that are great for individual musicians. In the Business section,
the Creative Ambitions template is an excellent choice for a production company, record label, or talent agency.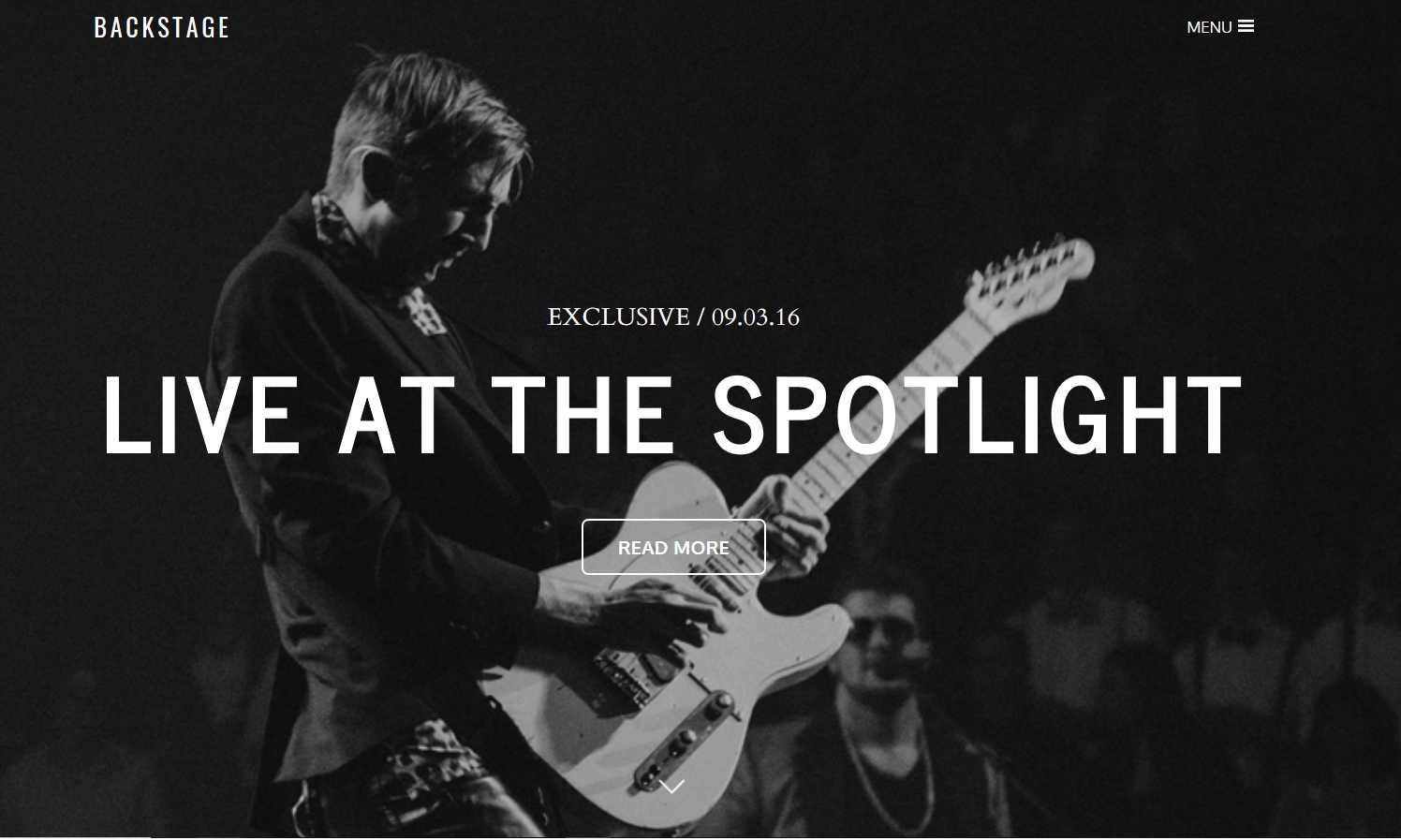 Backstage – Try this template now
Weebly offers a lot of creative features that will help you improve your template's look or add functionality. The website builder includes a robust photo editor, and you can add video backgrounds to your pages. There's also an app center that will allow you to add features such as mailing list subscriptions, concert booking tools, photo and video galleries, and more.
Weebly is built for business,
and if you plan to sell products through your website, it's a great choice
. The Starter paid plan allows for up to ten products to be listed with low commission rates. Want to know more? Read our
expert Weebly review
.
Amplify Your Career in Music With A Quality Website
In the music industry, your website serves as a 24/7 promotional tool that can get your music and talent out to the masses or help other professionals find your services. It all starts by creating the perfect website that is an extension of your music. The website builders above will get you online and can provide you with everything needed to help further your career in the music industry.