if you end up choosing the wrong host for your Ruby on Rails (RoR) creation, your web app is going to be slow and unreliable
. And we know what that means in terms of traffic and conversion. Ruby on Rails is a framework that uses a lot of resources. For starters, you'll need a host that can support the latest versions of the framework. And you should also consider a host with a variety of scalable plans that has a great track record for performance and reliability.
If you don't have these basics, you won't be able to use RoR to its full potential.
That's why I decided to test as many hosting services as I could to find the ones that are worth your time and money. I narrowed the list down to six web hosts, all of which offer a great environment for RoR.
Short on Time? These Are the Best Ruby on Rails Web Hosts in 2023:
Kamatera – Powerful unmanaged cloud VPS that can be scaled to accommodate your Ruby on Rails website or app.
InterServer – Budget shared hosting with unlimited resources, along with cheap, scalable VPS options.
Hostinger – Cheap VPS plans with plenty of resources for Ruby on Rails.
What We Look For in the Best Ruby on Rails Hosting Services
While researching the best RoR web hosts, I focused on these features.
Generous resources and scalability. Since RoR uses more resources than many other popular development frameworks, I've looked for hosts that offer a fair number of resources, with the option to increase them if necessary.
Performance. Your application needs a host with great loading speeds and reliable uptime, otherwise you'll lose your audience before your site even loads. All of my top choices have proven to be very dependable.
Automatic backups. There's nothing more heartbreaking than losing important data or having your awesome web app crash. That's why automatic backups are an important feature, especially for developers.
Customizability. If you're an advanced developer, you may want to alter the server to fit your specific needs. Many of the hosts I've picked offer both full root and SSH access.
Great support. You want to concentrate on creating your web application – not troubleshooting server issues. That's why I've paid special attention to hosts that provide fantastic support or managed services.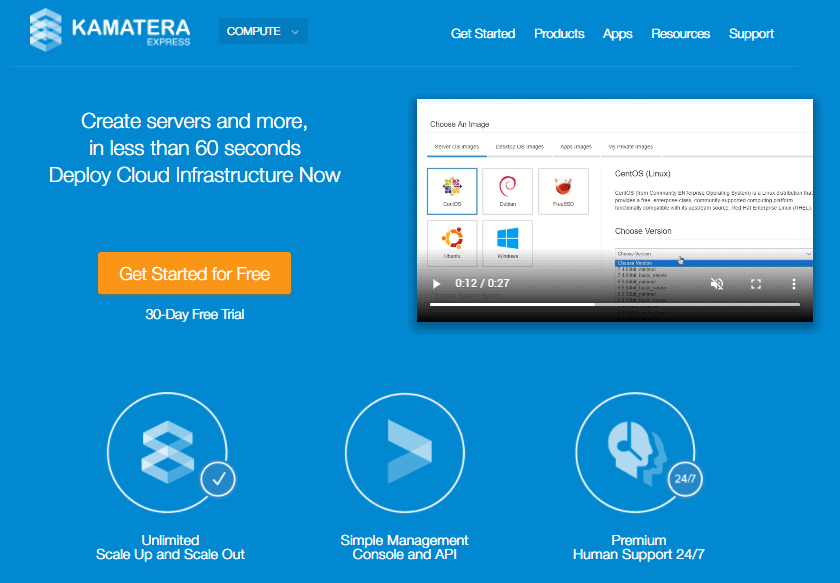 Kamatera is a developer-friendly hosting solution that offers powerful,
fully scalable cloud VPS plans
. The servers can be customized to your exact needs with full root and SSH access. This, along with its
speedy Intel Xeon Platinum processors and reliable uptime
, makes it a powerful choice for advanced RoR developers.
You can choose to have Ruby on Rails preinstalled on your server
, which is a nice timesaver. The latest version currently supported is 6.1.3, and you can choose from a number of server configurations. Kamatera features two levels of managed services: core management of your server or extensive technical help. These services can add up, though.
Kamatera works best as an unmanaged and fully customizable solution that can start small and cheap.
If you have the technical know-how, it's one of the most flexible hosts on this list.
Features
Customizable RoR servers. If you opt for the preinstalled RoR server, you'll have several configurations to choose from. The introductory plan has 1 vCPU, 1 GB of RAM, and 20 GB of SSD storage. You can scale this all the way up to 8 vCPUs, 16 GB of RAM, and 100 GB of SSD storage.
Fast server setup. Upon signing up for a plan, your servers will be set up and ready to use in under a minute.
Instant scalability. Need more RAM but happy with everything else? If you need to change your allotted resources, you can scale them up or down instantly, and only pay for the resources you are using.
Premium automatic daily backups. You can pay a low monthly price for automatic daily backups to an external storage array. Automatic daily backups are included in Kamatera's managed services.
For more on Kamatera's features, read our expert review
.
Data center locations

US, Canada, the Netherlands, Germany, UK, Israel, and Hong Kong

Resources

Fully customizable resources with up to 72 vCPUs, 512GB RAM, 4000GB SSD storage, 5000GB bandwidth per month

Free automatic backups

Daily (for managed plans)

Starting price

$

4.00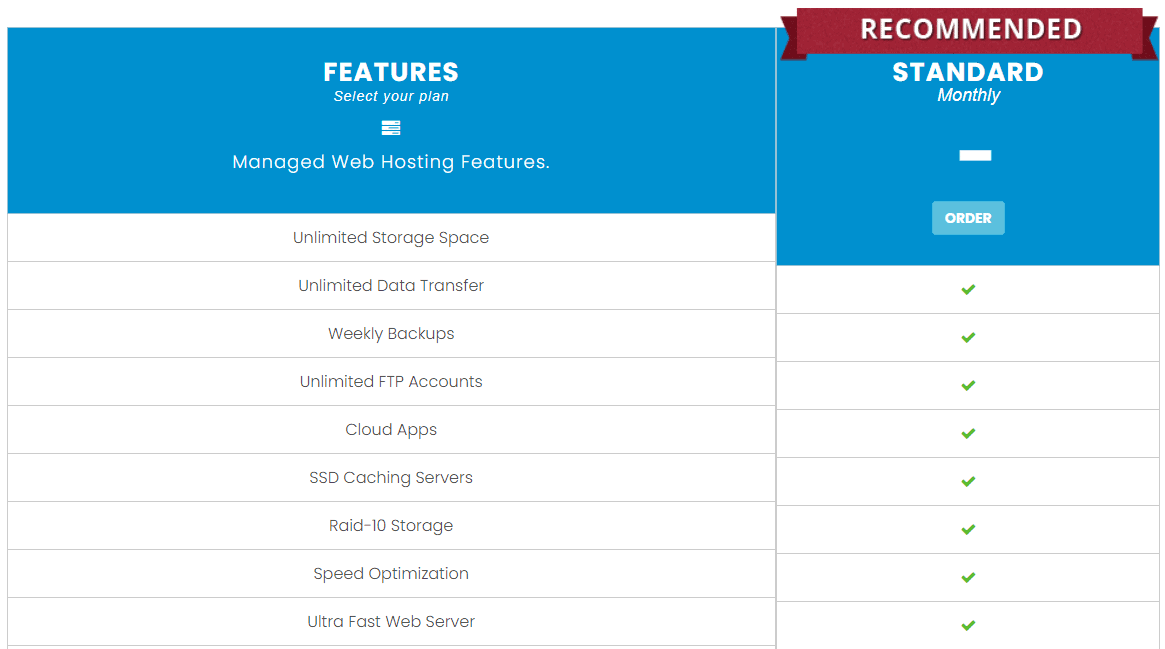 If you're looking for a powerful budget solution for your RoR app, this host could be a great choice.
InterServer offers both shared hosting and cloud VPS
, both of which are relatively cheap.
Its Linux-based shared hosting plans are particularly notable because they offer plenty of valuable features.
InterServer's shared hosting plans have unlimited resources, giving you a platform to develop and grow your web app.
You'll also get weekly backups for free.
If you're looking for an affordable cloud option, InterServer's VPS plans allow you to buy "slices" of a VPS.
The first slice has 1 CPU core, 2048MB of memory, and 30 GB of SSD storage space. If you need more power, you can add more slices at any time to increase your resources. At four slices, you get managed support for free.
Features
Tight security. InterShield, InterServer's security suite, is included for all shared hosting plans. Your site will be protected with real-time malware scans and a machine-learning firewall that's constantly being updated to stay ahead of threats.
SSH access. Shared hosting plans include SSH access, but not full root access. However, InterServer's cloud VPS plans allow for full root access.
30-day money-back guarantee. InterServer's shared hosting plans include a 30-day money-back guarantee. There's no free trial or money-back guarantee with its cloud VPS plans, though.
Great performance in the US. InterServer is capable of fast loading speeds throughout the US (and it also has pretty decent speeds in Western Europe). My testing also revealed that through the course of several months, its uptime was above the industry standard of 99.9%.
For more on performance, see our expert InterServer review
.
Data center locations
US
Resources

Unlimited domains, unlimited SSD storage, unmetered bandwidth (within fair use), unlimited MySQL databases, unlimited FTP accounts

Free automatic backups

Weekly

Starting price

$

2.50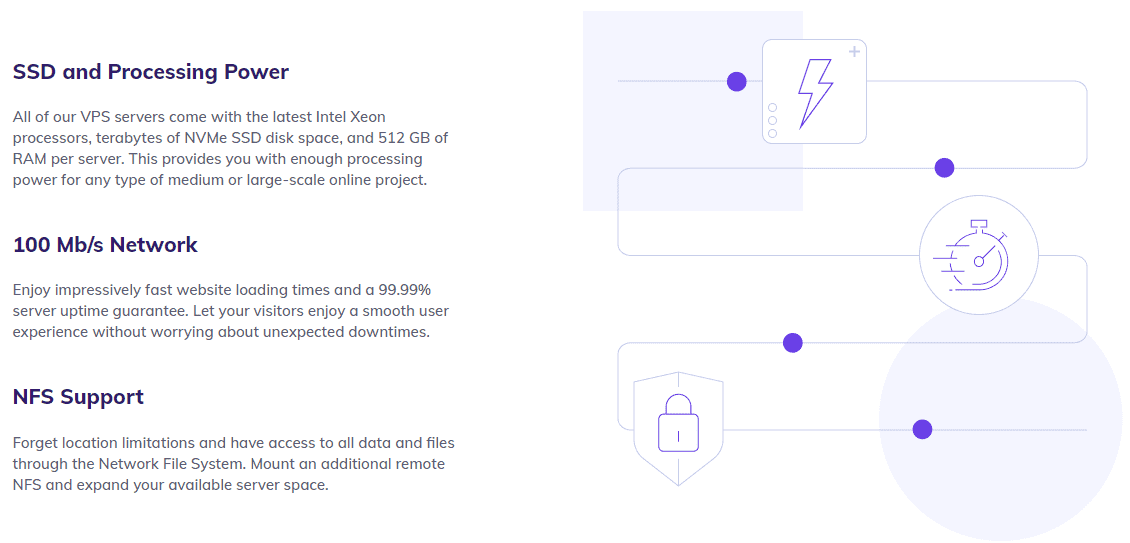 Hostinger is the king of budget hosting, and its VPS plans are no different.
Hostinger easily has the cheapest Linux VPS plans
 on this list, yet it still manages to provide amazing performance and near-perfect uptime. In fact, when my colleague put Hostinger to the test, this web host earned high marks for page loading speeds
globally
. Although Hostinger has shared and cloud hosting services, you'll have to look at its VPS plans for RoR support.
These scalable plans feature an auto-installer that allows you to install OS templates and web scripts with ease
, including RoR.
If you're new to VPS hosting, Hostinger does provide some technical support.
There's also a great knowledge base filled with tutorials on the subject. While support can be slow to respond and there's no managed service, there are still enough resources available for you to learn as you go.
A free domain name is included with some hosting plans from Hostinger
Features
VPS snapshots. Every VPS plan includes the ability to make "snapshots" of your VPS. This functions as a full server backup, saving all the data that makes up your VPS and its current power state. However, there's no automatic backup service.
SSH and full root access. All of Hostinger's VPS plans include full root and SSH access, allowing you to customize your server as you see fit.
Strong VPS infrastructure. Hostinger's servers run on powerful Intel Xeon processors and 512GB of RAM – and all this happens over a 100 Mb/s network.
Scalability. If your app is starting to outgrow your current plan, you can upgrade your plan with no downtime.
Learn more about Hostinger with our expert review
.
Data center locations

US, UK, Netherlands, Lithuania, Indonesia, Singapore, Brazil

Resources

Cheapest VPS plan includes 1 vCPU, 1GB RAM, 20GB SSD, 1TB bandwidth (with the option to scale up to a higher-tier plan at any time)

Free automatic backups
No
Starting price

$

1.99

A2 Hosting has a variety of managed and unmanaged plans, and they both support RoR.
On shared and managed hosting packages, you'll be able to set up the framework through cPanel, but you'll need to configure most of the installation yourself. While these plans have their benefits, A2 Hosting really wants you to take advantage of its flexible VPS plans. And for good reason.
A2 Hosting's VPS plans start at just

$

2.99
per month
 for 1 vCPU core, 1GB of RAM, and 150GB of RAID-10 SSD storage
, and you'll get big discounts for choosing a multi-year plan. You'll have complete control over your server with SSH and full root access. If you find that your RoR app needs more power, you can upgrade to one of the Supersonic plans. These plans not only have more resources, but they come with a Turbo Servers upgrade.
This comes with a variety of benefits, including LiteSpeed Web Server technology, caching optimizations, NVMe storage drives, and more.
My testing showed that
A2 Hosting has great speeds and uptime
, which means that your Ruby on Rails app won't have any performance issues.
Features
One-click installation. On unmanaged VPS and dedicated server plans, you can easily install Rails through the Webuzo app installer.
Free DDoS protection. While you're generally on your own when it comes to securing your unmanaged VPS hosting, included in every VPS plan is free DDoS protection and server monitoring.
Free dedicated IP. Each VPS plan includes a free dedicated IP address. If you want more, though, you'll have to pay a premium.
Anytime money-back guarantee. A2 Hosting's wallet-friendly VPS plans come with an incredible anytime money-back guarantee – in fact, all plans do. This entitles you to a full refund if you cancel within the first 30 days, or a prorated refund for the unused time of your contract if you cancel after 30 days.
If you're still undecided, check out our A2 Hosting review
.
Data center locations

US, the Netherlands, Singapore

Resources

Cheapest VPS plan includes 1 vCPU, 1GB RAM, 150GB SSD, 2TB transfer (with the option to scale up to a higher-tier plan at any time)

Free automatic backups
No
Starting price

$

2.99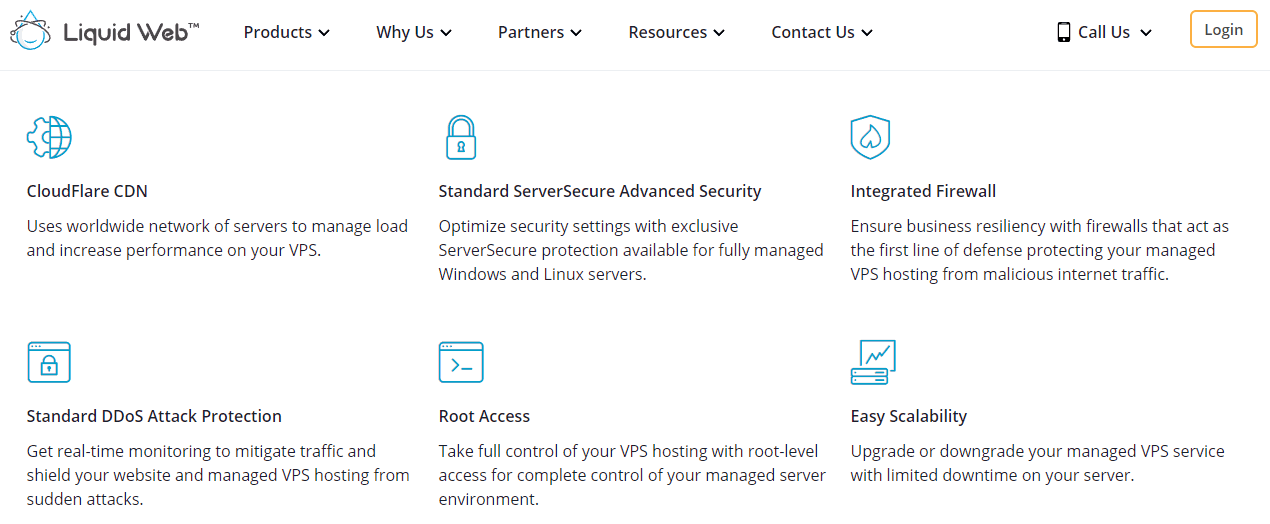 Liquid Web offers a variety of scalable cloud hosting solutions, including cloud VPS and cloud dedicated servers.
If you want the cheaper option and don't need a lot of power and resources for your app, Liquid Web's VPS plans are the right choice for you.
Cloud servers are geared toward high-demand applications and cost a lot more. I'll be honest, Liquid Web isn't cheap – even the entry-level cloud VPS plan costs significantly more than what the other hosts on my list are charging. But if it's in your budget, it's well worth the price.
You'll get an extensive, fully managed service for your Rails environment so you can focus on coding.
Liquid Web isn't a slouch when it comes to performance, either. With data centers in the US and the Netherlands,
its page loading speeds score pretty high in North America and western Europe
. And with integrated CloudFlare CDN, it's possible to achieve these fantastic speeds worldwide
.
Features
Choice of control panel. With cloud VPS plans, you can choose between cPanel, Plesk Web Pro, or InterWorx (which includes unlimited accounts for free). Cloud servers use cPanel.
SSH and full root access. Liquid Web's cloud VPS includes SSH and full root access so that you can have complete control over your server.
Premium backup service. Automatic daily backups and full server backups are included as part of a premium backup service. Liquid Web also offers an off-server option through Acronis Cyber Protect.
Amazing service level agreement. Liquid Web is so confident in its services that it guarantees 100% uptime for its servers. It also promises a rapid response to support tickets, live chat, and phone calls. If these promises aren't fulfilled, you may be entitled to a generous amount of hosting credits.
For details on VPS plans, read our in-depth Liquid Web review
.
Data center locations

US, the Netherlands

Resources

Cheapest cloud VPS plan includes 2 vCPUs, 2GB RAM, 40GB SSD, 10TB bandwidth (with the option to scale up to a higher-tier plan at any time)

Free automatic backups
No
Starting price

$

15.83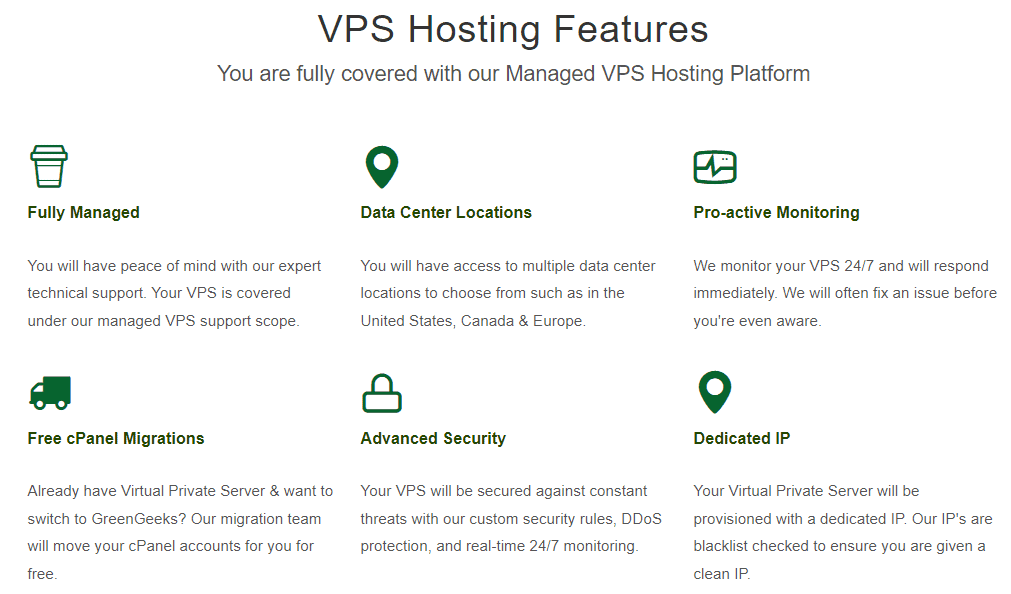 With this host, you have two main choices for RoR hosting: shared or VPS. Budget-wise, you could go for
GreenGeeks' cheap shared hosting plans
, which come with unlimited resources and plenty of nice freebies
to get you started. This includes a free CDN, a free SSL certificate, SSH access and, most notably, free automatic daily backups. However, GreenGeeks' shared hosting plans aren't equipped to have full RoR functionality. Performance can be pretty average, and without full root access, you won't be able to customize your server to meet your needs.
To use RoR to its full potential, GreenGeeks recommends that you sign up for a VPS plan instead
. Starting at
$
39.95
, the 2GB VPS plan is more than ten times the price of the Lite shared hosting plan – and GreenGeeks justifies this with its developer-friendly features, which include full root access and Intel Xeon processors.
VPS plans are also managed by a fantastic support team
 that is always willing to go the extra mile.
This makes GreenGeeks a good choice if you're just diving into RoR.
A free domain name is included with some hosting plans from GreenGeeks
Features
Out-of-the-box setup. Managed VPS plans come preconfigured with cPanel/WHM and advanced performance and security protocols. Once you set up your account, you're ready to go.
Optimized shared hosting plans. If you do decide to go with a shared hosting plan for your RoR web app, you'll still get very decent performance tools, including LiteSpeed Web Server technology, integrated CDN, LSCache, and HTTP/3 protocol.
VPS security. GreenGeeks will keep your Rails environment safe with a web application firewall, automatic Kernel and PHP updates, DDoS protection, and real-time server monitoring.
Dedicated IP. Each VPS plan gets a free dedicated IP. As for the shared hosting plans, this is only included in the top-tier Premium plan.
See our in-depth GreenGeeks review for more on support
.
Data center locations

US, Canada, the Netherlands

Resources

Cheapest shared hosting plan includes support for a single website, 50GB SSD, and unlimited bandwidth. Cheapest VPS plan contains 2GB RAM, 4 vCPU, 50GB SSD, 10TB transfer

Free automatic backups

Daily

Starting price

$

2.95
Ruby on Rails Hosting Alternatives for Developers
If you're a seasoned developer, you might be looking for services that have more powerful hosting solutions than what my top recommendations can offer.
I've compiled a list of hosting alternatives that feature resource-heavy environments with a focus on scalability and flexibility.
On the other hand, if you're unfamiliar with cloud VPS hosting but like how versatile its plans can be, you might want to consider a managed service.
With the exception of Microsoft Azure, all of these hosts can be managed through Cloudways
, a third-party management service. You can focus on your RoR project while the Cloudways support team takes care of everything else.
DigitalOcean – From powerful cloud VPS solutions known as Droplets to a flexible App Platform that can be used for prototyping and deploying apps, DigitalOcean has a lot to offer developers. RoR can be installed with just one click from the app marketplace, and it includes all the configurations and dependencies you need to get started.
Amazon Web Services – Amazon Web Services is a widely used cloud platform that features top-notch global performance and uptime. You can start off small with the cheap Amazon Lightsail plan and scale up from there. Installing RoR is easy – the latest version is available on the app marketplace and works right out of the box.
Google Cloud – Google Cloud offers impressive benefits, including fantastic security and seamless integration with popular Google apps, despite being a somewhat expensive solution. When it comes to developing and deploying apps, you can leverage developer tools like App Engine and Google Kubernetes.
Microsoft Azure – While Microsoft Azure is significantly outperformed by the other options, it has some robust security features and better support than most cloud computing solutions. Fully scalable Linux virtual machines are the cheapest plan option for developers.
Which Ruby on Rails Web Host is Right for Your Project?
The best Ruby on Rails host depends on
you
– specifically on your time, your resource needs, and your level of comfort with cloud hosting. If you're a seasoned programmer who doesn't mind deploying your server from scratch,
Kamatera is an excellent choice for developers
.
Server resources are completely scalable, and a billing-per-hour option means you won't have to pay for any time your server is offline. But if you'd rather leave the server management to the pros,
Liquid Web provides fantastic managed VPS plans
. You'll still get full root access, but Liquid Web will handle server management so you can focus on your RoR project.
InterServer is a great budget option
with great performance in North America. Its shared hosting plan is dirt-cheap and comes with unlimited resources – and its VPS plans are also very affordable too. If you're looking for great overall performance,
Hostinger will deliver consistent speeds
 while remaining a wallet-friendly hosting solution. Still unsure? You can check out the table below for a side-by-side comparison.
Standout Feature
Ruby on Rails Installation Options
Managed VPS Plans Available
Starting Price
Kamatera

Fully scalable and customizable server configurations

Pre-installed on server

✔

$

4.00

InterServer

Shared hosting plan with unlimited resources

Softaculous app installer

✔

$

2.50

Hostinger

Cheap VPS plans and fast loading speeds worldwide

Softaculous app installer

✘

$

1.99

A2 Hosting

Optimized VPS plans with speed-enhanced Turbo Servers

Webuzo app installer

✔

$

2.99

Liquid Web

Fully managed VPS and dedicated hosting plans with 100% server uptime guarantee

You need to install Ruby on Rails yourself

✔

$

15.83

GreenGeeks

Highly rated 24/7 chat and email support for all plans, including shared hosting

Softaculous app installer

✔

$

2.95
FAQ
Which host is best for Ruby on Rails?
The best host for RoR depends on your needs and the web app you're building. If you're an experienced developer, Kamatera offers affordable, customizable servers well-suited for a variety of projects. Similarly, DigitalOcean can also offer powerful environments with scalable resources. If you're not familiar with VPSs, Hostinger is a cheap, beginner-friendly option. Take a look at our expert list of best Hostinger alternatives tested in 2023 if you need more options.
Can I get free hosting with Ruby on Rails?
You can get free hosting for Ruby on Rails with free trials and free-tier plans offered by AWS, Google Cloud, and Microsoft Azure. These plans will give you access to a free cloud VPS, although you'll have resource limits. Kamatera's 30-day free trial is another alternative. Additionally, you can get some great discounts on paid hosting – our coupon page has all the latest offers.
Can I use Ruby on Rails with shared hosting?
Yes! While it won't reach the performance and flexibility of a VPS, shared hosting can work well for beginners or for small projects. InterServer has a good shared hosting plan for RoR – in fact, its shared hosting plan with unlimited resources is a good fit for many website projects. Find other great shared hosting providers on our list of the best web hosts for 2023.
Which Ruby on Rails hosting provider is best for developers?
If you're a seasoned RoR developer, you'll appreciate all that DigitalOcean has to offer. With fast installation of the latest version of RoR, along with powerful cloud VPS that is completely customizable and scalable, it's an easy choice. Alternatively, Google Cloud, AWS, or Kamatera also make good options.