you don't want to be reselling a low-quality service.
But there's more to it than that.
Reselling hosting can be a complex business, and you want to be sure you're getting everything you need.
Some hosts restrict you to predetermined plans, while others allow you to allocate your resources however you like. The best providers offer professional hosting management software at no added cost, and some even give you white-label control panels that you can customize with your own branding.
I researched the top reseller hosting providers on the market and tested their services. I picked out the ones that offer the best value for resellers,
to help you make the right choice.
In a Hurry? Here Are the Top Reseller Hosting Providers in 2023
Kamatera – Highly-customizable cloud VPS that can be shaped to your clients' needs
GreenGeeks –

Beginner-friendly platform that suits new resellers

A2 Hosting –

Offer your clients the best shared hosting performance
What We Look For in the Best Reseller Web Hosts
I looked into dozens of reseller hosting companies to determine which ones are actually effective. In my search, I specifically focused on hosts that could provide the following key features:
These are some other key elements that the best reseller hosting providers offer:
Billing and client management software:

Critical to your reseller operation, your chosen host should provide a functional and intuitive tool to manage invoices and clients. A popular solution is the Web Host Manager Complete Solution (WHMCS), but similar proprietary options can work just as well.

Flexibility

: The best reseller hosts let you customize your own hosting packages and allocate their generously-provided resources just about any way you want.

Powerful performance: To build your reseller business and reputation, you want your customers to enjoy fast page loading speeds and consistent uptime.
Strong customer support: You may not have the time or resources to figure out all your clients' technical issues. The best reseller hosting providers will either assist your clients directly or provide you with professional guidance on how to assist them yourself.
Pricing: Should be fair (no sneaky long contracts!), affordable, and give you good value for your money, so that you have the best profit margin.
With Kamatera, you have two options for reselling. The first option is to buy and sell directly, by purchasing services and products at a wholesale price, and then selling to your clients at whatever retail price you set. The second option is to sign up for the
White Label Reseller Hosting program
, which allows you to customize the control panel with your own branding. The great thing about both of these options is that there's no upfront investment – Kamatera provides you with all the tools you need, and you pay a percentage of your total monthly earnings from clients. This means you'll never have to pay for resources you don't need.
Best of all,
Kamatera can offer your clients equal or superior performance to any host on this list
. You can sell unmanaged or managed cloud VPS hosting which can be fully customized to meet your clients' needs. This makes it one of your most flexible options – great if you're serving a specific niche or a wide range of different clients.
To find out more about what Kamatera has to offer, read our in-depth review
.

Features:
Additional discounts and benefits:

In addition to lower wholesale prices, Kamatera will periodically offer additional discounts and useful benefits to existing customers. Taking advantage of these will net you greater profits.

Independent resource scaling:

You can scale RAM, CPU, and SSD storage space independently of one another for each cloud VPS. This allows you to create custom configurations that many other resellers simply cannot offer.

Full API support:

Kamatera's white label control panel features full API access. This allows you to programmatically manage your clients' accounts, if that's how you prefer to work.

Wide range of server images:

Every cloud VPS with Kamatera has a long list of free server images that can be installed with a few clicks. These include OSs, development frameworks, and popular content management systems like WordPress.
| | |
| --- | --- |
| Starting Price for Reseller Hosting | No upfront investment |
| Flexibility | Cloud VPS with independent resource scaling, multiple server images available or you can bring your own |
| Resources | 1 – 104vCPU, 1GB – 512GB RAM, 20GB – 4TB SSD storage, 5TB monthly bandwidth |
| Performance | 99.9% uptime guarantee, achieved the best site load speeds of the list in our performance tests |
| Customer Support | Skilled cloud engineers are available 24/7 via email and phone |
| Money-Back Guarantee | 30-day free trial with $100 free credit |
If you need a hand getting set up,
I'd recommend GreenGeeks beginner-friendly reseller plans
. I'd rank GreenGeeks among the best when it comes to delivering quality support – and this extends to its reseller hosting.
Regardless of the issue,
GreenGeeks has always gone the extra mile to help me – even if it was somewhat technical
. Rather than just linking me to related documentation, they jumped in to solve my problems themselves. As a new reseller, this kind of service can be invaluable.
GreenGeeks Reseller Hosting
A free domain name is included with some hosting plans from GreenGeeks
GreenGeeks also commits to offset your power usage with renewable energy credits
– helping you and your reselling business remain carbon neutral. This can be important to an environmentally-aware clientele.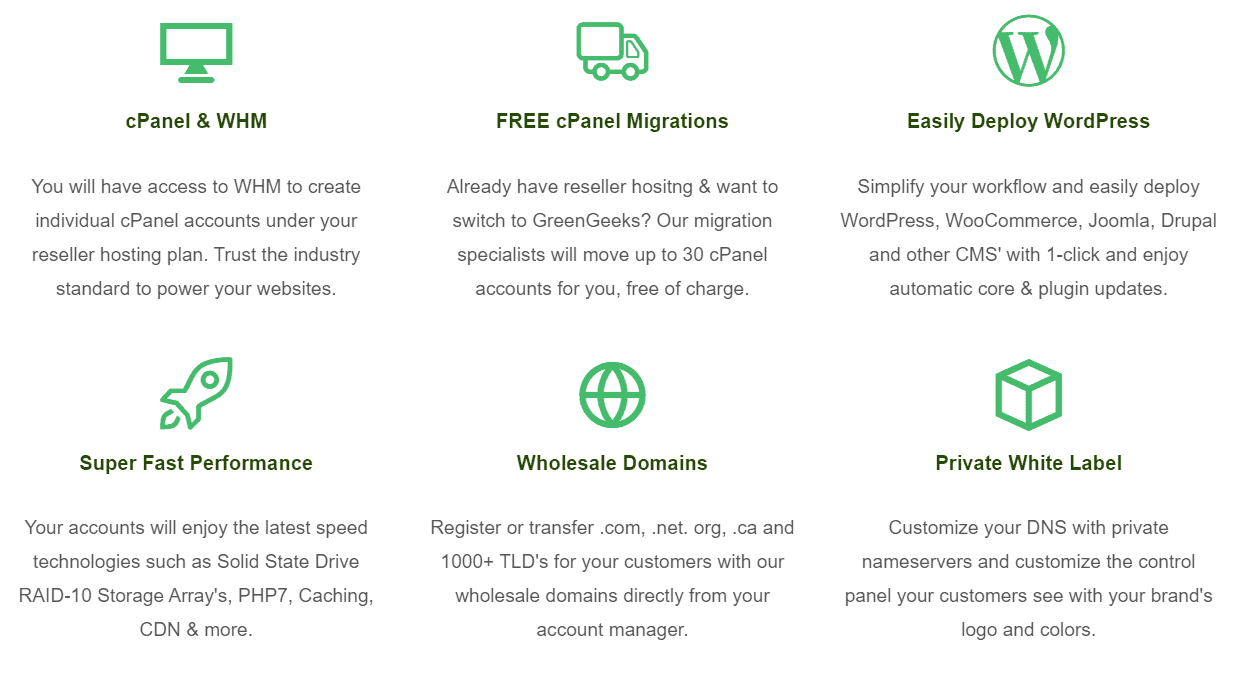 Features:
Scalable client accounts: You can host 25-80 client cPanel accounts, depending on which reseller hosting plan you choose. If it turns out you need more accounts than the number included with your plan, you can add them in blocks of five without having to upgrade.
Robust security solution: GreenGeeks provides 24/7 real-time security monitoring and custom security rules to protect you and your clients' websites from hackers and other threats. Read our full GreenGeeks review to find out what happened when we tested the service for 30 days.
Developer-friendly: GreenGeeks offers multiple PHP versions, Perl and Python support, and access to the latest developer tools (Git, WP-Cli, Drush, and more).
Free migration: If you are transferring your reseller account from another web host, GreenGeeks offers free migration for up to 30 cPanel accounts.
Starting Price for Reseller Hosting

$

19.95

per month
Flexibility
100% white label, and you can design your own packages based on disk space, bandwidth, domains, email accounts, and more
Resources

60GB – 160GB SSD storage, 600GB – 1600GB data transfer

Performance
Utilizes the latest speed technologies: SSD RAID-10 storage arrays, PHP7, CDN, and more
Customer Support
Hosting specialists offer you 24/7 assistance via live chat, email, or phone. Plus, their knowledge base includes video tutorials for DIY-ers
Money-Back Guarantee
30 days
A2 Hosting offers eight reseller hosting plans,
and a free Blesta license is included with all of them. Blesta is a decent customer management solution, but if you opt for the Launch, Grow, or Scale plan, you can choose WHMCS – a more advanced platform – instead.
Each A2 Hosting reseller account has its own user-friendly WebHost Manager (WHM) control panel that allows you to create individual accounts for all of your clients. Not only that, but
your reseller account is fully white-labeled so that you can promote services under your own brand,
 to your own customers. You also get a free eNom reseller account with any A2 Hosting reseller plan.
As for hosting quality,
you'll be glad to know that A2 Hosting is built for speed – it was among the best-performing shared hosting providers we tested
. Read our A2 Hosting review to see our test results for yourself
.

Features:
Decent data transfer limits:

A2 Hosting offers a decent amount of monthly data transfer, starting at 600GB and scaling all the way up to 2.7TB. As your reseller business grows, A2 Hosting can upgrade with you.

Flexible refund policy:

You can try A2 Hosting's reseller plans completely risk-free, thanks to its Anytime Money-Back Guarantee. If you cancel within the first 30 days, you'll get a full refund – but you can cancel outside this period and still be eligible for a prorated refund for the remainder of your contract.

WordPress-optimized servers: If you build WordPress sites for your clients, you'll be glad to know A2 Hosting goes to great lengths to make sure WordPress websites perform at their best in terms of speed and security.
Extensive security features:

A2 Hosting's reseller plans include a proprietary security suite called Perpetual Security, which automatically scans for malware and patches vulnerabilities in your clients' websites before they pose a threat.
Starting Price for Reseller Hosting

$

17.99

per month
Flexibility
You can create your own packages with their own names and resource allocations (disk quota and monthly bandwidth, cPanel theme, features, and more)
Resources

60GB SSD – 270GB NVMe SSD storage, 600GB – 2700GB data transfer

Performance

99.9% uptime guarantee, great page load speeds in our performance tests, impressive "Turbo Servers"

Customer Support
24/7/365 "Guru Crew" support via live chat, email, phone, and an online knowledge base
Money-Back Guarantee

30-day full refund guarantee, prorated refunds outside this period
InterServer's reseller hosting plans
include an impressive line-up of features. Your clients will get the developer-friendly DirectAdmin control panel, unlimited email accounts, and access to hundreds of cloud apps (including a one-click install for WordPress). 
In addition,
InterServer offers unlimited client accounts with every plan
– you can host as many clients as your resources can fit. If your clients require only a small amount of storage and bandwidth, you can host many, even on the cheapest plan.
unique IP addresses, and have your own private DNS server.

Features:
Proprietary security:

Unlike many other hosting providers who only use third-party security software, InterServer has developed their own in-house solution. It's a strong set of security measures – offering an AI-driven firewall, automatic virus scanner, an in-house malware database, and more.

DirectAdmin control panel:

If you're targeting a more technical clientbase, you may find the DirectAdmin control panel to be a better fit than cPanel. It's more lightweight with a greater focus on the command-line.

Daily backups:

Data loss due to accidents or hardware failure can be crippling to a reseller business. Thankfully, InterServer will back up your data on a daily basis. 

Great performance in the US: InterServer can offer your clients excellent page load speeds and uptime across the US. However, it was slower elsewhere. Check out the performance tests in our InterServer review for all the details

.
Starting Price for Reseller Hosting

$

19.95

per month
Flexibility

Unlimited client accounts, managed through WHM

Resources

80GB – 280GB SSD storage, 500GB – 2TB monthly data transfer

Performance
LiteSpeed caching and Cloudflare CDN boosts loading time
Customer Support
24/7 live chat, email, phone, as well as online tutorials offered
Money-Back Guarantee
30 days
What makes InMotion Hosting stand out is that in addition to shared reseller hosting, it offers
VPS reseller hosting plans
. This is ideal if you build more complex websites for large clients who require more than what standard shared hosting can provide. The VPS reseller packages include free server management so that your infrastructure is secure and up to date. You also get a white label suite which allows for custom cPanel branding, and a free WHMCS license with every plan. The downside with the VPS reseller plans is that you only get 5 cPanels, as opposed to the 25-80 you get with the shared reseller plans.
InMotion Hosting Reseller Hosting
If you choose to purchase InMotion's Reseller Advantage service, you can also enter the domain reseller business, and
start selling domains and hosting in less than 48 hours.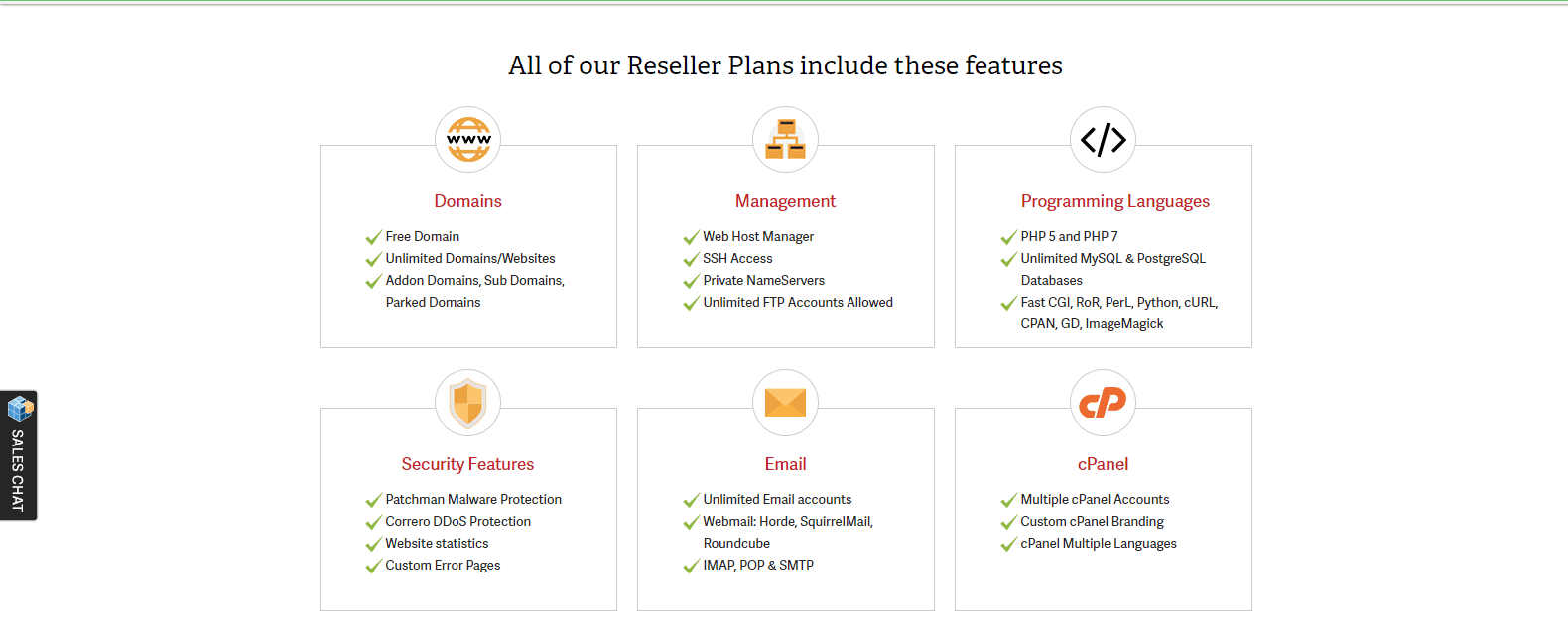 Features:
Managed help starting up: With every VPS, you will receive two hours of free Launch Assist. This is a service provided by InMotion Hosting's managed support team, where they will configure your server according to your specifications. They can install software, set up domains and email, optimize the server, and more.
Free dedicated IP addresses:

Every reseller VPS comes with three dedicated IP addresses at no extra charge. These are usually sold at a premium with other web hosts.

Unlimited bandwidth:

You'll never have to worry about hitting any monthly traffic limits with a reseller VPS plan. This means you'll be able to host clients with high-traffic sites without running into issues.

Generous money-back guarantee: InMotion Hosting gives you a full 90 days to test the service, outdoing the 30-day industry standard.
For a full list of features, read our expert InMotion Hosting review
.
Starting Price for Reseller Hosting

$

21.39

per month
Flexibility

Full server customizability with root access, WHM client management

Resources

45GB – 105GB SSD storage, unlimited bandwidth

Performance
99.9% uptime guarantee. Two Max Speed Zone data centers served by multiple tier 1 Internet Service Providers, with multiple layers of redundancy
Customer Support
24/7 phone, live chat, and email support. The higher-tier plans come with two free hours of InMotion's specialized service, Launch Assist, to help you get your hosting business up
Money-Back Guarantee
90 days
Which Reseller Hosting Provider Is Right For You?
Reseller hosting can be very lucrative, and an excellent method to increase revenue for your current business. When you're just beginning, it's crucial to choose the right provider for your needs, taking into account your clients' needs as well. Here are my recommendations:
For the best in flexibility and performance, I'd go with Kamatera. You can build whatever custom server configuration your clients require, while offering stronger performance than the competition.
If you're new to reselling, I'd recommend GreenGeeks. Its responsive and helpful support team will do its utmost to help you solve any issues you run into. The fact that it is an environmentally-friendly host can also help your business stand out.
For the fastest shared hosting provider, consider A2 Hosting. It's easier to work with than Kamatera, offers reasonable prices, and performance is very good. If your clients only require shared hosting, A2 Hosting is easily among your top options.
Still unsure? Check the comparison table below for a quick overview:
Standout Feature
Total Client Accounts
Monthly Data Transfer
Starting Price
Kamatera

Highly customizable cloud VPS with great performance

Unlimited

5TB free, overage fees for data transfer above this

$

4.00

GreenGeeks

Best technical support, perfect if you're new to reselling

2

5 – 80 cPanel accounts

600GB – 1600GB

$

19.95

A2 Hosting

Impressive page load speeds on a shared hosting platform

40 – 150 cPanel accounts

600GB – 2700GB

$

17.99

InterServer

Developer-friendly, great security & data protection

Unlimited

500GB – 2TB

$

19.95

InMotion Hosting

Reseller VPS with a free managed setup

Unlimited (only 5 cPanel accounts included)

Unlimited

$

21.39
FAQ
Who is the best reseller hosting provider?
It depends on your needs and what kind of hosting you'd like to resell. If you'd like to resell customizable cloud VPS, Kamatera is likely your top option. For the best shared hosting performance, I'd recommend A2 Hosting.
Which reseller web host is the most affordable?
Almost all of the providers on this list have pretty affordable deals. However, GreenGeeks offers the cheapest starting point on this list. It's also the most beginner-friendly. 
If you'd like to get your own business site online for cheap without compromising on performance or features,
check our complete guide to hosting a website in 2023
.
Is reseller web hosting profitable?
In short, yes. But for the best profit margin, it's important to choose the best reseller hosting provider. Once you figure out what you need to fulfill your clients' requirements, you can pick the best provider that will offer all of the features you're looking for. It's important to keep in mind features like professional hosting management software and unlimited resources and domains, for example, which can help you run your reseller hosting business successfully.