every single
Wix template to find the best ones for musicians, bands, and music artists. Guess what? I discovered that
there are actually some hidden gems that aren't even in the music category
. I also discovered some less fortunate options. Don't get me wrong: there's loads of good choices, but not all of them are
great
choices. A good template has to look good, but it should also
encourage your website visitors towards an action
 – for instance, listening to your latest track, watching your new music video, grabbing tickets to your next concert, booking you for a wedding, or signing up to your mailing list. In a dream world, all of the above. These are the templates I liked, as well as some that you may want to avoid. I also included a few templates from outside the musician category that could work well.
Wix Templates That Put Music Front and Center
Wix has just upwards of
60 templates for musicians and bands
, covering a bunch of different niches, from pop and eletronica to metal and classical jazz. You can find them under the "Creative" tab, or by typing "music" in the search bar.
Wix also has great customization options
, so don't worry too much about the kind of musician each template is "intended for". If you like the way it looks, or what it can do, you can easily make it your own.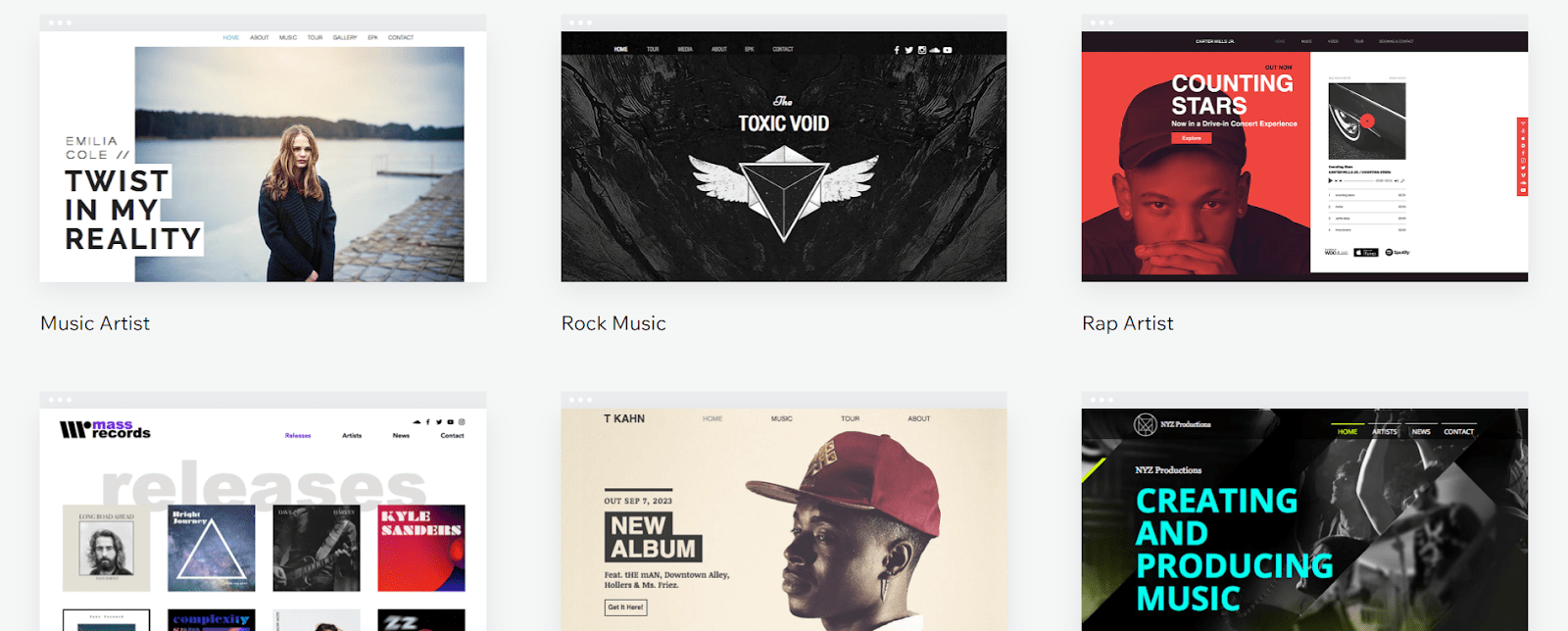 Just keep in mind that once you've picked a Wix template,
you won't be able to switch to a different one without losing all of your work
, so it pays to be confident in your choice.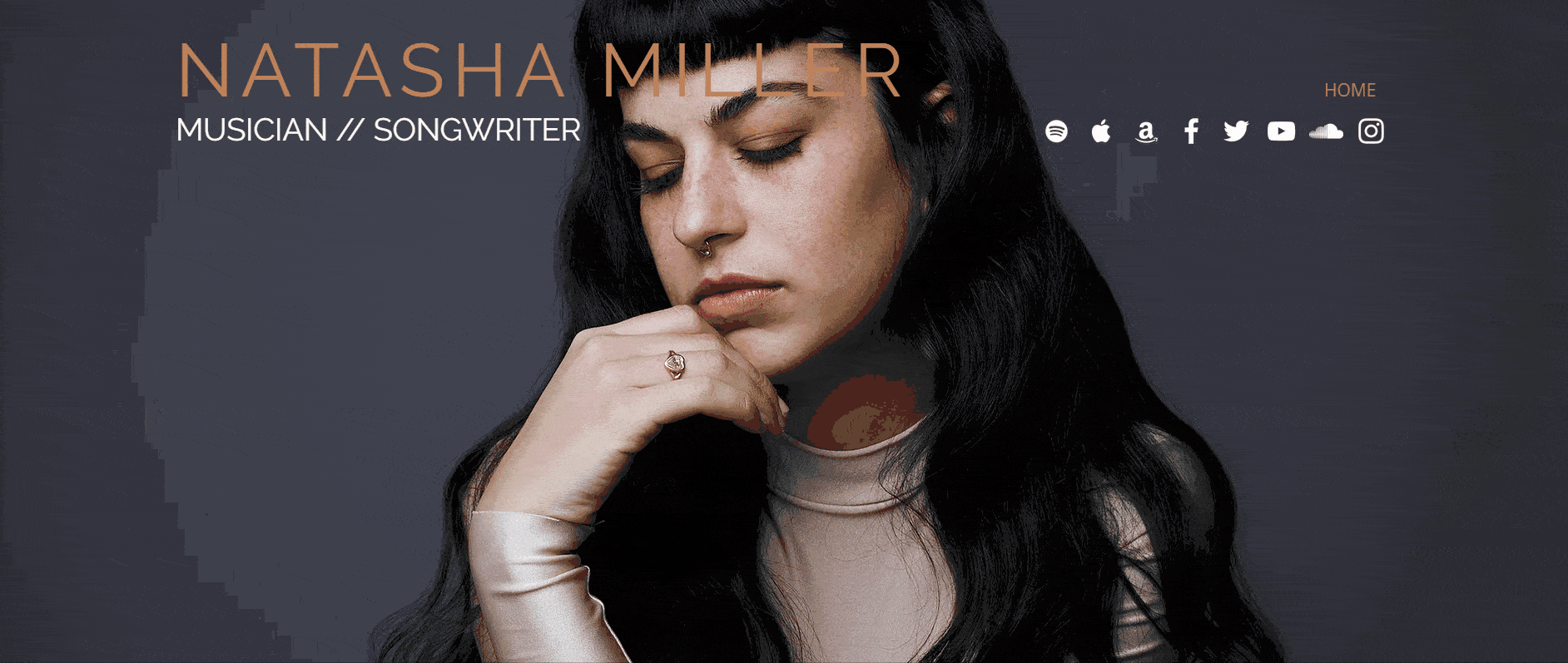 Simple and understated, yet elegant – this is a great template if you want a website that's
not going to take a lot of work
 but is still going to do the job. There's no blog or news section that needs to be continually refreshed with new content – just space for promoting your latest tracks and music videos, and links to your social channels. In short, this is a template that's all about the music. Like the other music website templates on this list,
Musician Teaser
comes pre-installed with Wix Music, an app that lets you
display your albums, singles, and playlists in a customizable player
. Visitors can stream your music directly from your website – or even download your songs. Wix also lets you sell your music commission-free (although you will need an e-commerce plan to be able to accept payments), while giving you useful stats on your listens, downloads, music sales, shares, and most-streamed tracks.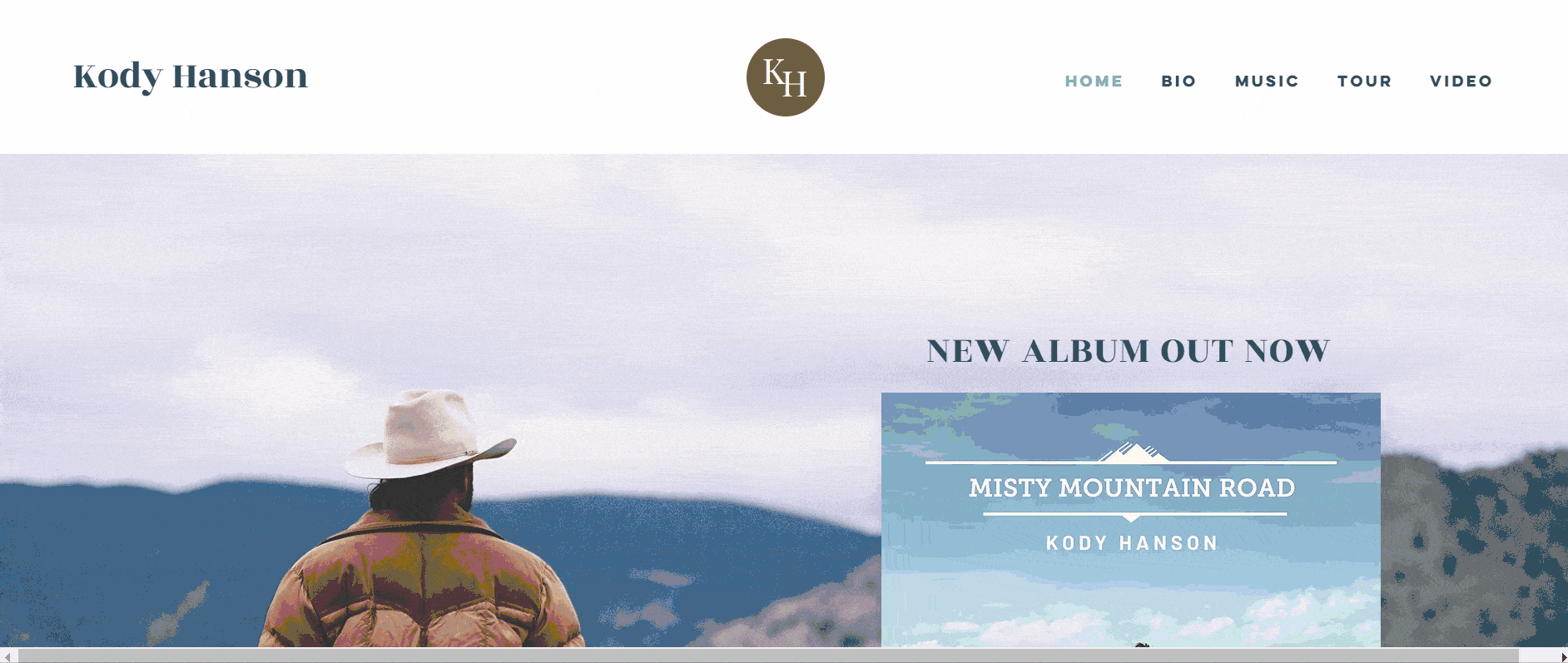 From the simple to the more complex. This white-gray-and-beige creation contains
plenty of space for all of your content
– not just a music player and a video block, but also sections for your tour dates, your full discography, a bio page where you can tell your story as a music artist, and even an Instagram integration for showcasing your latest snaps. The creamy color scheme combines nicely with full-width images and bold text snippets to create an
eye catching yet clean
 website that fully integrates with your online presence.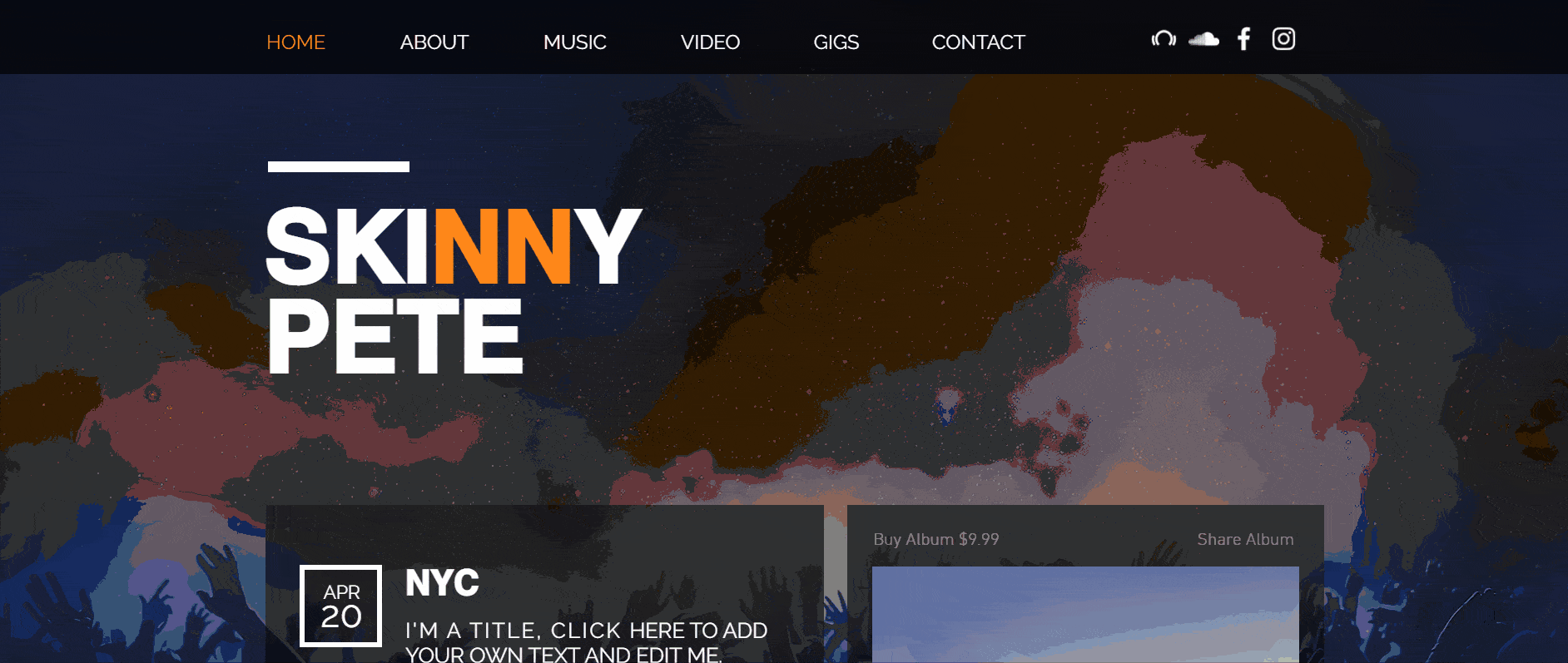 If you want a website that's going to make a statement,
Rave DJ
has what it takes. With its chunky white-on-black text, orange accents, and short, snappy page layouts (no endless scrolling here), this template is
sure to make an impression
. While other options on this list might place images or text at the forefront,
Rave DJ
shines the spotlight on tour dates
 – making this template a great choice if you do regular live performances and want to push gig tickets (Wix lets you sell tickets via its Bandsintown or Songkick integrations). There's still ample space for sharing details about yourself as a musician, as well as letting visitors stream your songs, watch your latest music video, get in touch to make bookings, and connect with you on your other social channels.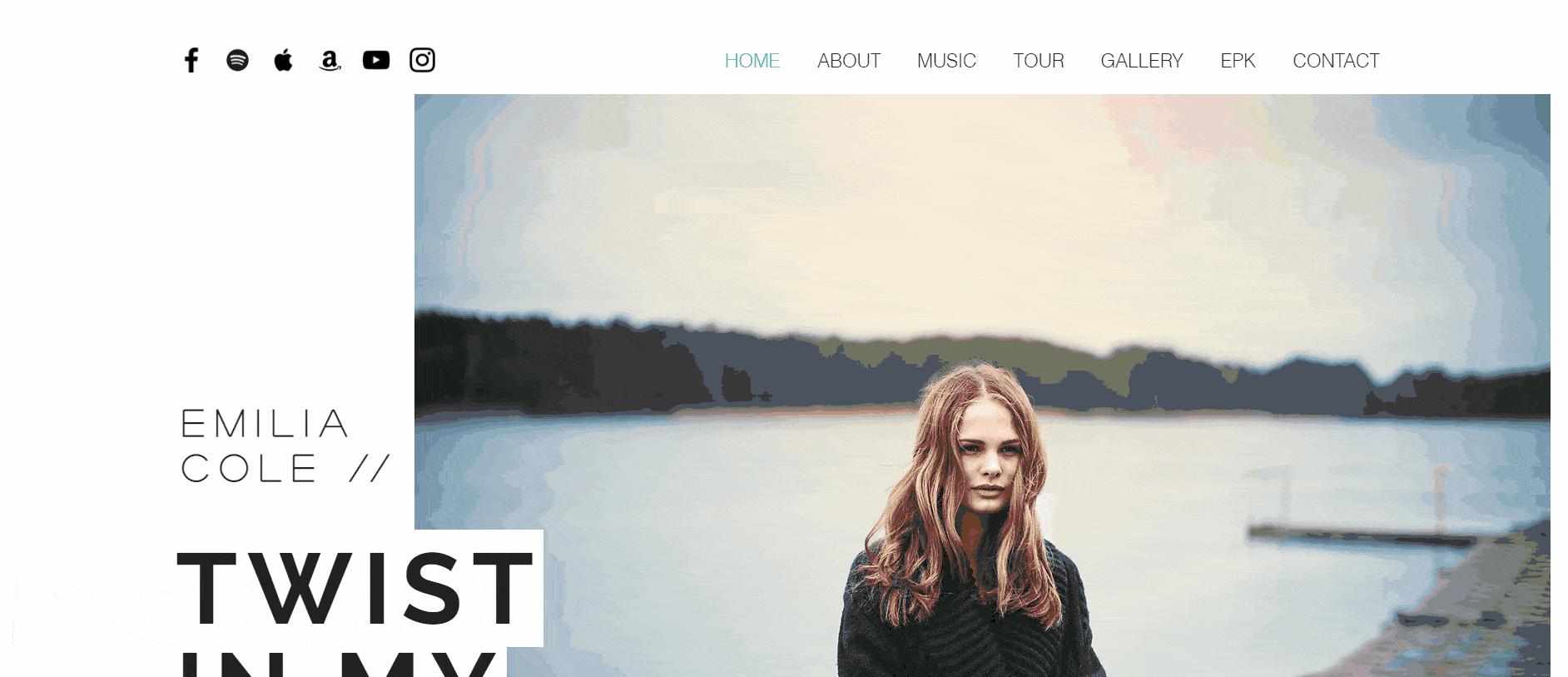 This template works
precisely because it's so simple
. Since it has a relatively bare homepage, with just a photo and some bold, off-center text, visitors are immediately invited to start browsing through the top menu and – boom! – right away they're engaging.
Music Artist
comes pre-loaded with a music player, content blocks for embedding your music videos, and a page where you can sell tickets for your tour. There's also a gallery page, which might be a nice addition to your website if you want to tell your artist's story in a more visual way, or
give a taste of what your live shows are like
.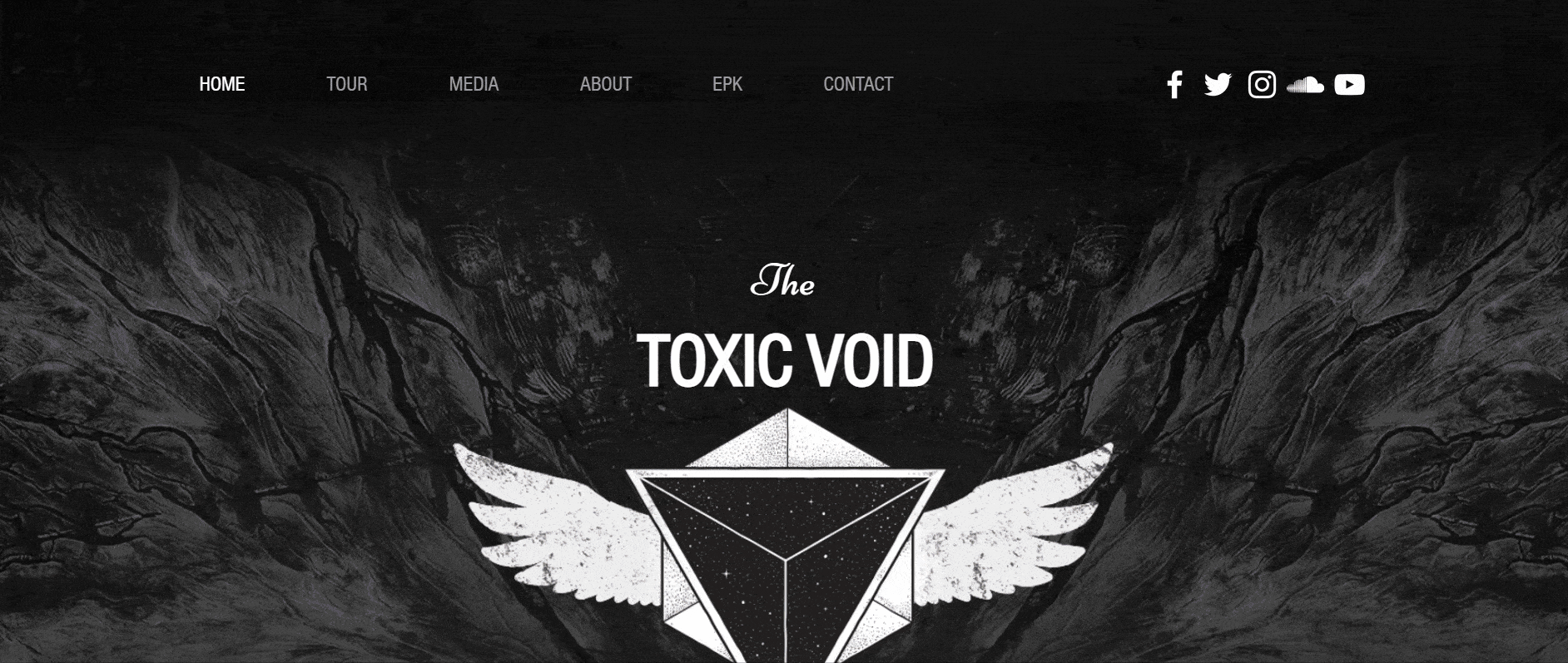 This engaging theme uses a bold white-on-black color scheme to make a statement, while the scrappy line drawings and the eclectic mix of fonts give it a more grungy feel. It also comes
 jam-packed with all of the features musicians and bands could need
, including a music player, tour dates, video and gallery blocks, and a contact page. The homepage puts a news (blog) block at its center, making this a
great option if you're a band with a dedicated following
. By posting regular updates, you can keep your fans in the loop with all of your goings on – from news and tour dates to upcoming releases and presale passwords!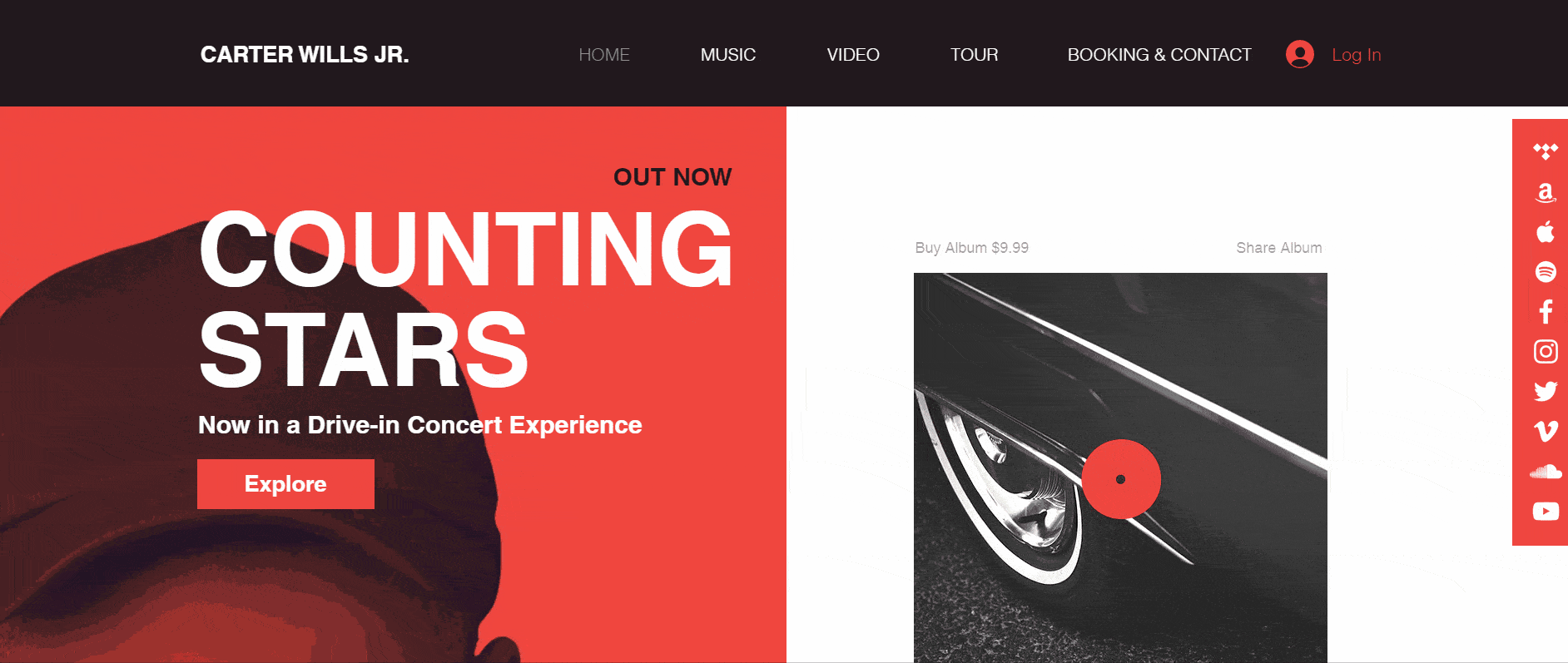 This minimal and slick template strikes a
really contemporary feel
 with its two-tone colored images and off-center block placements. I love the bold lines created by the split-view layout on the homepage, and the socials bar down the left side of the screen adds a further dimension of interest. You can always swap out the red for another color, if you so wish. Once again, music is placed front and center of
Rap Artist
, with the
Wix music player dominating the homepage
. The "Music" page can display your whole discography in a neat, tiled format, while there are also pages for sharing your music videos, tour dates, and details about your representation.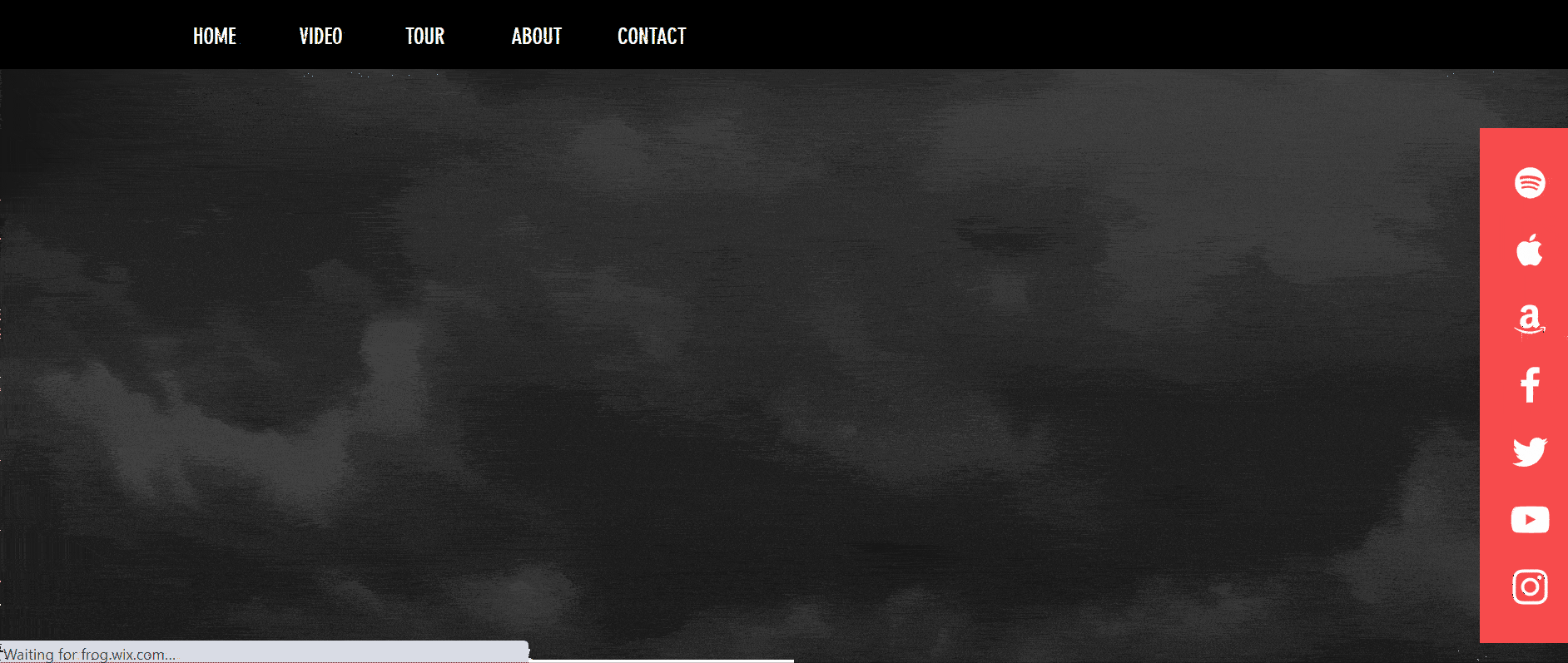 This template also uses a black, white, and red color scheme to hit a modern feel – but this one is quirkier. I especially like the
use of movement and fade-in animations
, which make
Rock One Pager
feel as alive as a catchy chorus. As the name suggests, this is another template for a single-page website, so it's a good choice if
you're just starting out and don't have a lot of content just yet
. Plus, one-page sites are very user-friendly – and super trendy right now!
It contains all of the sections you'd expect to find on a musician's website, including music videos, tour dates, and contact details. The danger with one-page websites is that people try to pack in too much information, and end up with a page that is so long it feels unnavigable. This template manages to avoid that pitfall by keeping the design very structured and easy to follow.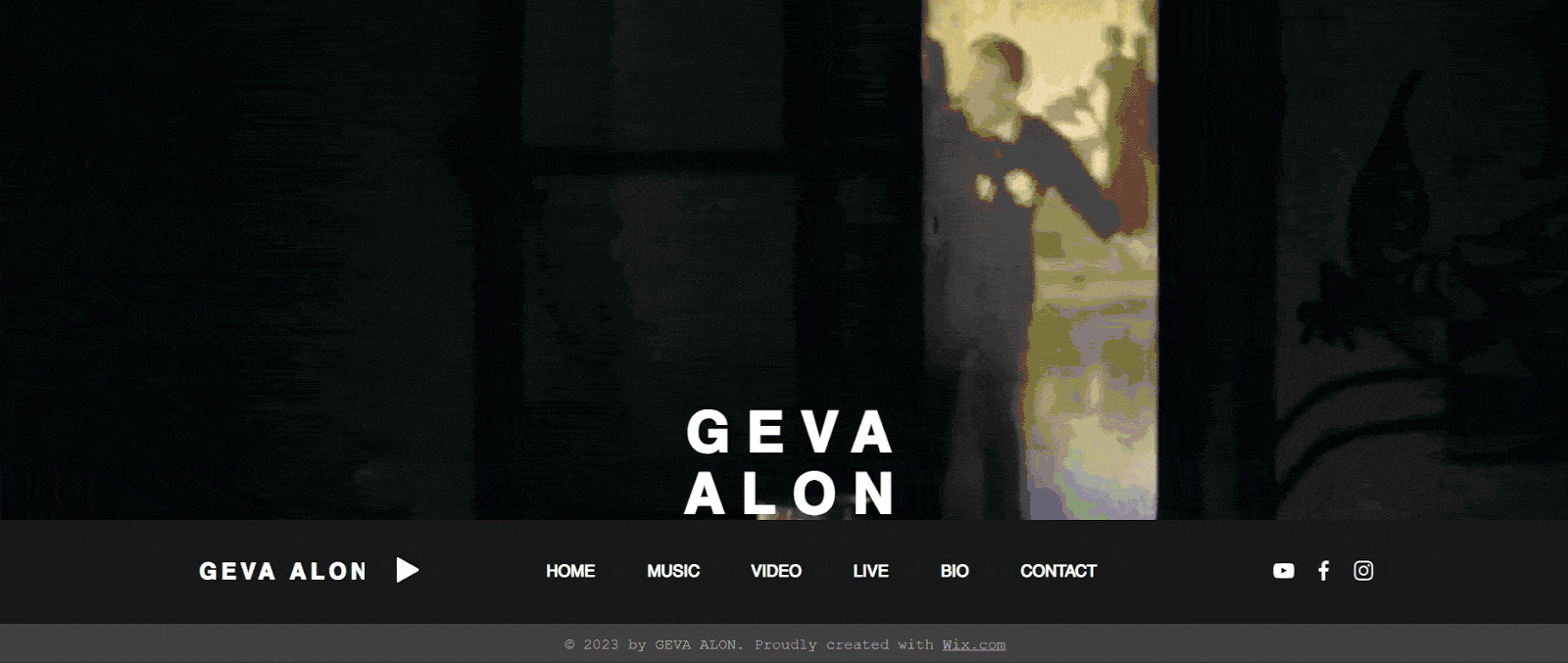 Folk Singer Songwriter
is another one-page website for musicians and bands, but there's a lot that makes it stand out. For starters, it's got a
fullscreen video background
 that helps to immediately draw the visitor's eye. I also particularly like the quirky placement of the menu bar at the bottom of the screen, and the use of
multiple, tiled music players to curate different albums or playlists.
 This template makes minimal use of text. Instead, it lets the music take the center stage and it encourages your fans to listen and watch, rather than read. You are a musician, after all. There's also plenty of space for uploading your latest music videos, sharing tour dates and reviews, and a contact block to help your fans get in touch.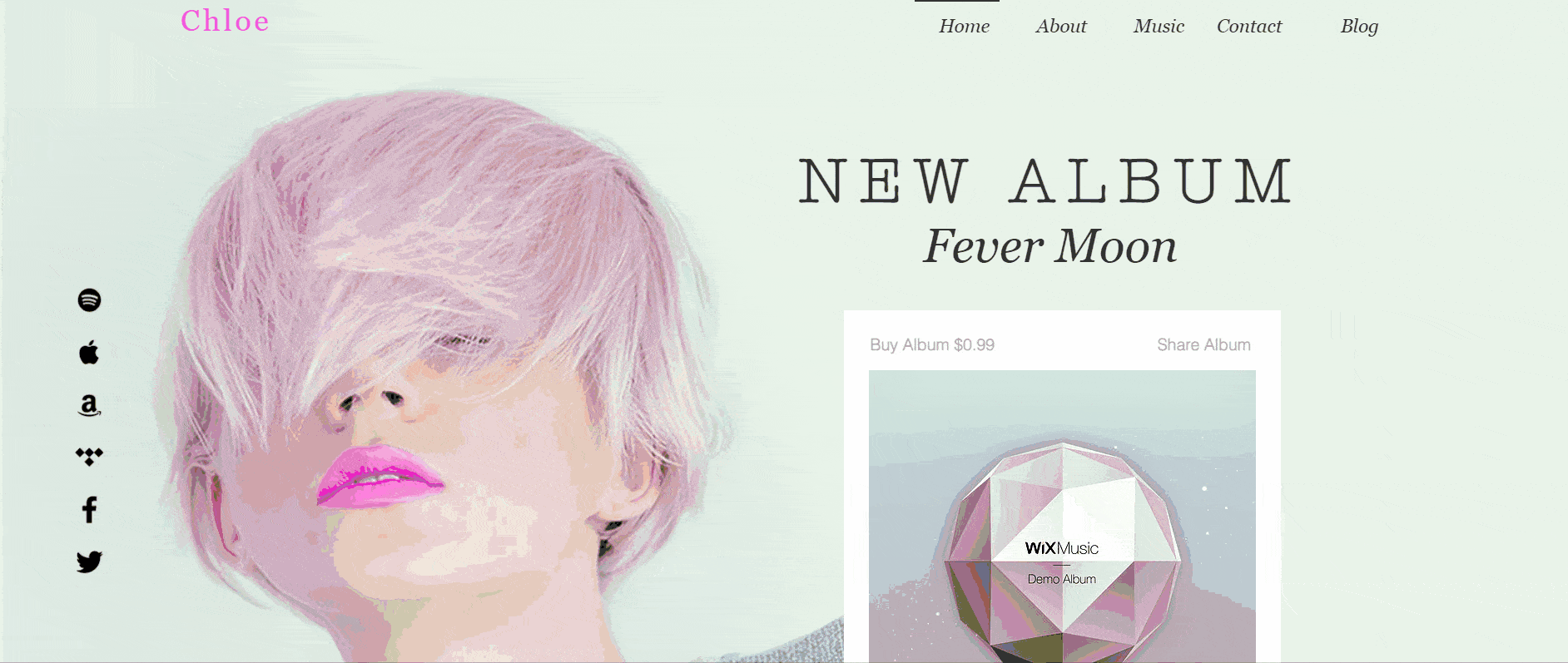 Super on-trend with its
delicate pastel color scheme and quirky mix of fonts
,
Electro Pop Singer
hits a modern but not necessarily mainstream note. The mix of calm mint green and vibrant fuchsia is a great choice for musicians that want a playful, eye catching website, and don't mind making some bold color choices. Your music is placed front and center with the music player dominating the short-but-sweet homepage, while there are extra pages for sharing your story, full discography, and contact details. I also like the fact that
this template comes with a built-in blog
 – a great way of staying connected with your existing fans, and potentially engaging a bigger audience.
This is another template that
shines in its simplicity
. You don't necessarily need fancy graphics, fonts and color schemes – just space for you to tell your story and share your music.
Soul Artist
is a stylish template with plenty of clean white space, neat text snippets, black call-to-action buttons, and full-width images. Unlike some of the other templates on this list,
it dedicates a fair amount of space to text
, giving you the chance to describe your music and explain what inspires you – which could be crucial to you if you want to connect with your listeners through text as well as your music. There are also blocks for streaming your tracks, sharing your videos and photos, promoting tour dates, and getting yourself booked for shows.
Wix Templates More Likely to Flop
Unfortunately,
not all Wix templates are created equal
. With so many other great options to choose from, I would advise you against using either of these templates for your website – one because it doesn't do enough, and the other because it tries to do way too much.

Band Site Website
 is
just far too simple
. If you want a pared-back website that's not going to require a lot of upkeep, then I would recommend you go for one of the single-page options I suggested above. By condensing all of your information onto one page, you make the website feel a lot fuller.
Band Site Website
, on the other hand, just doesn't feel complete with its teeny-tiny pages and "demo-look" fonts. Meanwhile,
DJ Service
 is an
assault on the eyes
. The electric violet, sickly pink and white color scheme is absolutely nobody's cup of tea. Even if you switched up the color combinations, the tile-effect homepage with its snippets of text and call-to-action buttons looks cluttered,confusing, and – frankly – dated.
Other Wix Templates That Could Work for Your Musicians' Website
Apart from a few duds, Wix has a lot of good choices in its music websites templates category. But before you settle for one of them, give me just a second to encourage you (if you'll forgive the cliche), to
think outside the box.
Here's the deal:
Wix templates are totally customizable
. And so it's more than possible to take a template from a different category – simply because you like its look or layout – and shake up the pages and the content to make it work as a website for a musician or band. The good news is that adding the Wix Music app to a different template is as
simple as clicking a few buttons
. Here are some templates from other categories that could work well.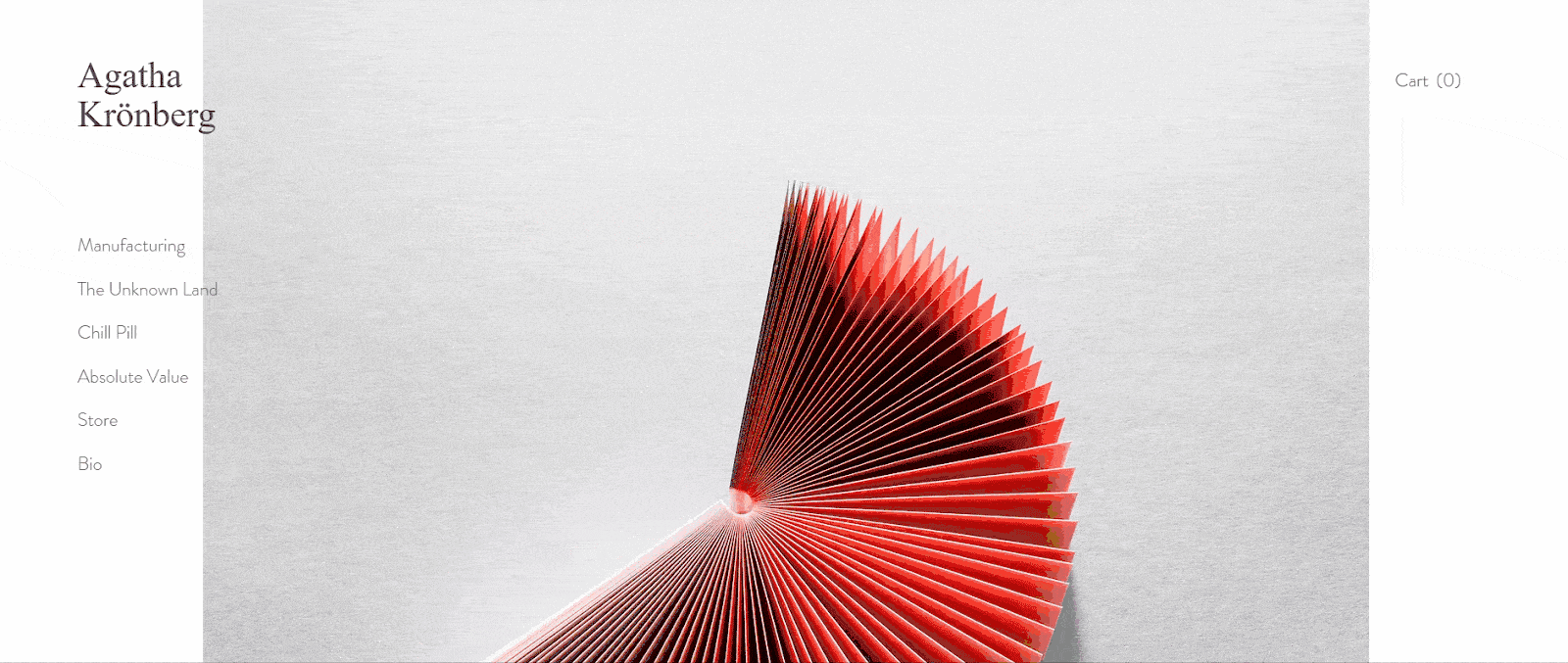 The
Modern Artist
template is intended for visual artists, but there's no reason why it wouldn't make a great website for musicians. It's another simple template with
neat text, wide images, and clean, white space
, and I really like it for a few reasons. First, I like the unusual placement of the menu down the left-hand side of the screen, with the main image extending behind the navigation items. It brings all of the different page elements together, creating a seamless website experience. The pages could also be easily edited to fit a musician's needs – with the portfolio section replaced with pages for songs, music videos, and tour dates. The bio section can remain as it is – and the
store is a nice addition
 (none of the music templates above has one), if you have merchandise to sell.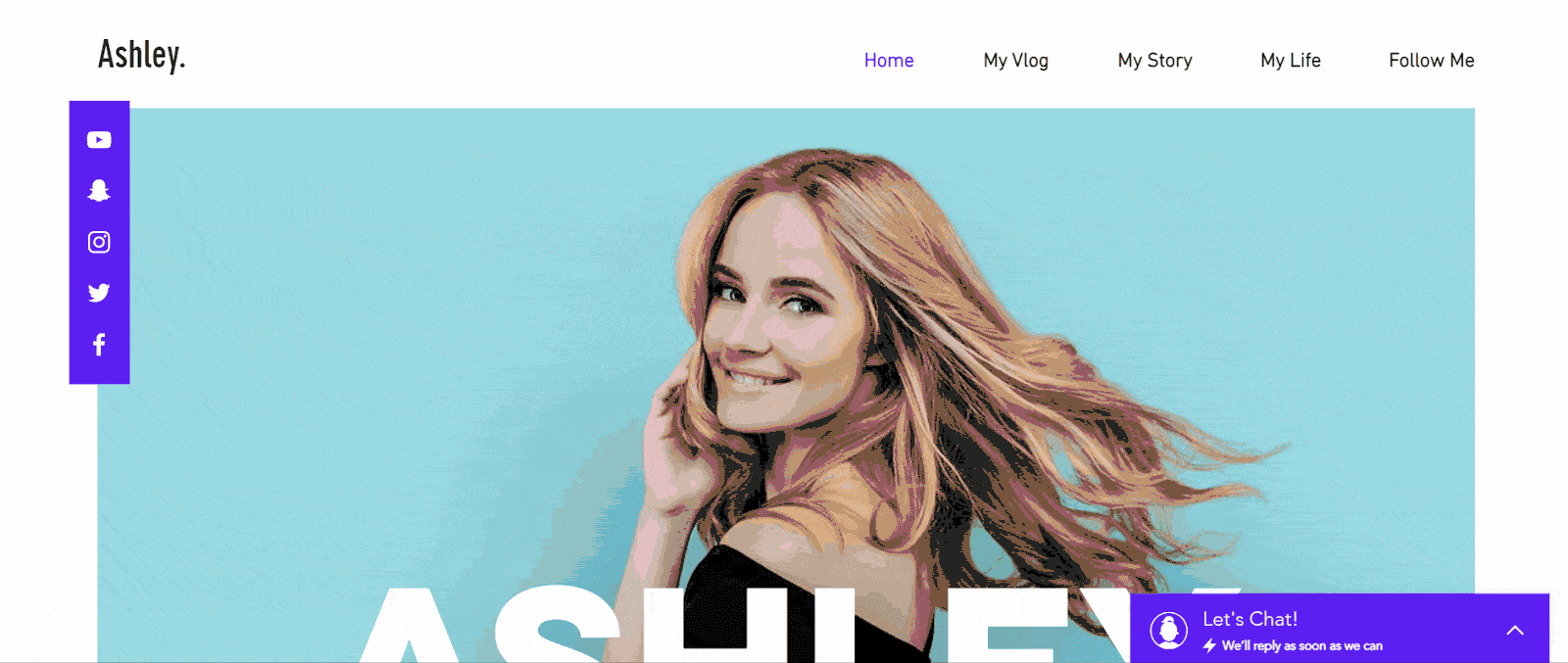 Is it just me, or are a lot of the Wix music templates a bit… well…
serious-looking
? If you're a musician that wants to
inject a bit more fun into their website
, you might like this option, which I found hiding in the "blog" templates section. I love the vibrant blue-and-white color scheme, parallax scrolling, and cheeky images, which combine to create a playful website template with plenty of emphasis on the visuals. As it's a blogging/vlogging template, it comes readymade with sections for posting blog updates for your fans, video blocks, an Instagram integration, and an email sign-up form. You'd simply need to add a music player, edit the About page and potentially add some details about upcoming gigg. Now it's a music artist's website!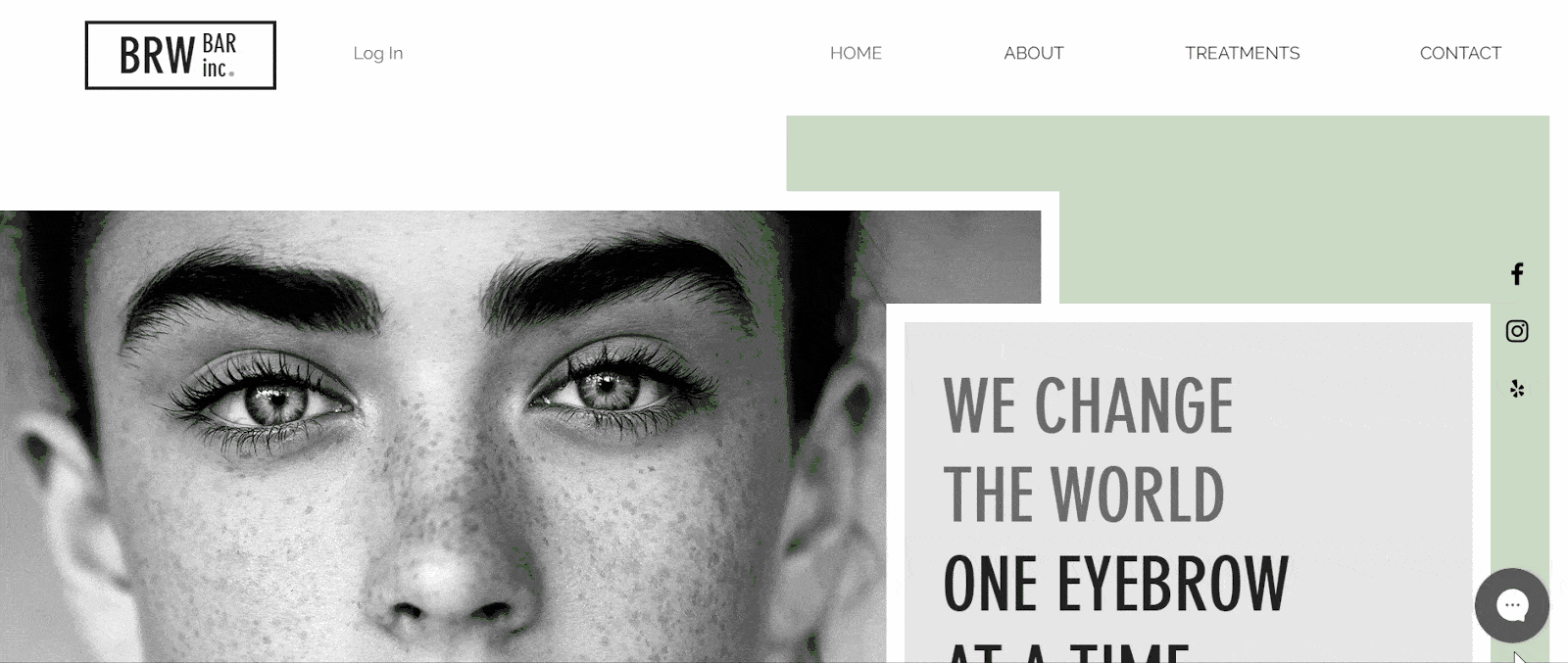 Okay, you're gonna have to trust me on this one… But look past the eyebrows and
 you've already got pretty much everything you need
. Imagine that, instead of "Book an appointment", that button said "See tour dates" (or something much catchier than that), and suddenly the lady with the perfectly-coiffed brows could be an up-and-coming pop superstar. I adore this template due to its unique color scheme and playful arrangement of content blocks and images. The template already incorporates Instagram integration. To create your musicians' website, simply replace the "Treatments" page with a list of your tour dates, introduce a music player, and insert a block featuring your most recent video. It's as simple as that!
The Right Template Covers Both Looks and Actions
Selecting the appropriate template holds great significance. Your site's visitors will encounter it as their initial point of contact, and it must also serve specific functions, such as enabling website visitors to listen to your tracks, watch your music video, read your band updates, sign up to your mailing list, or book tickets to your next gig. All of the templates on this list do just that – now you just need to decide which one fits your band's brand best!
FAQ
Does my band need a website?
Choosing to set up your own band website – rather than, say, relying on a social media profile – is a good for a number of reasons. Not only does it allow you to retain full creative control over your content, but it also lets you sell your music and merchandise without having to sacrifice a lot of money in commission fees. A good website says you're serious about your music. Dedicated fans will probably expect you to have a website, and so it's a good way of keeping in touch with them. You can also use it to grow your fanbase with things like email signup forms.
Is Wix good for musicians?
Wix is a really solid website builder option for musicians because of the powerful tools it offers (even on the free plan!). The Wix Music App lets you create songs, playlists, and albums that can be streamed directly from your website. You can also make tracks available to download – or sell them, commission-free – on your website (provided that you sign up for an e-commerce plan). On top of that, Wix Music gives you loads of great stats about plays, shares, and downloads for your tracks. There's a good reason why Wix is one of our favorite website builders for 2023.
How can I create a website for free?
Lots of website builders, including Wix and SITE123, offer free plans, meaning you can create and publish a website without having to pay a penny. The Wix Music app also has a free plan. However, if you create your website for free, you have to live with a number of limitations – for instance, you won't be able to use a custom domain, and your website will display Wix branding, which isn't the most professional look. That said, a paid plan doesn't have to cost as much as you think. Make sure to check out our coupon page to take advantage of the latest deals.
Which is better, Wix or Squarespace?
Both Wix and Squarespace have their pros and cons. Wix offers a generous free plan, a huge selection of templates, and virtually unlimited customization options. Squarespace does not have a free plan, but it does have a 14-day free trial and the caliber of its templates is virtually second-to-none. Its customization options are a little bit more limited, but this is all in the interest of good taste (and mobile-friendliness) – it's hard to make a really bad website with Squarespace. To get a detailed overview of how these two stack up against each other, see our in-depth comparison.