Let's face it – today, your success in the music industry depends not only on your actual music, but also on your branding. You need an attractive website that captures both the atmosphere of your music and your own unique style.
Wix has an awesome collection of 500+ free templates, with over 50 of in the music category alone. These templates cover all kinds of uses, such as an electronic press kit (EPK), solo artist website, band website, or record label website; as well as a variety of genres, such as indie, rock, rap, electro, and more.
Some of these templates really stood out to us, so we compiled this list of the 11 best. You don't have to feel confined to the template title – all Wix templates are fully customizable and it's easy to tweak them to make them reflect your unique personality. For more information, read our expert Wix review.
Jazz Music Blog – New Frontier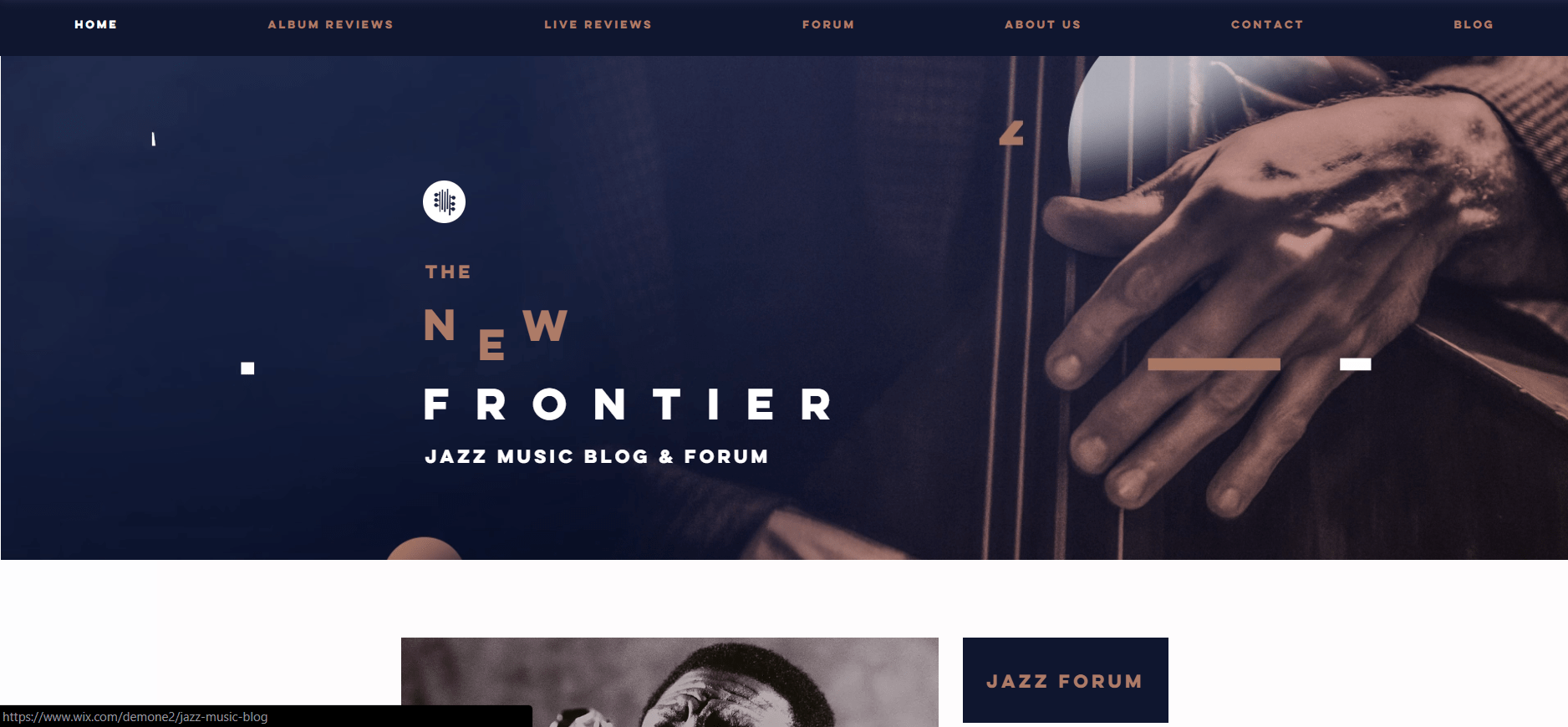 New Frontier is a highly luxurious and classy template to serve as the blog and forum for a jazz enthusiast. The bold, modern fonts and rich navy-blue and rose-gold color scheme fit the atmosphere of an extravagant jazz club perfectly.
There are also plenty of subtle animations and hover states scattered throughout the webpages, which makes it feel alive and musical. Of course, it comes with the blog and forum apps installed as well as a registration and login feature.
Alternative Rock – John Buckley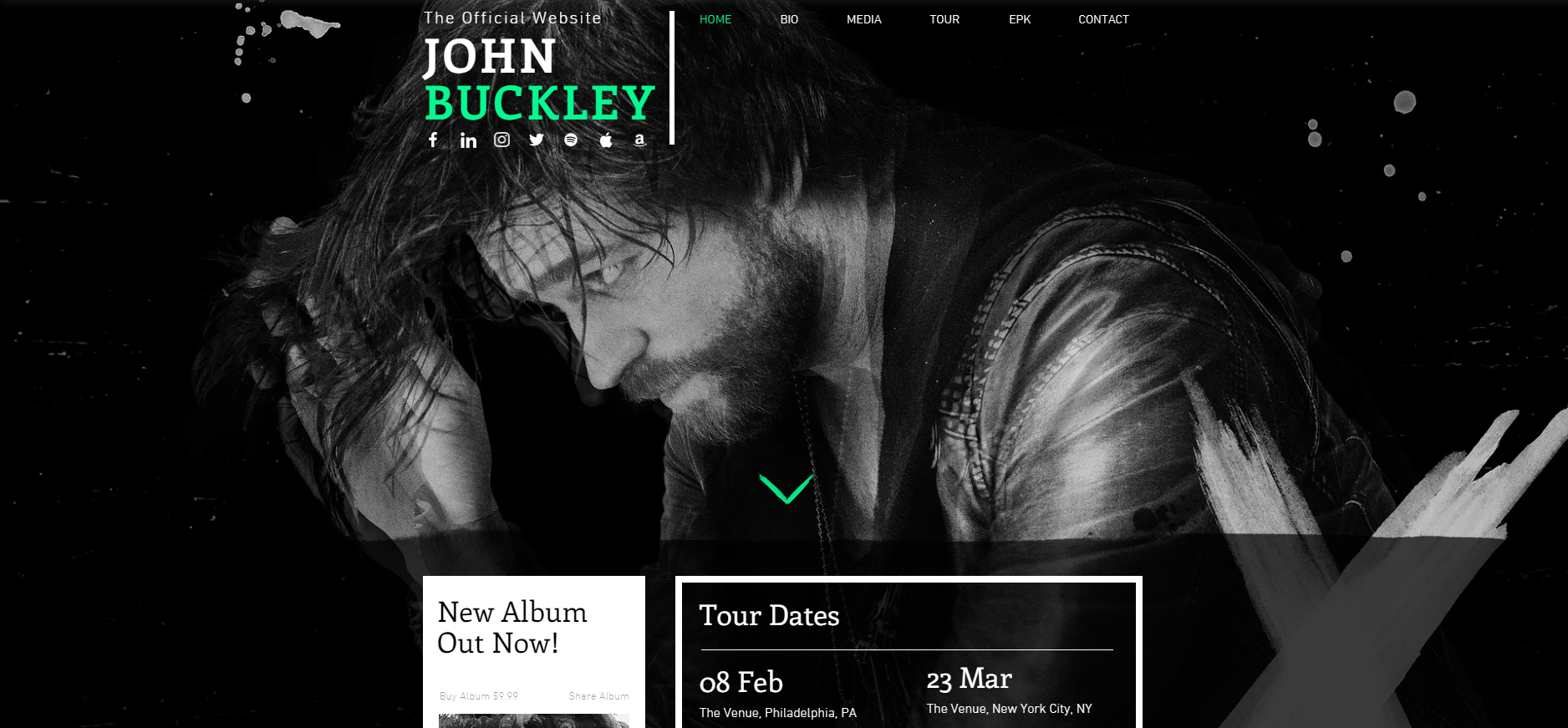 With its extensive use of black and white, this template has a spot-on grungy feel that's perfect for an alternative rock band or artist. The hints of color boost its visual appeal and give it an alternative vibe.
This template comes complete with a music and video player which makes it ideal for artists to showcase their work. It also comes with a few other handy webpages for this kind of website, such as an EPK, a bio webpage, and a tour webpage.
Rap Artist
This template has perfectly emulated the style of a contemporary rap or hip-hop artist with the two-tone colored images and simple, clean layout. The default design uses red and black, but almost any other combination could look equally great. Another interesting characteristic that also suits the theme is the horizontal layout orientation.
The music webpage is simple, yet superbly designed. You can list your records and let website visitors play songs off of them. The same goes for the music-video webpage. Finally, there's a tour webpage where customers can RSVP and book tickets.
Electronic Artist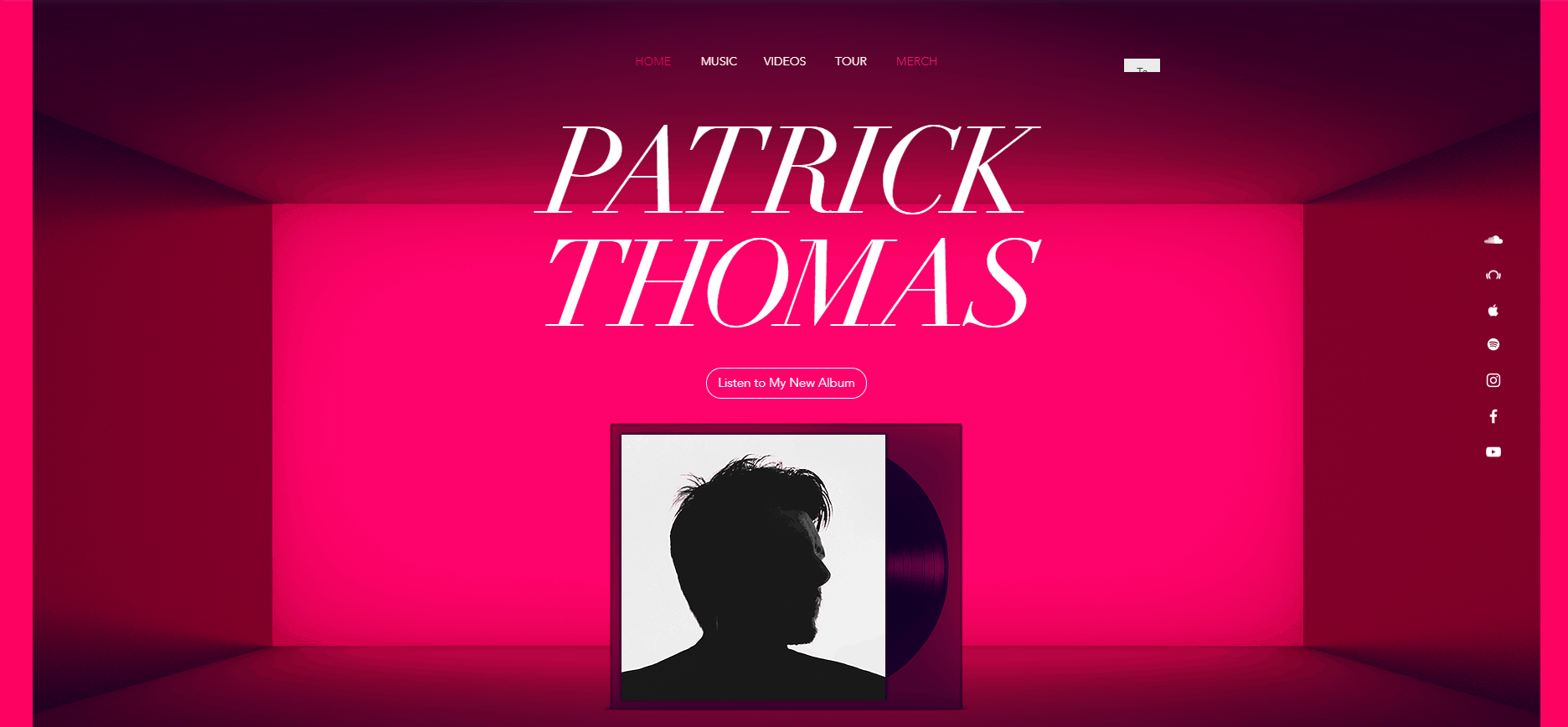 This template is spot on, as it has drawn inspiration from '70s or '80s aesthetics, just like modern electronic artists. However, it's still packaged in a more modern design that will appeal to a younger crowd. As you can expect, the default content contains a lot of bright, pink neon, but any color could do for you.
This template also provides an online store with which this type of artist could sell interesting apparel or merchandise. Links to multiple social media networks is another handy feature.
Rock One Pager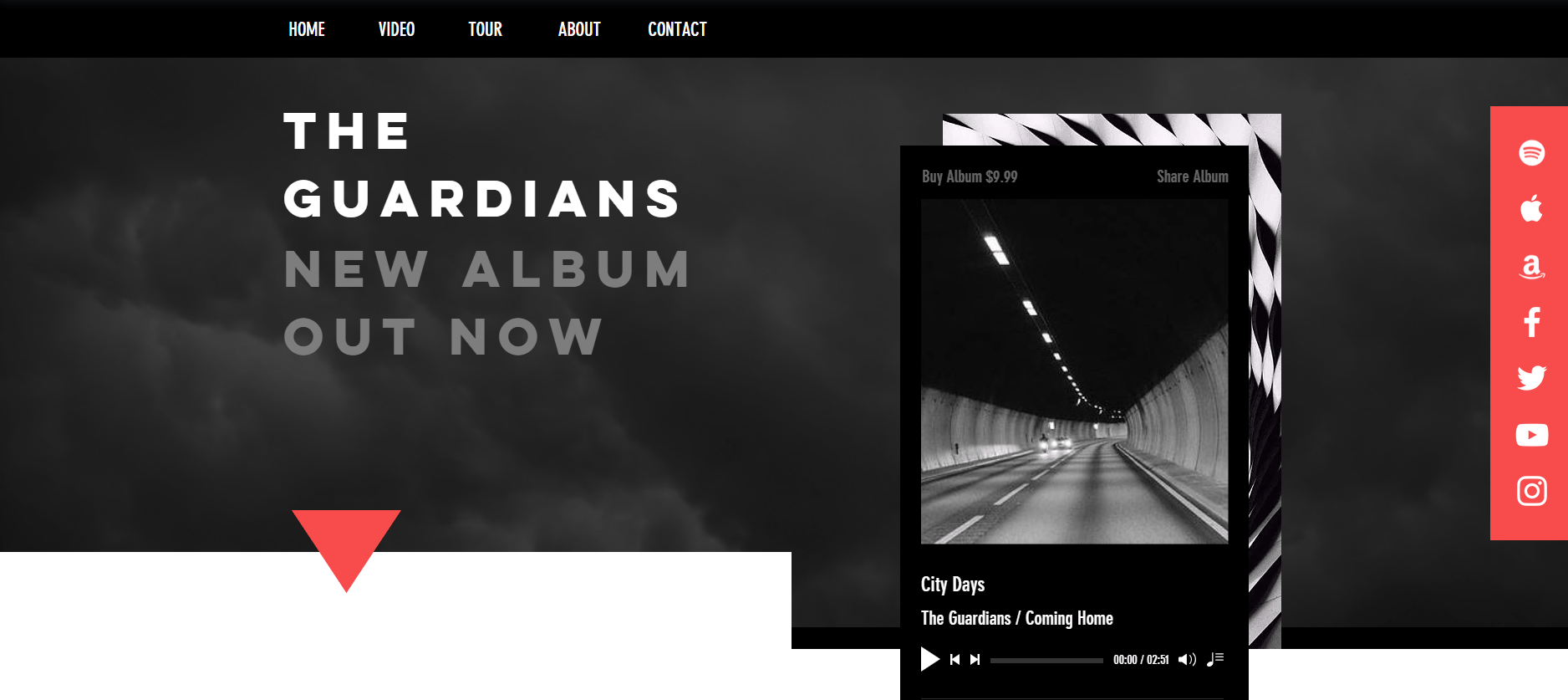 This template also uses a black-and-white color scheme like Alternative Rock, but with a less grungy and more modern feel. This makes it perfect for a wider range of groups, but still mostly for the rock genre. It's a one-page website design with a very structured and easy-to-follow layout.
The template also uses a lot of movement and fade-in animations to make it feel more alive. It fits all the sections for webpages you'd usually want, but it doesn't feel cluttered or confusing. The bold font also really makes an impact and helps with the style.
Events Production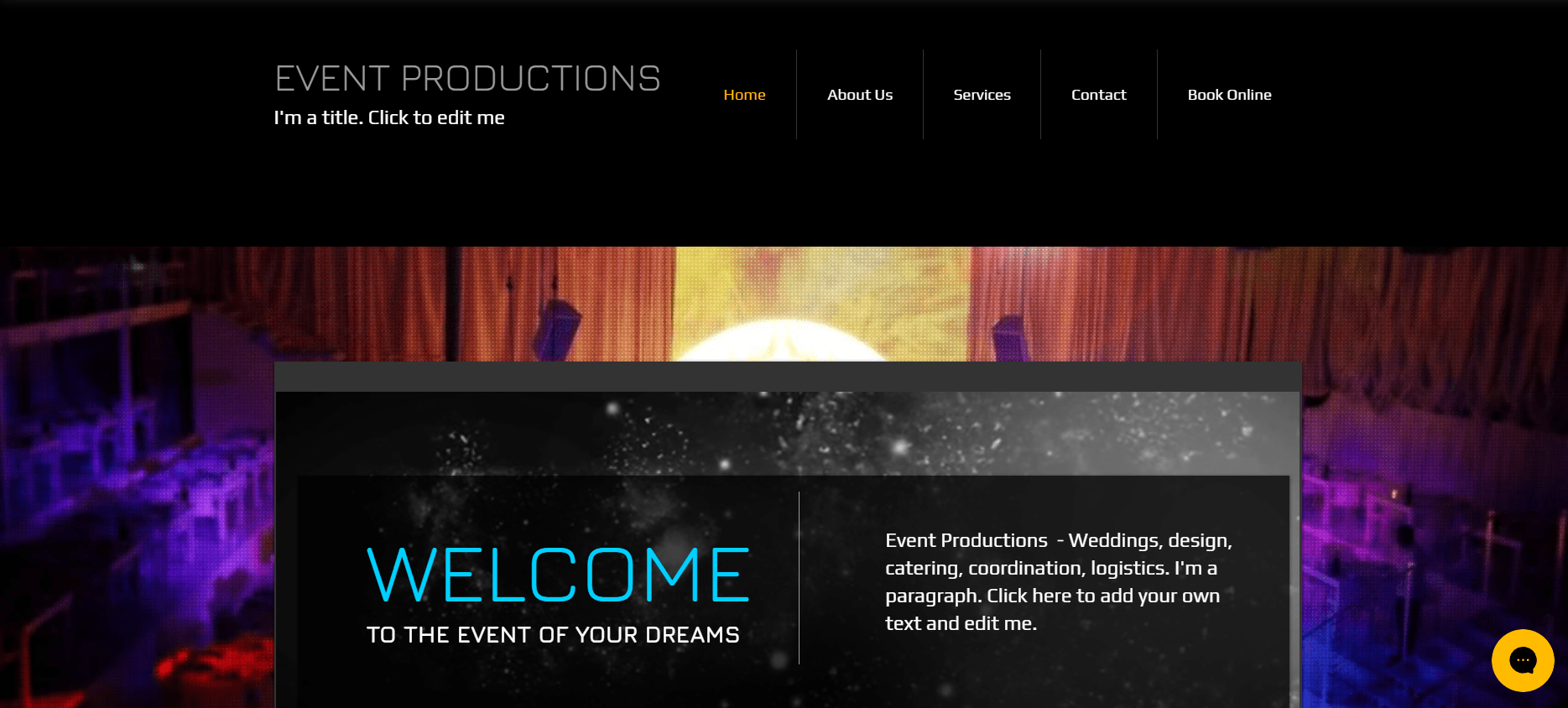 This template is labeled as an events production company; however, it could work equally well as a website for a club, bar, or music festival. Although the design is straightforward, the use of dark colors and flashy background images creates a club or event atmosphere.
It also has all the webpages you'd ordinarily need for these types of websites, like webpages for services, bookings, and contact info. The bookings webpage comes with a calendar schedule which is a great way to choose a date and time for a booking.
Press Kit + Singer Songwriter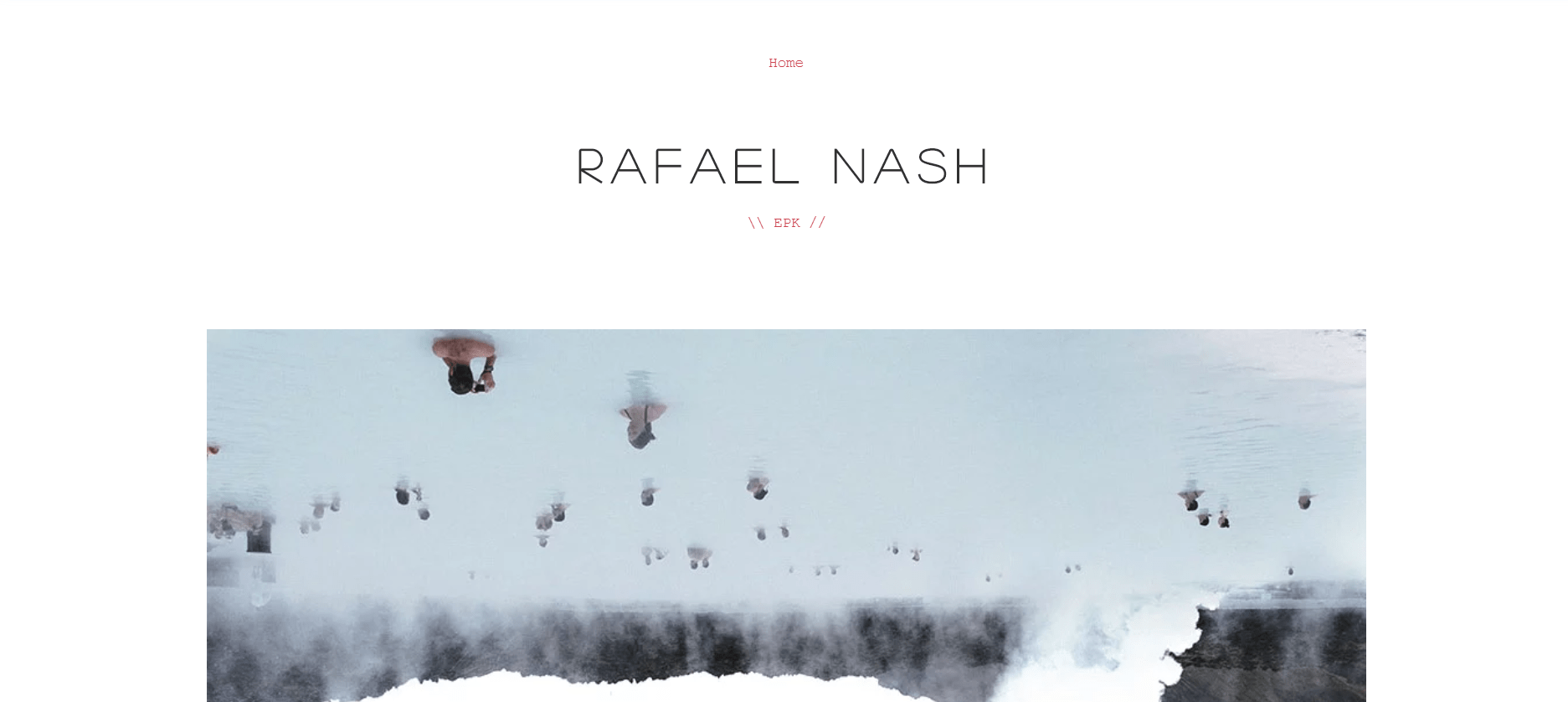 This template is designed to be an EPK for pretty much any singer or songwriter in either a more classic form of music or a more relaxed modern genre. The design uses plenty of white space to feel clean and easy on the eye, with just a tad of color and interesting design elements to stop it from being too stark.
I love the fact that the discography is displayed in an accordion image gallery, which just seems perfect for it. The videos, images, and other content that alternate between left and right in each section help organize the webpage and makes it easy to follow.
Electro Pop Singer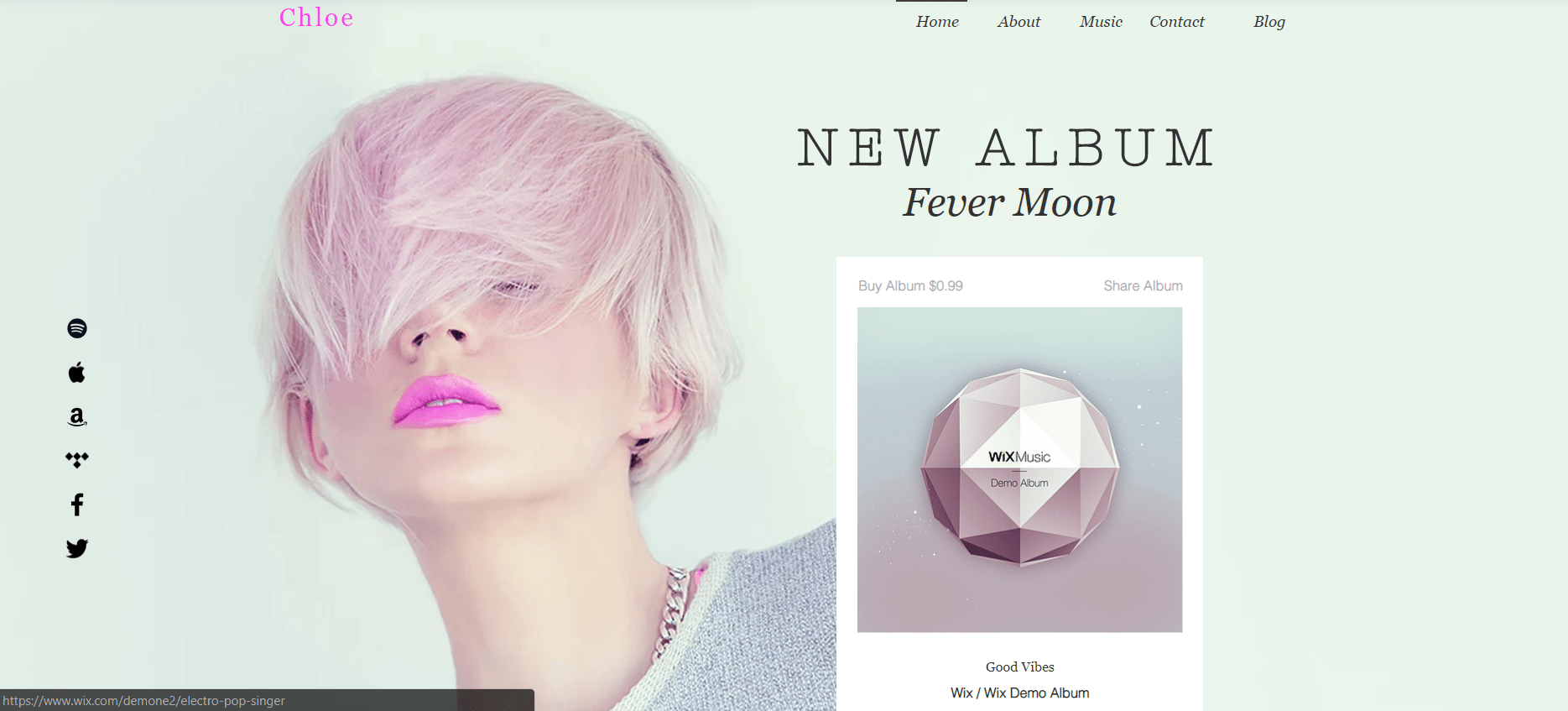 The style of many of today's contemporary electronic female artists is captured perfectly in the color scheme of this theme, with the main colors being light grey, off-white, and pink. It has a modern, but not necessarily mainstream feel that some artists like Grimes exude.
This template puts the artist's music front and center, with a music player in the fold of the homepage. The blog that comes with it is also a great tool for an emerging artist to gain an audience and share his or her views.
Techno Music Blog
Techno Music Blog made it onto this list almost entirely for its unique and audacious design. While there are other similarly unique designs, this one is still relatively easy to populate with your own content while keeping as much of the original design as possible.
The black background with big, bold fonts and colorful demo content fits the techno and rave industry perfectly. It also has some interesting effects, such as parallax scrolling and images lighting up when you scroll down the webpage. Moreover, it features unique icons, a fullscreen burger menu, and a blog.
Indie Folk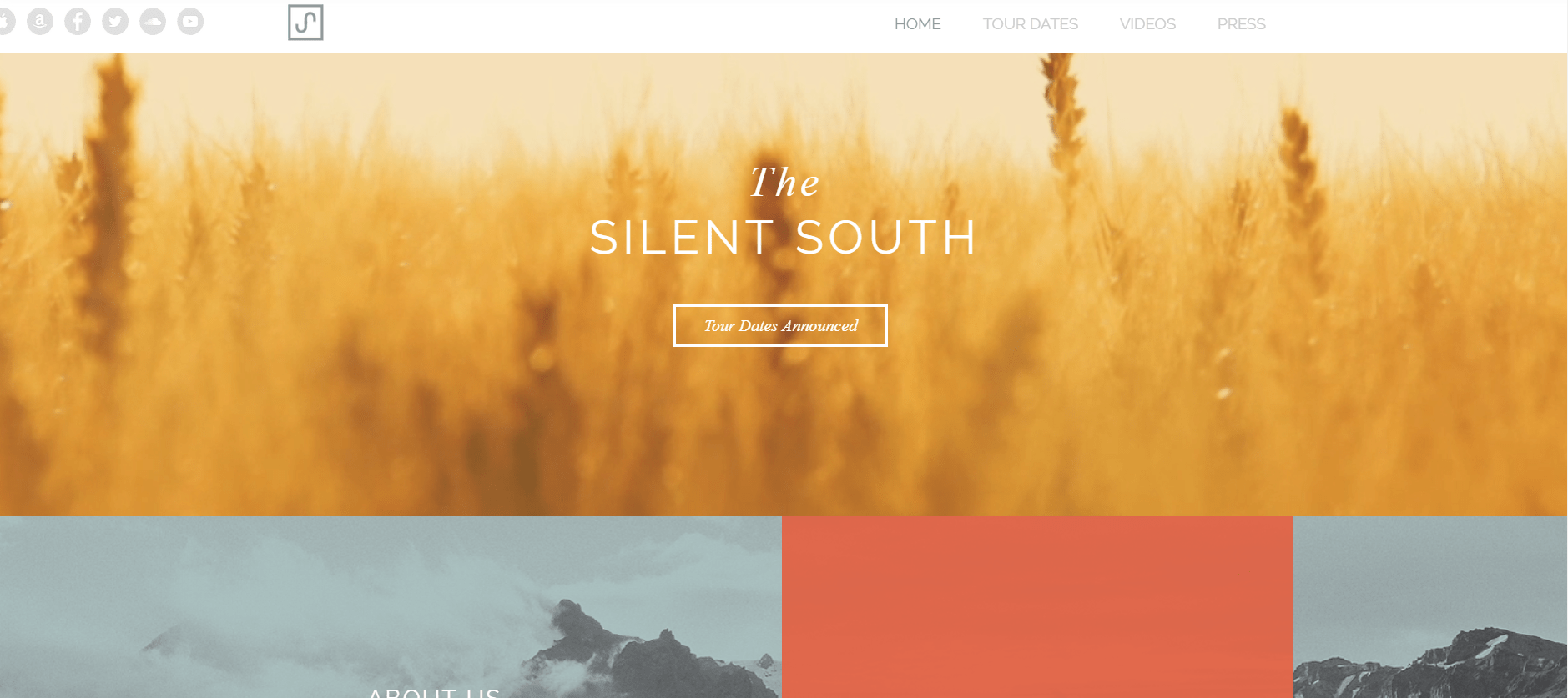 Although this template is branded as a website for an Indie Folk group or singer, it's actually a very flexible design that can work with any content or niche. The design is modern, clean, and attractive without trying too hard. The homepage is especially well-designed, with its tinted tiles that contain various elements such as a short About Us section and a music player.
The same design trick is used on the other webpages to great effect. The template comes with a tour webpage to buy tickets to shows, as well as a blog.
The Band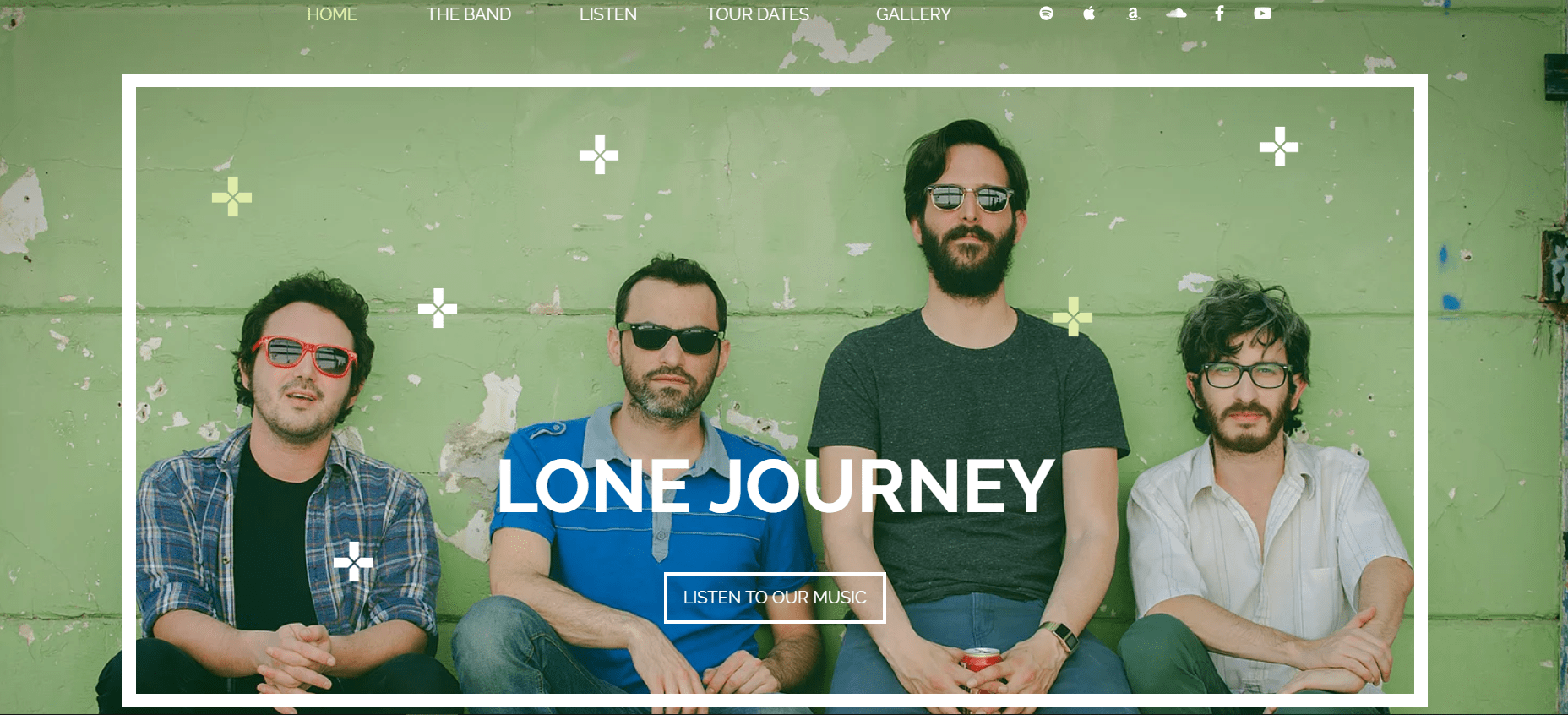 This is a quaint template meant as a website to let visitors get to know the band and their music. It has a very simple design, with short webpage layouts so that there isn't much scrolling. The homepage is nice and clean, with only a button to listen to music as well as a newsletter signup.
It comes with all the webpages that this kind of band website would need, such as a bios webpage, tour webpage, and a functional gallery. The design is totally unpretentious and perfect for any band with the same kind of feel.
Create a Home for Your Music Online
The templates discussed have something unique to offer when it comes to their design, but they're still adaptable for a wide array of artists and websites. Here's a table to quickly summarize each one:
Template
Best For
Design
Ease of Use
Features
Standout Features
Jazz Music Blog
Contemporary jazz blog or forum
10/10
9/10
8/10
-Beautiful, classy design

-Blog and forum apps

Alternative Rock
Rock artist or band
8/10
8/10
10/10
-Grungy, rock feel

-Bio, Tour, EPK webpages

Rap Artist
Rap, hip-hop artist, or R&B artist
9/10
10/10
9/10
-Simple design

-Records, Videos, and Tour webpages

Electronic Artist
Electronic dance music (EDM) / Electro artist or group
8/10
9/10
9/10
-Flashy, '80's aesthetics

-Online store

Rock One Pager
Pop or punk rock band
9/10
10/10
8/10
-Plenty of animations

-Modern rock feel

Events Production
Events organizer/events hall/club
8/10
10/10
8/10
-Very straightforward layouts

-Bookings with calendar

Press Kit + Singer Songwriter
EPK for indie, classic, folk artist
10/10
10/10
8/10
-Perfect layout for a one-page EPK

-Gorgeous, solemn design

Electro Pop Singer
Electronic female artist
8/10
10/10
8/10
-Comes with a blog

-Glitzy and modern design

Techno Music Blogs
Any techno, rave, electro music blog
9/10
9/10
8/10
-Unique animations and effects

-Fullscreen menu

Indie Folk
Any indie, country, soft-rock artist or band
10/10
10/10
9/10
-Beautiful tiled design

-Extremely easy to customize

The Band
Indie, local, or hipster band
9/10
10/10
7/10
-Simple and unpretentious design

-Great gallery
Although I tried to look at as wide a variety of templates with different uses and for different musical genres, there's still much more variety in the Wix library. As it's important that you find a template that blends in perfectly with your music and branding, you should have a look to see if there's something more appropriate for you.
Just remember to not get carried away by the visuals alone. Be sure to pick a template that has the features you need, such as a blog, tour schedule, bookings, and music/video player. The template should also be easy to adapt to your style.
If you're still playing out of your parents' garage and haven't hit the bigtime yet, don't worry. You can use Wix to build a fully-functional free website.
To learn more about Wix and all its templates and features, check out our expert Wix review.