only a handful of them can help you create a truly great website, or give you powerful tools for marketing, client management, and more
–
without forcing you to upgrade to a paid plan.
To save you some time, I tested the top website builders on the market (using
only
their free plans) to find the ones that work best for personal trainers.
These builders have good templates for your niche, they're super easy to use, and they give you more features for free than competing options.
Which builder is best for
you
? You'll have to read on to find out.
Short on Time? These Are the Best Free Website Builders for Personal Trainers in 2023:
Wix – Good-looking templates designed specifically for personal trainers and great marketing tools
SITE123 – The quickest way to build and launch a website for your personal training business
Square Online – The only builder on my list that lets you collect payments from clients even on the free plan
What We Look For in the Best Free Website Builders for Personal Trainers
Whether you work with your clients in-person or online, you want a website that looks professional and lets potential clients get in touch. These are the features you'll need to build it:
Professional templates. You want to grab your visitors' attention with a website design that is both good-looking and easy to navigate. The builders I picked have impressive templates that I'd recommend for personal trainers.
Customizable forms. Once you've convinced potential clients that you're a good fit, you want them to be able to get in touch. I've looked for builders that let you easily create and integrate a contact form, newsletter sign up, and more.
Scheduling capabilities. Some of the builders on my list give you simple appointment scheduling tools, while others have more advanced options.
Displaying reviews from happy clients. Showing testimonials from satisfied customers is a great way to instill confidence in your visitors. I've looked for builders that offer pre-built sections for showing off reviews.
Media integration. Hi-res photos of your clients' impressive before and after shots are a great way to convince others that you're the right trainer for the job. The builder you choose should give you ample storage space and support many different file formats.
Marketing tools. Visitors need a way to discover your site in the first place, and once they do, you need to get them to work with you. Whether you want to go all-out on social media, build a blog, or run a newsletter, the site builders here have useful marketing tools for the job.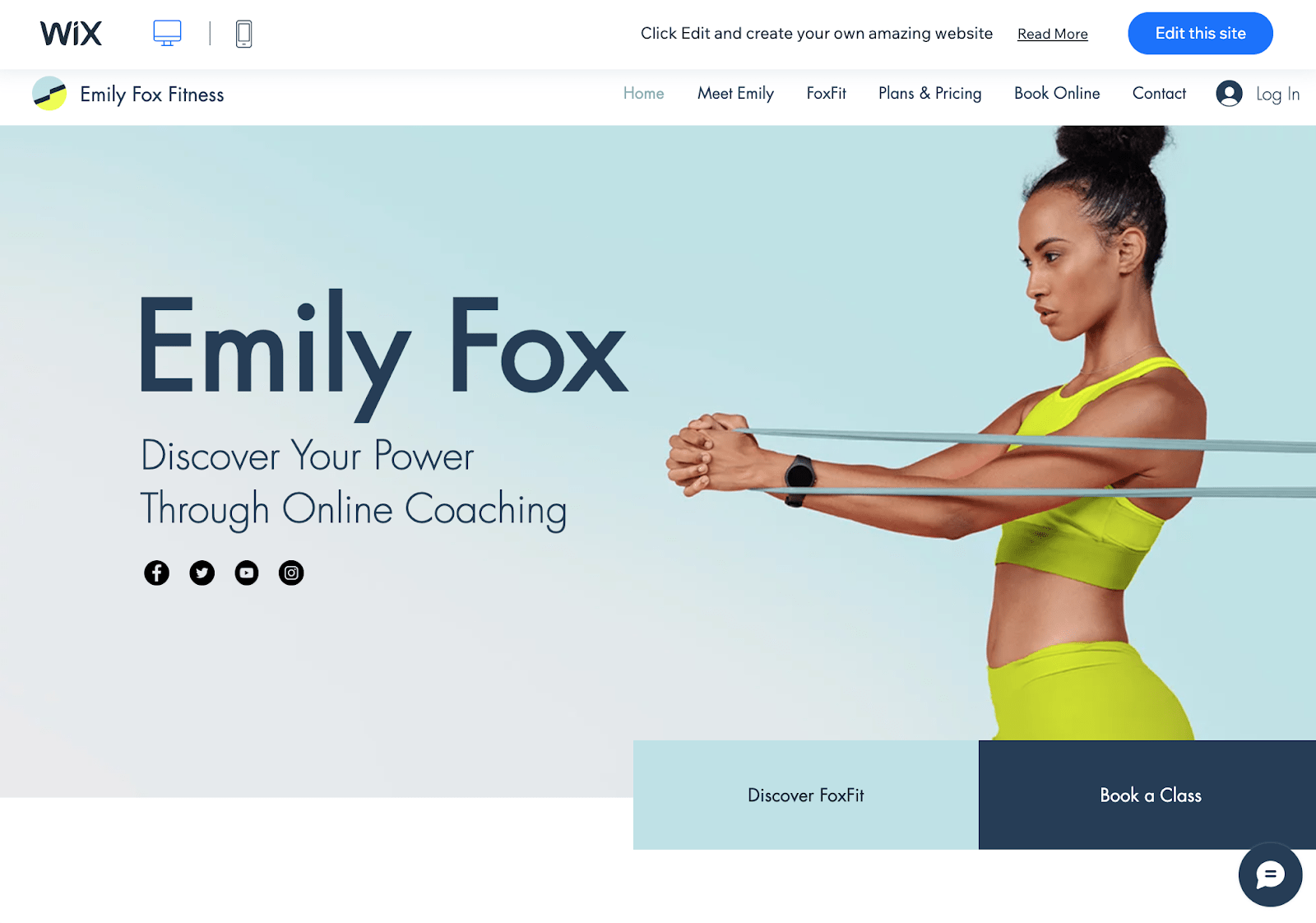 Wix's template selection is the largest of any free site builder.
It has dozens of templates in the
Sports & Fitness
category alone and a handful built just for personal trainers. You can also find great options in categories like
Consulting & Coaching
, as well as
Personal
.
Once you pick the right template, you can publish your site in a matter of minutes.
 Most of the features you'll need – including email marketing and client management tools – are already built in, so you just have to replace the pictures and text, and you're good to go. Wix also offers limited access to its
Ascend suite of marketing tools,
which lets you create videos, add an on-site chatbox, and more. That said, the free plan limits the number of monthly interactions you can have with the Ascend suite, so if you have lots of clients or a huge email list, you'll want to upgrade to a paid plan.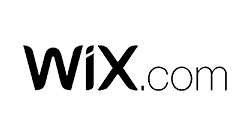 Save up to 33 % on your Wix plan!
Limited-time offer - Don't miss it!
Your Wix with your first % on 30/06/2023!
3901 users used this coupon!
Features
Flexible site editor. Wix has some of the most advanced customization settings of any major site builder. There are a large number of page elements that can be added – like galleries or testimonials – and they can be changed to your heart's content (including font, color, special effects and animations, and much more).
Email marketing tools. You can send up to three email campaigns or 5,000 total emails per month with Ascend. You can also make forms and customize the "thank you" email to offer free downloads or other sign-up incentives.
Memberships. Clients can register on your site to join an exclusive members' area with training plans, guides, and even a forum. However, if you want to accept payments online, you'll have to upgrade to a premium plan.
Easy customer management. Wix and Ascend also include a customer relationship management (CRM) tool to help you keep track of your clients and how you're interacting with them. You can create automated actions (up to 2 for free) to touch base with your clients or send them invoices.
Want to learn more about Wix? Read our in-depth review.
Personal trainer templates available?
Yes
Storage Space
500 MB
Bandwidth
500 MB
Scheduling tools included?
No
Price of Cheapest Paid Plan

$

16.00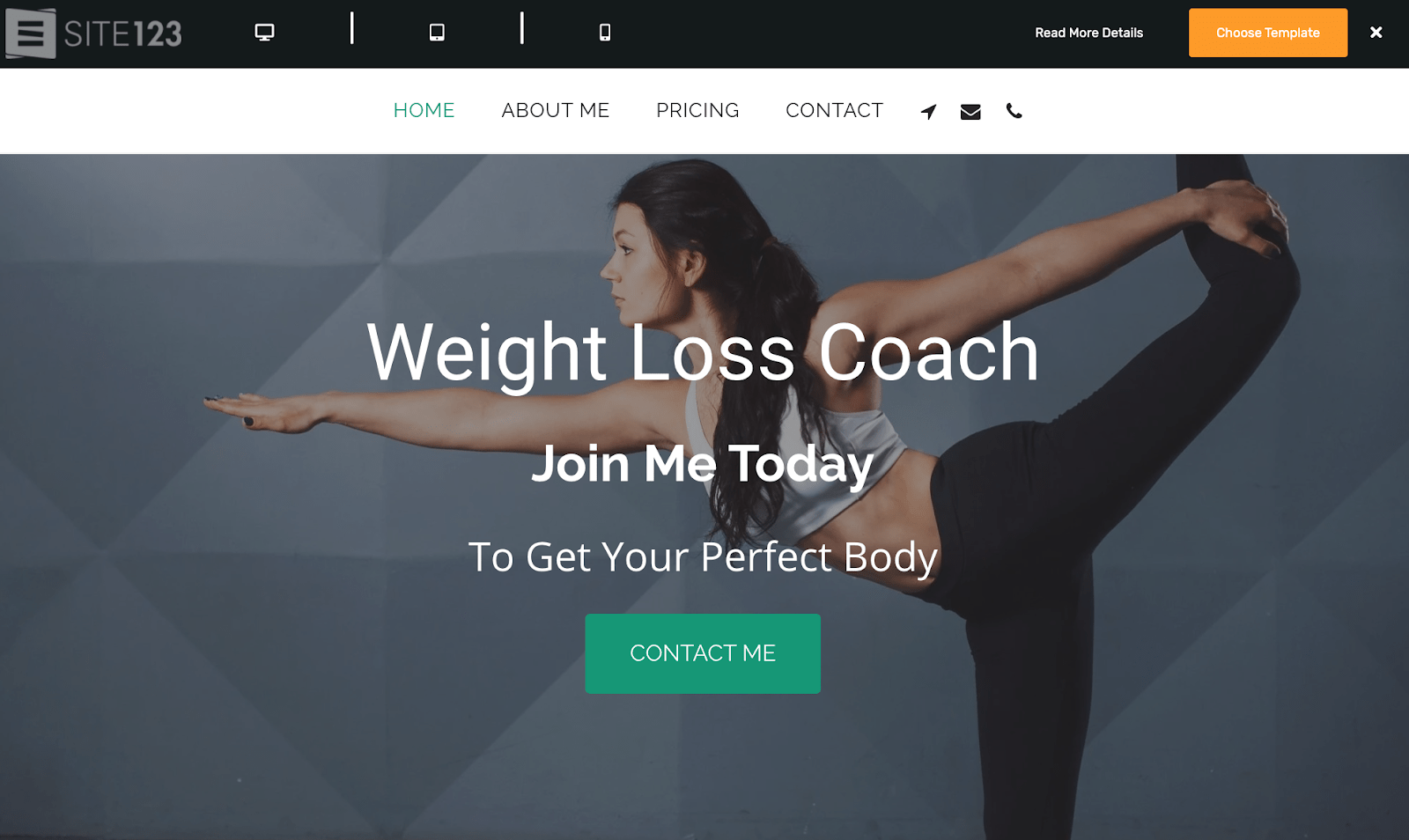 SITE123 is my first recommendation if you want to build your site really quickly.
Thanks to its 3-step set-up process, it's easy to start with a base design and make great-looking single-page websites (though you can make multi-page sites as well).
Although SITE123 is on the simpler side, a lot of useful features are still included.
 For example, you can add a calendar for upcoming events, glowing testimonials from satisfied clients, and forms for prospective clients to book training time with you. SITE123 won't let you collect online payments on its free plan, but you can add a CTA button to collect payments offline via bank deposits, money orders, and more. Overall,
it's a great choice if you have another way to handle payments,
 or if you run a physical business and can process payments in person.
Features
Intuitive editor. SITE123's editor is among the easiest to use because it eliminates lots of guesswork. Buttons are clearly labeled and you don't have to save drafts to preview changes, since the editor shows your changes as you make them.
Mobile-responsive templates. SITE123's templates are all mobile responsive, so you don't have to worry about how your site will look on phone or tablet screens. You can also customize your site's menus so they perform better on mobile browsers.
Easy image comparisons. Among the sections you can add to your pages is one for image comparisons. These allow visitors to slide their cursor over two similar photos to compare them, and would be a great way to show off your clients' before/after pics.
Excellent customer support. If you run into any problems or have any questions, you can contact SITE123's support team, which is available 24/7. You can even reach out to them while you edit your site, from within the editor.
Explore more features from SITE123 in our expert review.
Personal trainer templates available?
Yes
Storage Space
250 MB
Bandwidth
250 MB
Scheduling tools included?
Yes
Price of Cheapest Paid Plan

$

12.80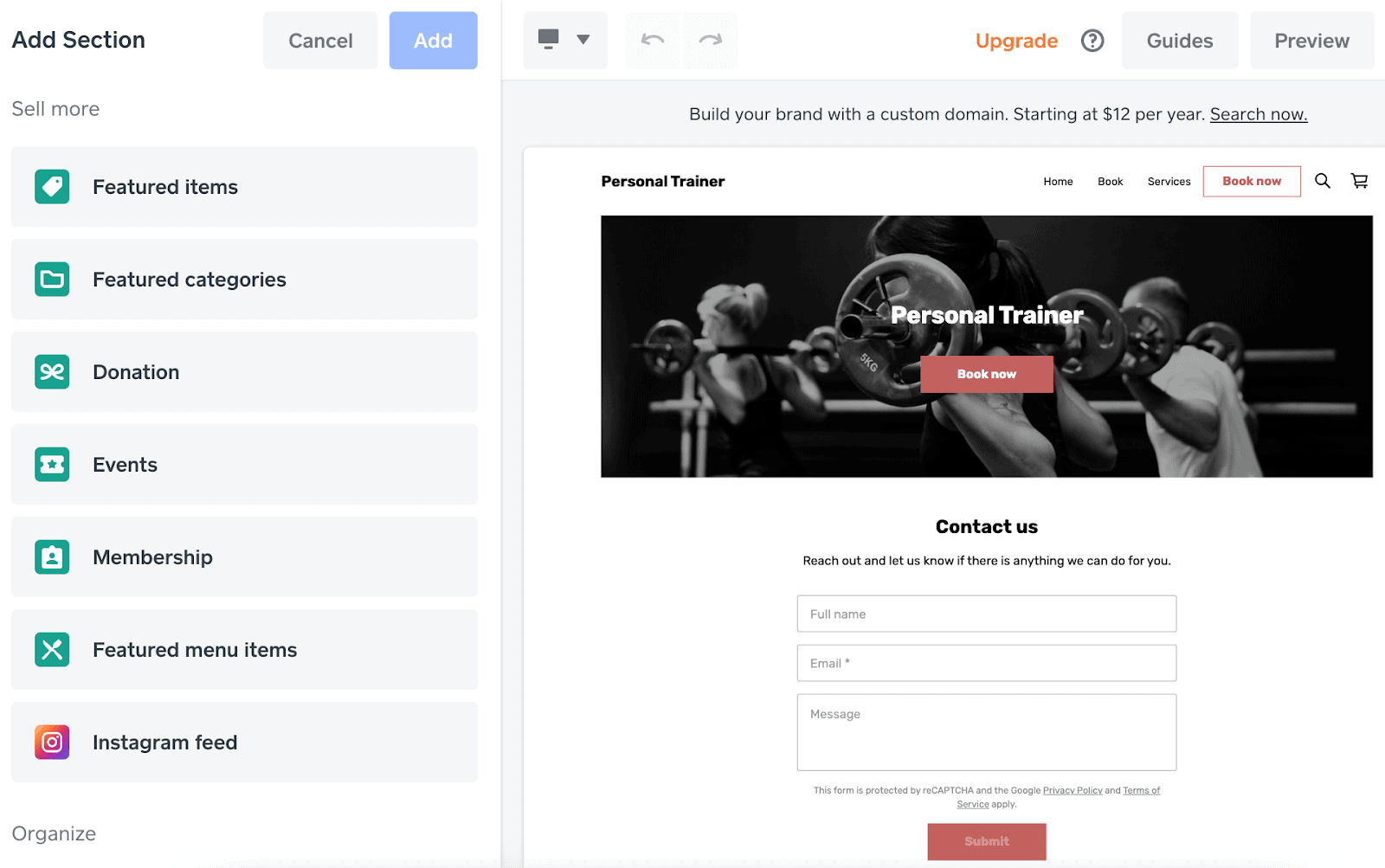 Square Online is the only site builder on this list that includes e-commerce features for free.
Instead of making you upgrade to open an online store the way other builders do, Square Online takes a fee of 2.9% + 30¢ for each sale you make. In other words, you only pay once you actually sell something.
Square Online is also very secure.
 It's PCI-compliant, which means that it meets the safety standards of the credit card industry. It also monitors transactions for fraudulent purchases and will even handle disputed payments on your behalf. Unfortunately, Square Online is only available in a few countries, like the US, UK, Canada, Japan, and Australia.
Features
Multiple sales options. You can set up a one-stop-shop to sell anything; from digital items (like weight loss guides), to physical products (like branded apparel), to recurring memberships for your clients.
Integration with in-person payments. It's really easy to use Square Online if you accept in-person payments with Square Point of Sale. Both in-person and digital payments are synced and can be managed from one dashboard,  together with the information that accompanies those sales (orders, customer identity, etc).
Social media integration. You can connect your Square Online store with Facebook, Instagram, and Pinterest, and you can even make sales via Instagram. You can also display your Instagram feed on your site's homepage, so visitors can see your latest fitness posts.
Site builder wizard. Square Online's editor doesn't have templates. Instead, you're given a starter page that you can add sections to. It's not the most customizable, but it's quick and easy because you're only working with the essential tools.
Check out our expert Square Online review to get all the details.
Personal trainer templates available?
No
Storage Space
Unlimited
Bandwidth
Unlimited
Scheduling tools included?
Yes
Price of Cheapest Paid Plan

$

12.00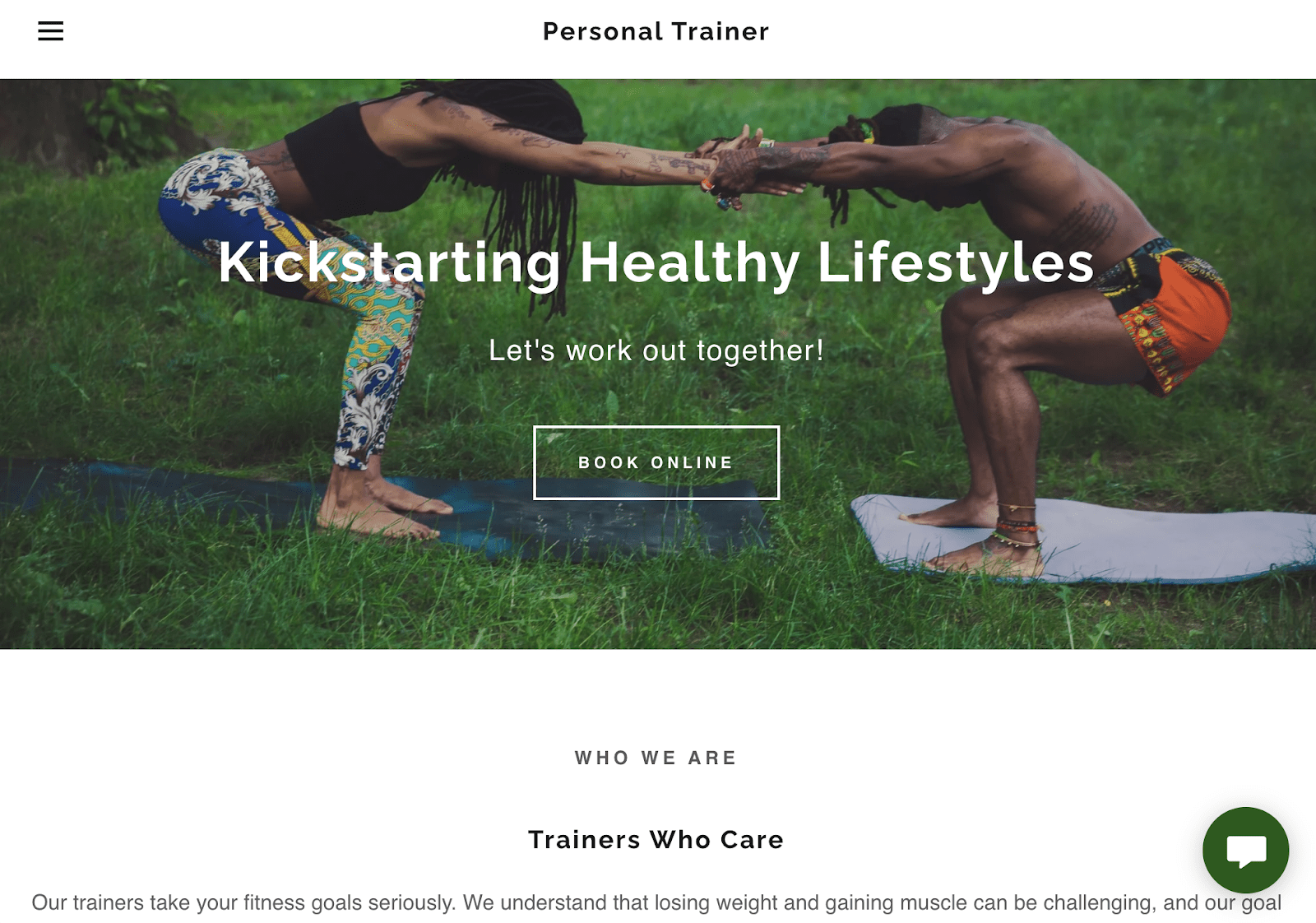 Of all the free site builders on this list,
GoDaddy is the most generous with storage and bandwidth, because it doesn't set strict data caps
. It's a good choice if you have lots of hi-res photos on your homepage or want to upload HD videos of workouts for reference. Sadly, this free website builder is only available in certain countries, like the US and the UK. But if
the free plan
 is available in your region, you're in luck. While it doesn't come with pre-built templates for personal trainers, GoDaddy's other templates still work well. Plus,
when I began my testing, GoDaddy auto-generated a website for me 
(pictured above) once I selected "personal trainer" from a list of hundreds of options.
The auto-generated content was pretty impressive, as far as AI site builders go.
 And once I had that, it was easy to tweak the details in the editor. One tool I really liked was the pop-up builder – with it, I could easily add a welcome message or promotional offer for first-time visitors.
Features
Book appointments. Visitors can schedule individual sessions with you and it's easy to manage those appointments with GoDaddy's dashboard. You can set times, location, price, and payment type (though you'll be limited to offline methods while on the free plan).
Memberships. You can offer exclusive content on pages that only members can see. If you want to reserve any resources just for paying clients, you can add their emails to your member list and give them login links.
Social media tools. GoDaddy also has free tools to help you reach out to your followers on social media. You can manage accounts and post directly to them from within the dashboard. There's even a Content Creator tool that provides you with templates for Instagram posts and more.
Add reviews. You can display the reviews of happy customers from your Facebook, Yelp, and Google My Business pages directly on your website. You can choose between having all reviews automatically included, or selecting them manually so you can pick your favorites.
Find more about GoDaddy Website Builder in our in-depth review.
Personal trainer templates available?
No
Storage Space
Unlimited
Bandwidth
Unlimited
Scheduling tools included?
Yes
Price of Cheapest Paid Plan

$

6.99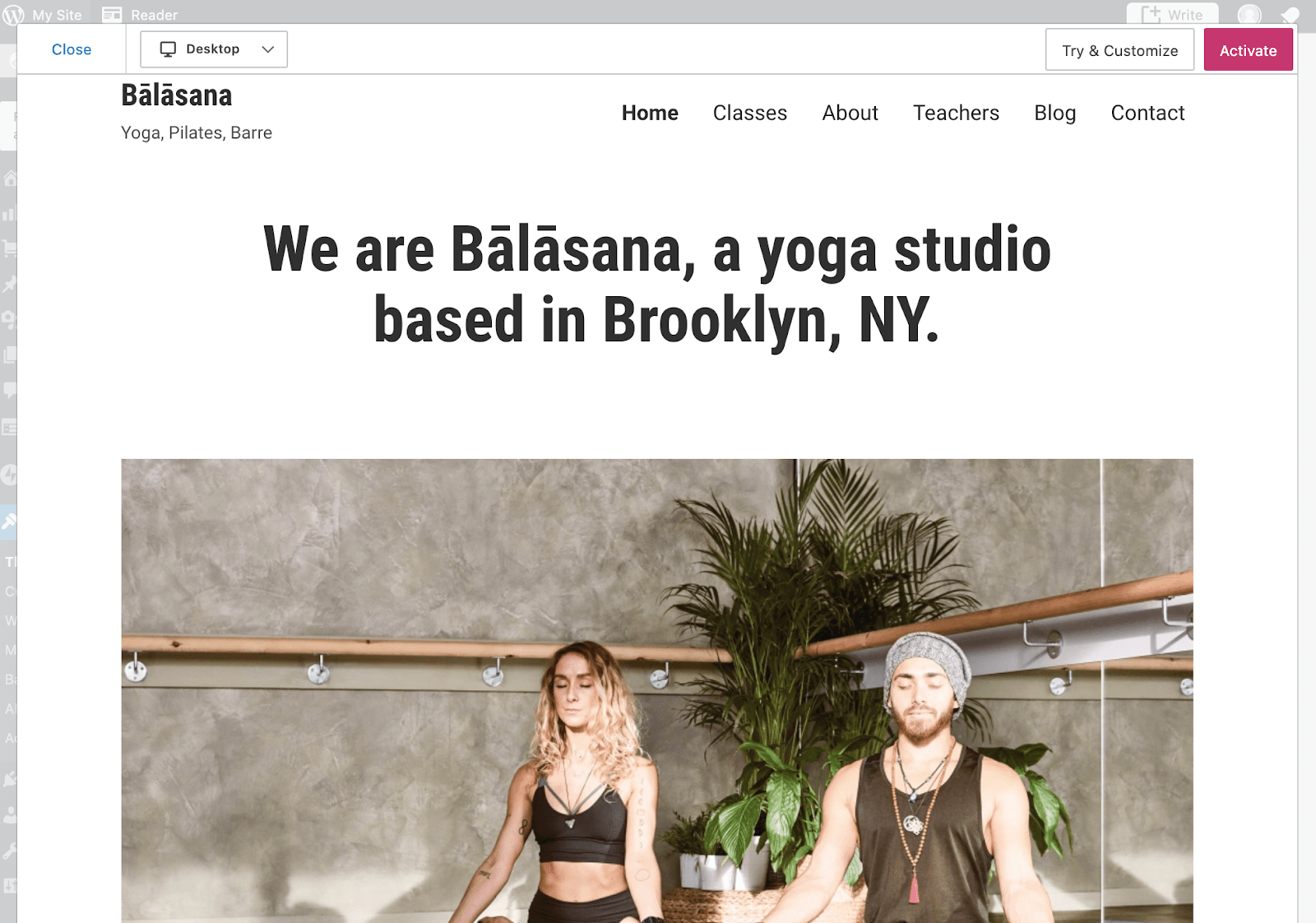 I recommend WordPress.com if you want to run a blog to attract clicks and establish yourself as an authority in your training specialty.
 Many website builders have blogging tools, but WordPress takes them to a new level. Even on the free plan, it has useful features like post scheduling and the ability to neatly tag and categorize lots of blog posts.
The post editor is about as flexible as the page editor, thanks to its drag-and-drop interface.
You can also add a wide selection of customizable page elements, like videos or quote blocks, to make your content more dynamic. Unfortunately, free users can't take advantage of the huge number of third-party WordPress templates out there.
You're limited to just a couple dozen official designs, but they do look professional, and there are a few that would work really well for fitness professionals.
Features
Site analytics. WordPress.com offers easy-to-read graphs of your site's traffic, so you can better understand who's visiting your website and what content they like most. You can track what they read, what they clicked, where they came from, and more.
Spam and safety tools. WordPress.com offers powerful anti-spam protection, as well as automatic site backups and security scanning.
Accelerated Mobile Pages (AMP). WordPress.com sites enable AMP, which lets search engines load pages quickly and helps your posts rank higher. This makes it easy for visitors to find your content and read it right away.
Blog subscriptions. You can add a subscription form to any page or post on your site, so readers can get emails when you post new fitness updates or guides on your blog.
Discover more WordPress.com features in our extended review.
Personal trainer templates available?
No
Storage Space
3 GB
Bandwidth
Unlimited
Scheduling tools included?
Yes
Price of Cheapest Paid Plan

$

45.00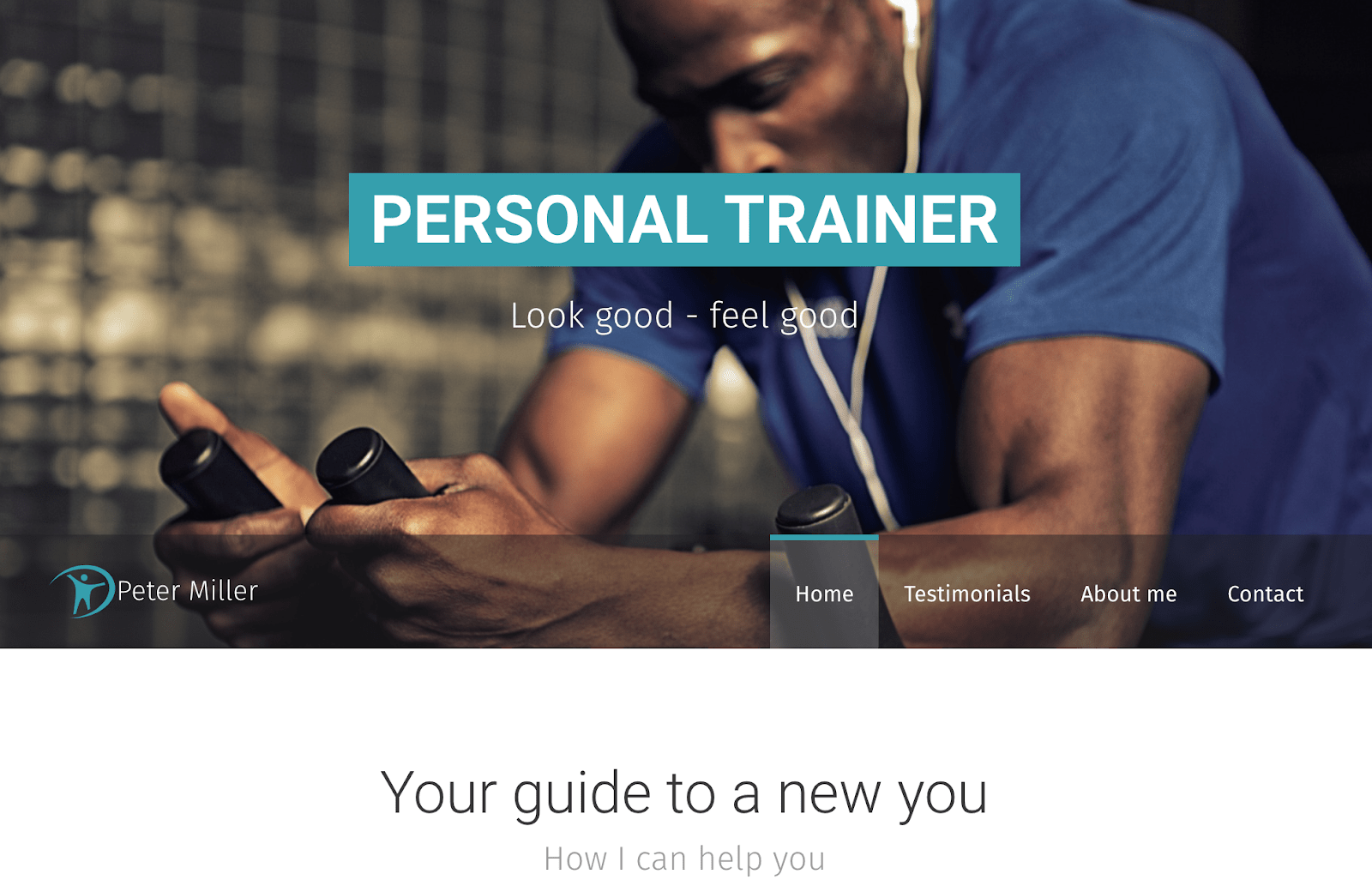 Most free site builders put prominent branding banners on your site, which can become a problem if your visitors notice these banners and decide to  take you less seriously as a result.
Webnode stands out by keeping its own branding subtle and only at the very bottom of the page
.
That said, Webnode's biggest drawback is its lack of storage space, which is just 100 MB.
 But even though you won't be able to upload many hi-res photos, this shouldn't be a problem if you want to build a fast-loading, eye-catching landing page that's super simple.
Features
Professional templates. Webnode has a lot of templates geared towards businesses and a few good templates specifically for gyms and trainers. The designs aren't as unique as Wix's, but there's more variety than with SITE123.
Form builder. You can add pre-built forms for newsletter sign-ups and appointment bookings with just a couple of clicks. You can also easily make your own forms with helpful components like multiple-choice questions, so potential clients can tell you more about themselves. Webnode's form builder is one of the easiest to use.
Straightforward editor. Webnode's editor interface displays a customizable live preview of your site. There are no buttons or menus visible unless you hover your cursor over the element you wish to edit. It's very lightweight and makes it easy to know how your pages will look as you edit them.
Easy blogging tools. It's super simple to make blog posts that are rich with content (like images, maps, buttons, and more). There aren't as many formatting options as with WordPress.com, but Webnode's blogging tools still cover the essentials.
Get more details on Webnode in our expert review.
Personal trainer templates available?
Yes
Storage Space
100 MB
Bandwidth
1 GB
Scheduling tools included?
Yes
Price of Cheapest Paid Plan

$

3.90
Picking the Best (Really) Free Builder for Personal Trainers
Still not sure which builder to pick? Here are my final recommendations:
Wix is best if you want a website that looks highly professional AND want good tools for managing client lists and marketing efforts.
Wix's
Ascend suite contains useful features for email campaigns and other outreach, plus Wix has a robust tool for managing memberships.
If you want to build your site quickly, but still want it to look great, I'd recommend SITE123. 
It's a good choice if you're just getting started, and don't need tons of features.
Or, if you want to sell online, take a look at Square Online.
Square Online only takes a fee once you make a sale, so unlike with other free site builders, you can build an online store without being forced to pay for a premium plan.
| | | | |
| --- | --- | --- | --- |
| | Standout Feature | Best For | |
| Wix | Templates for personal trainers, marketing tools | Personal trainers who want a lot of features in one platform | |
| SITE123 | Easy-to-use editor | Personal trainers who want to launch a website quickly | |
| Square Online | E-commerce tools without an up-front cost | Personal trainers with products and/or services to sell online | |
| GoDaddy Website Builder | No strict limits on storage or bandwidth | Personal trainers who have lots of photos or videos | |
| WordPress.com | Powerful blogging tools | Personal trainers who want to publish lots of content | |
| Webnode | Least intrusive branding | Personal trainers who want to emphasize their brand identity | |
FAQ
Should I have a website as a personal trainer?
Absolutely! This is a competitive field and you want to set yourself apart while convincing potential clients you're best for the job. You could build a following with social media alone, but having your own website can give you a place to sell your own products, schedule training sessions, and conduct marketing campaigns. Plus, with site builders like Wix, you can get your website up and running within minutes.
What should a website for a trainer include?
A personal trainer's website should include your name and photo, client testimonials, information about your area of expertise (plus the services you offer), and a call-to-action (CTA) button that links to a contact form or pricing table of your services. You can easily add these features to your site by using a website builder. To see even more of the best options, check out our list of the best website builders for 2023.
What is the best free website builder?
It really comes down to what you want to do with your website. Wix is the best overall: it has a huge template selection, and lots of marketing and communication features. SITE123 is the best choice for quickly launching a simple site, while Square Online is a good choice for starting a free online store. To see the latest website builder deals, visit our coupons page.
What is the best template for personal trainers?
You want to immediately grab your visitors' attention, and quickly express the benefits they'll receive from training with you. Accordingly, the best templates will typically include large images and CTA buttons placed prominently near the top of the page, as well as space for details about your programs. Wix's templates for personal trainers are great options. There are 8 in total (all titled "Fitness Trainer"), with a variety of designs that range from simple and sleek to bold and aggressive, so you can easily pick a template that matches the image you want to market.