I found freelancers offering their services for as little as $5.
This top freelance platform hosts thousands of skilled graphic designers, so keep reading to see who made the cut and how you could also start selling on Fiverr.
9 Best Photoshop Designers For Hire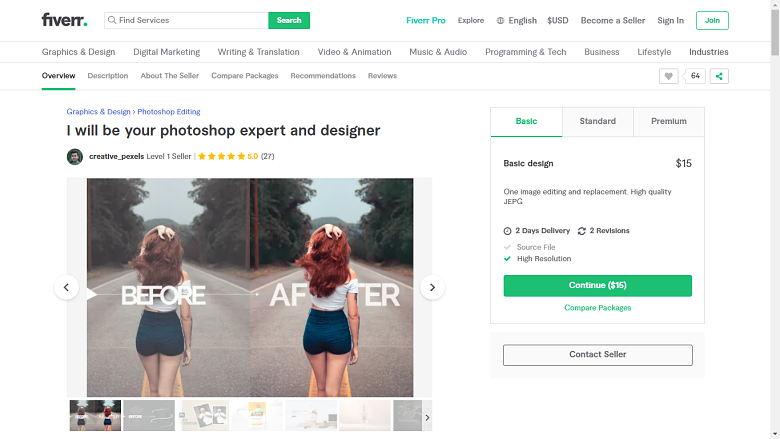 Creative_pexels uses Photoshop to revive dull, unimpressive photos. For just $15, this five-star Level Two Seller will transform a photo according to your instructions, or you can let them have creative control. I love the way they enhance a photo and bring it to life.
 In their basic package, creative_pexels offers two-day delivery and up to two revisions
 once the work is delivered.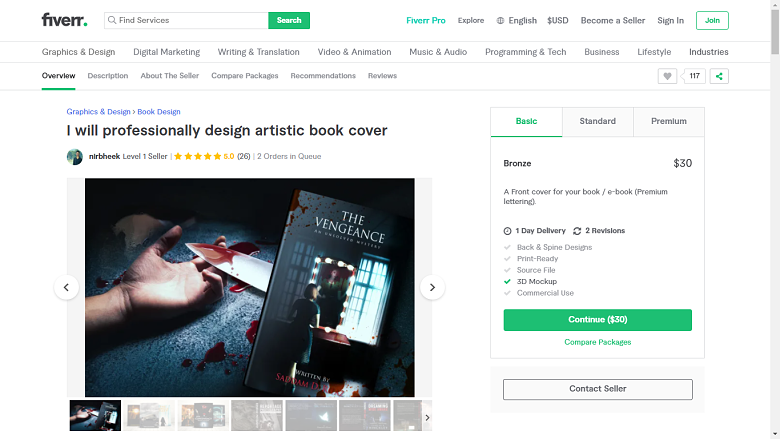 For only $30, nirbheek will design an eye-catching, original book cover
. The Level One Seller (which means they've achieved a consistent 4.7 rating over the last 60 days, as well as 90% response and completion rates in the same time) works with a range of styles and genres, from murder-mysteries to love stories to autobiographies. I was impressed by the quality of their designs – both creative and professional, and his five-star reviews are a strong sign that he delivers exactly what he promises.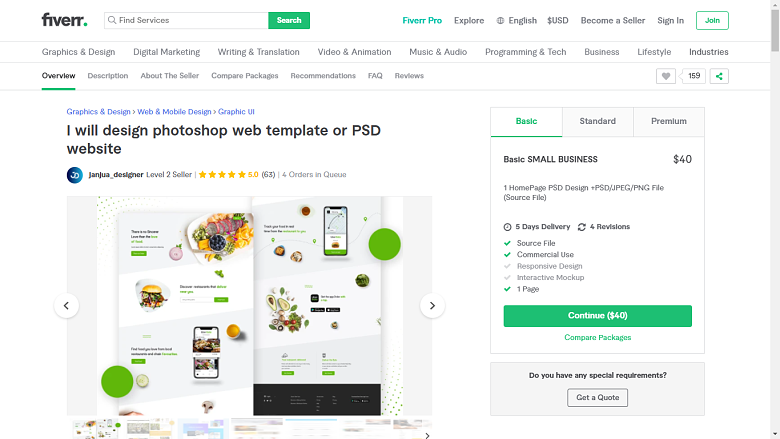 Janjua_designer offers graphic and web design services. This Level Two Seller creates
modern templates for your website
, regardless of the host or coding language. Their basic package includes a homepage design and the source file, which comes with up to four revisions – but if you need additional web pages, opt for their standard or premium package.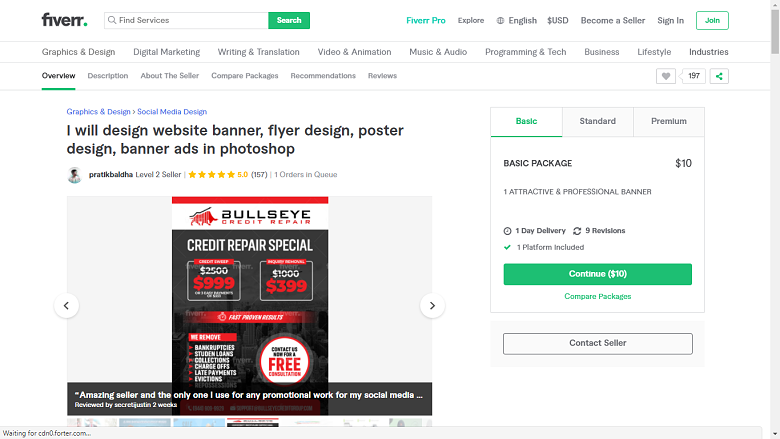 The quality of your advertising can make or break a campaign, and that's why pratikbaldha has hundreds of positive reviews for his work. For just $10, you can commission this top-rated Level Two Seller to
create your event flyer, website header, or social media cover photo
. His package tiers are pretty simple – just choose a higher package if you need more designs and if you want something different, be sure to contact him.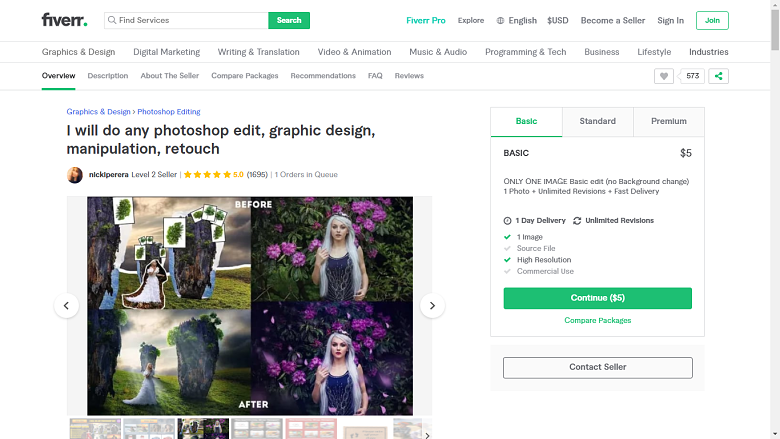 CAPTION TEXT: Nickiperera will add dreamy effects and edits to your images If you're looking to
add a mystical or ethereal effect to a photo,
 then nickiperera is your designer. This Level Two Seller has an impressive five-star rating from more than 1,000 reviews, and it's easy to see why – their edits turn simple images into magical pieces of art. All of nickiperera's packages include unlimited revisions, which is amazing considering how affordable they are. For only $5, you can get a basic edit on an image in just one day.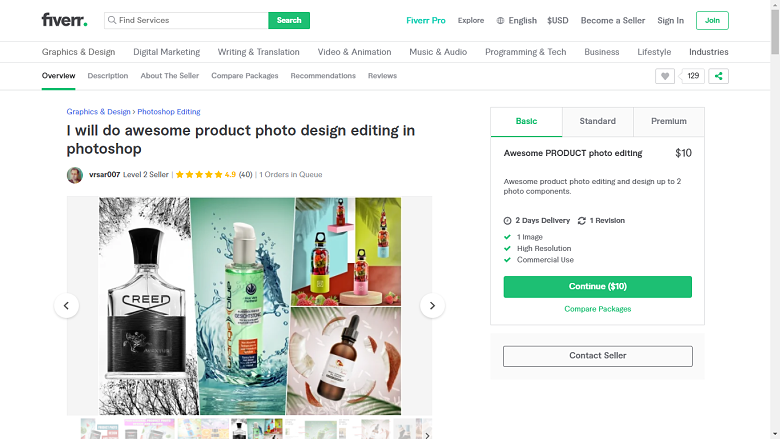 Level Two Seller vrsar007
transforms plain product photos into professional-quality images
 designed to boost conversion rates. Their basic photo editing package starts at just $10. My favorite thing about this gig is that you can pay more for conceptual design services, which is great for larger-scale projects with batches of photos that need editing in the same style. Plus this freelancer has an impressive turnaround time of two days or less for all of their Photoshop packages.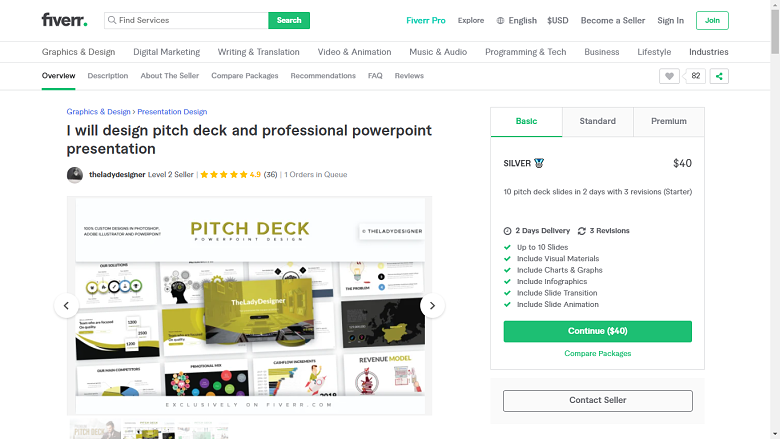 Theladydesigner, or Sidra as she's known, specializes in presentation slides for business meetings, academic lectures, and pitch decks
. Their basic package comes with 10 slides, complete with charts, infographics, and other visual materials. She'll even give you the full editable file as well as the Photoshop or Illustrator design files so you can make edits easily. For a relatively small investment, Sidra can transform your pitch deck or presentation to match your brand.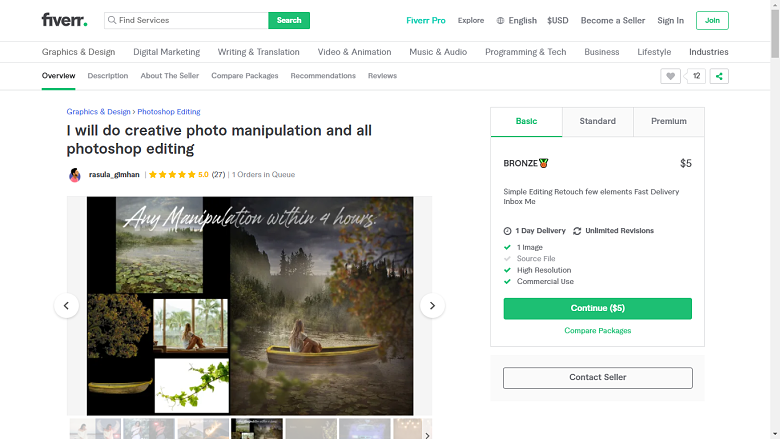 Rasula_gimhan specializes in photo retouching and manipulation by adding glowing neon lights and transplanting subjects on different backgrounds. The designer expertly
transforms the source image into a creation from a fairytale
, storybook, or ancient myth. Each of their packages comes with unlimited revisions so you can work together until you're completely satisfied with the final product.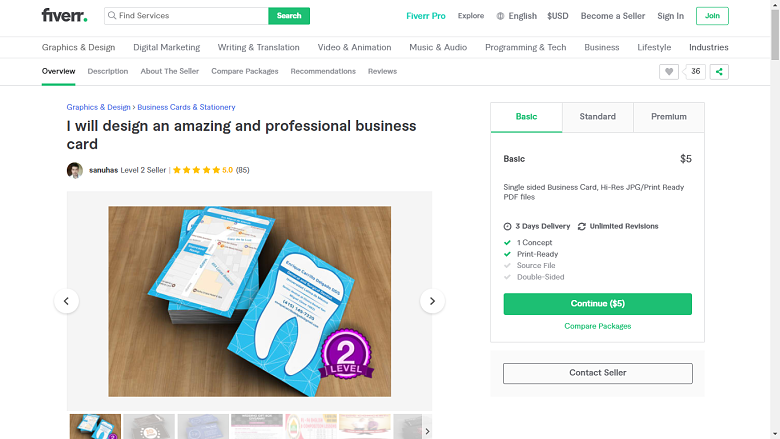 If you don't want your business cards ending up in the trash, turn to Level Two Seller and designer sanuhas. Not only was I impressed by their five-star rating, but also by their
extremely affordable pricing for a unique business card
. For just $5, you can get a high-resolution, print-ready card. Spend $5 more for a double-sided design or book the premium package for an editable source file – all with unlimited revisions.
How to Hire a Freelance Photoshop Designer on Fiverr
Fiverr is my preferred hiring platform because it hosts creative professionals from around the world in tons of different fields – one of the many reasons it scored
4.9
out of 5 in our
Fiverr review
.
You can hire a copywriter, SEO expert, or graphic designer all from a single platform, with jobs starting at just $5.
 That means that commissioning an expert for your project could cost less than lunch at your favorite restaurant! Whether you want to hire a designer from this list or search through Fiverr yourself, you'll soon discover that the platform is incredibly easy to use.
Head to the Fiverr homepage
 and search "Photoshop designers" to start your search. From there, you can search through relevant freelance gigs until you find one that interests you. Click on a gig to see the full details.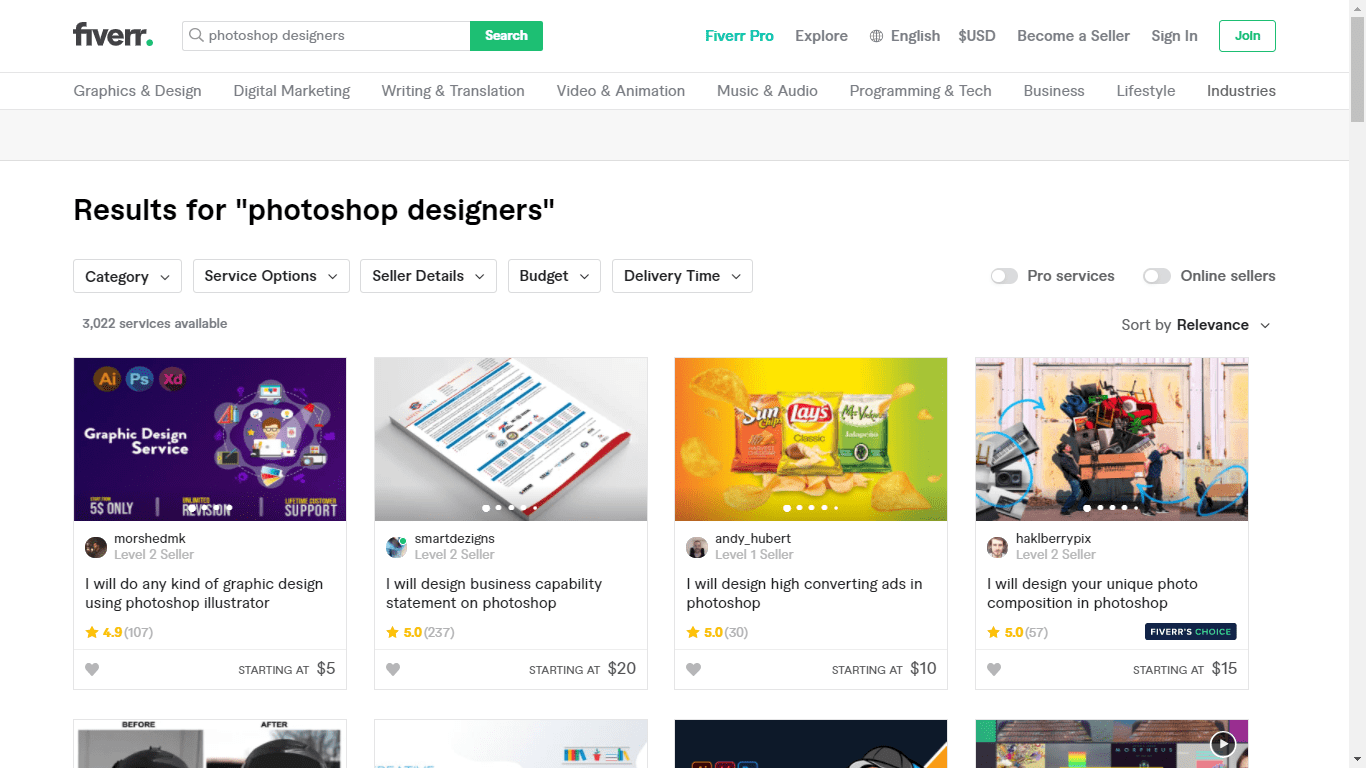 Each gig shows the freelancer's portfolio and rating, as well as past customer reviews. It also breaks down the various packages, prices, and services.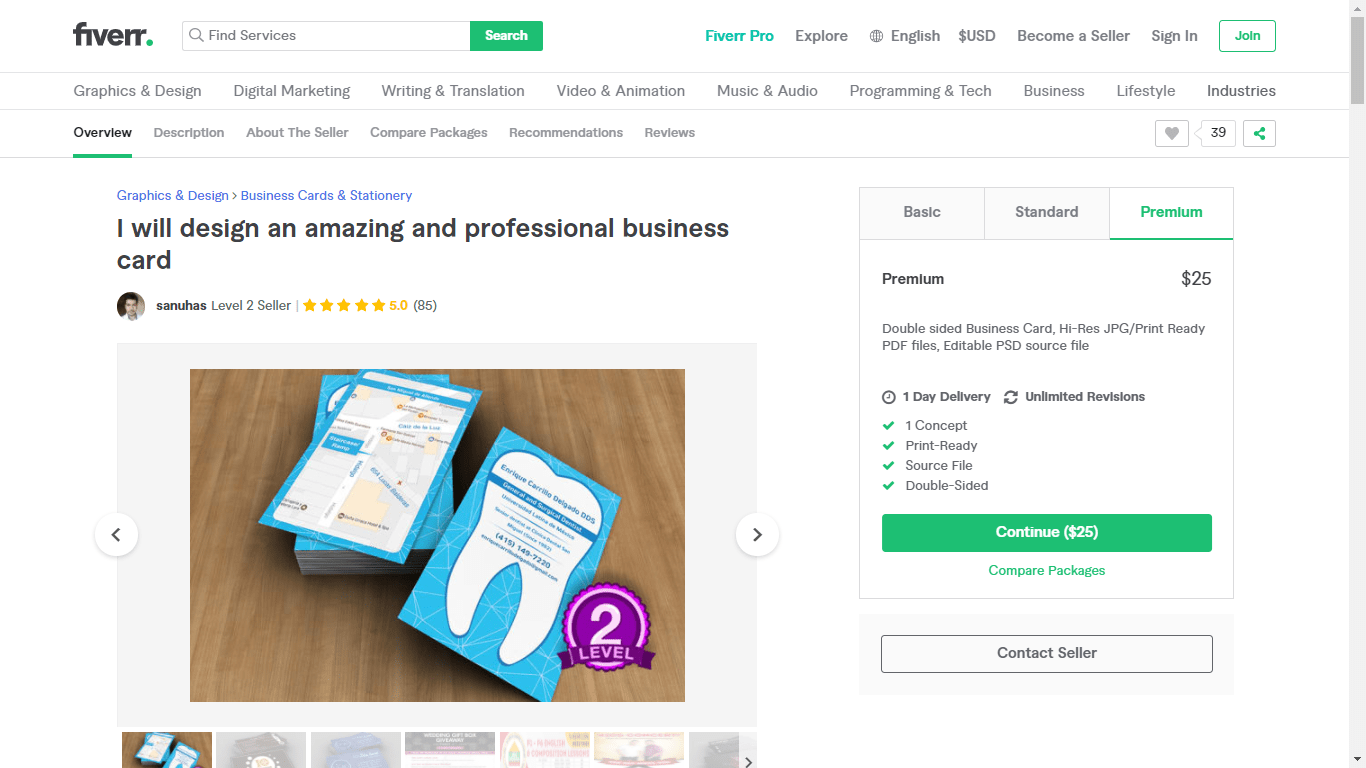 Toggle between
Basic, Standard,
and
Premium
 to see pricing and services for each tier, or click
Compare Packages
 to see the information side-by-side.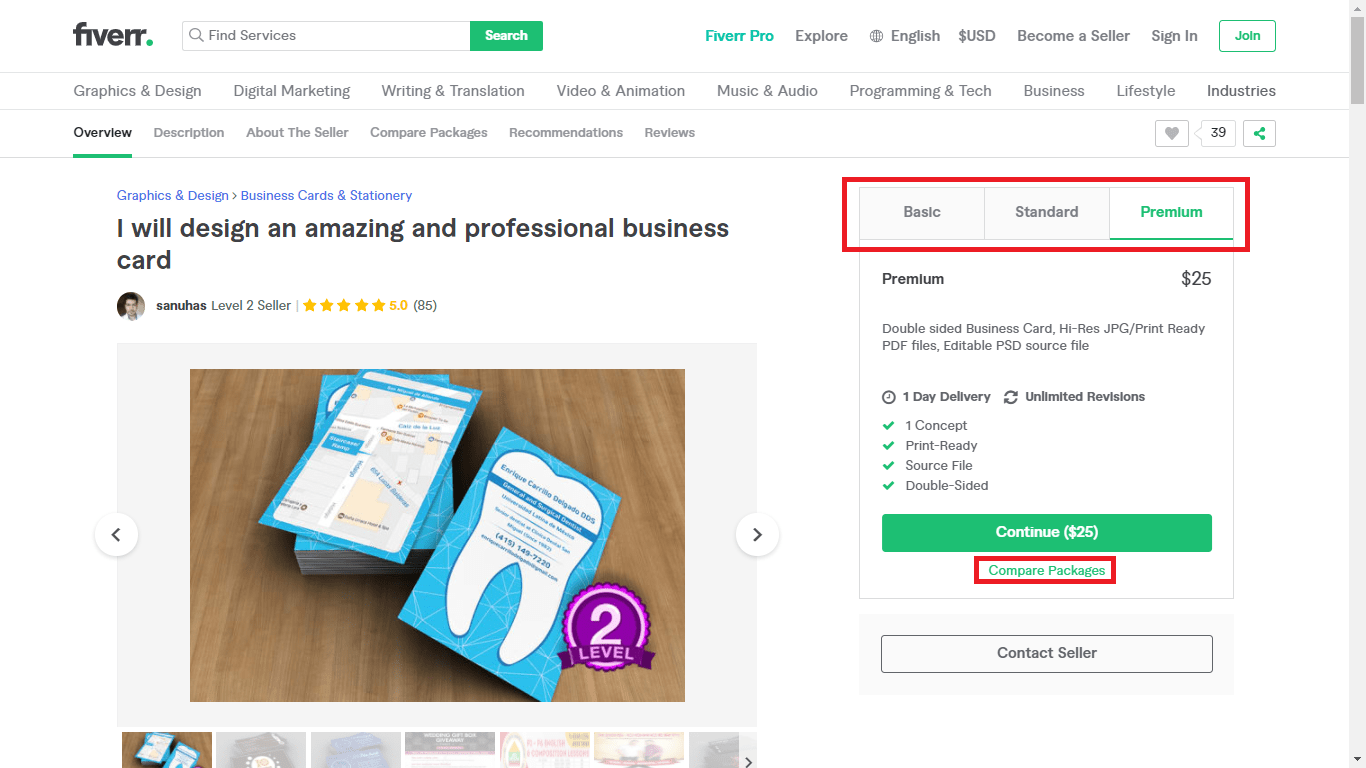 Many sellers ask that you contact them before you hire, so you can discuss the details of your project. Click the
Contact Seller
 button to let a freelancer know that you're interested or to ask them a quick question. When you decide to hire, click the
Continue
button to head to the payment preview page, where you can review your order.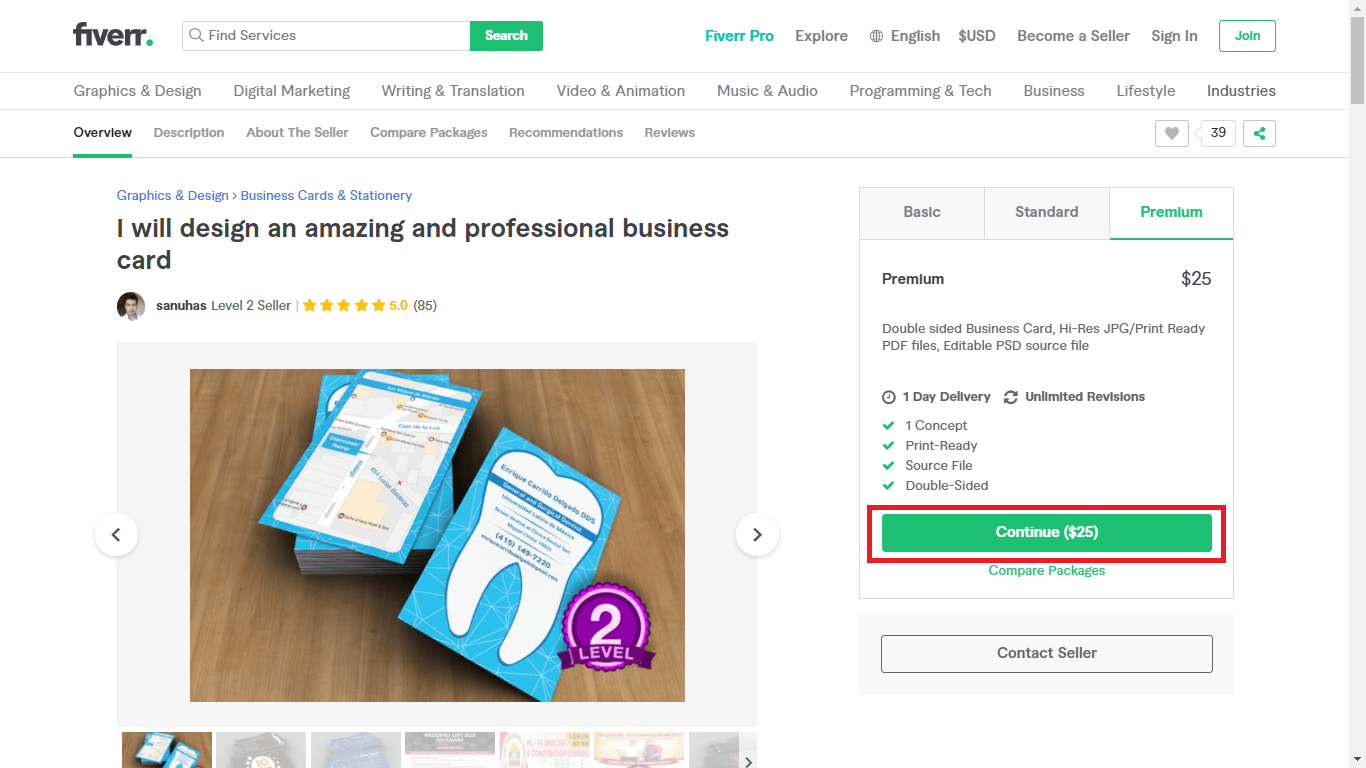 Here you'll see the final cost and services for the package you selected. If everything looks good, click
Continue to Checkout
 to enter your payment information and finish the hiring process. This might be a one-time collaboration, or you can re-book sellers you like for future projects.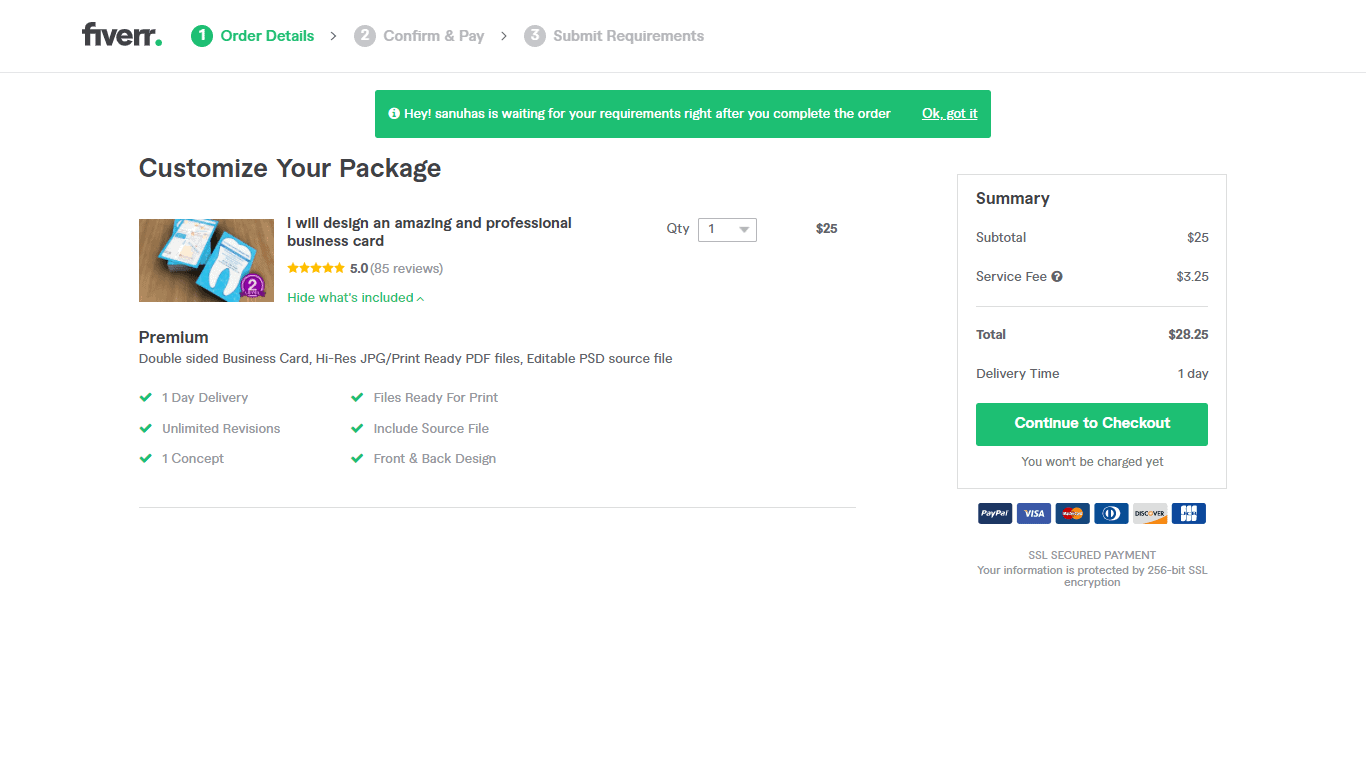 What to Look For in a Freelance Photoshop Designer
If you're unfamiliar with graphic design, then sifting through thousands of experts might be a little overwhelming. What skills should you look for? How do you know if one professional is better than another? Here are some things to consider when choosing a freelance Photoshop designer to handle your project:
Do they have extensive experience working with Photoshop? This one might seem obvious, but not all graphic designers use Adobe Photoshop. Make sure they have specified Photoshop as their main medium in their gig title or description.
What kind of designs do they do? Photoshop skills can vary from editing product photos to creating business cards. Look for your project type under the About This Gig section.
What is their preferred style? What do their designs look like? Are they rustic or futuristic? Colorful or monochrome? Look and see if there is a specific style you prefer.
Are they skilled in color theory, spatial awareness, typography, contrast, and other design elements? Do they use complementary colors in their work? Are any objects blurry or out of place? Is the text well-sized and spaced out?
What is their seller communication rating? While Fiverr sellers have overall ratings, they also have ratings for individual gigs as well as their communication skills. Communication is an important part of the process, so look for a freelancer with an excellent rating.
Are You Looking to Sell Your Photoshop Design Services on Fiverr?
The Fiverr platform isn't just made for buyers. If you're a Photoshop designer looking to gain new clientele or add work to your portfolio, Fiverr may be the solution.
By selling your services on Fiverr, you gain access to thousands of potential buyers who are looking for your expertise.
 And signing up is quick and painless.
Head to the Fiverr homepage
and click the
Join
 button in the top right corner. You can also get more information by clicking on
Become a Seller
.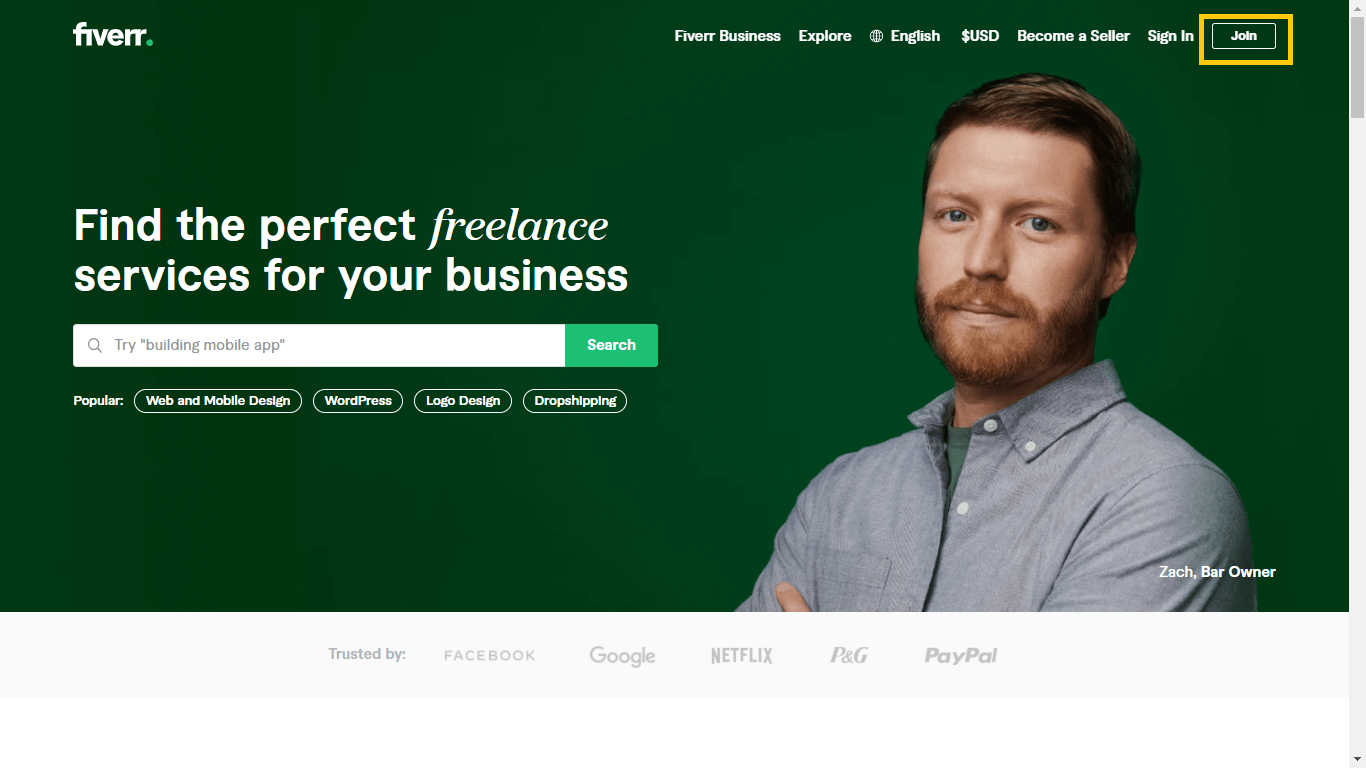 Once you've signed up, you can start creating a profile. Click the circle icon in the corner to begin adding your details.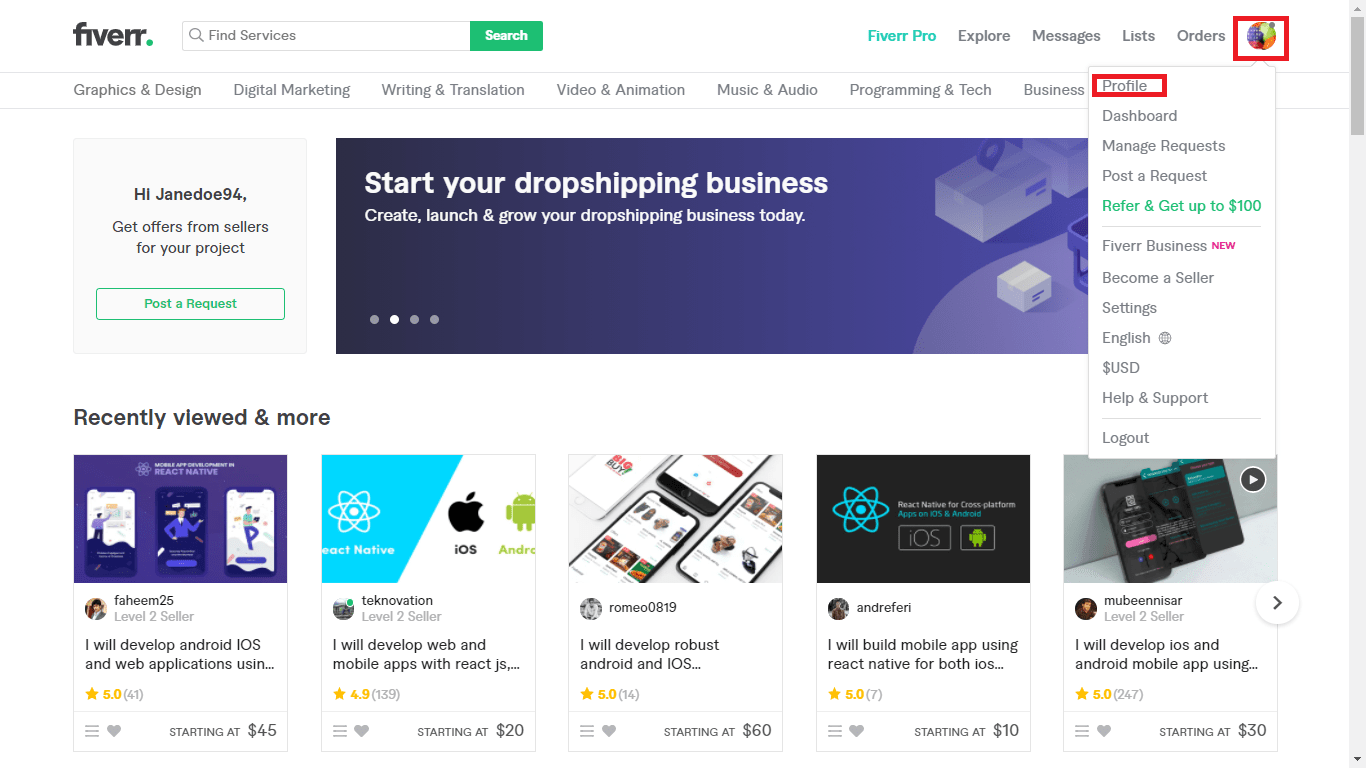 What type of seller are you? Is this a full-time business or a side hustle? Select an option from the list, upload a profile photo, and add your skills, academic achievements, and any certifications. Click
Create a New Gig
 when you're ready to begin the selling process.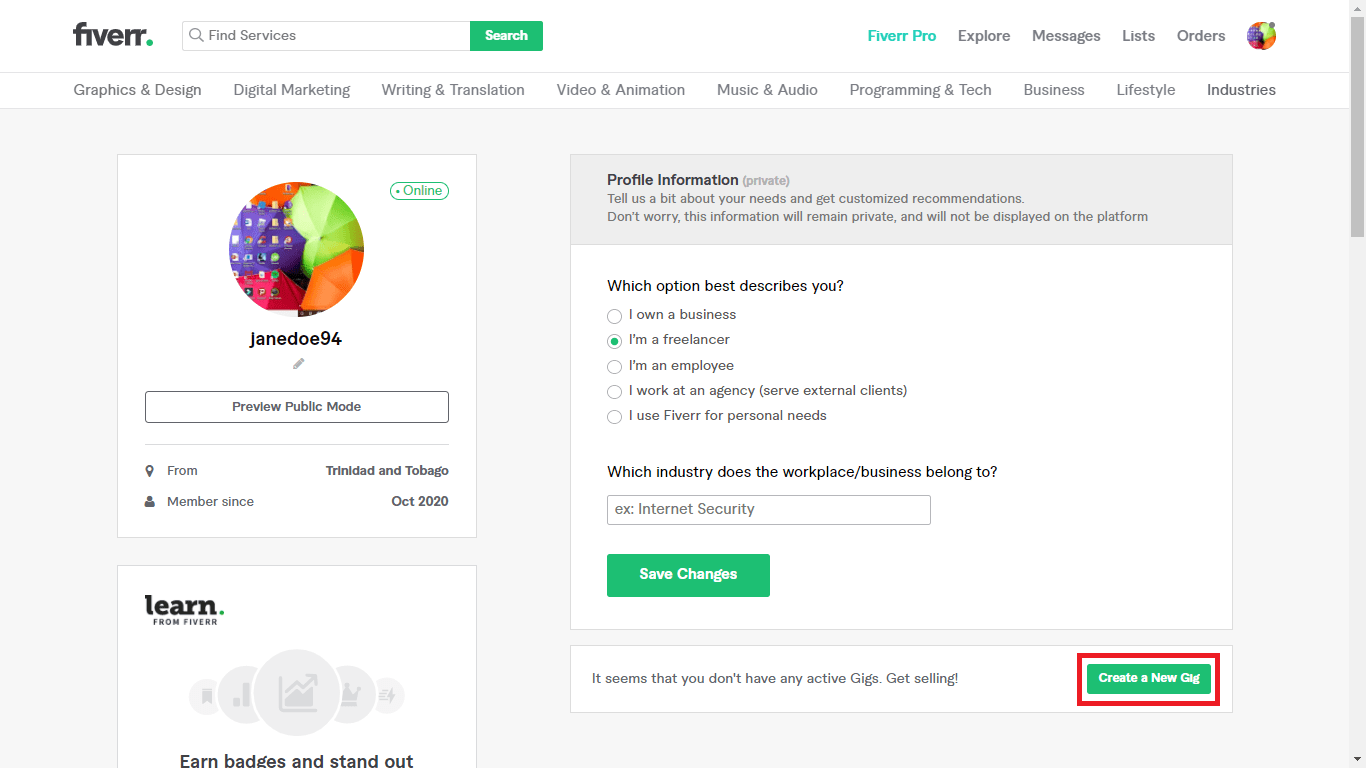 Pick a gig title, category, and any relevant search tags (like "photoshop", "designer", "flyer", etc.) to make it easier for buyers to find you. Decide if you'll offer a set package or the typical three-tiered option. For each package, you'll need to provide a description of services, select your offerings, and enter a price. Add a short explanation of your gig, answer any FAQs, and upload previous work to your gallery.
We've also created a handy guide on how to create a successful Fiverr gig so read this through before you start
. Once your gig is public, buyers can find and hire you! The best Fiverr sellers are those who have bought packages themselves. By going through the buying process, you gain insight into what clients are attracted to and which gigs are the most engaging. And since
projects cost as little as $5
, this process is well worth it! Switch to a buyer profile and search for a freelancer who offers the services you require, whether it's new wall art or a cooking class. The objective is to identify the specific needs of buyers in order to enhance the quality of your own gig.
Final Thoughts – Fiverr Makes Hiring A Creative Easy
Fiverr makes the process of finding a Photoshop designer smooth and simple. You can compare the portfolios of thousands of graphic design and Photoshop experts – and filter your search based on your budget, deadline, or other needs. Plus, with such low prices,
Fiverr keeps costs manageable without sacrificing the quality of the content.
And as you have seen above,
gigs start as low as $5
 which is amazingly good value. Because I was so impressed with what I found, I did some more research and found some other sellers you might be interested in. I was surprised at how many different types of designers I could find:
FAQ
Where can I find freelance Photoshop designers?
Fiverr, one of our recommendations for the top freelance websites in 2023 hosts thousands of affordable designers. These creatives span the globe and bring a range of skills, niches, and experience to their work. Fiverr is also super easy to use as I've shown above, and it scored highly for its ease of use in our Fiverr review.
What do freelance Photoshop designers charge?
Prices vary depending on a designer's location, skill level, and project specifications, but Fiverr freelancers offer packages starting at just $5.
What skills do freelance Photoshop designers need?
A good Photoshop designer should have a high-quality portfolio that shows work in your specific style or niche. They should also demonstrate an understanding of color theory principles and spatial awareness, as well as attention to detail and a high level of communication.