with packages for as little as $5
. With Fiverr, a popular freelance hiring solution, I have found that you can hire a professional for the price of your morning latte. Read on to see my nine recommendations, tips for how to hire a creator on Fiverr and how you can start selling your services too.
9 Best Freelance Package Designers on Fiverr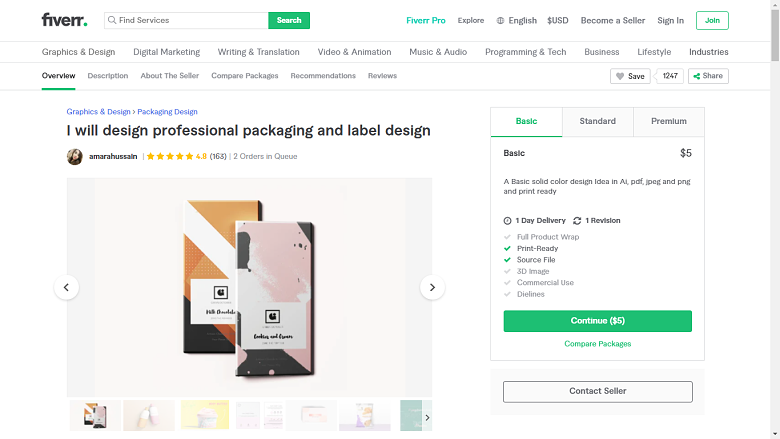 Amarahussain is a package designer with a simple, bright portfolio. Their basic package offers a solid color design delivered in one day for just $5. If you don't have a logo for your company yet, you can pay extra for Amarahussain to create one for you. I also appreciate the Amarahussain has a degree in marketing so she's best-placed to help you create a design that will sell.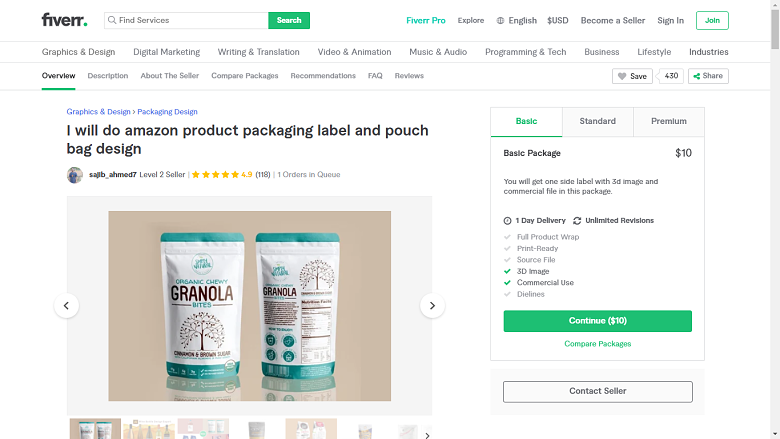 Sajib_ahmed7 is a skilled freelancer with a 4.9-star rating and over 300 positive reviews. He offers a variety of affordable package designs, and receives praise for being highly communicative and efficient – just what you want in a freelancer.
His basic package includes a one-sided label featuring a 3D image and one-day turnaround
. In addition, Sajib_ahmed7 offers unlimited revisions for every package so you can work with him to achieve your ideal final design.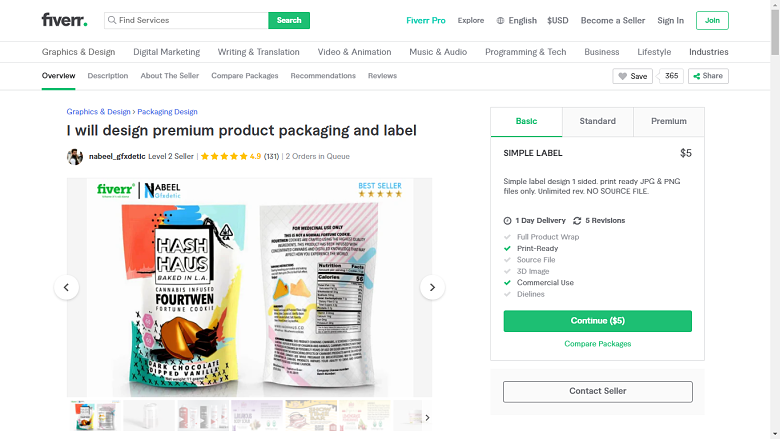 You can hire Nabeel for simple and affordable one-sided designs starting at just $5 and with a really fast turnaround. His basic and standard packages include a one-day delivery time, and if you upgrade to their premium package you'll get your design in two days.
Nabeel also offers a full refund if you are not 100% satisfied, which is unusual for most Fiverr sellers
, so I was impressed by this.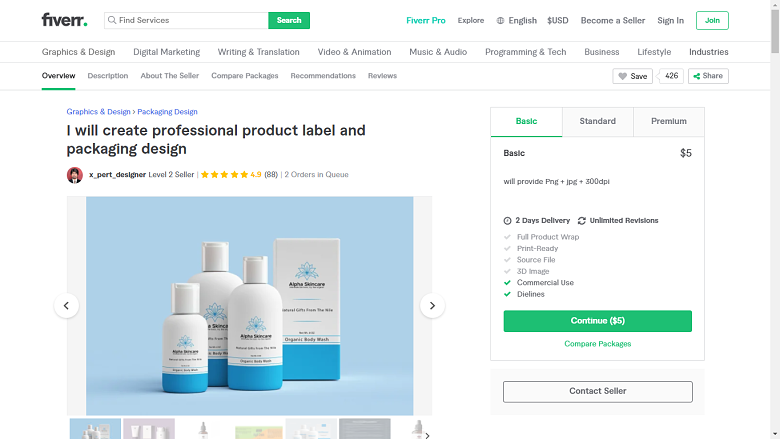 Muhammed, a.k.a. X_pert_designer, offers his expert product label and package services for as little as $5. His basic package delivers a design in multiple high-resolution file types and includes dielines. If you want a source file for your design or a print-ready product on delivery, you can pay more for X_pert_designer's standard or premium package.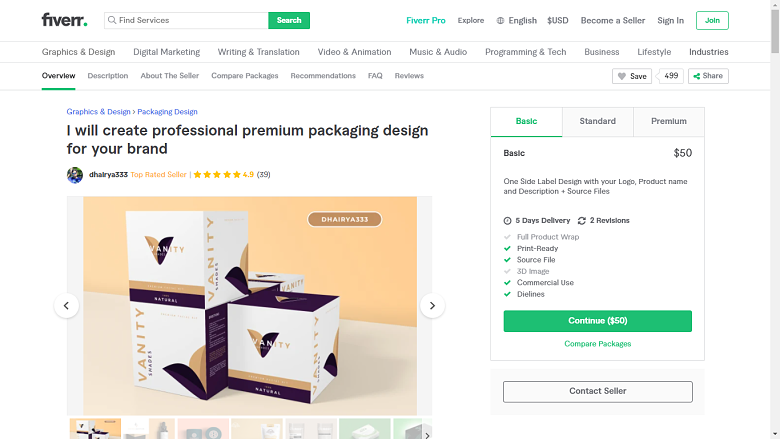 Dhairya is a package professional with Fiverr's coveted Top Rated Seller badge, meaning they have provided excellent service over an extended period of time. Although more expensive than other sellers on this list,
Dhairya has nearly a decade of experience on Fiverr and over 1,000 five-star reviews
across their gigs – that's a lot of hours spent delivering package designs, and clearly a lot of happy customers! A graphic design expert, Dhairya's basic package includes source files, dielines, a print-ready format, and up to two revisions.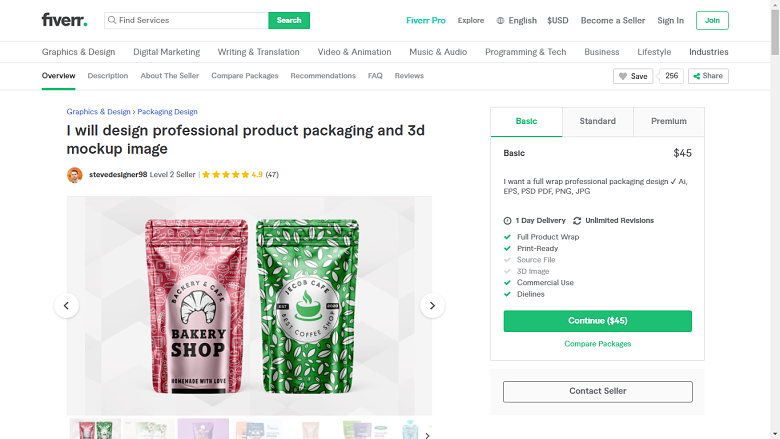 Stevedesigner98 is a creator with experience in a broad range of industries and styles. Although other designers offer pouch design services in their gigs, I was impressed by the level of creativity in Stevedesigner98's designs.
 In this gig, you will get a full-wrap design deliverable in up to six different file types 
– you can choose as many as you need for the same price.
Each tier includes one-day delivery
, which is impressive considering the quality of Stevedesigner98's work. Choose their basic package or opt for a higher-priced tier to access services such as an editable file (standard package) or a full 3D mockup (premium package).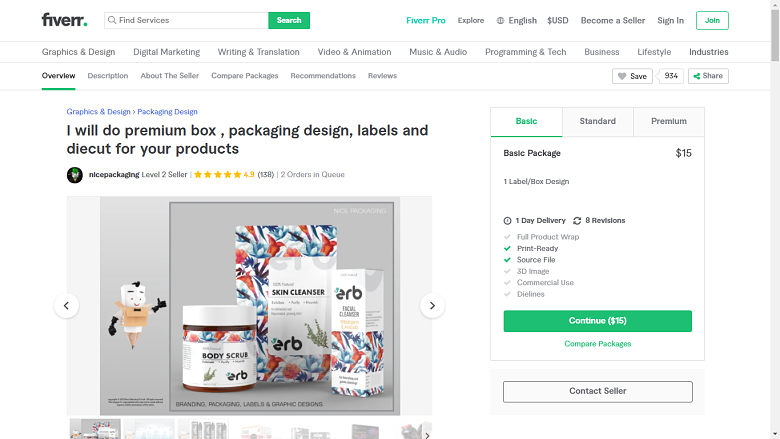 Nicepackaging is a package-design veteran with consistently great reviews; their promise is literally in their name. With a basic package starting at just $15, you can purchase a high-end product without the luxury price tag. If you also need branding materials or a company logo, you can add these services to create a more customized package.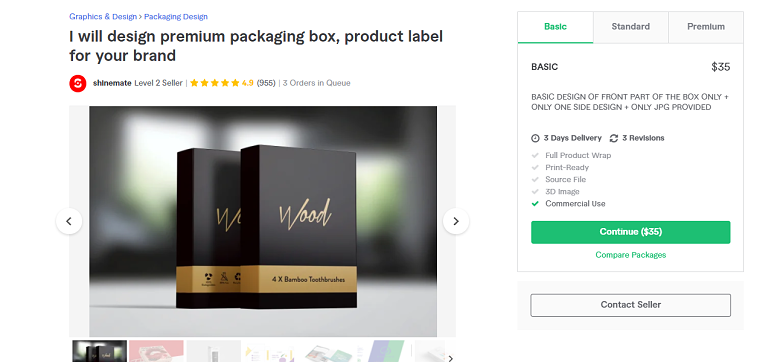 Shinemate is adept at creating sophisticated product packaging with a minimalist twist. They pride themselves on helping small businesses stand out in their market, even working with clients to create custom projects, and given
that they have nearly 1,000 reviews and a 4.9 star rating out of 5
, they're clearly doing something right! I'd recommend purchasing their basic package for a front-side box design, delivered in three days with up to three revisions.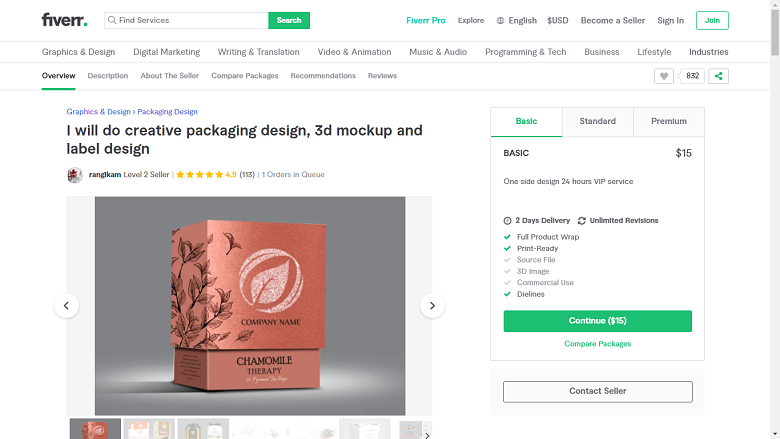 Rangika's work is relatively minimalistic, with pops of color and vibrant patterns. Every tier of their package design gig is print-ready in two days or less. Rangika's basic package is for a one-sided design, but I like that you can purchase their standard or premium package for more features like a 3D image (standard) or the source file (premium).
How to Hire a Package Designer on Fiverr
Searching far and wide for the right package designer takes time that you most likely don't have. With Fiverr, you can find a creator with minimal effort, and search based on your preferences and budget – one of the many reasons it scored
4.9
out of 5 in our
Fiverr review
. To find a freelancer for your project,
go to the Fiverr homepage
 and type "package designer" into the search bar. Scroll through the results – including a summary of the gig, price, and seller rating – until you find one that interests you. Using Fiverr's search engine, you can look for creators based on your specific needs. For example, do you want someone who can deliver work within a certain time frame? Use the "delivery time" filter to find matching gigs.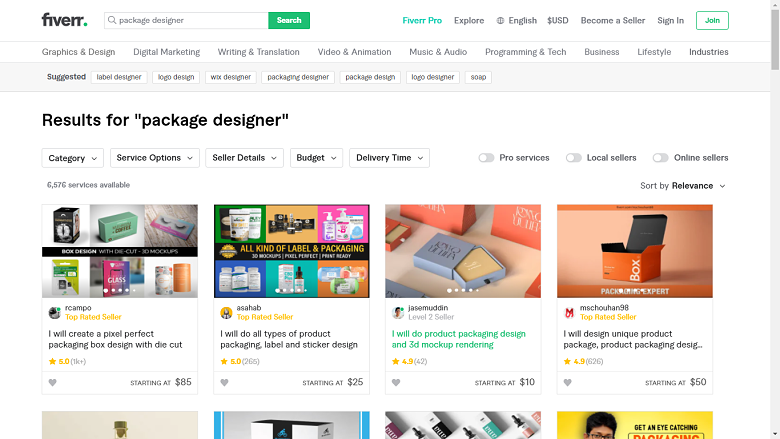 Once you click on a related gig, you can see all the details, including information about the gig, seller bios, FAQs, and customer reviews. You can also scroll through photos for each gig that showcase the designer's work.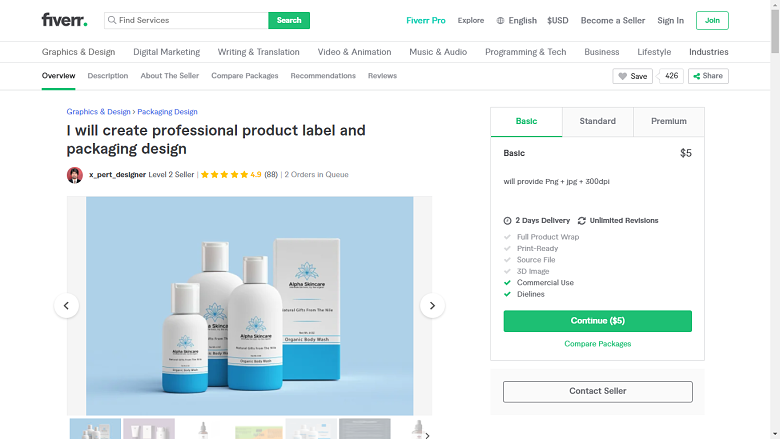 On the right you'll see the seller's packages and pricing. Clicking on the tabs will show you different tiers and what they include. You can also select
Compare Packages
to see an overview of your options for this gig.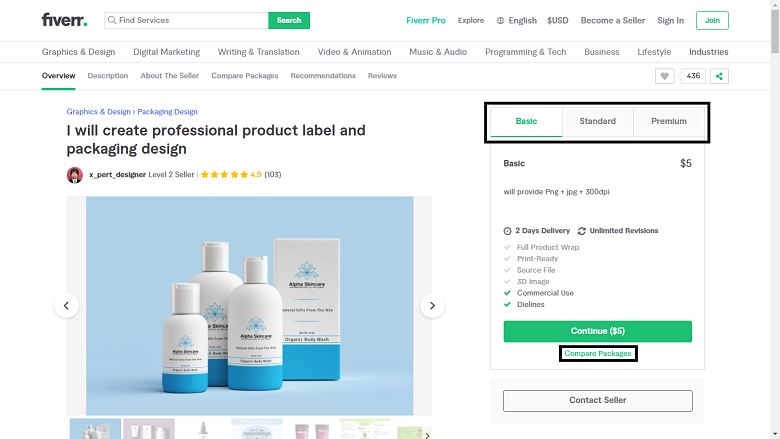 Designers will include how to contact them if you have questions about the gig – and many prefer that you reach out before booking so you can discuss the project specifics. Click the
Contact Seller
button to send them a private message.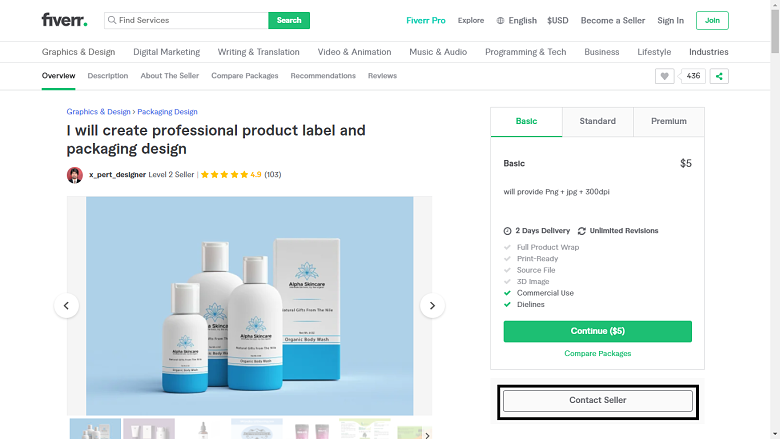 When you're ready to move forward with your order, click the green
Continue
 button to head to the payment preview page.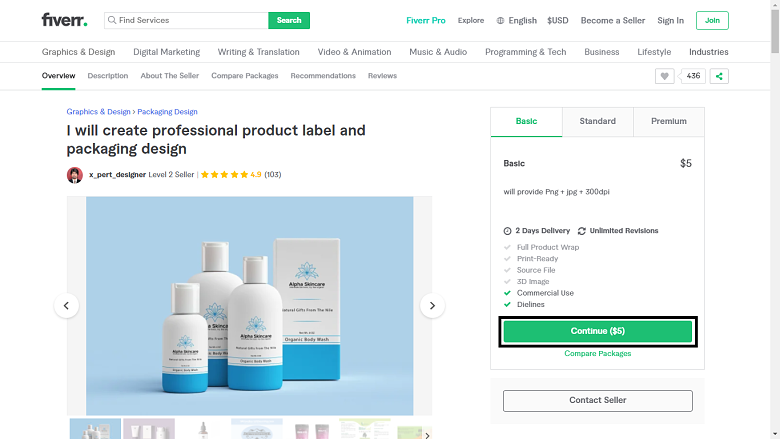 Once you've reviewed the final information and are satisfied with the package you've selected, click
Continue to Checkout
. You can then enter your payment details and finalize the hiring process.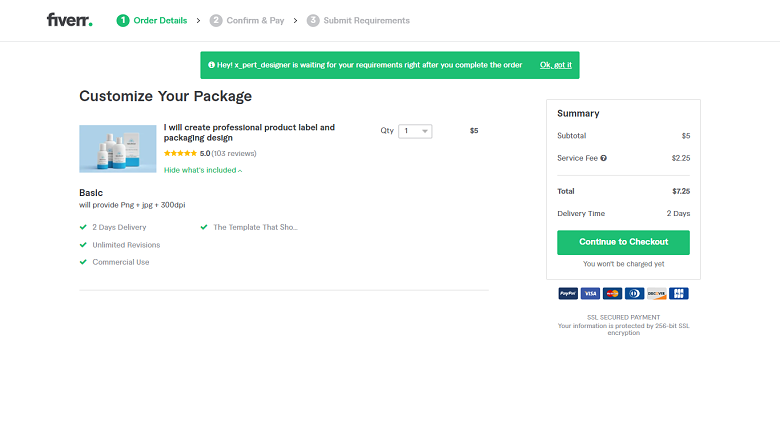 What to Look For in a Freelance Package Designer
If you've never hired a package designer before, you might get overwhelmed by what's included in various packages and differing price points. What does a talented package creator look like exactly? What skills do they need to have and how much experience is necessary? Before you hire a freelance package designer on Fiverr, ask yourself a few questions:
What is your budget?
What type of product(s) do you need designs for?
What is the shape of your packaging (a box, pouch, etc.)?
What design style are you looking for (minimal, colorful, etc.)? Do you have a concept in mind or will you need one developed?
How soon do you need the final product?
Do you need any other materials, like a company logo, label, or business cards with the same branding?
Once you know what your specific requirements are, here are a few key characteristics to look for in a professional designer:
Experience with a range of design software. Check the Skills section of a profile for a seller's experience with software like Adobe Suite (Photoshop, InDesign, and Illustrator), Sketch, Affinity Designer, and/or CorelDRAW.
Background in your desired style. When you look through freelancer profiles, use their portfolio to determine their distinct style and assess whether it matches your vision.
Specialization in designs for your package shape. Each package shape requires specific skills from a designer, e.g. a pouch and bottle require vastly different design templates. Look for the Product Type detail under the About This Gig section.
Excellent mastery of color and design theory. How well does the professional use colors and patterns in their designs? Does their work seamlessly integrate images and logos?
Impressive customer reviews and high seller communication rating. A creator's profile includes an average response time, but you can also see specific ratings from previous clients for their communication level, whether they would recommend them to a friend, and if the service matched up to what was described. You can see the overall selling rating and read customer reviews, but you can also check the rating for a specific gig above the portfolio.
Are You Looking to Sell Your Package Design Services on Fiverr?
Selling your package design services on Fiverr couldn't be easier; we even put it to the test in
our expert Fiverr review
. If you're a freelancer interested in gaining more clientele and amping up your portfolio, Fiverr is a great place to start.
Head to the Fiverr homepage
and click the
Join
button at the top right to sign up as a seller. First you'll decide on a profile name. Remember to keep it professional – potential clients will see this name in searches and on your profile.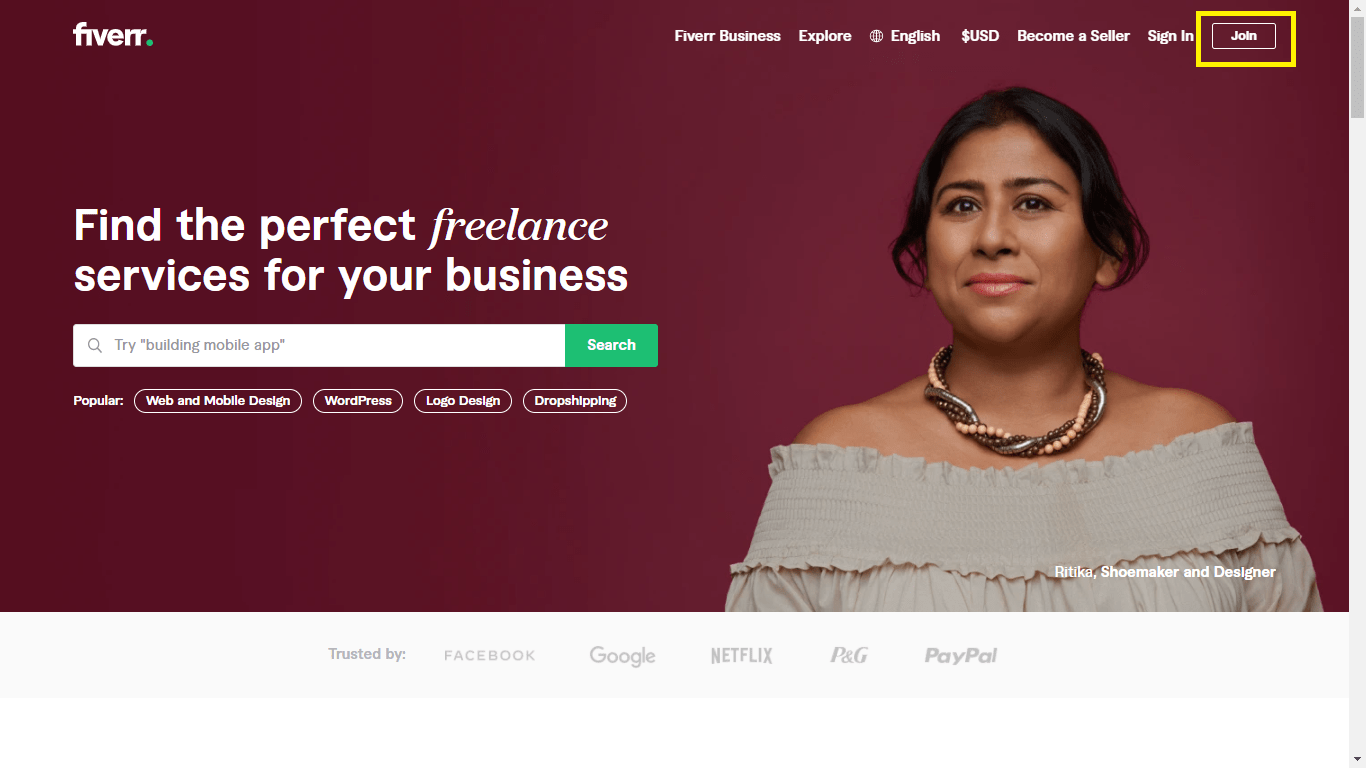 Click the circle icon on the right and select
Profile
 to create your profile. On the next page, you'll be able to add your skills, connect social media accounts, and detail your academic background.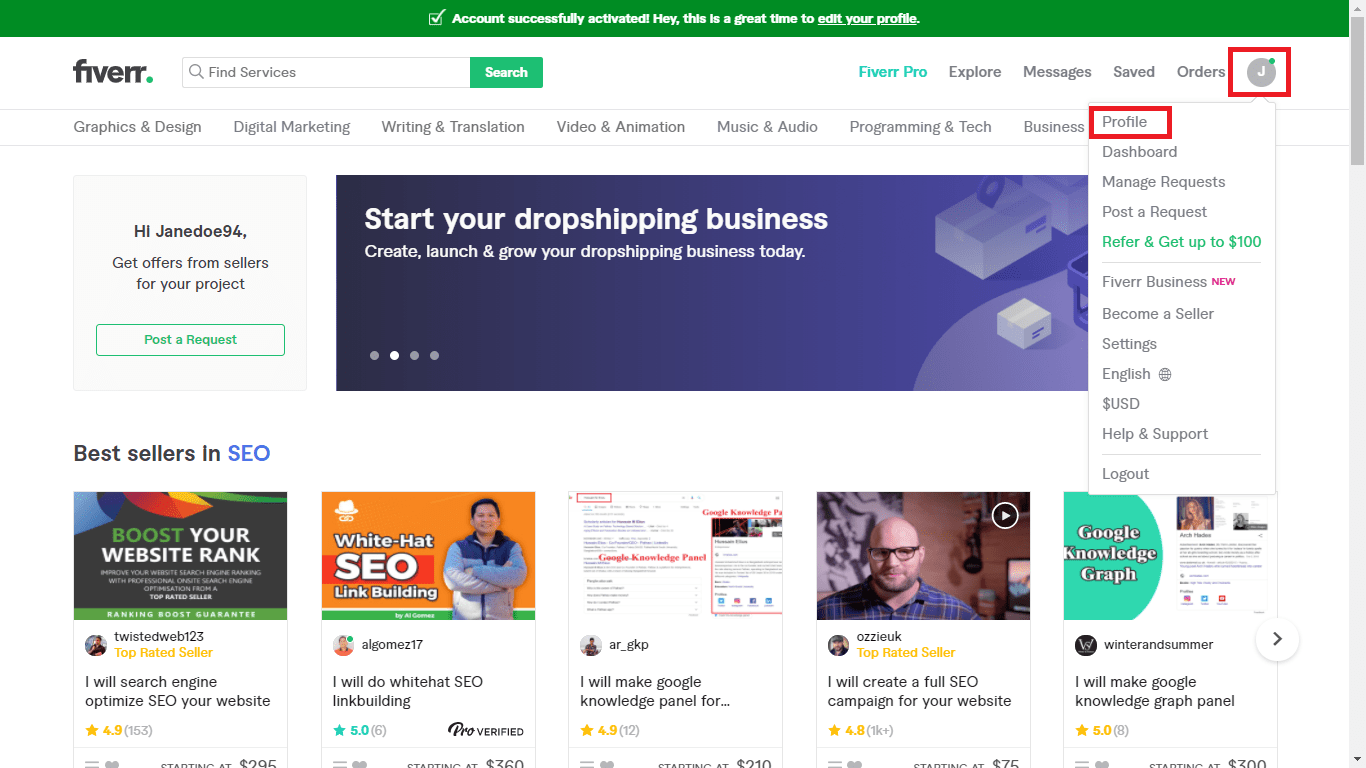 Select the type of Fiverr user you are (freelancer, employee, agency). Upload a photo and click
Create a New Gig
 to finish setting up your profile. On the next few pages, you'll need to choose a gig title and category and add any related search tags. Detail the list of services you offer and come up with a pricing structure to match each tier. Name each package before adding any add-ons, like expedited delivery or logo design. Add photos of your previous work to the gig and a short description. When you're ready to go, publish the gig to make it public. Buyers will now see your gig in search results and be able to hire you.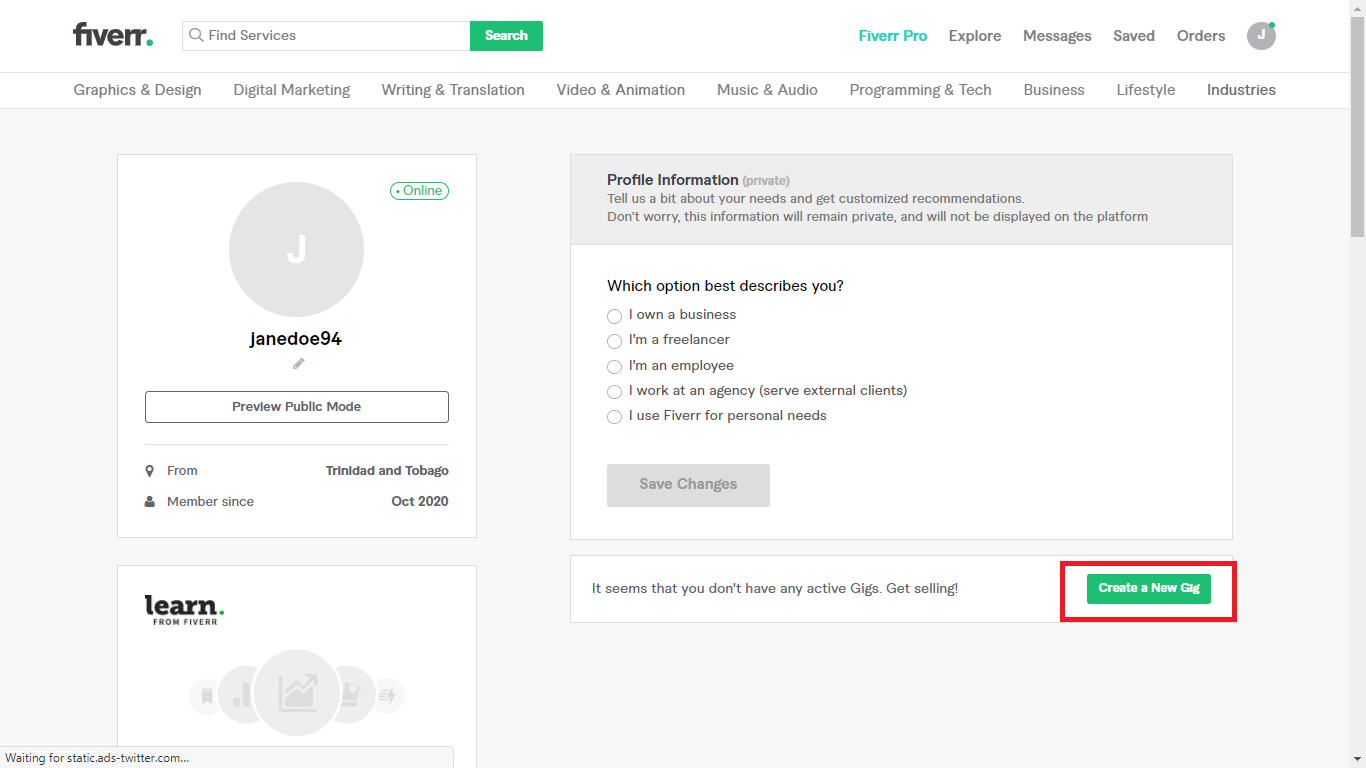 The best way to improve your profile is to get an inside look at how a potential buyer would see it.
Switch to a separate buyer profile and look for a fellow creator to hire. You don't need to hire for anything specific, so get creative with this and have some fun. Try commissioning an art piece of a loved one or ordering an original song for a special occasion.
Remember, there are
tons of gigs for as little as $5
. The aim is simply to familiarize yourself with the buying process and attract new clients by optimizing your profile. Finding clients can be a freelancer's most difficult task. When you sell your work through Fiverr, thousands of potential buyers can access your profile every day. Fiverr professionals don't need to spend hours looking for clients because the clients come to them.
High-Quality Work for Less
Fiverr can help you find a talented package designer at a reasonable price – the sellers I've recommended on this list are all tried and tested and have thousands of positive customer reviews between them. You can easily search through thousands of skilled professionals and choose a price that works for you, whether that's $5 or $50. What I love about Fiverr is the variety of gigs and sellers available, however niche your need is. While I was searching for package designers, I also found:
The ability to hire freelancers quickly, affordably, and without compromising your needs makes Fiverr a one-stop shop for buyers and sellers alike.
FAQ
Where can I find a freelance package designer?
On Fiverr, one of our top-rated freelance platforms, you have access to thousands of creative professionals in every niche, including package design. Search for "package designers" on Fiverr to pull up talented, affordable freelancers from around the globe, and you might be surprised to find that you can hire a skilled freelancer for $5. It's an incredibly easy-to-use platform too, as we found out in our Fiverr review.
What do freelance package designers charge?
Prices for freelance package designers depend on their skill, experience, and location, but you can find a quality creative professional for as little as $5 on Fiverr. You can also pay more for custom orders or package add-ons, depending on your project needs.
What skills do package designers need?
A package designer should have experience with key software like Adobe Suite, Affinity Designer, and CorelDRAW. Their portfolio should demonstrate a mastery of color theory, and their profile should show a high seller communication rating. An expert package designer should also have demonstrated experience creating work for any specific product shapes you need and in your preferred style.