you can't afford to blow your whole budget on illustrations.
Suddenly, finding the right freelancer has become a real challenge.
The best way to get top-quality drawings for most projects is through Upwork.
The talent pool is massive, and there are many hiring and work tools to help you stay on top of everything. For quicker jobs, you can hire an experienced manga artist on Fiverr from just $5 – no gimmicks and no fine print. Even better, you can shortcut the process of finding talented artists because I've already done it for you. I combed the internet and compiled a list of the top nine freelance manga artists for hire. Read on to find out my top picks.
In a hurry? I tested dozens of freelance websites to find the best manga artists in 2023, but
most artists I liked came from Upwork.
There's a freelancer on the platform for every project and budget.
9 Best Freelance Manga Artists
As mentioned above,
Upwork is my top pick because it features
budget-friendly freelance manga artists
.
It's also easy to use and super efficient when hiring freelancers for ongoing work. Fiverr is an excellent alternative for a quick job. To make your search easier, I've looked through dozens of profiles and narrowed it down to the top nine. These artists excel at a variety of tasks:
Crafting original manga illustrations
Sketching storyboards for your manga series
Designing unique characters
Customizing art for promotional materials
Offering advice on manga style and cultural elements
The freelancers I picked offer high-quality illustrations at a great price, and they've received stellar feedback from clients for their past work.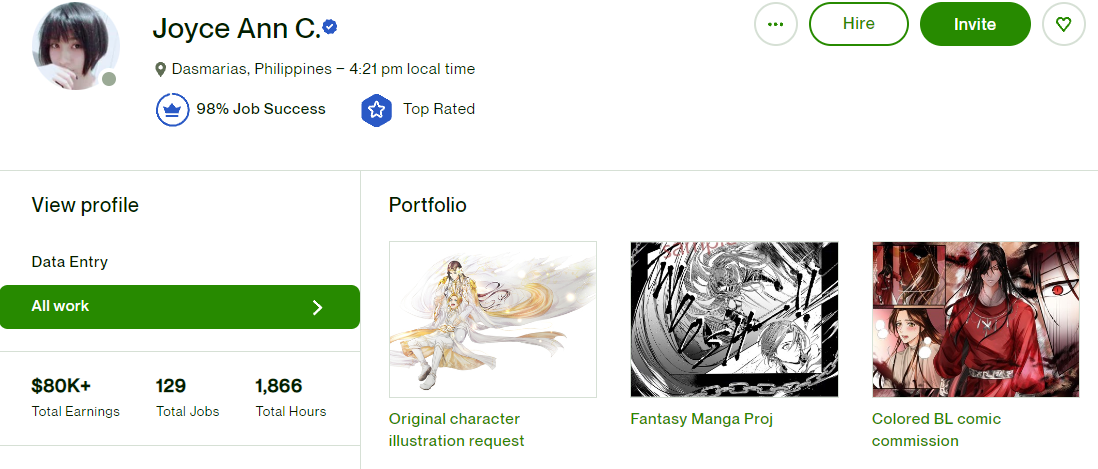 Joyce Ann is a full-time freelance manga artist who uses Clip Studio Paint for their comics and drawings. They specialize in bishoujo/bishounen (pretty, youthful characters), as well as romance and fantasy settings.
Their style is distinctive, capturing the essence of manga with bold character designs, bright colors, and lots of movement.
Joyce Ann has earned the Top Rated badge, which means they've consistently delivered top-quality work with stellar feedback. Indeed, the profile is filled with 5-star reviews from satisfied clients commending the artist's unique ability to bring concepts and words to life.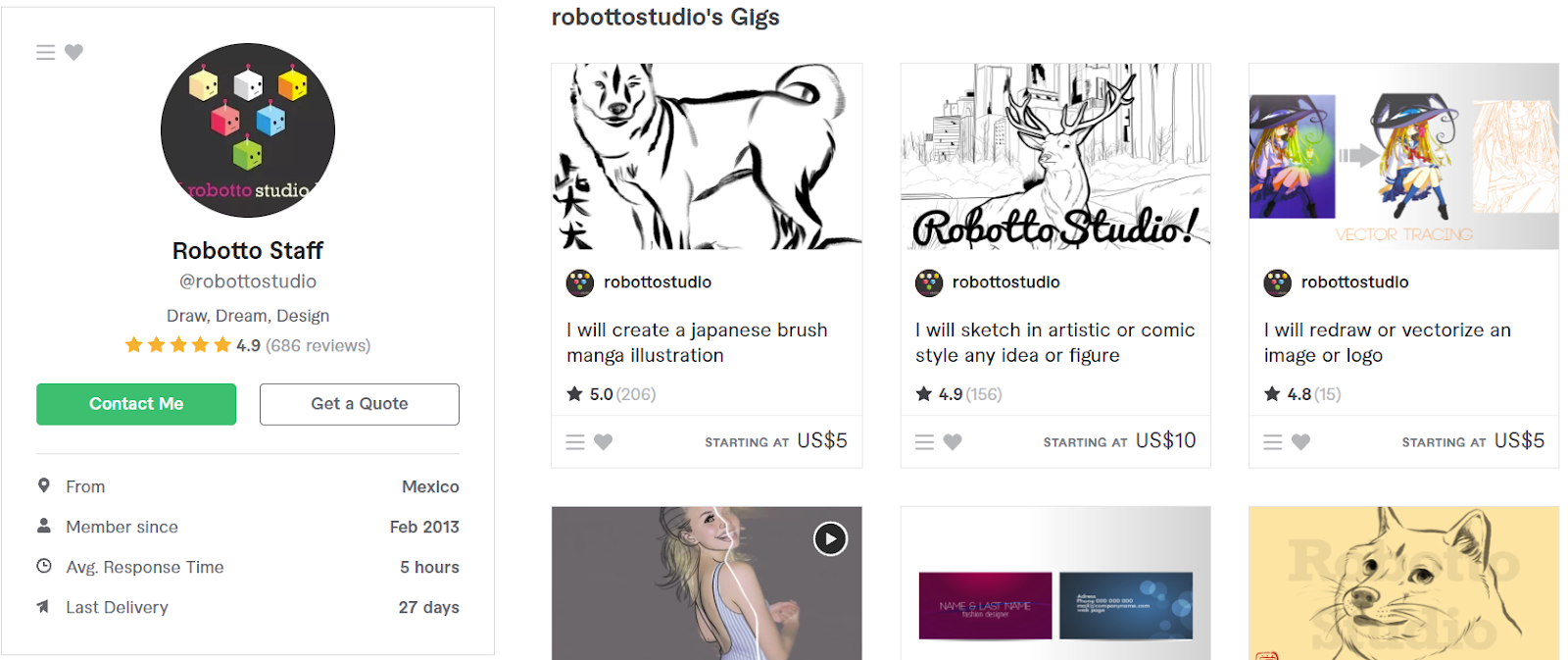 Robottostudio uses traditional Japanese brush techniques to create sketches of people, animals, and fictional characters. Their style is simplistic (in a good way), and you choose whether you want it colored in using pastels and earth tones or kept in black and white. Gig turnover is just 2 days, and you receive your illustrations in high-quality 4000×4000 resolution.
Robottostudio's profile scores an impressive 4.9 with over 680 reviews.
Many clients have left feedback that Rafael (the studio's main artist) communicates well and that they're satisfied with the work.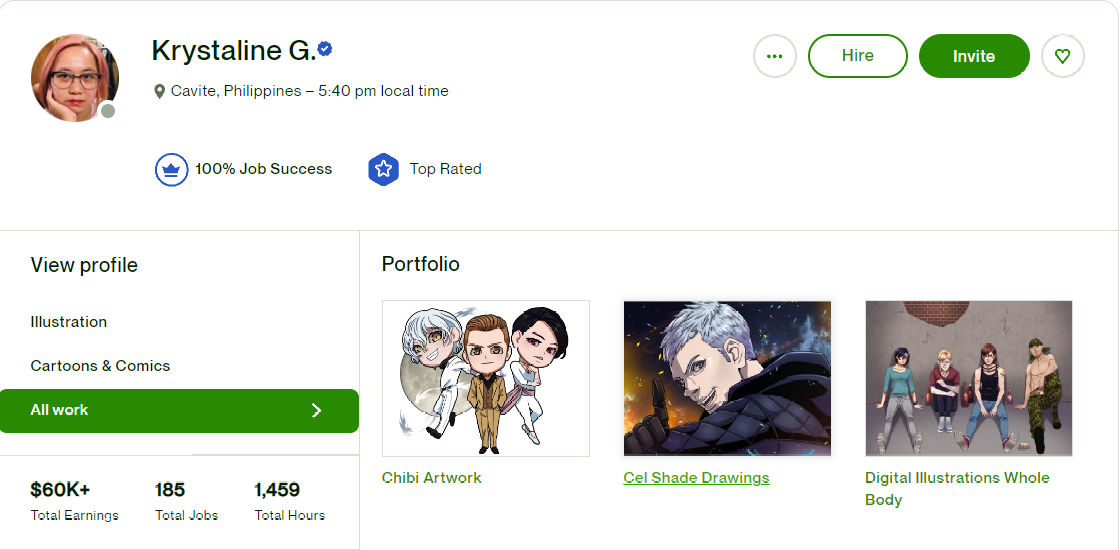 Krystaline is a versatile manga artist with one of the most impressive portfolios on the platform. Ranging from serious anime illustrations to super cute chibi characters and full-body designs – Krystaline does it all.
This manga artist earned the Top Rated badge while maintaining a 100% Job Success score.
In other words, they've nailed all the projects they've been a part of, currently over 185 with at least $60,000 in total earnings. Krystaline also offers consultations, allowing clients to better outline their vision and ideas.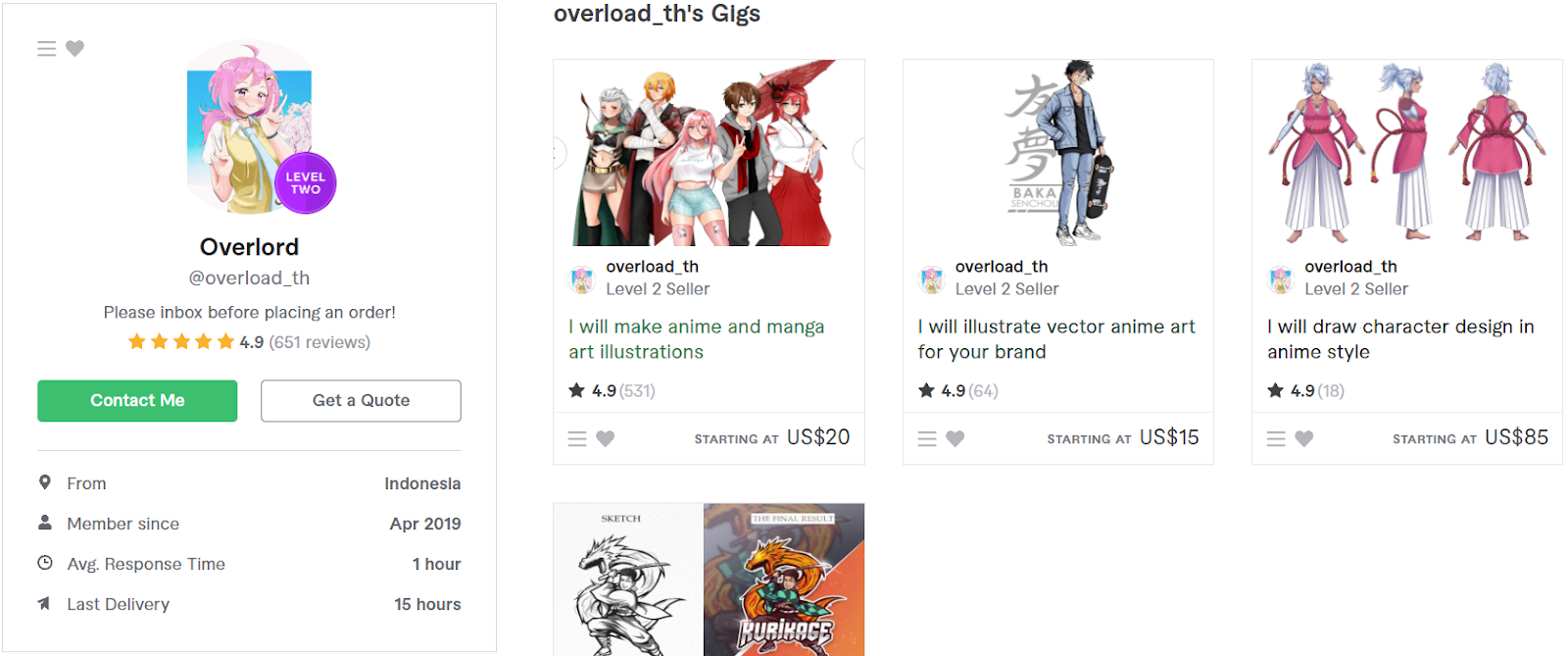 If you want a piece of art that's truly unique, look for an artist who has mastered more than one style and can mix and match them to bring your vision to life. Overlord is an excellent example, as they can draw in several manga and Western styles. You can contact them for portrait sketches, fan art, photorealistic sketches, and custom pieces in their unique art style.
Overlord has a reputation for great communication, checking in at multiple stages to ensure their customers are happy with the progress.
They enjoy an average score of 4.9 with over 650 positive reviews.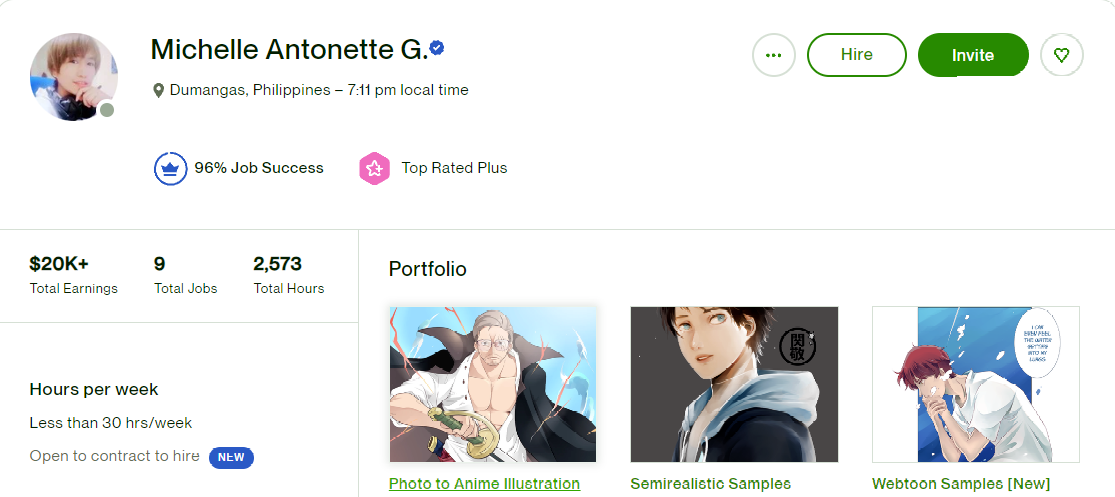 Michelle draws mainly shounen-style drawings for both print and webtoon series. The popular shounen style is usually more appropriate for young audiences that prefer action and effects – think
One Piece
,
Dragon Ball
, and
Naruto
.
Michelle has earned the Top Rated Plus badge, which means they've repeatedly delivered exceptional results on long-term contracts.
With over 2,500 hours clocked in on the platform, you can rest assured this artist knows how to communicate, work with deadlines, and deliver high-quality work.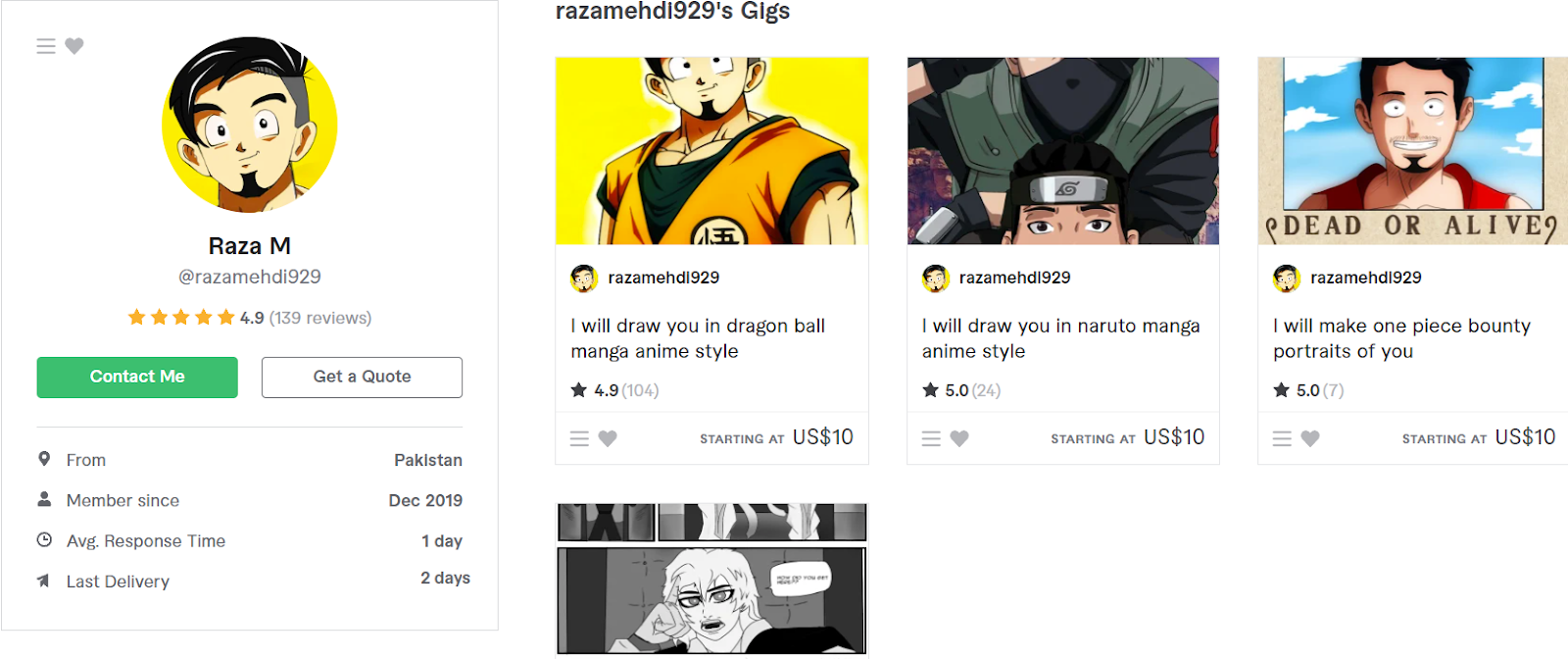 Raza draws real-life people in the popular
Dragon Ball
and
Naruto
style. They'll also create fan art or more realistic-style portraits if you prefer. Raza offers one package tier that can be customized according to your needs – full-body, extra power level, a specific background, and more.
Raza's gigs have earned an almost perfect score of 4.9 with over 140 positive reviews.
For best results, contact them before you book them to discuss exactly what you want your art to look like.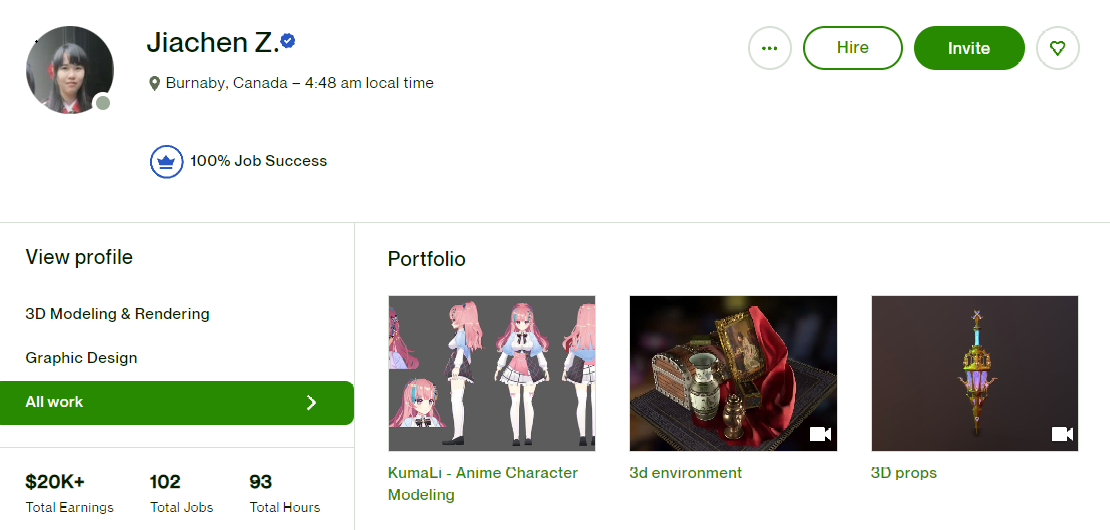 Jiachen is a talented artist who draws characters, props, buildings, and environments in vector and bitmap formats. They can also design 2D models, but their specialty is 3D anime design for video games. They have experience with advanced modeling software, including Autodesk's Maya, Adobe's Substance Painter, and Epic's Unreal Engine.
Jiachen has completed over 100 jobs on Upwork with a perfect Success Score of 100%.
Many clients commend them for their excellent communication skills and fast delivery.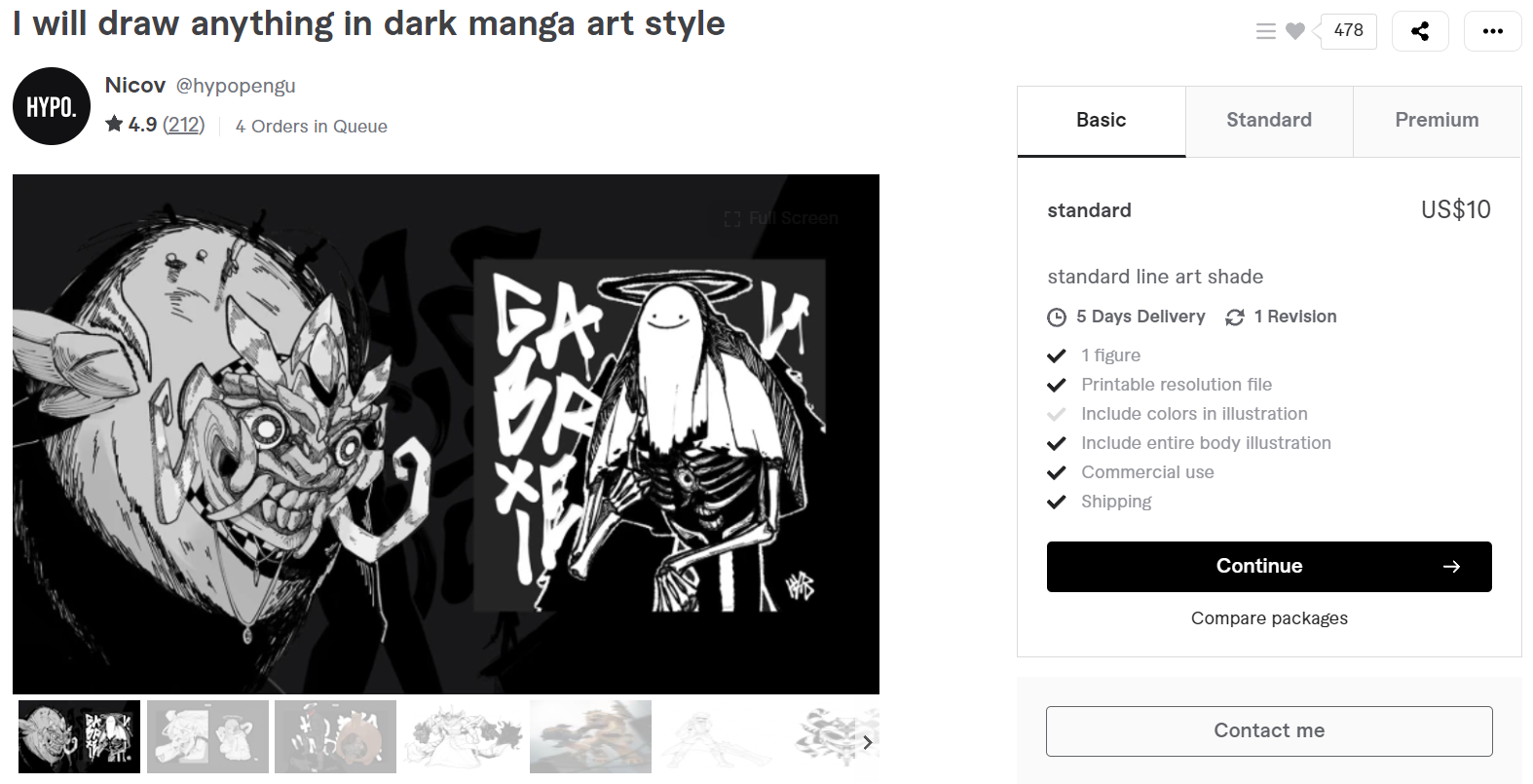 Manga isn't just about sparkles and butterflies. Nicov works with dark shades to bring spooky manga characters and monsters to life.
This is their only gig, but they do it well since many clients are repeat customers.
The Basic and Standard packages are black-and-white only, but the Premium one comes with color. The gig is rated 4.9 with over 200 reviews, and there are typically more than a few orders in Nicov's queue. As always with Fiverr, remember to contact the artist before ordering.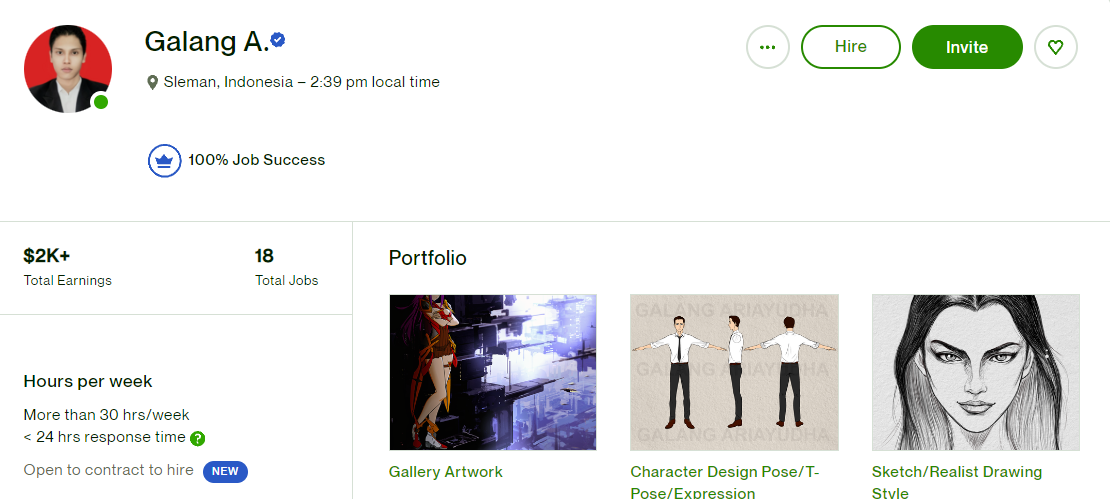 Galang hand draws in many styles, including Manga and Manhwa (Korean comics). They're good at drawing human anatomy, poses, movement, and facial features. Depending on the project, they might also use digital software for the finishing touches.
This artist has completed over 15 jobs on the platform with a perfect Job Success score.
Their affordable rate translates into many weekly invites, so hire them quickly before their hours are filled.
How To Hire a Great Manga Artist for a Good Price
There are many reasons why Upwork is my go-to platform for hiring manga artists. It's an affordable solution that works well, especially if your project requires ongoing work. Upwork's main advantages include:
Affordable rates across the board
A clean, easy-to-read interface
A massive talent pool to draw from
Super clear agreements between hirers and employees
Safe payment system
But most importantly, Upwork has simplified the hiring process.
When you first sign up, you simply fill out a brief with the details of your manga requirements, and qualified artists can apply to get hired. You review their profiles, rates, portfolio, and feedback, and pick the one(s) you want to work with. The whole process is just so easy.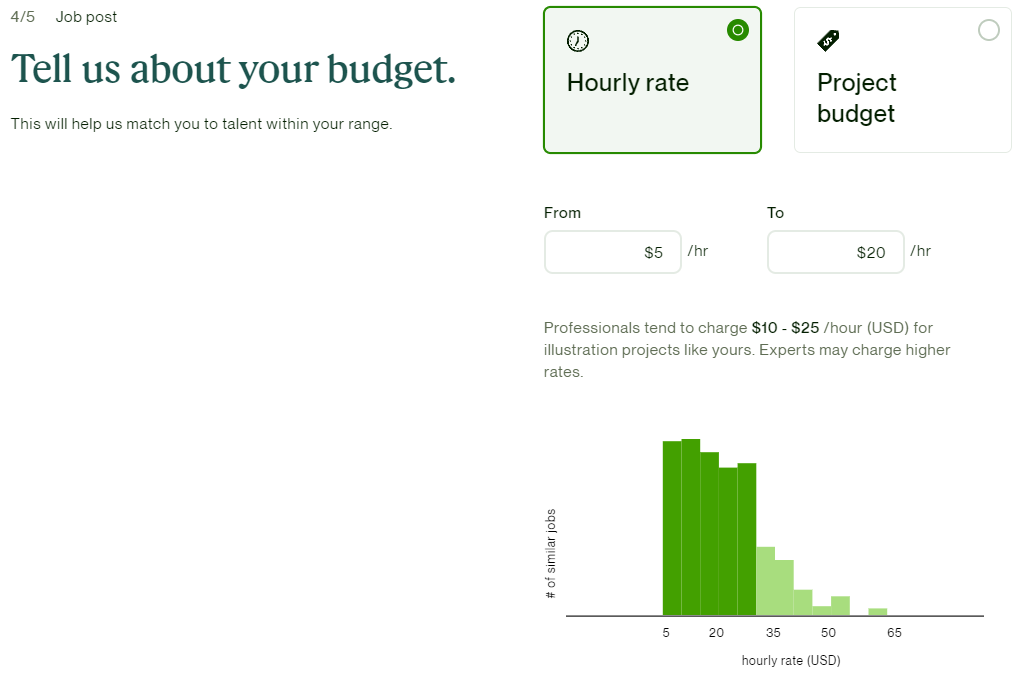 Note that once your job listing is live, you don't have to wait for artists to come to you. You can use the platform's search engine to find suitable candidates and invite them for an interview/brief chat.
Upwork lets you know what to expect once you hire someone and they sign your contract.
They will only work a set number of hours weekly, so you won't have to worry about exceeding your budget. Paying a fixed price is also an option, but most freelancers prefer hourly payments.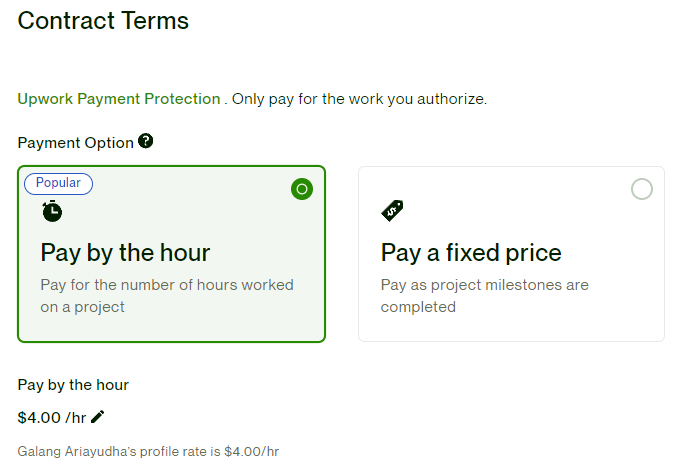 Upwork also has many work tools, such as the time-tracking widget on the desktop app and the work diary via the website. Being able to review what your hires are working on with a glance in real-time is super convenient.
What Makes Good Manga Art?
Now you know where and how to hire talented manga artists. But how do you evaluate the quality of the artwork you receive? Here are five general tips that will help you make an informed judgment.
1. Check Line Art and Inking Quality
Manga art relies heavily on lines to define characters and environments.
A high-quality manga illustration will have clean, smooth lines.
If the lines are shaky or inconsistent, that could indicate a lack of skill or rushed work. Pay attention to the thickness of lines as well – well-placed line weights can add depth and emphasis to the artwork.
2. Evaluate Shading and Tonal Contrast
Manga often uses a black-and-white palette, so
shading becomes crucial in creating depth and dimension.
Check the grayscale tonal contrast to see if it provides the necessary depth. In color illustrations, see how the artist uses shades and highlights to add volume to the characters and settings.
3. Examine Character Consistency
Consistency is paramount in manga, especially if it's a series.
Facial features, clothing, and other details should be uniform throughout.
Take the time to carefully review the work, especially if it consists of multiple drawings or illustrations. Any glaring inconsistencies can be jarring and distract the reader from the story.
4. Assess Background Detail
While characters often take the spotlight in manga, a good artist knows the importance of background art in setting the tone and atmosphere.
Look for backgrounds that complement the story and characters in a way that brings your scenes to life.
5. Understand Cultural References and Symbolism
Manga is steeped in Japanese culture, and
a good manga artist will be able to portray the nuanced cultural symbols and references present in your text.
If your project calls for this layer of detail, ensure the artist has properly integrated these elements into the art. By applying these tips, you can ensure that you get the most value for your investment, whether you're spending $5 or $50 per illustration. Remember, the best freelance manga artists are not only those who can draw well but also those who can effectively bring your vision to life.
Hiring a Skilled Freelance Manga Artist Has Never Been So Easy
Upwork stands out as the best platform for finding skilled manga artists.
It's affordable, easy to use, and features thousands of manga artist profiles with detailed portfolios and past feedback.
The flexible contract options and advanced work tools are a huge plus that many other freelance platforms lack. When it comes to long-term contracts, Upwork easily outperforms the competition. That said, Fiverr is a decent alternative, especially if you're looking to hire a professional manga artist for a quick one-off job.
FAQ
Where can I find freelance manga artists?
Upwork features some of the most talented manga artists you can hire online. Sign up for a client account, fill out your brief, and browse among hundreds of professional manga artists specializing in many different styles.
How much do manga artists charge?
It depends on the freelancer's location, skill level, and style. On Upwork, hourly rates for professional manga artists start as low as $4. On Fiverr, many manga artists price their basic packages (usually one simple illustration) at $5.
What skills do manga artists need?
A professional manga artist should understand the foundations of Japanese graphic design and the creative aspects of the style. They should also be able to recreate inspired pieces without plagiarizing or directly copying the original art. Communication and timely delivery are also essential characteristics.
Can you hire someone to draw manga?
You can! There are thousands of talented freelance manga artists on Upwork that can bring your vision to life. Whether you want a new profile picture, someone to draw your character concept, or even someone to illustrate your comic, an artist on Upwork can help.