In a hurry?
I tested dozens of freelance websites to find the best manga artists in 2023, but most artists I liked came from Fiverr.
There's a freelancer on the platform for every budget.
When hiring an artist, you aren't just paying for their time. You're also paying for years of someone honing their skills. This is especially true for manga artists because Japanese comic books and graphic novels have a very distinct style. You not only want an artist who understands and follows the rules of your chosen style –
you want someone who's developed some serious skill in that style. But you also need an artist who is affordable.
Finding all of this in a single freelancer can seem like a daunting proposition. However, I found a way to hire freelance manga artists that blows other options out of the water. You can
hire an experienced manga artist on your project from just $5
 – no gimmicks and no fine print. Even better, you can shortcut the difficult process of finding talented artists, because I've already done it for you.
I combed the internet and compiled a list of the top nine freelance manga artists for hire.
Short on Time? These Are the Best Freelance Manga Artists in 2023:
Razamedhi929 –

Level Two artist specializing in Dragon Ball and Naruto-style characters

Shalla219 –

Level One artist specializing in custom manga portraits 

Aliosa –

Top-Rated artist specializing in manga characters and webcomics
---
9 Best Freelance Manga Artists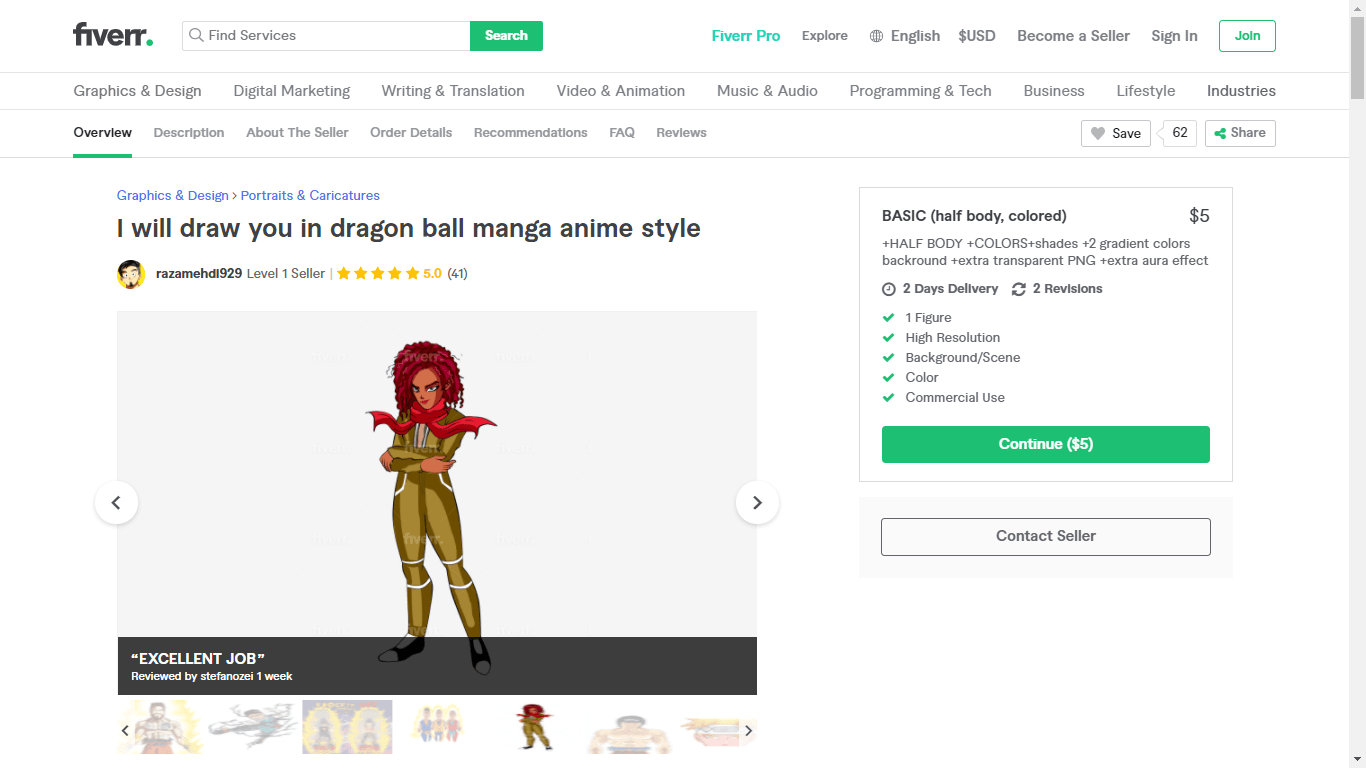 Razamedhi929 specializes in drawing real-life people in the style of the popular Dragon Ball and Naruto mangas. He'll also create fan art or more realistic-style portraits if you prefer. Razamedhi929 offers one package tier that can be customized according to what you need –  full-body, extra power level, a specific background. For best results, contact them before you book them so you can discuss exactly what you want your art to look like.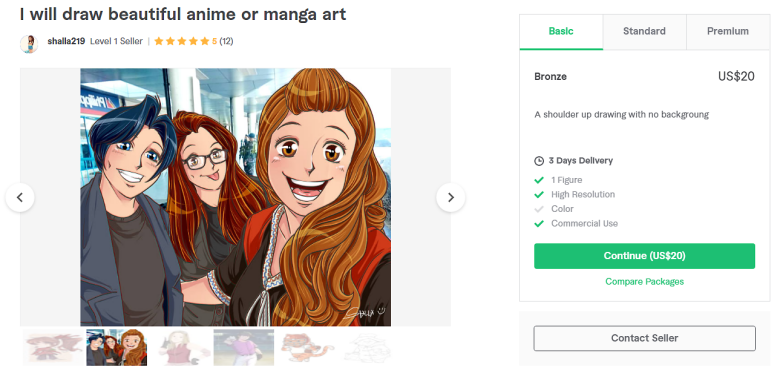 Shalla219 is an artist and illustrator who specializes in personalized commissions. I'm a big fan of this sort of caricature/portraiture – I think it makes a cute and unique gift. You can get Shalla219 to turn your loved ones into characters from their favorite animated series, like The Simpsons, Rick, and Morty, or Dragon Ball Z. This freelancer can draw in a few different styles, including the cartoons I mentioned and minimalistic line art, so there's plenty of choice. If you have an original idea that doesn't fit one of the existing gigs, send Shalla219 the details to receive a custom quote.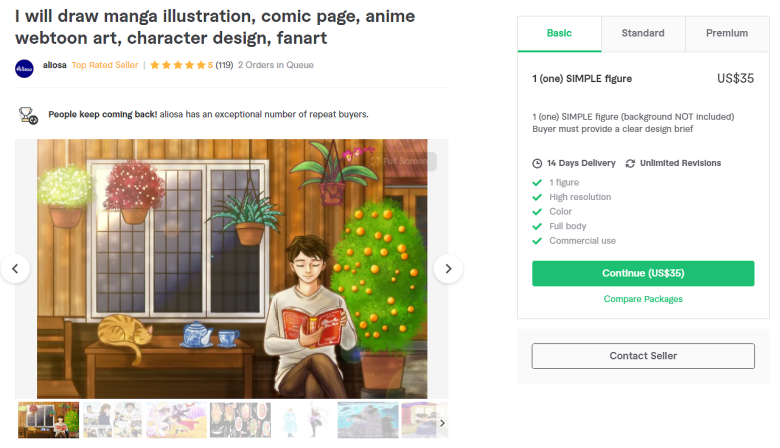 Whether you're after a single character illustration or a full webcomic page, Aliosa can help.
With a two-week delivery time for a simple manga character, their lead time is significantly higher than most other sellers. However, the wait is definitely worth it. 
Aliosa is in high demand for their unique and vibrant artwork, and they have a large customer base of repeat buyers. Plus
, with 1,000+ Fiverr projects under their belt and a 5-star rating,
you can be sure you're hiring a talented and reliable manga artist.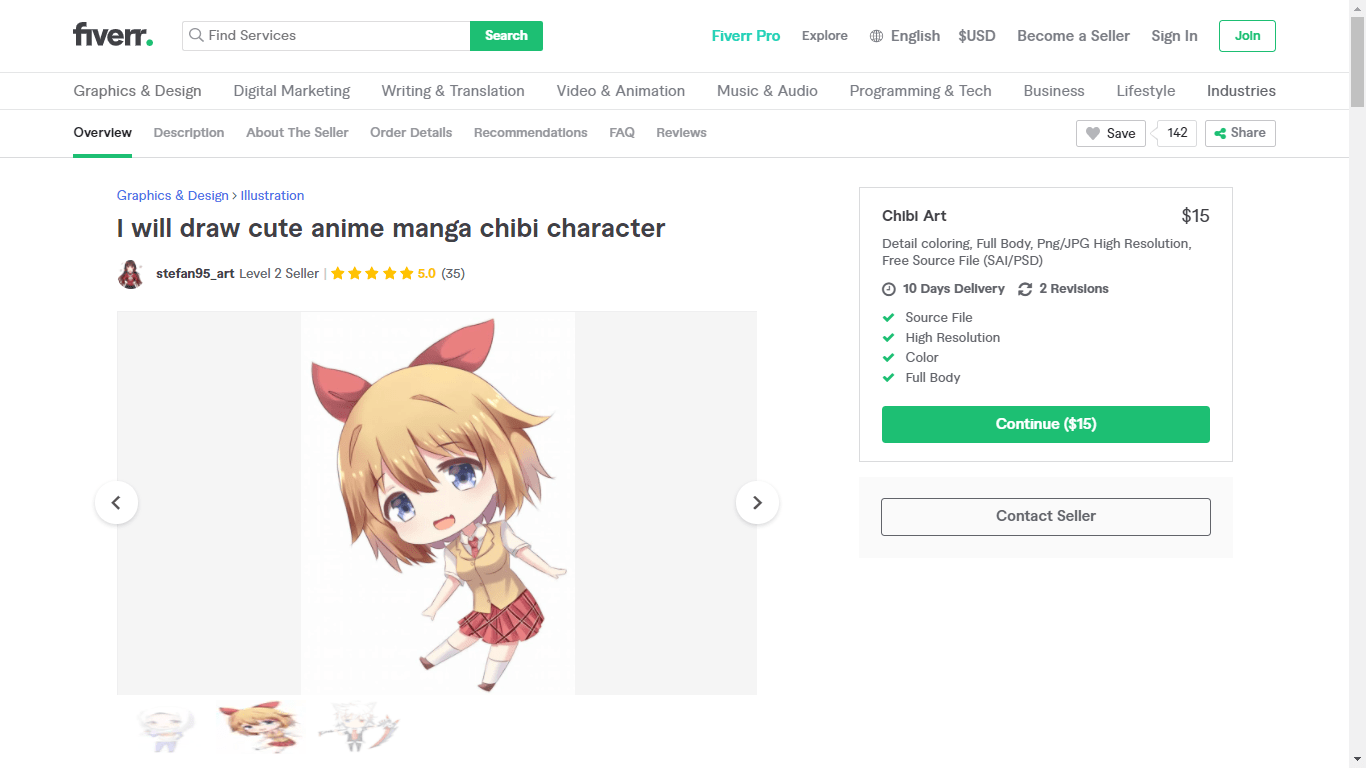 Stefan95_art is skilled in the child-friendly and charming chibi illustration style and takes commissions for both original characters and fan art. They also take commissions to draw your avatar from games like Roblox and Minecraft. The turnaround is longer than most freelancers on Fiverr offer at 10 days, but it does indicate a focus on quality and detail. If you don't need your piece in a hurry, Stefan95_art is a good choice for affordable, true-to-style chibi art.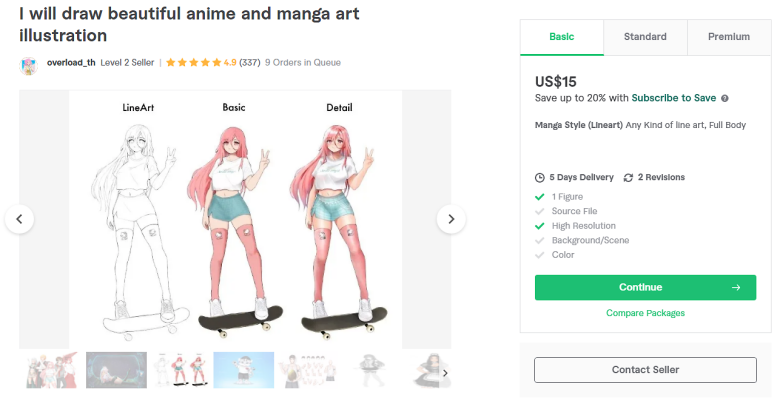 If you want a piece of art that's truly unique, look for an artist who has mastered more than one style and can mix and match them to bring your vision to life. Overload_th is a good example of this, as he can draw in a number of manga and Western styles. You can contact him for portrait sketches, fan art, photorealistic sketches, and custom pieces in his own unique art style.
Overload_th has a reputation for great communication, checking in at multiple stages to check that his customers are happy with the progress.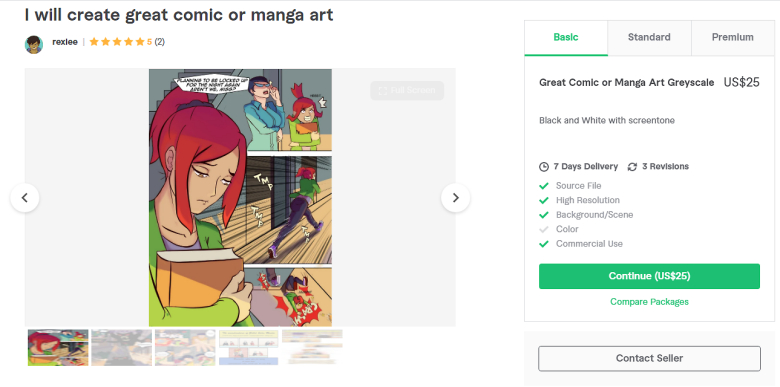 Rexiee is the ideal choice for webcomic writers that need a talented artist to bring their stories to life.
Every gig has a lead time of 7 days, up to 3 revisions, and commercial use rights, which is perfect if you want to monetize your comic online. 
Rexiee is a relatively new Fiverr seller so they don't have many reviews yet, but all of his reviews say he's a pleasure to work with and exceeded their expectations. It's all about quality, not quantity, right?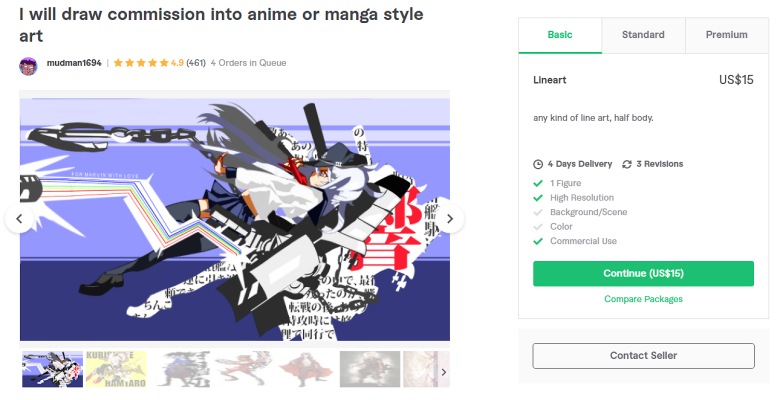 When you want to commission a heavily detailed piece, you have to find an artist who can rise to the challenge. Mudman1694 is certainly one of these artists, and the proof is bursting from their portfolio. This freelancer is a skilled illustrator and delivers artwork that is perfect for commercial use due to its high-quality finish. Delivery time for packages ranges from 4 to 7 days and
each package comes with three design revisions
, so you get the exact final product that you want. This many revisions is rare at such a low price so it's great value for money.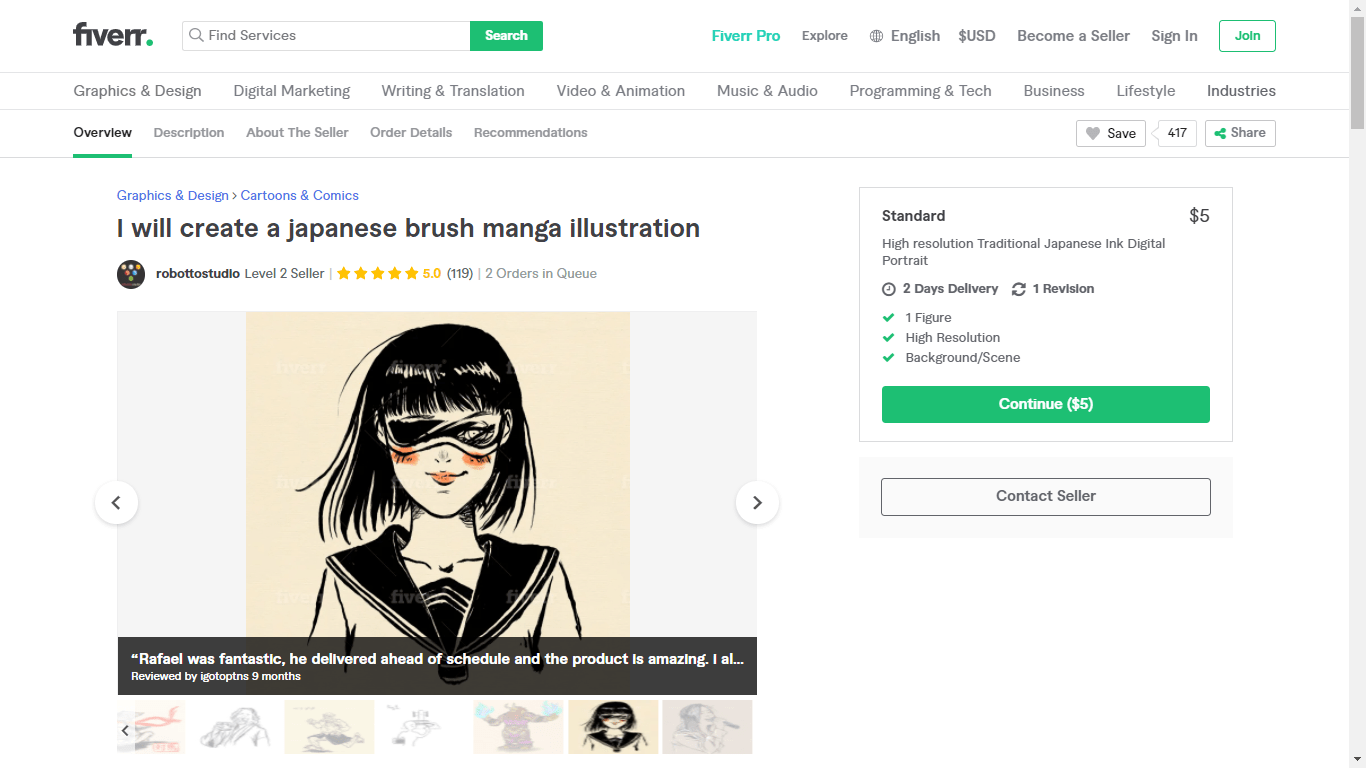 Robottostudio uses traditional Japanese brush techniques to create sketches of people, animals, and fictional characters. Their style is simplistic and you choose whether you want it colored in using pastels and earth tones or kept in black and white.
Gig turnover is just two days and pieces are delivered in high-quality 4000×4000 resolution
.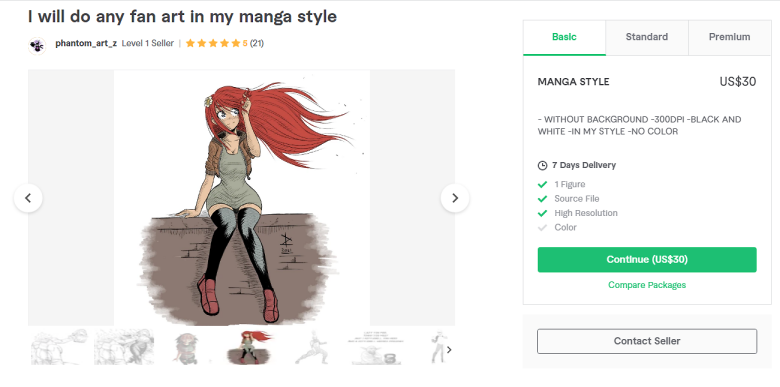 Phantom_art_z is an expert at creating beautiful manga-style sketches. He even has a certificate in design and art, so his work has both a practical and academic foundation.  Phantom_art_z has a distinctive, striking style, so if you're looking for something that looks strictly like the artwork in your favorite Japanese graphic novels and comic books, this artist probably isn't for you. However, if you're looking for an unusual but detailed interpretation of a favorite character, talk to phantom_art_z about turning your idea into a reality.
How to Hire a Freelance Manga Artist on Fiverr
So, we know that getting the design you envision can be a challenge. That's why I really like using Fiverr. Fiverr is a freelance website where manga artists (and thousands of other types of freelancers) offer
packages that begin at only $5
. These artists are talented and experienced in multiple design styles, catering to whatever your needs may be. To see the manga artists selling services on Fiverr,
head to the website's homepage
 and type "manga artist" into the search bar. The results will load all of the freelancers that offer relevant packages. Take your time and scroll through the results. Click on a gig that you're interested in to open it in its full view.
Now, you'll be able to see all of the gig's details. Explore this page and review all included information, such as the
About This Gig
 section, portfolio, and package offerings.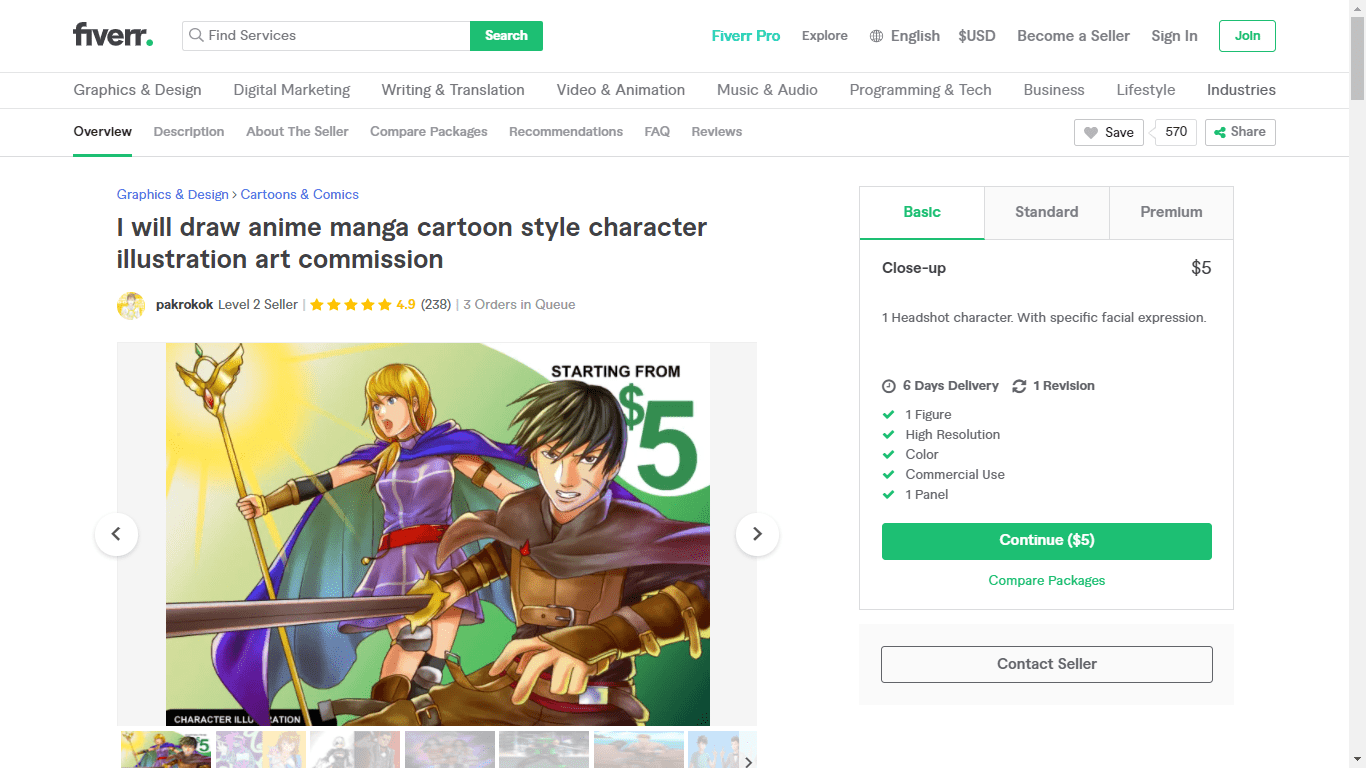 To view the features in each package, click the package tabs on the right side of the screen. You can also click
Compare Packages
 to see a freelancer's package offerings in an easy-to-read table.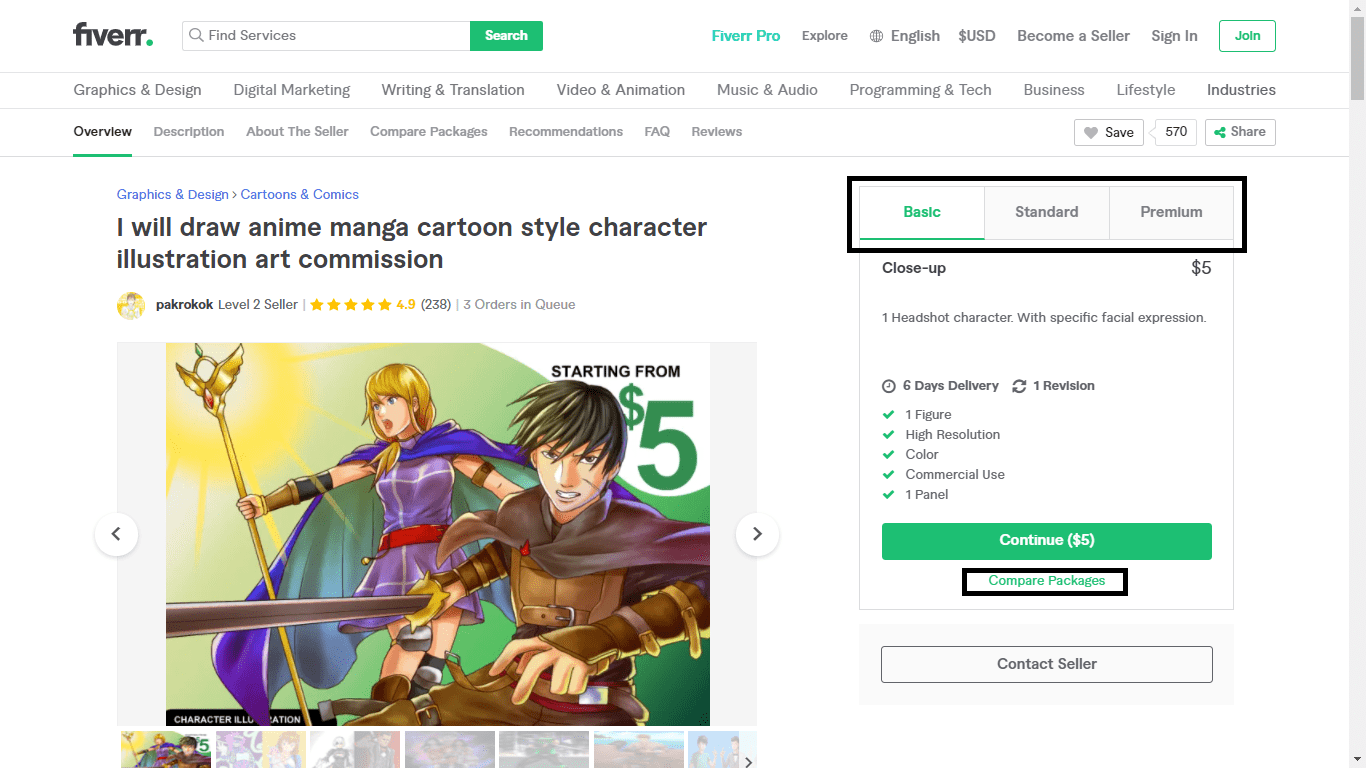 Need to reach out to an artist directly? Click the
Contact Seller
button to send a private message to an artist before you hire them. Once you're ready to hire, click
Continue
to head to the payment preview page. Here, all the final information, including services and pricing, is listed again for you to check.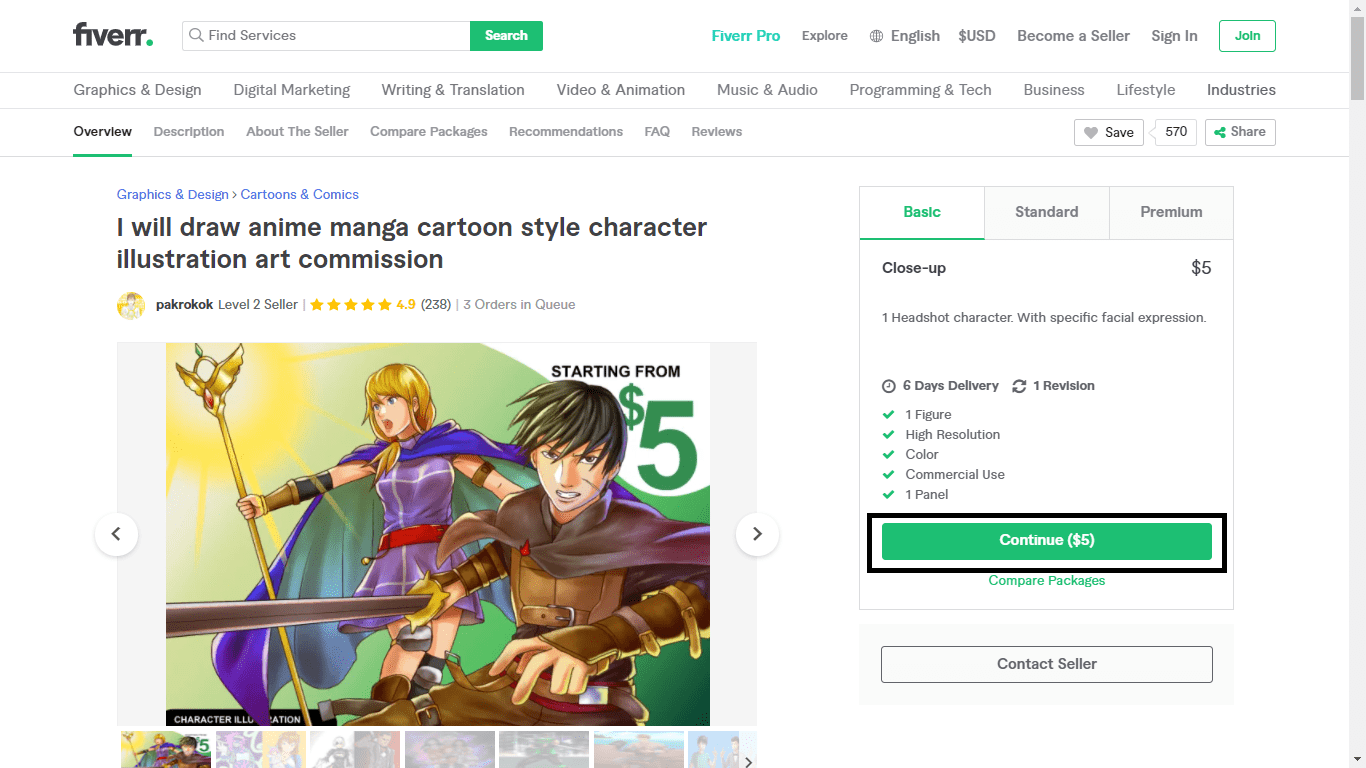 If you're happy with what you see on the payment preview page, click
Continue to Checkout
to enter your payment details and secure your commission.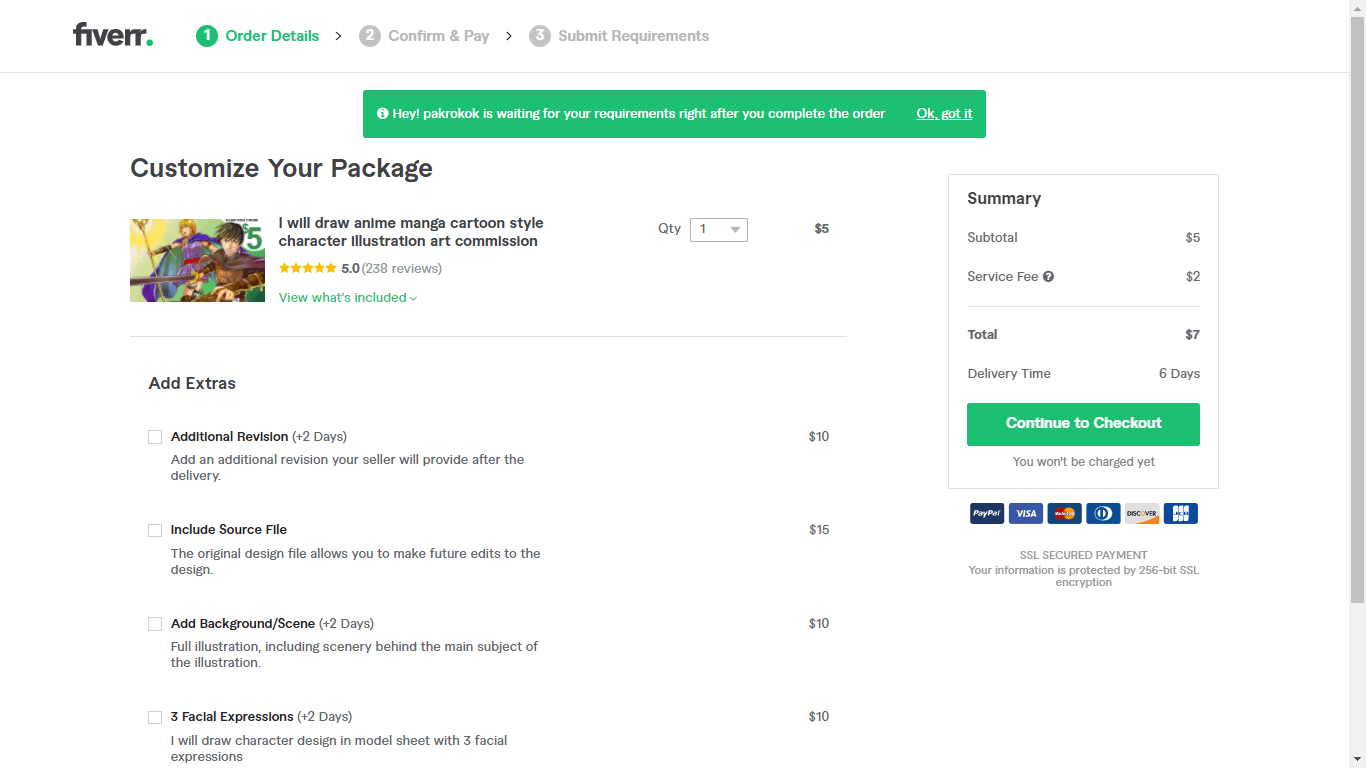 What to Look for in a Freelance Manga Artist
When you are searching for a manga artist, the characteristic you should consider above all is their art style. There are several standard styles of manga and an artist might specialize in one or more of these. A skilled manga artist will:
Have extensive experience creating in your desired style: you can check for this in the Main Type and Illustration Type section at the bottom of About This Gig.
Be able to create custom pieces without directly copying original works: review their portfolio for past work that could be considered plagiarism or copycat art.
Develop a pro design concept that matches your vision: click Contact Seller to introduce your concept to the artist to gauge creative compatibility before you hire them. 
Use color to define and highlight a character's personality: does their portfolio showcase skills in color theory, shading, lighting, and contrast?
Have excellent communication and positive reviews: take a look at their seller communication level and overall rating, located at the top of their customer reviews.
Are You a Freelance Manga Artist Looking to Sell Your Services on Fiverr?
If you are a freelancer, you may be wondering how to begin using Fiverr to find new clients. Selling your services on Fiverr is so easy and straightforward – you can see what our expert thought of it in
our Fiverr review
. You need to set up a profile, create a gig, and publish it. Then, when a potential buyer searches for a manga artist, your gig will show up in the results as a possibility. To create a Fiverr profile and begin selling,
head to the Fiverr homepage
and click
Join
 in the top right corner. You can use either Facebook, Google, Apple, or your email address to sign up.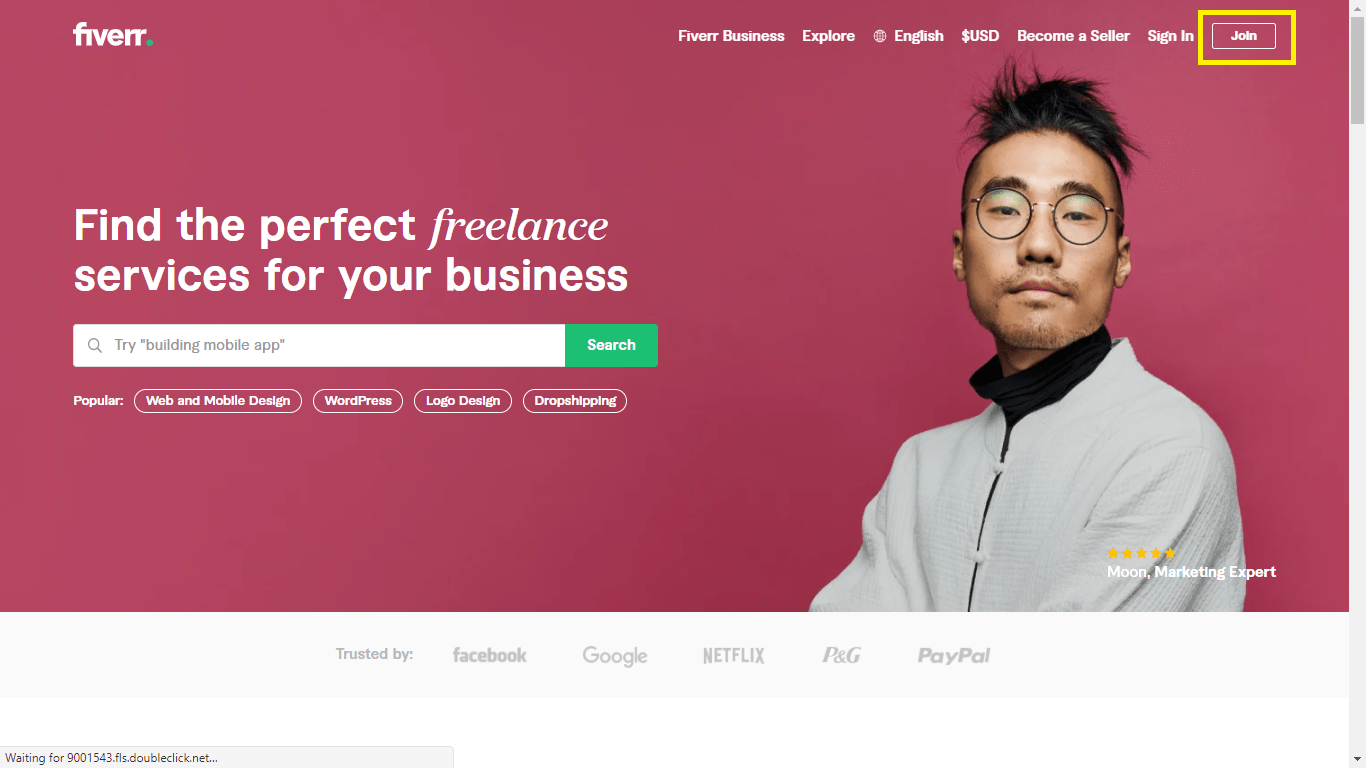 Once you've verified your account, click the circle icon on the right and select
Profile
 from the dropdown menu. Here is where you'll be able to edit your profile with personal information.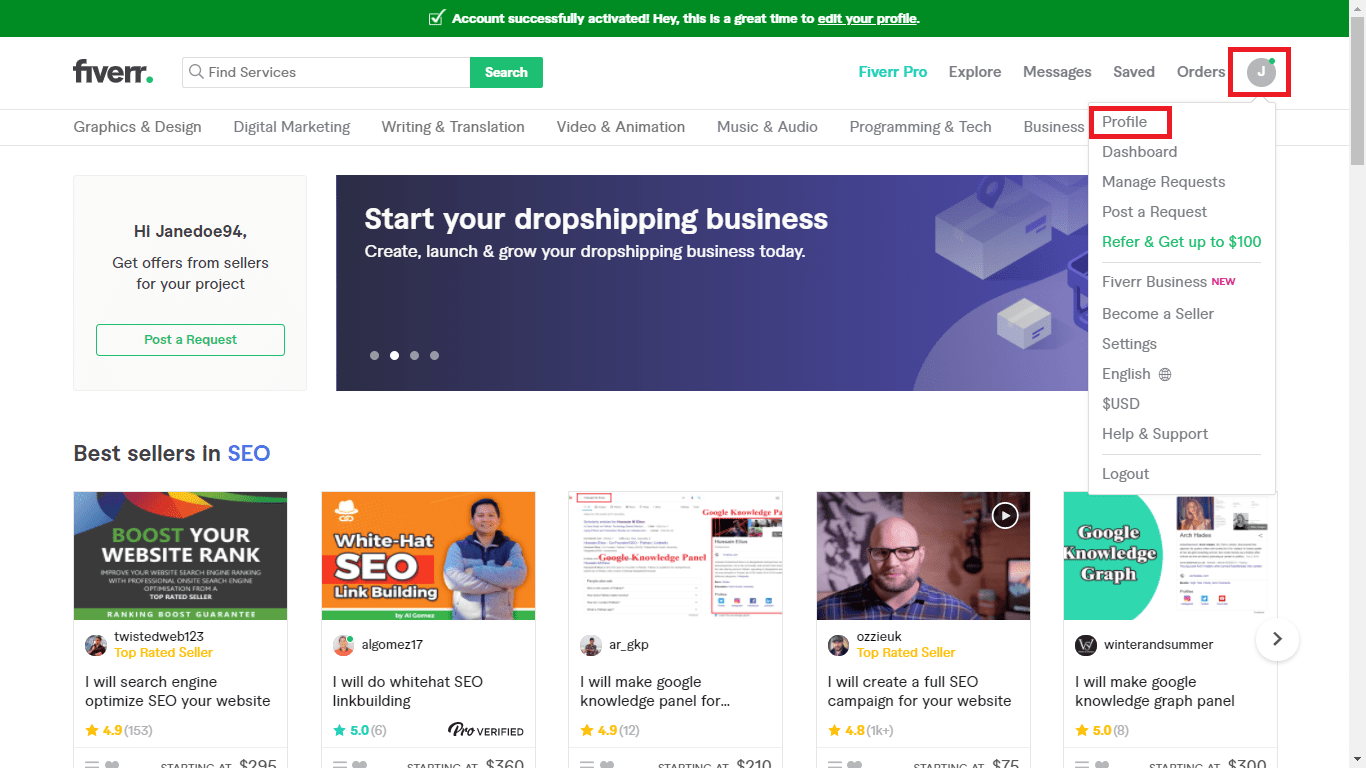 Select the type of user you'll be operating as (there's a "freelancer" option) and upload a profile picture. You can also take this time to connect any social media accounts and add any certifications or qualifications that you've attained. The
Create New Gig
 button will take you to a page where you'll be prompted to enter a gig name and category.
You can also add search tags (like manga or Japan) to increase your gig's chances of being found.
 Continue filling out your gig's information, including package descriptions, pricing, and any additional services you may offer. You can include these additional services for an extra fee and buyers can add them to a package before they check out.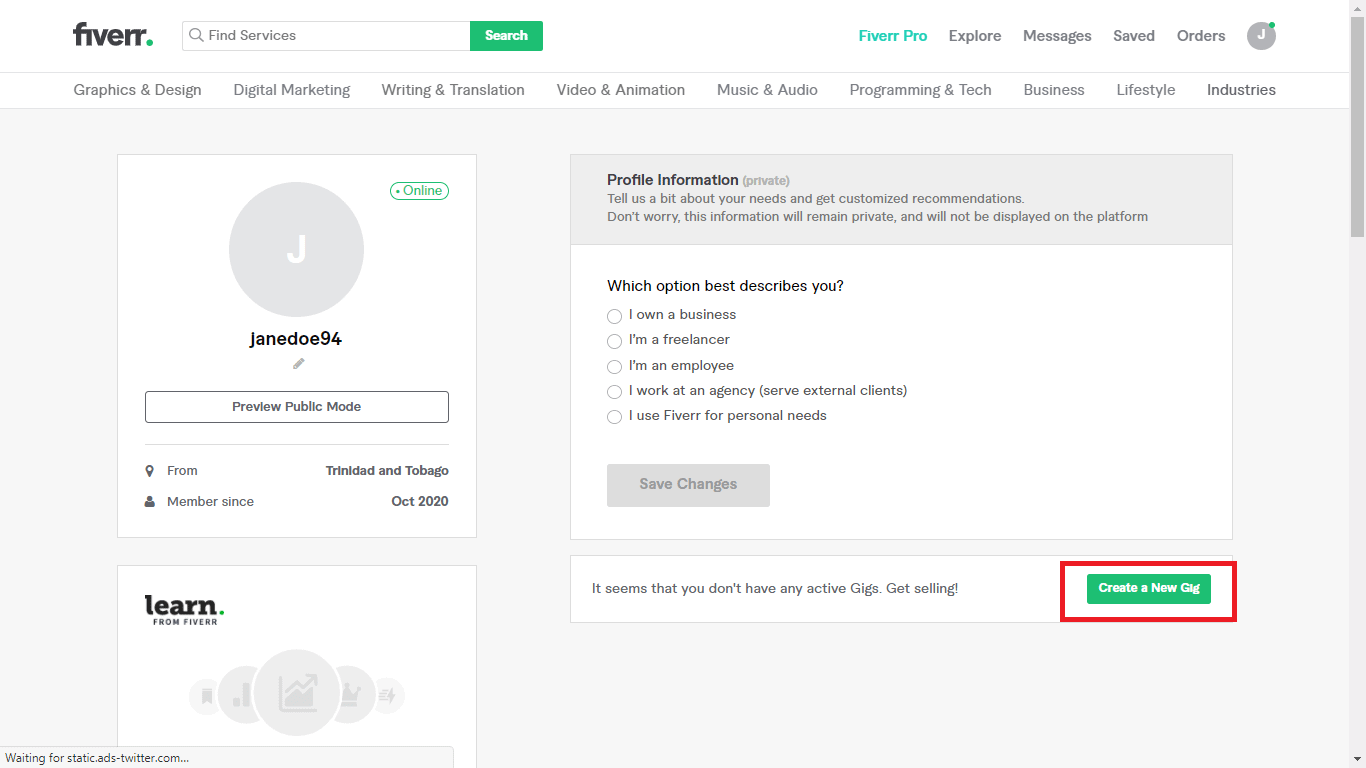 After you complete your gig, publish it to make it public and searchable. Would you like to fast-track becoming a highly-ranked seller? You'll want to optimize your gig and profile for the best possible buyer interactions. The best way to do this is to
become a buyer yourself
. Switch your profile from "seller" to "buyer" and hire another freelancer for a project. Have someone create a logo design or edit vacation photos – whatever task you can find. Doing this will help you understand how the hiring process operates for a buyer and you can use this information to become a better, more efficient seller.
Wrapping Up
When you
use
Fiverr
to hire a freelance manga artist
, you are accessing thousands of talented, affordable creatives. Hiring through Fiverr almost guarantees a product that you will be happy with. You choose your freelancer based on their merit and your budget. And you don't have to sacrifice quality along the way. What I love about Fiverr is that there are so many unique and different sellers out there. Not only can you hire manga artists to create custom artwork, but I've also found:
And, not only can you hire freelancers, you can start selling on Fiverr too. It opens you up to thousands of interested buyers every day. Sign up for a profile and create a gig to start building a successful, lucrative freelancing career.
FAQ
Where can I find freelance manga artists?
Fiverr is the top freelance website for finding talented, reasonably-priced freelance professionals. All you have to do is go to the Fiverr homepage and search "manga artists" to uncover thousands of skilled graphic designers and illustrators.
What do freelance manga artists charge?
Package costs can range depending on the freelancer's location, skill level, and style. With Fiverr, you can score a commissioned piece from a manga artist for as little as $5. Elsewhere, you're not likely to find a pro offering services at such a low cost.
What skills do manga artists need?
A professional manga artist should understand the foundations of Japanese graphic design and the creative aspects of the style. They should also be able to recreate inspired pieces without plagiarizing or directly copying the original art. Communication and timely delivery are also essential characteristics.
Can you hire someone to draw manga?
You can! There are thousands of talented freelance manga artists on Fiverr that can bring your vision to life. Whether you want a new profile picture, someone to draw your character concept, or even someone to illustrate your comic, there's an artist that can help on Fiverr. 
Is 'Manga Artist' a career?
Manga is a massively popular art style, and there's a large demand online for freelance manga artists. It's a great career choice if you want to work as a freelance artist. While there are thousands of manga artists on Fiverr, there's no shortage of work if you're a talented artist with a unique take on the art style.
Do manga artists work alone?
If you're a freelance manga artist then you'll likely be working alone. However, manga artists employed by a publisher – known as mangaka – will typically have assistants. While mangakas are in charge of creative direction, manga assistants typically work on layouts, lighting, shading, editing, and digitizing artwork. Most mangaka start their careers as assistants or freelance artists.