A run-of-the-mill web host will get your blog online, whereas a quality host will help it thrive.
 With the right host, your blog can benefit from fantastic loading speeds and highly reliable servers that will ensure it's always available, anywhere in the world. Luckily, you don't need to pay a premium to gain access to all of the above. You also don't need a degree in coding, as
many hosts nowadays are super-easy to use, with comprehensive support for beginners.
To find the best hosts for blogging, I thoroughly tested as many as I could, cutting it down to the best eight. The providers on this list are easy to use, inexpensive, and include everything you need to get started. Read on to find out which one is best for you.
Short on Time? These Are the Best Web Hosts for Blogging:
Hostinger – Superior speeds and reliability at incredibly low prices
InMotion Hosting – Great flexibility and free advertising credits
FastComet – Feature-filled plans at low prices with amazing hands-on support
What We Look For in the Best Web Hosts for Bloggers
Fast loading speeds. If your site takes ages to load, visitors will likely leave before seeing your content. That's why fast loading speed is essential.
Reliability. If your server is constantly going down, causing your site to become unavailable, you're going to have trouble gaining new readers, and you'll lose the ones you already have. I only included hosts that deliver high reliability.
Ease of use. Let's face it – you want to be working on your blog, not getting lost in technical jargon. I gave extra points to hosts with simple interfaces that allow you to manage your hosting account easily.
Affordability. You don't need to pay a premium for quality web hosting. I've found plenty of budget hosts offering plans packed with exciting features.
Free SSL certificates. Without an SSL certificate, visitors will be at risk of having their personal details stolen. An SSL certificate also helps your blog rank higher on search engines like Google. That's why I've picked hosts that offer SSL for free.
Helpful support. A good support team can save you hours of troubleshooting. I've taken special interest in hosts that offer responsive and extensive 24/7 support.
The Best Website Builders for Bloggers
If you're looking for the easiest and quickest way to launch a blog, a site builder may be a better choice than a web host.
The following site builders offer plans with hosting included,
 so you won't have to open a separate account with a hosting company. And site builders may be more cost-effective if you're looking to run a very basic blog. These builders are specifically designed to help you make a website in an intuitive way. You can simply choose a basic template, edit it as you please, and get online. There's no need for web design skills. What's extra sweet is that
some of these even come with permanently free plans
. While site builders lack a lot of the control and flexibility that you would have with a web hosting solution, they may be better for a complete beginner looking to test the waters. Below are a few of the best site builders available today:
Wix. Wix features 500+ site templates to choose from, all of which are fully customizable with one of the best drag-and-drop editors available. Best of all, it offers a forever-free plan with no page limits and access to nearly every feature.
Squarespace. If you're looking to make a highly professional-looking site, Squarespace has some beautiful templates and an extensive editor. While it does not offer a free plan, it does have a 14-day free trial.
WordPress.com. Don't confuse this with the downloadable version at WordPress.org – that's standalone software that you have to install on a web server. WordPress.com, on the other hand, offers a site builder with a free hosting plan that's much more flexible and customizable than the above options. However, it has a steeper learning curve than other site builders.

If you're looking for the absolute best value for money, Hostinger is likely your best bet.
It's by far the cheapest host on this list
 and includes plenty of features to help your blog get started the right way. First,
its performance is phenomenal for the price
, meaning that your blog will load fast everywhere in the world. I found almost no instances of downtime over
several months of testing
, which was great to see. Its well-organized hPanel interface allows you to control backups, set up an email account, and more, without any headaches. There's also an extensive knowledge base, filled with easy-to-follow guides and tutorials to help you get started.
Its 24/7 support service is also very helpful,
 but you may have to wait a while for a response. Another downside: Hostinger's cheap Single Shared Hosting plan is rather limited when it comes to bandwidth. You'll have to keep an eye on this as your blog begins to gain traction.
A free domain name is included with some hosting plans from Hostinger
Features:
Extensive security features. Hostinger includes the powerful BitNinja security solution for free, which protects your blog against viruses, hacking attempts, and web attacks.
Optimized WordPress plans. If you're willing to pay slightly extra, Hostinger offers WordPress-specific hosting plans that keep WordPress software optimized and updated automatically.
Search engine optimized website builder. Hostinger features a drag-and-drop website builder called Zyro. It automatically optimizes your site for search engines, helping you to rank higher. It also features a free AI tool that helps fine-tune your written content.
Easy to scale. As your blog grows, your plan may need to grow too. Fortunately, upgrading to a more powerful plan is a simple process easily accessible through hPanel.
Pricing

$

1.99

Money-back guarantee
30 days
Support channels
24/7 live chat and support tickets
Resources
Cheapest plan includes support for a single site, 30GB SSD storage, and 100GB bandwidth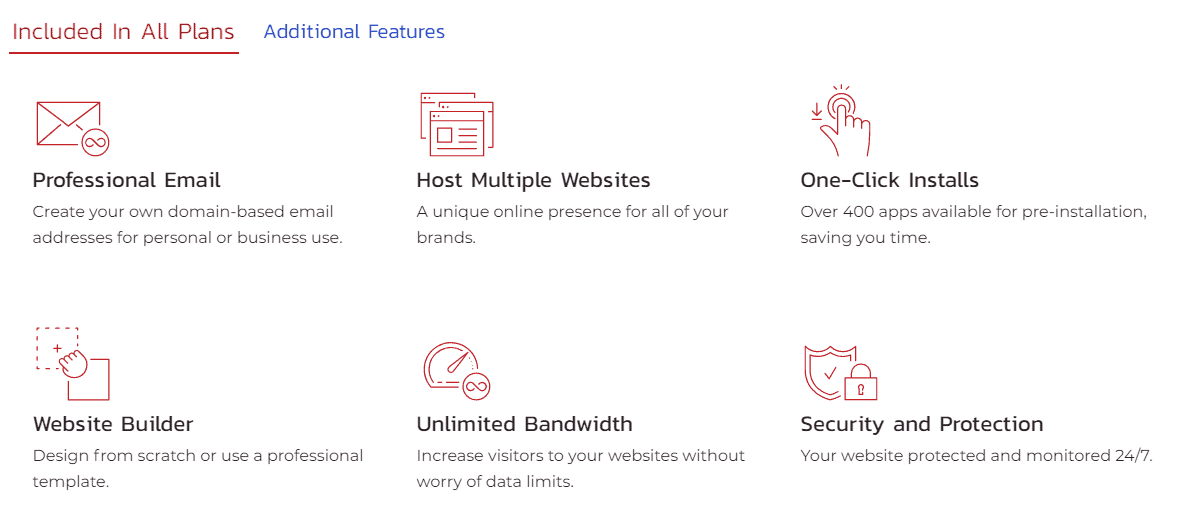 InMotion Hosting features a particularly great deal for new customers:
 a whopping 90-day money-back guarantee
. This is much longer than the single-month trial most other hosts offer. It also has plenty of features and support for beginners, especially those looking to set up a blog. There's the free BoldGrid website builder, which allows you to build a WordPress site easily with a drag-and-drop editor. InMotion also offers 
$150 in advertising credits with every plan
. For a new blog, this initial boost in outreach may help a little bit. The only issues with this host are the so-so loading speeds and lack of compensation for any possible downtime – though reliability was quite good
during my tests
.
InMotion Hosting Web Hosting
Features:
Free domain for the first year. Along with web hosting, your blog is going to need a domain name. InMotion Hosting will cover the registration fee for the first year.
WordPress plans with automatic backups. InMotion Hosting has plans specific to WordPress with some nice features, like a tool that allows you to create backups manually or schedule them to take place automatically.
Visitor analytics. Included with every plan is a free visitor analytics tool. With it, you'll be better able to track what works with your audience and determine how you can reach more people.
Great support. InMotion Hosting has particularly good support. While responses can be slow at times, they are usually very helpful. It's particularly good for beginners, with specialists available to help new customers get started.
Pricing

$

3.29

Money-back guarantee
90 days
Support channels
24/7 live chat, email, phone, and a community forum
Resources
Cheapest plan includes support for 1 website, 10GB SSD storage, and unlimited bandwidth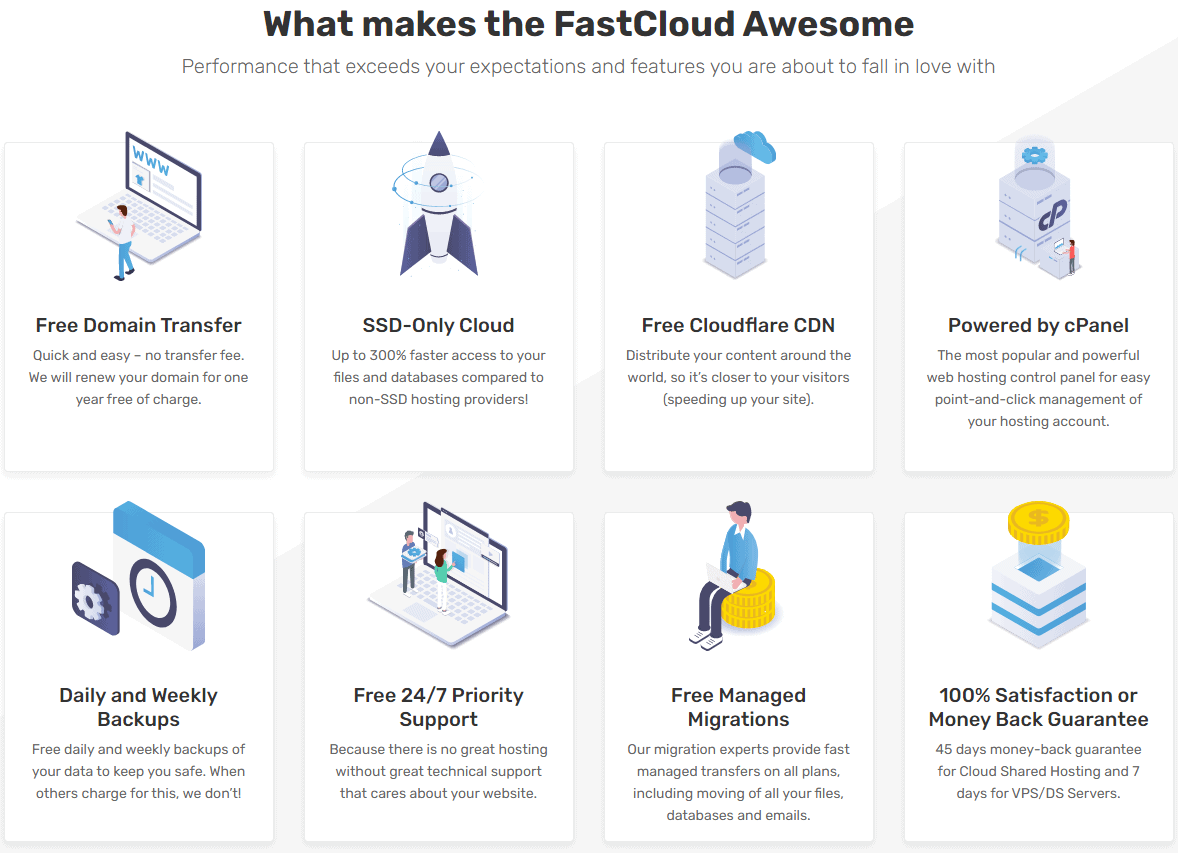 FastComet manages to cram a lot of impressive features into its hosting plans, and it's super-easy to jump in and get started. Even the cheapest plan includes a free domain name for the first year along with
 free daily and weekly automatic backups
. While this adds up to quite a lot of value, FastComet is a little disappointing when it comes to reliability, as
my tests
recorded several short periods of downtime. It wasn't horrible, but it did raise some concerns. Still, FastComet offers serviceable speed around the world, and a decent number of free features.
It also has fantastic support with very quick response times.
Features:
45-day money-back guarantee. You can try out FastComet risk-free for 45 days, which is slightly more generous than the 30-day guarantee most other hosts offer.
Global presence. FastComet's servers are located in 11 data centers across the globe. This means that no matter where your primary audience is, you can choose a location that will enable FastComet to deliver the best possible page loading speeds.
FastGuard security. The proprietary FastGuard security solution protects your blog from malware, various hacking methods, and a whole lot more. FastComet will also restore your site for free if you're hacked.
Daily optimization reports. If you're new to running a website, you probably don't know how to optimize your blog for speed. FastComet provides you with daily reports on your blog's performance along with useful optimization tips.
Pricing

$

2.74

Money-back guarantee
45 days
Support channels
24/7 live chat, support tickets, email, and phone
Resources
Cheapest plan includes support for a single site, 15GB SSD storage, and 30GB bandwidth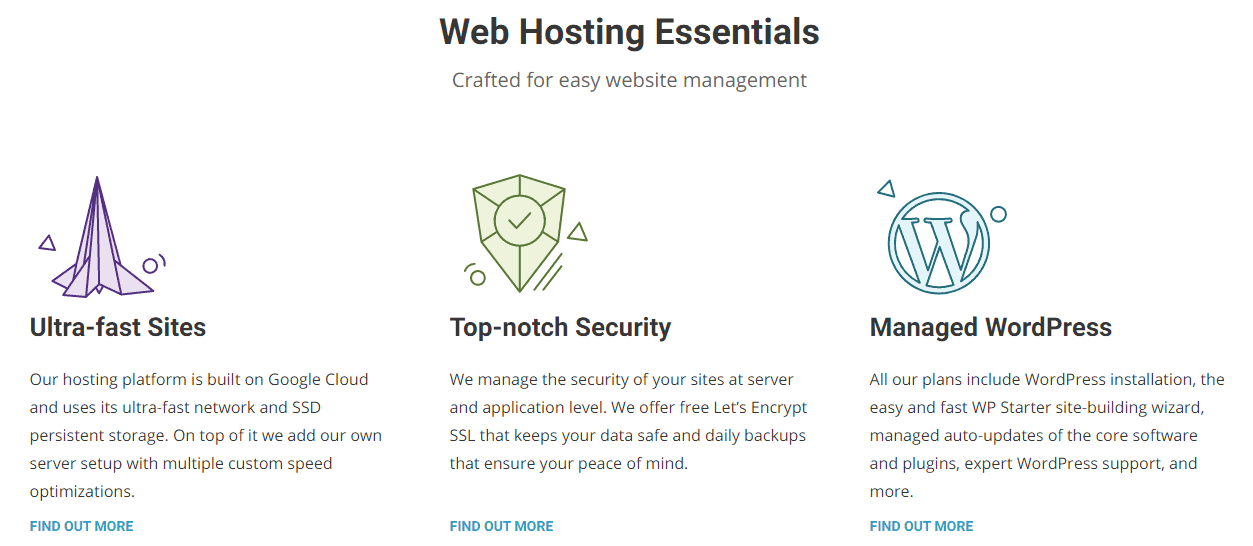 SiteGround is one of the more expensive hosts on this list, but it does its best to make the extra investment worth it with some great features. What stood out to me was its
automatic daily backup service included with every plan – every backup is kept available for 30 days
. You'd be hard-pressed to find a better backup solution for free. Additionally,
SiteGround has Site Tools, one of the most user-friendly account dashboards out there.
 Every important setting is easy to find and configure.
It also offers the Weebly site builder for free,
 which makes it a breeze to create a professional-looking blog. SiteGround does a lot of things right, but the average loading speed it offers is disappointing. Its support team also has a weak response rate. Nevertheless, it's still a good choice for bloggers thanks to its easy-to-use interface and impressive backup system.
A free domain name is included with some hosting plans from SiteGround
Features:
Reliability. While SiteGround is rather slow when it comes to page loading speed, its reliability is top-notch. My testing revealed near-perfect uptime over three months.
Comprehensive security.  With an advanced custom firewall and an AI-driven anti-bot system, your blog will be kept secure.
WordPress site-building wizard. If you opt to use WordPress, SiteGround makes it easy to get started. It will automatically install WordPress for you and run you through a nice site-building wizard. It will help you choose a theme and install any basic features you'd like to see in your blog, such as contact forms or even an online store.
Hands-on support. While it can be unresponsive at times, SiteGround delivers good support. Its agents are helpful and are usually willing to work directly with you on issues you may be having.
Pricing

$

1.99

Money-back guarantee
30 days
Support channels
24/7 live chat, support tickets, and phone
Resources
Cheapest plan includes support for a single site, 10GB SSD storage, and unmetered bandwidth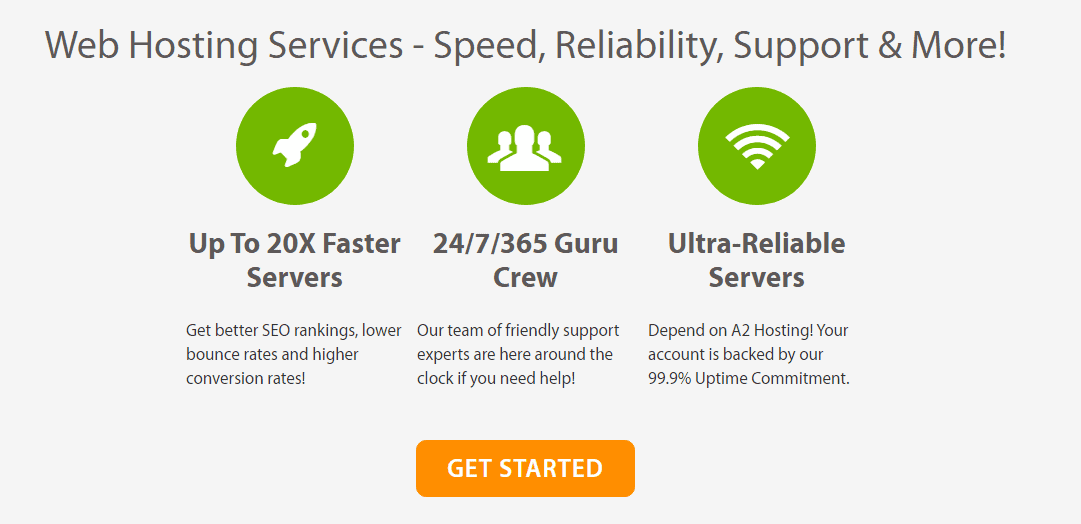 A2 Hosting offers very cheap hosting that does a lot of things right. To start,
it's one of the most secure hosting solutions on this list
, featuring a lot of advanced security features. With its Perpetual Security solution,
your blog will be protected from all the usual web attacks, malware, and hacking attempts.
 Your server's core security files will also be updated each day to keep up with the latest threats. On top of the impressive security features, A2 Hosting serves up genuinely excellent performance – your blog will load blazingly fast. What's more is that
my testing revealed
 no downtime whatsoever over a period of three months.
A2 Hosting has a unique refund policy. There's the standard 30-day money-back guarantee, but on top of that, cancellations after this period are entitled to a refund of the unused time on your contract. Not many other hosts offer this. Unfortunately, its support service is outsourced, and could use a lot of improvement.
Features:
Webalizer visitor statistics. The powerful Webalizer tool can help you better understand your audience. You can see which blog posts are bringing in the most hits, the home countries of your visitors, how they got to your site, and much more.
WordPress optimizations. Along with automatic installation, A2 Hosting provides its own add-on that optimizes WordPress for speed and efficiency.
"Turbo" servers. A2 Hosting's premium plans offer faster web hosting with even better stability. It uses the latest tech to ensure that your blog is served up rapidly, even to very large audiences.
Great scalability. If you need a more powerful plan than your current one, A2 Hosting allows you to upgrade easily and seamlessly, even if it's to a completely different type of hosting.
Pricing

$

2.99

Money-back guarantee
30 days, and cancellations after this point receive a prorated refund for remaining contract time
Support channels
24/7 live chat, support tickets, email, and phone
Resources
Cheapest plan includes support for a single website, 100GB SSD storage, and unlimited bandwidth

InterServer keeps things simple. Some other web hosts have lots of shared hosting plans with different pricing and features, but
InterServer only has a single one, with all the features a beginning blog could need.
InterServer doesn't limit your storage space, bandwidth, or number of websites.
This makes it a particularly good option if you'd like to host multiple blogs at once. 
InterServer is also ideal if you're targeting a US audience
, as
my tests revealed
it delivers fantastic loading speeds across the USA, along with great reliability. However, speeds are slower outside of the US. And, support isn't always immediately available – I've had some bad experiences with the live chat service, so I'd recommend using either ticketing or email support.
Features:
InterShield security. InterServer has an impressive proprietary security solution that uses an advanced firewall and a comprehensive malware database to keep hackers at bay.
Automatic weekly backups. Automatic backups can be a real lifesaver. There's nothing worse than losing content due to a site malfunction or server failure. Thankfully, InterServer always keeps your last 30 backups available, and they can be restored with ease.
Impressive speed-boosting technology. InterServer's servers are powered by advanced technology and employ several optimization techniques. The end result is that your blog content will load blazingly fast. 
Easy WordPress install. Given the popularity of WordPress, you can understand why InterServer would want to make installing it as easy as possible. All it takes is a single click.
Pricing

$

2.50

Money-back guarantee
30 days
Support channels
24/7 live chat, support tickets, phone, and a community forum
Resources
Unlimited websites, unlimited SSD storage, and unlimited bandwidth

Looking for an eco-friendly host? GreenGeeks is committed to combating climate change, matching three times the energy it consumes with renewable energy credits. It's also a great host for bloggers – beginners in particular. Why's that? Well,
GreenGeeks' support service is one of the best I've ever tested
. The support agents respond fast and will do their utmost to solve any issue you bring to the table. Whereas many other hosts will simply give you advice, GreenGeeks will go so far as to solve problems for you. It doesn't get much better than that! Other notable features include the fact that
there are no limits on storage space or bandwidth
, meaning that your blog can grow without worry.
My testing revealed
that it's very reliable too, though its speed is rather mediocre.
A free domain name is included with some hosting plans from GreenGeeks
Features:
Free automatic daily backup service. This is often a premium feature with other hosts, but it's included with every GreenGeeks plan.
Search engine-friendly site builder. GreenGeeks offers its very own website builder that comes free with every hosting plan. It features plenty of professional templates and useful search engine optimization tools.
Powerful AI-driven firewall. GreenGeeks has advanced security features at no extra charge. Its robust firewall uses sophisticated artificial intelligence to defend your blog from web attacks.
Budget WordPress plans. GreenGeeks also includes plans specifically for WordPress hosting. These come with some nice features, such as keeping your WordPress automatically updated, optimized, and secure.
Pricing

$

2.95

Money-back guarantee
30 days
Support channels
24/7 live chat, support tickets, and phone
Resources
Cheapest plan includes support for a single website, 50GB storage and unmetered bandwidth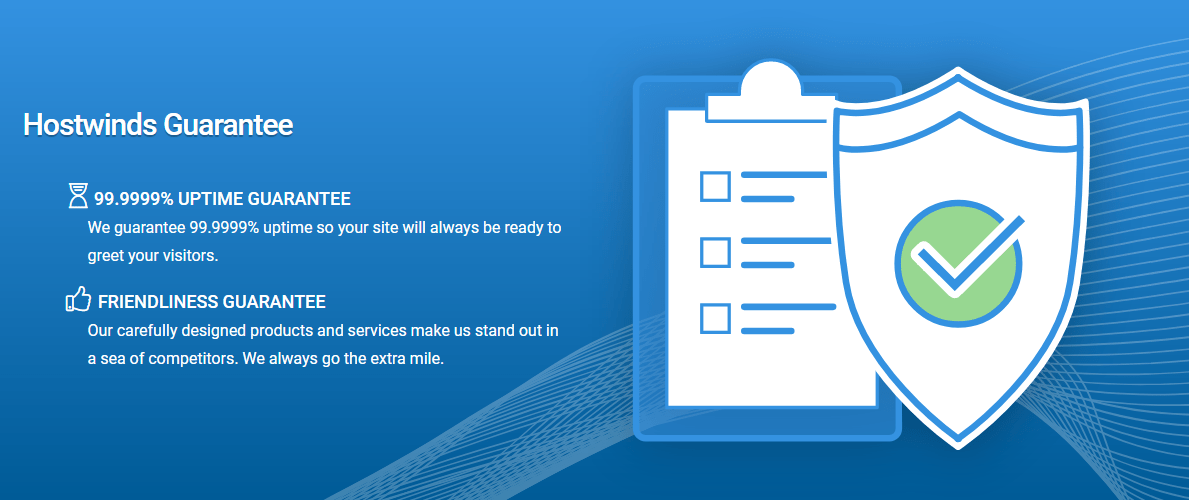 Hostwinds is a notable web hosting company with some particularly nice features for bloggers. For example,
even the cheapest plan places no limits on storage space or bandwidth
, so you'll have a lot of room to grow. Hostwinds also features a proactive 24/7 website monitoring service. With most hosts, if your site goes down, it's up to you to notify support.
 If Hostwinds detects an outage, system engineers will be notified automatically
 to bring your site back online as soon as possible.
After testing its uptime for three months
, I found it to have pretty great reliability – though it didn't fulfill its bold claim of 99.9999% uptime. However, loading speeds were inconsistent, ranging from pretty good to disappointingly slow. You might want to consider its
Business Hosting plans
,
 as they are powered by better server technology.
A free domain name is included with some hosting plans from Hostwinds
Features:
WindSpeed performance optimizations. The WindSpeed premium service lets you leave the optimization of your blog to the experts. For a one-time fee, the Hostwinds team will ensure your blog site is performing as well as possible.
Friendliness guarantee. I've had great experiences with Hostwinds support before – receiving hands-on help with optimization and clear responses to my queries. I'd recommend using its ticketing support for the best results.
Nightly automatic backups. Hostwinds also offers a great automatic backup service. All backups are stored in the cloud, and you only pay for the storage you use.
Upgrades with no downtime. If you want to upgrade to a better plan, Hostwinds will take care of the upgrade process while ensuring that your blog remains available throughout.
Pricing

$

6.47

Money-back guarantee
30 days for annual, biennial, and triennial plans; 48 hours for monthly, quarterly, or semi-annual plans
Support channels
24/7 live chat and support tickets
Resources
Cheapest plan includes support for a single site, unlimited SSD storage, and unlimited bandwidth
Which Web Host Is the Right Choice for Your Blog?
With so many choices out there, finding the right web host for your blog can be overwhelming. But all of the hosts above will provide a great environment for your blog to grow and develop – it's just a case of discovering the one with the right features for you! If you're still unsure, take a look at my recommendations below. I've also provided a comparison table so you can compare each host at a glance. On a budget?
Hostinger
 provides powerful hosting for bloggers at incredibly low prices
. It also has a website builder that comes with useful tools to help your blog rank highly on search engines. If you need further help getting your blog out there,
InMotion Hosting
's free advertising credits and visitor analytics tools can be a great help.
If you're looking for a flexible environment for your growing blog,
InterServer
 offers powerful, unlimited budget hosting.
Alternatively,
Hostwinds
 is a reliable host that also gives your blog plenty of room to develop.
If you need some assistance getting started, both
FastComet
and GreenGeeks provide above-and-beyond support services with lots of free features.
Looking for the most secure option?
A2 Hosting
's Perpetual Security solution knocks it out of the park. And SiteGround also has a wide selection of security features with a beginner-friendly interface.
Standout feature
Free website builder?
Money-back guarantee?
Starting price
Hostinger
Incredibly cheap; amazing speed and reliability

✘

30 days

$

1.99

InMotion Hosting
$150 in free advertising credits; 90-day money-back guarantee

✔

90 days

$

3.29

FastComet
Great free features, including automatic backups & free domain; fantastic support service

✔

45 days

$

2.74

SiteGround
Beginner-friendly interface with helpful support; impressive automatic daily backups

✔

30 days

$

1.99

A2 Hosting
Very cheap; great security features and reliability

✘

30 days

$

2.99

InterServer
Unlimited storage space & bandwidth; easy choice of a single plan

✔

30 days

$

2.50

GreenGeeks
Eco-friendly hosting with incredible support

✘

30 days

$

2.95

Hostwinds
Unlimited storage space & bandwidth; good reliability

✔

30 days for annual plans and longer, 48 hours for shorter plans

$

6.47
FAQ
Which web host is the most affordable for bloggers?
Hostinger is the cheapest host on this list by far and provides everything you need for your blog to get started along with great speed and reliability. And don't forget to check out our coupon page for even bigger discounts in 2023. 
Which web host is the most user-friendly?
SiteGround's Site Tools interface is an absolute joy to use. It's easy to pick up even if you're completely new to web hosting. Additionally, SiteGround features good support to help you along. Hostinger's hPanel interface is also very well-designed and intuitive, and the support team is similarly quite helpful.
Which web host should I use for my blog?
The best web host for you depends on your particular needs. If you're looking for the best speed and reliability at budget prices, Hostinger is probably a good fit for you. InterServer offers good quality hosting with unlimited storage, bandwidth, and sites, whereas InMotion Hosting can give your blog a boost

 in outreach with its free advertising credits.

None of those seem like a great fit? Check out our list of the best web hosting providers for 2023.
Can I start a blog for free?
Yes! Many hosts, including all of the ones above, feature free trials or money-back guarantees, which allow you to start a blog risk-free. InMotion Hosting has a particularly long money-back guarantee for 90 days. The site builders Wix and WordPress.com also feature forever-free plans that come with hosting, which can be a great way to get started.