Anyone can look up your new domain and
find out your full name, address, email, and phone number.
 If that's not something you're comfortable with, you need domain privacy protection. But don't worry:
most web hosts that offer domain registration will also offer privacy protection as an add-on.
Some hosts – such as GoDaddy, Namecheap, DreamHost, and others – include it in their plans for free. If you're on a tight budget, one of these providers might be your best bet. That said, it's obvious that you can't pick a web host
just
 for domain privacy protection.
You also need it to offer reliable uptime, excellent loading speeds, and a useful set of features.
That's why I've researched and tested dozens of providers with free or cheap domain privacy
to see if they have what it takes to protect your privacy
and
 provide top-notch hosting services.
Short on Time? These Are the Best Hosts with Domain Privacy in 2023:
GoDaddy – A one-stop-shop for building your website with free domain privacy
Hostinger – Super cheap long-term plans with affordable privacy protection
FastComet – Data centers all around the world, and one of the cheapest domain privacy add-ons
What Is Domain Privacy (and Do You Really Need It)?
You might be thinking, "Can't I just use a fake name or address to register a domain? It would be cheaper, right?" Well, yes, but it wouldn't work. Your domain registrar has to verify your information before giving you a domain name
. If the information is not accurate, you don't get the domain.
If you don't want your personal information to be exposed, your only option is to get domain privacy protection. If you do,
the registrar replaces your name, address, and contact information with proxies.
You get your domain, and your data stays private.
This can shield your domain from hackers, and help you avoid a lot of spam.
 You're also less likely to get targeted by unwanted sales calls and scams, which is always nice. It's not something you absolutely
need
in order to host a website, but it is a great protection to have.
What We Look For In the Best Web Hosts With Domain Privacy
Not all hosts with domain privacy are worth considering. The ones that made it on my list have these essential features:
Free or low-cost domain privacy. Protecting your personal information shouldn't cost a fortune. These hosts offer domain privacy for free or at a very low cost.
Outstanding performance. I ran rigorous tests to ensure that these providers offer reliable uptime and speed. Most of the hosts on my list have multiple data centers around the world, so you can further boost your website's performance by hosting it near your audience.
Generous resources at affordable prices. I looked for hosts with attractive entry-level plans that give you all the features you need for a website, including plenty of storage space and bandwidth. This way, you won't be forced to upgrade to a better plan the minute you get more traffic.
Built-in security features. SSL certificates, automatic backups, and malware scanning are all tools that can help you protect your website (and your visitors) from hackers. Most of the providers on this list offer these tools for free or as cheap add-ons.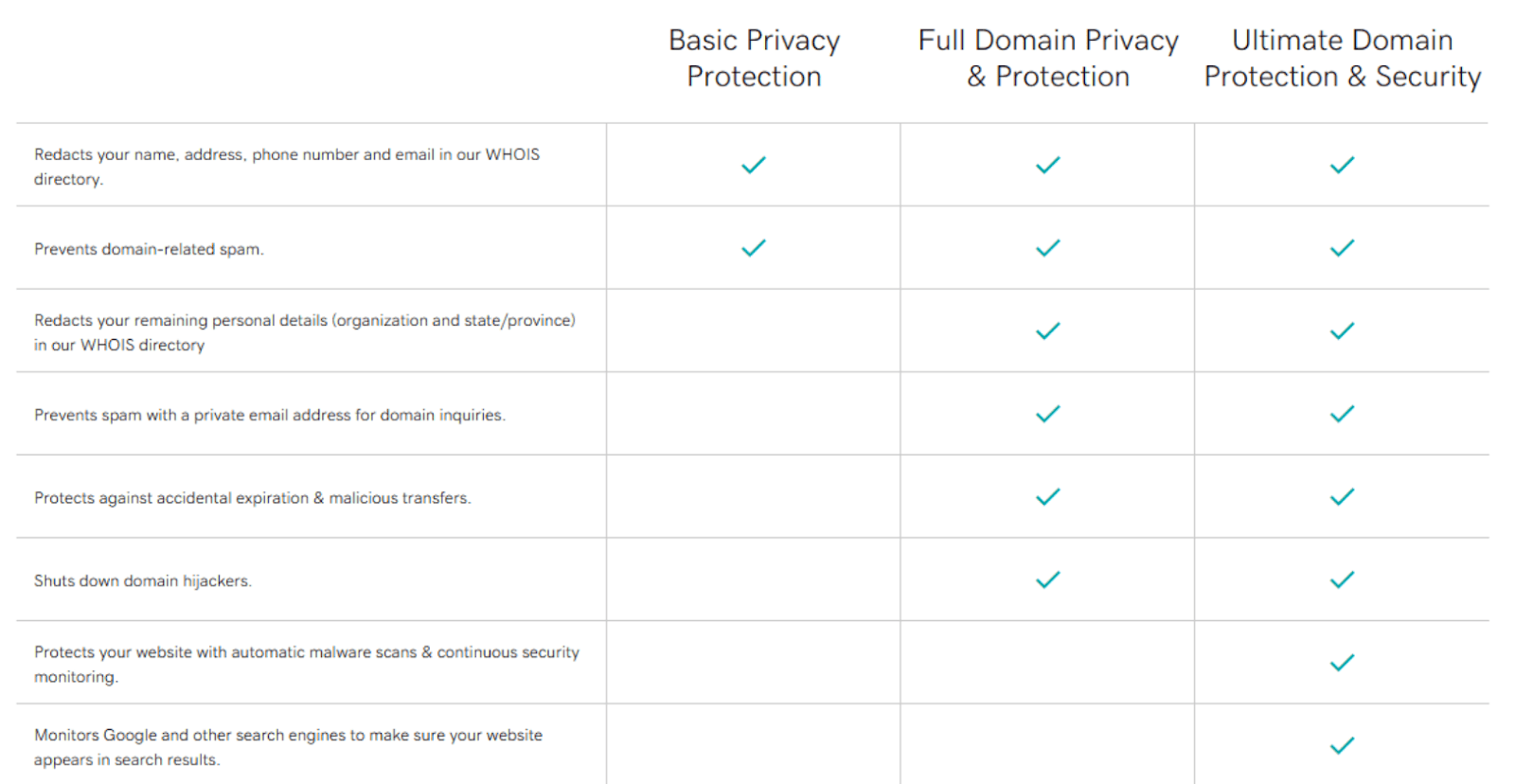 GoDaddy offers basic domain privacy with all of its web hosting plans, so
your name, address, phone number, and email are automatically protected.
 You also get free spam protection, and you can pay a small extra fee to prevent accidental expirations and domain hijacking. That said,
you have to be careful when you pick your subscription.
 To be perfectly honest, I'm not a big fan of GoDaddy's shared hosting plans because most of them are missing a lot of must-have features. However, the WordPress plans are a different story. Even the Basic WordPress subscription comes with 30GB of SSD storage, enough bandwidth for roughly 25,000 monthly visitors, plus
a free SSL certificate and several built-in security tools.
Most of these things cost extra on the Economy shared hosting plan, which is why I recommend
GoDaddy's WordPress hosting
.
GoDaddy Hosting WordPress Hosting
A free domain name is included with some hosting plans from GoDaddy Hosting
Features:
WordPress wizard. The Quick Start Wizard helps you install WordPress and set up your first website. Even as a complete beginner, you'll have no trouble getting started with GoDaddy.
Automatic WordPress updates. You don't have to worry about keeping your core installation or plugins up to date. GoDaddy will do it for you.
One-click staging. Instead of making changes to your live website, you can use one-click staging to create a clone and safely test new features. This way, you get to play around with layouts, widgets, and plugins without breaking your site.
Daily malware scans. If malware infiltrates your website, you'll know about it before it can cause real damage. However, only the Ultimate and E-commerce plans include automatic malware removal, so you'll have to clean up the malicious files yourself if you're on an entry-level plan.
Read
our in-depth GoDaddy review
for more details.
Free domain privacy

✔

Storage

30GB – Unlimited

Bandwidth

Unmetered

Free SSL certificate

On some plans

Starting price

$

5.99

Hostinger is, hands down, the most affordable provider on this list.
If you sign up for a long-term plan, you can host a simple website for just

$

1.99

 per month.
 Although domain privacy isn't free, it's still pretty cheap compared to the industry average. You can add the domain privacy straight from the checkout page when you register your domain, or you can enable it later from your dashboard. Either way, this will ensure that your name, address, and contact information is no longer publicly available. The best part about Hostinger is that it offers
outstanding performance at a very low price
.
 With 30GB of SSD storage and 100GB of bandwidth, the
entry-level Single plan
 is more than sufficient for personal blogs, portfolios, and simple business sites. My colleagues and I tested it for a landing page website, and we were very happy with the results.
A free domain name is included with some hosting plans from Hostinger
Features:
Beginner-friendly control panel. Most hosts offer cPanel to help you manage your domains and websites, but Hostinger developed a proprietary control panel that is better organized and easier to use.
LiteSpeed web server. Compared to the older Apache servers that other hosts still use, LiteSpeed is faster and more stable. It uses fewer server resources, which means you're less likely to need an upgrade once you get a bit of traffic.
Built-in caching. LiteSpeed caching can further boost your website's speed, and it's automatically included in all of Hostinger's plans. You don't have to install your own caching plugins, nor do you have to waste any time with configurations.
Automatic backups. Hostinger creates weekly backups of your website, so you don't have to do it yourself. If something breaks, you can use the one-click restore tool to get your site up and running again.
See
our comprehensive review
for Hostinger's performance results.
Free domain privacy

✘

Storage

30GB – 200GB

Bandwidth

100GB – Unmetered

Free SSL certificate

✔

Starting price

$

1.99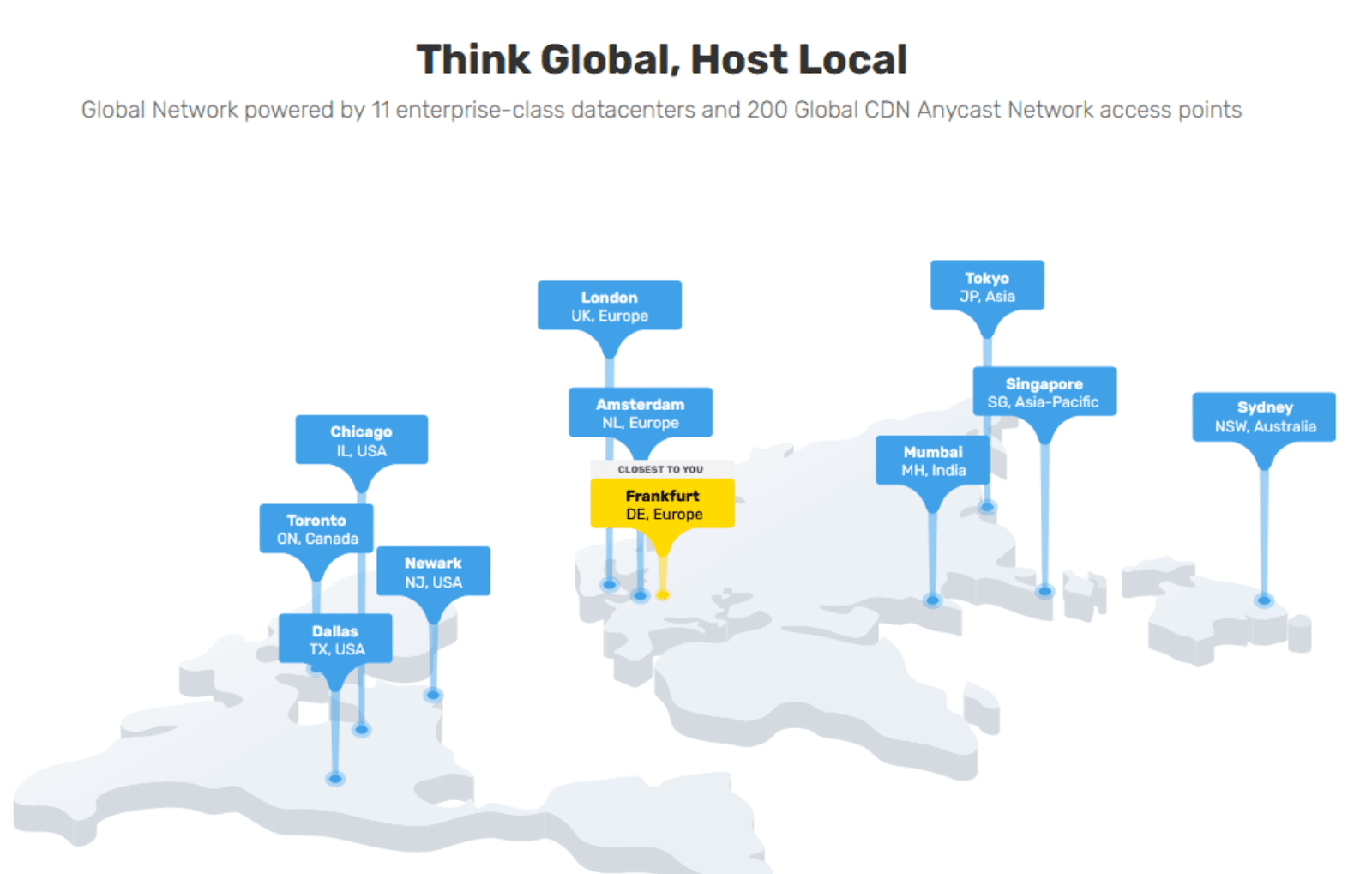 FastComet's domain ID Protection service is one of the cheapest domain privacy add-ons out there,
 and it comes with all the benefits you'd expect. Your personal information is redacted from the WHOIS database, and your contact details are replaced with a proxy. You can add it to your cart when you buy a FastComet plan, or purchase it later. So why choose FastComet over a cheaper, feature-rich web host like Hostinger, for example?
 FastComet has 11 data centers strategically positioned around the world,
 which makes it a good choice if your audience is in India, East Asia, or Australia. Most other international budget hosts don't have servers in these regions, while local providers don't always offer the resources or performance you need.
FastComet's basic FastCloud plan
includes 15GB of storage, 30GB of bandwidth, and guaranteed access to 2 CPU cores and 2GB of RAM.
Accounts hosted on the same server are completely isolated from one another,
so you can expect increased security for your site.
Features:
Integrated cPanel & Softaculous. While it may not be the most user-friendly setup, it works well. cPanel is a tried-and-tested control panel that's pretty easy to navigate once you get used to the interface. And Softaculouscan help you install hundreds of apps (including WordPress) with just a couple of clicks.
BitNinja security. FastComet offers server-level BitNinja protection for all its shared hosting plans. Your website will be protected 24/7 without you having to install or configure any security tools yourself.
Hack fix guarantee. If your website gets compromised while hosted on a FastComet server, the tech team will clean it up and restore it for you.
Excellent support. FastComet is one of the few hosts I've tested that actually provides 24/7 customer support. I never had to wait for more than a minute to get in touch with an agent, and their answers were almost always on point.
For more details, read our
in-depth FastComet review
.
Free domain privacy

✘

Storage

15GB – 35GB

Bandwidth

30GB – 90GB

Free SSL certificate

✔

Starting price

$

2.19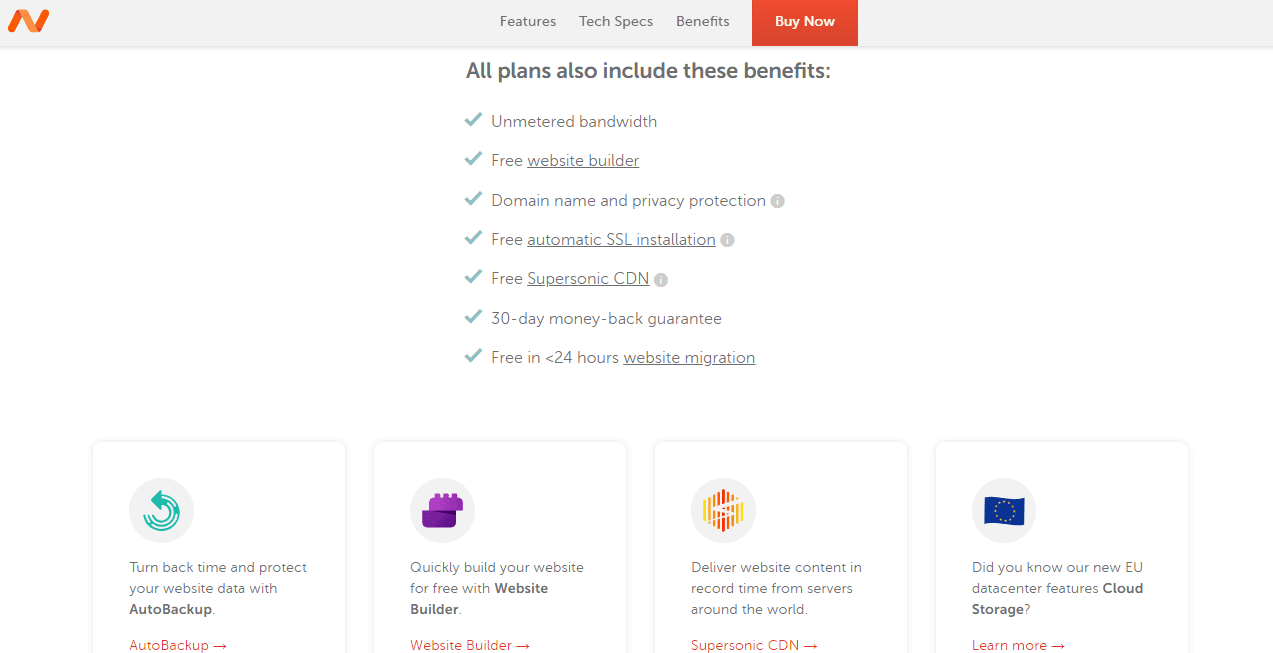 Namecheap is best known as a domain registrar, but it also offers reliable hosting for low- to medium-traffic websites.
Domain privacy is included for free in all yearly plans, as is your domain name (for the first year).
The plans themselves are almost as affordable as Hostinger's, which makes Namecheap a great solution for tight budgets. That said,
Namecheap's shared hosting plans
 are fairly basic. No essential feature is missing (SSL certificates are free, for example), but there are no built-in performance boosters, and automatic backups are not included in the entry-level plan. The
WordPress hosting plans
 are slightly more expensive, but they come with better features. For example, they include
Namecheap's proprietary dashboard, which is built specifically for WordPress and is overall easier to use compared to cPanel.
A free domain name is included with some hosting plans from Namecheap
Features:
EasyWP hosting. Namecheap's managed WordPress hosting brings together several caching solutions for WordPress to help you speed up your site. Designed to make installation and setup as easy as possible, EasyWP can have your WordPress site up and running in minutes.
Free website builder. Not a fan of WordPress? No problem. Namecheap's site builder comes with 200+ unique themes, and they're all free. Once you've selected a theme, you can use the drag-and-drop website builder to customize layout, images, colors, and fonts.
Free email hosting. On the entry-level stellar plan, you can set up a business email @yourdomain, and create up to 30 aliases for free. Spam protection is also included in all plans.
Automatic SSL installation. Namecheap doesn't just give you a free SSL, but also installs and renews it for you. The SSL is turned on by default for each new website you create.
Read our expert review
for more on Namecheap.com's features.
Free domain privacy

✔

Storage

20GB – 50GB

Bandwidth

Unmetered

Free SSL certificate

 

✔

Starting price

$

1.88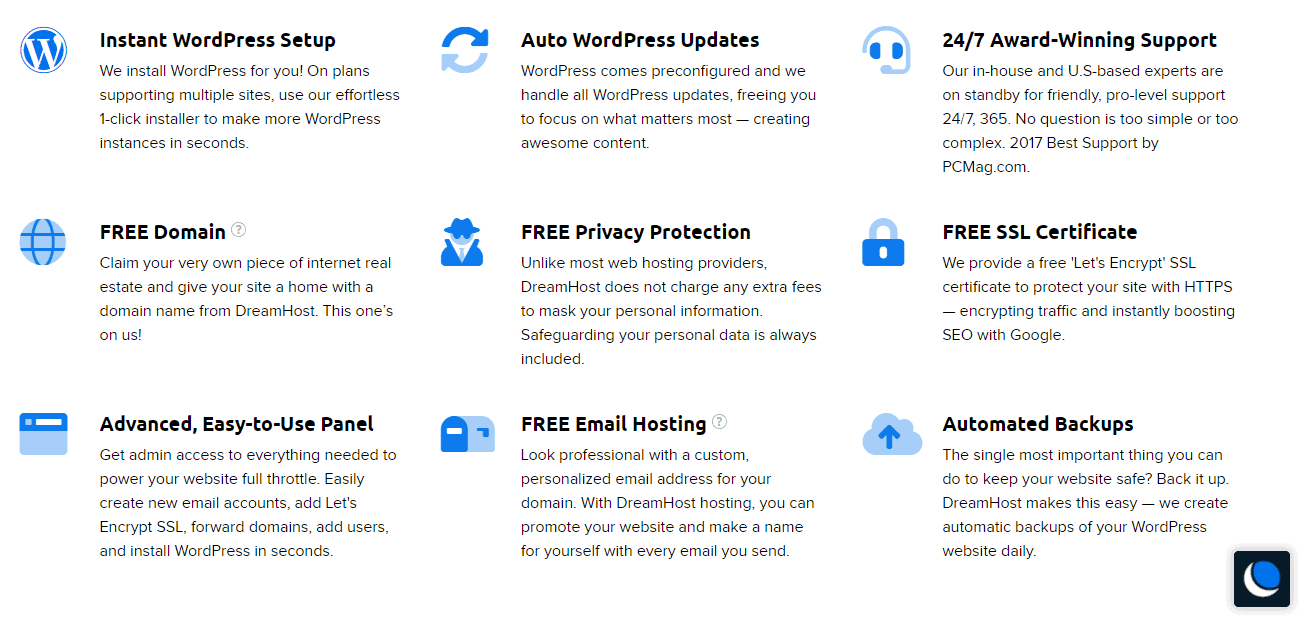 DreamHost's shared hosting plans are geared towards beginners on a budget.
 They come with a user-friendly control panel, generous storage space and bandwidth, a free SSL certificate, and built-in privacy protection – in short, everything you need to host a simple website. But keep in mind that
DreamHost's platform is mostly built around WordPress
. You
can
 use a different CMS (content management system) on its shared hosting plans, but
there's no one-click installer to help you set it up, and customer support is not very helpful.
If you prefer using WordPress, then DreamHost is worth considering,
 especially if this is your first time building a website. Otherwise, I recommend a more flexible provider, like Hostinger or FastComet.
A free domain name is included with some hosting plans from DreamHost
Features:
Preinstalled WordPress. If you're looking for the easiest way to get started, this is it. As soon as you log into your DreamHost account, you can jump straight into building your website.
Quickstart wizard. WordPress can be a bit intimidating for beginners, but DreamHost's WP Site Builder makes it easier to set up your first website, choose a theme, and add content to your pages.
100% uptime guarantee. DreamHost will compensate you for every minute your website is offline. You'll only get compensation in the form of credits, but it's still better than what most hosts offer.
Unmatched money-back guarantee. You have 97 days to cancel your DreamHost plan for a full refund. Few other web hosts are this generous.
Read more about DreamHost's pros and cons in
our detailed review
.
Free domain privacy

✔

Storage

50GB – Unlimited

Bandwidth

Unmetered

Free SSL certificate

✔

Starting price

$

2.95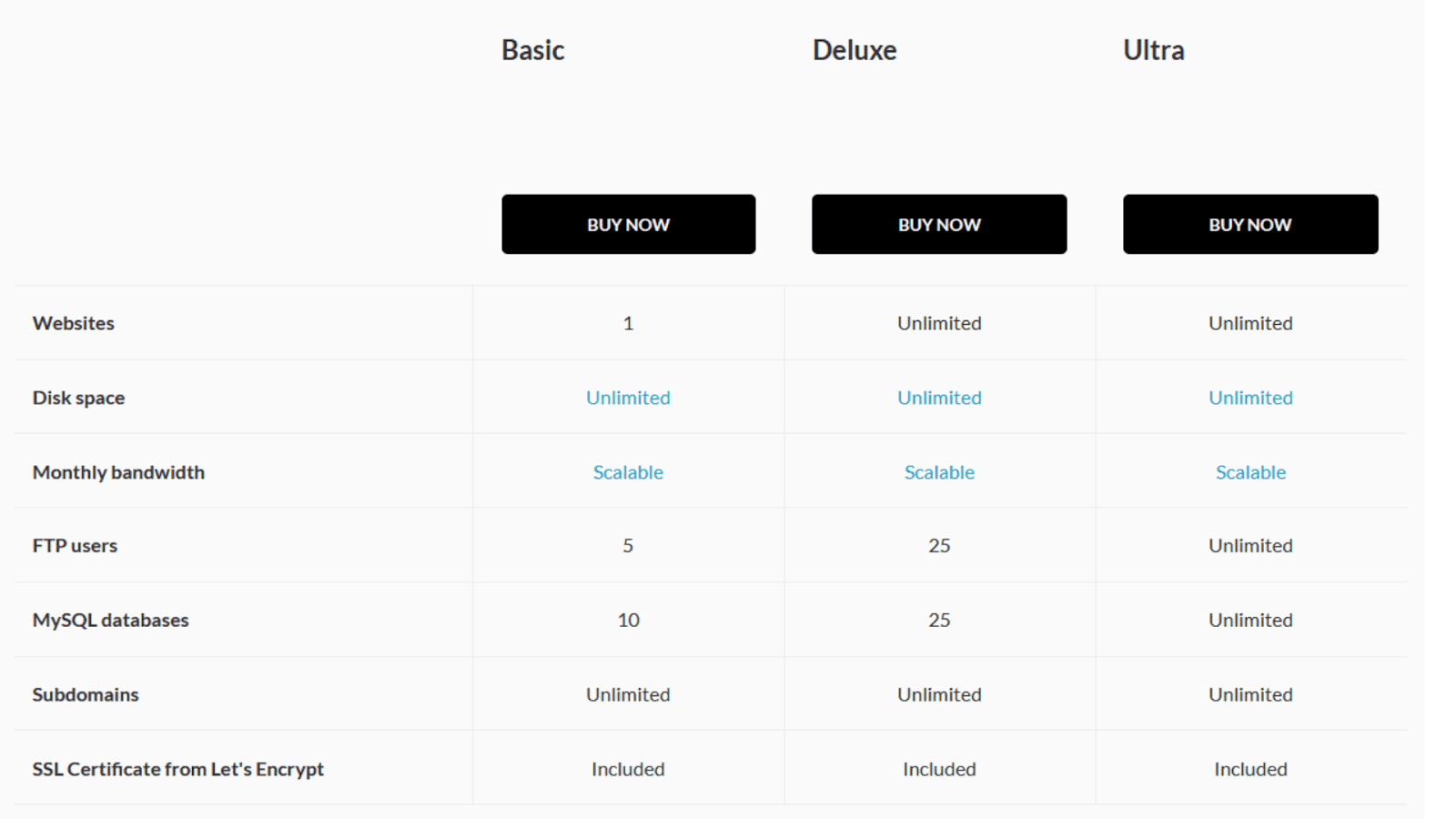 Domain.com has three shared hosting plans, all with unmetered storage space and bandwidth.
 A domain name and SSL certificate are also included, but you have to pay extra for domain privacy protection. The add-on isn't super expensive, but it's not as cheap compared to other hosts on this list. A couple of other important features are missing too.
You can't create a professional email address @yourdomain unless you buy a Google Workspace plan.
 Automatic backups cost extra, as do basic security tools like malware scanning.
Domain.com does have a great website builder that you can use to get online quickly, but you have to buy it separately.
In fact, this seems to be the general rule with Domain.com – it has lots of good features, but only if you're willing to pay for them.
A free domain name is included with some hosting plans from Domain.com
Features:
Generous resources. Regardless of the plan you pick, Domain.com won't place any caps on your storage space or bandwidth usage – as long as you comply with the Terms of Service, of course.
Website builder plans. If you just want to launch a simple website, you might consider Domain.com's Starter website builder plan. It's cheaper, and it comes with all the features you need to build a beautiful portfolio or landing page.
WordPress-optimized plans. If you prefer WordPress, Domain.com's WP Starter plan might be a better fit. It's just as affordable as the shared hosting plan, and it comes with a customized control panel and a bunch of useful plugins preinstalled.
Specialized WordPress support. Domain.com can help you with things like designing your website, creating backups, and optimizing your content. The WP Live support bundle costs extra, but if you're a beginner, it might be worth considering.
For more details, read our
expert Domain.com review
.
Free domain privacy

✘

Storage

Unlimited

Bandwidth

Unmetered

Free SSL certificate

✔

Starting price

$

3.75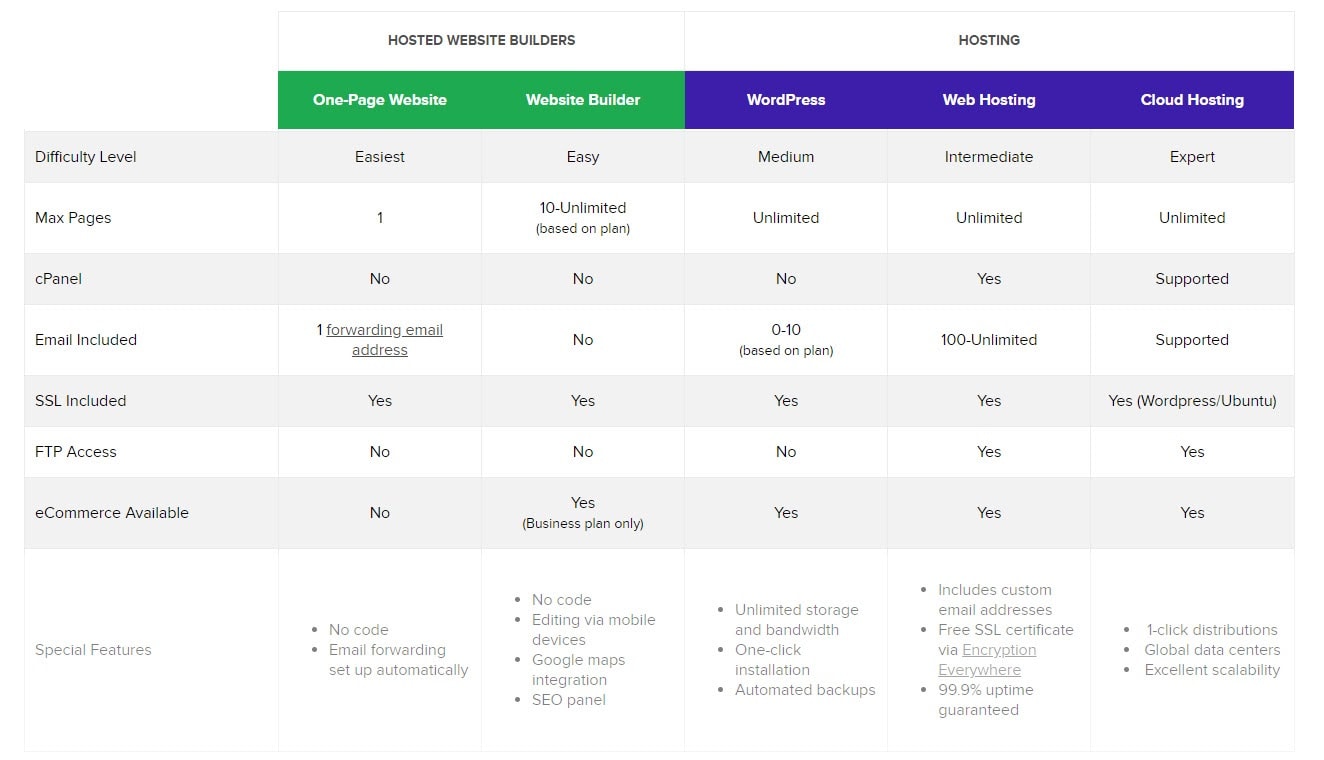 Name.com doesn't have any outstanding features, but
its plans are fairly priced and they offer enough to make it easy to get online quickly.
 A free domain name is included with all yearly subscriptions, and privacy protection is available for a small fee. Depending on your needs, some plans might be more suitable than others. For example,
the One-Page Website plan is a great way to host a simple landing page at a very low cost.
 The WordPress plans give you a bit more flexibility in terms of designing and growing your site, while the shared hosting packages let you use whatever CMS you're most comfortable with.
Email hosting is included for free in almost all plans,
 although you can pay extra to integrate Google Workspace instead.
Features:
One-page website. This dirt cheap plan lets you set up a basic landing page in a matter of minutes. You get access to a limited version of Name.com's drag-and-drop site builder to design the page, and a forwarding email address is set up automatically.
Cheap WordPress hosting. If you want to host a single website with multiple pages, you could opt for one of Name.com's WordPress plans. The CMS is preinstalled, so it's super simple to get started.
E-commerce plans. For an online store, you have the option to choose Name.com's Business website builder plan, or you can select one of the more versatile shared hosting plans. The site builder offers greater user-friendliness, but it comes with limitations on your customization choices.
Free SSL certificate. All websites hosted on Name.com benefit from SSL encryption by default. Your visitors are protected, and you get a slight boost in terms of SEO.
Read
our complete Name.com review
to learn more about hosting plans and features.
| | |
| --- | --- |
| Free domain privacy | ✘ |
| Storage | 10GB – Unlimited |
| Bandwidth | Unmetered |
| Free SSL certificate | ✔ |
| Starting price | $4.99+ |
What Is WHOIS?
WHOIS is a collection of databases that stores information about domains and their owners. Each domain registrar is required to manage WHOIS data for each domain it sells.
This data usually includes the domain name, the name of the owner, address, phone number, and email.
 Other details, such as the purchase and expiration dates for each domain, are also publicly available through WHOIS.
Anyone can access the WHOIS database to find information about a specific domain and its owner
. You can use it to
check whether a domain is about to expire
, or to contact someone with a domain name you'd like to buy. But WHOIS has other uses too. For example, you might come across a domain that you think is a copyright infringement of your brand. You can use the WHOIS database to find the owner's contact information and get in touch to resolve the issue.
ICANN WHOIS Alternatives
All WHOIS data is overseen by a non-profit organization called The Internet Corporation for Assigned Names and Numbers (ICANN).
ICANN ensures that all domain registrars comply with regulations, and that information provided by domain owners is always accurate.
In addition,
ICANN maintains a publicly available lookup tool for the WHOIS database.
 However, it's not the only organization that does this. Lots of hosts have WHOIS tools on their websites, which are just as easy to use. These are a few of the most popular ones:
Other companies have specialized WHOIS lookup tools with more impressive features.
Here are just a few examples.
Whois.com
Whois.com is a domain lookup and registration service. It provides valuable WHOIS information about registered domains, but unlike ICANN,
Whois.com also lets you buy domains that are still available.
If a domain is already taken, Whois.com can generate suggestions for similar names.
 It can also put you in touch with the current domain owner, and give you the opportunity to negotiate a transfer.
Who.is
Who.is also offers a domain lookup tool with built-in registration. You can use it to check the expiration date for a certain domain name,
generate domain names from certain keywords
, or easily manage dozens (even hundreds) of domains in one place.
One unique feature with Who.is is that it lets you look up expiring domains, which you can then buy at a bargain.
 Or, if you're determined to buy a domain that won't expire anytime soon, you can make an offer for it in exchange for a small commission. Other services let you do this for free, but
Who.is guarantees that your offer will reach the current domain owner.
DomainTools
DomainTools is a premium, comprehensive WHOIS lookup tool. It's mainly used by security professionals who conduct online fraud investigations and need to run thousands of domain searches per day. DomainTools does provide a Personal plan if you simply wish to track a few domains. You can view a domain's WHOIS history, and keep an eye on changes in ownership, along with potential transfers between registrars. Another cool perk is the Domain Monitor feature. If you manage multiple domains,
this tool can help you keep track of important expiration dates and other crucial status changes.
 Plus, you can use it to get notifications about domains you'd like to buy in the future.
CubDomain
CubDomain brings together several handy tools you can use for free. It offers WHOIS information about specific domains, but
it also provides data about each website's performance, SEO, security, traffic, and more.
There's a built-in Google map that shows you where each domain is physically hosted, and traffic statistics are displayed separately for different regions around the world. You can also use CubDomain's
SSL checker  to verify whether a website is properly encrypted
.
Whoisology
Like DomainTools, Whoisology is a premium WHOIS lookup service designed for security professionals and enterprises. However,
Whoisology has a limited free plan
 that you can use to monitor your brand, your domains, or a couple of registered names you're interested in buying.
Whoisology focuses primarily on reverse WHOIS lookups to help you track domain activities related to certain registrants.
 It does this by processing massive amounts of WHOIS information by cross-referencing multiple filters (keywords, IP addresses, email addresses, and more).
These Hosts Offer Domain Privacy, Plus Other Cool Features
My list includes hosts that offer reliability, affordability, and relative ease of use. What's even more significant is that they provide domain privacy protection at a low cost or include it for free in the majority of their plans. So, which one suits your needs best?
If you don't want to pay extra for privacy protection, GoDaddy is one of your best choices.
 WordPress plans come with all the essential features you need to safely host a website, and if you need more power, GoDaddy has an add-on for everything – from SEO to marketing and performance optimizations.
Hostinger is a better option if you're on a super tight budget but you don't want to compromise on performance.
 Domain privacy is a paid add-on, but the overall cost (of hosting plus privacy protection) is still reasonable compared to most hosts on this list.
The only cheaper option is Namecheap, which gives you privacy protection for free.
 However, Namecheap's plans are pretty basic. They include essential features like SSL certificates, but they don't come with built-in caching or WordPress optimizations. Finally,
if I wanted to reach an audience in India, East Asia, or Australia, I'd go with FastComet.
 FastComet is one of the few budget hosts with servers in all of these regions, and its plans offer great value for money.
Standout Feature
Free Domain Privacy
Free SSL
Starting Price
GoDaddy

One-stop-shop for all things hosting, great WordPress plans

✔

On some plans

$

5.99

Hostinger

Incredibly cheap long-term plans, outstanding performance

✘

✔

$

1.99

FastComet

Data centers all over the world, including India, East Asia, and Australia

✘

✔

$

2.19

Namecheap

Low-cost shared and WordPress hosting with all the basic features

✔

✔

$

1.88

DreamHost

Super easy to use with WordPress

✔

✔

$

2.95

Domain.com

Generous storage space and bandwidth allocations

✘

✔

$

3.75

Name.com

Cheap one-page website plan for very simple sites

✘

✔

 $4.99+
FAQ
What does the WHOIS domain database contain?
The WHOIS database contains publicly available information about domains and their owners. Some of the details you can find by looking up a domain include: –  The name of the domain owner (either the company or the person who bought the domain) –  The address, phone number, and email of the domain owner –  Information about the domain registrar –  Information about where the domain is hosted (IP address) – The date when the domain was purchased – The date when the domain is set to expire
Is it worth paying for domain privacy?
That's up to you. Without domain privacy, the personal information you use to register a domain is displayed in the WHOIS database. If you don't want your contact details to be publicly available, then privacy protection is worth the cost. It's also worth considering that privacy protection can deter domain hijackers, and make it less likely for your email to be targeted by spam. Some of the best web hosting services in 2023 offer domain privacy at a low cost or include it for free.
Do I still need domain privacy if I'm protected by GDPR?
No. If you're a citizen of the EU, your personal information cannot be published through the ICANN WHOIS database. The database will still display details about the domain itself (such as the purchase and expiration date), but your name, address, email, and phone number will be redacted.
Can I use a different host if I get a Namecheap domain name with free privacy?
Absolutely. Web hosts make it super easy for users to connect a domain they've purchased elsewhere. In most cases, you'll have to head over to your domain registrar, log into your dashboard, and change the nameservers for the domain you wish to connect to your hosting account. (Each host has a unique set of nameservers that you can copy and paste here.) If you're in the market for a web host, don't forget to check out some of the great deals on our coupons page before you sign up for hosting.
Can I buy domain privacy later?
Yes. You can buy domain privacy protection after you register a domain. Just keep in mind that your data will be publicly available until you do.