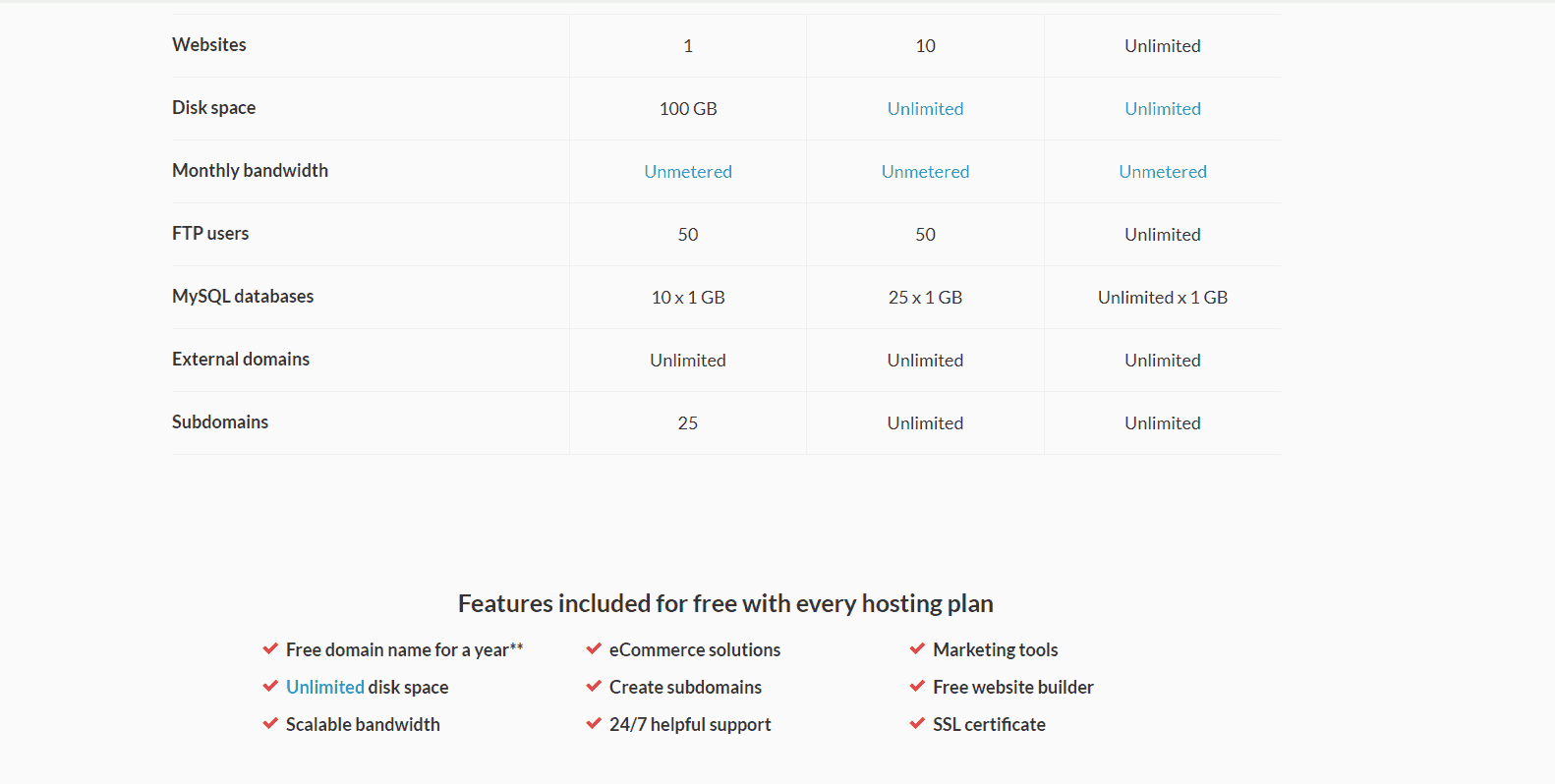 In their own words, Domain.com is proud to have played an important role in helping their customers reach success online since 2000. The provider is part of a larger corporation with multiple companies in the hosting industry, giving it both breadth and depth of experience. Domain.com's products focus mostly on shared hosting with a few VPS hosting options also available. Its website is in English, and the Domain.com team is also very active on Facebook and Twitter.
Features and Ease of Use
Domain.com offers a decent range of shared hosting products with technologies that make building and maintaining a website easy for its customers. The basic features of its shared hosting packages include:
Free Let's Encrypt SSL certificates
Unlimited storage (within the terms of the "Acceptable Use Policy")
Scalable bandwidth
Free cloud storage
Unlimited subdomains
Free one-year domain registration
The first feature that most potential customers will be interested in is Domain.com's high resource limits. All three shared hosting plans come with unlimited storage, though of course under the condition that this generous allowance isn't abused, used as a data backup facility, or repurposed for illegal activities. The plans also feature scalable bandwidth, which Domain.com claims is enough for 99.5% of its customers.
Combined with the unlimited add-on domains, databases, and FTP logins supported by the higher-tier plans, this means that you'll be able to safely host a number of small to medium-sized websites on a quality shared server.
But by far the feature I liked best with Domain.com's shared hosting plans was its website builder. This drag-and-drop tool is included with all shared hosting plans for free, making it even more convenient for beginners to set up a website.
The one drawback I did notice with Domain.com is that it doesn't readily advertise an uptime guarantee, nor does it offer a CDN. That said, my tests of the web host revealed an above average uptime of 99.984% for the month prior, which is fairly decent.
Pricing and Support
Domain.com's three shared hosting plans are priced affordably considering the unlimited storage and bandwidth they include. While these plans aren't discounted with longer-term billing, they do include free domains for the first year, free SSL certificates, a free website builder, and basic e-commerce integrations.
Note, however, that there aren't any monthly billing options available: you'll have to go for either an annual, two-year, or three-year contract. Also, there are a number of upsells — including essential features such as custom domain emails and backups — but these are decently-priced and grouped in one place.
All of Domain.com's hosting products come with a 30-day money back guarantee, provided you've paid with a credit card.
A stellar feature of Domain.com's support is their complete, orderly, and very handy knowledge base with step-by-step guides, WordPress video tutorials, and informative articles.
Domain.com also offers one-to-one support via live chat and the phone. Although there is no ticket or email support, I personally prefer the more immediate forms of communication like live chat and phone. The support staff tends to be quick and easily accessible, and I have found them to be extremely helpful. As you can see in the screenshot below, I asked them multiple questions about their services.