some sites just work better in Canada than the more US-centric ones – and only a select few platforms offer on-site services
. I've put in the research and tested many popular and niche freelance sites to find the best freelance sites to hire in Canada.
My personal favorite is Fiverr
for its wide breadth of services, pricing flexibility, and advanced hiring features.
But the best freelance site for you depends on your particular needs and budget.
Lucky for you, I'm here to help you figure it out. Check out the best freelance websites to hire in Canada in the box below, or keep reading for alternative choices that may be better suited for you. I'll also divulge some tips and tricks for hiring freelancers and avoiding the pitfalls of finding remote and local jobs online.
Short on Time? These Are the Best Websites for Hiring Freelancers in 2023
Fiverr – A huge pool of talented freelancers from all over the world, covering both common and niche services.
Upwork – Professional freelancers with high ratings and big industry experience.
Toptal – Expert freelancers who have passed rigorous screening and strict qualification reqs.
What We Look For in the Best Freelance Websites in Canada
I tested the most popular freelance websites to see which support hiring and working in Canada. The top freelance platforms will also make it easy to get high-quality work in whatever area you need it. When picking the best freelance websites to hire in Canada, I looked for the following features:
Advanced Search Filters: If Canadian freelancers are on the site, it should be easy to find them. A good search engine has filters by location to restrict your search to Canada, and lets you browse freelancers in the exact field you want.
Easy Hiring Process. The whole point of a freelance site is to painlessly connect clients and workers. The best freelance sites make this easy with in-depth freelancer profiles, customer reviews, and interview processes in the form of chat and/or video messaging.
Job Management. Once you hire a freelancer, whether they're on site in Canada or working remotely, you'll want the right tools to oversee your project. Chat, video, file sharing, and payment should all be streamlined for you.
Affordable Pricing and Fees. Paying in CAD shouldn't incur ridiculous conversion fees. The best freelance sites for hiring in Canada will be reasonably priced, with either no or minimal extra cost to you.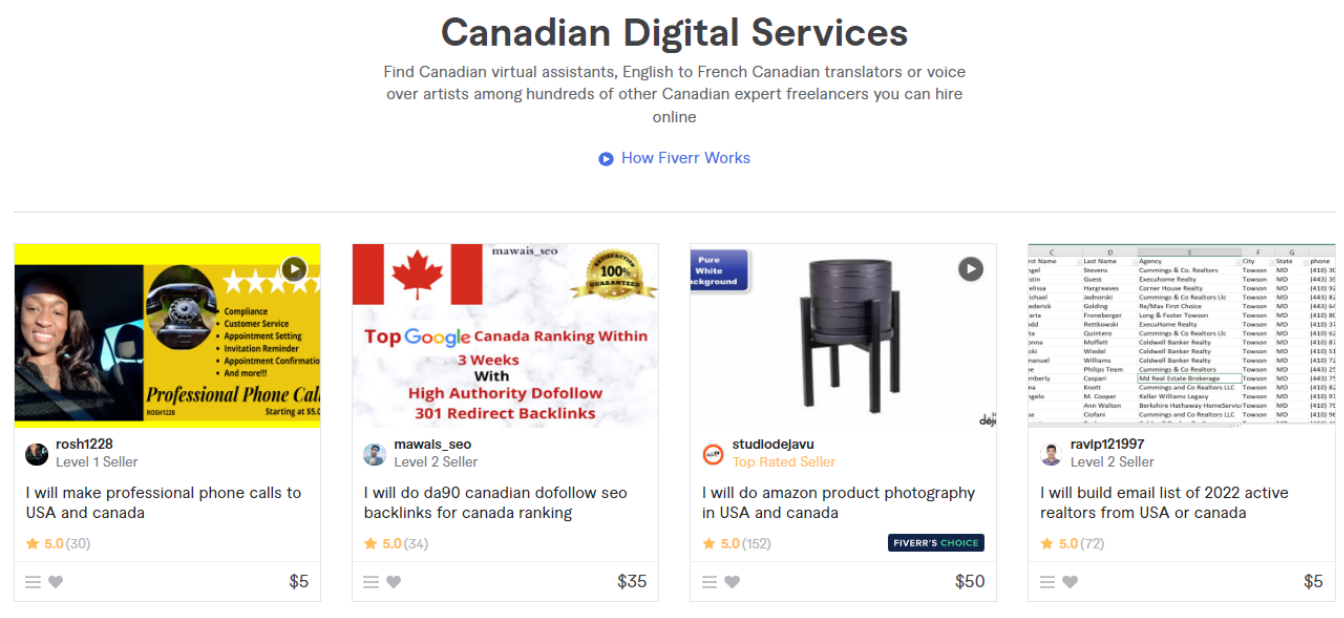 Fiverr hosts the largest network of freelancers out there, making it one of the best places to find remote work in Canada.
Freelancers on Fiverr offer services in every category imaginable.
This includes some more unique tasks like online pet therapy (yes, that's a thing). You can
hire a freelancer for as low as $5
, or spend more for more experienced professionals. I find it's usually worth it to browse for top-rated and level 2 star sellers, as these freelancers have to work hard to maintain their high rating. That means excellent communication and quality of work.
You can get legal advice, business marketing, and web design in Canada, among other services.
I found Fiverr incredibly easy to use, and a low-risk experience if you're new to hiring or unsure about hiring online.
Features
In-depth Freelancer Profiles. Seller profiles showcase a freelancer's skills, languages, education, experience, and work portfolio. You can get a good sense of a freelancer from the quality of their bio (top tip – avoid lazy bios with minimal info or bad spelling and grammar).
Seller Ranking. Freelancers on Fiverr are ranked based on their earnings, response time, and overall customer rating. This is a great way to tell how qualified a freelancer is – just look for the seller level listed under their username. Top-rated is the best, then level 2, then level 1, and finally new sellers.
Job Subscriptions. If you want to hire a freelancer long-term, you can subscribe for their service in 3-month and 6-month increments. I really like that you don't have to go over the hiring process over and over again for the same freelancer.
Add-ons. Pay extra to get expedited delivery (as fast as 24 hours) from your freelancer. You can also pay for Silver and Gold packages to get more or higher quality work from a freelancer.
Check out our Fiverr review
to see why we gave it
4.9
out of 5 stars.
Job Availability
Global remote work across multiple categories.
Job Hiring Tools
Advanced search filters, services specific to Canadian law and other local specializations.
Project Management
Chat and video calls.
Starting Price

$

5.00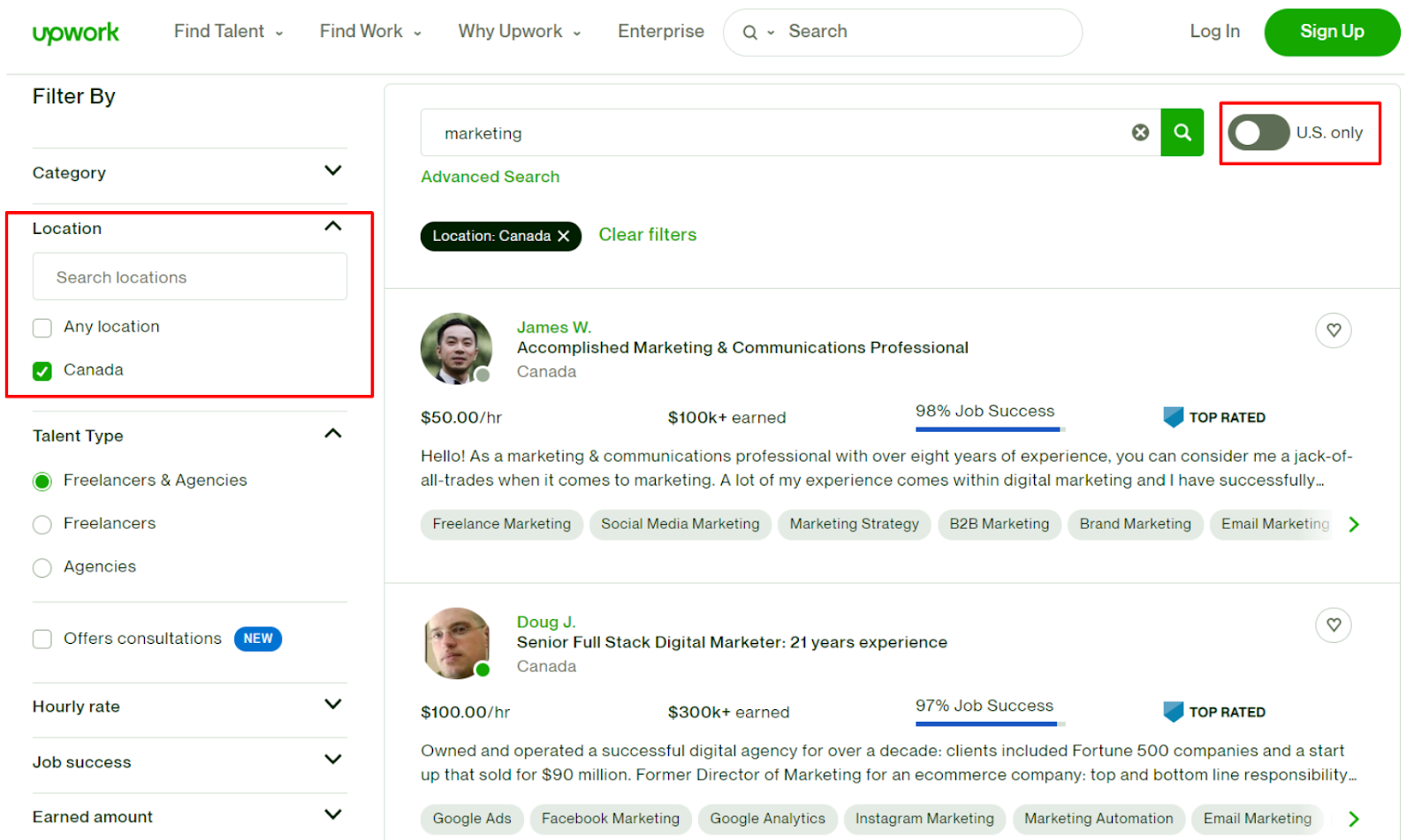 Upwork can help you find freelancers in Canada, and also has advanced features to help your project sail along smoothly.
Upwork hosts a massive network of remote and on-site workers
, and you can narrow the search to those located in Canada. You can
browse through categories or search for the exact work you're looking for by keyword.
The arsenal of project features is where Upwork really shines.
Whether you hire one freelancer or a whole team, you can collaborate via messenger, video chat, and file sharing.
Milestone and hourly payments are also handled though Upwork's invoicing system. The only downside I found is that prices are always processed in USD on Upwork. This means
you'll have to pay the exchange rate when you pay in CAD, so be mindful of the extra cost
.
Features
Freelancer Stats. On each freelancer's profile, you can easily view their total earnings, hours worked, and response time. You can also see freelancers' customer reviews and work portfolios to really get a sense of how reliable they are.
Project Catalog. Browse the catalog to find the service you want, such as trademark filing in Canada. This is a great budget option, as you pay a fixed price rather than milestone or hourly rates.
Talent Scout. Hire a talent scout, and they'll match you with the best freelancer for your needs. This is a great option if you need something specific, like legal work from someone fluent in Canadian law who's licensed to practice.
Versatile Payment Options. Pay by milestone, such as when a freelancer completes the full project, or hourly. Payments are securely held in escrow, and you can request a refund if you're unhappy with your freelancer's service.
Read more about these features in our in-depth Upwork review
.
Job Availability
Remote and on-site.
Job Hiring Tools
Locational search filters restrict search to Canada.
Project Management
Messenger, video chat, file sharing, and invoicing.
Starting Price

$

0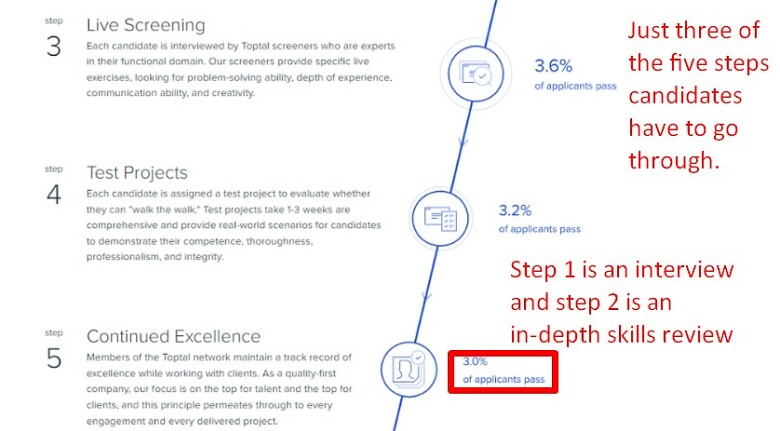 Toptal is
an exclusive platform that only accepts the best performing 3% of freelancers who apply
. When you
hire on Toptal
, you're getting a certified professional whose work has passed rigorous vetting. Toptal is completely remote, so
you can hire from anywhere, including Canada – but your options may also be more limited if you need different work than the listed categories.
You can hire designers, developers, financial experts, product managers, and project managers. And
if you need a specific kind of freelancer, such as someone who understands Canadian businesses, Toptal will match you with one.
Toptal goes off all the information you give them via a project brief and a scheduled 20-minute phone call. Honestly, I'm impressed by the attention to detail.
It's definitely the most robust online hiring agency I've come across.
There is a catch though –
Toptal is also one of the most expensive platforms out there…
Features
Fast Hiring Process. Toptal takes as much information as possible from you, then finds you a freelancer that fits your needs. You don't need to hunt or compare freelancers, and can get started hiring someone in 2-3 days.
Guaranteed Professionalism. Freelancers on Toptal have been screened for their personality and enthusiasm, so you don't have to worry about poor communication or an unenthusiastic work ethic.
On-Site Options. Although rare for the platform, Toptal can arrange for an on-site freelancer in Canada if you require an expert in person.
Secure Prepaid Card. Toptal's prepaid card lets you load your card and make payments in your currency. This makes it easy to pay in CAD without having to worry about fees and conversion rates.
My colleague wrote an
extensive review of Toptal
weighing its cost and benefits.
Job Availability
Global remote work, on-site jobs by request
Job Hiring Tools
Project brief and matchmaking over phone call
Project Management
Toptal is primarily a hiring agency.
Starting Price

$

60.00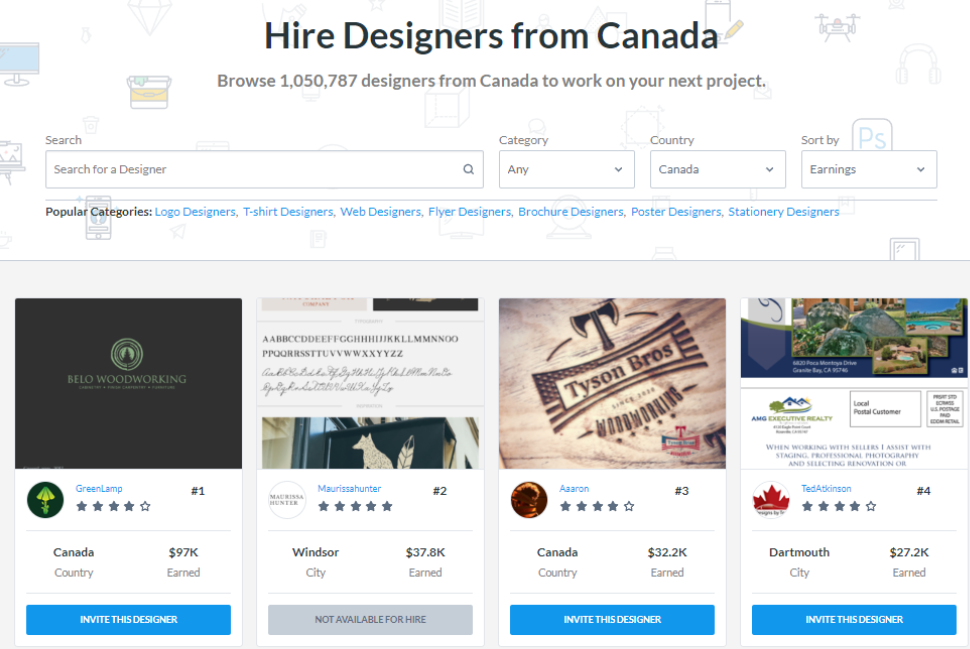 DesignCrowd is a great way to get a design crowdsourced or to hire a freelance artist –
it has a user base of 1 million freelance designers.
You can also
find designers in Canada
if you want an artist who's familiar with marketing trends in your area. When you post a project, you fill out your project details and add any services you need (like invite 3 top designers). It's super easy to get what you want from a contest in DesignCrowd
.
For example,
if you want your marketing to be relevant to your local area, you can communicate this to the designers, or simply invite designers specifically from Canada.
Contests are a flat fee and fairly affordable.
If you want more selection, you can pay extra for 50 or 75+ designs.
Just note that this gets expensive
fast
.
Features
Detailed Portfolios. View a freelance designer's work and artstyle, arranged in a grid. If you find a design you really like, click the "Buy a Design Like This" button to let the designer know you want something similar.
Secure Payments in CAD. Since the Canadian dollar is a supported currency in DesignCrowd, you don't have to worry about added fees or dreaded conversion rates.
100% Money-back Guarantee. So long as you request a refund before approving the design, you can get a full refund on contests and individual hiring projects. No hoops or hassle, which is exactly what I like to see.
Feedback and Revisions. Request revisions on your design. Individual hires will automatically get you 3 revisions. Contests sometimes have free revisions, but some designers require payment to revise projects, so be mindful.
We go over how to make the most of your budget in
our DesignCrowd review
.
Job Availability
Global design jobs and designers in Canada
Job Hiring Tools
Crowdsourcing, individual hiring, designer portfolios
Project Management
Messaging and revisions
Starting Price

$

109.00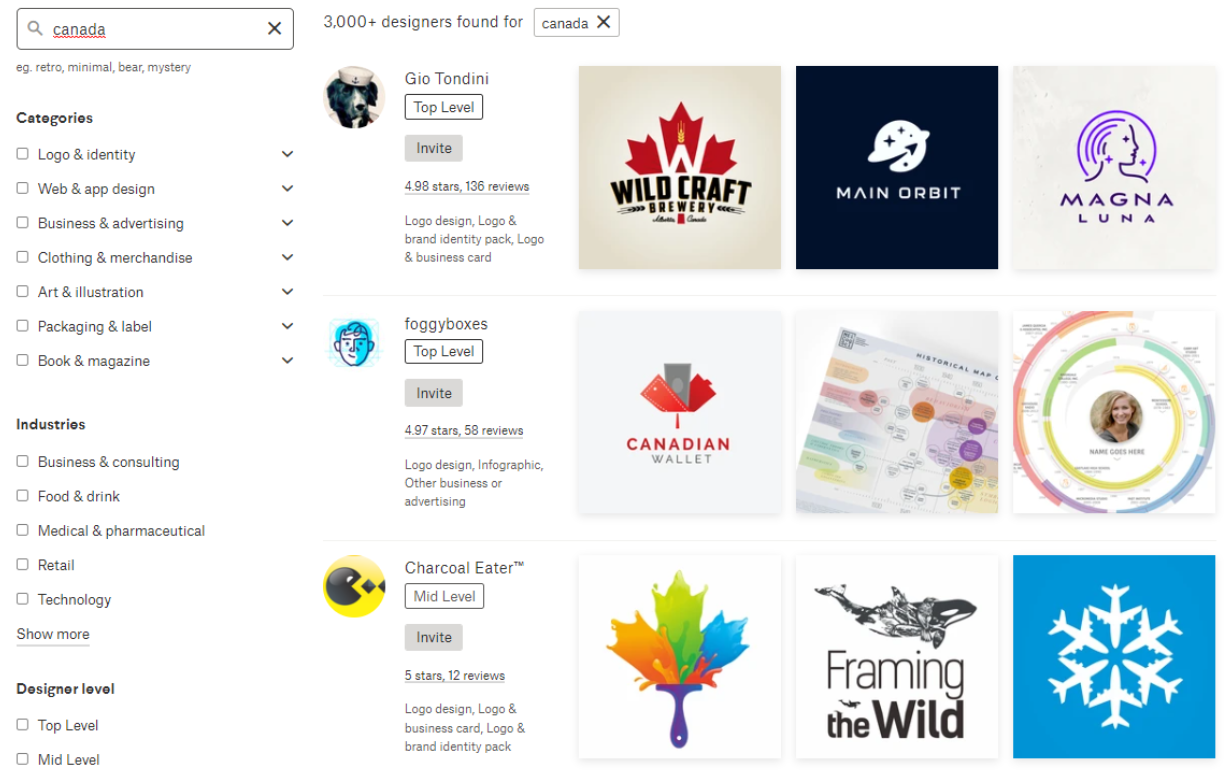 99Designs is another design-focused crowdsourcing platform.
It has roughly 1 million designers, including artists with experience in Canadian trends.
You can get a design through arranging contests or directly
hiring a designer on 99Designs
. The quality of artwork on 99Designs is noticeably clean and professional.
Designs are excellent, but a bit pricey – 99Designs is not a budget option
. Plus, 99Designs processes payments in USD only, so
you also have to deal with conversion rates when paying in CAD.
Features
Designer Screening. Designers on 99Designs go through an application process before they can participate in contests or be hired. This gives you a stronger guarantee you're getting a skilled freelancer, removing some of the risk of hiring online.
Brief and Style Aid. When providing your project's brief, 99Designs walks you through style and color selectors. Not only is this really fun, but it helps both you and the designer pinpoint the kind of design you want.
60-day Refund Policy. If you're not satisfied with the designs you receive, you have 60 days (!) to request a refund. This is a way more generous policy than I've seen elsewhere.
Personal Advisor. Consult with an advisor about your project and let them know any important details – such as if you're looking to hire in Canada. Your advisor will help find the best designer and plan options for you.
Read about our journey to get a website logo in
our review of 99Designs
.
Job Availability
Remote designs.
Job Hiring Tools
Consultation, designer screening, and contests.
Project Management
Private messaging and revisions (*if the designer agrees).
Starting Price

$

299.00
6. Workhoppers: On-Site Freelance Work in Canada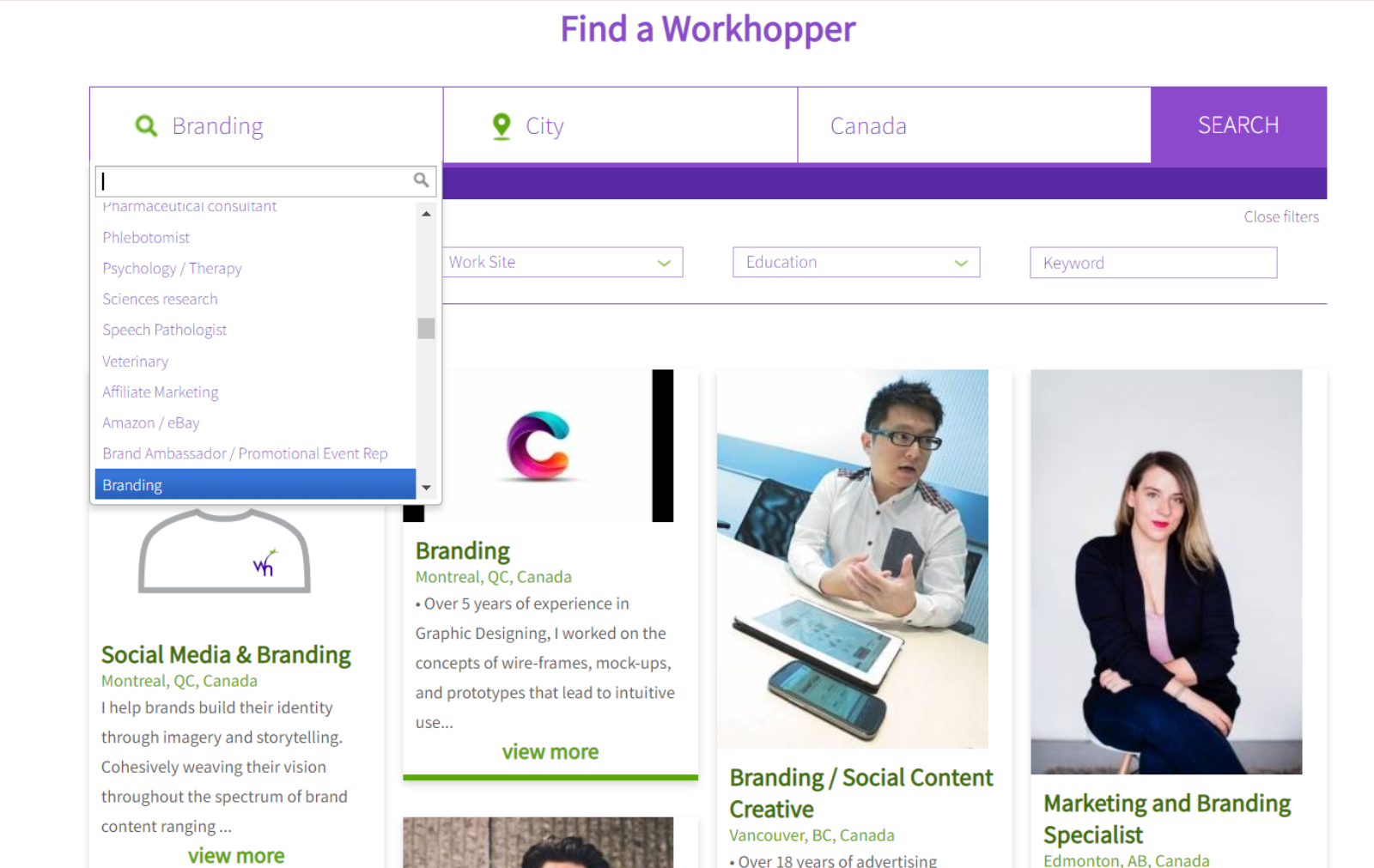 Workhoppers is a freelance website based in Canada
(although it includes jobs from other countries as well).
It specializes primarily in local jobs but has remote options, too.
You can hire on-site freelancers across numerous categories, from photography to make up artists. If you're looking for in-person freelancers in Canada, Workhoppers is a great choice. The thing I like most about Workhoppers is that
you don't have to pay any extra fees or commission rates to hire a freelancer.
However, you
do
have to pay a subscription to access talent on the site. If you plan to hire multiple freelancers from Workhoppers, this could save you money. But it will end up costing you more for one-off hires –
I recommend Fiverr for that
.
Features
Freelancer Profiles. View a freelancer's CV, customer reviews, work history, education, skill tests, and bio. I noticed reviews were few and far between, so there isn't a lot of insight there.
Availability Calendar. Each freelancer marks their availability on a calendar. Being able to see a freelancer's work schedule is super helpful if you're looking to hire for a time-consuming project or need someone to work on a certain day.
Matchmaking Algorithm. A ranking system matches suitable freelancers to your job specifications and location. This helps narrow the search if you have a specific requirement or need someone to work on-site.
Concierge Service. With the Concierge Plan, Workhoppers will handle hiring, interviewing, and reviewing freelancers for you. It will even write your job post for you. This plan is very pricey but charges per recruit, so you don't have to worry about monthly fees stacking up.
| | |
| --- | --- |
| Job Availability | Remote and on-site jobs. |
| Job Hiring Tools | Matchmaking algorithm, job board, freelancer profiles. |
| Project Management | Freelancer contact via email and phone. |
| Starting Price | $29/month |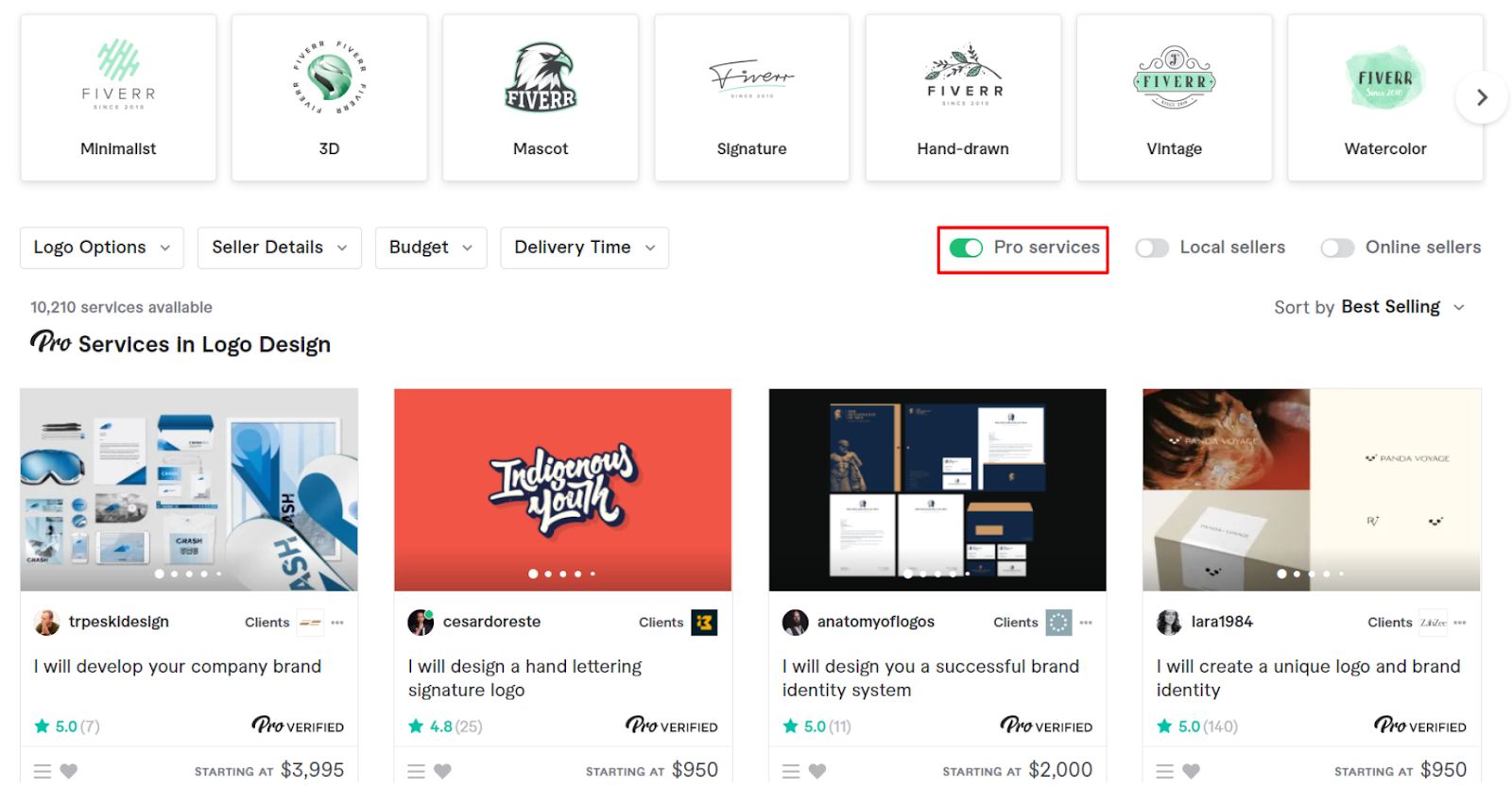 Fiverr Pro narrows your search to the absolute best freelancers Fiverr has to offer.
You don't have to pay extra to use the service
– simply toggle "Pro Verified" in the search filters
on Fiverr's homepage, and you're good to go. You can
find Pro freelancers
in every category from all over the world, and it's easy to hire if you're in Canada. To become Pro Verified, freelancers have to get approval from the Fiverr team. Fiverr reviews their higher education, industry experience, and work examples. If a freelancer is deemed professional and skilled enough, they are given Pro status. The quality assurance is super nice!
Freelancers on Fiverr Pro are usually more expensive than other sellers, but I feel it's well worth the extra cost.
Features
Top Remote Workers. Access the best remote workers on Fiverr, whose quality competes with the other freelance platforms out there. If you're in Canada looking for a remote freelancer, a Pro Verified freelancer is a pretty safe bet.
Experienced Freelancers. Pro Verified freelancers often have big-name industry experience, so you're getting people who are familiar with large organizations.
Free Screening. Fiverr's done the screening process for you, so you don't have to spend time or money double or triple checking a freelancer's reputation.
Fast Delivery. Freelancers on Fiverr Pro are accustomed to working efficiently, and many of them provide faster delivery than other sellers. Some can fulfill your requirements within a single day.
Check out my colleague's
in-depth Fiverr review
to learn more about its cost and features.
Job Availability
Top-performing remote freelancers.
Job Hiring Tools
Thorough screening and application process.
Project Management
Chat and video calls.
Starting Price

$

5.00
Are You Looking to Sell Your Services in Canada?
If you want to get started as a freelancer in Canada, I recommend offering your services on Fiverr. It's a great platform – as we found in our extensive
Fiverr review
. Not only is this a great way to get your foot in the door and start building up your work experience, you also gain access to clients from all over the world.
Signing up on Fiverr is pretty quick and easy to do (and, most importantly, it's 100% free).
To
get started on Fiverr
, simply click the "Join" button in the top right of the homepage. Enter your email or sign up with your Google, Apple, or Facebook account.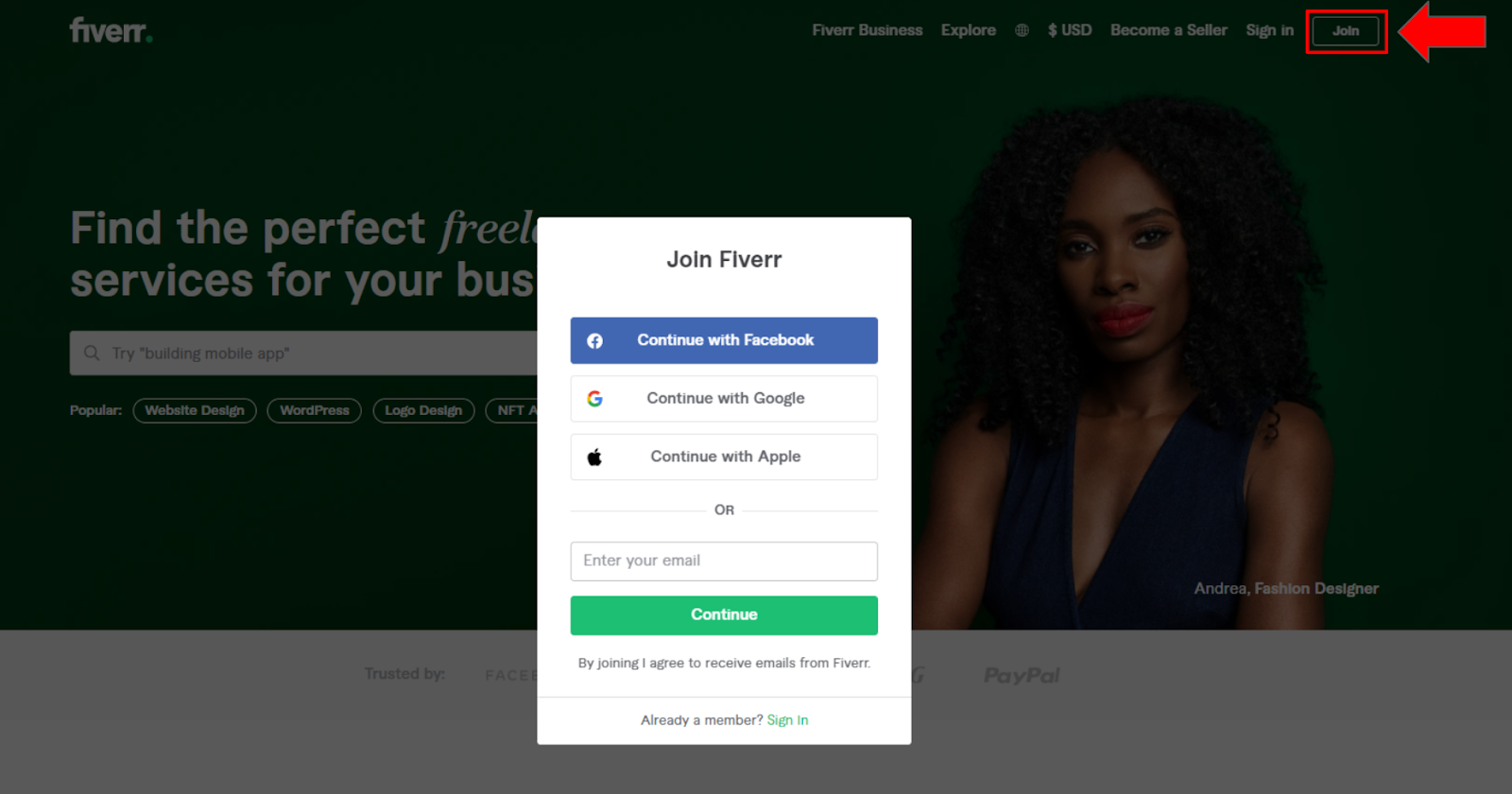 Once you have an account on Fiverr, click your user icon and select "Become a Seller" from the dropdown menu. Then, hit "Become a Seller" again on the next page.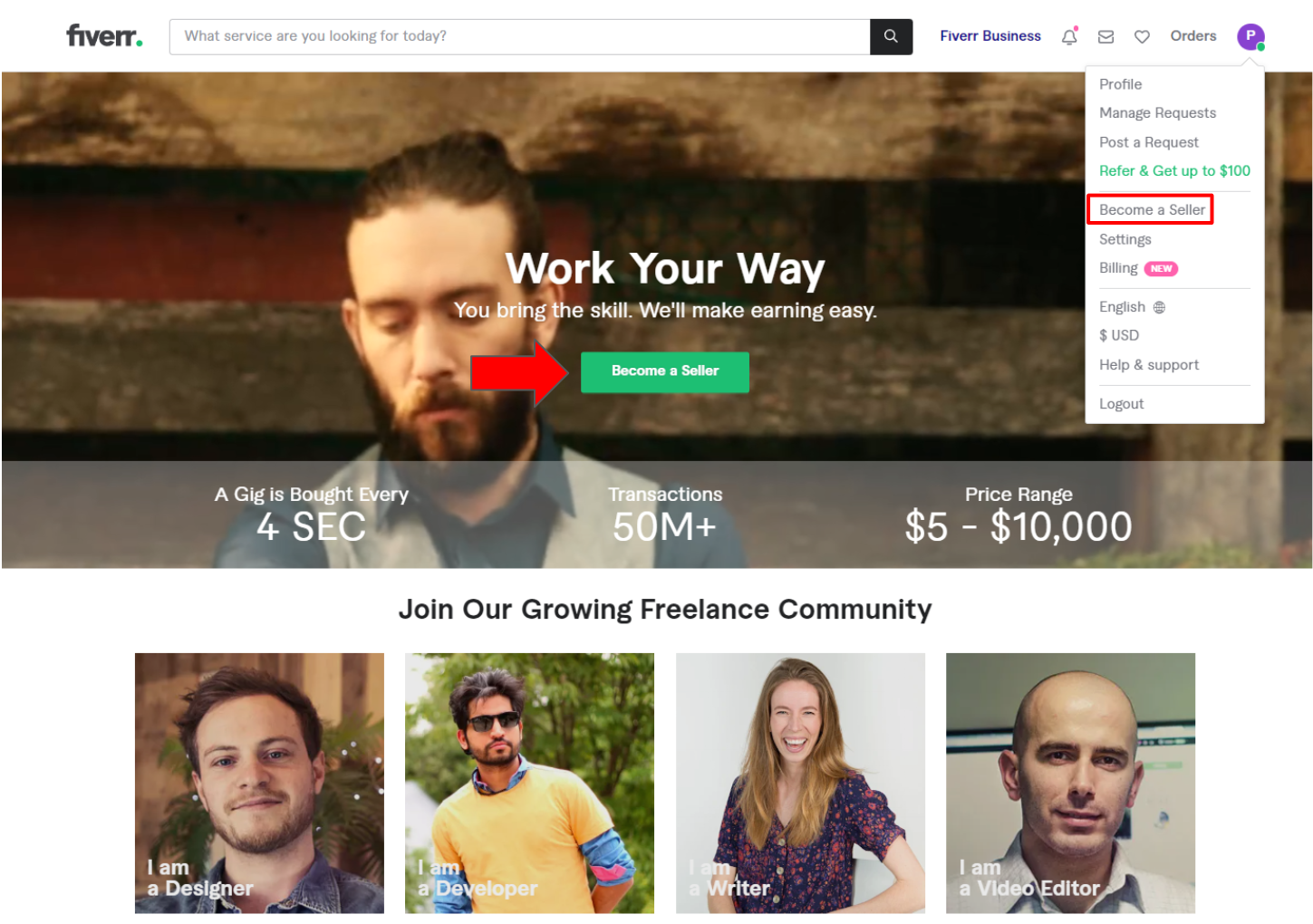 You'll be prompted to fill out your personal and professional info.
This is your chance to sell yourself, so don't skimp out on your strengths.
Now's the time to list any special software or equipment skills you have. Once you finish, your seller account will be active.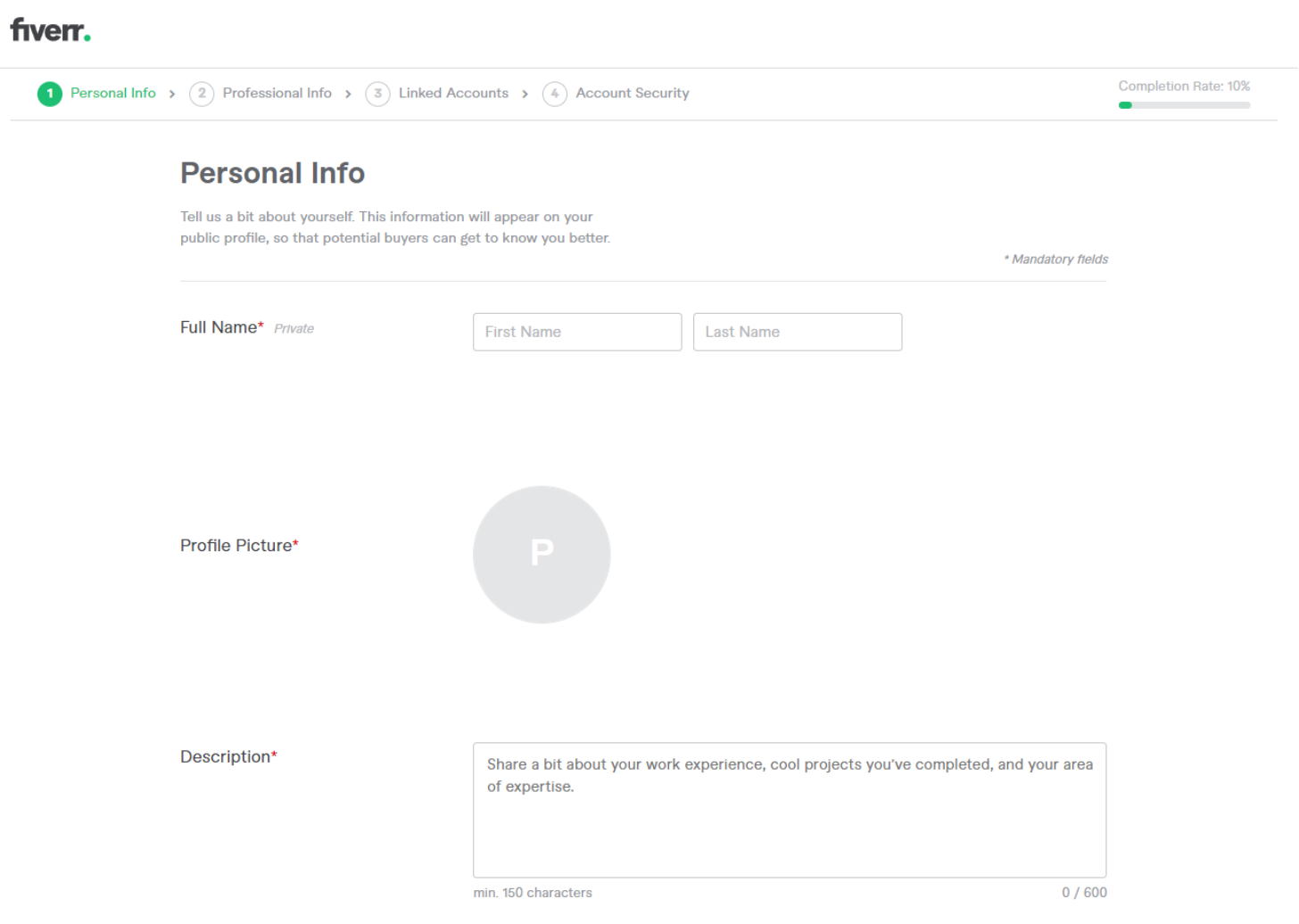 There you have it! You can post your first gig right away. My advice is to pad your portfolio with as much insight into your uniqueness and work experience as possible to attract more clients. If you want more suggestions, check out our article on
finding success as a freelancer on Fiverr
.
What Do I Need to Know to Freelance in Canada?
Good news: if you have Canadian citizenship, you DON'T need a business license to start offering freelance services. There are some exceptions to this, though, depending on your industry. For example, you need a GST number to sell goods online. Here's how to get one:
Gather your info: You'll need your date of registration, fiscal year, total annual income, Business Number (if you have one), social insurance number (SIN), and your personal information.
Register online: Go to the Government of Canada website to begin the registration process for a GST. You can also register via phone or fax.
Manage your account: Register for a My Business Account so you can manage your freelance business.
But what if you're not a citizen of Canada and still want to freelance there? If you're operating in Canada, you'll need one of the following to be able to work legally:
Freelance Services Available in Canada
Whether you're an individual or business in need of a freelancer, you can find high-quality service on any of the best freelance websites in Canada.
However, every freelance site has its pros and cons, and some will suit your needs better than others.
If you're in Canada and in need of remote work,
I recommend my top choice, Fiverr
,
to gain access to every service imaginable. If you care more about quality than budget,
use Fiverr Pro
instead. Or, if you want freelancers for on-site work in Canada,
you can find an expert on Upwork
 instead. If you really want the best of the best and aren't afraid to spend,
I suggest matching with a specialist on Toptal
 for remote or on-site work in Canada. Still not sure? Check out this comparison table to view all the platforms' features side-by-side:
| | | | | |
| --- | --- | --- | --- | --- |
| | Pricing | Best Feature | Best For | |
| Fiverr | $ | Global market of remote freelancers in every niche. | People looking for affordable freelancers or in need of a specific service. | |
| Upwork | $$ | Advanced project management tools. | People looking for experienced freelancers in Canada or available remotely. | |
| Toptal | $$$ | Professional freelancers who've passed a 5-week screening process. | Businesses with a big budget who want the best freelancers out there. | |
| DesignCrowd | $$ | Crowdsourced designs with designers in Canada. | People who need high-quality designs. | |
| 99Designs | $$$ | Easy-to-use contest + hiring tools. | People who want quick and easy designs. | |
| Workhoppers | $$ | Network based in Canada with in-person service. | People looking for on-site freelancers in their area. | |
| Fiverr Pro | $$$ | Verified high-quality freelancers who've passed stringent testing. | People willing to spend extra for top performers. | |
FAQ
Can I work as a freelancer in Canada?
Yes, so long as you either have Canadian citizenship or a valid permit to work there. Here's everything you need to know to freelance in Canada.
Does Upwork work in Canada?
Yes. Not only does Upwork work in Canada, it lets you search for freelancers located in Canada. It's reliable whether you're looking to hire a freelancer or offer your services in Canada. If Upwork doesn't strike your fancy, you can also use any of the top freelance websites we list here in Canada.
Do freelancers need a business license in Canada?
Most freelancers don't need to get a business license to work in Canada. There are some exceptions to this – freelancers who see clients in their home may need a business license to operate.
Where can I hire freelancers in Canada?
You can hire freelancers in Canada on most online platforms. If you need help finding a good place to hire, refer to our pick of the 7 best freelance websites.