there are so many things that can go wrong with free web hosting
. Many free hosts can't afford to give you decent performance or reliable customer support. Storage capacity is usually minimal, and security features are often heavily disregarded. Sometimes they even require you to display their own ads on your site, so
the risks to your online reputation are not negligible
. However,
there are a few free web hosts out there that don't pose as many risks
. As you might expect, they often have strict caps on storage and bandwidth, and they can never offer free domain names because those always involve third-party fees. But other than that, we've found a few options that are worth considering for a hobby project or personal blog. That said, to operate a serious online business, you'll need a paid service.
So you might want to try a web host whose plans are so cheap that they're almost free
. We've tested numerous hosting providers on features, performance, support, and of course pricing – and I came up with a list of 7 hosts that offer free or super-cheap hosting without overlooking quality.
Short on Time? These Are the Best Free or Almost-Free WordPress Hosts in 2023
Hostinger – Cheap WordPress-optimized hosting with free essentials and impressive performance
000webhost – Beginner-friendly provider with a free plan and no forced advertising
WordPress.com – WordPress' own quality hosting with SSL on its free plan
What We Look For in the Best Free and Almost-Free WordPress Hosting Providers
Trustworthy free web hosts are rare, but we did find a few, and we've included some of the cheapest top hosting providers to give you some more reliable long-term alternatives. Here's what we focused on during our search:
Credibility. Each of these web hosts were thoroughly tested by our team, and all are trustworthy, established legal entities with years of experience and millions of users worldwide.
Great value for money. Not only do some of the web hosts on my list have a free plan, but the paid ones have low monthly prices and a lot of freebies, such as domain names, premium plugins, and email accounts.
WordPress-specific features. When you're building a WordPress website, you'll need more than a one-click WordPress install. You'll also need advanced caching, WordPress-optimized servers, and security essentials like SSL certificates.
Ease of use. You can have access to all the features in the world, but if you can't figure out how to use them, it's not worth it. The hosts on my list offer intuitive user interfaces that simplify your WordPress experience.

Hostinger's WordPress plans start at

$

2.99

per month
, and they deliver superb performance for the price. The hosting infrastructure is built around LiteSpeed web server technology and the companion LSCWP caching plugin – which sounds like a lot, but suffice it to say, the performance of your WordPress-based website will be considerably better than with more traditional hosting tech. You can launch a single website with
a very generous 50 GB of SSD storage, 100 GB of bandwidth, and one email account if you choose Hostinger's
entry-level WordPress plan
. The next-level plan costs only a US dollar more per month and allows for up to 100 websites with unlimited bandwidth. If you have several blogs, landing pages, or company brochure sites, this is an ideal option. Hostinger's proprietary control panel – called
hPanel – is similar to cPanel, except many people find it easier to learn and use
. A free WordPress migration tool is also provided, and while it's user-friendly, Hostinger can also arrange for an expert to migrate your existing WordPress website(s) for free.
Hostinger WordPress Hosting
A free domain name is included with some hosting plans from Hostinger
Features
Free SSL certificate. Hostinger includes free Let's Encrypt SSL in all its shared and WordPress plans. You can secure all the websites you create, and the certificate will be renewed automatically.
Effortless WordPress installation. You can choose to have WordPress preinstalled at checkout, or if you can do it easily via Hostinger's Auto Installer app.
Superb performance. When my colleagues tested Hostinger's performance, the results showed an average page loading speed of 1.56s and 99.99% uptime over two months, both of which are very impressive results for shared hosting.
Free domain privacy. Opting for domain privacy means your personal information won't appear in the WHOIS database. Many web hosts charge for this feature, but Hostinger doesn't.
For more performance details, check out our full Hostinger review
.
Free SSL?
✔
Free domain name?
✔
Free plan?
✘
Starting price

$

2.99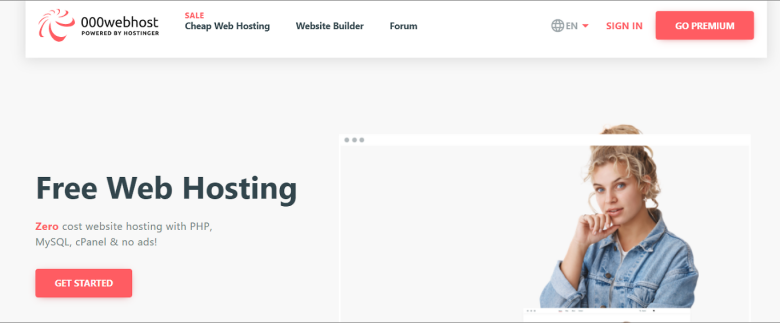 Owned and operated by Hostinger, 000webhost offers four shared hosting plans, one of which is free forever.
The free option
allows you to host one WordPress website
, but you should adjust your expectations as
it has only 300 MB of storage and 3 GB of bandwidth
. Installing WordPress is super-easy.
000webhost has a custom, easy-to-navigate control panel
. Your website can be ready for development in just a few minutes. The same control panel allows you to manage your domains and gives you access to only the essential hosting-related duties and settings. Of course,
you don't get a free domain name with this plan
, but you do get automatic SSL for the subdomain name you create, which will be something like mynewwebsite.000webhostapp.com. If you wish, you can link a domain name you've paid to register elsewhere. Should your project require more resources than the free plan offers,
000webhost (unsurprisingly) gives you the option to upgrade quickly to
Hostinger's shared hosting plans
, which are very affordable and share many of the same features as the WordPress-specific plans discussed above.
Features
No ads. Some free hosting providers require you to display ads to cover their costs. 000webhosts won't turn your website into a billboard.
Capacity for two websites. The free plan actually allows you to create two websites under the same account – and in any case, 000webhost is very clear about the fact that it allows users to set up as many accounts as they wish.
Decent security. 000webhost has a built-in firewall, and DDoS protection is included in all plans, even in the free one. You don't have to worry about the usual security risks accompanying free hosting.
No odd limitations. There are no surprises here in terms of running WordPress sites. Aside from the normal restrictions associated with shared hosting, and the resource caps which are stated explicitly when you sign up, you shouldn't run into any major performance issues with a small site serving a small number of visitors.
We have a full review of 000webhost if you want to learn more
.
Free SSL?
✔
Free domain name?
✘
Free plan?
✔
Starting price

$

0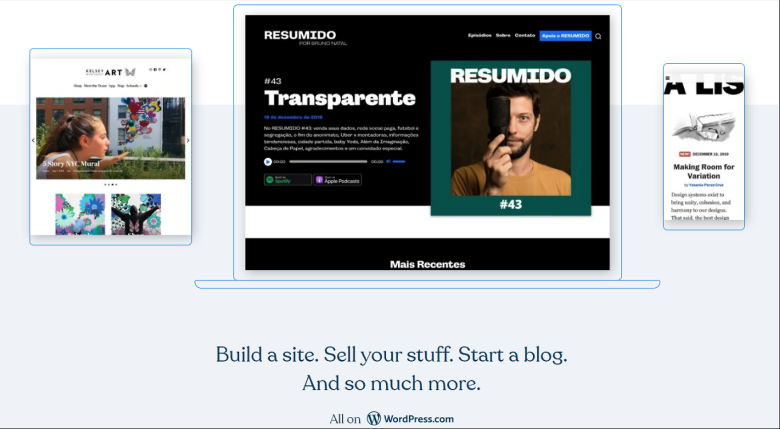 WordPress.com offers one free plan
and four other premium subscriptions that can help you develop and grow your WordPress site. All of that without having to configure or maintain anything with regards to code, servers, or even software updates.
This is essentially the same CMS that you get with a self-hosted WordPress plan
, except that you can't customize the installation or the design of your chosen theme, and you only get a limited (yet useful) range of plugins and themes. Another important point is that
you can't connect a domain name that you've registered elsewhere on the free plan
– you'll have to upgrade to a paid plan for that. You get only 1 GB of storage, although this is more than what 000webhost offers, and of course the WordPress software is already installed when you sign up. However,
there will be ads displayed on your site, and the free plan has no customer support other than the knowledge base
. When the free plan no longer meets your requirements,
WordPress.com has four affordable premium plans
that cater to anything from small businesses to large online stores. They include hosting, free domains, premium themes, optimization tools, and various levels of support.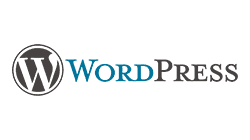 Get a FREE domain + hosting with any WordPress annual plan!
This exclusive offer is only available for your first purchase.
1500 users used this coupon!
Features
SSL certificate. Even if you opt for WordPress.com's free plan, you still get a free SSL certificate from Let's Encrypt on your subdomain, which protects your login details as well as the login details of anyone who subscribes to your site or comments on your blog posts.
Block editor. The WordPress content editor allows you to treat every element of your pages or blog posts as a block that you can drag and drop to build a layout.
No content limits. Although you only get 1 GB of storage, you can have as many pages and blog posts as you like, so if you're publishing text-based content with no images you'll find that you'll have enough room for well over 650,000 average-length posts and/or pages.
Free themes. WordPress.com provides about 150 themes with the free plan. Many are designed for simple blogs, but there are others suitable for a range of different business websites, and most of them are mobile-friendly.
Our full WordPress.com review includes more details
.
| | |
| --- | --- |
| Free SSL? | ✔ |
| Free domain name? | ✘ |
| Free plan? | ✔ |
| Starting price? | $0 |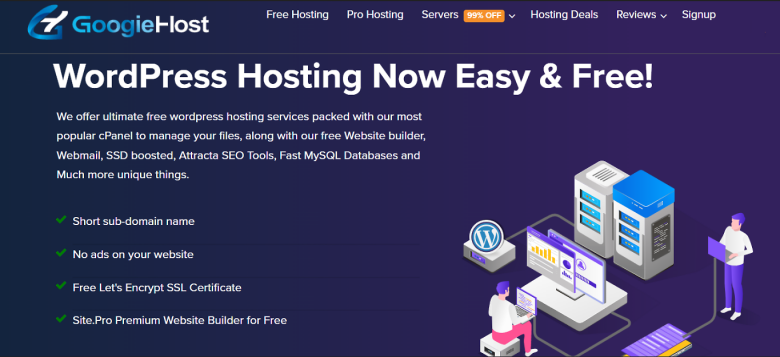 Looking for free WordPress hosting with LiteSpeed web servers?
You may want to try a free plan from India-based GoogieHost.
Like WordPress.com, you get 1 GB of storage, and although bandwidth is capped at 100 GB, this is actually incredibly generous for a free hosting plan. You get the DirectAdmin control panel with the free plan, which some feel is superior to cPanel.
You can easily install WordPress via the usual Softaculous installer.
GoogieHost also advertises a "pro option" that gives you access to unlimited storage and allows you to launch an unlimited number of websites. This option is actually
InterServer's highly-recommended and very affordable shared hosting plan
starting at only

$

2.50

per month
.
Features
Free SSL certificate. GoogieHost includes free SSL certificates from Let's Encrypt, but no free domain name, so you'll have SSL enabled on the subdomain you get.
No ads. GoogieHost won't display ads on your website, unlike many other free hosting providers.
Professional email. GoogieHost's free plan gives you two free email accounts, though there's no point in using these unless you're connecting a domain name you've registered.
SSD storage. It's unclear whether you actually get NVMe SSD storage with the free plan, but it is at least SSD.
Read our full GoogieHost review to learn more
.
Free SSL?
✔
Free domain name?
✘
Free plan?
✔
Starting price

$

0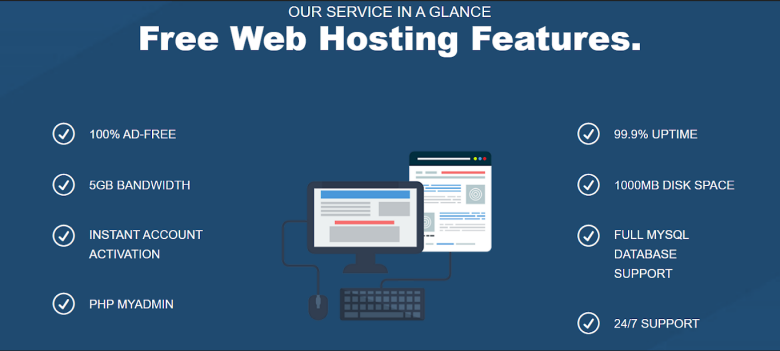 You get a pretty standard 1 GB of storage and 5 GB of bandwidth with AwardSpace, but
the most amazing thing about the free plan is that it offers 24/7 support
. Support agents don't respond as quickly as they do on the paid plans, but the fact that support is even available is remarkable. AwardSpace has a proprietary control panel, and a custom CMS installer called Zacky Installer that doesn't allow you to install very much, but
it does allow you to install WordPress in under five minutes
. You can install one website based on a domain name you've paid to register elsewhere, and you can also install another three sites based on subdomains of your primary domain name. However,
the big downside with AwardSpace's free service is that it doesn't offer or allow for SSL certificates at all
, which reduces it to a potentially useful, but ultimately non-professional, testing or learning platform.
A free domain name is included with some hosting plans from AwardSpace
Features
No ads. AwardSpace is yet another web host that doesn't display any ads on the website you create using its free services.
99.9% uptime. It's nice that there's a standard of service, but as this is a free hosting plan, don't expect any sort of compensation if you experience downtime.
Email account. You're allowed to create one email account with AwardSpace's free plan. You can send up to 31 emails and receive 3000 emails per month, and the storage is limited to 50 MB.
Track record. AwardSpace has been offering free hosting alongside its paid services since 2003, and has a very good reputation in the industry, which must count for something these days.
If you're interested in learning more, read our full AwardSpace review
.
Free SSL?
✘
Free domain name?
✘
Free plan?
✔
Starting price

$

0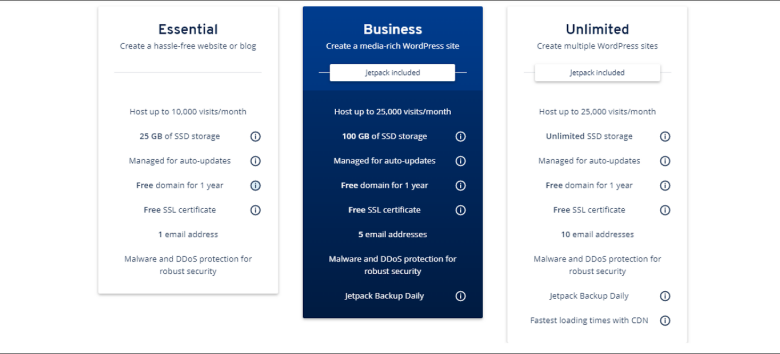 IONOS has three WordPress plans
, and the price starts at just
$
1.00
if you're a first-time customer and you choose an annual subscription. The entry-level plan supports up to 10k visits per month and has 25 GB of SSD storage. There really aren't many premium features, but all the essentials are included.
A free domain name for a year and a wildcard SSL certificate are included in all of IONOS' plans.
You can secure one domain and all its subsequent subdomains, making it ideal for a WordPress Multisite installation. And, like Hostinger, IONOS doesn't charge for domain privacy, so you save some money there too. Email addresses are also supplied, the number depending on which plan you select. While other vendors might give you a wider range of features, and better pricing in the long run,
if you're looking to save money in the beginning, IONOS should suit you well
.
A free domain name is included with some hosting plans from IONOS
Features
WordPress Setup Assistant. IONOS makes things easy for beginners by including setup assistance. You answer a few questions about your future website, and you get help choosing a theme and the recommended plugins.
Full-page caching. Whenever a visitor accesses your website, the server caches any dynamic WordPress pages, leading to a 30% enhancement in loading speeds. This improved performance stems from the server delivering data straight to the browser, eliminating the need to make inquiries to the database.
Strong security. IONOS' plans include a DDoS shield, malware protection, daily backups, and easy recovery. All these tools monitor your website's traffic and scan for threats.
Cloudflare Railgun CDN. Only available with the top-level WordPress plan, this feature delivers faster loading pages to audiences that are not in close proximity to your chosen data center in the US or Europe.
Check out our full IONOS review for more information
.
Free SSL?
✔
Free domain name?
✔
Free plan?
✘
Starting price

$

1.00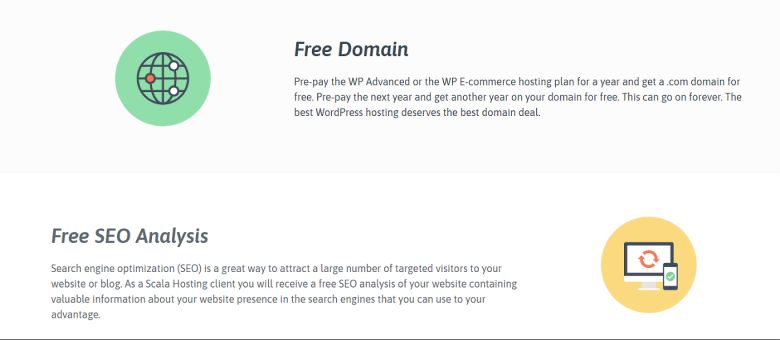 The catch with Scala Hosting's shared WordPress plans is that you have to commit for 3 years to get the most out of your money. The prices are a little higher than some other budget hosts, but
Scala Hosting offers unlimited bandwidth and unlimited email accounts
even with its entry-level plan. All other plans allow for unlimited websites as well.
Scala Hosting will also give you a free domain name for one year
, and free SSL for the duration of every plan. If you're a budding developer or hobby coder,
you'll get support for Git, Perl, Python, WP-CLI, and SSH access
, even with the shared hosting plans. You can clone and stage WordPress sites with all plans as well.
A free domain name is included with some hosting plans from ScalaHosting
Features
Daily backups. All WordPress plans include daily backups which are each kept for seven days.
Money-back guarantee. If you're nervous about making a long-term commitment for the best price, keep in mind that you'll have 30 days to test the plan of your choice. You'll get a full refund if it doesn't work for you.
Free migration. If you're just looking for cheaper hosting for an existing site, Scala Hosting will move your WordPress site(s) to their platform for free.
Redundancy. Scala Hosting's entire network has redundancy built in, which simply means that your website data is unlikely to ever be lost as it will always be duplicated somewhere.
For more details, read our full Scala Hosting review
.
Free SSL?
✔
Free domain name?
✔
Free plan?
✘
Starting price

$

2.95
Conclusion: Whether It's Free or Free-ish, Pick One That Gives You What You Need
Ultimately, you should weigh what suits your project best. If you are operating a personal blog or embarking on a new website venture, the free web hosts discussed in this article will suffice. However, if you have grander aspirations, paid hosting will become necessary at a certain juncture.
You should go with Hostinger if you're on a tight budget
but you want the perks of paid hosting. It's the cheapest option in the long run. On top of that, it's beginner-friendly and delivers top performance. If you want to spend no money but still have an ad-free website,
you might want to give 000webhost a try
. It has its limitations, but it's completely free. And if you don't want to handle anything tech-related,
choose WordPress.com
. It's standard free WordPress from the makers of WordPress, with basic themes but no significant customizations allowed. You won't need to get involved in the technical side of hosting at all – just sign up and blog. Here's a quick summary of our best free and almost-free WordPress hosting providers.
Standout feature
Free domain name?
Uptime guarantee
Starting price
Hostinger
Best value, solid performance
✔
99.9%

$

2.99

000webhost
100% free and no ads
✘
None for free plans, but claim 99.9%

$

0

WordPress.com
Non-tech hosting from creators of WordPress
✘
None, but downtime extremely rare
$0
GoogieHost
Generous bandwidth
✘
None for free plans, but claim 99.9%

$

0

AwardSpace
24/7 support with the free plan
✘
None for free plans, but good reputation

$

0

IONOS
Great discounts, beginner-friendly
✔
99.99%

$

1.00

Scala Hosting
Unlimited bandwidth on entry-level plan
✔
99.9%

$

2.95
FAQ
Which free hosting is best for WordPress?
I don't usually recommend free web hosting for WordPress because it's often of poor quality, and WordPress needs good quality hosting to run reliably. However, the free hosting providers above will get you started with the most basic WordPress hosting possible. Then, if you want to get serious with your online project, you can move up to one of the recommended budget providers.
Does WordPress have free hosting?
The WordPress software you download from WordPress.org is a CMS (content management system) and you need a hosting plan to build a public website with it. Automattic, the creators of WordPress, offer free plans on WordPress.com with a somewhat limited version of the official WordPress software.
How do I host a WordPress website for free?
You can host a WordPress website for free if you use one of the free web hosts described above. However, a WordPress website with a lot of content, a decent amount of traffic, or advanced features generally requires more resources than a free plan offers, which is why I recommend you go with a top-quality budget host like Hostinger.
Can I host my own website for free?
Technically, yes. Hosting providers like 000webhost offer free hosting forever. However, that's not suitable for an online business, because a successful WordPress website will soon exceed the resources offered by a free host. So, while you can host your own website for free for a short period, you'll eventually have to upgrade to paid hosting.