seem
 like the possibilities are endless – but that isn't the case. After building two successful e-commerce businesses, I've learned a lot. And I can tell you that
some templates can straight up hurt your conversion rate
, while others will improve it. Sure, that flashy design may give your e-commerce site a professional look, but can also make templates slow to load, and take your customer's attention away from your products and services.
I've rounded up the best WordPress themes for online stores
, as well as a few excellent templates from my favorite website builders. If you want something that will really set your online store apart from the competition, I'm going to give you my biggest tip on
how to get a great custom theme for an incredibly low price
. Let's get started!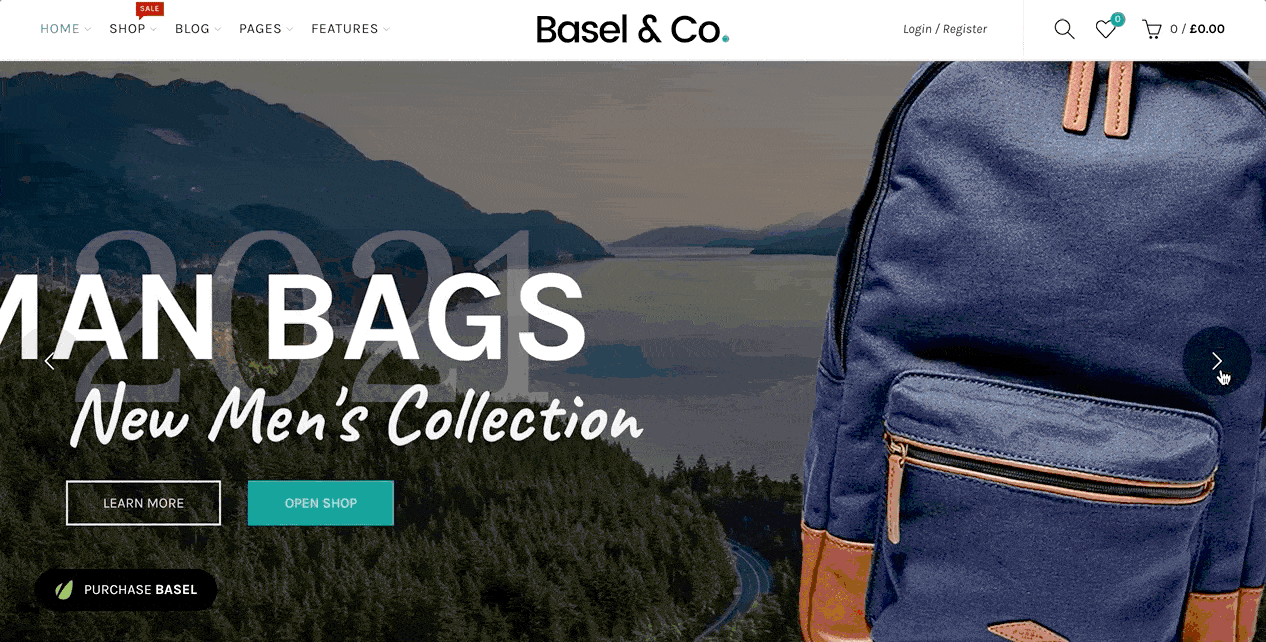 With so many e-commerce themes available through
ThemeForest
, picking one to place above the others was challenging.
I made my choice based on a combination of visual appeal, ease of use, and functionality. And I do love this template. Here's why. First, it looks great.
Basel's
 homepage
includes slide-in visuals of text and images
showcasing your brand. The product galleries are modern and minimalistic, making it perfect for trendy casual wear. Its default black, white and turquoise color palette is engaging without drawing attention away from your products. The typography is a readable
mix of formal and casual
 fonts which combine to create a contemporary feel that makes one think of back-to-school sales.
Basel
allows you to choose between 40 different storefronts that can be installed with just one click. Other features I like:
Multiple product display layouts to choose from
Exit pop-up to capture customer emails
Customers can add products to a "wish list" to purchase later
Customers can add products to cart directly from catalog pages
And the theme looks great on mobile too.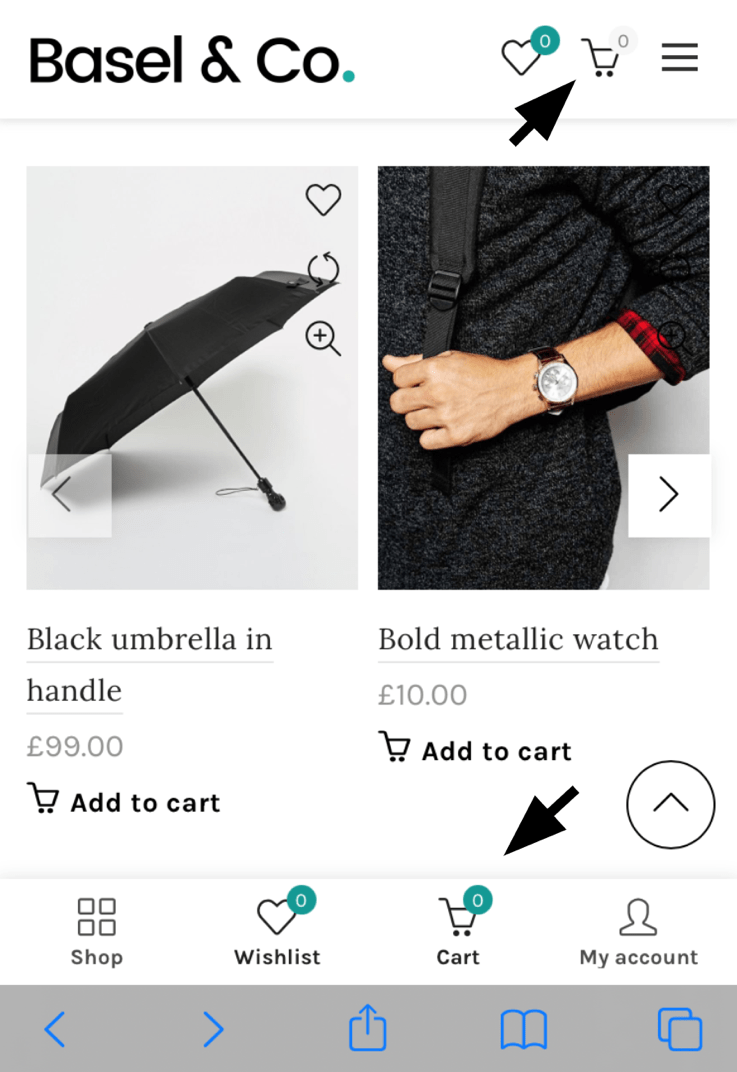 Finally, the cart is always visible to your customer, reminding them to complete their purchase.
This theme is available through
Template Monster
. Its yellow, grey, and black colors make one think of power tools, appliances, and home improvement. This is consistent with its
minimalistic, no-frills layout
 of the product galleries – galleries that are best suited for hardware over fashion apparel. The fonts have the same "let's get down to business" feel as the layout as they draw your attention straight to product features and discounts available.
Hypernova
 comes with
features already built-in
, which will save you a ton of time and energy. They include:
A built-in filter function so customers can filter their product search by brand, color, or other variants
A built-in upsell section on product pages, showing similar/related products to increase AOV (Average Order Value)
Built-in trust badges to increase customer confidence
This theme also includes a review section on the product pages.
Product reviews give potential customers the confidence that they're purchasing something that is truly worth their money.
With most themes, you would have to purchase a plugin to have a
product review section
 on your product pages, but with
Hypernova
 it comes built right into the theme.
Website Builder Templates
There are several benefits to using established website builders and their templates over WordPress, or other open-source CMS platforms.
The
templates are easy to customize
 with drag-and-drop editing, without having to code. In fact, you don't need any site-building experience at all. This frees you to focus on what's most important: Marketing your product. The best builders also
include SEO marketing tools, email marketing, and built-in apps
 that won't crash your site (if you've worked with WordPress before, you know this can be an issue with third-party plugins). The following templates are from builders that can do almost everything that WordPress can do.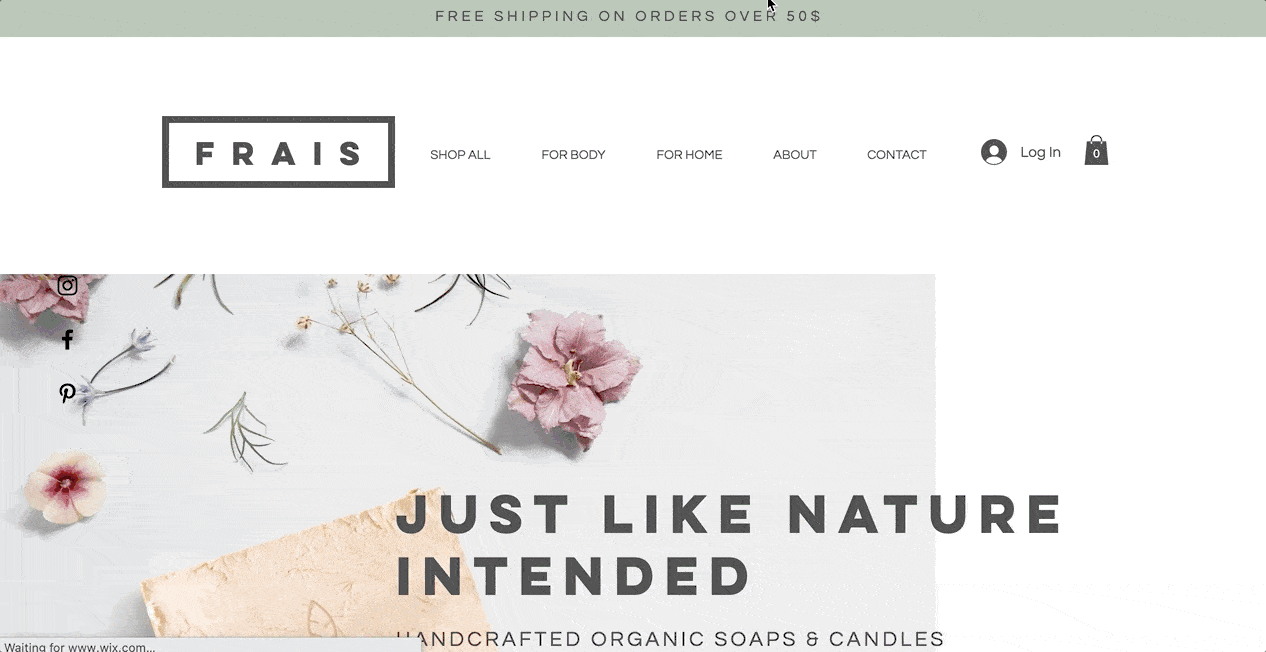 While you don't need to sell soap and candles to use this template from Wix, it is
great for crafters and other small online stores
 where visuals are front and center. Its soft green and charcoal grey color scheme draws you in without distracting from the large high-res product photos and videos. Its typography is bold and easy to read without being overbearing, and its asymmetrical layout gives it a contemporary feel which is perfect for the modern artisan. Your ever-present
social media links (available on basically all Wix templates) remain clearly accessible
 throughout, and the homepage includes a gallery showcasing photos from your instagram feed, which is great for social media marketing. This template boasts more than just beautiful design, as it also comes with some great features. For example, your customer can select a quantity of an item and add it to their cart without the extra step of visiting a product page. The fewer clicks, the better. If one too many clicks are required to make a purchase, you can quickly end up with countless abandoned carts. Finally, it also includes a chat feature so that your customers can speak to you in real time.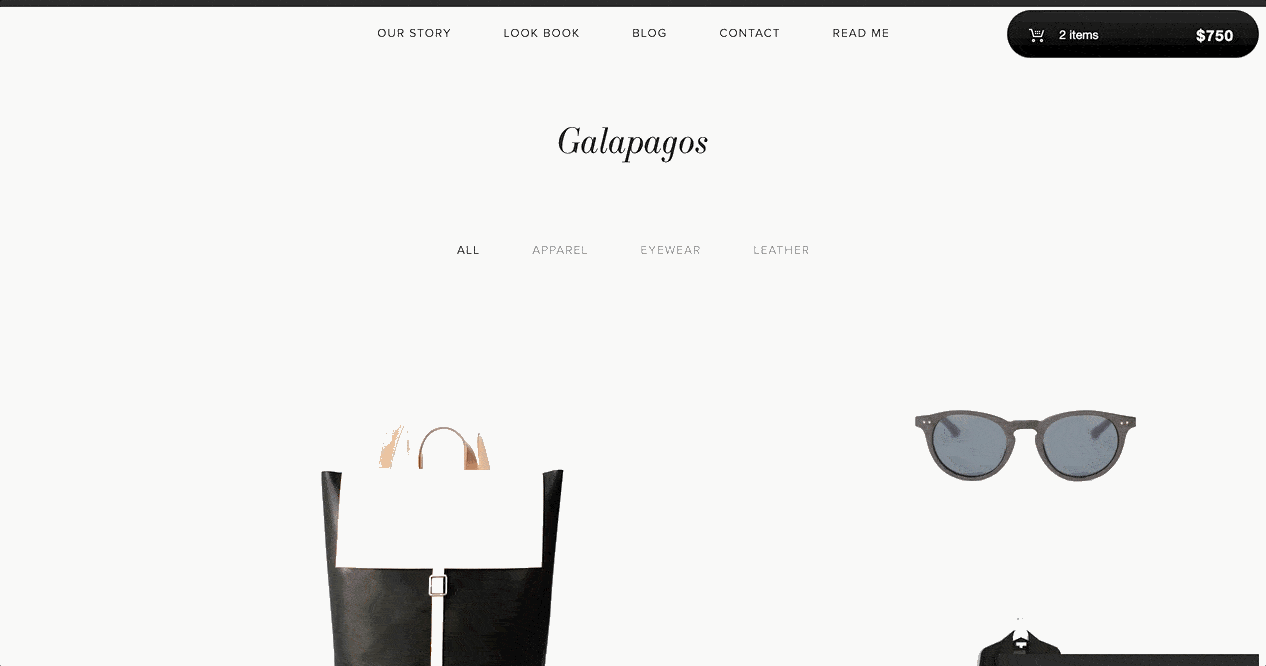 Squarespace is known for its
clean and minimalistic templates
. And this one is no exception. Your products are immediately displayed in a modern asymmetrical layout which includes different image sizes to show off your products. Its charcoal grey on white color scheme denotes
simplicity and style
. And its easy-to-read typography suggests a hint of elegance, which combines to make this template
perfect for higher-end fashion
 items.
Galapgaos
 hides your products' prices until the visitor hovers over an item (or taps it, if they're viewing your site on mobile). I like this feature because it allows your customers to decide if they like an item based on how it looks, without being distracted by its price. Once they've added a product to their cart, the floating cart button floats over the site reminding them to complete their purchase – without making them wonder how to find their cart or interrupting their shopping.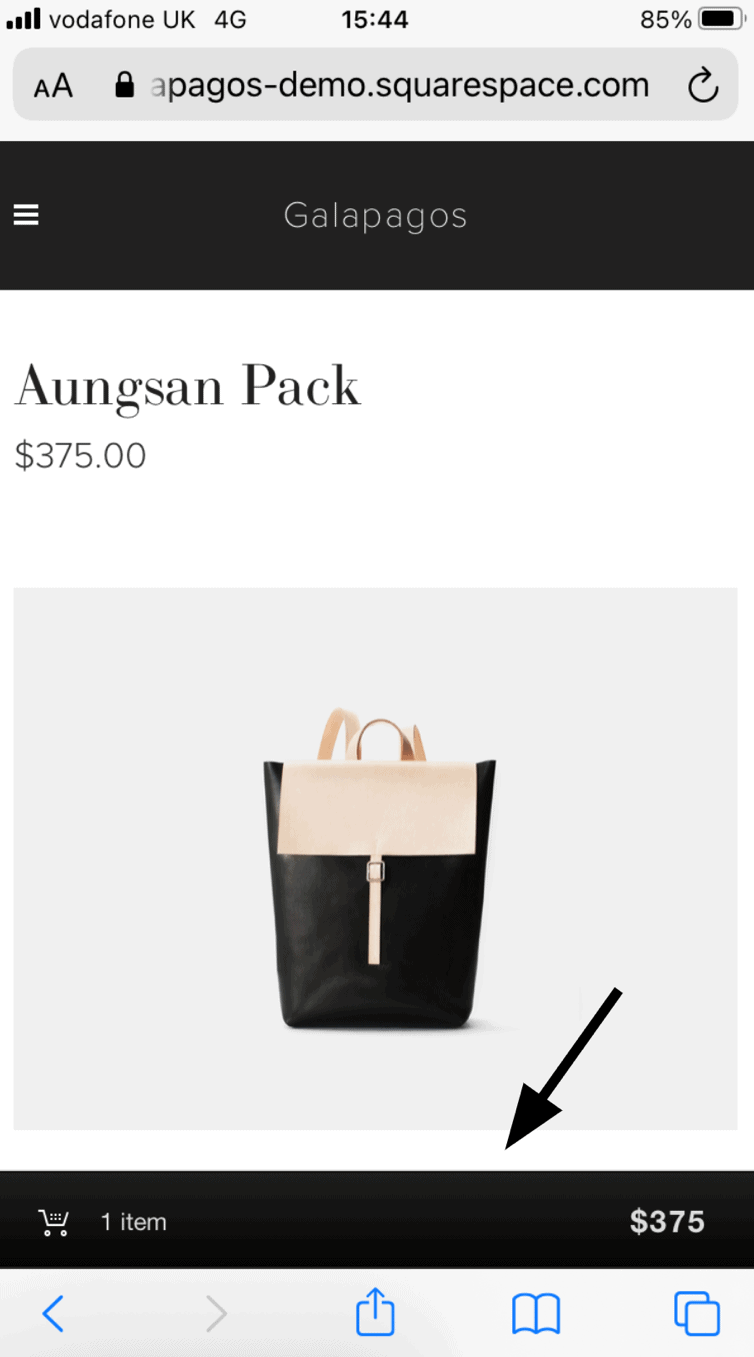 The floating cart button is present on the mobile version as well, which is a nice touch.

This Shopify theme was originally designed for online clothing retailers, but it turned out to be
ideal for any store that depends on its engaging product images
 for sales. The space for images is large enough, even on mobile, to display your products without compromising image quality. And the simple, contemporary style places your customers' attention firmly on your products and collections. Like most
Shopify themes
,
Brooklyn
 also features:
A slideshow in the header to showcase products or deals
The option to add a video to your homepage to share your brand story
A dynamic product grid, which automatically changes the layout of product images based on the number of items displayed.
Another feature I like is that it has
a slideout cart
that allows your customers to add items to their cart without having to leave a product's page. Fewer clicks means a better shopping experience.
SITE123's
Backyard Eden
 template visually stands out thanks to its parallax scrolling combined with its shark grey and dark green color palette. Rather than flashy fonts, this template has gone for
classic typography which has a mature and reliable feel
. Together with its testimonials section, these elements combine to create a great template for home and garden focused shops. When picking an
e-commerce template on SITE123
, it may look like there's a wide selection. But they're basically the same template with some variations in appearance and layout. Still, whichever storefront you choose, they
are
 good e-commerce templates. Why?
First, they all include "Quick View."
This is always a good option as it allows your customers to have a closer look at the product, and potentially make a purchase, without visiting another page – it opens a window on the catalog page instead.
Second, they all include a "Related Products" section on each product page.
This is an essential upselling feature required to make those additional sales – it suggests relevant products to your customers so you can increase your AOV (Average Order Value).
How to Get a Custom Template for a Great Price
If you're building your own brand, you may want to
consider a custom-made template
. This way you can have something that is unique, and which, hopefully, saves you time – as you won't have to make your own customizations to get a template to look the way you want. Instead, you can have it designed to your specs, right from the start. Now you're thinking, "Wait, aren't designers expensive?" Not necessarily. You can
 find a professional designer for a great price
on Fiverr. When I first heard about this I was sure it was too good to be true, but then
my teammate used it to find video producers
 to help me create ads for my products, and I was quite impressed. There are so many different freelance categories on the site, you could even
hire someone to develop your entire WordPress site
. There are plenty of
freelancers on Fiverr
 that will design a great template for your e-commerce business. And, because there is so much price competition on Fiverr, you can find a high-level designer at a very reasonable price. Here's a couple of examples.
Ahsanaslam91
is a website developer with plenty of positive reviews. He is a Level 2 Seller on Fiverr and in order to get this distinction, you need to maintain a 4.7 star rating over 60 days and have delivered at least 50 orders. That's pretty impressive – a Level 2 Seller is definitely someone I'd trust.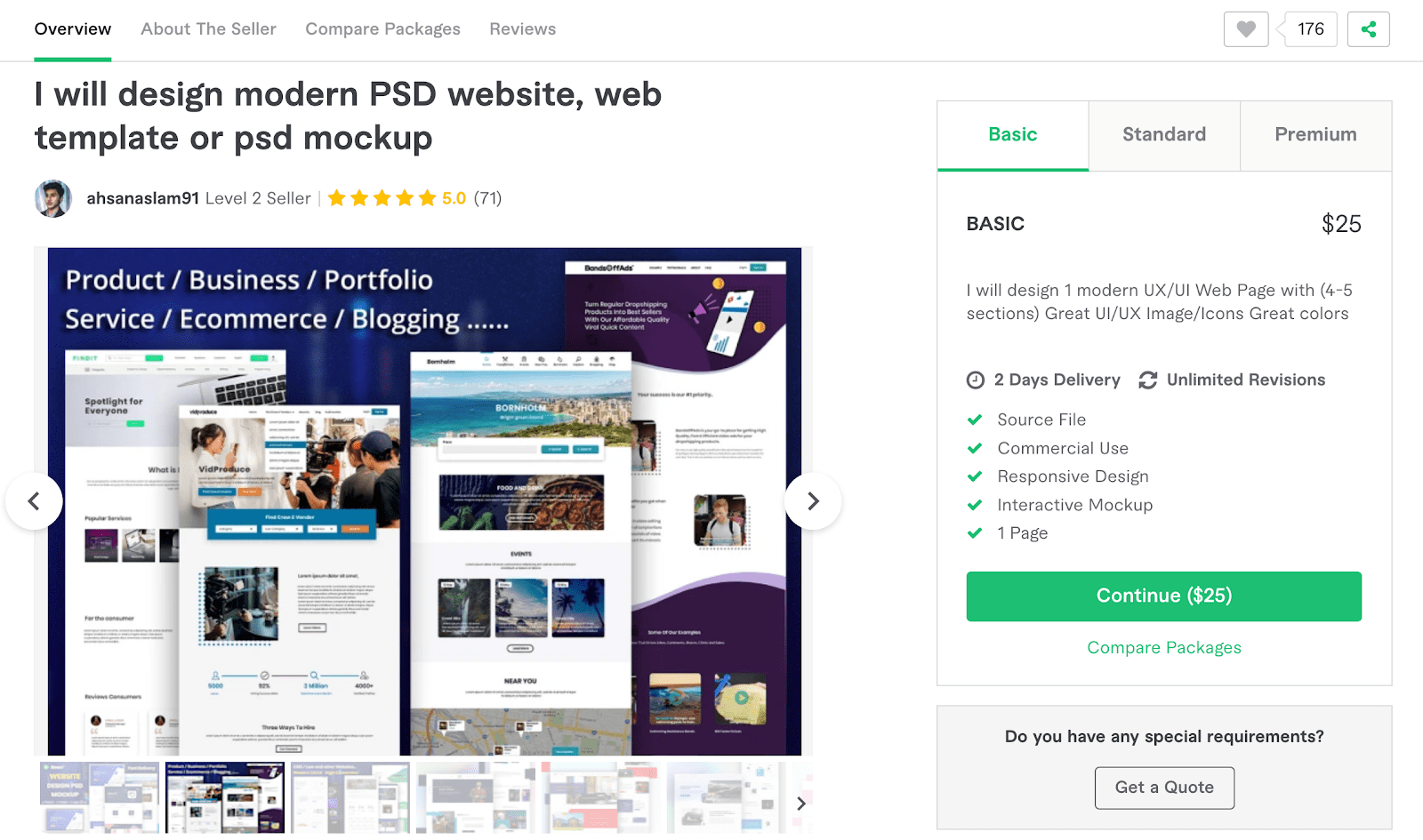 Ahsanaslam91 promises delivery in just two days with as many revisions as required. This is pretty awesome given that he isn't just a programmer. He's a certified graphic artist and web developer with plenty of UI/UX design experience. Even his Premium package is still reasonable compared to hiring an agency. That said, if you would like to spend less, consider
Wasiq_iqbal
. He's also well-reviewed and will design a WordPress theme for your e-commerce site for an incredibly low rate.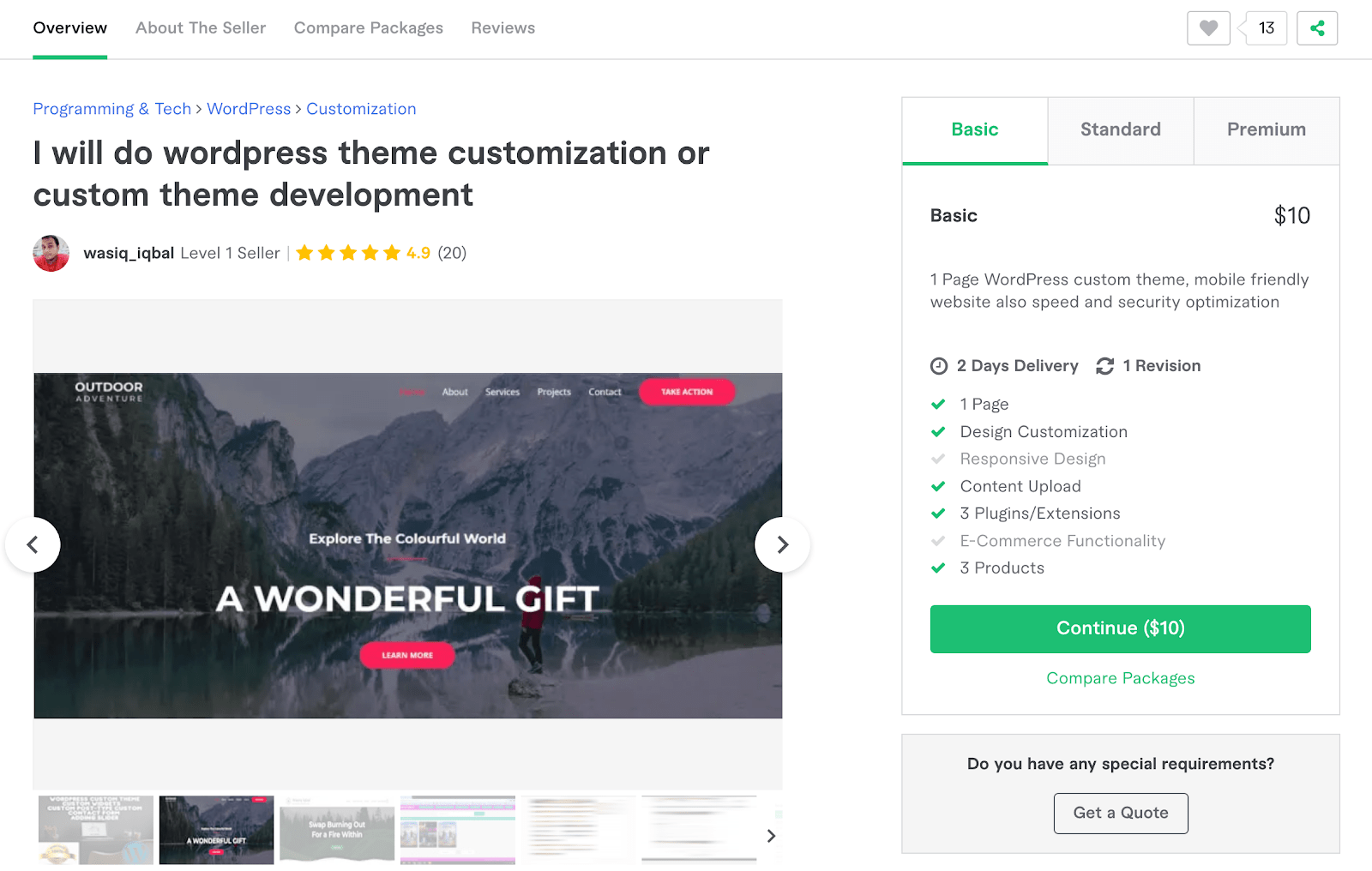 This Basic package price is a great value considering that Wasiq_iqbal isn't just a certified WordPress developer, but has a masters degree in computer science as well. He also has a reputation for being very fast and responsive to his clients. Even his Premium package, which includes a custom, six-page, mobile-responsive WordPress theme, delivered within just eight days, is a totally reasonable price. Don't underestimate the talent on Fiverr. Even if you decide to use a pre-designed template for one of the popular website builders,
you can hire a freelancer from Fiverr to customize it for you
.
The Right Template Could Improve Your Sales
Picking a template can seem challenging, especially if it's a third-party template that will require you dropping a few dollars. There's always the concern that you'll pick the wrong one. But
the templates I've described are easy to use and to customize
 to your specific e-commerce needs. While you will need to sign up to a paid plan to start selling, you can try several of the templates I've described for free.
Wix has a free plan
to start, and
Squarespace offers a 14-day free trial
. So, experiment with them and see which template will best serve you and your future customers.
FAQ
Which website builder is best for e-commerce?
It depends on your wants and needs. There are a bunch of website builders that have excellent e-commerce offerings, including something that will work for every store. Take a look at our comparison of the best website builders for e-commerce in 2023.
How do I build an e-commerce website from scratch?
My first response to this is, "Why would you?" But if you're serious about building an e-commerce website from scratch, you're going to need to learn how to code or pay someone to build it for you. That said, if you want a site that's truly unique, I recommend getting a custom one built by a freelancer on Fiverr. You won't have to break the bank and the website can be built to meet the unique requirements of your brand.
What is the cheapest e-commerce platform?
To answer this question, it's important to consider not only price, but also value for money. Both Wix and SITE123 offer free plans, which could be enough for you if you just want to promote (but not sell) your products. This is also a good way to text out the editor and templates. If you decide to upgrade to a paid plan, just make sure you take advantage of any current discounts or coupons.
Is Shopify better than Wix?
This depends on the size of your business and your sales volume. If you have a few products, or even a single product, Wix is better. First, because it's cheaper. But also because it's a full website builder which makes it ideal if you're using content such as blog posts and video to market your products. On the other hand, if you're building a larger online store, or if you anticipate having a massive sales volume, you may want to choose Shopify. Shopify is a dedicated e-commerce platform with built-in features and over 2,800 apps available to help you meet almost every conceivable e-commerce need. For more information on both builders, check out our expert review of Shopify, and our expert review of Wix.