most providers do not properly optimize their servers to run WordPress sites.
If you want your WordPress site to load quickly – even during traffic surges – cloud hosting is a must. Unlike shared hosting, cloud hosting allows server resources to scale along with your growing audience.
If you expect to build a site that is going to grow, or have variable traffic flows, you'll need the robust scalability of cloud infrastructure.
So we spent weeks testing all the best cloud hosting providers for WordPress sites. In the end, we found 8 hosts that offer the quality and reliability you're going to need.
Each offers unique features that will suit different websites,
and at least one of them is bound to be what you're looking for.
Scala Hosting came out on top thanks to its user-friendliness and great value,
making it the best all-around option regardless of your level of experience. You can sign up for Scala Hosting today, or keep reading to find out which other hosts made the cut.
Short On Time? These Are the Best WordPress Cloud Hosts for 2023:
Scala Hosting

– The best cloud hosting for beginners; great value for money.

Kinsta – Easy to use, with unmatched speed and reliability.
A2 Hosting – Unlimited websites and solid performance.
What We Look For in the Best Cloud Hosting Providers for WordPress
Every WordPress-specific hosting provider claims it gives you everything you need for your site, but that's simply not true. Hosts on this list had to meet the following criteria:
WordPress optimization. Just because a provider offers WordPress hosting doesn't mean its performance and features are designed specifically for WordPress. I looked for hosts that have optimized and configured their services for the world's most popular CMS.
Speed and reliability. Top technology means top performance, which translates to faster loading speeds, better uptime, and happy site visitors.
Scalability. If your business grows, and your visits increase, you want to be able to scale up to meet your resource needs.
Included features. Some hosts give you more features for your money – specifically, more WordPress-centric features – and you want to be sure you get the best and most useful tools from the provider you choose.
Ease of use. Even if a WordPress cloud hosting provider checks all the other boxes, finding a service that's easy to use will ensure you aren't wasting time trying to figure out its account management interface.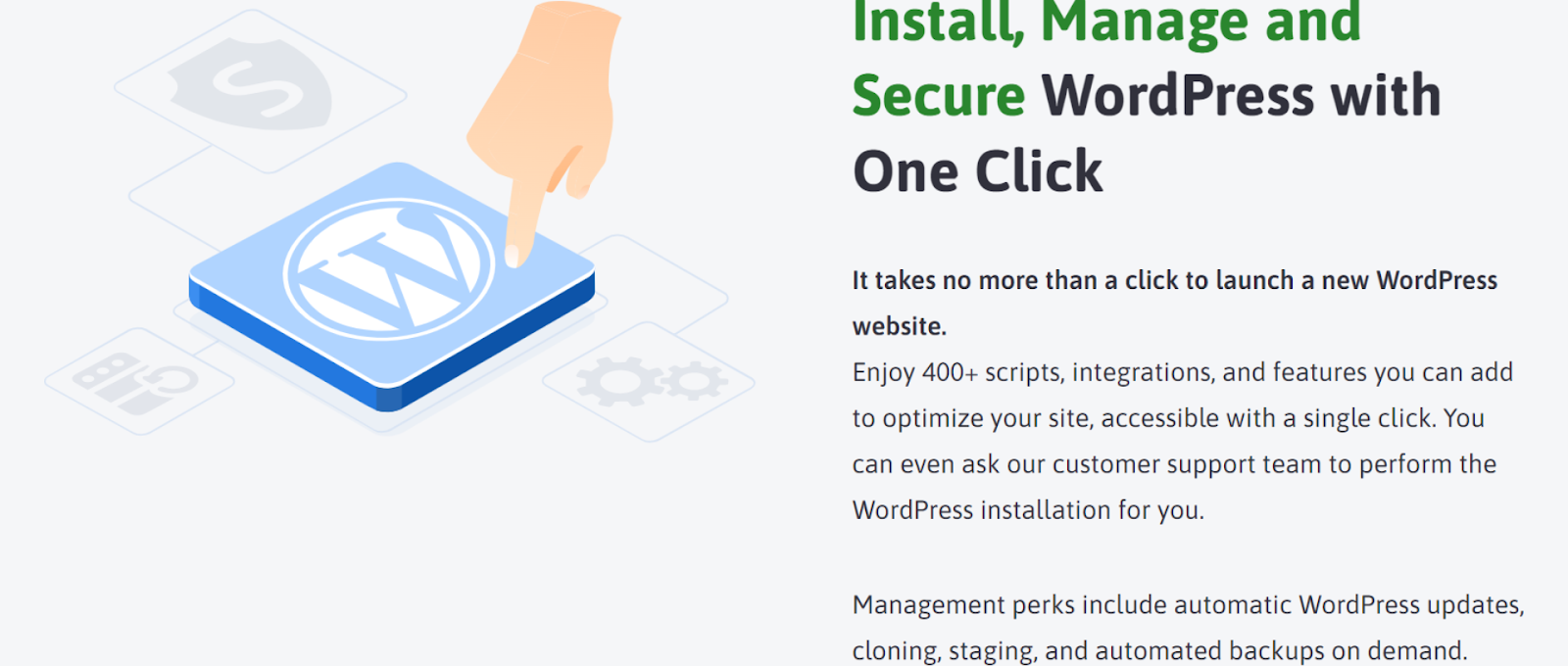 Scala Hosting makes the top of this list thanks to its fully-managed, WordPress-optimized cloud VPS plans.
This is the ideal host if you're just getting comfortable making the leap from shared hosting to cloud hosting,
as the support team will help you every step of the way. Not only that –
Scala Hosting offers a user-friendly and intuitive control panel
to help you navigate through setup and maintenance with ease. Scala's WordPress plans provide much more than just back-end fine-tuning for better WordPress performance (though to be fair, that's not nothing).
You also get a ton of extra features like free security scans,
one-click installers for WordPress plugins, and specialized tools for search engine optimization (SEO). If you're ever dissatisfied with your service,
Scala offers an unconditional, "anytime" money-back guarantee
. Which is how you know it has confidence in the quality of its service.
Scala Hosting WordPress Hosting
A free domain name is included with some hosting plans from Scala Hosting
Features:
SPanel.

Scala Hosting's proprietary SPanel offers a more user-friendly and intuitive way to handle your hosting needs while retaining all the functionality of cPanel. 

LiteSpeed caching plugins.

Scala Hosting includes a wide variety of LiteSpeed caching plugins to maximize your site's performance.

Free SEO analysis.

You can get one $49 value SEO analysis at any point, giving you important information to help your website grow.

Dedicated IP address.

Scala gives you your own IP address for your site, which can do wonders for SEO listings and email deliverability.
Read our expert Scala Hosting review for more details
.
Control panel
SPanel (proprietary)
Number of sites
Unlimited
SSD storage space
50GB to 250GB
Bandwidth
Unlimited
Uptime guarantee
99.9%
Starting price

$

2.95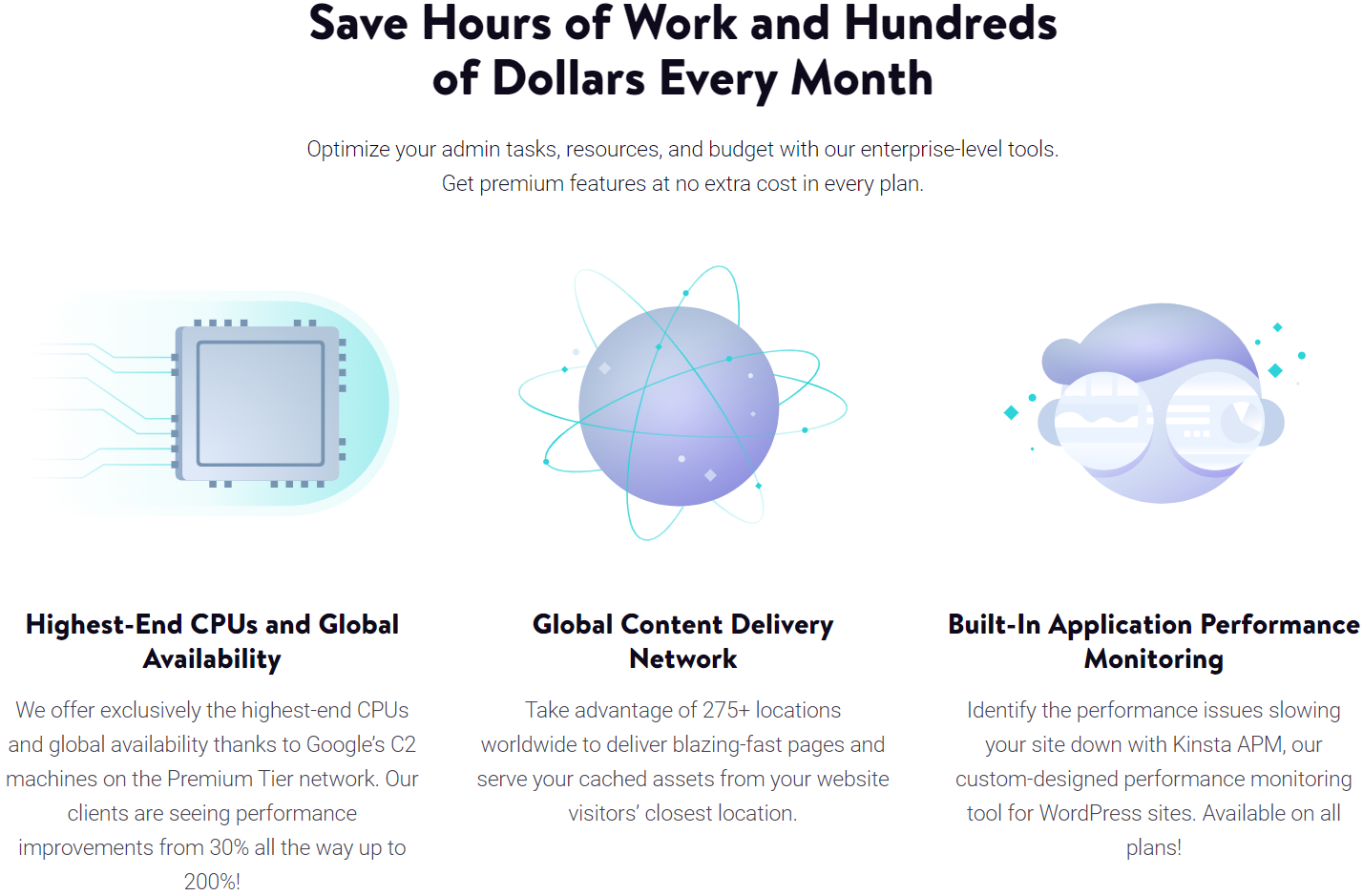 Kinsta earns a high spot on this list thanks to its outstanding page loading speeds and reliability for WordPress sites.
It's also super-easy to use. Its control panel was designed for beginners, but it has all the tools a web developer requires. However, while it is beginner-friendly, Kinsta is not budget friendly; it's one of the most expensive providers on our list. But if you can afford it, the performance alone is worth the extra coin. There are a wide range of Kinsta plans to pick from.
The starter plan gives you 10GB of storage, and allows for one WordPress install with up to 25,000 monthly visits.
From there, a range of plans will provide up to 150 WordPress installs, 250GB of storage, and 3,000,000 monthly visits. And every plan comes with the same base features, including daily backups.
Features:
25 data center locations and a CDN. Part of what determines loading speed is how close your visitors are to your server, so Kinsta lets you choose from 25 Google Cloud Platform data centers around the world. And to ensure peak performance for visitors who don't live near your chosen data center, it gives you access to KeyCDN's content delivery network.
MyKinsta control panel. The easy-to-use MyKinsta account dashboard is configured and optimized for WordPress. It tracks visitor stats, bandwidth usage, and response time, and gives you the ability to create, move, or stage sites.
Autoscaling. Kinsta makes sure your website will be able to handle traffic surges by automatically scaling your CPU and RAM to meet the needs of your growing visitor base. This is one reason why its 99.9% uptime guarantee is more than just a guarantee – it's a reality: my colleague recorded 100% uptime during his four-month test.
"Hack fix" guarantee. Kinsta proactively updates its software and monitors its entire network to prevent malicious activity, but if your website somehow does get hacked, Kinsta guarantees a support engineer will restore it to perfect working condition.
Check out our in-depth Kinsta review for more details
.
Control panel
MyKinsta (proprietary)
Number of sites
1 to 150
SSD storage space
10GB to 250GB
Bandwidth
25,000 to 2,500,000 monthly visits
Uptime guarantee
99.9%
Starting price

$

35.00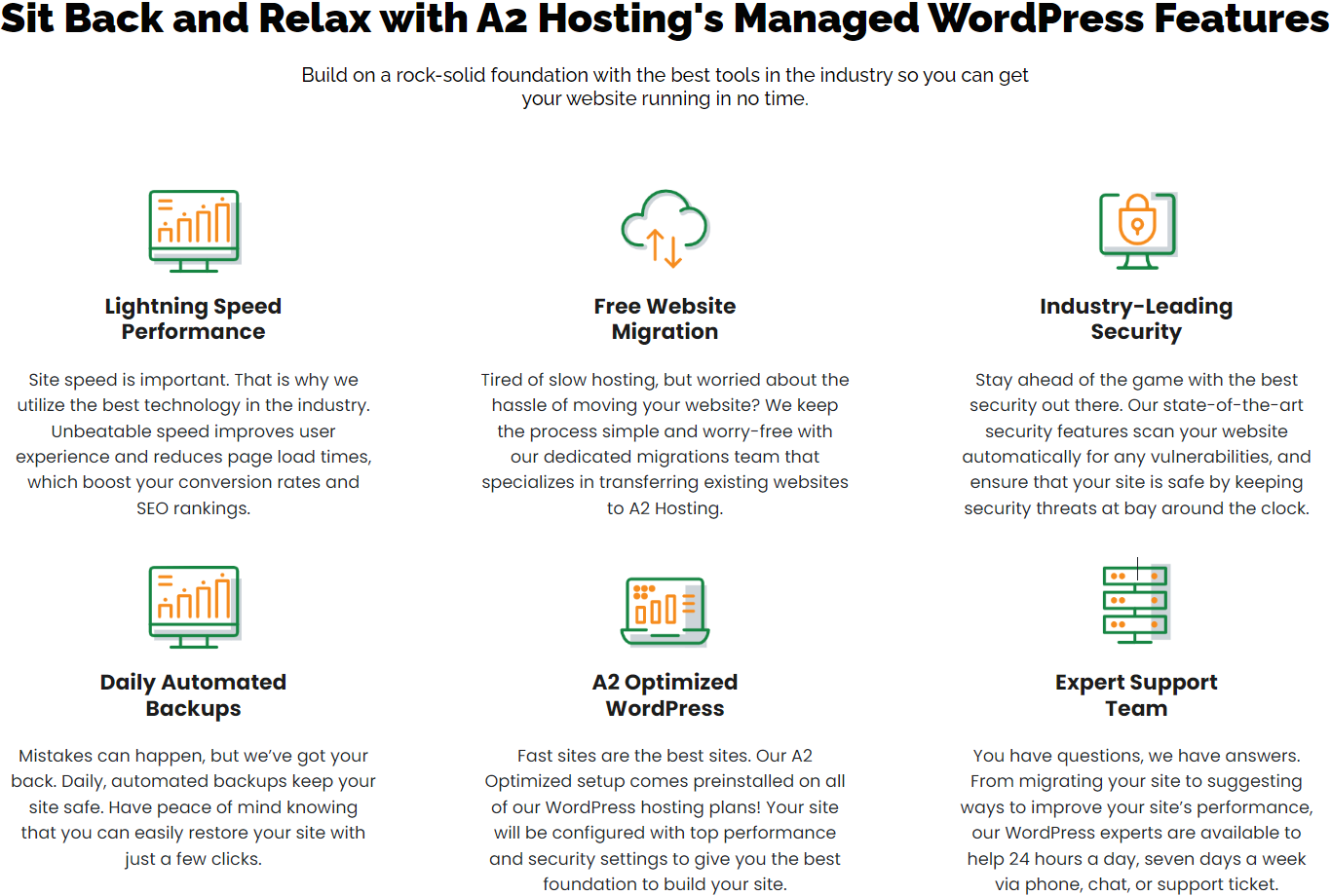 A2 Hosting's
managed WordPress hosting plans
 are built on cloud infrastructure and designed specifically for WordPress. Its LiteSpeed-based
SwiftServer hosting platform enhances loading speeds, so it's one of the fastest options for cloud-based WordPress hosting
.
A2 Hosting gives you outstanding features for hosting an unlimited number of websites
, though you have to pay for its top plan, which only includes 40GB of SSD storage. If you don't opt for unlimited websites, you have two other plans to pick from: the 1-Site or the 5-Site.
You'll get the same features regardless of which plan you choose
, including free SSL and CDN compatibility, but the lower-tier plans come with fewer resources. Despite a limited number of plans and low storage capacities, A2 Hosting is one of the best in terms of features and performance.
A2 Hosting WordPress Hosting
Features:
Automatic WordPress updates. A2 Hosting won't debug WordPress functionality or maintain third-party plugins, but it makes sure you always have the latest WordPress version.
A2 Optimized Site Accelerator. A plugin that uses three different caching technologies for faster speeds: the proprietary Turbo Cache, OPcache, and Memcached.
Single-click site staging. Easy-to-use staging lets you create a development copy of your site so you can test and update it before you take changes live.
Free Jetpack personal license. Jetpack is a plugin with resources to help you design, grow, and secure your website. It includes Photon Unlimited Image CDN, automatic daily backups, brute force attack protection, malware scanning, and more, but this license only covers a single URL.
Read our expert A2 Hosting review for more details.
Control panel
cPanel
Number of sites
1 to unlimited
SSD storage space
10GB to 40GB
Bandwidth
Unlimited
Uptime guarantee
99.9%
Starting price

$

11.99

InMotion Hosting has some of the lowest-priced managed WordPress hosting on our list, and it provides more features than most.
All plans include unlimited email accounts, a free CDN, an advanced security suite, configurable caching, and more
.
One of the things that sets InMotion Hosting apart is its offer of unlimited bandwidth
, so you never have to worry about your transfer rate. But despite unlimited bandwidth, it does cap your monthly visitors, starting at 20,000 with the entry-level plan.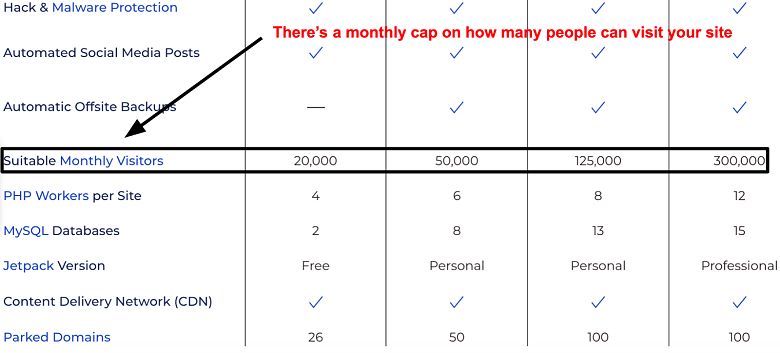 InMotion Hosting's managed WordPress hosting is great for beginners, especially those in the US, as both its data centers are located there.
There are four WordPress plans to pick from (and four VPS plans). Paying up for the higher-priced plans to get the best InMotion Hosting has to offer is still less expensive than a lower-tier plan with the most expensive hosts on our list.
InMotion Hosting WordPress Hosting
Features:
Free drag-and-drop site builder. The BoldGrid WordPress-integrated site builder makes building your website simple. It looks good, is easy to use, has over 200 compatible templates, can integrate with WooCommerce, and includes SEO plugins.
No plugin restrictions. Speaking of plugins, you can install absolutely any plugin you want. Not all hosts give you this much freedom.
Marketing tools with every plan. One thing InMotion Hosting does that most others don't is give you free marketing tools that include advertising credits and customer management tools.
90-day money-back guarantee. While most hosts offer a 30-day money-back guarantee, InMotion Hosting gives you 90 days to decide if it's the host for you. And if you decide it isn't, cancellation is easy.
Check out our expert InMotion Hosting review.
Control panel
cPanel
Number of sites
1 to 6 (or more on VPS plans)
SSD storage space
50GB to 200GB
Bandwidth
Unlimited; 20,000 to 300,000 monthly visits
Uptime guarantee
99%
Starting price

$

4.99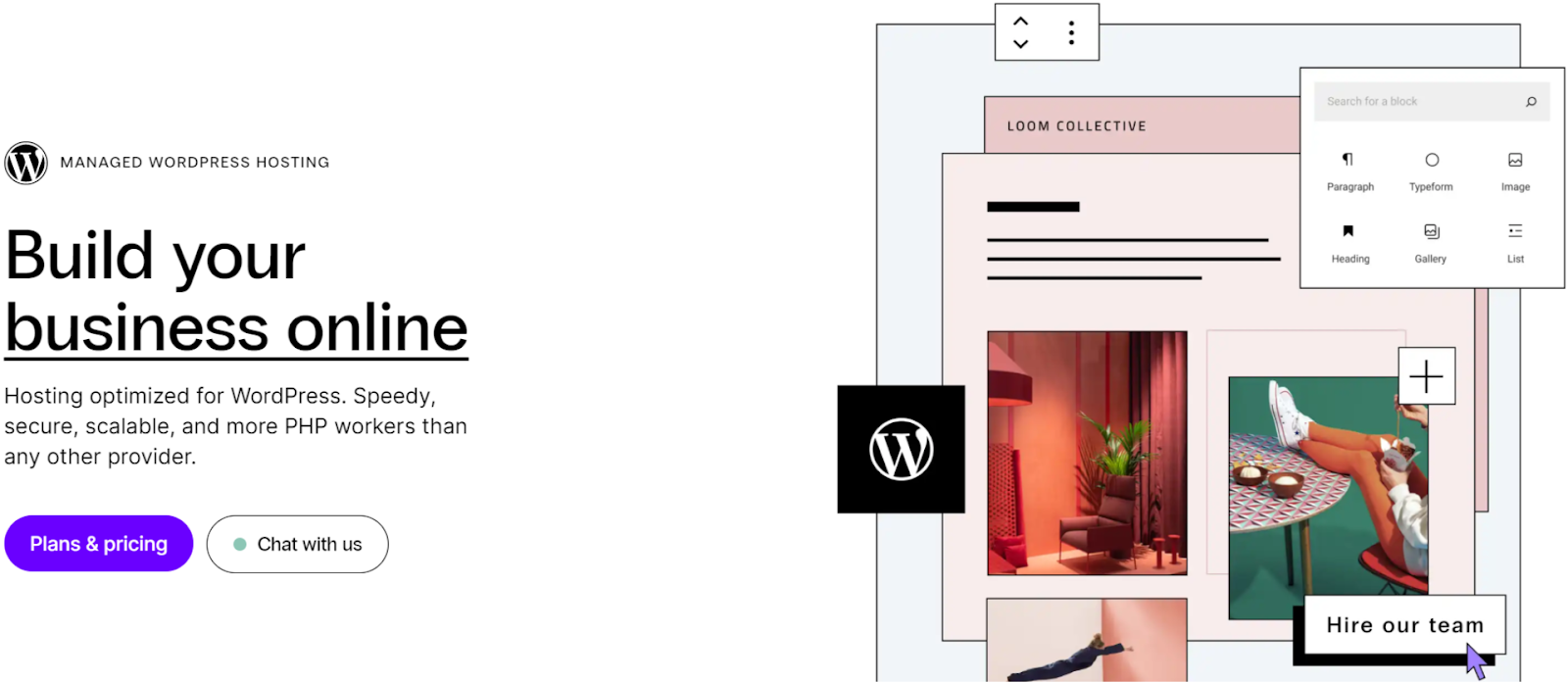 Nexcess is
a great cloud hosting option for WordPress if you're an intermediate-level user who isn't afraid of tech with a learning curve
. This is still managed hosting, so the heavy lifting is done for you, but Nexcess' proprietary control panel isn't as user-friendly as, say, Scala Hosting's. With Nexcess you get
a ton of features, fast speeds, 22 global data centers, a CDN, and a 100% uptime guarantee
. A bold offer, and I have to say, we didn't encounter any uptime issues in
our tests
. Nexcess offers plans to suit businesses big and small, whether you have a single site with steady traffic or you're an enterprise goliath that needs a boatload of websites and resources.
Its top plan offers 800GB of SSD storage, yet prices are lower across the board.
Nexcess WordPress Hosting
Features:
Stencil Sites. So you've set up a site you love with a custom WordPress theme, a hand-picked set of plugins, and a few other bells and whistles, and you wish there was a way to easily copy and use this infrastructure to build another site. Good news: that's exactly what Stencil Sites lets you do.
Extensive WordPress-specific updates and features. Nexcess offers managed WordPress core and plugin updates with visual regression testing to ensure they don't break your site. It also offers a single-click site staging feature, a premium image compression plugin at no extra charge, and the Nexcess CDN.
Automatic daily website backups. It may sound basic, but not all WordPress cloud hosting providers offer free backups. Nexcess will back up your site(s) daily and keep each backup for 30 days.
Multiple user accounts. This is a fairly unique feature – you can give collaborators different levels of access to your hosting account.
Read our expert Nexcess review for more details.
Control panel
Nexcess Client Portal (proprietary)
Number of sites
1 to 250
SSD storage space
15GB to 800GB
Bandwidth
2TB to 10TB
Uptime guarantee
100%
Starting price

$

12.67

SiteGround is a good option if you're on a budget, as it offers some of the lowest prices in the industry. It isn't generous with resources, but all plans give you a solid set of features, including
unmetered bandwidth, free SSL, CDN access, unlimited email accounts, a site migration plugin, and the usual managed updates for WordPress core and plugins.
The entry-level StartUp plan gives you just one website, 10GB of storage, and 10,000 monthly visits, but the higher-priced plans
 are worth a look, as they allow for unlimited sites and offer more resources and features.
If you're looking for an entry-level plan, I'd consider InMotion Hosting instead, as SiteGround's StartUp is pretty bare bones.
Two things SiteGround has going for it are its platform's ease of use and its NGINX web servers
. I'll go into more detail on some of the easy-to-use features below.
SiteGround WordPress Hosting
A free domain name is included with some hosting plans from SiteGround
Features:
WordPress Starter. A great tool for beginners, this plugin walks you through choosing a theme and installing features, such as contact forms and e-commerce functions.
Site Tools control panel. Other hosts on our list also have proprietary control panels, but SiteGround's is one of the better ones. It looks good, is clean and simple to use, and is optimized for WordPress.
SiteGround Migrator. Install this plugin on your existing site at another host to enable migration to your SiteGround hosting account. It's a great tool for simple websites, but not so great if the site you want to migrate is complex.
Collaboration tools. If you subscribe to a higher-level plan, you can add collaborators to any of your sites, give them each their own client areas, and transfer a site from your account to another SiteGround client. For developers, the highest-priced plan allows you to provide white-label access.
Read our expert SiteGround review for more details
.
Control panel
Site Tools (proprietary)
Number of sites
1 to unlimited
SSD storage space
15GB to 40GB SSD
Bandwidth
Unmetered; 10,000 to 100,000 monthly visits
Uptime guarantee
99.9%
Starting price

$

1.99
With WP in the name, it's no surprise
WP Engine exclusively offers hosting plans optimized for WordPress
. Its platform is built upon Google Cloud and AWS servers to give you a reliable hosting experience.
This is a great provider if you're a developer or agency that wants creative tools and high-level performance
but doesn't need high-level resource limits. If you're a beginner or intermediate user, there are easier-to-use and more budget-friendly options out there. And while WP Engine is one of the higher-priced hosts on our list, it doesn't offer a lot of resources for your money. WP Engine offers four sets of plans (Managed, Managed Plus, Secure, and Ecommerce), each of which gives you four plan options with the same base resources, but different features.
The Startup plan in each set provides 10GB of storage, 50GB of bandwidth, and 25,000 monthly visits for a single website.
With Plus plans, you get automatic updates. With Secure, you get increased protection for your site and your customers. And with Ecommerce, you get WooCommerce-specific features.
Features:
EverCache technology. WP Engine claims its proprietary caching tech can handle "hundreds of millions of hits per day." It automatically caches static content to keep your sites loading at peak speed.
Three hosting environments. Lots of WordPress cloud hosting providers offer site staging, but WP Engine goes even further and gives you separate development, staging, and production environments for each of your sites.
Geotargeting. Aiming specific content at your audience based on their location seems pretty standard in 2023, but not all WordPress cloud hosts offer this as a service. WP Engine does, with the proprietary GeoTarget plugin. You can show or hide content based on IP address location, including switching to local languages and currency.
60-day money-back guarantee. It's not the 90 days you get with InMotion Hosting, but WP Engine's 60-day money-back guarantee is doubly as generous as most WordPress cloud hosting providers.
Check out our in-depth WP Engine review for more
.
Control panel
WP Engine User Portal (proprietary)
Number of sites
1 to 30
SSD storage space
10GB to 50GB
Bandwidth
50GB to 500GB; 25,000 to 400,000 monthly visits
Uptime guarantee
99.95%
Starting price

$

20.00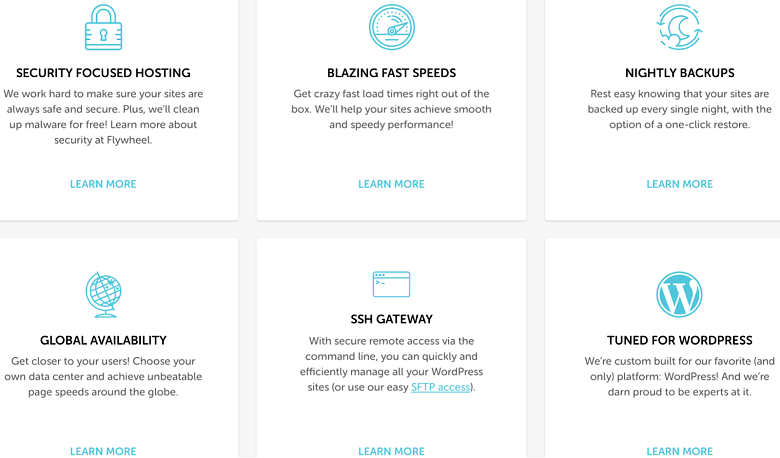 Some WordPress cloud hosting providers have attractive, easy-to-use control panels, but none of them are as user-friendly as Flywheel.
Flywheel packs developer-level functionality into an intuitively-designed dashboard
that's so easy to learn, my grandmother could use it. And it's designed and optimized specifically for WordPress.
Flywheel is powered by Google Cloud Platform, so it's fast, reliable, and secure, and it can ramp up resources instantly if your traffic surges.
It also includes plenty of standard hosting features, such as nightly backups, automatic WordPress updates, and much more. Flywheel markets itself as the best option for busy creatives, but
it's good for anyone from single-site bloggers to agencies.
When my colleague tested it out, he gave its features, ease of use, and performance near-perfect scores. But there's one rub against it: although it's one of the highest-priced hosts on our list, it doesn't offer an explicit uptime guarantee.
Flywheel WordPress Hosting
Features:
Auto-healing technology. Reliability is critical. Flywheel initiates automatic diagnostic processes if there's ever a PHP service failure, keeping your site healthy and running.
FlyCache custom caching. No configuration necessary – this proprietary caching tool is optimized for the most popular WordPress themes and plugins and designed to reduce your site loading times.
Fastly CDN. In addition to your choice of GCP server location, Flywheel gives you premium access to the Fastly CDN, so your visitors will get top speeds and performance no matter where they are.
Blueprints. A development feature that will save a "blueprint" of your existing site's themes, plugins, and configuration so you can quickly and easily use it as a foundation to set up new sites rather than having to start from scratch.
Read our expert Flywheel review for more details
.
Control panel
Flywheel dashboard (proprietary)
Number of sites
1 to 30
SSD storage space
5GB to 50GB
Bandwidth
20GB to 500GB
Uptime guarantee
No
Starting price

$

13.00
How to Choose the Host That Suits Your Specific Needs
We've signed up for the services, we've run the tests, and we've narrowed down the eight best WordPress cloud hosting providers out there. But which one is right for you? If you're just migrating to cloud hosting from shared hosting, and you need flexibility and reliability for beginners, then
you can't do much better than Scala Hosting
.
If you want the best host for speed and reliability, Kinsta is king
. Its platform is super-easy to use, but it's also the most expensive. Need performance on a budget?
A2 Hosting gives you good speeds and unlimited websites
 at a much lower price than Kinsta. If you want a quick glance at how our hosts fared against one another, take a look at the comparison table below.
WordPress Optimized
Max SSD Storage
Uptime Guarantee
Starting Price
Scala Hosting

✔

250GB

✔

$

2.95

Kinsta

✔

250GB

✔

$

35.00

A2 Hosting

✔

40GB

✔

$

11.99

InMotion Hosting

✔

200GB

✔

$

4.99

Nexcess

✔

800GB

✔

$

12.67

SiteGround

✔

40GB

✔

$

1.99

WP Engine

✔

50GB

✔

$

20.00

Flywheel

✔

50GB

✘

$

13.00
FAQ
Why is it better to have hosting optimized for WordPress?
Complex WordPress sites with premium themes and a lot of plugins can be sluggish on a regular server. When you choose a cloud hosting provider that claims to be optimized for WordPress, you should get a web hosting software platform designed specifically for WordPress, and specialized support that can help you with any specific issues. Some of our favorite hosts, like Scala Hosting, also offer unique extra features to make your WordPress site even better, such as LiteSpeed cache optimization plugins or automated backups.
Which is the best web host for WordPress cloud hosting?
There are plenty of different hosts that offer outstanding features for the WordPress CMS. Personally, I prefer Scala Hosting for its flexibility and options for growing your hosting with your site's audience.
Which is the cheapest cloud hosting service for WordPress?
Honestly, if you try, you can probably find some hosting service that claims to offer cloud hosting for WordPress for next to nothing. But those types of hosts tend to be poor quality at best, and straight-up scams at worst. While it's not ridiculously cheap, A2 Hosting offers outstanding managed hosting for WordPress at competitive prices.
Is managed WordPress hosting better than unmanaged?
It depends on how tech savvy you are, how much control you want, and the size of your budget. Unmanaged WordPress hosting is cheaper – it often gives you root access to the server so you can develop from the ground up. But if you don't know what "root access" is, chances are that you'll be better off with managed hosting. Managed hosting of the type offered by Kinsta lets your provider take care of server setup and maintenance so you can focus on your site and your business.