Finding cheap Windows Server hosting you can actually rely on can be a struggle. Because of Microsoft's licensing fees,
Windows hosting is always going to be more expensive than hosting with free, open-source Linux
– even if you're getting a similar set of resources and features.
However,
you can still get a good deal on Windows hosting if you know where to look
. Low prices aren't everything, of course – you also don't want to end up with a shady host who hasn't invested properly in security or infrastructure.
I highly recommend Kamatera – you can take advantage of premium performance and infrastructure at affordable prices.
Additionally, its "pay only for what you use" philosophy allows you more control over your costs than any other host on this list. Keep reading to learn more about Kamatera and my other top choices for low-cost Windows hosting.
Short on Time? These Are the Best Cheap & Reliable Windows Hosts for 2023:
Kamatera –

Best performance and customizability on the latest versions of Windows Server

IONOS –

Lowest starting prices for unmanaged Windows VPS

InterServer–

Resource-packed shared and VPS-based Windows hosting
What We Look For in the Best Cheap Windows Hosting Services
Being on a tight budget doesn't mean you have to suffer with low-quality hosting. I've ensured that all of the hosts on this list offer at least the following:
Full compatibility – One of the most common reasons for looking for Windows hosting is that you need excellent software compatibility with your business systems.
Strong security – Windows servers aren't as secure as Linux out of the box, so you need a host that offers high-level security (even if it costs more).
Stable servers – A good uptime history and an uptime guarantee are absolutely essential – you don't want a cheap host that has long periods of downtime.
Value for money –

Low prices don't necessarily mean good value. I looked for value-added features like generous resources and useful freebies.

Money-back guarantee – If you sign up for a long-term plan but then discover the host doesn't fully meet your needs, you need to know you can get your money back.
Dependable customer service – Windows servers are less user-friendly than Linux servers, so you're more likely to run into issues – it's essential that you can get the help you need.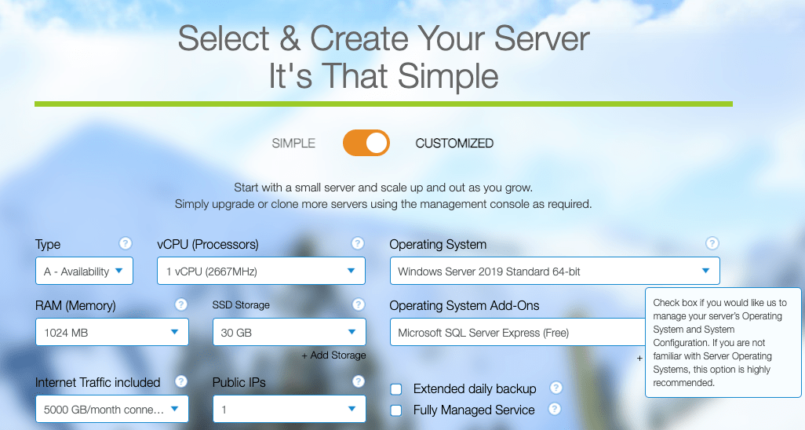 If you're looking for a highly-customizable environment to run Windows Server at its full potential, Kamatera's cloud-based VPS
 may be right for you. Kamatera lets you build your own virtual server from the ground up, setting the amount of RAM, CPU, and SSD storage to the exact numbers you need at any given moment.
Despite remaining relatively affordable for Windows hosting,
Kamatera delivered impressive page loading speed during our performance tests
. We also recorded perfect uptime throughout the entire testing period.
Kamatera's cloud VPSs are primarily unmanaged – while managed service does exist as an optional add-on, it's more expensive and slightly lacking in features compared to many other managed services. That said, if you know your way around Windows Server, you'll be getting a great deal –
Kamatera offers the best price-to-performance ratio for VPSs
.
Features
Multiple Windows Server versions. With Kamatera, you can choose from 15 Windows Server options, including Windows Server 2008, 2012, 2016, 2019, and 2022 in standard and enterprise versions.
13 global data centers

– Kamatera operates multiple data centers across all major continents. Regardless of where your target audience is located, you'll be able to serve them with fast, low-latency hosting performance.

Instant scalability. If you find that your server setup isn't meeting your needs as your business grows, you can instantly add more storage, CPU, RAM, and other features to your server.
30-day free trial. You benefit from a free trial period of 30 days. You get full access to all features and can create one cloud server during this period with up to $100 worth of resources.
Read our full Kamatera review to learn more
.
Windows Server Versions Available
Windows Server 2008, 2012, 2016, 2019, and 2022
Money-Back Guarantee
No, but there is a 30-day free trial
Disk Space
From 20 GB up to 16 TB
Starting Price

$

4.00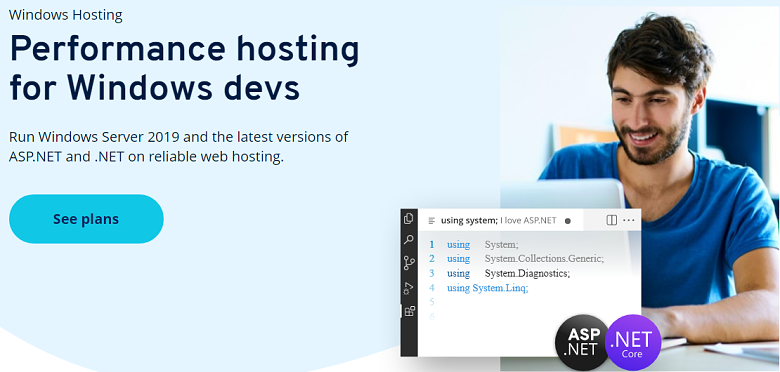 If you don't mind using a shared Windows hosting solution, IONOS is the cheapest option on this list
. Prices start at just
$
1.00
 per month if you commit to a 12-month plan. You'll even get a free domain name for a year to add more value, along with a generous 100GB SSD storage.
IONOS also offers quality support –
in fact, every customer is assigned a dedicated support agent.
All enquiries will go to the same point of contact, and they'll even help you to optimize your site's performance. This can be a valuable asset if this is your first Windows server.
One thing to be wary of – upon renewal, IONOS' prices almost double. While this sounds alarming, IONOS still manages to remain less expensive than many other Windows hosts.
A free domain name is included with some hosting plans from IONOS
Impressive performance

– As these are shared hosting plans, they aren't going to be able to compete with a powerful VPS host such as Kamatera. That said, our performance tests revealed IONOS offers very good loading times for a budget host.

SiteLock malware protection. In the "Pro" plan and up, you benefit from SiteLock security, which automatically scans your site for vulnerabilities and malware.
Up to 25 databases. IONOS offers a generous number of MS SQL databases if you need them for multiple functions. Each one has a capacity of 2GB of SSD space.
High level of redundancy. Your data is mirrored across two separate data centers. This means your data will always be available even in the unlikely event that one data center fails.
Want to know more? Check out our IONOS review.
Windows Server Versions Available

Windows Server 2022 (Windows Server 2019 also available with VPS plans)

Money-Back Guarantee

30-days

Disk Space

Up to 500GB

Starting Price

$

1.00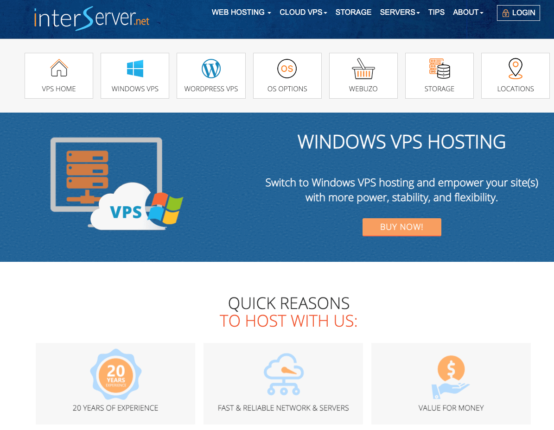 InterServer keeps things nice and simple. Instead of having a huge and confusing list of plans, it offers one generous shared Windows hosting plan.
This plan is built to work seamlessly with the ASP.NET framework and allows you to host up to 25 websites, with free SSL certificates for each one.
There are no restrictions on storage, bandwidth, or email addresses, and you benefit from managed hosting features such as
free website migrations, automatic updates, and a backup/restore tool.
The one catch is that you don't get a free domain name when you sign up.
InterServer also offers Windows VPS plans – which start at (almost) unbelievably low prices for a single CPU with 2 GB RAM, 30 GB storage, and 2 TB bandwidth
.
These come preinstalled with Windows Server 2022
, and you get enhanced security, the Plesk control panel, and excellent scalability.
Features
Intershield security. To protect your website from malicious traffic and hackers, InterServer includes its bespoke shared hosting security suite, Intershield, with its Windows hosting. This includes a web application firewall, malware detection, script scanning, and outbound email protection.
Speed optimization. The ASP.NET hosting plan includes built-in caching features and Cloudflare CDN (content delivery network) for high-performing websites that will load quickly no matter where in the world your visitors are.
Windows Server 2012. Although this is not the latest version of Windows Server, it supports MSSQL 2012 and all ASP.NET versions for running the applications you need.
Plesk Onyx control panel. Rather than offering the new version of Plesk, Obsidian, InterServer has stuck with Onyx, as this previous version still supports the easy installation of Let's Encrypt SSL certificates.
For more features, check out our in-depth InterServer review
.
Windows Server Versions Available
Windows Server 2022 (for both shared and VPS hosting)
Money-Back Guarantee
30 days
Disk Space
Unlimited
Starting Price 

$

2.50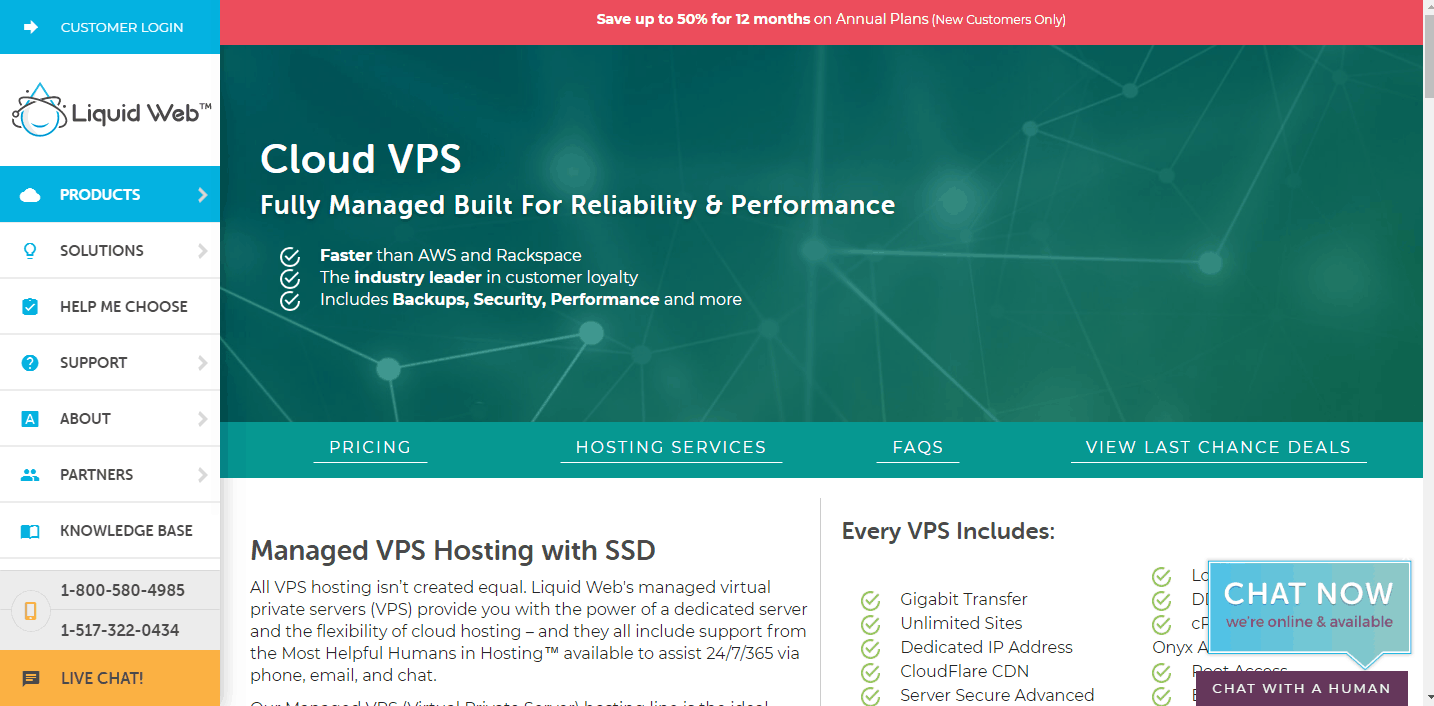 Liquid Web offers Windows VPS servers that are cloud-based, fast, and secure
. Its prices are a bit higher, but core server management is included in the cost – this includes maintenance, monitoring, and security. Or, if you prefer, you can manage your own server – this will lower the price.
Every Windows VPS plan from Liquid Web comes with Cloudflare CDN and 100 GB of cloud backups. These features allow for automatic snapshot backups of your server to be saved in an off-site cloud location, providing you with the highest degree of data protection available. Liquid Web introduces a 100% uptime guarantee that activates following a mere 25 seconds of downtime. While numerous hosts furnish a 99.9% uptime guarantee, permitting a maximum of 43 minutes of downtime per month, selecting a host boasting a 100% uptime guarantee or superior stands as the foremost decision for heightened reliability.
Features
Generous bandwidth

– All Liquid Web VPSs offer 10TB of monthly bandwidth. With most hosts, you'd usually have to pay extra for such a high allowance – if they even offer it in the first place.

Fully managed VPS available. For an additional fee each month, you can benefit from a fully managed service including Plesk (Onyx or Obsidian) and proactive service restoration.
Customizable server setup. Choose your server zone (US or EU), your cloud SSD configuration (pre-sets for SSD, memory, and vCPU), bandwidth, network storage, daily backups (100 GB included), IP addresses, and anti-virus options.
Enhanced security. All VPS plans from Liquid Web include ServerSecure, a bespoke set of security features that protect your server from malicious traffic, script injection, DDoS attacks, and more.
Read our comprehensive Liquid Web review for more details
.
Windows Server Versions Available
Windows Server 2019
Money-Back Guarantee
30 days
Disk Space
Up to 200 GB
Starting Price

$

15.00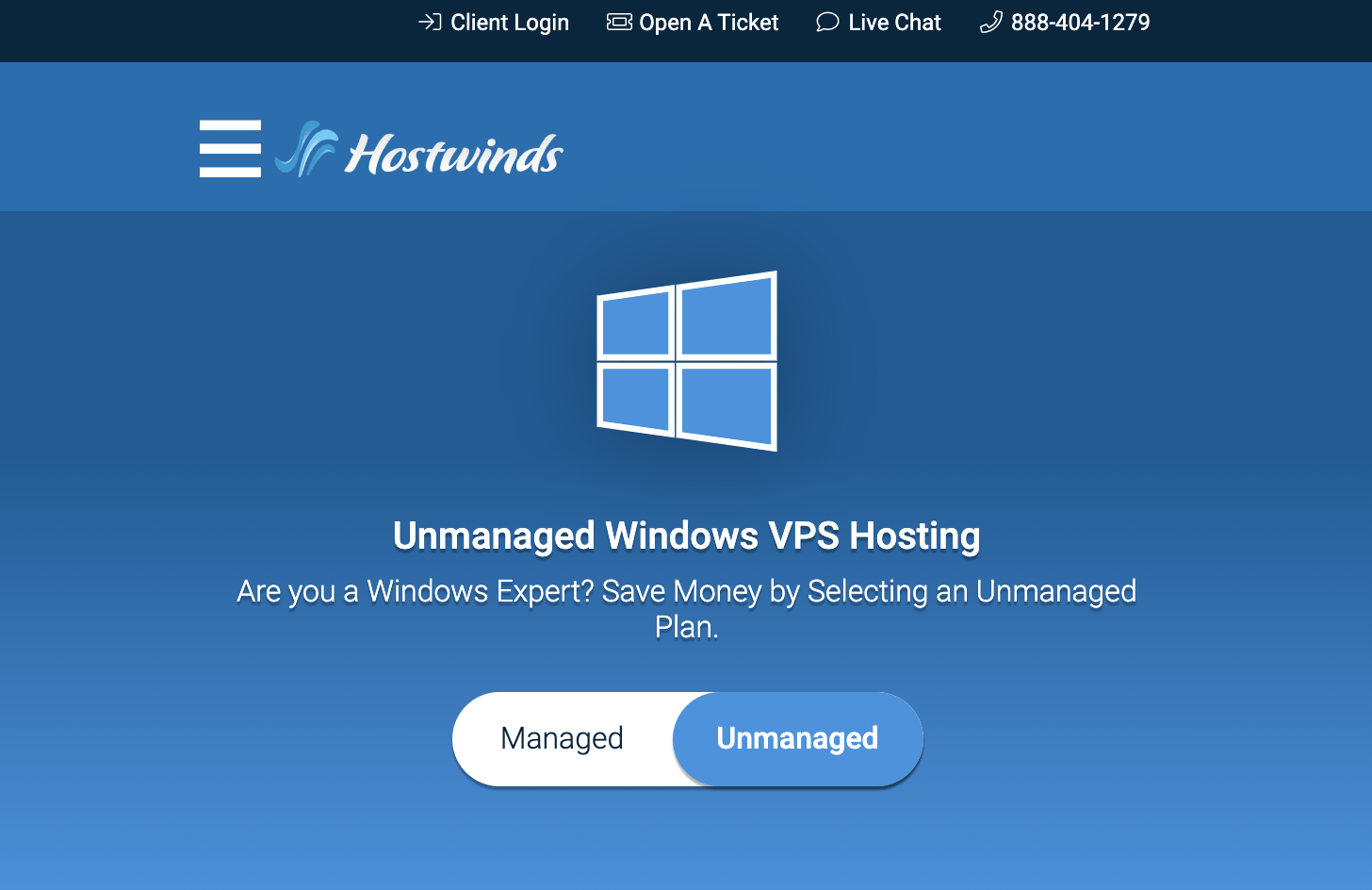 If you're looking for something more powerful than shared Windows hosting but still need to keep the costs low, Hostwinds offers managed and unmanaged Windows VPS hosting for a fraction of the cost of other Windows VPS hosts.
Unlike many hosts, the price is the same no matter what payment term you choose (although any promotional pricing is limited in duration).
One of the biggest benefits of Hostwinds' VPS Windows hosting plans is that they're cloud-based, improving performance and reliability.
The downside is that the cheapest plans require you to manage everything yourself, so if you want to add monitoring and management features, your costs
will
increase.
Features
Free proactive monitoring

– Each managed Windows VPS includes round-the-clock server monitoring. Should our system detect any problem, it will promptly generate a support ticket on your behalf. Our dedicated support team will then work to swiftly address and resolve the identified issue.

Enterprise firewall. To ensure top-notch security, Hostwinds equips your website with advanced firewalls that shield it from malicious traffic, script injection, and malware.
Nightly off-site backups. Every night, a backup of your server is taken and automatically uploaded to the cloud, ensuring that you can instantly restore your server back to a former point if something goes wrong.
Free website transfer. If you already have a (Windows) website hosted elsewhere, Hostwinds will transfer the website to your new server and ensure that everything is configured correctly.
To learn more, read our expert Hostwinds review
.
Windows Server Versions Available
Windows Server 2012, 2016, and 2019
Money-Back Guarantee
Prorated refunds for cancellations made within the first 72 hours
Disk Space
Starts at 30 GB, up to 750 GB
Starting Price

$

6.47
Which Windows Host is Right for Me?
While you should always prepare to pay a little extra for Windows Server hosting as opposed to Linux hosting, the hosts above will keep your costs down. However, the best Windows hosting provider for you depends on your needs – if you're struggling to decide, here are our recommendations.
If you need an unmanaged Windows VPS with excellent performance and customizability, we recommend Kamatera
. You can custom-build a cloud server with the exact resources you require, along with a preinstalled Windows Server version of your choice.
Looking for the cheapest option? IONOS offers budget shared Windows hosting
.
Even though prices are low, you still get dedicated support tailored to Windows alongside impressive page loading speed.
Alternatively,
you may wish to go with InterServer for its cheap monthly billing
.
There's no need to commit to a long contract to get the best prices, and you'll also benefit from unlimited storage, bandwidth, and email accounts.
Still unsure? See a clear view of how these hosts stack up with the comparison table below.
Standout feature
Type of hosting
Available Windows Server versions
Starting price
Kamatera

Best performance & customizability

Cloud VPS

2008, 2012, 2016, 2019, 2022

$

4.00

IONOS

Lowest prices for shared Windows hosting

Shared and VPS

2022 (2019 also available with VPS plans)

$

1.00

InterServer

Unlimited resources with simple budget-friendly monthly billing

Shared and VPS

2022 (for both shared and VPS hosting)

$

2.50

Liquid Web

Reliable data protection & 100% uptime guarantee

Cloud VPS

2019

$

15.00

Hostwinds

Nightly off-site backups included

Cloud VPS

2012, 2016, 2019

$

8.24
FAQ
What is the cheapest Windows hosting provider?
IONOS is one of your most affordable (and best) options for Windows hosting. Unlike other cheap Windows hosts, IONOS manages to maintain a high level of quality – offering impressive performance, a robust anti-malware security suite, and other premium features.
Which Windows hosting service is best for beginners?
We recommend starting with a shared hosting service if you're new to Windows hosting. Both IONOS and InterServer offer shared Windows hosting at budget prices. IONOS offers a free dedicated support adviser to help you along, while InterServer's low-cost monthly pricing lets you experiment without getting locked into a long contract.
How much does a Windows VPS cost?
It depends on the resources you need and whether you require additional services like server management. We recommend unmanaged Windows VPS if budget is a concern – you can get a quality server for lower than $20 per month.
Hostwinds is one of your cheapest options for Windows VPS. That said, Kamatera's flexible and still affordable "pay only for what you use" pricing gives you greater control over your costs.
Are there free Windows hosting services?
Yes, but we do not recommend them. At best, your site will experience painfully slow speeds and extended periods of downtime. At worst, you could be scammed and have your personal information stolen.
We always recommend budget-friendly Windows hosting services over free alternatives. IONOS and InterServer offer quality hosting at very affordable prices.