a high-quality ad might not cost as much as you think
. On Fiverr, the popular freelance marketplace, you can
book gigs for as little as $5
 – and it's incredibly easy to use. You can compare a variety of sellers based on reviews, quality, and price to find one that works for your brand.
But can you get a decent product video for less or do you need to pay more for better quality?
To find out how closely price and quality are linked, I looked for Fiverr freelancers who offered Amazon product videos at a variety of price points.
 I sent the same project brief to three different creators
, and asked them to produce a short video for a fitness good I'm considering for an Amazon store. In this review, see how the sellers stack up and whether I recommend booking them for your next project. Or check out my round-up of the best video professionals below.
Hiring 3 Amazon Product Video Creators to Test
Many Amazon video gigs offer to use original footage of your product, so they often include pricing for hiring actors and models.
 However, I didn't have time to ship anything to the freelancers, so I needed another solution. I specifically looked for creators who could work with stock footage instead. I then hired sellers at three price points: low ($25), mid ($60), and high ($120).
The $25 Amazon Product Video Creator: An Accomplished Freelancer With Affordable Pricing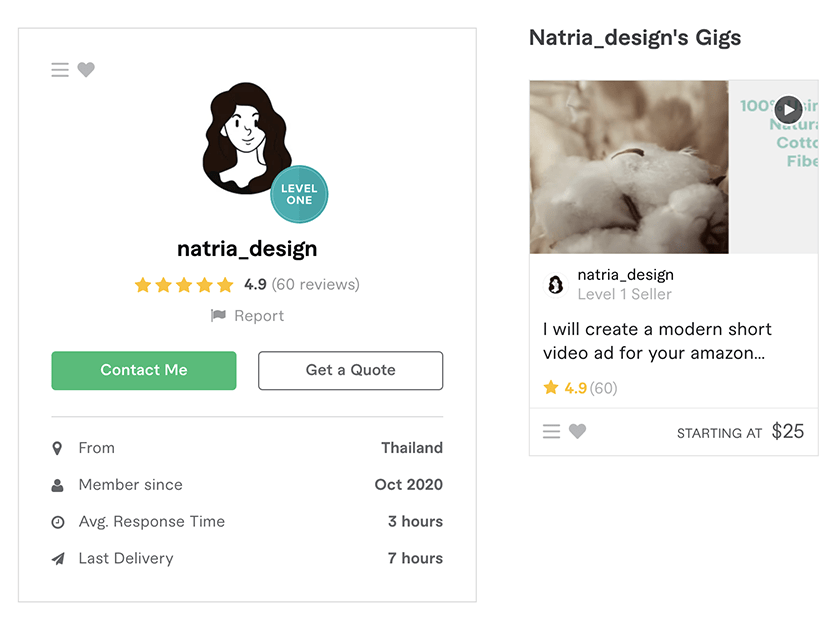 Right away, natria_design's Level One Seller status and affordable pricing caught my eye. As a Level One Seller, they've begun to climb the ranks of Fiverr's level system, and have a different amount of experience on the platform.
I booked their Basic Amazon product video gig for $25
, which included a 15-second video with background music and photos. It also came with two revisions and a three-day turnaround.
The $60 Amazon Product Video Creator: An Experienced Seller With Mid-Range Pricing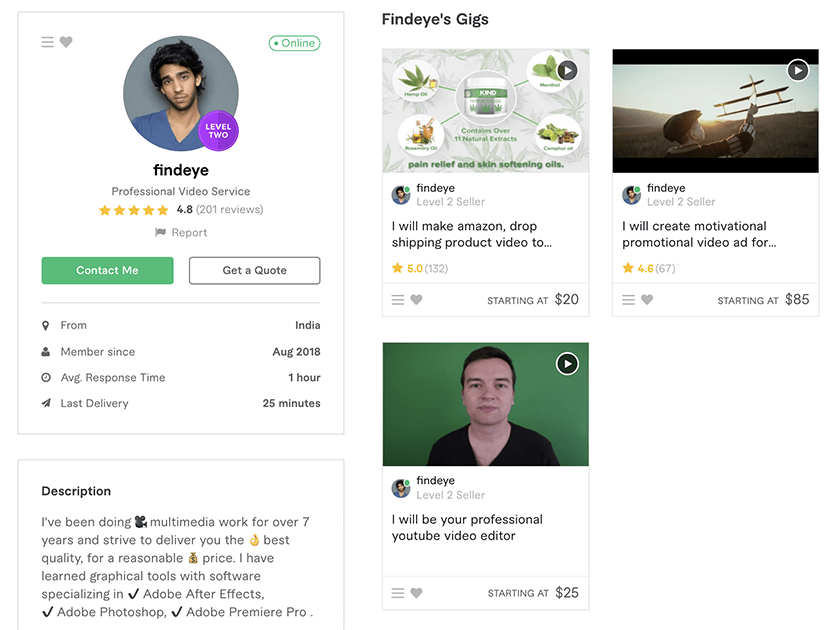 With over 200 customer reviews and a 4.8-star rating, findeye looked very promising. Their Level Two Seller status and seven years of experience in multimedia production were also great selling points. Level Two Seller status means they've been recognized for their professional work over an extended period of time, so I had high hopes.
I booked their Platinum Amazon product video gig for $60
, which included a 30- to 40-second video with background music and scriptwriting. It also came with unlimited revisions, which reassured me that I would be able to request changes until I was happy with the final product.
The $120 Amazon Product Video Creator: A Top-Rated Expert With Premium Pricing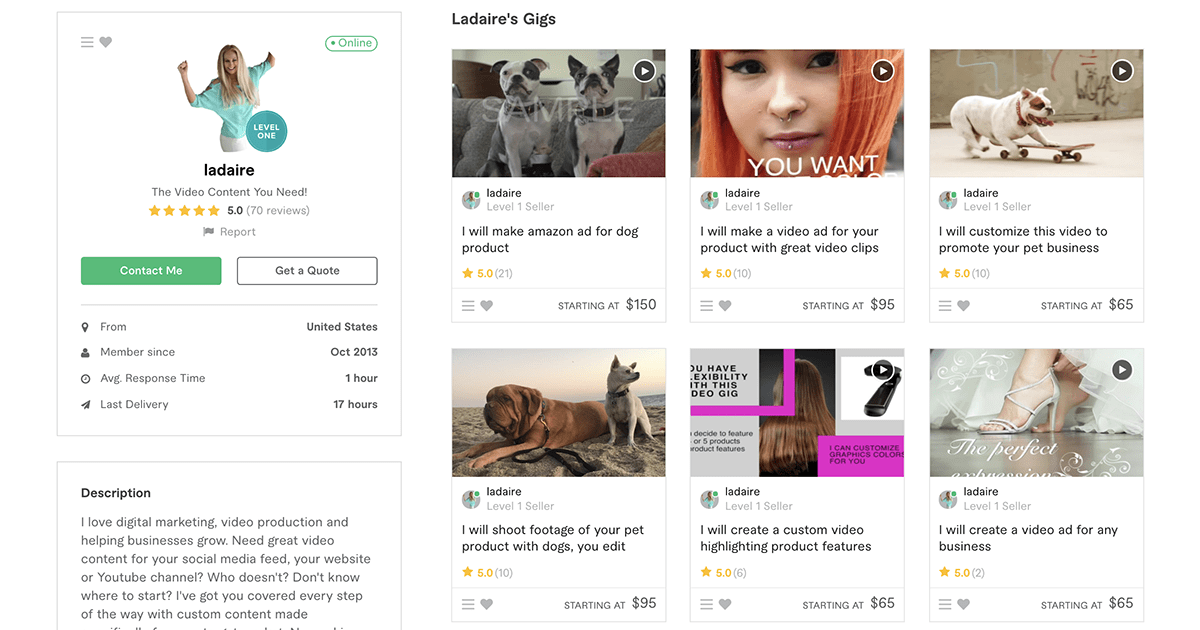 As a Level One Seller and a five-star freelancer, ladaire looked like a solid choice for a higher-priced gig. Their profile promised custom content for every brand, so I was curious to see their creative take on this project.
I booked their Basic Amazon product package for $95
, which included a 15-second video, scriptwriting, and background music.
I paid an extra $25 for a two-day turnaround
 (instead of the four days that came with the package) for a total of $120. This gig also came with two revisions.
My Experience Working With These Fiverr Freelancers
Each of the three sellers had a distinctive approach.
The $25 creator (natria_design) allowed me to book without discussing the gig first
. Normally I would advise talking to a few freelancers before moving forward with a gig. But since it was so affordable, I appreciated that I could book the gig and lock in a delivery date without a lot of messaging back-and-forth. I ordered the gig and submitted my requirements, including links to similar Amazon products, a few talking points, and some photos. The seller didn't message me at all before delivering the video, which I actually preferred – my inbox was already busy enough.
Working with the $60 professional (findeye) required me to be much more involved.
 First, they asked for initial contact before booking the gig, so I sent them my requirements and we confirmed the length (30 seconds).
After booking the gig, they sent a Google Form with about a dozen questions.
 They asked me to select footage, background music, and a layout from a stock library. On one hand, being able to choose these elements meant that I had more control over the end product. On the other hand, I would've appreciated more guidance – after all, they're the professional, not me. The $120 expert's approach (
ladaire
) fell somewhere in between. I messaged them about the project, and they confirmed that they would use stock footage instead of hiring a model. They also asked a few more questions to understand the tone of the video. For example, they asked which industry the brand was part of and the overall mood I wanted the ad to reflect (I chose high energy).
Comparing the Final Results
All three freelancers delivered high-quality Amazon product videos.
 Each ad is professionally done and highlights the product nicely.
The $25 Amazon Product Video
The $20 Amazon product video features a clean design with dynamic music
Since I didn't directly communicate with the $25 freelancer after sending the creative brief, I wasn't sure how the video would turn out. I was happy to see that the ad included the images I sent as well as some stock footage. Even though it was only 15 seconds long, it managed to cover all of my talking points too.
After sending the final product, the seller told me they could change the music if necessary and shared a link to a royalty-free music library. I chose a higher energy track and asked them to use that one instead. The first version took three days to complete, and the revision took another three.
The $60 Amazon Product Video
The $60 Amazon product video features hand-selected footage and music
Because I chose most of the elements in the $60 ad myself, I knew what to expect. However, this freelancer added in a few extras, such as a product sizing chart and an animated logo at the end.
There was a bit of miscommunication about the logo, and the first version featured the wrong brand. I had shared links to similar Amazon products because my listing wasn't live yet, and I wasn't clear that my brand was different from the ones I sent. When I pointed that out,
the creator revised the video within 24 hours
. From the first message to the final revision, the project took about three days to complete.
The $120 Amazon Product Video
The $120 Amazon product video nicely captures the energy of a fitness product
Since the $120 professional promised "no cookie cutter videos" on their profile, I had high hopes for a more original concept. Turns out, I was right. This was my favorite result of the three. The stock footage showed a variety of ways to use the product, and the editing was beautifully done. The background music also reflects the high-energy mood I requested.
Upon delivery, the seller acknowledged that there could be a rights issue with one of the still images they used – which made me wonder why they used it in the first place. We worked together to find a replacement, and they revised the video within 90 minutes. The project took just over three days to complete. Ultimately, you can hire a Fiverr freelancer to create an Amazon product video on any budget and I would happily use any of the videos I ended up with.
This test proves that with just $25, you can expect a professional-quality ad.
But a bigger budget is even better.
If you want a video with more creative editing, a wider range of stock images or a tighter turnaround, it makes sense to spend more.
Hiring a Freelancer for an Amazon Product Video on Fiverr
Fiverr is the ideal place to hire this type of creator and the process is super simple. You can learn more about the process in
our Fiverr review
– and see why it scored
4.9
out of five. Here are a few things you can expect when using the platform:
The pricing is crystal clear. It's hard to find many independent freelancers with pricing structures where you can add an extra deliverable or guarantee a faster order. When you book through Fiverr, however, you'll find that most sellers let you customize your order for a reasonable price. For example, you may be able to pay a certain amount for a longer video or a quicker turnaround.
You can book a gig that fits your budget. On Fiverr, gigs cost anywhere from $5 to over $1,000. No matter the size of your budget, you can find a freelancer that suits your needs and the complexity of your project.
You can hire experienced professionals. With an independent freelancer, it might not be clear how long they've been in business or whether their customers are happy. With Fiverr, you can see how long sellers have been active, read customer reviews, and browse through their portfolio.
You can build relationships with freelancers. If you discover a creator on Fiverr that you wish to employ, it doesn't need to be a single job. If you appreciate their work, you can engage them for upcoming projects. Numerous sellers provide a variety of services, so you could possibly depend on them for more than just video ads.
The 10 Best Amazon Product Video Creators in 2023
I conducted a comprehensive search on Fiverr to identify the top Amazon product video creators. From the myriad of available options, I selected 10 producers by evaluating their reviews and portfolios.
My top choice is ladaire
because of their beautiful work and efficient approach, but I also recommend checking out these freelancers:
FAQ
Can I get a cheap Amazon product video on Fiverr?
Yes. Fiverr has over 10,000 Amazon product video gigs, and many of them start as low as $20. As this test proved, you don't necessarily need to pay more for a high-quality ad.
Do more expensive Fiverr sellers produce better quality work?
The most expensive option doesn't always offer the best results. For example, in our Fiverr logo design review, the author actually preferred the least expensive design. That being said, you may have more options in terms of customization, communication, or a faster turnaround with a more expensive gig.
When do you pay for a Fiverr gig?
You pay for a gig as soon as you book it. If you cancel the order for a legitimate reason – like the gig doesn't include what was promised – you can get your money back. That's why I recommend messaging the freelancer prior to booking the gig so you can talk about the project before moving forward. The seller doesn't get paid until you approve the final product. For more details on this process, make sure you check out our expert Fiverr review.
Is Fiverr easy to use?
Yes – there's a reason it's on our list of the top freelance websites in 2023. Whether you know exactly what you want or you prefer to give the freelancer more freedom during the creative process, you can choose your experience on Fiverr. Search for gigs using the search bar or the dropdown menus – which include tons of different categories ranging from web programming to tattoo design. You can filter the results by price, seller credentials, and other factors. Once you find a potential hire, you can message them questions or proceed to book the gig.
Which is better: Fiverr or Upwork?
When you're looking for a freelancer, there's a good chance you'll turn to either Fiverr or Upwork. Although the two websites are similar, Fiverr is better than Upwork. On Fiverr, gigs start as low as $5, which is exceptional value. Fiverr's interface is also much more visual, making it easy to find the services that your brand needs, as well as creators with the right portfolios.