it's hard to keep track of everything while keeping everyone up to speed with each stage.
Without the proper tools to organize the sprints and collect feedback, things can easily get messy and unproductive.
That's why my team and I have, after extensive testing, put together this list of the best agile project management software
for your workflow, from Kanban to Scrum. Moreover, some tools, including monday.com, offer free plans so you can test them and how their agile features work. Check out the rest of the article to see what makes monday.com well-suited for your team and what other reliable options can help you achieve great results using agile frameworks.
Short on Time? These Are the Best Agile Project Management Tools in 2023
1. monday.com
– Easy-to-use interface including Kanban views and tons of integrations for staying in touch throughout iterations
2. Asana
– Ready-to-use agile templates and a focus on collaboration to increase visibility across your teams
3. Smartsheet
– Powerful software for large-scale projects with lots of automation and a dynamic portfolio management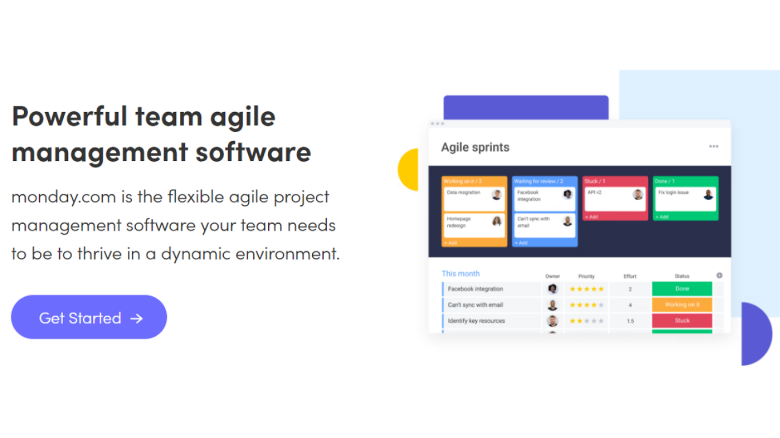 Monday.com is an affordable project management tool
designed to accommodate agile frameworks like Scrum and Kanban
. Even though this software is entirely customizable to fit any team in any industry using any work method, it's especially good if you want to follow the agile methodology because
its capabilities make it easy to manage your project through multiple iterations and changes
. Whether you're a Scrum master, a member of a long-time agile team, or a first-timer,
you can easily see your work in different board views, from Kanban to Workload to Timeline
(and many more). It's really easy to get started with the online demo that shows you how everything works. But you can also create an account and start using the software right away since
the interface is so intuitive
. You can organize issues into different projects or boards and organize them by priority or status. You can use this to conveniently report and track bugs in one place. Plus,
you can use color-coded labels so your team knows which bugs need attention most urgently
. You can assign issues to team members, track their progress and
get real-time reports each step of the way to see how the continuous improvement looks
. This way, monday.com makes it easy to plan each phase for a timely product launching, taking into account user feedback as well. Since customer collaboration is crucial, the chat capabilities really make monday.com shine.
You can easily communicate with your clients and team members in one place
using the many app integrations, so the development team and customer can pre-plan together and always be on the same page. You can try monday.com's free plan to see if it's right for your team. It can seat up to two users. When you're ready for the real deal, you'll be happy to hear that plans start at just
$
8.00
.
Read our expert monday.com review for more details
.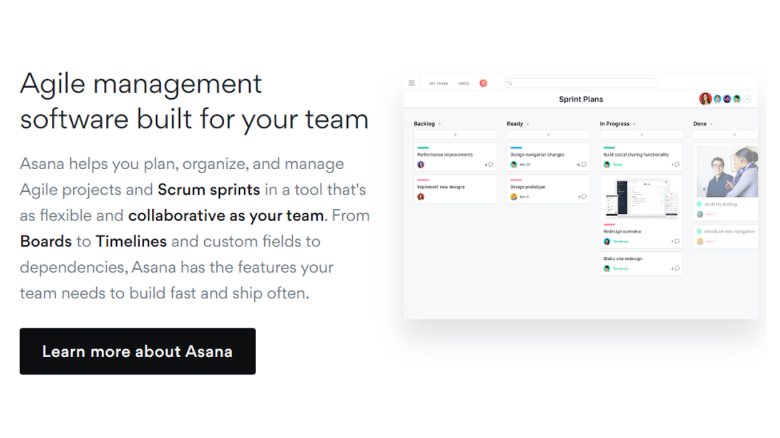 Asana is a great cloud-based tool for managing agile projects because
it offers the tools your team needs to track and ship launches of all sizes
. It also integrates with Slack or Microsoft Teams so that you can easily share updates as they happen without having to switch programs.
You can use Asana's 'Calendar" view to map out your launch timeline, share team updates, provide feedback on mock-ups
(using its comment feature), or launch your final product on time by mapping out milestones like design reviews and development sprints in advance. Meanwhile,
you can keep an eye on progress towards your goals each day through the "Running Workflows" feature
which lets you see how many tasks are left until completion per person, so everyone stays updated with what still needs doing right away. This is all great because it allows you to track everything, from sprint planning to feedback loops and deadlines. Using its collaboration functionalities,
you can collect product feedback and bugs easily and keep everyone updated at every stage
. The product launch templates are especially helpful in making launching easier and cutting down on busywork. For example,
the agile product roadmap templates are great for outlining the steps for your team members
. If you need help getting started, Asana offers
free training videos and email support
. They also have a searchable knowledge base of articles to help answer any questions you may have about best practices, process flows, and more. Good news:
you can use Asana for free for teams of up to 15 people
, so if you have a smaller team, this is the perfect place to get started.
Read our expert Asana review for more details
.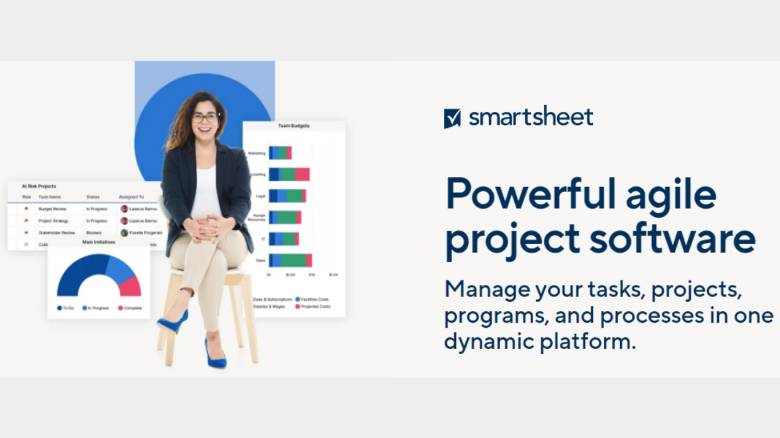 Smartsheet is a powerful, enterprise-level project management software for big flows of information.
It can be used for agile and Scrum, but also waterfall and hybrid projects
. This makes it perfect for large projects, no matter what type of approach your team members prefer individually. Smartsheet has built-in features to standardize key project elements so you can increase velocity, improve collaboration and ensure consistency across your team. This includes
automating workflows, documents, and approvals across multiple teams
, and other routine tasks.
Dynamic portfolio management gives visibility into the status of all projects on one page
, along with their status and progress toward completion, without having to navigate multiple dashboards or reports. This helps elevate program visibility with rollups that summarize progress across projects.
Smartsheet also helps you Increase stakeholder confidence with up-to-date information
throughout the entire program lifecycle, from initial scoping through release management and post-launch review meetings. The reports you can access are rich and use real-time metrics. You can also integrate other apps your team usually uses, from Slack to Jira, to ensure optimal collaboration between members and clients. What's more, you can try Smartsheet anytime thanks to the 30-day free trial available.
Read our expert Smartsheet review for more details
.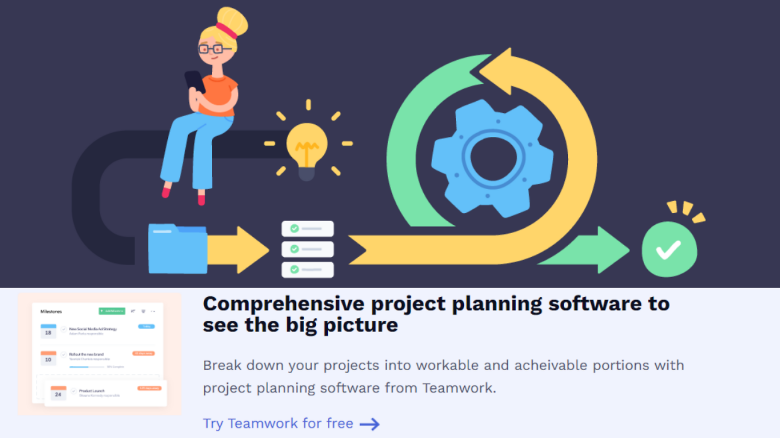 Teamwork is one of the best project management tools for first-time users and it's a great choice for teams who want to use an agile methodology.
Teamwork has an intuitive interface with lots of useful features
such as custom fields, workflows, and analytics tools that make managing projects easier than ever before. For example, the easy-to-use Kanban boards allow you to track your workflow visually. They also allow you to customize each column on the board so it's relevant to your individual projects or processes (for example: "To Do", "In Progress", "Testing").
The pre-built templates are also great for beginners to get used to the flow
. With Teamwork all your tasks are visible in one place so you can easily monitor their status. Even better: it can help you see every critical task, its respective dependency, and the time difference between what you had planned and how it actually progressed.
The Tasks & Subtasks section gives each piece of a project its own folder
so there's no ambiguity about what belongs where. You can also store important project information and valuable notes for retrospective analysis in notebooks. You can also attach files to tasks, messages, or comments on items to keep everyone on the same page. You can
use Triggers to automate your workflow and save time
, from re-assigning tasks to changing due dates and sending notifications accordingly. Teamwork may not be the most robust tool out there but has rather complex automation functionality. In any case,
you can use it for free for up to 5 users
and see if it's right for you. Since the learning curve is so shallow, I think it's worth a shot.
Read our expert Teamwork review for more details
.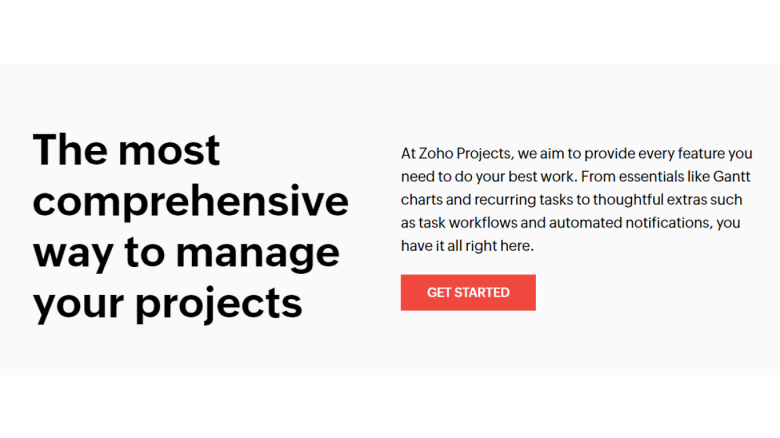 Zoho Projects is another great cloud-based project management software you can use for your agile team. No matter if your process is simple or if you have a more intricate workflow, you'll appreciate that
Zoho Projects has an intuitive interface that helps you see (and create) new automations easily.
I believe your team may need a bit more time to adapt to Zoho Projects if you haven't had prior experience with the Zoho ecosystem. Additionally, integrating it with Zoho Sprints, a specialized scrum tool, could enhance its effectiveness for your agile team.
I would recommend integrating Zoho Sprints with Zoho Projects for a complete agile
approach
, but it's not mandatory. Zoho Projects comes with enough features on its own if all you need for basic project management functionality. Zoho Projects also helps improve communication within teams by providing notifications in real-time.
The social feed notifies team members of important events
like code changes or discussions on issues raised by users or customers.
Other important features include task and issue tracking, time tracking, Gantt charts, and milestones
. You can try Zoho Projects for free thanks to the free plan for up to three users.
Read our expert Zoho Projects review for more details
.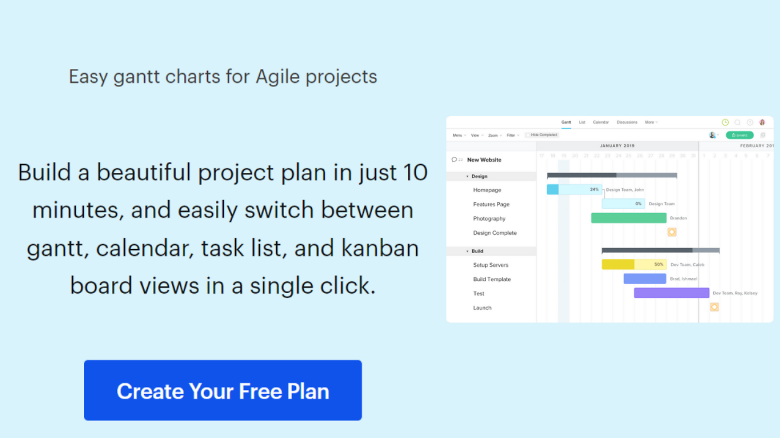 TeamGantt has the best Gantt charts of all the agile project management tools out there. The benefits of using
a Gantt chart for an agile project are that you can easily keep track of the work being done by different teams,
manage each teammate's workload and notify stakeholders of the project's progress, all from the same place. But you don't have to only use Gantt charts for your projects.
Other project views available include calendar, task list, and Kanban board
. You can also create task items per feature and move them across sprints easily without having to juggle multiple tools at once. This is especially great if you have many dependencies between tasks. In short, TeamGantt offers an
easy-to-use dashboard and drag-and-drop interface
that makes it simple to manage your tasks and resources. It also has a mobile app so you can access your project schedule on the go. You can
share your schedule with internal stakeholders or clients via live updates
, so there's less room for miscommunication down the road when it comes time for delivering results based on those predictions made earlier on during the planning stages.
You can try TeamGantt's free plan
which includes one user, two collaborators, and 60 tasks to get a feel of what it offers.
Read our expert TeamGantt review for more details
.
Conclusion: These Agile Tools Will Help Your Team Achieve Better Results
Regardless of the project management software you choose, it can help you manage your team's agile workflow and keep all parties involved at every iteration. From team members to clients and managers, everyone in the process can collaborate using a project management tool to ensure that the product launch is up to par and embodies all the user feedback in the loop. If you want to get easy-to-use software that also offers solid capabilities,
monday.com is my first recommendation
. It integrates with a lot of apps and is on the affordable side. If you want to focus on seamless collaboration,
Asana might be the perfect choice
for your team.
You should consider Asana especially if you have a smaller team
, as it provides lots of ways to connect everyone involved. Plus, it has some ready-to-use agile templates that cut down on busywork. For large-scale projects,
go with Smartsheet
. It's a robust software that can help you manage large amounts of data while making it easy to navigate. Here's a quick overview of the best agile project management tools:
Free Plan
Supports Agile Workflows
Best For
Starting Price
monday.com
✔
✔
Most agile projects & app integrations

$

8.00

Asana
✔
✔
Small teams & easy collaborations

$

11.00

Smartsheet
✘
✔
Large-scale projects, hybrid workflows

$

7.00

Teamwork
✔
✔
Ease of use & unlimited guests

$

5.99

Zoho Projects
✔
✔
Basic capabilities & security

$

4.00

Team Gantt
✔
✔
Intuitive visuals & Gantt charts

$

19.00
FAQ
Which agile tool is best?
The best tool for most agile projects is monday.com. You can use it to keep track of your team through all the iterations of your project, collect bugs, and launch products. It's easy to use and has many app integrations you can add to have everything in one place.
Is Asana good for agile project management?
Yes, Asana is a great tool for agile project management. I especially recommend it for small teams since it has a free plan for up to 15 members. Plus, it has special templates dedicated for agile products you can use right away.
Is monday.com a good tool for Scrum?
Yes, you can totally use monday.com for a Scrum approach. You can easily visualize your sprint backlog and see what needs to be updated and when.
Which agile software management tool is free?
Most agile tools have free plans, including monday.com and Asana. Others, like Smartsheet, have free trials, so you can test the software for up to 30 days to see if it fits your team's needs.