In B2B content marketing, strategy is everything. In a competitive market, where some businesses excel at reaching their core audience with content, you can't afford to be left behind. If you're a B2B content marketer looking to up your game, you need to use the right tools.
The thing about content marketing for B2B is that it's a long game. You'll likely have a smaller audience, and they'll take more time to make up their minds than the average consumer.
That's no surprise, given that B2B purchases can be a serious investment. But it makes it more important than ever to show your expertise with useful, engaging, high-quality content. This allows you to develop relationships with buyers, and eventually get leads.
To do that, you'll need the best B2B tools for each stage of content production. That's exactly what you'll get in this guide. We'll look at everything from audience research to content promotion, and all the stages in between. By the end, you'll know the best B2B marketing tools for content pros, so you can start your strategy off right.
B2B Tools for Identifying Your Audience
As the Content Marketing Institute (CMI) points out, the most successful B2B marketers put their audience at the heart of their content marketing efforts. That's why we're kicking off our list of the best tools for B2B marketing with a couple of resources for identifying your audience.
1. Google Analytics
Google Analytics, which is available for free, provides incredibly rich data on your web traffic. For B2B marketers, it helps to look at the Audience reports, which let you learn about the age and gender of your website visitors. You'll also get information about their location and the technology they use to access your site.
The Interests sub-category is particularly useful, as you can learn more about their lifestyles (affinity categories), plus the broad market segments they fit into. This will help you build audience personas, which our next tool can help you with.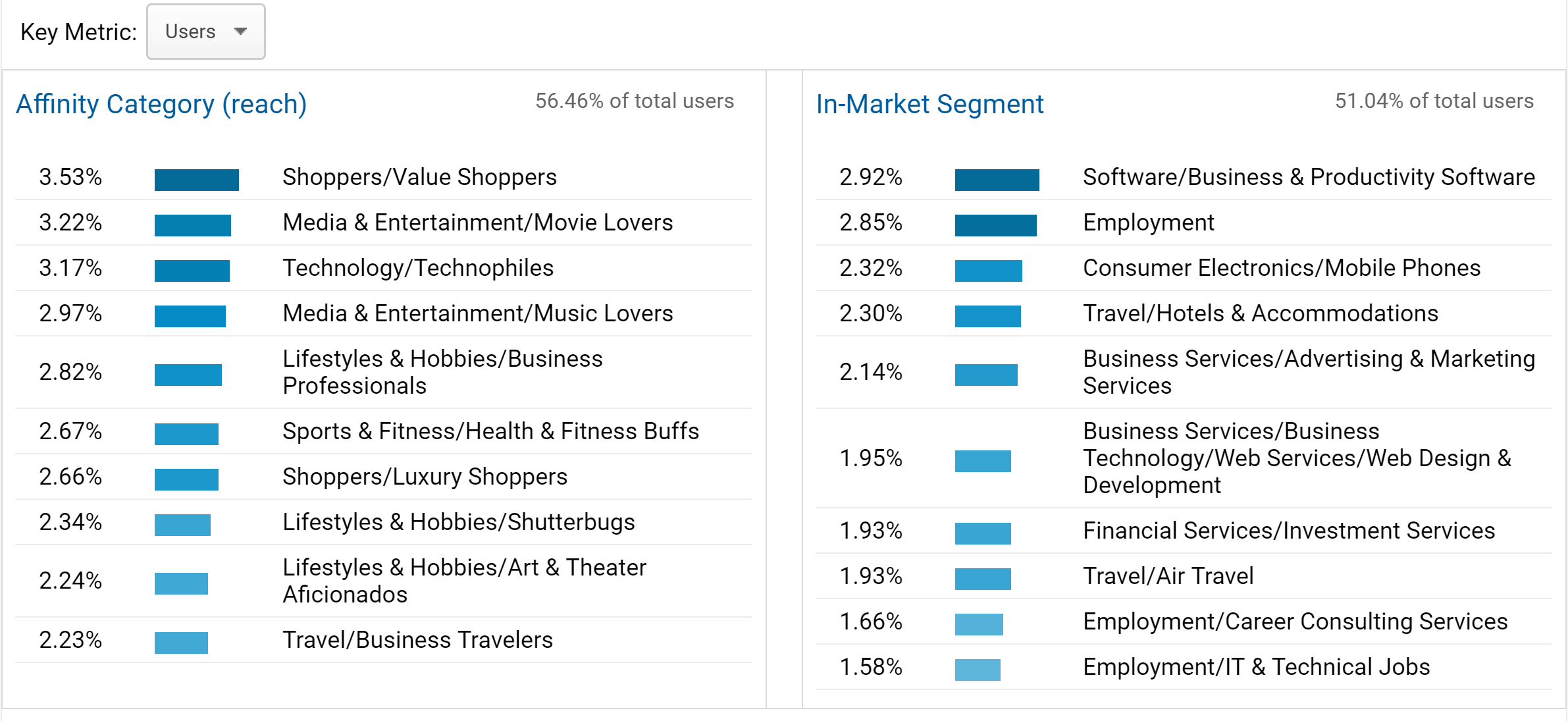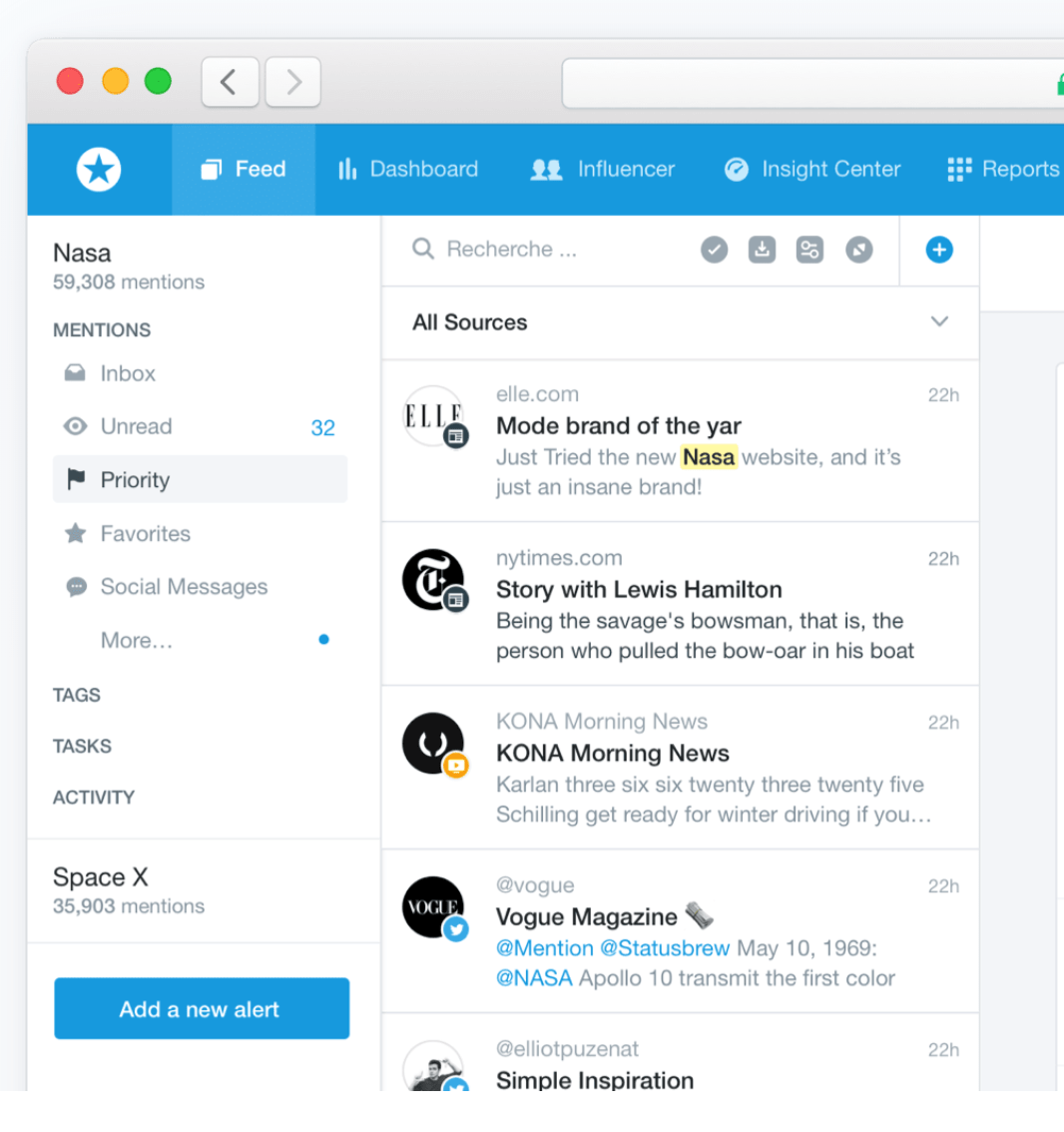 The tool also provides reports and insights, including sentiment analysis. Mention has a free trial available so you can check it out before committing to a paid plan.
10. Awario
With Awario, it's easy to track the brand mentions that matter, so you can focus on those that can help you win more business. Say someone asks for business recommendations and one of your existing customers mentions you, knowing you've been mentioned lets you follow up quickly. That means you could be the one to win the deal.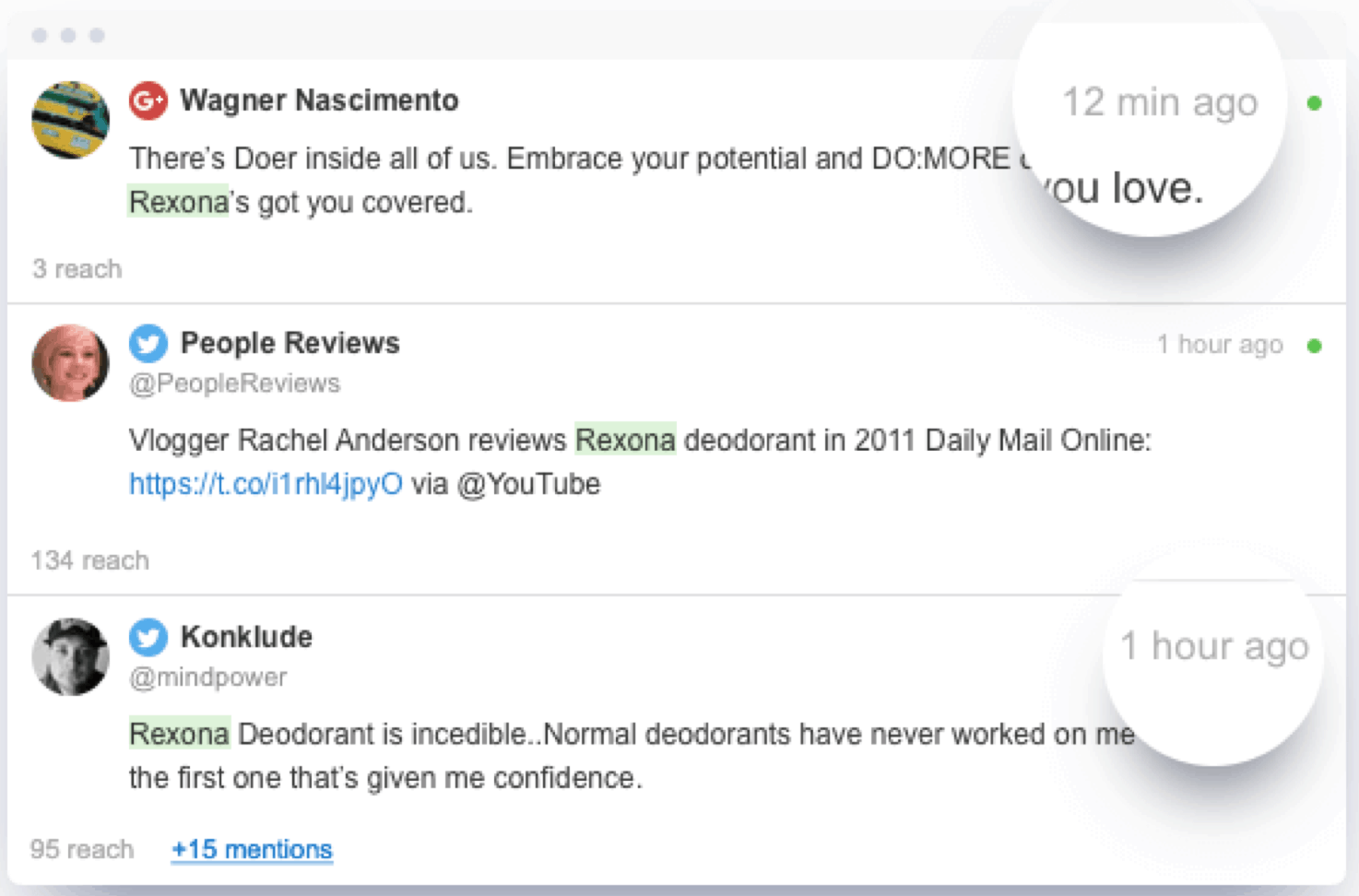 As well as social listening across multiple sites, languages, and locations, this tool makes it easy for you to get the important customer recommendations that will smooth the path to B2B sales. You can check Awario out with a free trial.
Content Scheduling Tools
One way B2B marketers can streamline their content marketing process is to schedule content in advance. Once you have created or curated the best content for your audience, the following tools will help you share it at a time that suits both you and your potential customers.
11. Buffer Publish
Buffer's one of my favorite tools for scheduling social media content. It's got an easy one-page interface so you can upload content to multiple social platforms, including LinkedIn, which is useful for B2B marketers.
Buffer makes it easy to decide when to publish your content. And if you change your mind, just rearrange your schedule with the drag-and-drop calendar.
The tool also has integrations with your web browser, and other useful B2B marketing tools, like Feedly. Plus, you can monitor RSS feeds to get content publishing suggestions via the Content Inbox feature.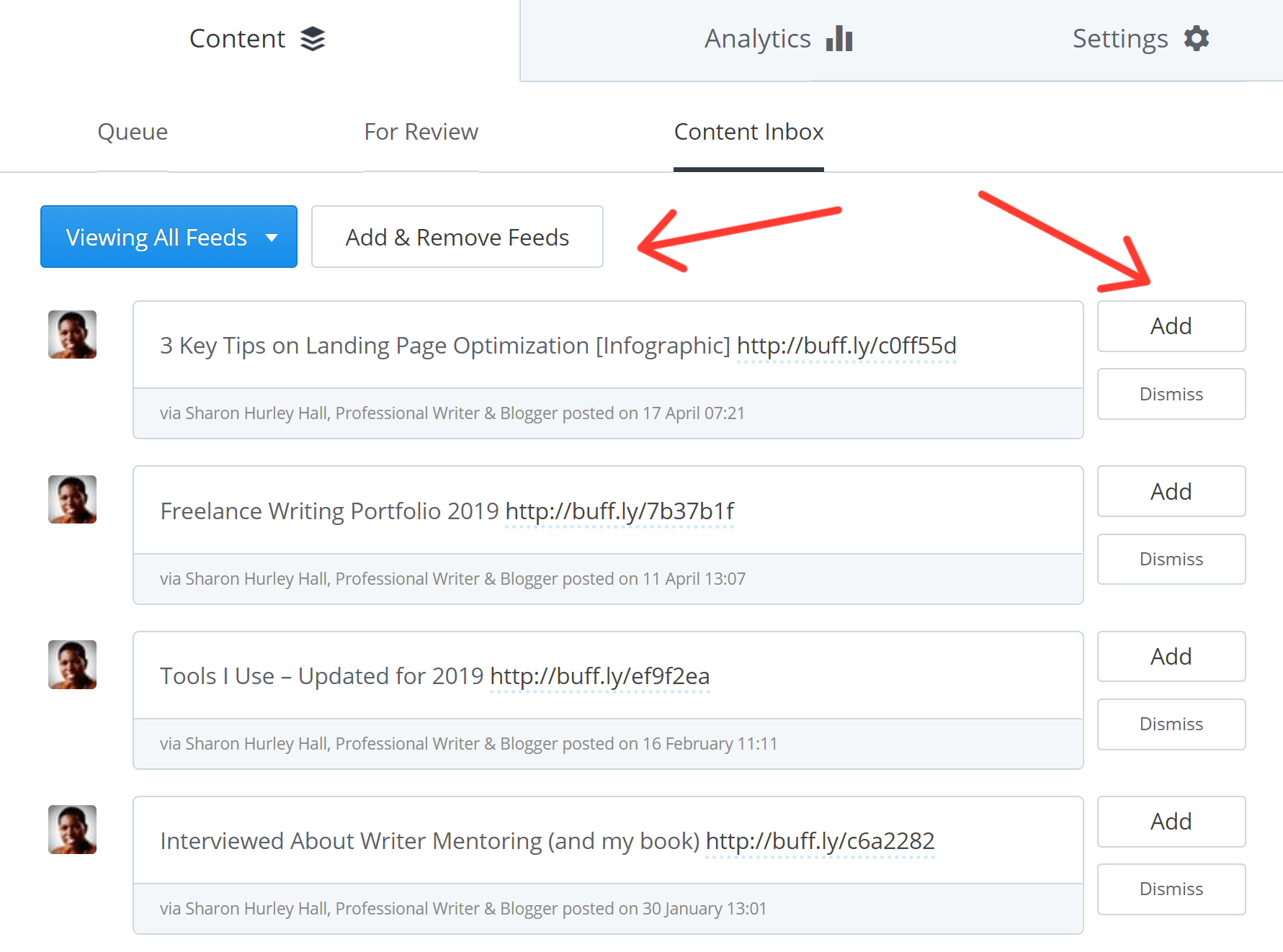 Buffer also provides analytics, although these are pretty basic in the free tool. To get in-depth analytics on comments and more, you'll need a Premium or Business plan. You can try it for free with a 14-day trial.
Click here to read our in-depth Buffer review.
12. Hootsuite
Though it can look a bit dated, Hootsuite is a powerful social media dashboard and scheduling tool. As well as letting you schedule and manage content, Hootsuite also helps you track and respond to mentions. Plus, you'll get analytics on social media content, so you can tweak your strategy if necessary.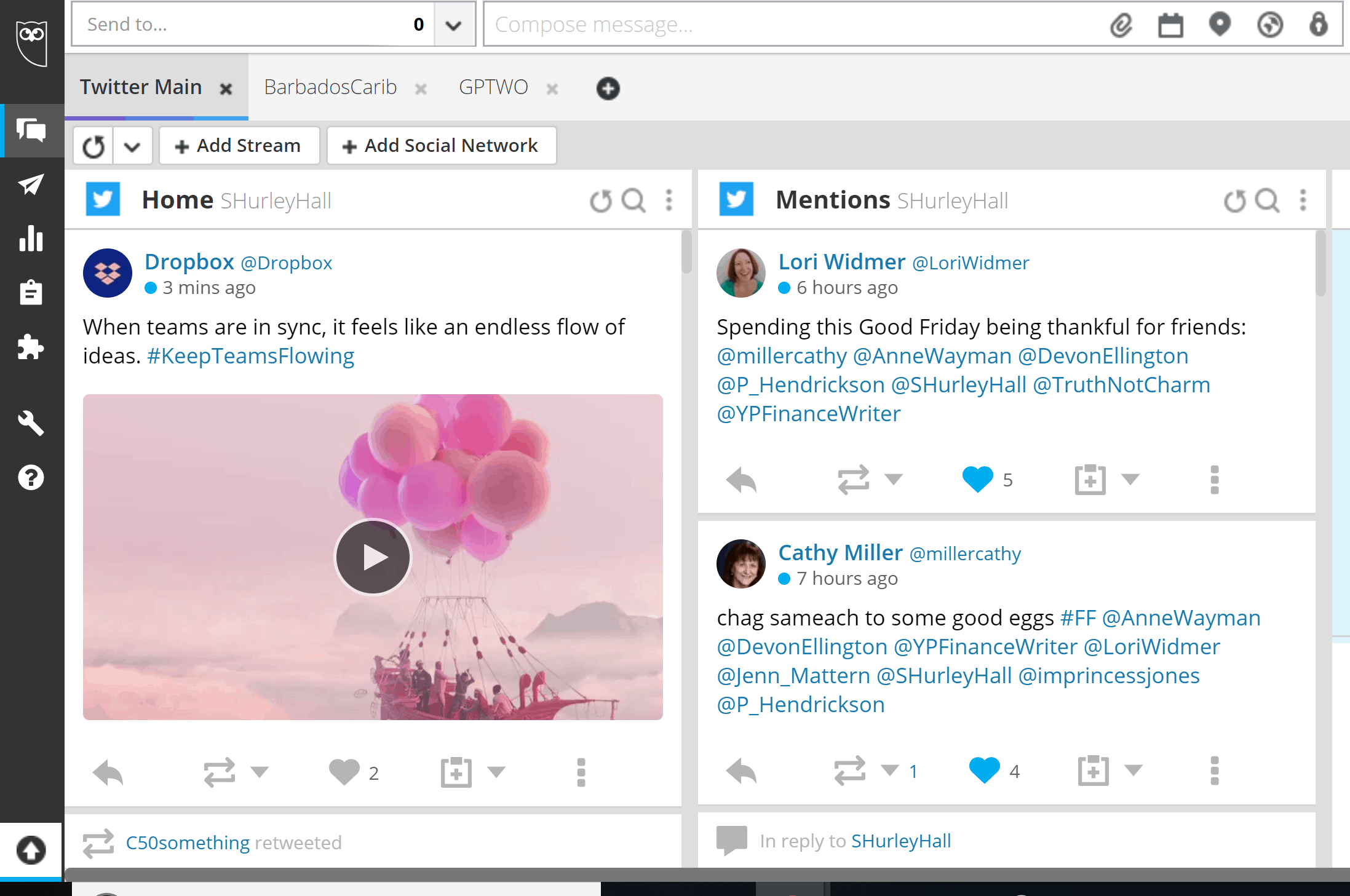 While Hootsuite is available for free, if you want full automated scheduling, you'll need the Pro plan. And you'll have to upgrade even more for custom analytics on your content. Luckily, all plans come with a 30-day free trial.
Want to learn more? Read our in-depth Hootsuite review.