you'll need the best B2B tools for each stage of content production.
That's exactly what you'll get in this guide. We'll look at everything from audience research to content promotion, and all the stages in between. By the end, you'll know the best B2B marketing tools for content pros, so you can start your strategy off right.
B2B Tools for Identifying Your Audience
As the Content Marketing Institute (CMI) points out,
the most successful B2B marketers put their audience at the heart of their content marketing efforts.
That's why we're kicking off our list of the best tools for B2B marketing with a couple of resources for identifying your audience.
1. Google Analytics
Google Analytics, which is available for free, provides incredibly rich data on your web traffic.
For B2B marketers, it helps to look at the Audience reports,
which let you learn about the age and gender of your website visitors. You'll also get information about their location and the technology they use to access your site.
The Interests sub-category is particularly useful,
as you can learn more about their lifestyles (affinity categories), plus the broad market segments they fit into. This will help you build audience personas, which our next tool can help you with.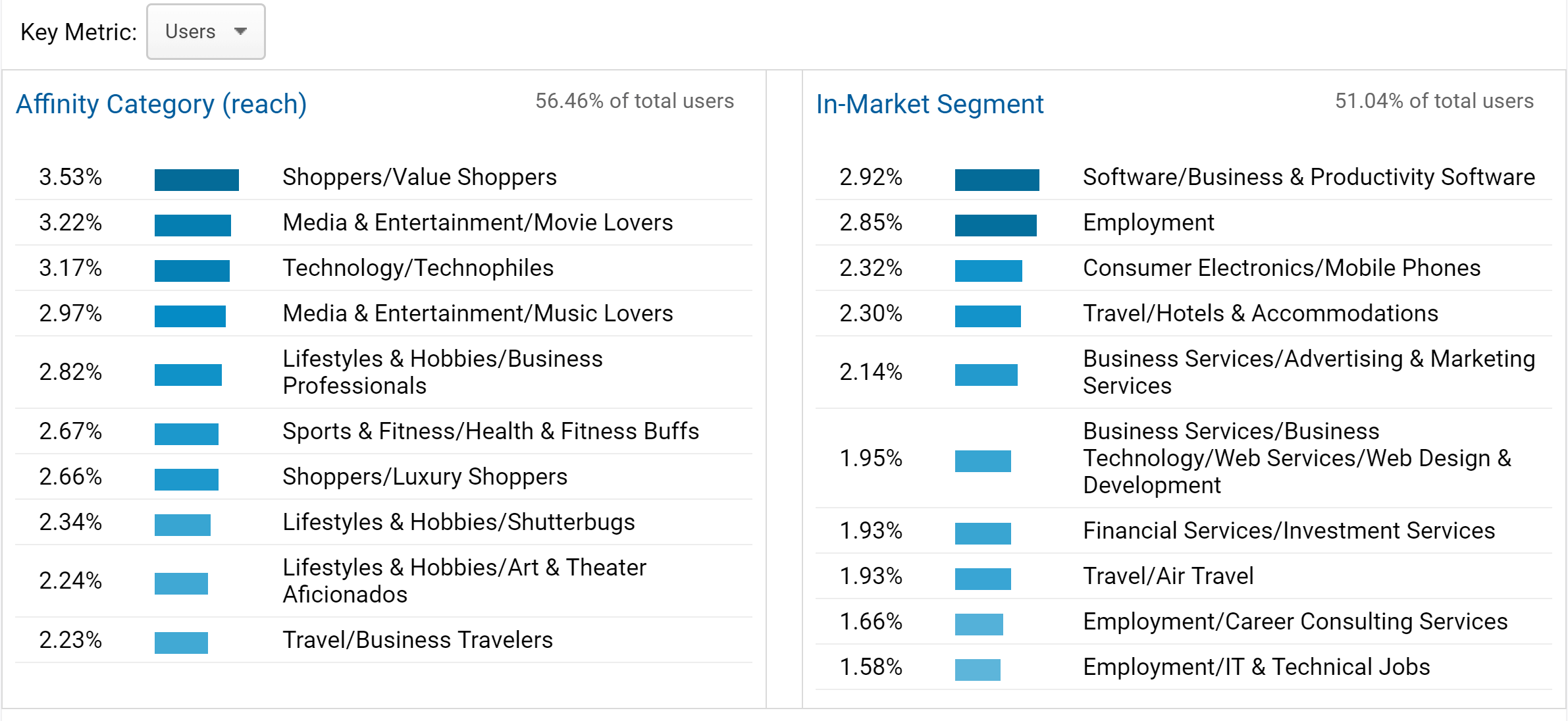 2. Hubspot's Make My Persona Tool
As a B2B content marketer, you probably spend a lot of time building audience personas so you can make sure you're correctly targeting your marketing. Hubspot has a free
Make My Persona
tool to make this process easier.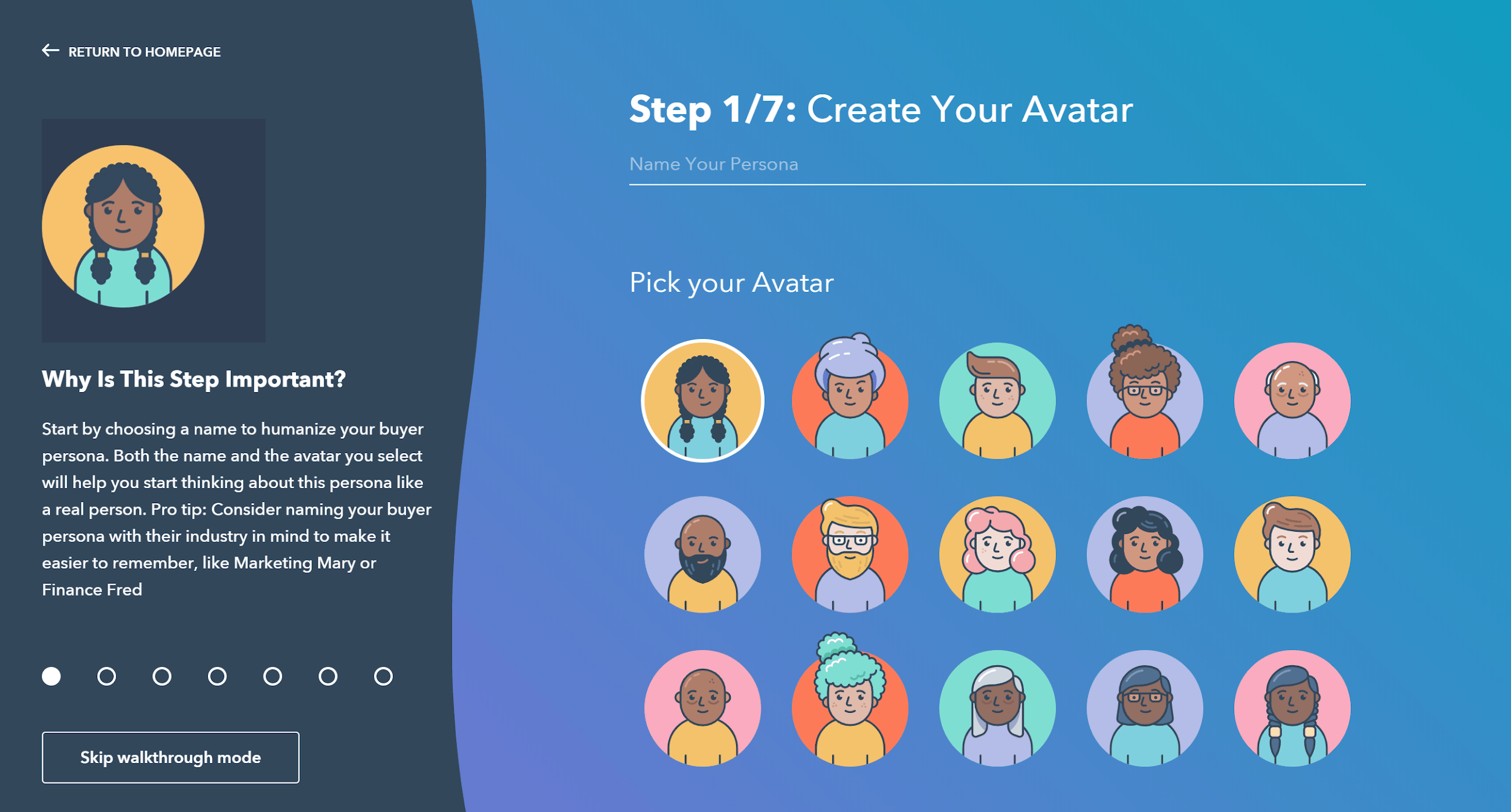 It walks you through a seven-step process to help you
identify your audience's goals, communication preferences, key challenges, and more.
Then you can tailor your content marketing and messages to their needs.
SEO and Keyword Research Tools
When planning content marketing for B2B, keyword research gives marketers a double win. It helps you learn more about what your audience is searching for AND it helps you find the search terms you need to create excellent content for people and search engines. Here are a couple of tools that top B2B marketers swear by.
3. Ahrefs
Ahrefs
is an SEO powerhouse that helps you with competitive keyword and backlink research so you can outdo the competition. For B2B marketers,
the Content Explorer tool helps you find the best performing content in your niche,
tracking everything from social shares to word count.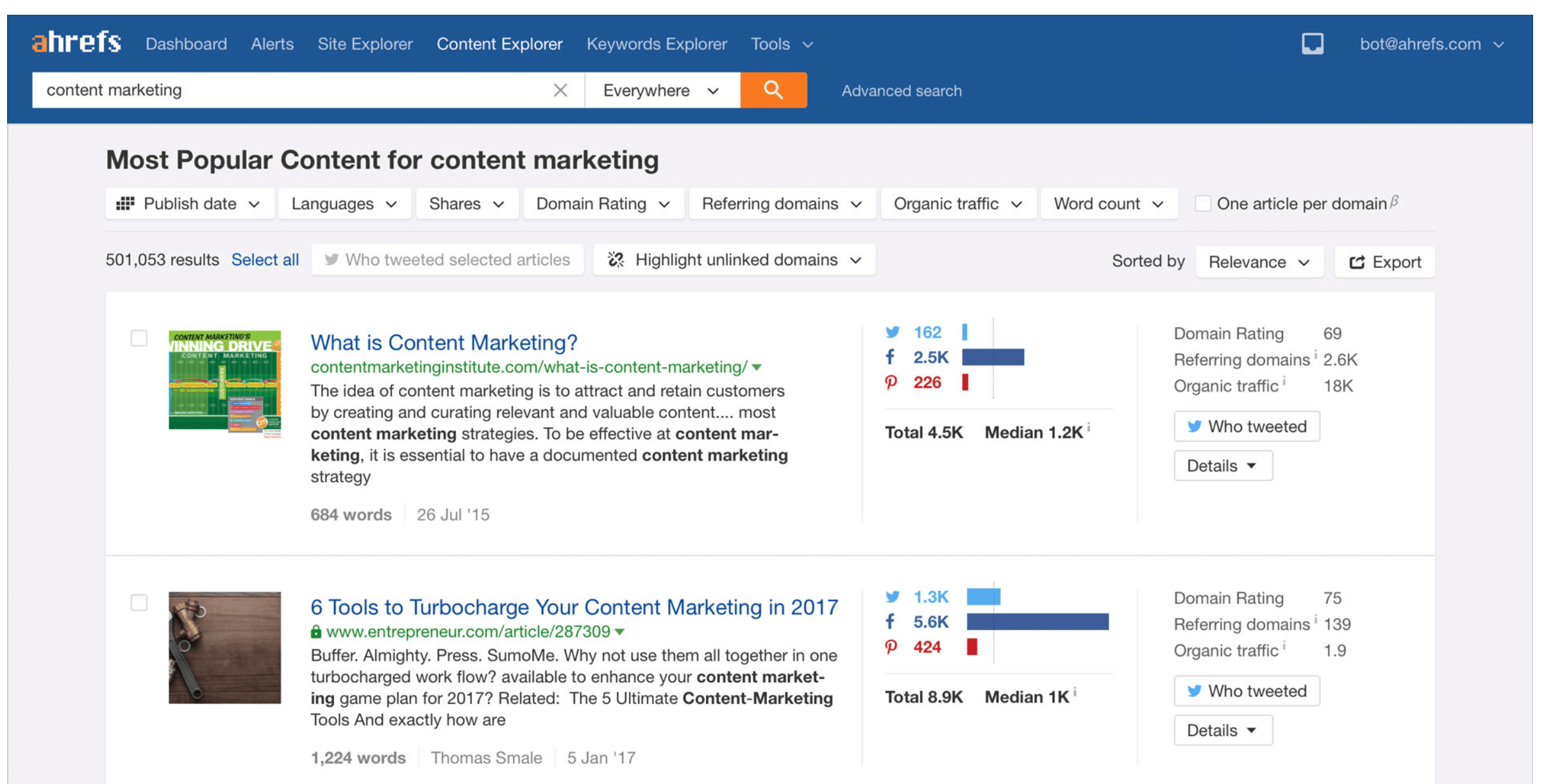 4. SEMrush
SEMrush is a powerful marketing toolkit. In addition to SEO, PPC, and social media tools, it includes a lot of features and insights designed to help marketers identify the keyword phrases to use in content. One of its killer features is the
SEO Content Template
tool.

This analyzes the top content for your chosen keyword phrase, then recommends phrases to use, identifies readability, and even tells you how long your content should be to outrank your competitors.
Idea Generation Tools for B2B Content Marketing
Want to understand the questions your audience is asking, and the content marketing types that really make them take notice? Then you'll need these essential idea generation tools.
5. AnswerThePublic
It's super important to
optimize content for the questions people are actually asking.
That's where AnswerThePublic comes in
. Type in your search term and you'll get a graphic visualization of the questions, so you can seed them into your content.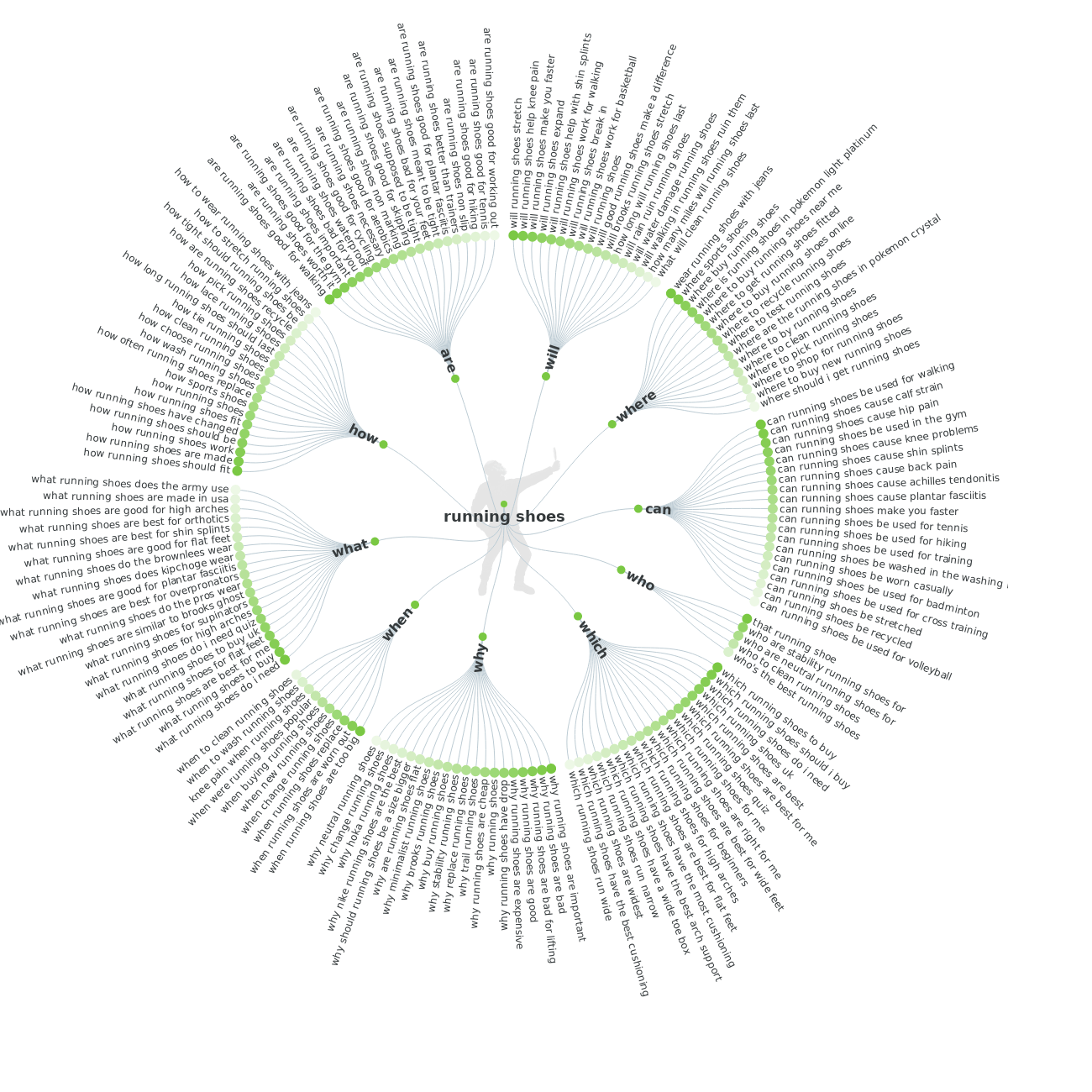 While AnswerThePublic is free for basic searches in English, you'll need to
upgrade to a Pro plan
for unlimited searches, and the ability to search by language and location.
Get inside your audience's mind and create better content. Here's
our ultimate guide to AnswerThePublic
 to help you get started. (And answer the question on if you should go pro. #SpoilerAlert – Yes! Find out why.
6. BuzzSumo
BuzzSumo is one of the best B2B tools around for generating ideas. The tool tracks the most popular content shared on Facebook, Twitter, Pinterest, and Reddit.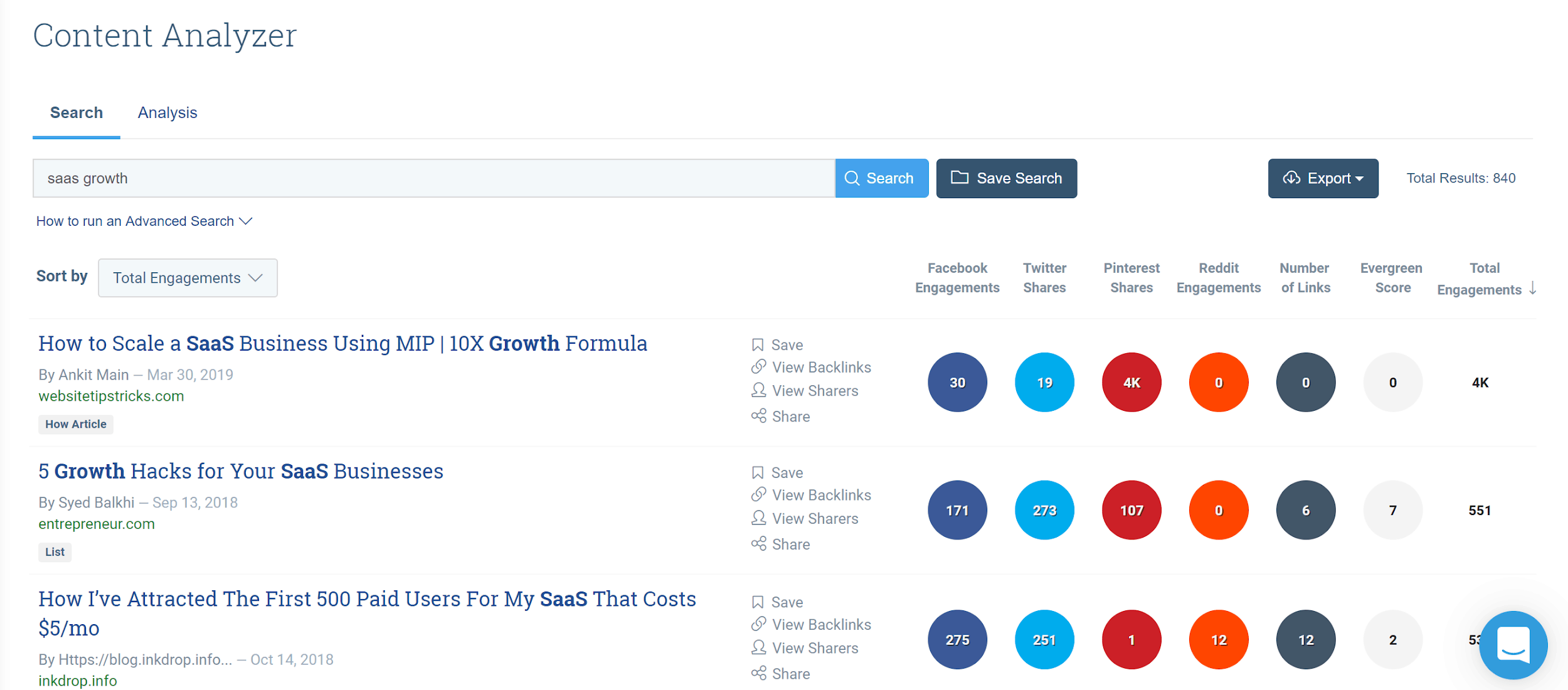 This tool helps you work out the most popular content marketing types and topics
so you can make sure you're giving your audience what they want. While you can use
BuzzSumo
for free, you'll need the Pro version to get content analytics, backlink information, and influencer contacts to extend the reach of your content.
B2B Tools for Content Curation
Finding other people's content to share is an essential part of a B2B content strategy. That's why you need reliable content curation apps. Here are a couple of essential tools to try.
7. Feedly
Feedly is one of the best ways to
keep track of multiple topics easily.
Add the feeds of the blogs and sites you want to follow, then open
Feedly
and skim read them for an overview of what's happening in several niches.

8. Anders Pink
Anders Pink helps you curate and share custom briefings on topics of your choice. Use a combination of RSS feeds, Twitter influencers, sites, and sources to
create a digest that enhances your expertise with your audience.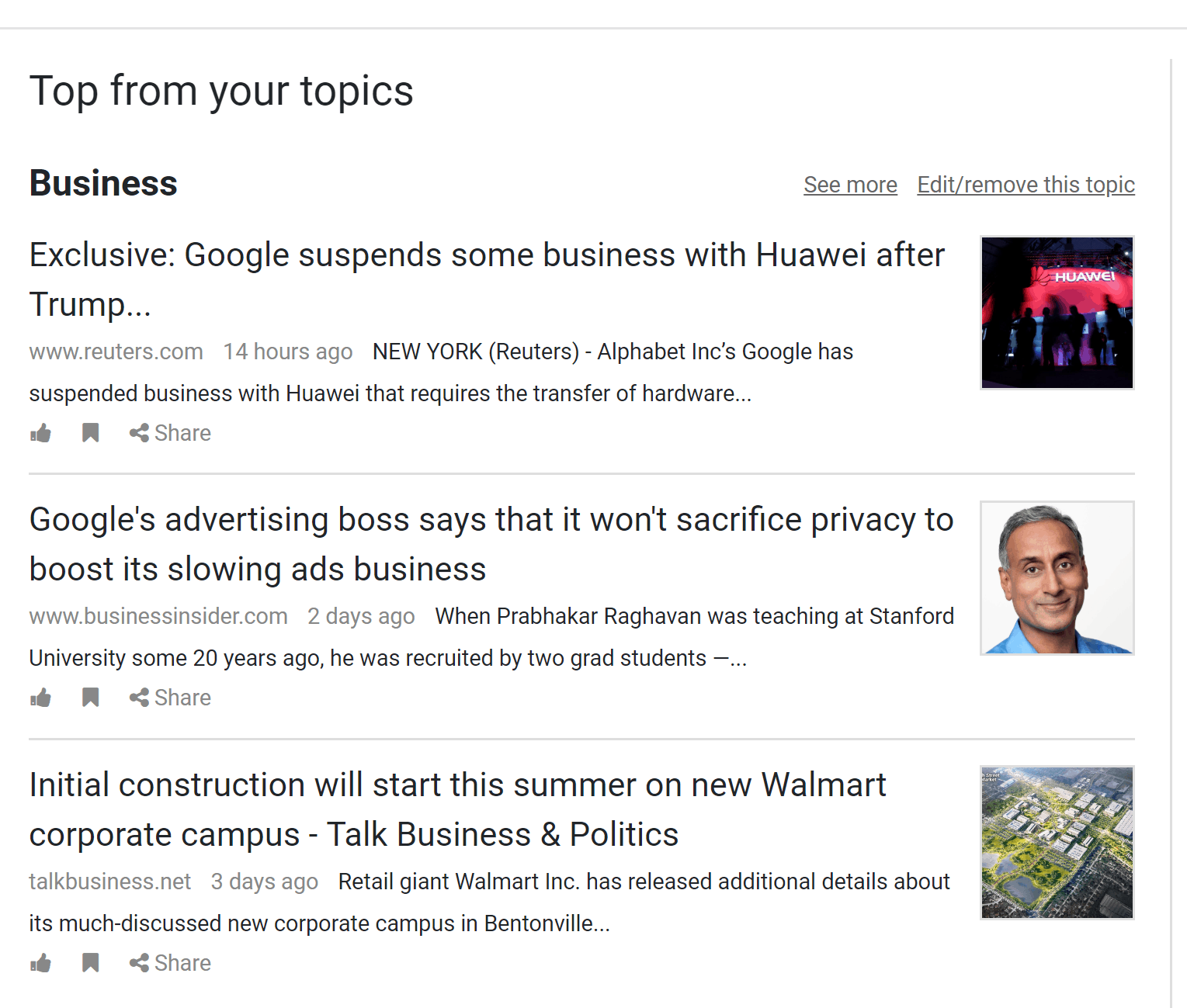 You can easily recommend and comment on content, and it integrates with a range of popular business and learning apps. You can use
Anders Pink
for free for a single briefing, but you'll have to upgrade for more briefings and a Slack integration.
Social Listening Tools
An important aspect of your B2B content strategy is being responsive. Sometimes that's about creating content your audience needs, and other times it's about answering queries fast. Either way, you'll need to know when they're talking about you. These next tools will help with this.
9. Mention
Mention lets you track both your brand and your competitors across the web and social media. This lets you identify opportunities to interact with influencers and extend the reach of your content.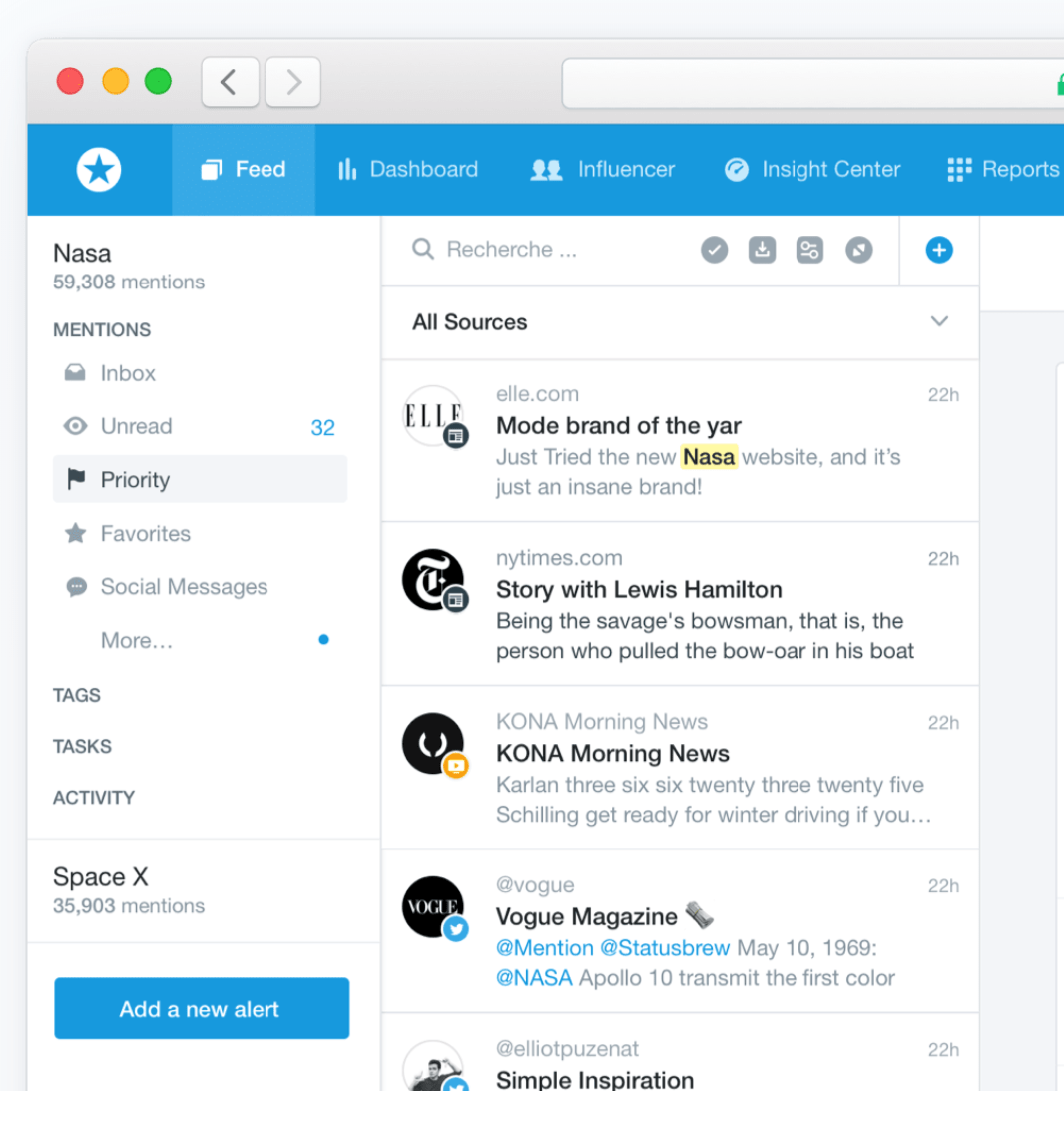 The tool also provides reports and insights, including sentiment analysis.
Mention
has a free trial available
so you can check it out before committing to a paid plan.
10. Awario
With
Awario
,
it's easy to track the brand mentions that matter,
so you can focus on those that can help you win more business. Say someone asks for business recommendations and one of your existing customers mentions you, knowing you've been mentioned lets you follow up quickly. That means you could be the one to win the deal.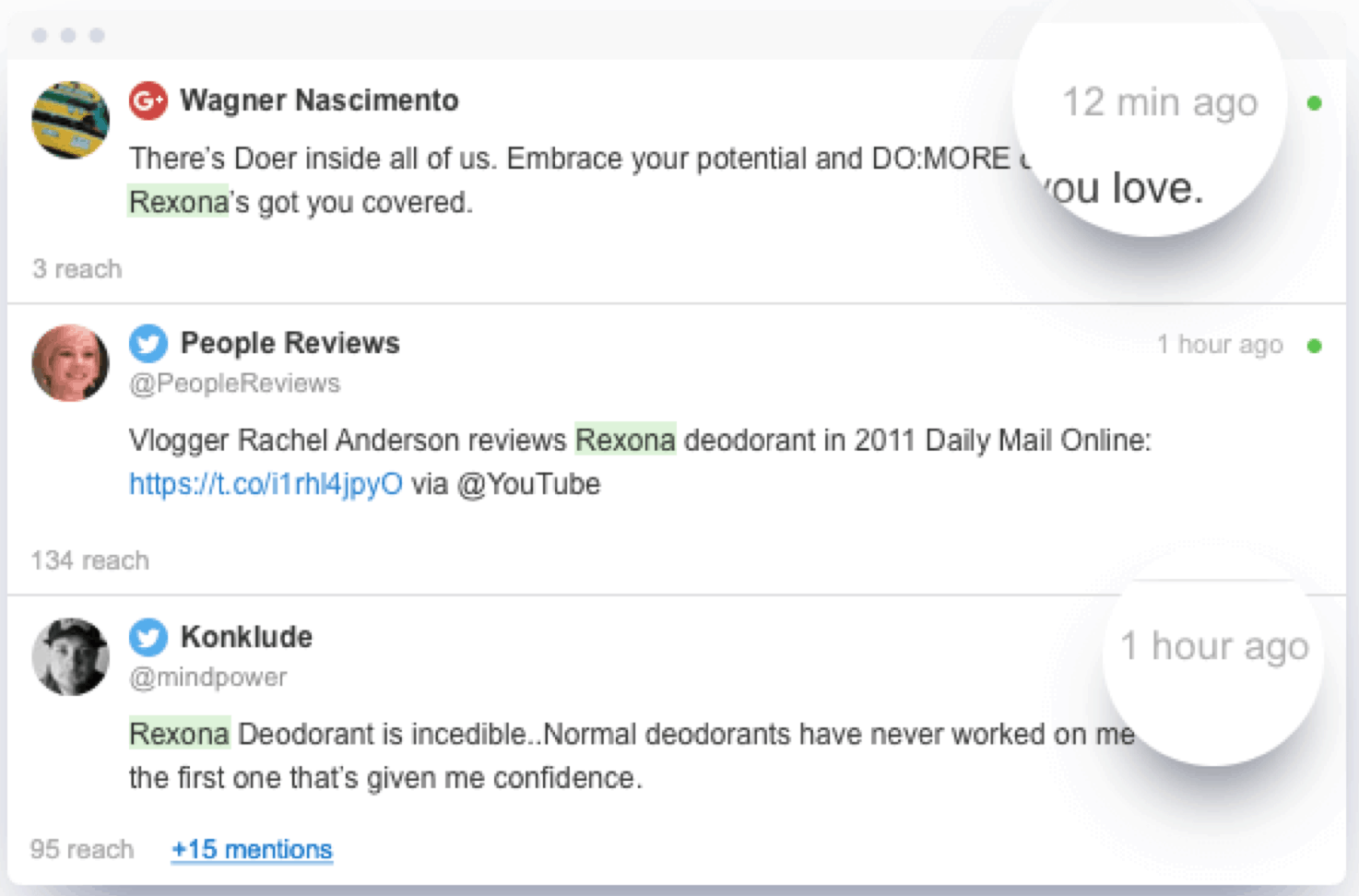 As well as social listening across multiple sites, languages, and locations, this tool makes it easy for you to get the important customer recommendations that will smooth the path to B2B sales. You can check Awario out with a free trial.
Content Scheduling Tools
One way B2B marketers can streamline their content marketing process is to schedule content in advance. Once you have created or curated the best content for your audience, the following tools will help you share it at a time that suits both you and your potential customers.
11. Buffer Publish
Buffer's one of my favorite tools for scheduling social media content. It's got an easy one-page interface so you can upload content to multiple social platforms, including LinkedIn, which is useful for B2B marketers. Buffer makes it easy to decide when to publish your content. And if you change your mind, just rearrange your schedule with the drag-and-drop calendar. The tool also has integrations with your web browser, and other useful B2B marketing tools, like Feedly. Plus, you can monitor RSS feeds to get content publishing suggestions via the
Content Inbox
feature.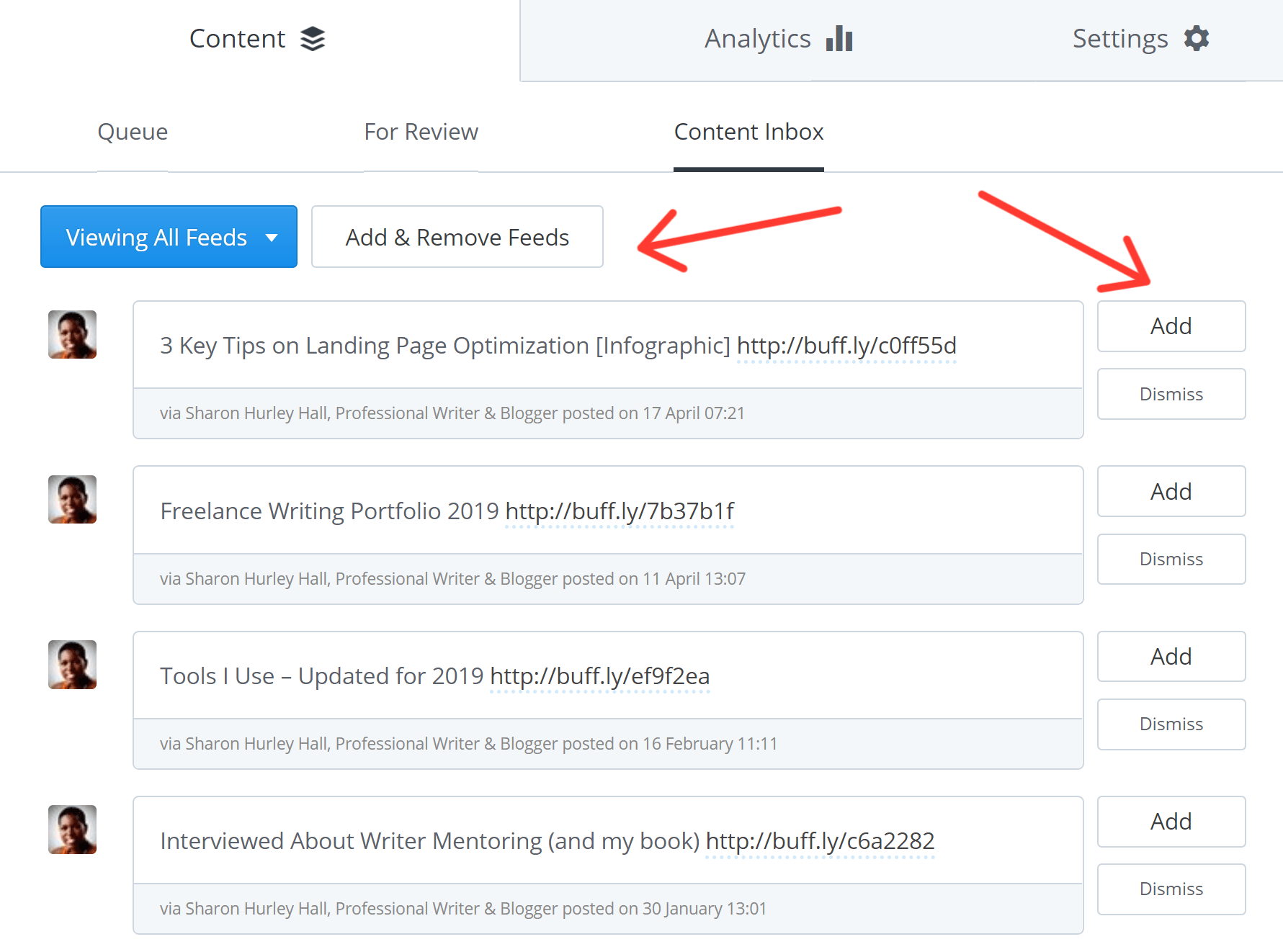 Buffer also provides
analytics
, although these are pretty basic in the free tool. To get in-depth analytics on comments and more, you'll need a Premium or Business plan.
You can try it for free with a 14-day trial.
Click here to read our in-depth Buffer review.
12. Hootsuite
Though it can look a bit dated,
Hootsuite
is a powerful social media dashboard and scheduling tool. As well as letting you schedule and manage content, Hootsuite also helps you track and respond to mentions. Plus, you'll get analytics on social media content, so you can tweak your strategy if necessary.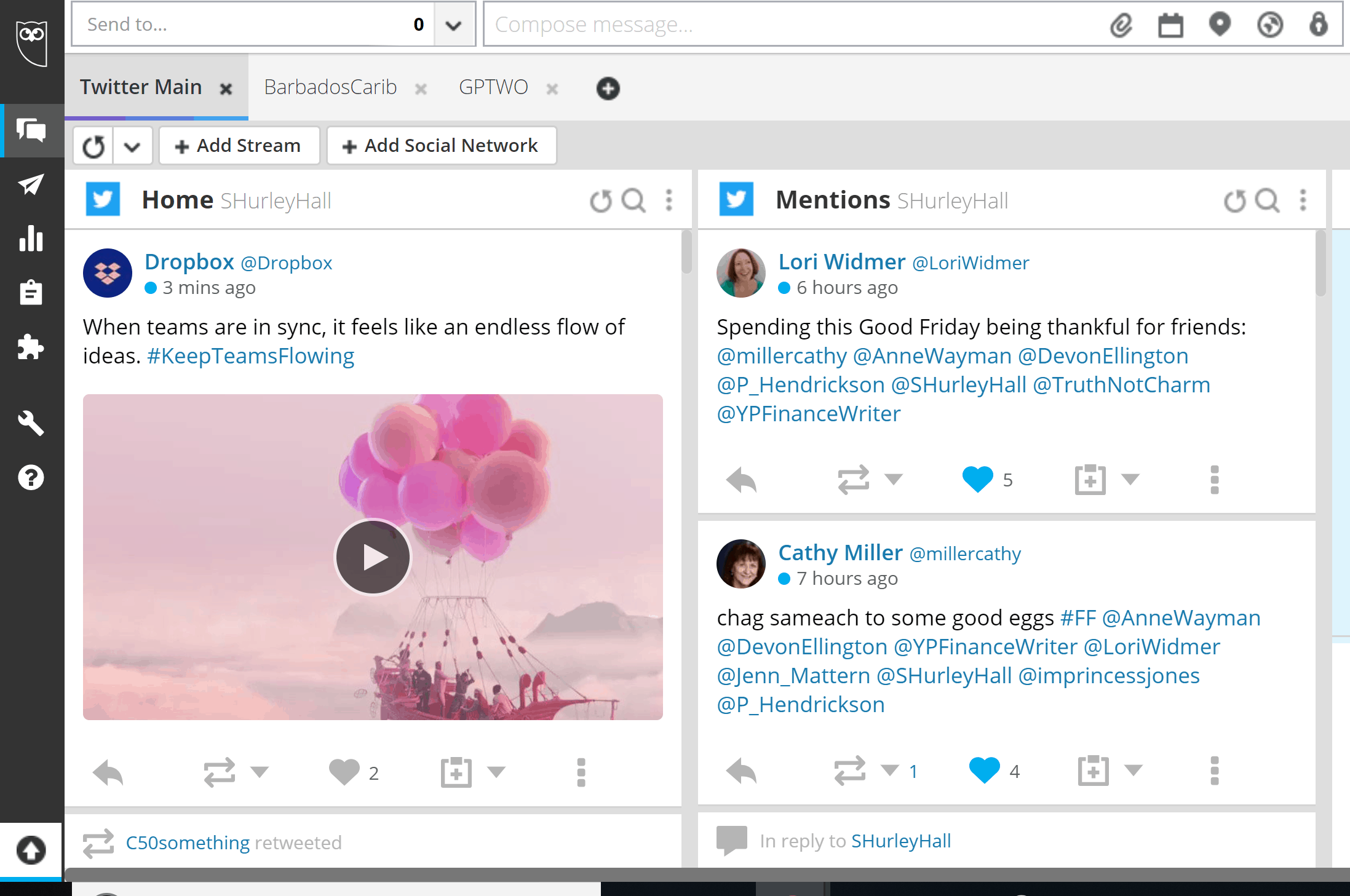 While Hootsuite is available for free, if you want full automated scheduling, you'll need the Pro plan. And you'll have to upgrade even more for custom analytics on your content. Luckily, all plans come with a
30-day free trial
. Want to learn more?
Read our in-depth
Hootsuite review
.
Email Marketing Tools
Email marketing is one of the top ways that B2B content marketers build relationships with their audience. So it's important to have the right email marketing software. There are dozens of
email marketing tools
to choose from, but here are a couple to get you started.
13. Constant Contact
Constant Contact comes out on top of WebsitePlanet's list of email marketing software. As well as responsive email templates, a drag-and-drop editor, and email analytics,
Constant Contact
has a couple of features that really stand out for B2B marketers.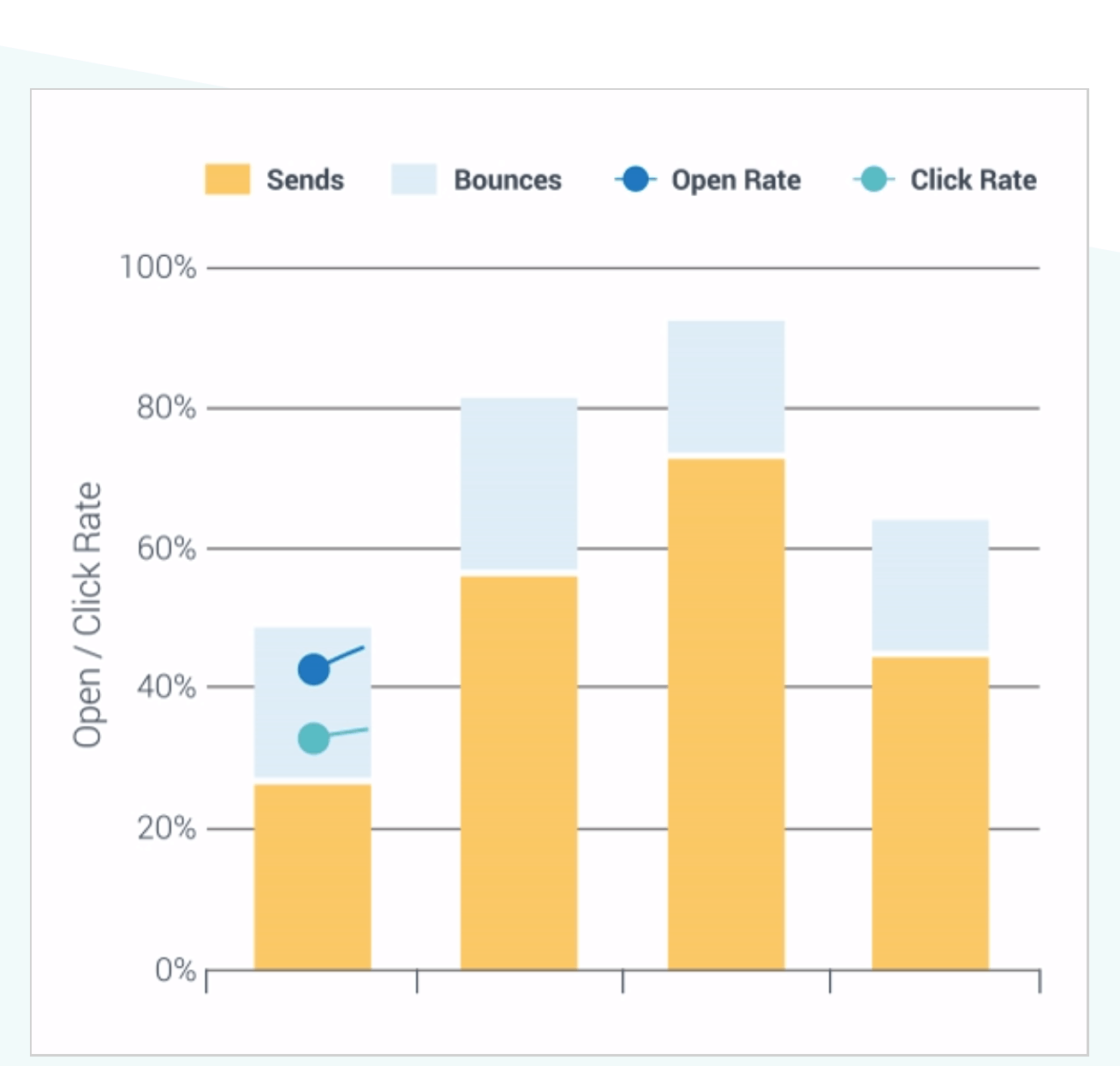 First of all, if you're in the U.S., you get a whopping
60 days to test it out
, which is plenty of time to explore the email marketing software in full. More importantly, though, Constant Contact helps you get started with B2B marketing with a library of ideas you can use as a starting point for your email content strategy. Business users can also benefit from e-commerce integrations, automated welcome emails, the integration of polls and surveys, and much more.
Find out more in our expert Constant Contact review
.
14. MailChimp
Many businesses start with
MailChimp
, because it's got an almost unbeatable free plan. You can manage a database of up to 2,000 subscribers, and 12,000 emails a month, without paying anything. Plus, it's also easy to customize email templates. MailChimp has great deliverability, so you know your emails will reach your contacts. Its analytics will let you know which signup method is bringing in the most subscribers, and how people are responding to your emails.

In its recent update, MailChimp introduced basic automations and landing pages to the free plan. However, to access advanced segmentation, testing features, and unlimited email sends, an upgrade is necessary. For more information,
read our in-depth
Mailchimp review
.
B2B Marketing Automation
Finally, no B2B content marketing strategy would be complete without marketing automation, and there's one tool that's highly recommended.
15. Hubspot
Hubspot is an all-in-one marketing automation app that allows you to handle many of the tasks in this roundup in a single place. This includes content management, SEO research, email marketing, lead flows, social ads, and more.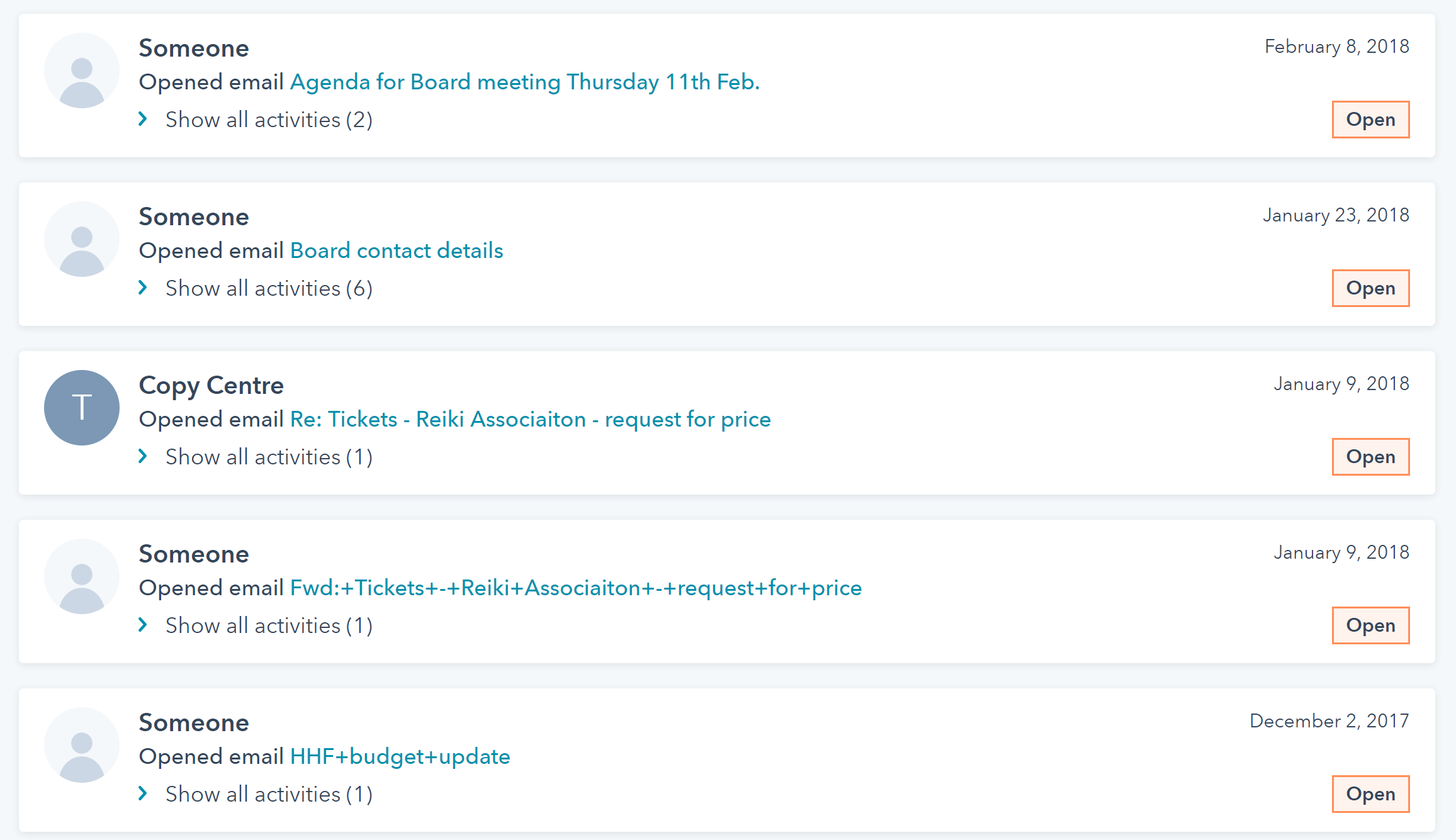 It's easy to manage your B2B customers via Hubspot's customer relationship management (CRM) software. You can
get started with Hubspot for free
, but as a B2B marketer, you'll want to upgrade to get access to more content marketing tools.
Choosing Your B2B Content Marketing Stack
Which of these tools should you choose to get started with B2B content marketing? It depends on what's most important to you. You'll definitely need Google Analytics in your content marketing stack. And if you're looking for an all-in-one tool, then Hubspot is a clear choice. But that doesn't mean you won't need other tools, too. While it's pretty easy to focus on a single email marketing platform or keyword research tool, you'll find that each idea generation, content curation, or content scheduling tool offers something different. Your best bet? Take advantage of the free trials to test the software, then select the tools you realize you can't live without.