A2 Hosting offers shared hosting, WordPress-specific hosting, VPS hosting, reseller hosting, dedicated servers, and domains via Enom.
 In theory, if you need a hosting-related thing, then A2 Hosting can
Do! That! Thing! And super fast!
The company goes so far as to say that its hosting is "20X Faster." This brings us to the obligatory question: "Faster than what, exactly?" A2 Hosting won't tell us, so we kind of have to figure that out for ourselves. And so that's what I did. I signed up for A2 Hosting incognito, disguised as a normal, WordPress-loving customer who absolutely doesn't do this for a living. I did this to find out exactly how fast those servers are and how the overall hosting features stack up to the competition. It's pretty good, actually. But read on to see
how
 it's good and find out if A2 Hosting is right for you.
Features
The Features Aren't Exciting, but They're Good
There's really nothing to complain about, for the most part.
 It should be noted, however, that the WordPress-specific features don't amount to much more than a WordPress performance-enhancing plugin developed by A2 Hosting itself,
and a couple of other plugins besides. Oh, and apparently "20X Faster" performance. Here we go… If you've read several of my articles, you may be annoyed by my ranting about how terms like "20X Faster" mean absolutely nothing without a point of comparison. I understand that, but hosting companies keep hauling out this meaningless term, and it's driving me mildly crazy. What, that twitch in my eye? No, that's always been there.
Anyway, let's talk about some features everyone gets. Every plan comes with:
Unlimited email addresses
Unlimited bandwidth
cPanel – for that familiar hosting experience.
Free SSL – to encrypt all data sent between your site and your users' computers.
Staging environment – this allows you to create a copy of your site, make changes, and then push it live when you're sure everything works.
Free automatic backups – not available on the Startup shared hosting plan.
On top of that, you can install pretty much anything else you want on your server
 and put it on a subdomain or something. cPanel, as usual, comes with the Softaculous app installer, and that includes dozens upon dozens of apps, content management systems, and even RSS readers. Ah, Really Simple Syndication. There's a part of the old web that's worth fighting for. Anyway, I went with the
Startup plan
, which supports 1 website/domain and has a very respectable 100GB of SSD storage. Now, here are some of the more interesting features you'll find on the WordPress plans.
A2 Optimized
A2 Optimized is the one big thing that A2 Hosting itself has made for its WordPress installs.
 It essentially takes the functionality of every good WordPress optimization plugin and puts it all in one place. For free. (A lot of WordPress optimization plugins will hide their better features behind a paywall.) It also works with some other plugins like W3 Total Cache to provide even more functionality. Overall, features include: page caching, database caching, browser caching, minified HTML/CSS/JS, GZIP compression, image compression on upload, and more. In theory, a website with all of these things enabled should be pretty fast, as long as the server itself isn't terrible. Well, we'll talk a bit about that later.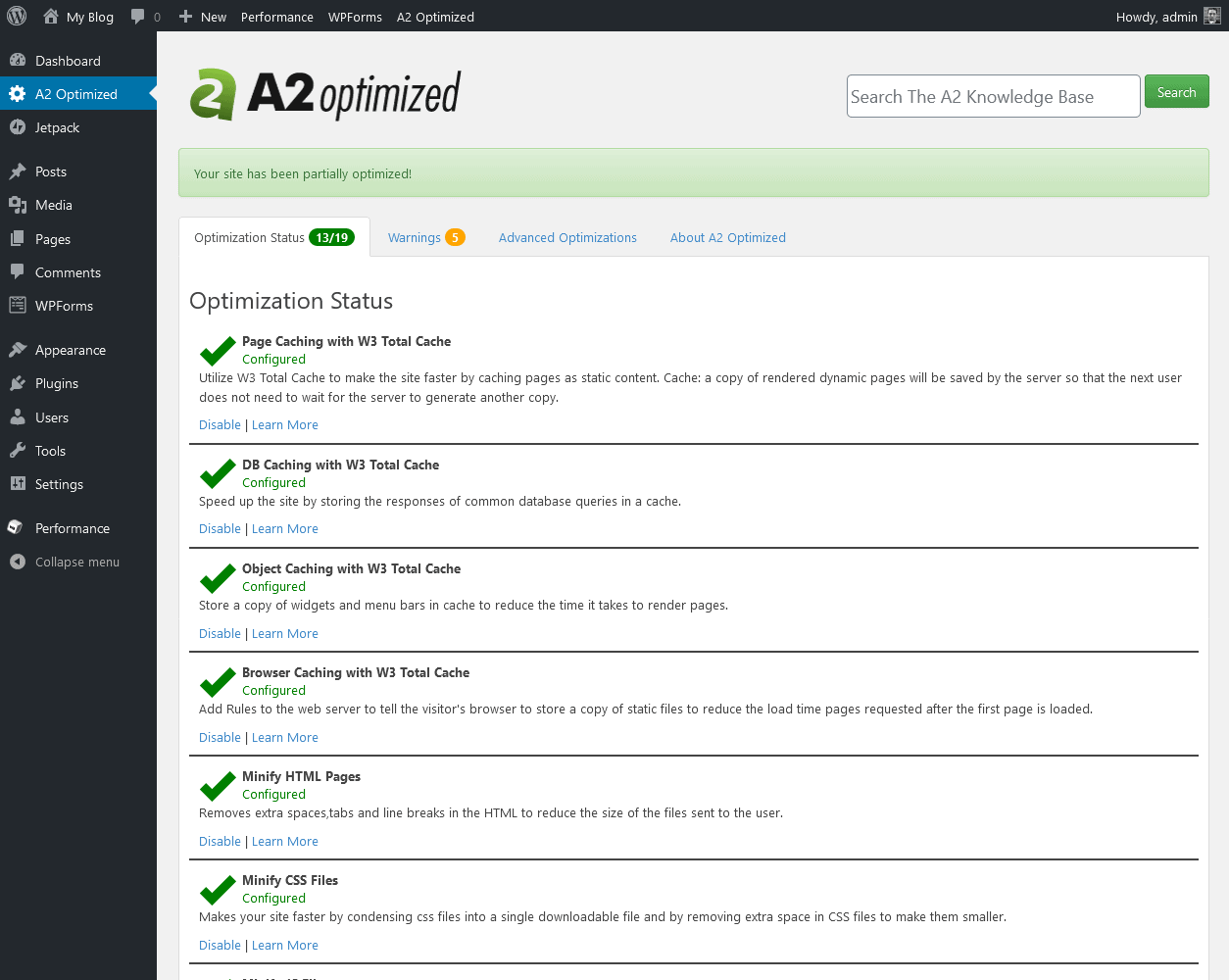 Easy Offsite Backups
So this is a big thing.
You can get automatic offsite backups for your websites, and I say yay for redundancies!
 Having your website backed up in as many places as possible is always the best way to do things. So what's the catch? It costs extra (on the Startup plan). Sure, I'd say the price is more than fair for the security and safety of your website (especially if you're running an online business), but it
will
 eat a little bit into your budget, especially if you chose A2 Hosting for
its cheapest plans
.
The Other WordPress Plugins
Two other plugins are included by default:
First is the free version of Jetpack, a plugin made by the same people who make WordPress.
 It includes several optimizations and extra features for WordPress, such as better site analytics, a CDN for images, downtime monitoring, automated post sharing to social networks, and more.
Somewhat more exciting is WPForms, which is a plugin for (you guessed it) making forms!
 This is a premium plugin that doesn't have a free version at all, so you can imagine it's packed with features to help you design advanced forms, such as:
Multi-page forms
Conditional logic
File uploads
Form templates
Spam protection
And more. Getting all of that for free with your hosting is a pretty good deal.
Managed WordPress
Now, this is a more expensive option, but you can get
fully managed WordPress plans
. These include even easier one-click site staging, a Jetpack Personal license, the Plesk control panel, and (of course) a more hands-on approach to support. Because it's managed hosting, the tech team will do a lot more stuff for you, including updates and maintenance.
It's hosted on the Turbo servers, which means your site will run
a lot
 faster.
 And I do mean a lot.
FEATURES SCORE: 4 (out of 5)
Ease of Use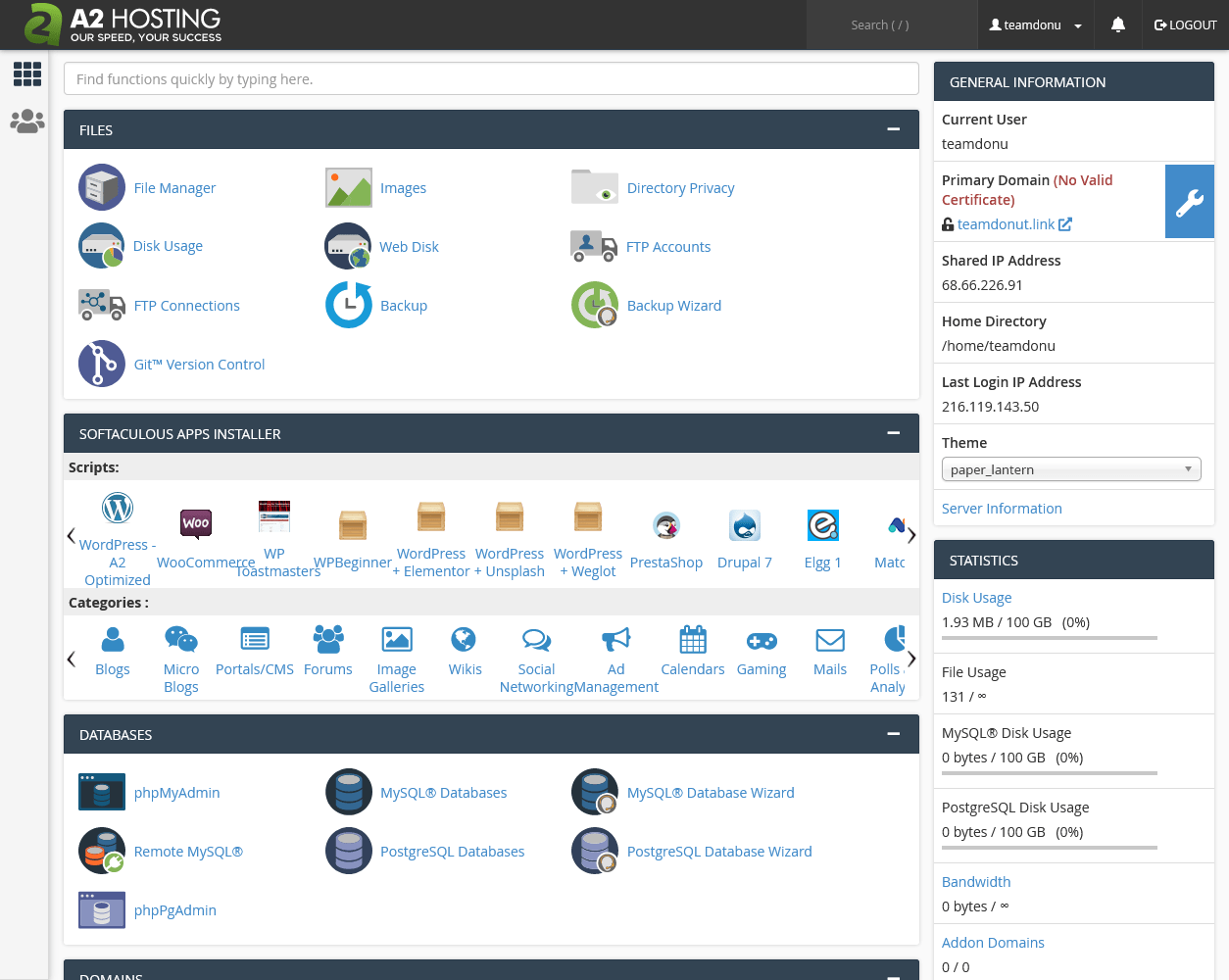 It's cPanel/Plesk and WordPress. You'll Be Fine.
OK, so the basic shared hosting comes with cPanel. If you've ever used it before, you'll be fine.
If you haven't, then you'll still be fine, because there are loads of tutorials all over the internet. There'll be a bit of a learning curve, but it doesn't take long to learn the basics. You'll probably spend most of your time in WordPress anyway. Overall, my experience was smooth, except for one little hiccup I'll get to in the Support section.
Easily Choose Your WordPress Variant at Install
You can choose between several WordPress + plugin combos at install,
 including things like Elementor and WooCommerce, for those of you who need a site builder or an online store, respectively. You can also, incidentally, choose to install something else entirely, such as: Magento, OpenCart, PrestaShop, DokuWiki, Concrete5, Joomla, Drupal, and many others. I mean, even B2evolution is on the list. Side note for those of you who didn't dive into blogging circa 2003: B2evolution is literally WordPress' daddy, because even though they came out in the same year, WordPress is a fork of B2evolution's code. And there's your Web History Fact of the DayTM.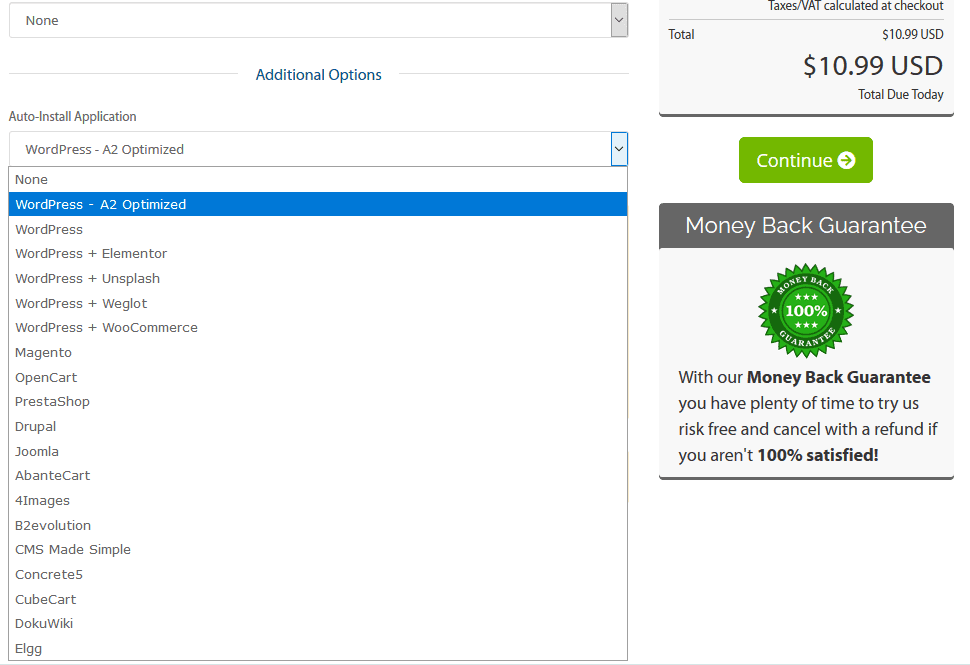 Huge Knowledge Base
Having trouble figuring out how everything works? Does the thought of actually contacting another person fill you with a sense of dread? Then you might be an introvert like me!
You also might be very interested to know that A2 Hosting has thoughtfully provided an extensive database of general advice,
 tutorials, and guidance regarding all of its services. Just hit the
Support
 link at the top of any page on the site, and you're good to go.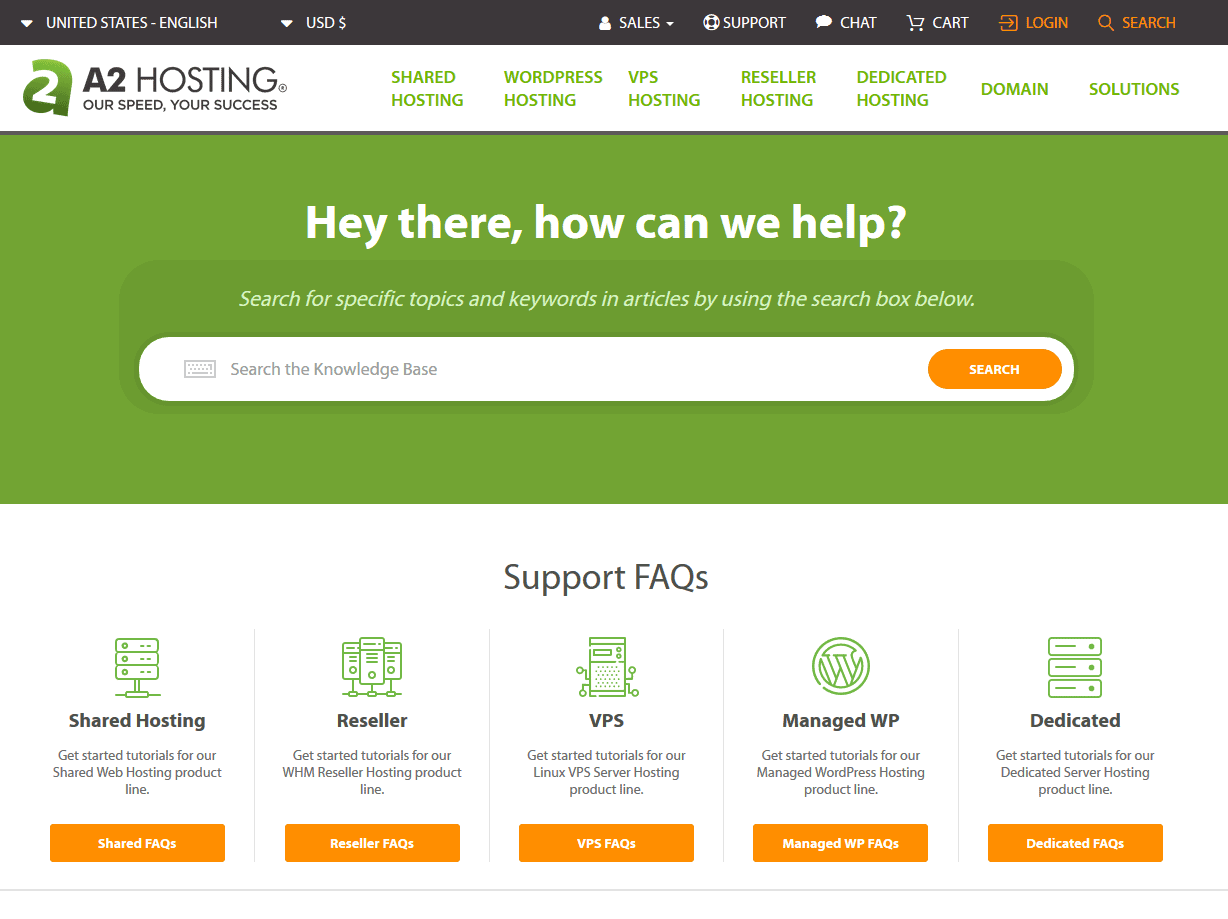 Strong Automatic Security Features
There are several security tools that mostly take care of things so you don't have to.
These tools include: a virus scanner, a tool that detects out-of-date software,
 DDoS protection, dual firewalls (yes, two of them; no, I'm not sure why), defense against brute force attacks, and so on. Simply put, you can generally let tech support worry about your site's security. I mean, still don't install any WordPress plugins or themes from sources you don't trust, but you should be OK.
EASE OF USE SCORE: 4 (out of 5)
Performance
It Depends Which Server Location You Get
A2 Hosting promises fantastic speeds on its WordPress hosting plans… but it's here that some difficulties
might
 arise.
 See, when I tested A2 Hosting from Mexico, the results were a little…well underwhelming. Don't get me wrong, they weren't terrible – but other hosts, like
Hostinger
, were actually getting better results. The average loading time was around 1.92 seconds for me… but that didn't stack up with the results we got
when we tested A2 Hosting's regular plans
, so I asked one of my colleagues to test A2's WordPress plans from a different location (the UK, specifically). And that's where it got weird, because he got
much
 better results.
I'm talking almost a whole second difference in average page loading time.
From Europe, the average page loading time was 1.0 seconds – in which case A2 Hosting's performance does match its claims for speed. The vast difference between locations is a bit disconcerting, though. The good news is that A2 Hosting delivered 100% uptime for both of us.
I'm going to get into a few more numbers, but you can always head straight down to t
he Support section
if you want.
GTmetrix
GTmetrix is our tool of choice for measuring page load speed and efficiency. In A2 Hosting's case, when I tested from Mexico, the fastest load time was pretty solid at 1.4 seconds on a test site that
isn't
 designed to be super-well-optimized. (Gotta give the servers a run for their money, after all.) The slowest speed, however, was 2.4s, and load times were all over the map. Here's the best result I got:

From Europe, however, not only were the results more consistent, they were much faster, too.
The slowest page loading speed using GTmetrix was 1.2 seconds – and the fastest was 860 ms.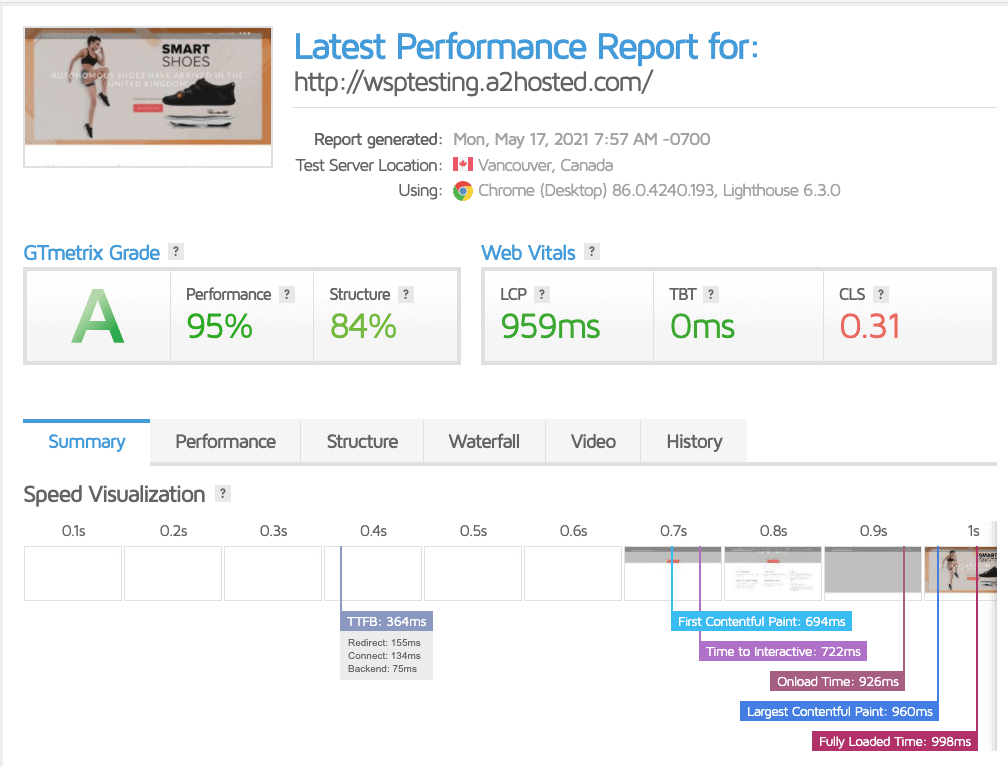 UptimeRobot
There's not a whole lot to say here. You can't do better than 100% uptime, after all.
Both my colleague and I got the same consistent 100% uptime from A2 Hosting
, and although the testing period wasn't all that long, it's still a great result.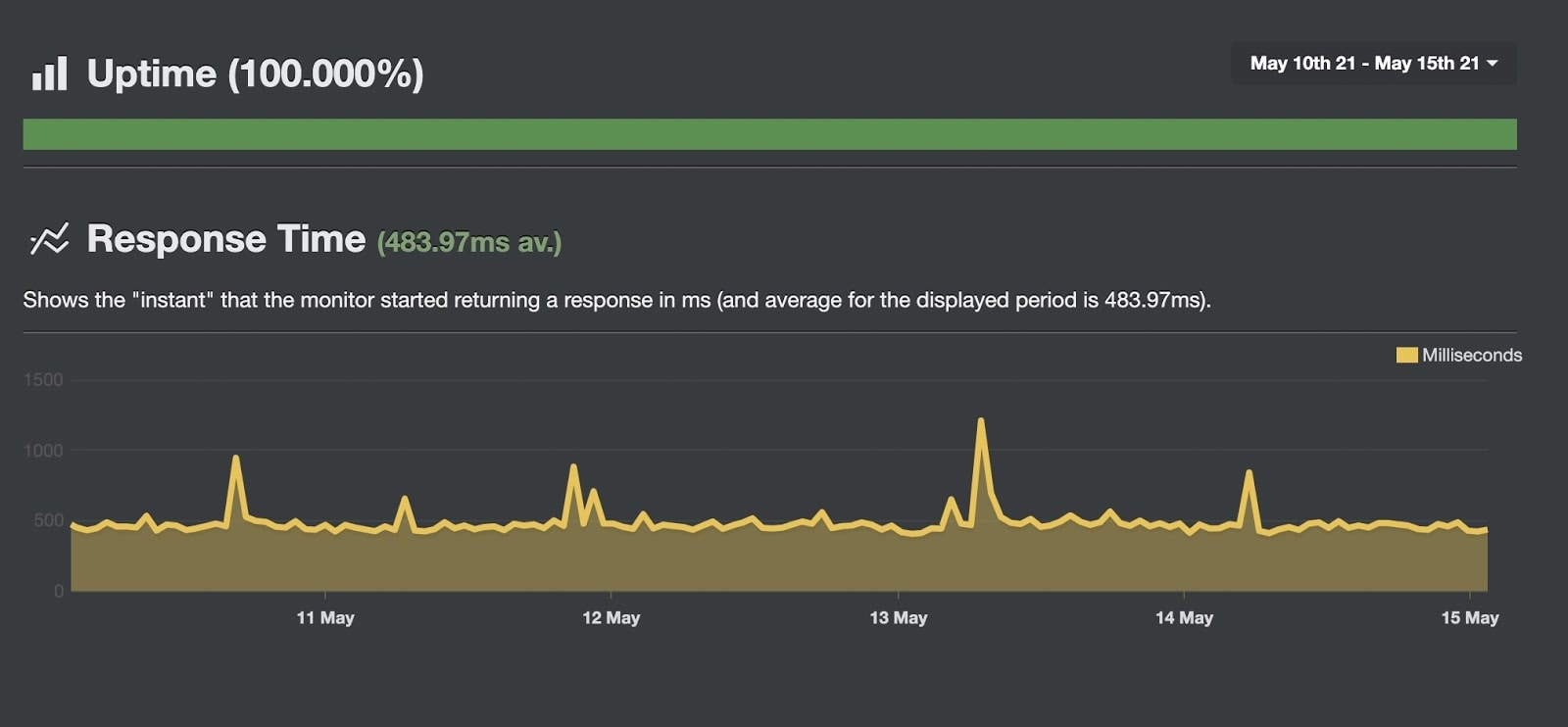 PERFORMANCE SCORE: 4.6 (out of 5)
Support
The Support Team Made Me Happy
My personal experience with A2 Hosting's support made me happy overall.
I mean, they have teams all around the world, available at any time (24/7) by ticket, live chat, or phone. And this company
does
 like its phone support service. Just look at all the regions served by phone support alone:
Andorra
Albania
Austria
Australia
Bosnia and Herzegovina
Belgium
Bulgaria
Brazil
Belarus
Canada
Switzerland
Colombia
Cyprus
Czech Republic
Germany
Denmark
Estonia
Spain
Finland
Faroe Islands
France

United Kingdom
Gibraltar
Greece
Croatia (Hrvatska)
Hungary
Indonesia
Ireland
Isle Of Man
India
Iceland
Italy
Liechtenstein
Lithuania
Luxembourg
Latvia
Monaco
Moldova
Montenegro
Macedonia
Malta
Netherlands

Norway
Poland
Portugal
Romania
Republic of Serbia
Sweden
Singapore
Slovenia
Slovak Republic
San Marino
Ukraine
United States
Vatican City State (Holy See)
South Africa
Yeah, there's a number for
each
 of those countries. There's one for
The Vatican
. I mean, I suppose the Catholic Church has to get its hosting somewhere, but I didn't expect this. Anyway, my experience went pretty well.
Live Chat
First, the WordPress admin panel gave me a 404 (page not found) error. Since you can configure where you want the admin panel to be, I thought maybe the default installation moved it to another folder for security. So I asked about that in the live chat.
I got a response in minutes, and then the WordPress admin panel suddenly started working as intended.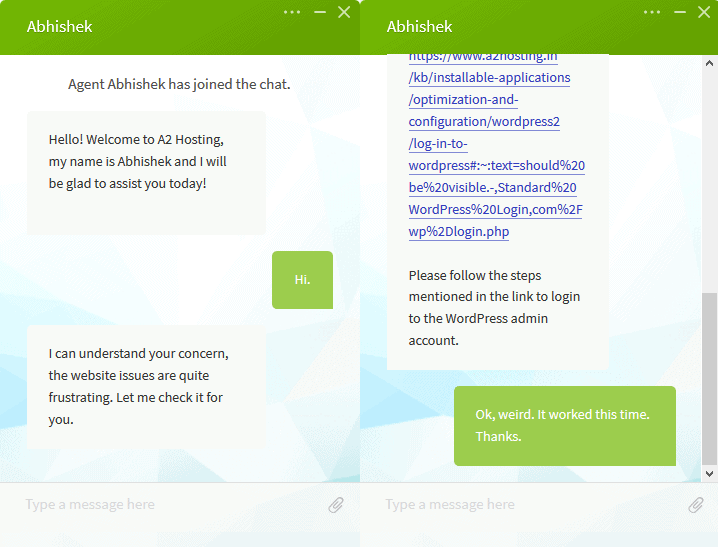 Tickets
Then, I opened a ticket to find out if it would be possible to move my site from one data center to another.
About an hour later, I got a response saying that yes, it was possible, for a cost.
 Note: The ticket system is also usable by email.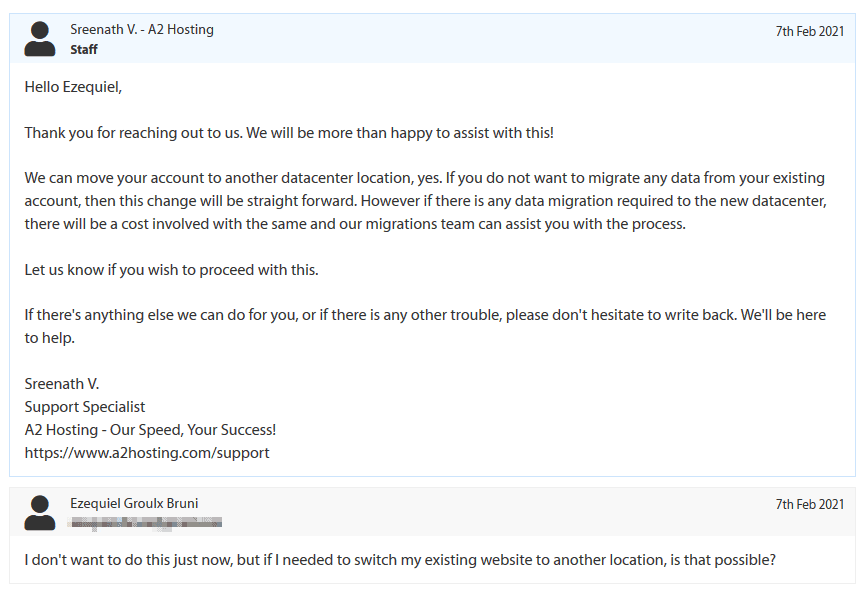 Phone
This mostly went well, but there were some problems with the connection breaking up. Then again, I was calling the US from Mexico via Skype, so these things can happen. I asked a few questions about the underlying tech on the servers, and then I asked where the heck they get a claim like "20X Faster" from.
The tech was polite and knowledgeable, and answered me quickly, even humoring my sillier questions.
 A2 Hosting uses Apache server tech on top of CentOS and LiteSpeed server tech for their Turbo servers. And that "20X" number comes straight from the whimsical minds in the marketing department, as far as I can tell. (Those would be my words, not the tech's.)
SUPPORT SCORE: 5 (out of 5)
Pricing
The Turbo Plans Are a Good Buy
A2 Hosting's WordPress plans are fairly cheap, at least to start with.
 As with almost all hosts, the prices go up a bit after renewal, but that's life. For the features you get, it's just fine. Not great, but fine. Just remember that with the somewhat inconsistent performance you can get on shared hosting, you might decide it's not worth the money after all. If A2 Hosting looks right to you, I recommend that you get one of the more expensive plans that says "Turbo" on it.
A2 Hosting WordPress Hosting
A2 Hosting accepts payment via:
PayPal
Bank transfer
PayU Latam (in Argentina, Brazil, Colombia, Mexico, and Peru)
Skrill
UnionPay (through Stripe)
Credit card (Visa, Mastercard, American Express, and Discover)
And check or money order
So, if A2 Hosting works for you, then you have many, many ways to hand over your cash.
Cancellations & Refunds
You can get a full refund for the first 30 days. After that, you can still get a pro-rata refund for whatever time you haven't used.
 That's not the best refund deal I've seen, but it goes above and beyond the pure 30-day industry standard. Cancellations are easy, and you can request one directly from the admin panel. Mine took about half an hour to confirm, and then I had to wait a few business days for the actual refund. That's pretty standard.
PLANS & PRICING SCORE: 5 (out of 5)
The Bottom Line
A2 Hosting excels when it comes to hosting WordPress sites, especially if you're ready to invest in their higher-tier plans, which house superior server technology. This hosting service offers numerous additional features, an intuitively designed interface for seamless operations, and boasts a stellar support team. But I should note that you can get slightly cheaper and definitely better performance from
Hostinger
, if you're on a budget, and you can get better WordPress features from
InMotion Hosting
. But A2 Hosting is definitely worth considering if you have the budget for one of its
Turbo plans or managed WordPress
.
OVERALL SCORE: 4.3 (out of 5)
FAQ
Do I need hosting especially for WordPress?
Strictly speaking, no, but also yes. I'll explain: WordPress can technically run on almost every modern web hosting company, and even quite a few of the outdated ones. If you can find the words "PHP" and "databases" on your web host's own website, then you can probably run it. But as with art, cooking, and romance (and pretty much everything else) there's a huge difference between doing a thing and doing it well. WordPress-focused hosts, or hosts with WordPress plans, usually implement some server-related tweaks to make WordPress run faster. Others, like GoDaddy, implement a bunch of tools to make installing and designing your WordPress site faster as well. And then there's Kinsta, an expensive service that is totally worth it if you have the money, because their whole service is dedicated to making WordPress run quickly and smoothly. But for your basic WordPress site? All of our best web hosting providers will do the trick in a pinch.
Is managed WordPress hosting better than unmanaged?
Again, that depends. Do you want complete control over your site and relative data privacy? Do you not mind doing everything yourself, including maintenance, upgrades, and so on? Are you on a budget? Then unmanaged WordPress hosting will work just fine. But if you've got the extra couple of dollars per month (in most cases), and you don't mind having your host regularly access your site, managed WordPress hosting can be totally worth it. The time and stress saved by not having to do too much technical maintenance can greatly simplify your life.
Does A2 Hosting have any discounts?
As is typical for hosting companies, A2 Hosting plans are cheaper if you pay for more hosting in advance. The difference between paying month-to-month and paying for 3 years at a time is staggering. If you decide that A2 Hosting is getting your business for the foreseeable future, you definitely want to get the long-term plan. Add to that the usual seasonal discounts and deals that nearly every hosting company runs now and then, and A2 Hosting can be quite affordable. And hey, if you want to go even cheaper, look for the best discounts on our coupon page.
Is A2 Hosting better for WordPress than SiteGround?
That sort of depends. Based on our overall review of A2Hosting, yes. A2 Hosting has some serious advantages in terms of features. You can just do more with A2 Hosting than you can with SiteGround. And the A2 Hosting Turbo server options are nothing to sneeze at. In terms of performance, SiteGround keeps up with A2 Hosting's cheapest plans just fine. But as soon as you get into the plans with the Turbo servers, the overall disparities in speed and features make A2 Hosting come out ahead. In short, if the only thing you need is a WordPress site, and you're on a strict budget, SiteGround is a contender. The moment you need anything more, A2 Hosting is better.