99designs is a well-known graphic design platform, and its website is beautiful – but does this mean it's the best place to run a logo design contest? Not necessarily. Designhill might not look as polished, but it is more affordable.
Can you really get a high-quality logo for a cheaper price?
I decided to run design contests on both platforms to find out. This was actually part of a big project here at Website Planet, where I (a total nerd, and a designer for half my life) tried out all of the major logo design services out there in search of the best new logo for our site.
See the results here.
I reviewed both
99designs
 and
Designhill
 individually, of course, but now we're here for a good old fashioned face-off. Read on to see the logos I got from each site and find out which platform is the right one for you.
The End Result
Here's What Happened When I Ran Logo Design Contests on 99designs and Designhill
So obviously, the main question is this:
how good a logo can you get from these services?
Well, when you use a service that allows thousands of designers to tackle your project, the results
will
vary. They will vary a lot. You will have to search through dozens-to-hundreds of potential logo designs and decide on the one that is right for you. Here's how it went for me:
I Got a Great Logo from 99designs
I got over 40 design submissions, and was able to narrow them down pretty easily.
At this point, I already had a lot of planet-based logos for our competition, so I wrote a more general design brief to see what other ideas would be submitted. Then, I picked a planet-based logo anyway, because it was the best I could find. I particularly liked the use of softer colors.

I Got a Great Logo from Designhill, Too
Out of 141 submissions to our contest on Designhill, I picked the one with the coolest rocket.
Look, I get paid to write about design. You'd think I'd have to be grown up to do that, but you'd be wrong. I just thought the aesthetic was great overall. Plus, the designer actually let me have
two
final designs: one to use for larger sizes (like social media cover images), and one for smaller sizes (like business cards). The differences are minimal, but important. Look at the size of the rocket in comparison to the planet: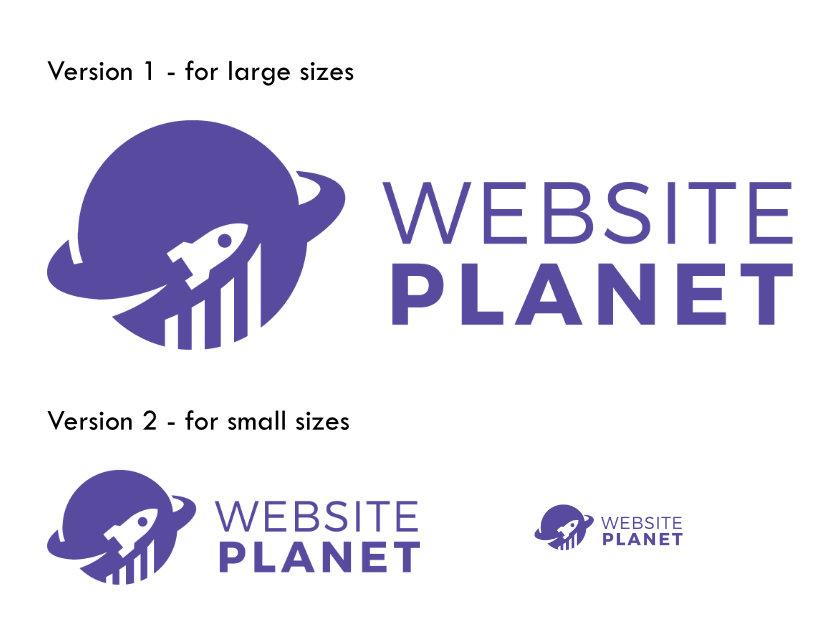 Services
99designs Focuses on Design, While Designhill Offers More Services
One of these platforms offers more than just the ability to connect with designers. Yeah… only
one.
To be specific:
99designs Only Does Design
You can get pretty much anything designed on 99designs:
logos, websites, T-shirts, brochures, vehicle decals, apps, and more. There are 80+ categories of designs. But once you have the relevant files, you're on your own.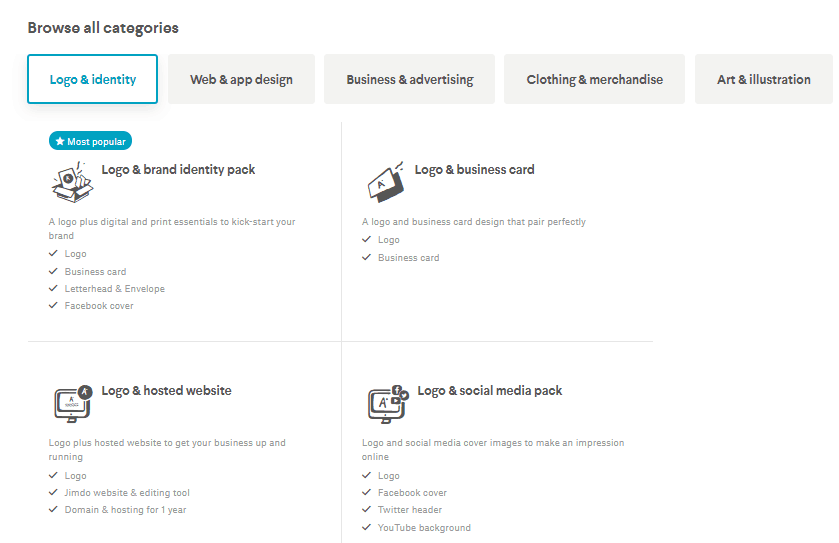 Designhill Offers Both Design and Printing
Designhill has 50+ categories of design services and even goes one step further by providing printing services.
You can get business cards, flyers, and pretty much all major types of printable clothing: T-shirts, hoodies, baby clothes, and even aprons. Swimwear, leggings, and shorts are "coming soon."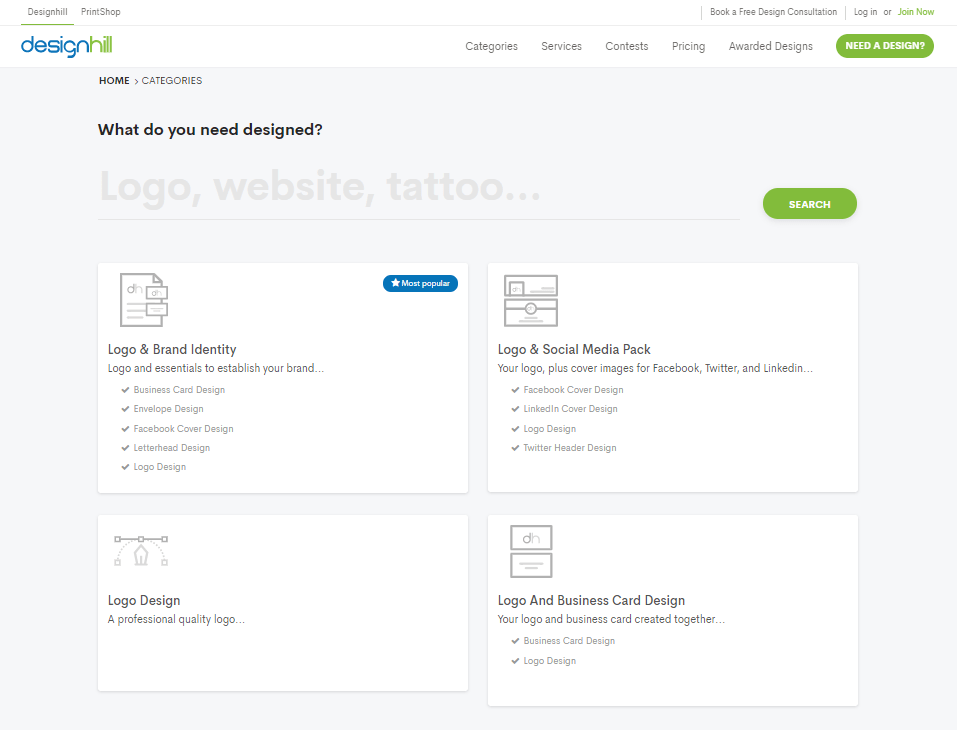 Bonus:
If you want to make your own logo, without having to talk to other people, Designhill also has its own AI-based logo maker. Answer a few questions, choose an automatically generated template, make a few changes, and go! Well, pay and go. It's not free, but it
is
cheaper than running a big contest.
Ease of Use
99designs Has a Smoother User Interface
If all goes well, you're going to spend a few hours sifting through designs to narrow down your options, wisely stroking your chin as you decide the future of your company. No pressure! You'll soon realize how important it is that your design platform of choice is easy to use.
99designs' User Interface Is a Personal Favorite
I've said it before, and I'll say it again. The experience of using 99designs has never disappointed me. The user interface (UI) stays out of your way, and just lets you get on with things. It's not hard to learn, and it's easy on the eyes. Okay, that last comment is a personal observation.
I love the sort of minimalism 99designs uses.
It's a bit like old-school Apple design, when Apple design was still good.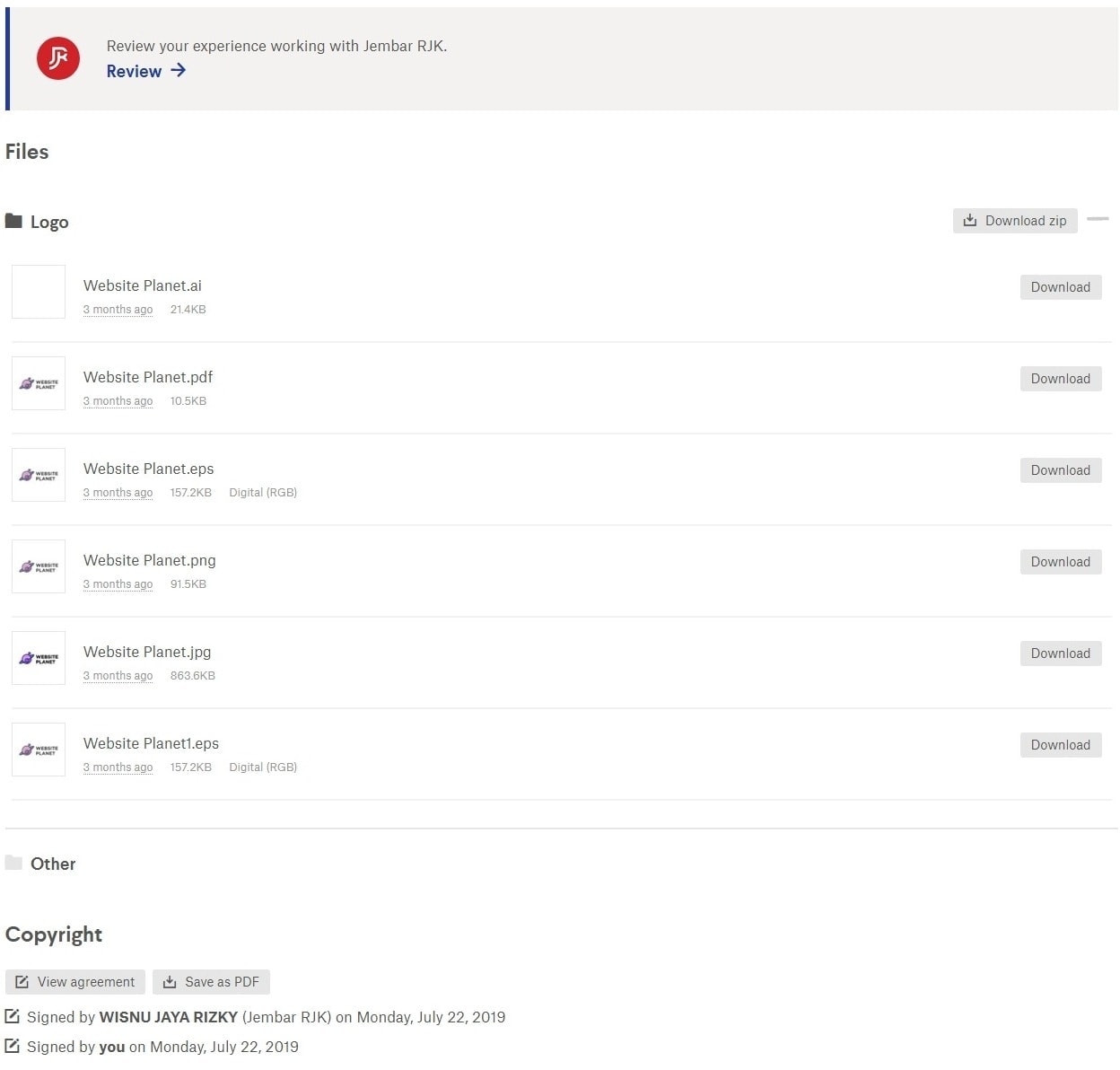 Designhill's UI Is Pretty Smooth, Too, But Not Always
Generally speaking, Designhill's UI looks nice and is simple to learn.
I never got lost, anyway. There was a small downside. When you try to filter out design submissions, you are asked for detailed feedback every time. With 141 submissions, that's impractical. Your best bet is to look at the grid view of submissions. From this view, you can use the "Favorite" button to sort the logos you want from the rest. It'll save you a lot of time.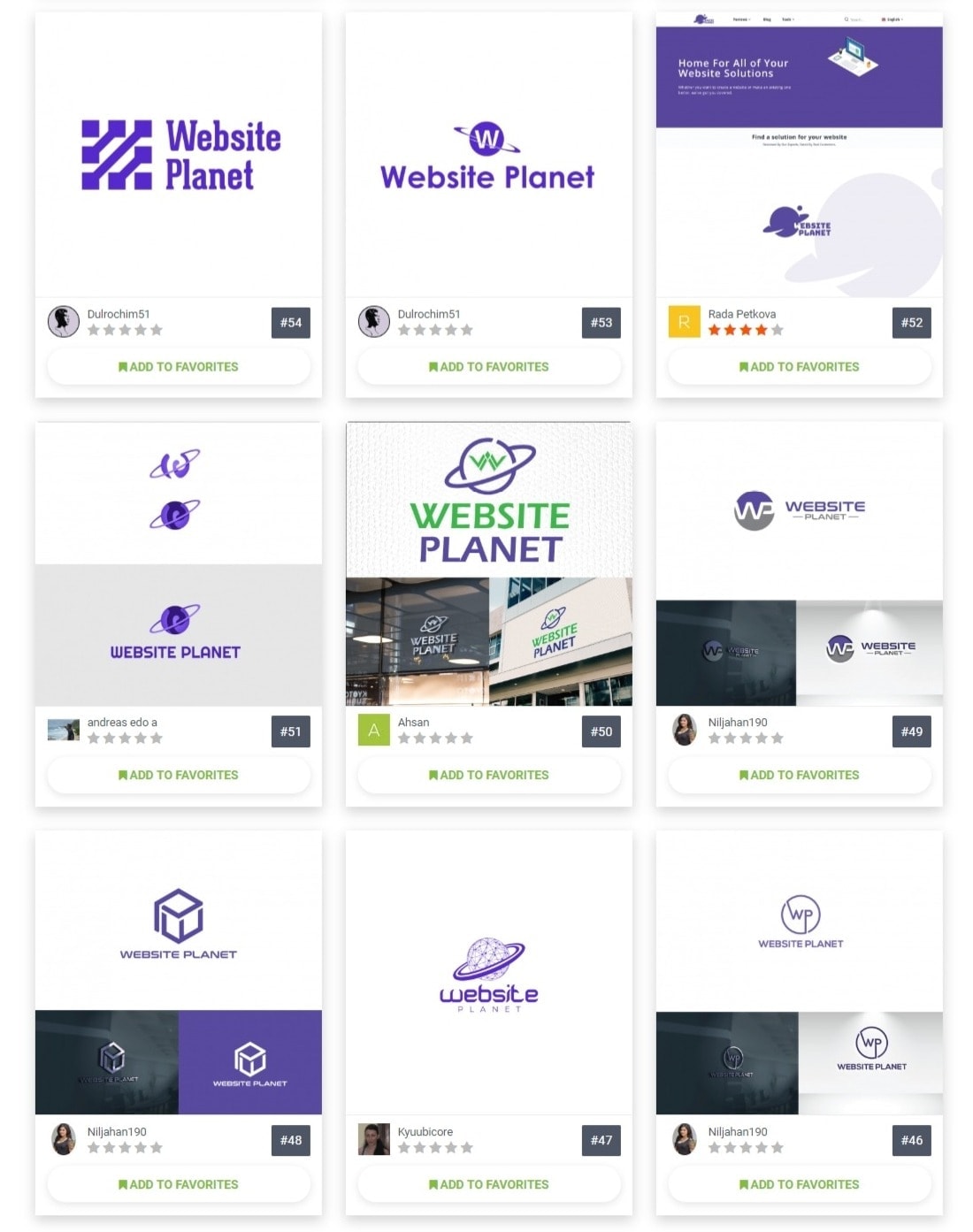 Support
99designs Provides Better Phone Support, but Designhill Has Live Chat
When I review logo design services, I try to interact with the support team at least three times.
Preferably, I do this through different channels, like email, phone, and chat. Now I'm an introvert, and like many millennials, I hate talking to people on the phone the way ants hate talking to anteaters… so, you know, I do it for you. I do it for all of us. I'm a hero. Okay, I'm actually just doing my job, but still. Here's how the two platforms compare in terms of support: they both have email/ticket systems, and phone support lines. But…
99designs Has Better Phone Support
If you do like talking to people on the phone, 99designs probably has a phone line that'll work for you.
Their operating hours seem to be limited to local business hours in the region you're calling, but they have a
lot
of regions you can call. There's a phone line for each of the following countries:
Argentina
Australia
Austria
Belgium
Brazil
Colombia
Denmark
France
Germany
Hong Kong
Ireland

Italy
Japan
Mexico
Netherlands
Portugal
Singapore
Spain
Switzerland
United Kingdom
United States
Even if you don't see your country on this list, the support lines cover most major languages.
Designhill Has Live Chat
If you don't want to talk on the phone but still want a near-instant response,
Designhill has 24/7 live chat available.
There's not a lot to say about it other than that it worked just fine for me, and the person who responded was helpful. I personally prefer chat systems, because I can get fast responses with less social anxiety, and I can do other things while waiting for them to answer.
Pricing
Designhill Is Cheaper, but Not By Much
Everyone has a budget, and here's where you will probably make your final decision.
Designhill Is Somewhat Cheaper
Designhill is cheaper, but not by a lot.
For example, you get a bit more stuff in the pricing plans, such as the expected number of design submissions. That certainly counts for something. However, when you use the extra services, like private contests and access to top designers, your costs can quickly rise. So, Designhill might be "cheaper" on face value, but it's not "cheap."
99designs Is, as You Might Have Guessed, Not as Cheap
The difference is in the hundreds of dollars range.
Now, to someone on a budget, that sounds like a heck of a lot, and it can be. But if you've got money to spend, an extra hundred dollars might be worth it for a smoother experience. Also, more expensive plans on 99designs come with a dedicated project manager to help you get the logo you want with minimal effort. It's something worth considering.
Designhill Wins, with a Caveat
I like 99designs best out of all the DIFM (Do It For Me) design services that I've tried.
The ease of use is worth it if you have the budget and don't need anything besides the actual design files.
But if you're on a budget, or if you want to do your design contests and printing in one place, Designhill is better for that, hands down.
Despite the minor flaws with the UI, I still recommend the service based on the submissions I received while trialing it. When it comes to picking the right logo out of all the submissions, well, that's up to you, no matter which platform you choose. For more design ideas, be sure to check our
list of the top logo design services
. There was a lot of information in this article, so here's a quick refresher on some of the main details, and an extra detail or two, in table form:
Designers
1,000,000+
70,000+
Design Categories
80+
50+
Ease of Use
Smooth user experience
Mostly smooth user experience
Pricing
Expensive
Less Expensive
Finds a Designer for You
Yes
No
Support
Email/Phone
Email/Phone/Chat
FAQ
Which is better, 99designs or Designhill?
It really all depends on your needs. While 99designs is more expensive, the site is a pleasure to work with and it is home to a lot of talented designers. Designhill is a cheaper option, and unlike 99designs, it also offers printing services, so you can get everything done in one place. If you're looking for more logo design ideas, don't miss our list of the best logo design services.
How do I use 99designs?
99designs gives you the option to either start a design contest and choose between the work of multiple designers, or work one-on-one with the designer of your choice. For more detailed information about the process from my own personal experience, read my full 99designs review. 
How does Designhill work?
Designhill has several different types of services. You can run a design contest and select a winner from all the different options you receive, or search the designer directory and work with a designer directly. You can also order a ready-made logo from the Logo Store on the site, choose a design service package, or order print work directly from the site.