💎

Service Type
Hire a designer

🚀

Free to Try
Yes

💲

Starting Price

$

199.00

📁

File Formats
Usually included, but depends on designer

🔄

Free Revisions
Depends on designer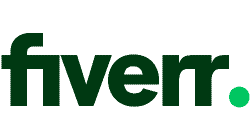 Save up to 20 % on your Fiverr Logo Design plan!
Limited-time offer - Don't miss it!
656 users used this coupon!
"#1" Is a Bold Claim to Make
Designhill is an Indian tech startup that launched in 2014, with some big competition already in place (see: Fiverr). Since then, they've built up a community of over 70,000 designers which, while not the biggest out there, is respectable enough.
But is it enough to make Designhill "#1"? Well, that's subjective.
The site is available in quite a few languages, with one important caveat: the translation is all powered by Google. I checked out the Spanish translation, and it confirmed my suspicions: the site should be usable enough, but the translations are not exactly refined, as is typical of machine-powered translation. Our robot overlords are coming, but they'll have to learn to conjugate verbs first.
Supported languages include: Arabic, Bulgarian, Catalan, Chinese (Simplified), Czech, Danish, Dutch, Finnish, French, Georgian, German, Irish, Italian, Japanese, Portuguese, Russian, Spanish, and Swedish.
Your logo text can presumably be in any language that can be typed into a plain text field.
In addition to logos, you can hire people for just about any kind of graphic design you can imagine: from T-shirts to LinkedIn profile cover images. But is Designhill the right provider for you? Let's find out.
This review is part of my mission to get a new and improved logo for Website Planet. To find the best logo I can get, I'm testing all the biggest logo design services.