To compare the best web hosts, we hosted the same WordPress website on each one and tested performance, customer service, and value for money.
Check out the results here.
Unihost is a privately-owned company that offers a range of web hosting, VPS, and dedicated server solutions to individuals and businesses. Currently, Unihost maintains servers in Europe and Canada. The company's website is available in English, Ukrainian, and Russian.
Features and Ease of Use
With servers around the world, Unihost can take care of all your local and international hosting needs. They operate Tier-3 and Tier-4 data centers with over 130 configurations and backup systems. Depending on your needs, you can order budget hosting solutions for starter websites or powerful dedicated servers with Intel Xeon processors for heavy workloads.  With the latter, you get dedicated IPs for your project and ample space up to 13 TB on RAID 10 array with multiple nodes. That's more than enough space to host your databases, media portal, streaming services, and enterprise apps, or online store.
Few hosting services can match Unihost in terms of user-security. With each plan, you get full protection against DDoS attacks up to L7. They monitor traffic round the clock, analyze and filter malicious data packets using a hardware firewall, and provide secure encryption via vRack (virtual encrypted network). That's not all. They also allow you to set up a powerful network defense using Cisco Firewall to combats hackers or attackers.
Unihost can be a great choice if you're also looking for a hosting service that provides free backup storage to customers. With every dedicated server, you get 100-500 GB of external backup. The amount of storage space varies from location to location.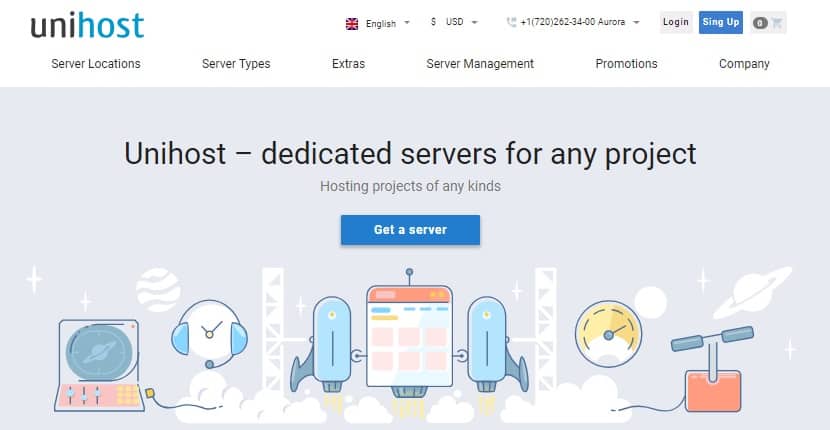 Basic server management set up is 100% free. With a powerful and flexible server management area, you'll have an easy time allocating virtual resources to workloads. You can conveniently manage your web space, reboot, install an OS of your choice, and monitor network stats right from your account dashboard.
In case you want to migrate from your current host to Unihost, you may want to take advantage of their free and fast project transfers. Their support team will help you move your files, databases, or apps to their servers. Just shoot them an email with a detailed description of the intended project transfer.
ISPManager comes free with every dedicated server. The cPanel (for the regular customers) and WHM for resellers are included. For a reasonable fee, you can also order extra services such as:
backup storages
SSL certificates
control panels
hardware firewalls
licensed software for VPS
Pricing and support 
Unihost has flexible packages with zero setup fees. You can choose a server based on RAM, IPs per server, disk types, location, cores, and price. When you place an order, you can pay monthly, quarterly, semi-annually, or annually. I recommend that you go for the 6-month billing cycle or a yearly plan. Both qualify you for discounts between 2.5-5%. They also offer a good number of add-ons to customers who sign up for dedicated servers.
After exploring their offerings, I can confirm that they don't provide free trials. It seems like they prefer to offer discounts and seasonal deals instead. Fortunately, switching or downgrading plans is a straightforward process. With just a few clicks, you can easily upgrade and obtain additional storage space and RAM to accommodate your increasing workloads.
Customers enjoy round the clock support via live chat, email, telephone, Skype, and even Telegram. The support knows their stuff. If you have complex issues, it's advisable that you open a high-priority ticket so that the support team can help you and resolve it quickly. You may also order premium management packages with active monitoring and troubleshooting.