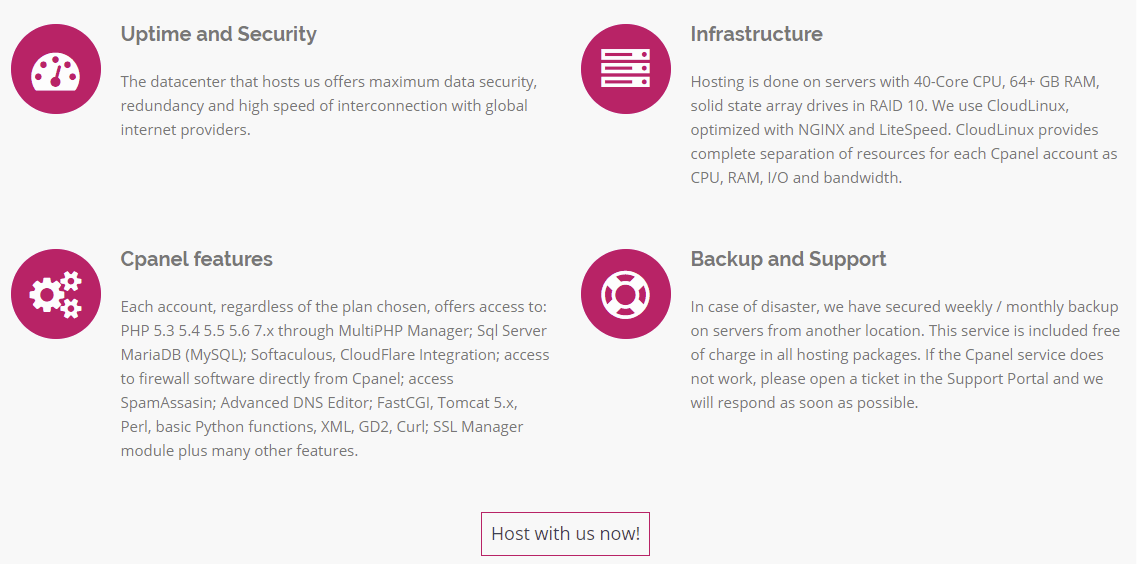 To compare the best web hosts, we hosted the same WordPress website on each one and tested performance, customer service, and value for money.
Check out the results here.
Founded in 2013, Speedhub offers domain registration, web hosting, Virtual Private Servers (VPS), and SSL certificates. If you own a large enterprise or need a dedicated server for custom solutions, you'll have to look elsewhere, because this provider doesn't offer those.
It provides hosting services in servers that are located in Cluj-Napoca and Bucharest, Romania, and Vilnius, Lithuania. Its website is in English, but some sections are presented in Romanian.
Features and Ease of Use
Speedhub offers three categories of VPS – Linux KVM, Linux OpenVZ, and Windows KVM. Under each of them, there are four plans on offer. With them, you get better stability and virtualized resources that don't suffer from the interference and/or negative impact of excessive use of resources by other people, as it is on shared servers.
As much as VPS is great, it's not right for every website. If you take VPS for a simple personal blog with low traffic, you'll be paying for more than you need. Speedhub's shared hosting plans provide the following:
99.9% uptime
Weekly/monthly automated backups
One, three, ten, or 30 hosted domains
Up to 10GB SSD
Anywhere from 10GB to 250GB monthly traffic
The shared servers are configured with CloudLinux operating system, which virtualizes resources for each hosting account, separating the CPS, RAM, bandwidth, and more. This has security benefits and allows you to enjoy everything you paid for without interference. The CloudLinux is optimized with LiteSpeed and NGINX.
Speedhub provides automatic backups that are saved offsite to another location separate from the shared servers. This is to provide reliability in case of a disaster. You should be able to restore these backups from your control panel, and if not, use its support portal to get it back online.
This company also provides JetBackup option in the control panel. This software allows you to backup up your account the exact way you want. You can set custom scripts on how you want your backups to run and what files should go where using cron jobs. It also works for cloning a cPanel to another server.
You can program your website with PHP, Python, and Perl, and your database option is MariaDB. If you aren't familiar with programming, Speedhub has you covered with Softaculous applications installer. With Softaculous, you can install WordPress, OpenCart, PrestaShop, and a host of other CMSes and E-commerce platforms in a few clicks.
Pricing and Support
Speedhub's shared hosting is offered at a low cost. Although Speedhub doesn't provide a free domain registration or SSL certificate, for the hosting features on offer, it's practically a steal. The VPS prices are more in line with what competition offers.
You can pay with credit card, PayPal, bank transfer and cryptocurrencies like Bitcoin and Etherum.
Subscription periods for web hosting starts at one month, which helps you mitigate your risk as your contract isn't long term. If you do take any of the year plans – annual, biennial, or triennial, Speedhub understands that sometimes things just aren't a good fit. However, its refund policy is not as great as you might like.
It doesn't provide a money-back guarantee. Instead, you can apply for a refund but you must provide a "well-grounded" reason for canceling. Then, you only get 50% of your money back because it has incurred costs in registering and hosting you.
Speedhub provides 24/7 customer support through online ticketing system. You can also use the live chat, email, and phone support to get in touch with a support agent. There's also a knowledge base with a few articles that you might find relevant.
I wasn't sure what the money-back guarantee policy was because of the terms and services and I had to contact support. I am not happy with what's on the ground, but I did get a pretty fast and polite response.