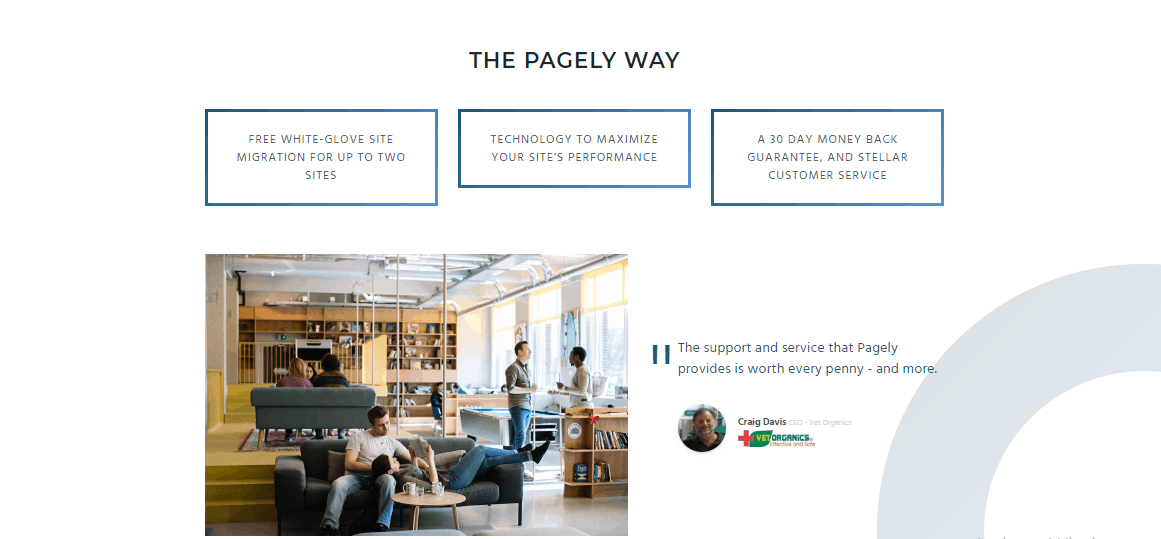 Pagely is 100% focused on WordPress websites — in fact, they were founded with a clear vision to "make WordPress better." They specialize in serving large, dynamic WordPress websites with complex needs
. They're based in America, and as such their service is available only in English.
Features and Ease of Use
Pagely is an enterprise-grade web hosting provider offering a small but highly-refined selection of managed WordPress hosting solutions. Here are a few of the features their plans enjoy as standard:
Uptime: 100% availability guarantee, backed by a Service Level Agreement (SLA)
Daily backups: Files and databases are copied and stored in AWS for up to 14 days
Add-on domains: Between 15 and 60 WordPress websites per account
SSL certificate: Free SSL certificates included with all plans
SSD storage: Between 30GB and 50GB depending on plan
Website migration: Free white-glove website migration service for up to two websites
Pagely has 13 data center locations around the world from which they offer premium VPS hosting: four in America and one each in Canada, Ireland, Germany, England, France, Singapore, Japan, Australia, and Brazil. If you're looking for shared hosting, however, this is only available out of their data center in Virginia, America. On top of these physical locations, Pagely is a AWS Technology partner, which means that their infrastructure is built with Amazon's cloud platform and as such their resources are infinitely scalable.
They offer a variety of features specifically designed for high-traffic and complex WordPress websites that require enterprise-level scalability. Webpages are cached with NGINX or Varnish to bring loading times down to a minimum. Of course, you'll also get all the developer features such as PHP 7 support, SSH access, and Git.
Pricing and Support
Pagely is rather unique in their dedication to providing enterprise-level hosting dedicated to WordPress websites, so in that sense it'd be difficult to compare their prices fairly. That said, Pagely is premium web hosting option, so you should expect to pay a lot more for their solutions. Note also that SSL certificates are included, while domain registration will be an added cost.
In terms of customer support, they have an excellent knowledge base and 24/7 customer support available via tickets. Alternatively, they're extremely responsive on Twitter, so you can contact them via the social media channel as well. Users can also contact Pagely's support staff via live chat and Slack between 8 AM and 5 PM PST on weekdays. Only a select few plans have access to telephone support, however.
They usually respond to the majority (79%) of tickets within one hour, and their customer happiness rating over a six-month period is 99.3%. In my experience, they have always quickly responded to live chat during business hours and have been incredibly helpful.