💎

Service Type
DIY logo maker

🚀

Free to Try
Yes

💲

Starting Price

$

20.00

📁

File Formats
3 PNGs in different sizes, 1 vector-format PDF Files

🔄

Free Revisions
No
Decent but Not Amazing (and Not Necessarily Free)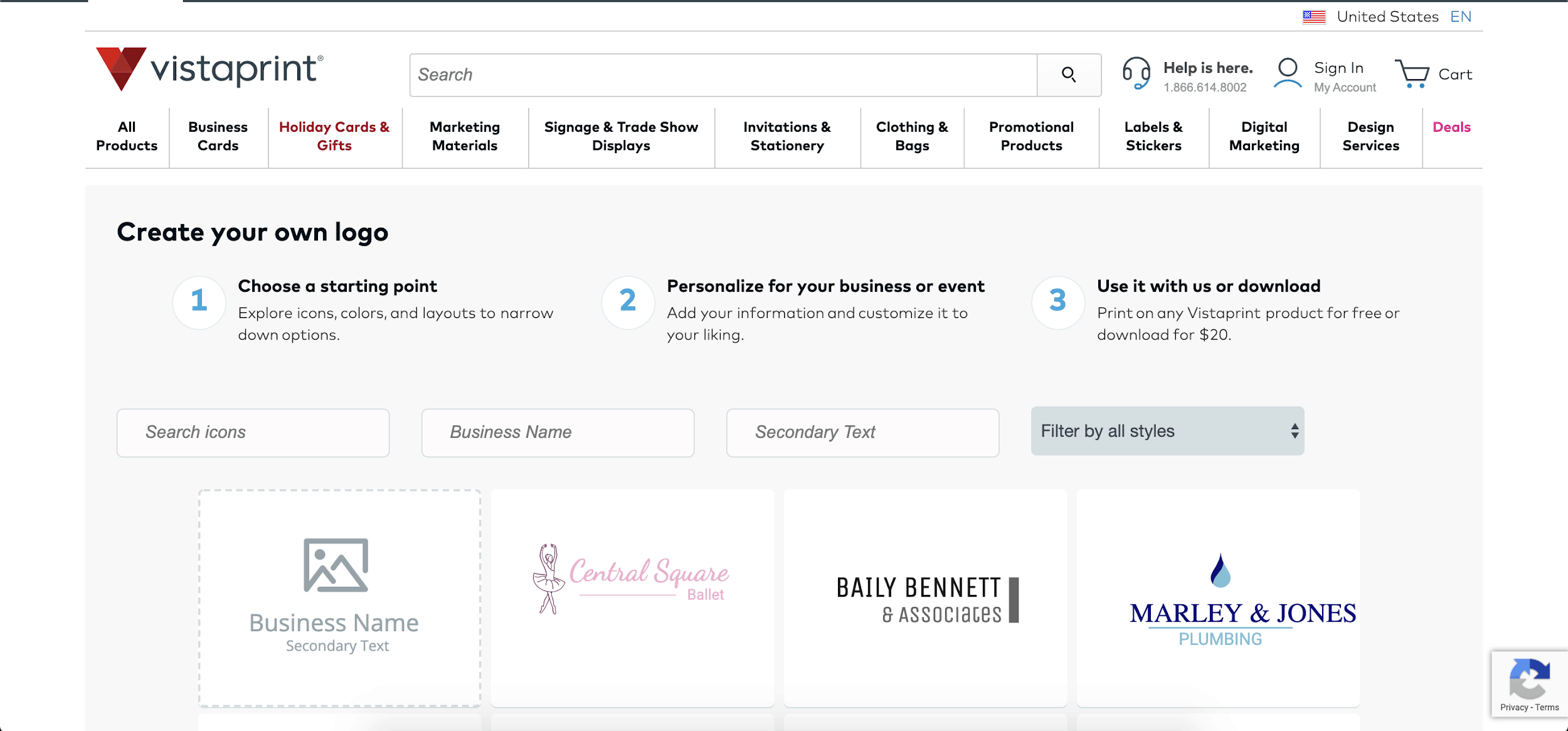 For almost as long as the internet has existed, Vistaprint has been a leader in on-demand printing for all kinds of marketing and promotional items. With Vistaprint's free logo maker, you can design a new logo and order printed merchandise, all from the same screen. The company also offers a website builder.
Based in the Netherlands, Vistaprint's website is available in 15+ languages, including:
English
Spanish
German
Dutch

Finnish
Swedish
Japanese
Italian
Before I go any further, though, let me explain the catch: your logo will only be free if you purchase printed merchandise through Vistaprint. To actually download your logo files and use them yourself, you will always have to pay (more on that later).
If you're going to pay anyway, you are probably better off hiring a professional designer on Fiverr, where you can get a custom logo created just for you for as little as $5. Or you may want to check out some of our other top-rated logo design services.
Unfortunately, I was not able to use any special characters in my logo designs, not even Latin-based characters like ñ and ć. I tested Romanian, Spanish, Japanese, and German…and every special character gave me an error. A Vistaprint support agent told me that special characters can be used, but they must be entered on a specialty keyboard for that language. That is very strange if it's true, but in any case, I had no way to test her claim.
Editor's Note: I do, and it's not true. Special characters show up as question marks in the logo.
Features and Ease of Use
So-So Logo Templates with Fairly Good Customizations
Vistaprint's logo maker offers a library of stock logo templates. Everyone sees the same templates, so the platform doesn't really try to understand what your business is about. On the plus side, that means it's super-quick to get started – if you want, you can simply enter your business name and a slogan (in the Secondary Text field) and see all the options. You can also filter for a specific logo style from choices like "Traditional," "Elegant," "Retro," etc.
On the downside, you will get some really irrelevant results. A piano keyboard logo for a pest control service? Yep, that happened. To keep things more on point, I recommend using the option to search for a specific icon.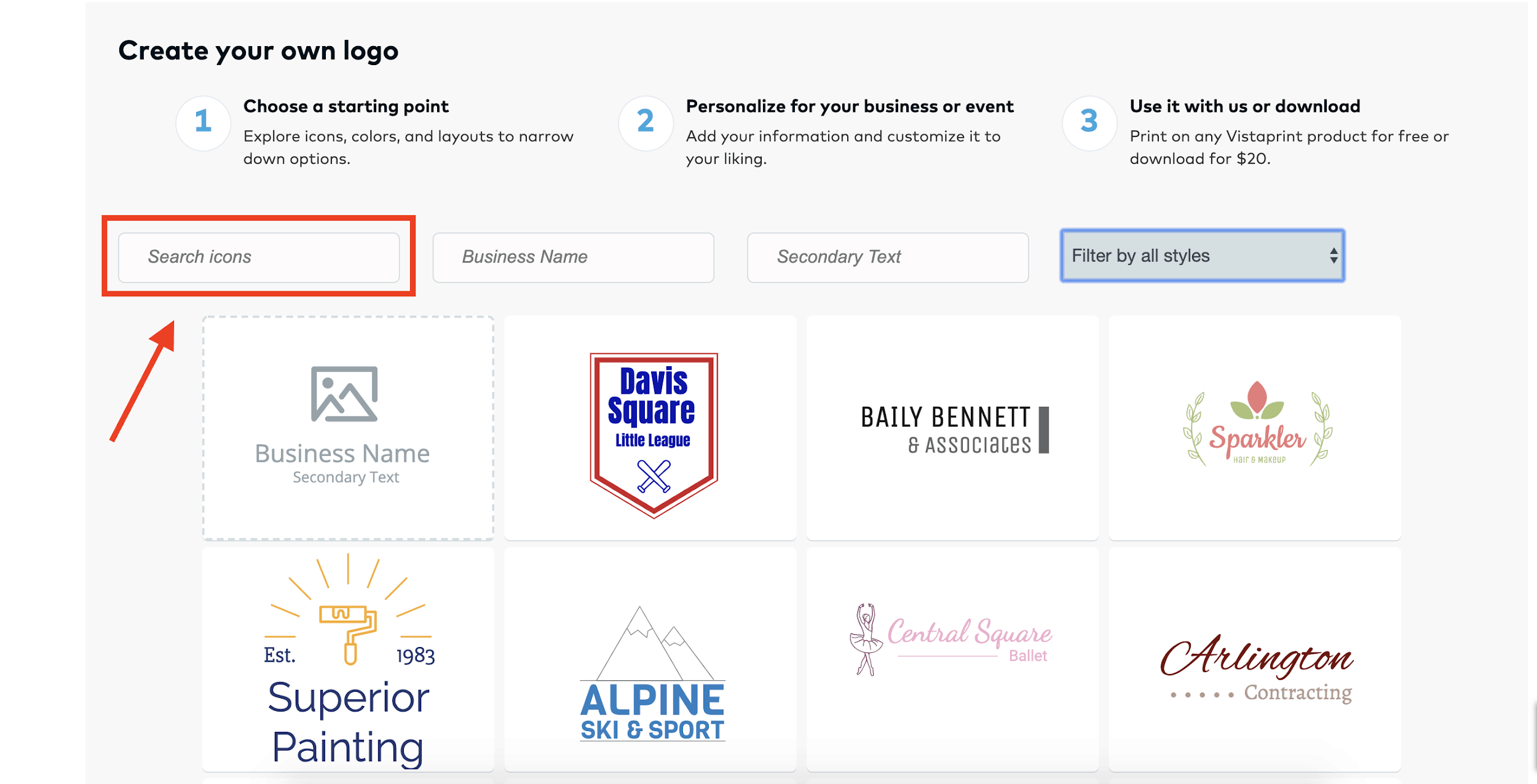 As you can see from the screenshot, the logo templates are just okay. They aren't awful, but they look fairly generic and even dated. And there are only around 120 templates in total, so the selection isn't great.
To get a more memorable and unique logo, go with a higher-quality tool like Wix Logo Maker, which generates personalized logos based on your industry and your style preferences, or save yourself some time and hire a professional designer on Fiverr.
To see how these and many other logo design services compare, check out my coworker's awesome logo design project. He tested the biggest services out there for value, quality, and ease of use. And the stakes were high – he wasn't just out to write an article, he was searching for Website Planet's new official logo! You can read all about his experiences in his in-depth comparison of the top logo design services.
You Can Creatively Customize Your Logo
Once you choose a logo template you can live with, you'll enter a simple editing screen. The drag-and-drop interface is intuitive and very easy to understand. You'll have no trouble moving, resizing, and rotating objects.
Besides the drag-and-drop editor, there are two other notable features of the Vistaprint logo maker:
You can add a seemingly unlimited number of icons to a single logo. (I added ten before deciding I might have better things to do.)
You aren't limited to just your company name and slogan for text. You can have up to four text boxes in your logo.
Of course, you can also do the standard logo customizations, such as changing colors and fonts. The menus and selection process for both are pretty normal – neither great nor terrible.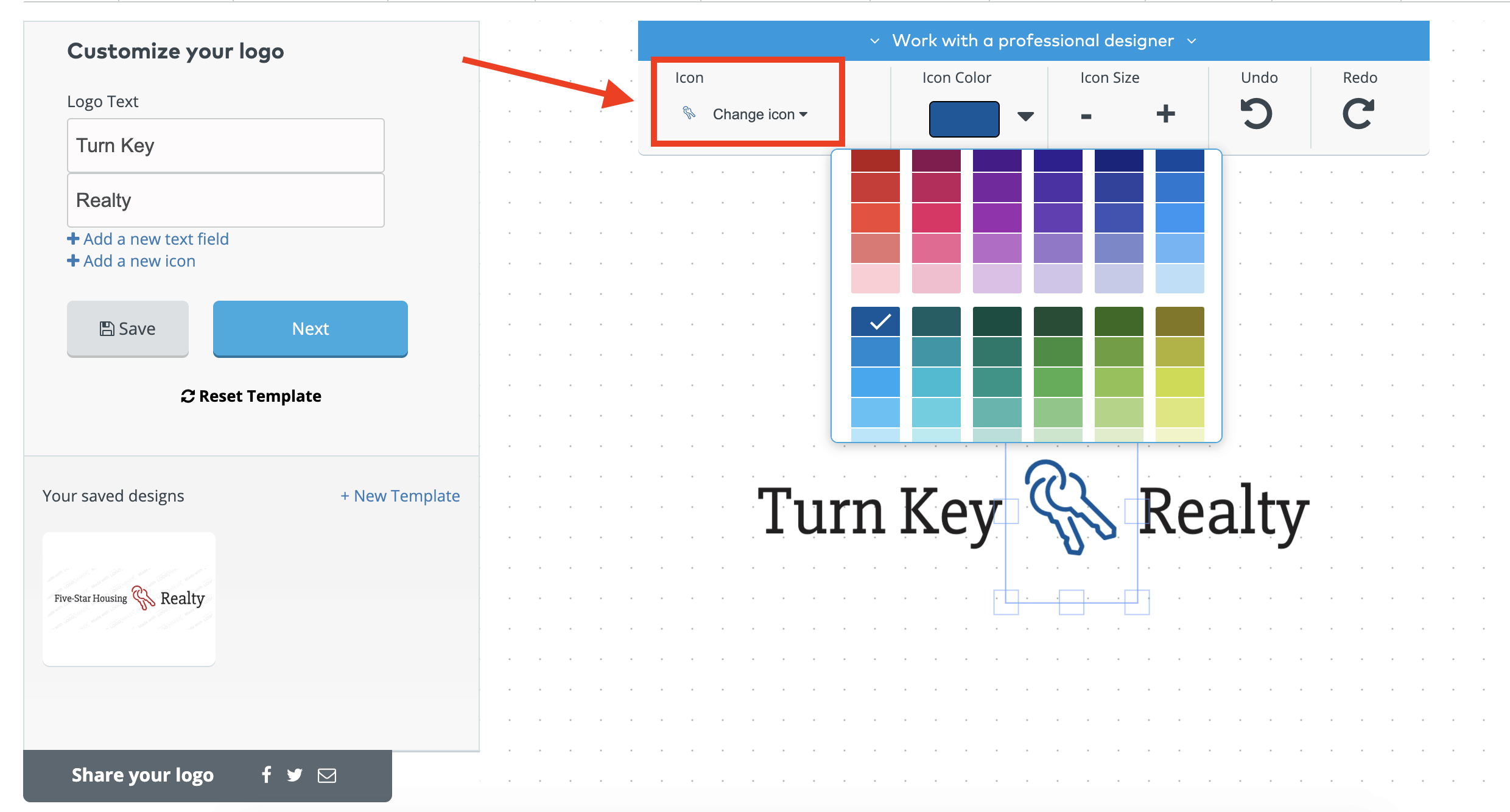 You Can Order Print Merchandise Instantly
Since printing is Vistaprint's core service, it's no surprise that printing options are integrated seamlessly with the logo maker. Once you finish designing your logo, you can immediately add it to nearly any kind of printed merchandise:
Postcards
T-shirts
Banners
Mugs

Pens
Business cards
Stickers
Product labels
As long as you print your logo on Vistaprint products, you won't have to pay anything for the logo itself. Of course, you will be paying for the products. More importantly, your logo files (PNG, JPG, etc.) aren't included in your purchase. So while you technically aren't paying for your logo, you also aren't really getting the logo.
You Can Download Useful Files (If You Pay)
If you don't want to print on Vistaprint products (or want to use your logo elsewhere), then you can create a free Vistaprint account and pay a one-time fee to download your logo. You'll get:
3 PNGs in different sizes
1 vector-format PDF
Since the PDF is a vector file, you'll be able to scale up your logo infinitely without losing quality. That means you can print your logo at any size. You can also use the logo both personally and commercially without restrictions. (But note that you generally can't claim a trademark or copyright for your logo, since other Vistaprint customers can create similar designs using the same template and icons.)
Pricing and Support
Your Logo Is Affordable but Not Free
Again, the biggest catch with Vistaprint's "free" logo maker is that your logo is never really free. You'll either pay for printed merchandise or pay to download your logo files, or both. Both options are priced reasonably, but they definitely aren't free.
You can choose to pay using Visa, MasterCard, American Express, Discover, Diners Card International, or PayPal. If you're in the US and lean towards a more traditional method, you also have the possibility to send a physical check or money order through the mail.
There is one other potential cost "gotcha" with Vistaprint's logo maker. You can make edits after purchasing your logo, but you'll have to pay again to download the new version.
Plenty of Options for Customer Support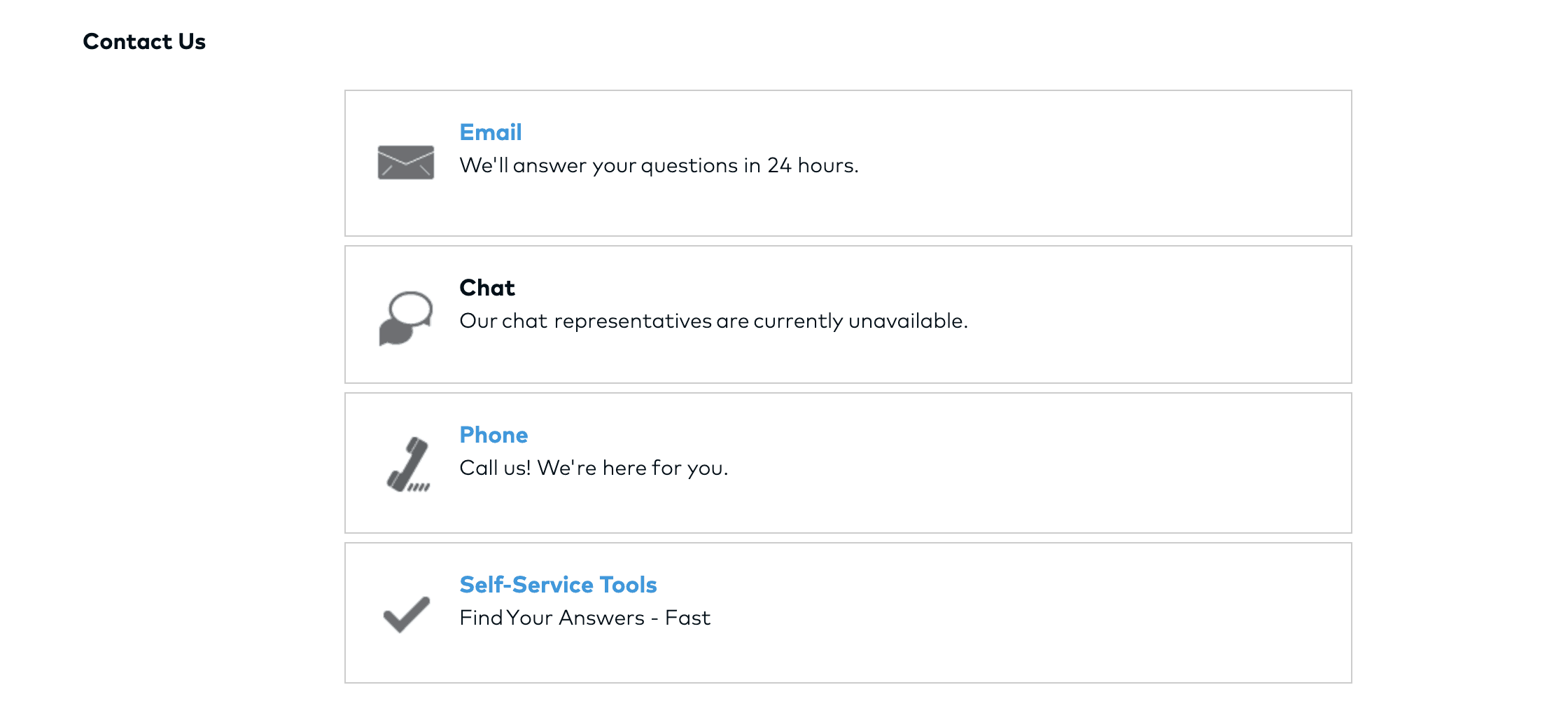 As you can see, Vistaprint offers many ways to reach customer support. Phone and live chat are offered over a wide range of (but not 24) hours, and email support is available 24/7. I emailed the support team with my questions about special characters and logo editing, and can confirm that I received a response within 24 hours, as promised.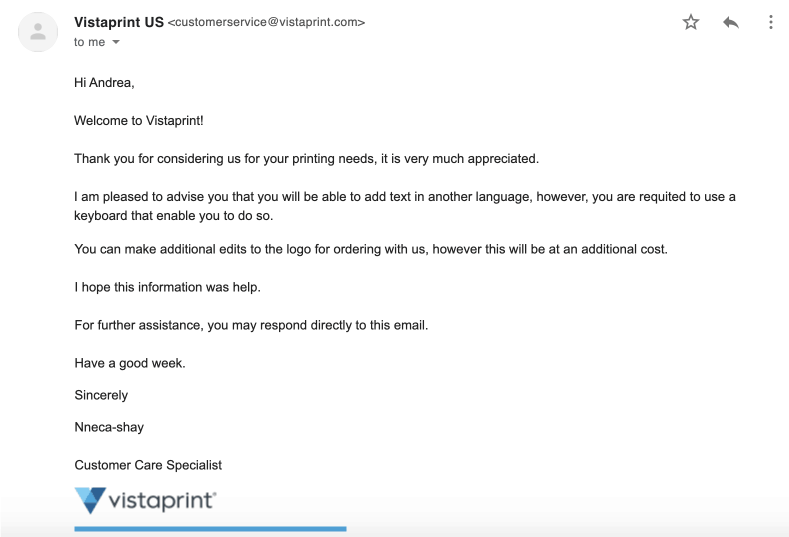 There is also a Vistaprint Customer Care Center, which is essentially a FAQ page, but none of the listed questions are about the logo maker. So, if you have queries about your logo, you'll likely have to get in touch with support.