To compare the best website builders on ease of use, templates, customer service, and value for money, we tried to build the same site on each platform. Check out the results here.
VistaPrint is well known for helping small businesses and entrepreneurs market their business with a wide variety of marketing tools, especially business cards — one of their most popular products. What many people don't know is that VistaPrint also offers website builder and hosting services for personal and small-business websites.
VistaPrint website hosting is targeted explicitly at beginners with zero technical knowledge. You can create a great-looking website with their extensive library of templates. However, that convenience comes with trade-offs, with the most significant being that you're locked into VistaPrint's design scheme. However, this will not be an issue for many new website owners.
More than 600 responsive templates categorized by industry
Full library of stock images available for you to use
Social media marketing functionality offered to help promote your website
Brand-matching to make your website consistent with your promotional material
If you're still not sure about whether VistaPrint is the right builder for you, then you can check out our comprehensive review of all the best website builders in 2023 here. 
Templates
VistaPrint has a wide selection of over 600 templates categorized according to 24 different industries. For each industry, you'll find subcategories of specializations within that industry.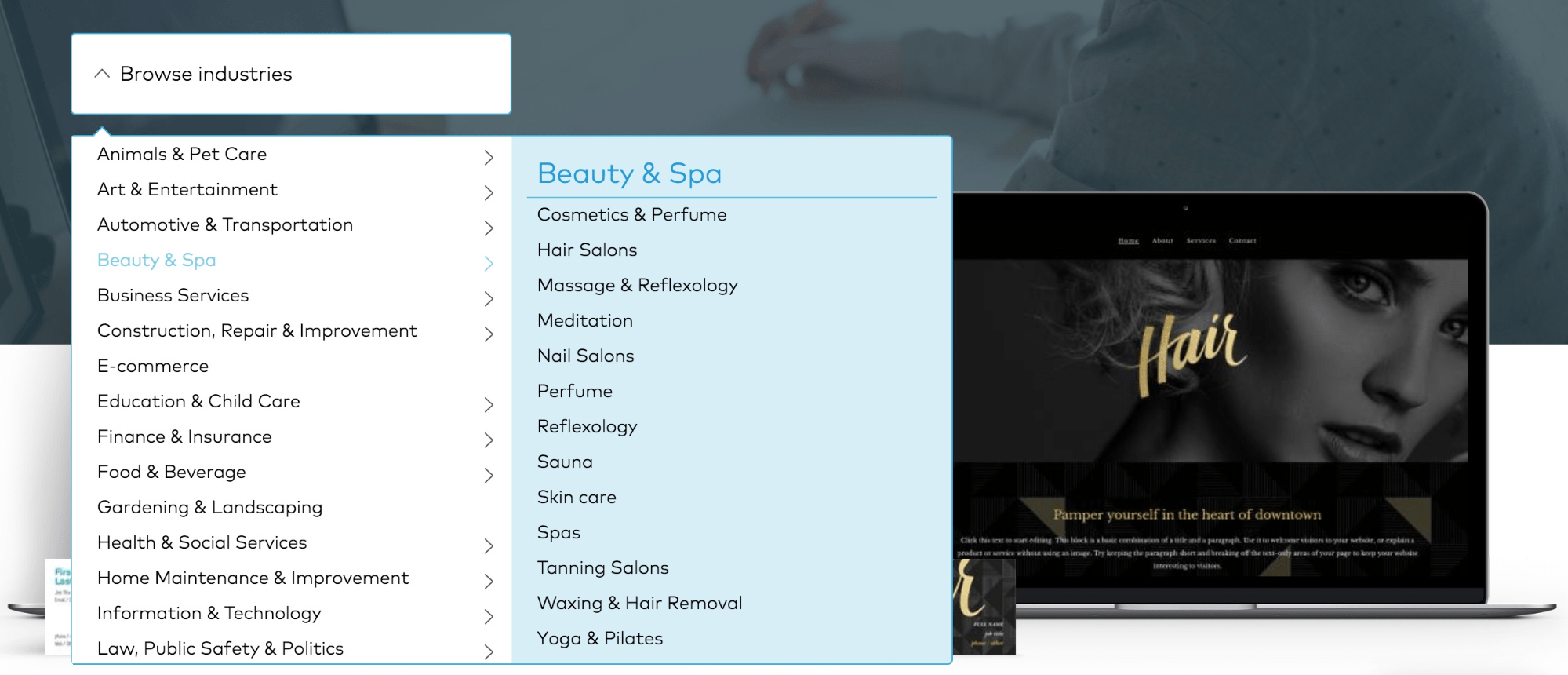 If you prefer not to select a particular industry, there are also options for "generic" templates and even a "blank design" template. While a large number of templates are free to use on all plans, some are restricted to specific plans. Any restrictions are listed on the templates.
One advantage of using VistaPrint templates over other website builders such as Wix is that every template is a responsive design. That means that once your website is set up, it's mobile-optimized and will work on any mobile device. Other providers make your create or modify a mobile version of the template to ensure mobile compatibility.
For testing purposes, I tried the "IT Consulting" template. I like that it's straightforward to use. The template is set up in a block style, and I can modify elements in each block individually. For example, I can change images to one available in VistaPrint's stock image library, or upload my own.
All text, backgrounds, and colors are customizable. I can even change the color palate using Hex code if needed. Templates allow for multimedia aspects such as images, image grids, and videos. They don't presently support video backgrounds.
The bad news with VistaPrint's templates is that you're stuck with the basic block layout of the template. You can add blocks, but you can't rearrange them. For example, if you feature a video in one block and want to put that block beside a text block, you can't because blocks take up the full width of your webpage. The changes you make have to conform within the parameters of the blocks, which are very restrictive.
Moreover, HTML or CSS code of the blocks are unchangeable, meaning you can't add third-party apps or code to your website. However, you can still make a great-looking website with these templates, but you must adhere to restrictions of the templates.
Features
VistaPrint offers website hosting that's targeted to non-technical beginners. It may not be the fanciest website builder, but it does provide a few features that similar website builders don't offer:
Hands-Free Designing
If you have little time or desire to learn how to build a website, you don't have to. VistaPrint's Agency plans will create your website for you. First, you'll talk with a consultant about the website you want, and he or she will work with you in designing it. You also get revision services on a monthly basis, where VistaPrint will modify your website per your request.
And you're not left hanging once your website design is finished. VistaPrint also has professional copywriters who will create your website's written content. Furthermore, if you want to sell anything, you can get a 30-item webstore set up with the Premium Agency plan.
Match Your Brand
VistaPrint offers a wide variety of services to help you promote your business, including business cards, marketing materials, and more. When you build a website through VistaPrint, you can coordinate a website using the images and logos that you're already using for the rest of your VistaPrint products. In many cases, you can match your website with your materials, including background colors, fonts, and layouts. For many people, their website is their digital business card, and you can make your website match the rest of your promotional materials.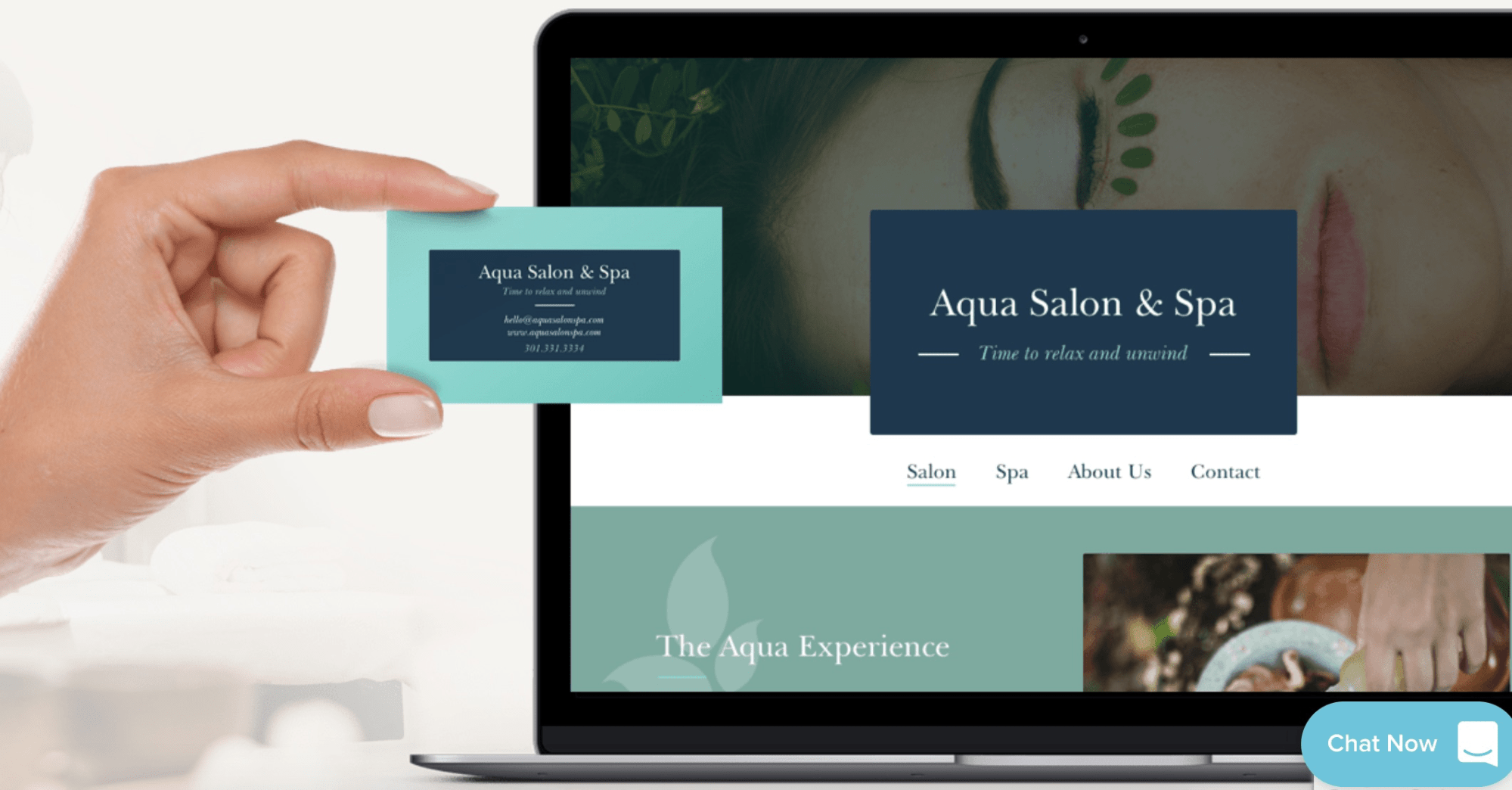 Free Library of Images
Most website builders require that you come up with all of your own content, and that includes images on your website. Most beginners don't have the budget or the time to set up a library of image content. Fortunately, VistaPrint offers you a fully searchable stock image library that you can use to post images to your website. These images are free to use without royalties. You can also opt to post your own images or mix in some of your pictures with the stock images.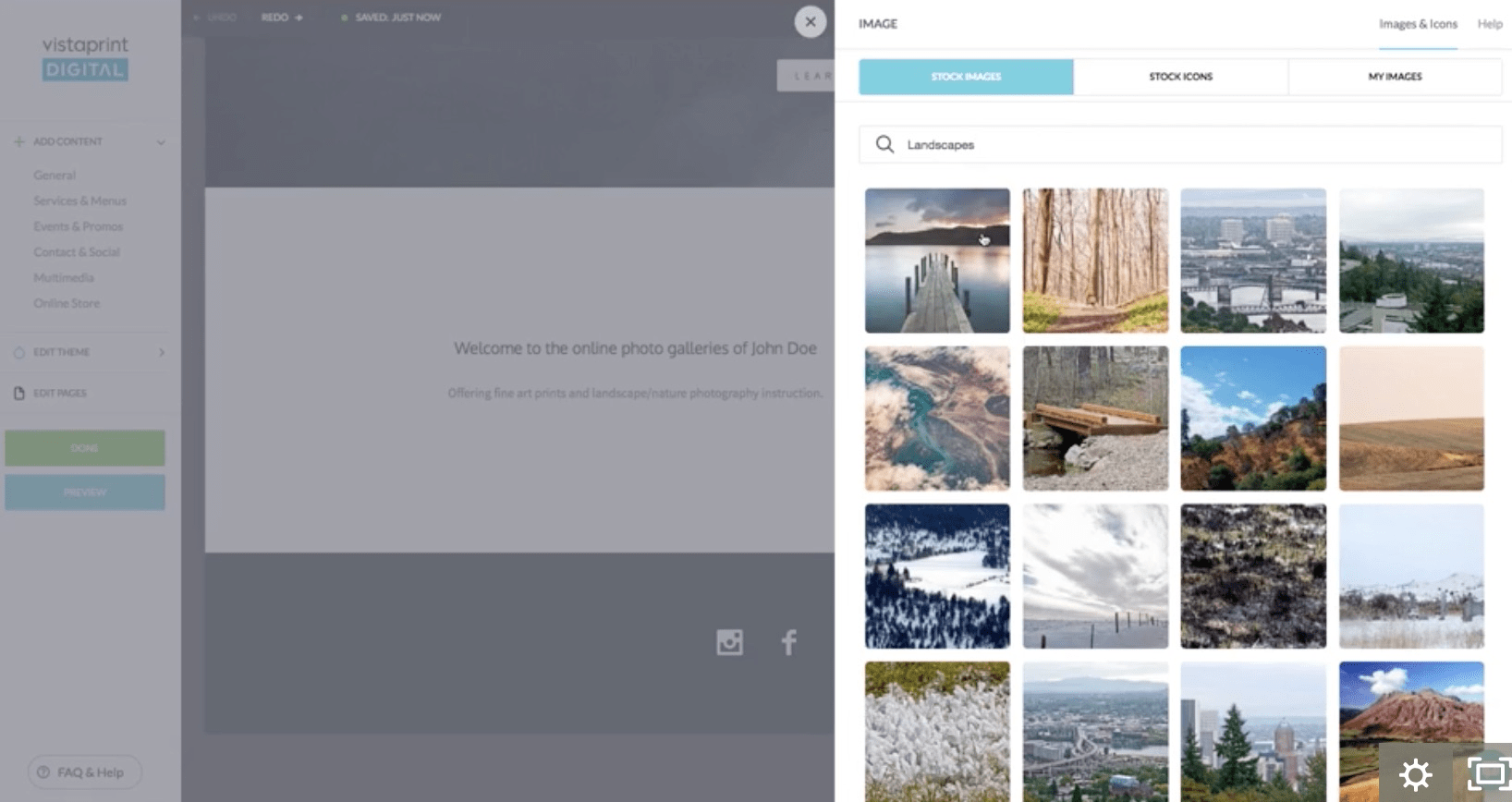 Social Media Marketing
If you have a presence on social media, VistaPrint can help you maximize the potential of your website through social media marketing. Its top plans offer the ability to design posts, post to social media, and even schedule future posts over multiple platforms. This added feature is a great way to promote your website and brand.
Ease of Use
Pros
Build your website or have someone do it for you
Easily add or change photos, videos, colors, and fonts
View helpful video tutorials to help you navigate the builder
Request unlimited initial revisions if VistaPrint builds your website for you
Cons
You can't modify any HTML or CSS code
Your website will look like most others in the same category
You can't upload templates from other website builders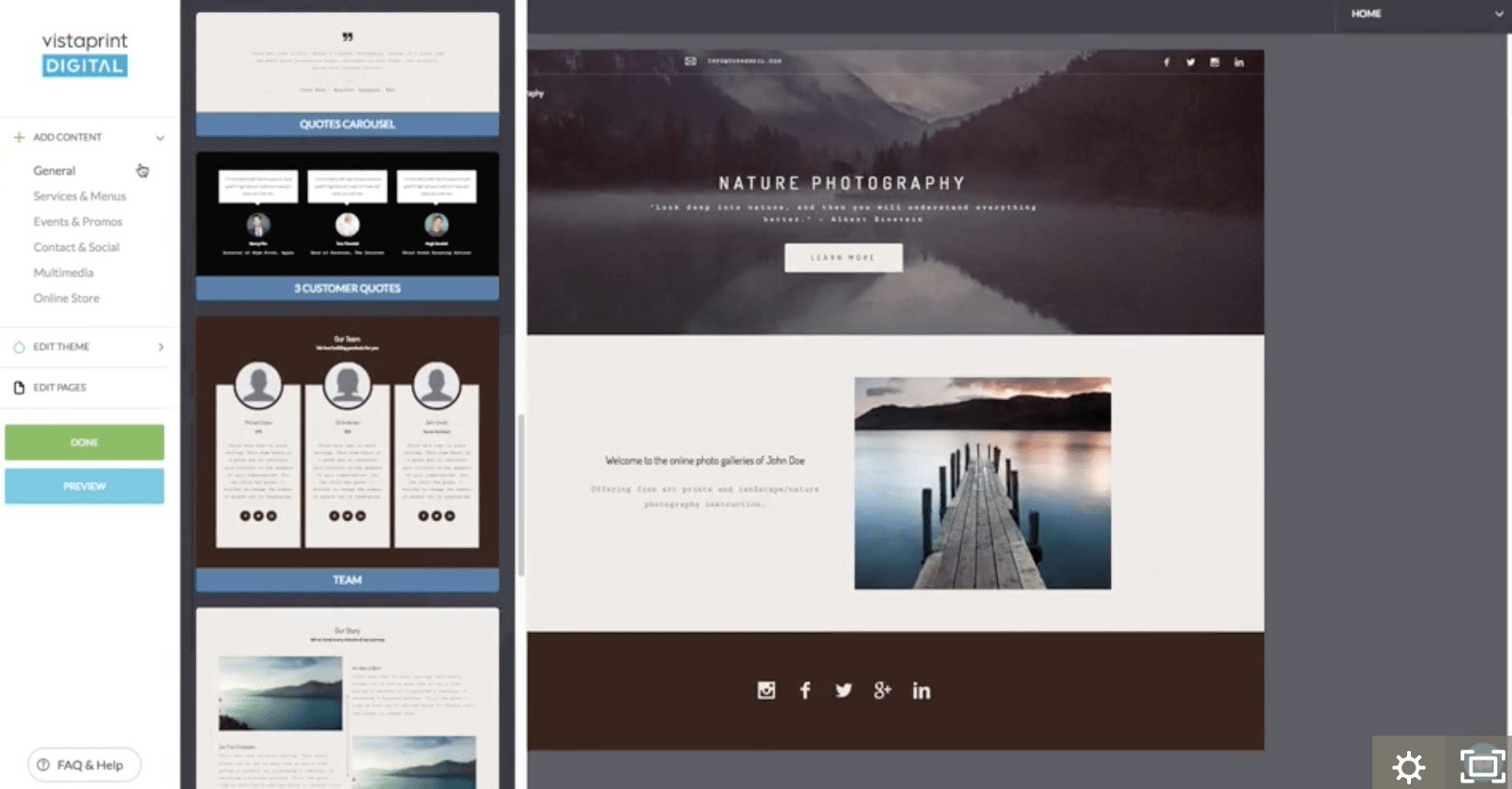 VistaPrint makes it easy for beginners to create a new website. If you're more of a hands-on person, then you can build the website yourself using one of over 600 templates. The website builder is very easy to use with block elements rather than drag-and-drop components or manual plug-ins. The block style layout is easy to understand, with elements clearly defined. There's also full video tutorials available to show you how to use the basic features of the template.
If you're uncomfortable with building your website, you can opt to have VistaPrint make it for you. Just tell them what you're looking for, and they'll do all the work. If something doesn't look right, you have unlimited revisions during the initial setup. VistaPrint's writers will also create professional copy for you, making your website ready to launch once the initial design is complete.
Of course, there are a few catches. First, you're locked into the template design and unable to modify any of the HTML or CSS code. If the template doesn't offer a feature you want, you're out of luck. Next, you can use only VistaPrint templates. If you want to use WordPress or another CMS program, too bad — you get what VistaPrint gives you.
Finally, if you take a look at the templates, you'll notice a lot of similar layouts. That's because the block style layout doesn't allow for a lot of creativity in physical layout design. As such, your layout is going to look similar to other websites built by VistaPrint.
Customer Support
VistaPrint's customer support is above average. You can reach Support via a toll-free phone number, live chat, or email. Phone support is open Monday-Friday from 7am-3am, and during weekends from 8am-6pm U.S. Eastern Time. The other options run 24/7.
While there is a searchable help section available, it's limited to basic questions on products and lacks any real technical depth. That's about the only real downside to their support that I've found.
I contacted support via live chat and email. The live chat agent answered in under 30 seconds and was able to help me. VistaPrint's live chat starts with agents who answer general questions on products. If you need additional assistance, they can transfer you to the website department for further help. I can't ever remember being transferred to another department via live chat before, but it was a nice feature to see available.
Email support was also efficient. VistaPrint boasts a 24-hour turnaround time, and I received a reply in about two hours. I'd use email only for low-priority issues, as the live chat was more than efficient.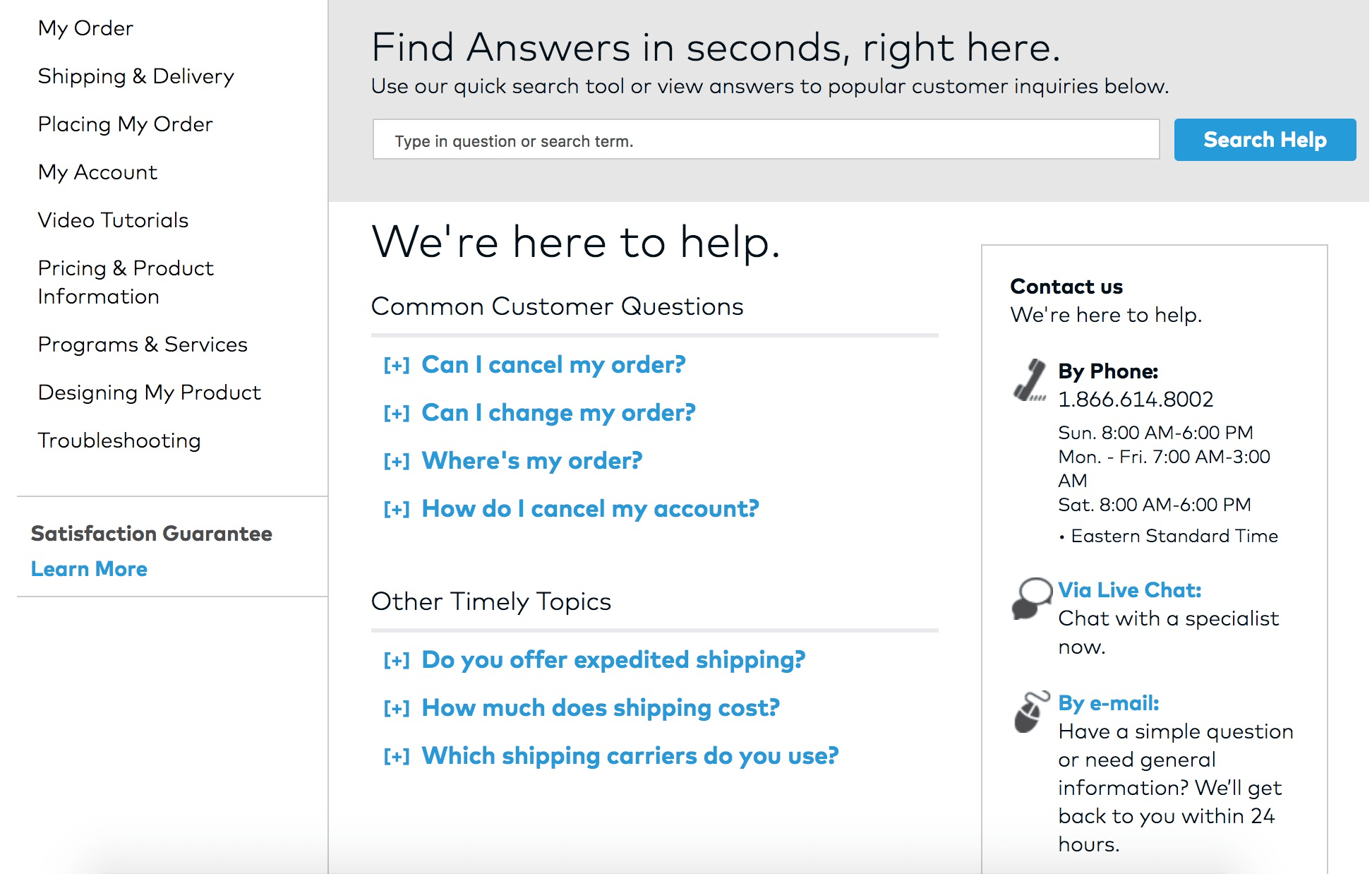 Pricing
VistaPrint offers two forms of website hosting: their "Do It Yourself" (DIY) hosting, and their Agency hosting where they build the website for you.
The DIY hosting offers three tiers of service. The Starter plan is the most inexpensive, but it's also limited to a basic domain name and lacks SEO features and email. If you upgrade to Standard, you get a premium domain name, 12 email addresses, and the ability to customize the SEO of your website. The Premium plan has all the features of Standard and includes online store features along with social media marketing.
With VistaPrint's Agency plans, you can get your website built for you. The Basic Agency plan is the cheapest but still higher than the most expensive plans offered by most other website builders. Also, you only get up to three custom-designed webpages, and only two monthly revisions after the website is set up. You also don't get any SEO or social media marketing.
The Standard Agency option is an improvement, although it still has a limitation of five custom-designed pages. However, you'll have unlimited revisions available after setup, as well as SEO and social media marketing features. On the other hand, the Premium Agency package allows for more than five custom-designed pages and includes all the same features as the standard option, along with a 30-item e-commerce store.
Agency plans are very pricey compared with the DIY plans, even after a 25% discount for annual subscriptions. Also, you have to go with the Premium Agency to get more than a five-page website. If you need someone to create your website, you'll save money in the long-term by getting a DIY plan and hiring someone to modify your website when needed.