💎

Service Type
DIY logo maker

🚀

Free to Try
No

💲

Starting Price

$

19.99

📁

File Formats
High-Res JPG, PDF & PNG Files

🔄

Free Revisions
No
Lots of Creative Options, But It Pressures You to Purchase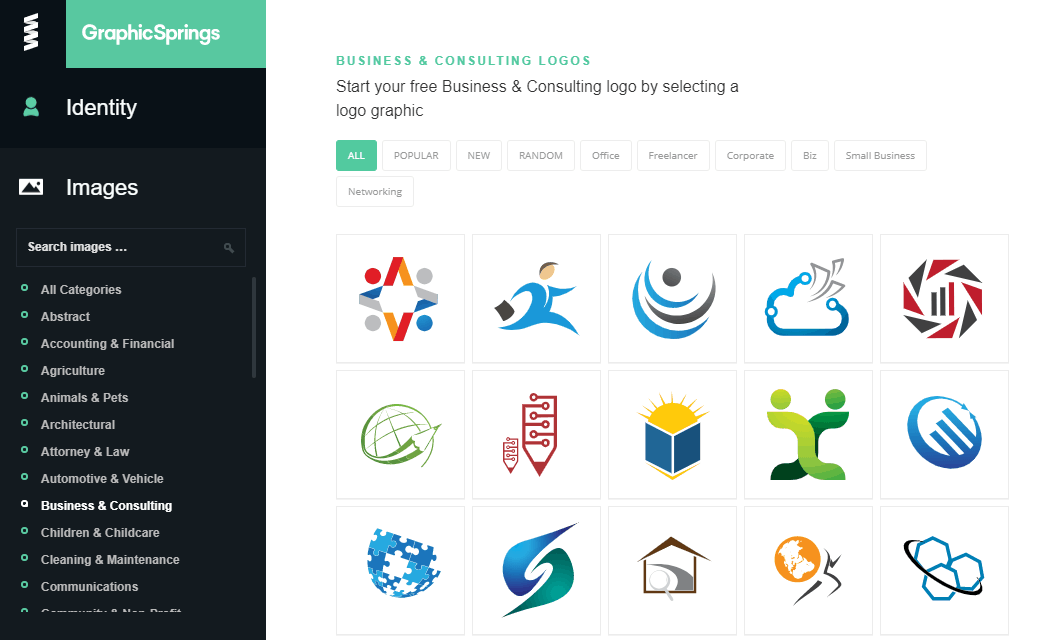 GraphicSprings has served thousands of users with its free logo creator, branding tools, and custom logo design services. It claims to be free, and it is initially – but after you've created a logo, you'll have to pay to save or download your design. For a "free" tool, things can get expensive quickly.
So, is it worth your money? Or are you better off hiring a professional designer on a site like Fiverr (where it might even cost less)? I thoroughly tested the logo maker myself to help you decide.
Before we dive into my GraphicSprings logo maker review, here's a sample of designs users have created with the tool.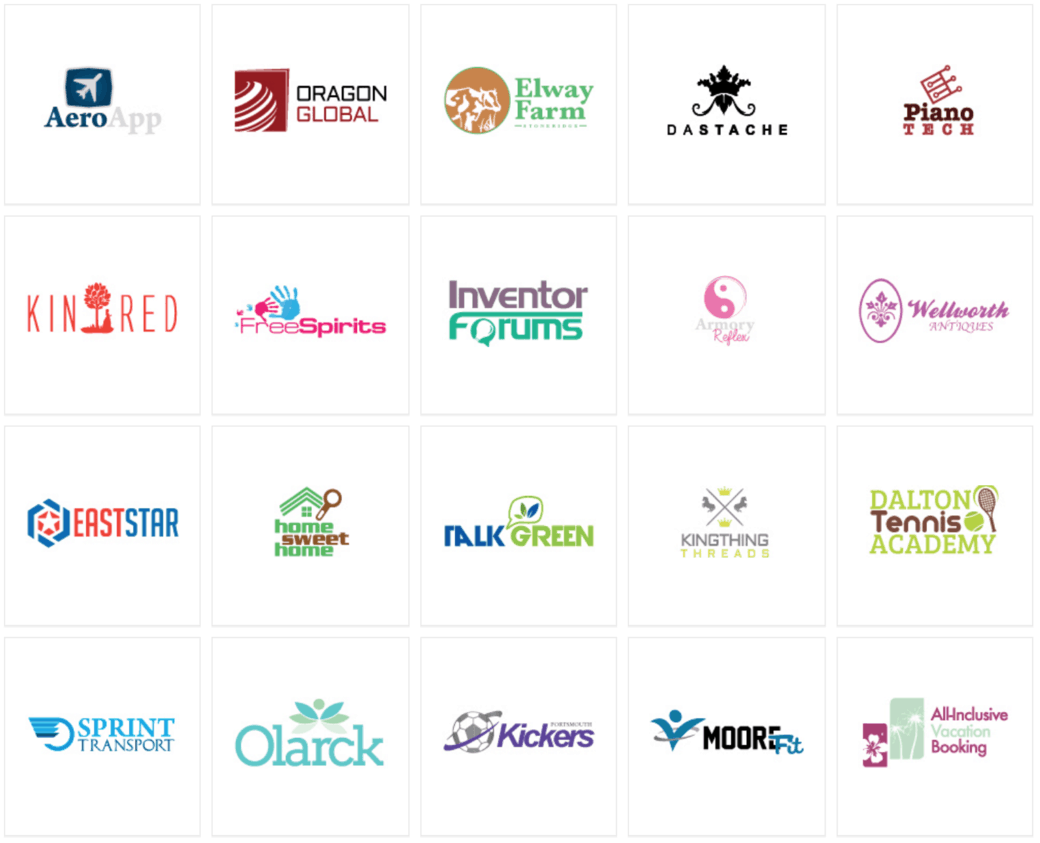 These logos aren't bad, but I wouldn't call them outstanding, either. Read on to find out if you'd be better off using a different platform from our list of the best logo design services.
Features and Ease of Use
It's Compatible with Many Languages
First of all, I give GraphicSprings major credit for supporting many languages, including English, German, Spanish, Portuguese, French, Italian, Arabic, Russian, Chinese, Japanese, Hindi, Bengali, Czech, Dutch, Greek, and more.
Designing Your Logo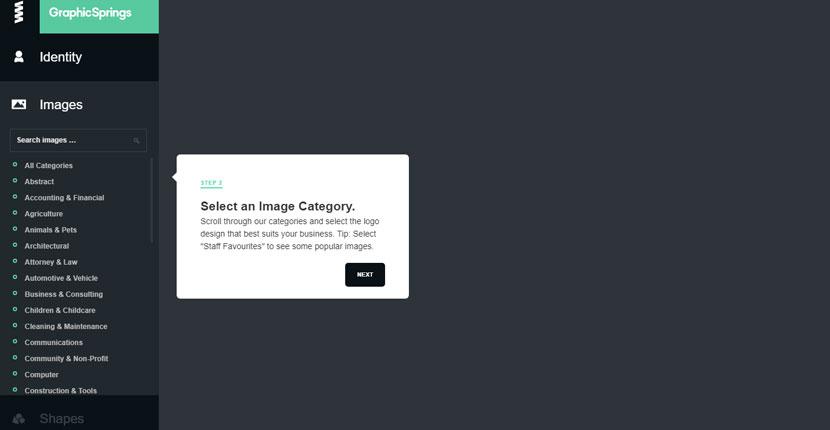 You don't have to make an account to create your logo, but as I discovered – unless you plan to buy a logo, you won't be able to save your work anyway. This is a huge downside to GraphicSprings.
The logo creation process begins with an easy-to-follow walkthrough. You'll start by adding your business name and slogan. Then, you'll choose a design from a library of illustrations. You can also add shapes to your logo (in addition to your chosen illustration).
There's a variety of image categories, and most have a generous range to choose from. I tested "landscaping" for this review and got about nine pages of artwork to browse. You can only choose one icon per logo, however.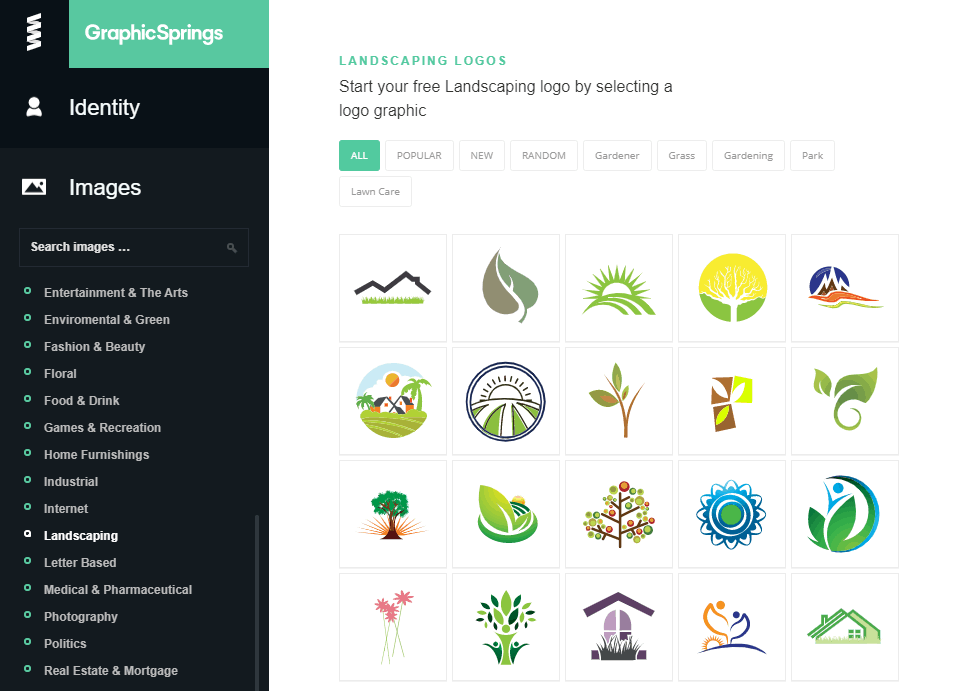 You can click and drag logo elements anywhere within the canvas. You can add outlines, shadows, and glow effects to your artwork and text, plus resize and recolor the icons to your liking.
GraphicSprings' font selection comes from Google Fonts, although you don't have access to the full catalog. Some fonts support bold and italics, though, which is a nice feature many logo makers lack. You can also rotate and angle the text, but you can't create curved text like with Wix Logo Maker, unfortunately.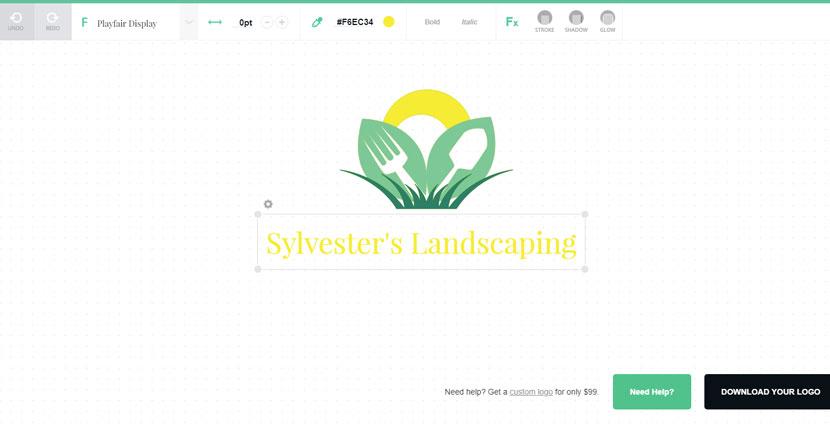 If you're having trouble getting started, just click the Need Help? button in the bottom-right corner. This will load a pop-up window of helpful video tutorials.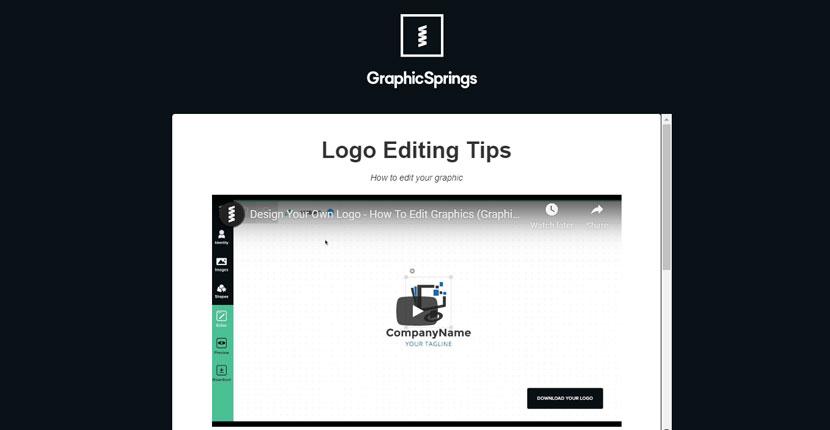 The final step is downloading your finished logo. And this is where things get a little weird. You can't download any free logo previews, but you can look at previews of what your logo might look like on stationery, websites, and apparel.
You could technically take a screenshot to get around this, but you'd only get a low-resolution JPG file, and you still can't save the actual design. You can also share your previews by email. But the main point is you can't actually download your logo unless you buy it first.
Pricing and Support
High-Pressure Sales Tactics
GraphicSprings seems to think pressuring you to purchase is the way to get you to commit to your new logo. Ugh, bad move.
When you click "download your logo," you'll be greeted with the screen below. It tells you other users are looking at your graphic, and if you don't buy it now, it might not be available in a matter of minutes. Seeing as you can't download a preview, your only option is to purchase it, right?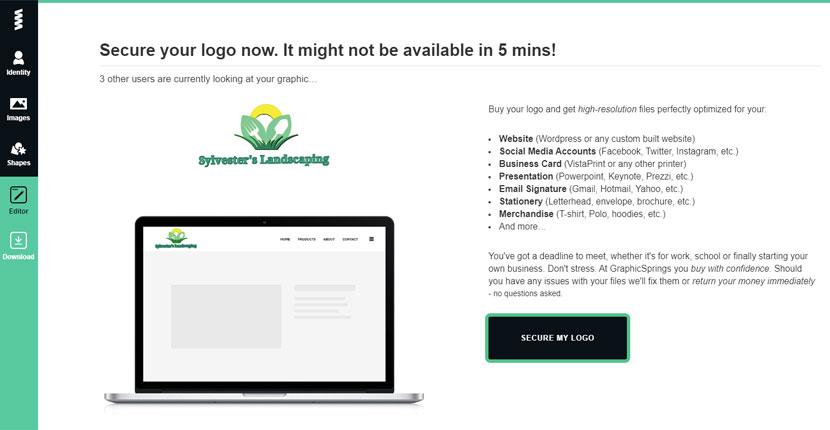 GraphicSprings makes you feel like your only choice is to buy the logo immediately or lose it. And while I understand the importance of making a logo official, I don't agree with this high-pressure sales tactic, especially for a tool that's marketed as being "free."
GraphicSprings' Confusing Logo Packages
In some sections of the website, GraphicSprings says it offers three logo packages, but there are actually four options to choose from. And none of them are free.
It's important to note what you get with each, because your "exclusive" artwork is only protected (i.e., the graphic is removed from the database) if you choose the Pro or Platinum plan.
Basic Plan. This plan is really only suitable for basic needs such as social media profiles, but not for printing, because the background will be "flat" and white. With this plan, you get one hi-res JPG file.
Standard Plan. This plan still limits you if you want to print your logo in a variety of sizes and formats (you'll want an SVG for printing), but it's still a nice set of digital-ready images. It includes:
Hi-res JPG, PDF, and PNG files (with transparent backgrounds)
Limited logo-editing options (you can't change the artwork)
Custom-sized downloads
No "Graphic Protection," which means the image could be used by others
Pro Plan. This is the cheapest plan you can choose if you want to print your logo at various sizes, and ensure your "original" artwork isn't reused somewhere else. It includes:
Hi-res JPG, PDF, PNG (with transparent backgrounds)
SVG vector file (for printing)
Limited logo-editing options
Custom-sized downloads
Graphic Protection (your graphic is removed from the public artwork library)
Stationery designs (including printable business cards, letterhead, and envelopes)
Social media covers.
Platinum Plan. This plan comes with everything from the Pro plan, as well as:
EPS files
Ai files for Adobe Illustrator,
PSD files for Photoshop
A branded PowerPoint presentation template
With the more expensive plans, you do get everything you could possibly need, but you could get all this for substantially less money by hiring a freelance designer on Fiverr. You'd also have more creative input and can get a completely original logo design for the same cost as the cheapest GraphicSprings package (or less, as designs start from as little as $5).
Warning: All Logo Sales Are Final
If you're still interested in buying a logo from GraphicSprings, you can pay with Visa, MasterCard, Discover, or PayPal (but not American Express).
Each logo design package is a one-time purchase, and while GraphicSprings claims to offer a 100% money-back guarantee, all logo sales are final. You can only get your money back if there's a technical issue that prevents the files from working (and even then, only if GraphicSprings can't fix it).
GraphicSprings says you can register a trademark and get full commercial rights to your customized logo. The FAQ section covers a lot of these fiddly details, but to be honest, I found the small print extremely confusing.
Help – I Need Somebody
Outside of the FAQ and useful video tutorials, it's very hard to find good help on GraphicSprings. It does all of its technical support via email and contact-form submissions, and although they do promise to respond within 24 hours during the week, it can take up to 72 hours to get a response on weekends.