💎

Service Type
DIY logo maker

🚀

Free to Try
Yes

📁

File Formats
PNG & JPEG Files

🔄

Free Revisions
No
A Free Logo Maker by the Design Industry's Top Player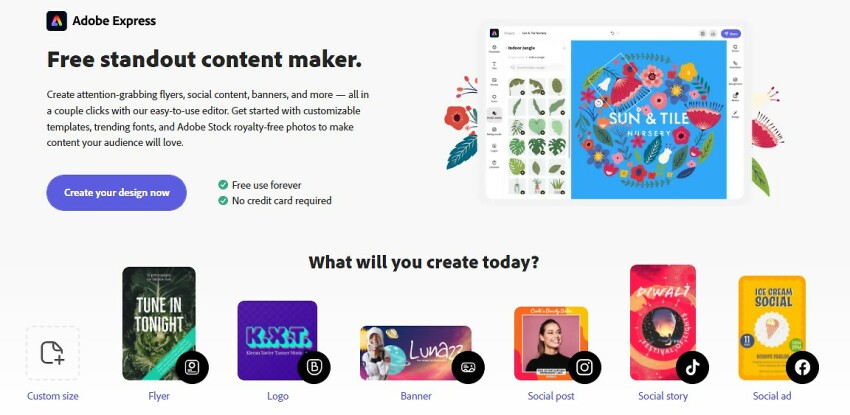 Adobe has been the gold standard for professional vector graphics and photo editing software for as long as anyone can remember. However, Adobe Express, the company's DIY design platform, is relatively new.
Along with logos, you can use Adobe Express to create social media posts, web pages, and short videos. The platform is available in six languages:
Italian
Portuguese
Spanish
You can design your logo in these languages and many more. I tested Thai, Japanese, Russian, Hindi, and Chinese, and all of them worked. (However, the font selection is a bit more limited for some languages that don't use the Latin alphabet.)
Features and Ease of Use
Easy to Use but Very Limited Functionality
Good DIY logo makers let you create a distinctive, professional logo even if you're a complete beginner at design. The Adobe Express logo maker pretty well matches the big names in the field, such as Wix Logo Maker and Tailor Brands, for beginner-friendliness. But can it compete with them in flexibility and customization options?
To generate unique logos that you can customize for your business, Adobe Express walks you through a quick start-up wizard with three steps:
Name your company and slogan.
Choose a logo style.
Choose an icon.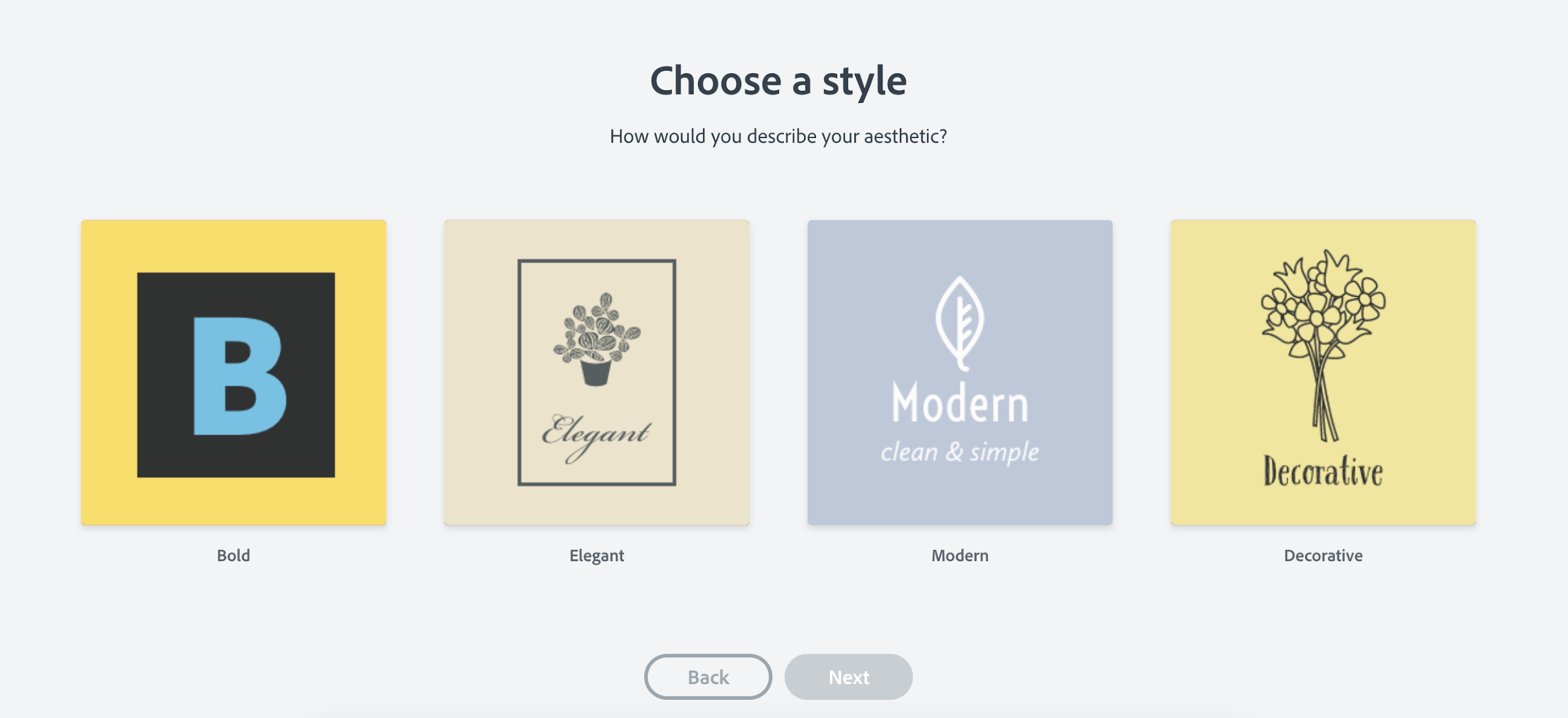 After this fast startup, you'll get 45+ logo designs to choose from.
You'll Get Some Unique Designs
When you've tested as many logo makers as I have, you start to notice similar-looking logos popping up over and over. But the Adobe Express logo maker offers some interesting variations on familiar designs. For example, here are three unique and creative logo styles I've never seen from any other logo maker:
So for interesting designs, Adobe Express definitely stands out. But it takes more than that to make a great logo.
You Might Get Frustrated by the Lack of Customization
Unfortunately, Adobe Express's unique layouts come with a big drawback: compared to other logo makers, this platform offers very few customization options. And I mean very few.
Your only choices are to change the color and font. Even then, you can't select a new color from a color palette or choose a new font from a drop-down list. Instead, you have to click Color or Font to cycle through the options, one by one.
You can keep clicking to try new fonts and colors, but they're presented randomly. I can't even tell how many options are possible…but my best guess is around 12 fonts and 20 colors. It's sort of an un-sweet spot of too many to really keep track of as you click through, but not enough to give you exactly what you want.
For more precise and advanced logo customizations in an equally beginner-friendly editor, you'd have a lot more power at your fingertips with Wix Logo Maker.
If you'd like to know more about how all the different platforms stack up, check out our logo design showdown! My colleague tried all of the major logo design services to create the best new logo for Website Planet. Click here to see which logo design service is our clear winner.
You Can Instantly Download Useful Files
Once you're happy with your logo (or at least happy enough to stop clicking endlessly through colors and fonts), you'll have to create a free Adobe account to download it.
Your instant download includes four logo files:
3 PNGs in full color, black, and white, including transparent backgrounds
1 JPEG in full color
For a totally free logo maker, these file formats give you decent flexibility. You won't be able to print at large scales, but they'll do for smaller uses like product inserts. And the transparent files do make it easier to use your logo online without a distracting background.
There is another pretty big concern, though: your logo files are not saved. Even though I had to set up an Adobe Express account to use the platform, my logo files disappeared once I closed the page. I searched my dashboard and even contacted customer support for help. No luck…and support was, well, less than supportive (but more on that below).
Pricing and Support
Free Logos for Download…But No Commercial Rights?
The Adobe logo maker platform is free to use, and you can download your logo for free. There is one catch, though: you won't necessarily get commercial rights.
Adobe derives its icons from The Noun Project. You hold the responsibility of verifying if your icon permits commercial usage. Upon conducting a search, I discovered that my yoga icon does not encompass commercial rights. Consequently, I would need to make a payment to obtain a license, allowing me to utilize my logo for various business objectives.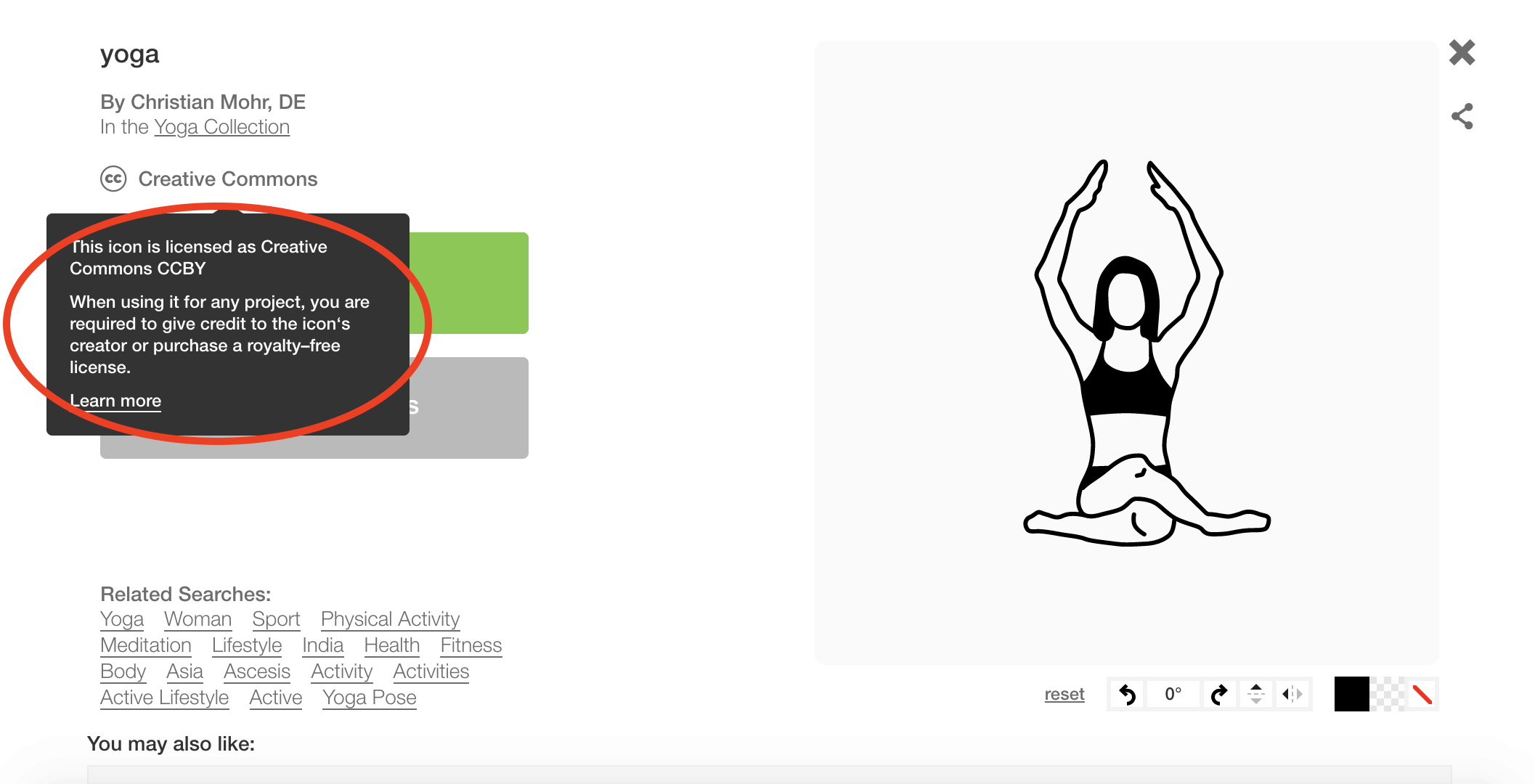 So depending on the icon you select, your "free logo" may be free to make but not free to use. If you don't want to deal with this gray area, you can go with a paid logo maker, or even hire a professional designer from Fiverr. Both options guarantee commercial rights and full ownership of your logo.
What About Upgraded Plans?
Upgrading to a paid Express subscription will unlock extra features, but these paid features don't really add to your logo design possibilities. For example, you can pay to:
Use premium social media templates, which you can easily customize and then download for posting announcements of sales and other big events on Facebook, Instagram, Twitter, and more
Invite collaborators to projects
Upload your own photos or other media
Access 24/7 support via phone, email, chat, and forums
To subscribe, you can pay monthly or annually by Visa, MasterCard, American Express, Discover, or PayPal.
Customer Support Is Limited and Slow
Sigh. Now it's time to get back to my experience with customer support.
First of all, as a free user, the only way to reach Adobe support is through a ticket. I was pretty confused about my logo not being saved, so I opened a ticket to ask what the deal was. Support took two days to respond the first time, another three days the second time. Even then, the problem was never resolved. I never found my logo or received a useful answer about why it wasn't saved.
The FAQ page isn't terribly helpful, either. I couldn't find a single question related to the Adobe Express logo maker, maybe because the platform is still in beta.