Zyro has majorly revamped its builder
, adding new features like e-commerce, blogging tools, better-looking templates, and extra customization options – and packing them all up in a neat and simple editor. Granted, these new tools can't quite match WordPress.com, which wins hands down in terms of power, customizability, and scalability. But if you're looking to get a website up and running quickly,
Zyro might actually be a better option for you.
Powerful as it is,
WordPress.com comes with a steep learning curve
. Zyro, on the other hand, is very, very easy to use (you won't get bogged down in tutorials for hours). And even though it doesn't have
as many
templates and features, it has everything most business sites will need.
Take a look at Zyro's best deals
, or read on to find out when I'd recommend this builder over its better-known competitor.
1. Templates
Zyro's Got More Templates Than Ever, But WordPress.com Still Has More Variety
As part of its recent overhaul,
Zyro gave its template gallery a major update
. There are now loads more templates (125+, by my count), and they've improved massively in the looks department, all trending towards that Apple-esque minimalism that's all the rage at the moment. They come in a bunch of different categories, including eCommerce, Services, Photography, Restaurants, Portfolio, Events, and Blog. You can browse by these preset categories or zero in on a particular niche via the search bar.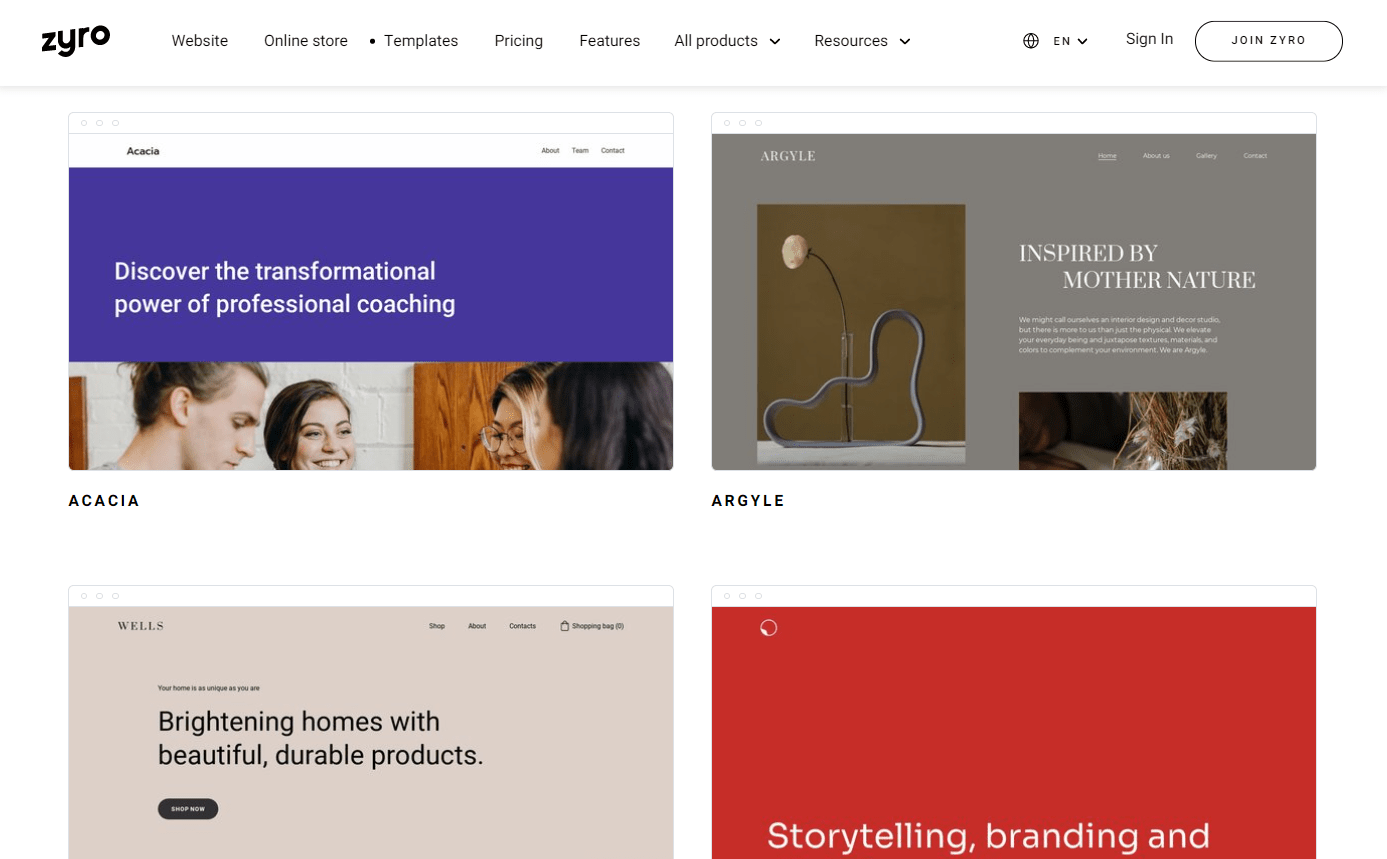 WordPress.com, on the other hand,
 has so many themes that it doesn't even keep track of the number.
I counted
over 200 free themes
, but that's not considering all the third-party templates you can install on a Business plan or higher. WordPress.com themes are organized into eight different categories, and 29 sub-categories (or "subjects"). You can filter by site topic, features, and even style (such as "formal" or "vibrant") – or just narrow things down with the search bar.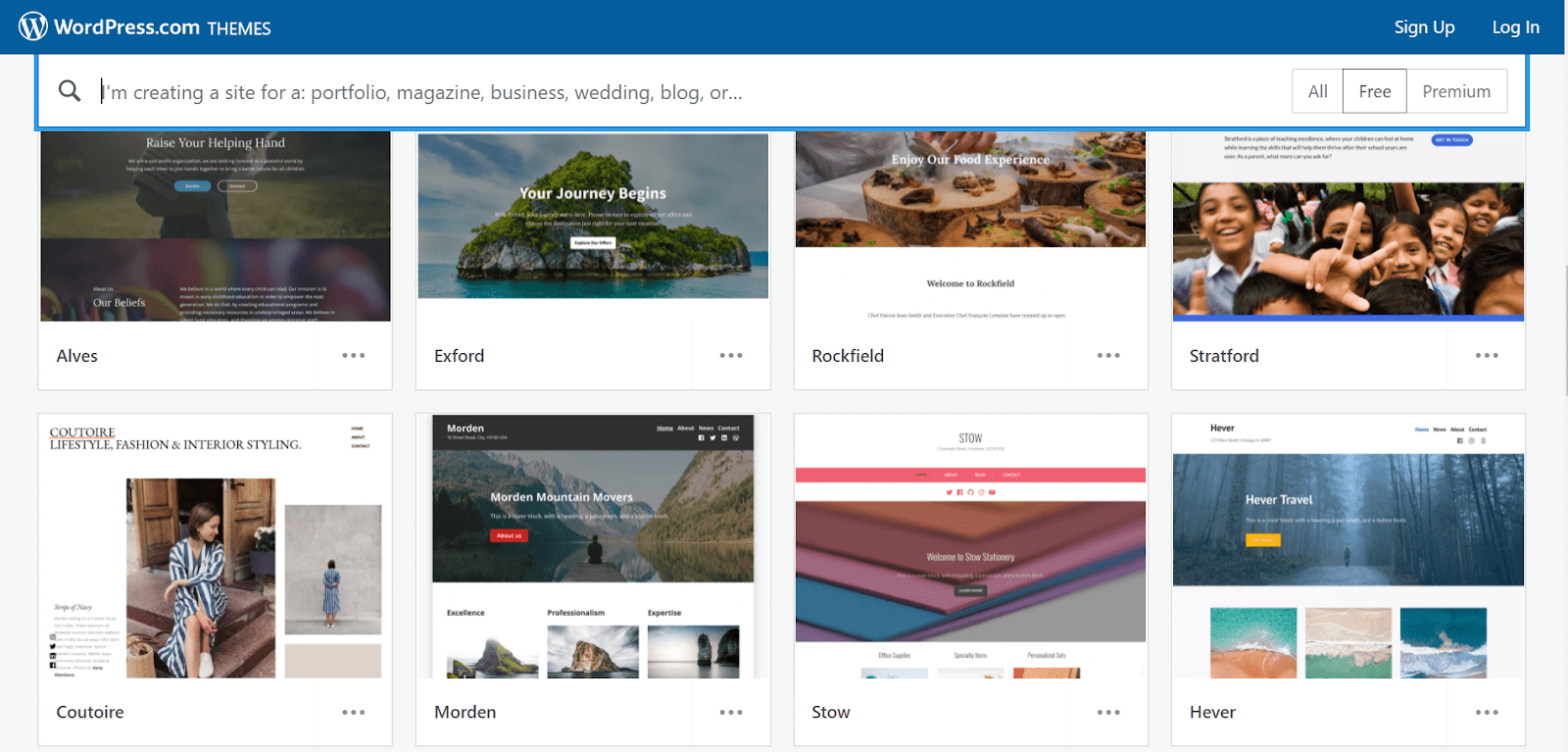 WordPress.com wins on numbers alone,
 but it occasionally falls down in the looks department.
A few of its themes look like they were created using WordArt on Windows 95 (that's a bit harsh, but you get the gist), whereas Zyro's library has fewer duds. In addition,
Zyro's revamp also introduced new customization options
 to give you more control over fonts, colors, and layouts. One slightly unusual thing about its editor is that it's grid-based – you can drag elements around, but they'll snap into place on a grid. On the one hand, this means you don't have complete control over placement, but on the other, your website layout will always be well-spaced. It also makes
all of Zyro's templates mobile-responsive,
which is not the case with WordPress.com. Another thing to keep in mind is that you'll need a
WordPress.com paid plan to access some of the builder's more advanced customization options
, such as the ability to edit the CSS files directly. In terms of editing fonts, colors, and layout, though, WordPress.com is generally very flexible. WordPress.com also allows you to switch themes, even after you've started building your site, whereas
Zyro locks you into your chosen template as soon as you start editing
. Overall, Zyro's templates are more consistently good-looking, but it's hard to ignore WordPress's virtually endless theme and customization options. Seriously, there's a WordPress theme for
everyone.
2. Features and Ease of Use
Zyro Is Good for Beginners, But Lacks WordPress.com's Power
As a relatively new builder, Zyro is constantly adding to its arsenal of features. For instance, it now offers e-commerce and blogging tools (more on both of these later), but even so,
it can't quite keep up with a giant like WordPress
, which offers pretty much anything you could ever need. On the plus side, Zyro's simplicity means that it definitely wins on the ease-of-use front. Its
drag-and-drop editor couldn't be simpler
. No walkthroughs needed – you can just dive straight in. And in case you want even more of a helping hand, Zyro offers a unique array of AI tools, including an AI business name generator, slogan generator, blog title generator, and even an AI writer that can create pages of SEO-friendly content for you. When I tested the AI writer, it generated text that was slightly… bizarre. So while these tools might help you brainstorm when you're feeling stuck, I'd only use the actual text as a real last resort. WordPress.com's editor
represents a much steeper learning curve than Zyro's
, especially if you've never built a website before. If you're just trying to create something simple, honestly, you might be happier with Zyro. But if you're willing to invest a bit of time, and you ultimately need a builder with more horsepower, then
WordPress is definitely worth it
. The WordPress.com block editor, theme customizer, and publishing tools aren't
hard,
 per se. It's just that if you haven't used these tools before, it will take some time to get your head around them. Intuition will get you a long way with Zyro, whereas
WordPress.com is definitely more of a "read the manual" deal
. But the upside is that with WordPress.com, there's a real ROI in store. You can build any type of website just by working with the default themes and functionality. And from the Business plan up, you can use plugins to transform your website in pretty much any way you could think of. Compare that to the nine(ish) element options offered by Zyro, and you'll see what I mean by horsepower.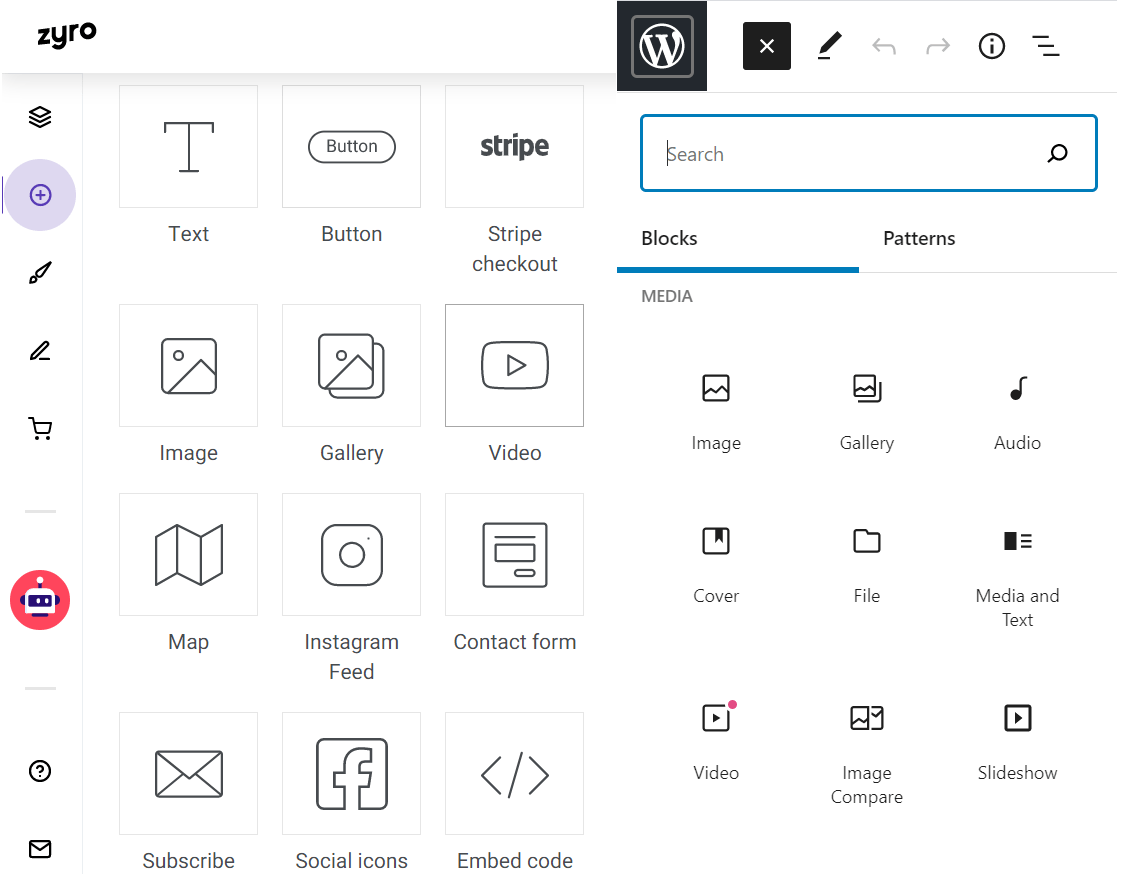 Zyro wins this point on pure ease of use,
but this comes at the price of some pretty strict limitations. If you commit to learning the ins and outs of the WordPress.com editor, you'll soon discover that it's a much more powerful tool.
3. Apps & Integrations
Zyro's Limited Integrations Struggle to Compete with WordPress.com's Limitless Plugins
WordPress.com has a plugin for – and I don't think this is an exaggeration – everything, meaning you can
extend the functionality of your website however you want.
 As long as you upgrade to the Business plan, that is. Want help with SEO? Extra website security? Automatic translations? Contact forms? Drag-and-drop design? Calendars? Anything you want your website to do, you're almost guaranteed to find a WordPress plugin for it, out of the more than 50,000 on offer. WordPress also offers a number of third-party integrations, including Mailchimp, Google Analytics, and GSuite.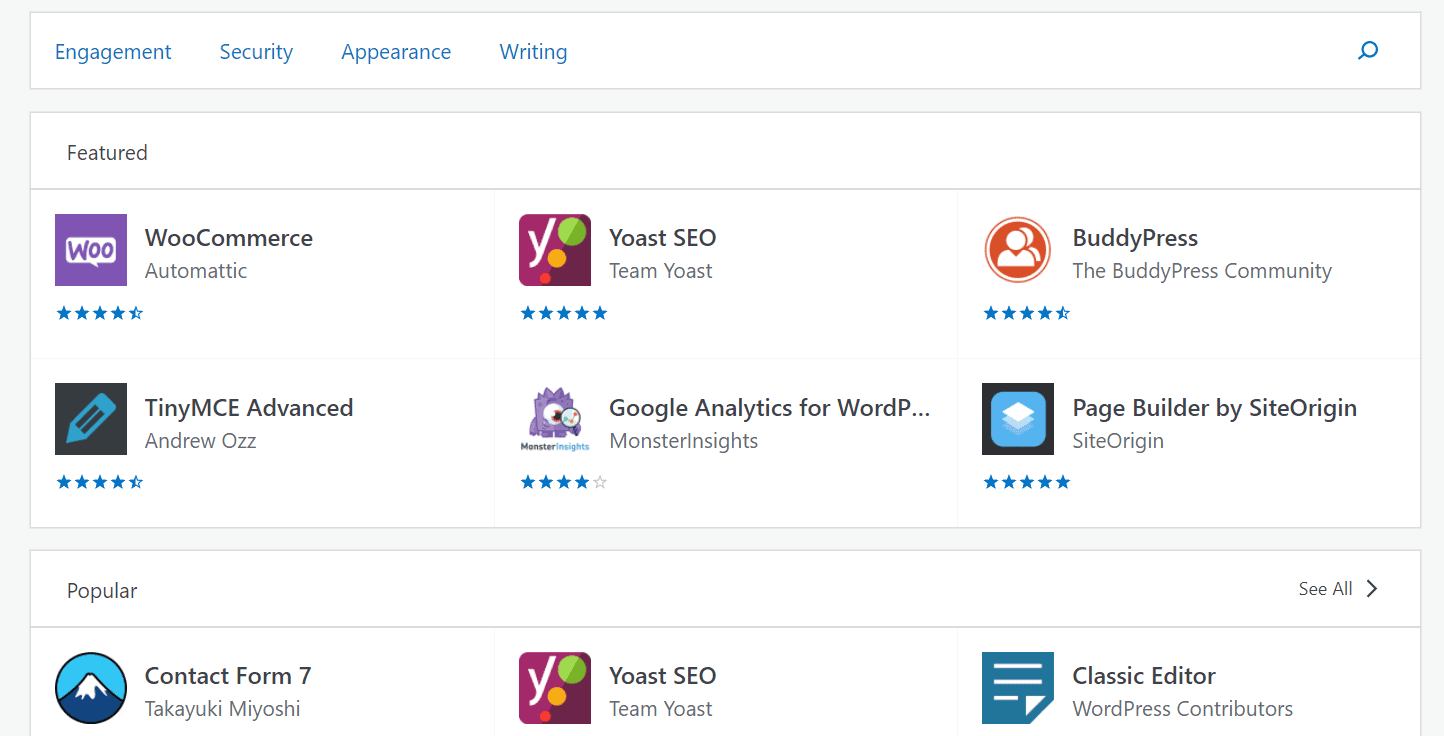 Zyro, on the other hand, has no add-ons, apps, or plugins to speak of. It has a
handful of third-party integrations that are available on all plans
, including (and very much limited to):
Facebook Messenger
Facebook Pixel
Hotjar
Google Tag Manager
Google Analytics
And that's it. If you only want to build a simple website, the lack of plugins isn't a dealbreaker, but if you ever wanted to add more advanced features, you would be stuck.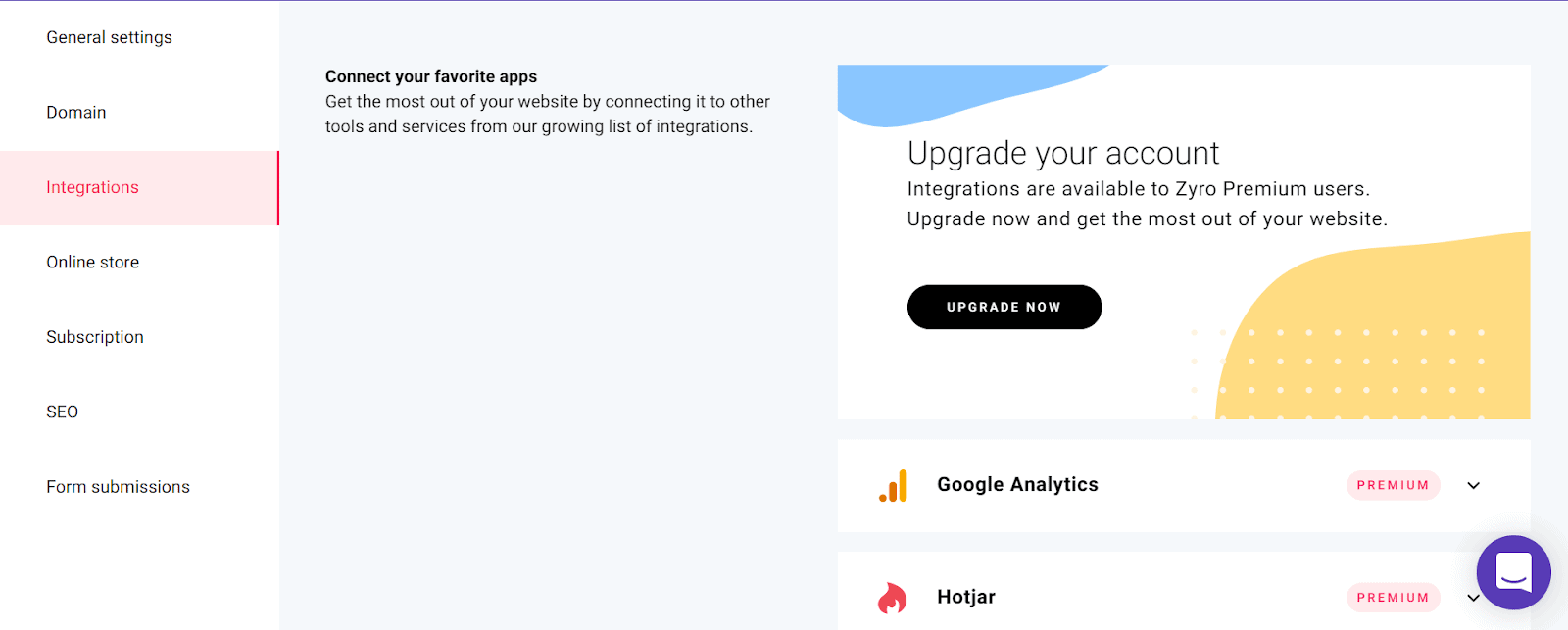 This point goes to WordPress.com
, for obvious reasons.
4. Blogging
Can Zyro Compete With WordPress.com, the Blogging Giant?
Zyro has recently introduced blogging functionality, which is definitely a step in the right direction. However, it still can't quite mount a challenge to WordPress.com, which is literally a blog content management system. Seriously, blogging is where it all began.
Both builders make it easy to get started
. On Zyro, you just need to navigate to the little button that looks like a pen and click
Start a blog
to add a blog page to your website. In terms of blogging features, Zyro has all the usual suspects, such as the ability to set publishing dates, define post categories, have multiple authors, and change customization options for posts. However,
you can't control how the blog itself looks within your website
.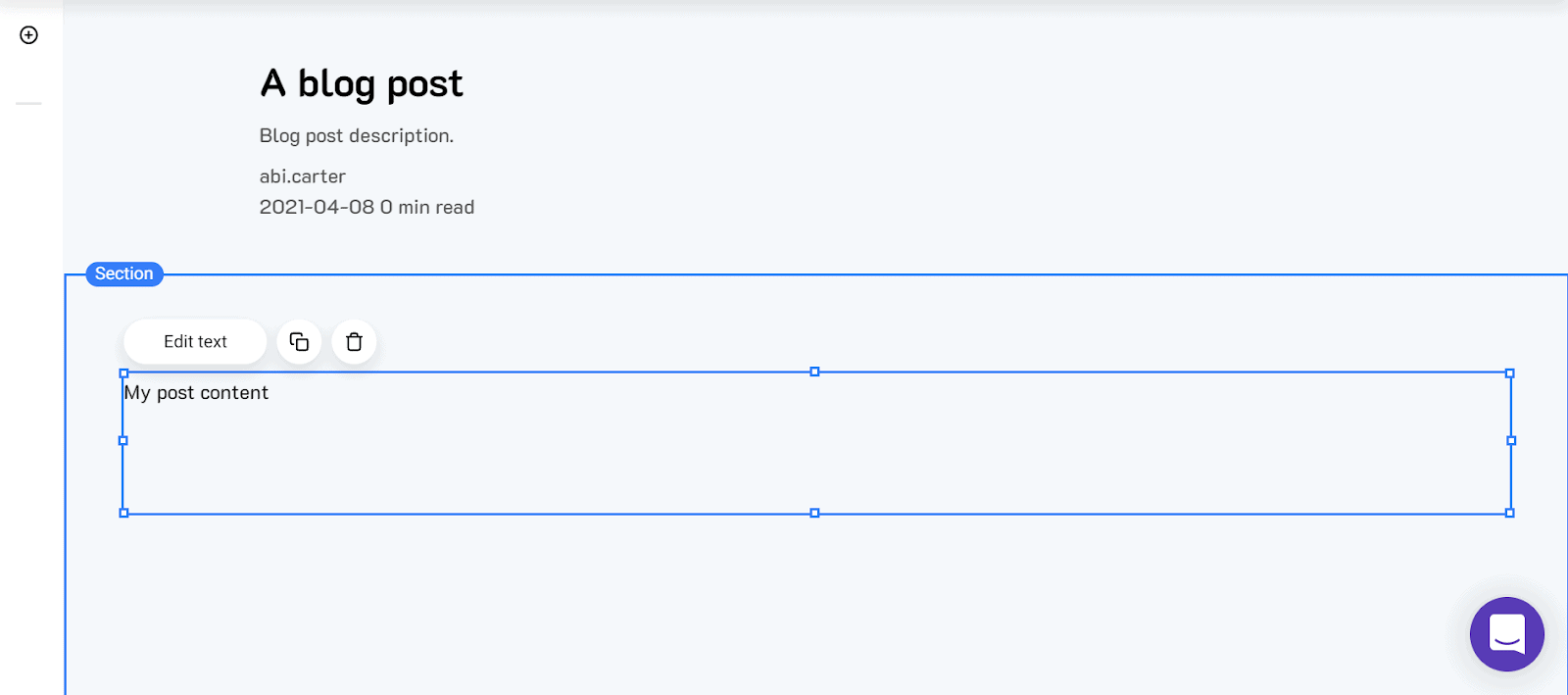 To start a WordPress.com blog, you'll need to navigate to
Posts
and click
Add a new post.
This will take you to the post editor, where you can start writing right away. As you might guess,
WordPress.com is the gold standard for a blogging platform.
It lets you categorize and tag your posts, schedule posts and social shares, and customize them to your heart's content. And you can use plugins to extend your blog's functionality in almost any way you want.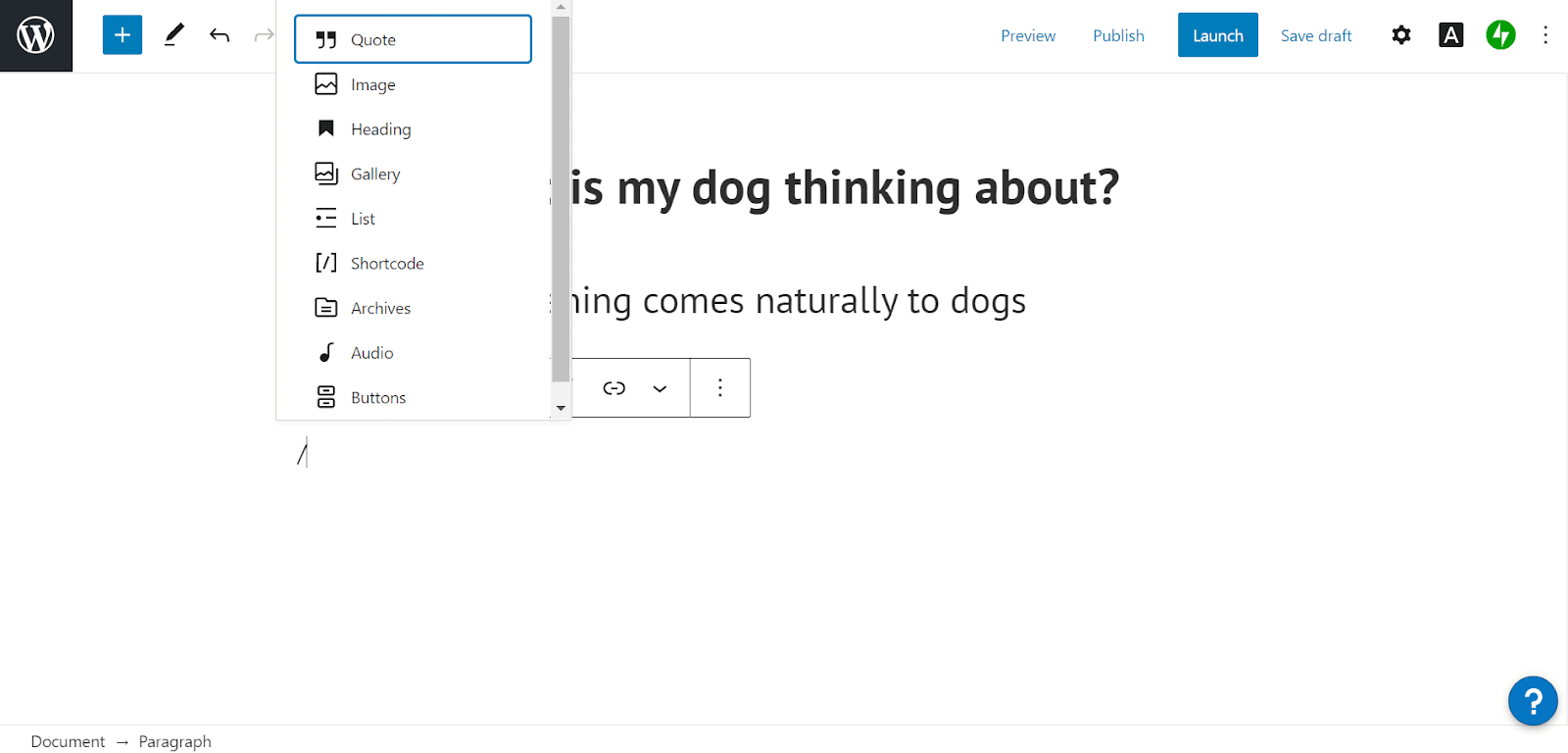 Plus, WordPress.com may be trickier to use overall, but
I actually found its blog editor more intuitive
 than Zyro's. WordPress.com wins this point, hands down.
5. E-commerce
Another of Zyro's shiny new features is its set of e-commerce tools. You can now create an online store on its eCommerce plan –
for less than it would cost you on WordPress.com
. But how do the features stack up? Getting started with e-commerce on Zyro is – you guessed it – pretty easy. Simply choose one of the online store templates, or click the shopping cart icon in the editor. From there, you just need to add your products, set up shipping, delivery, and payment options, and off you go!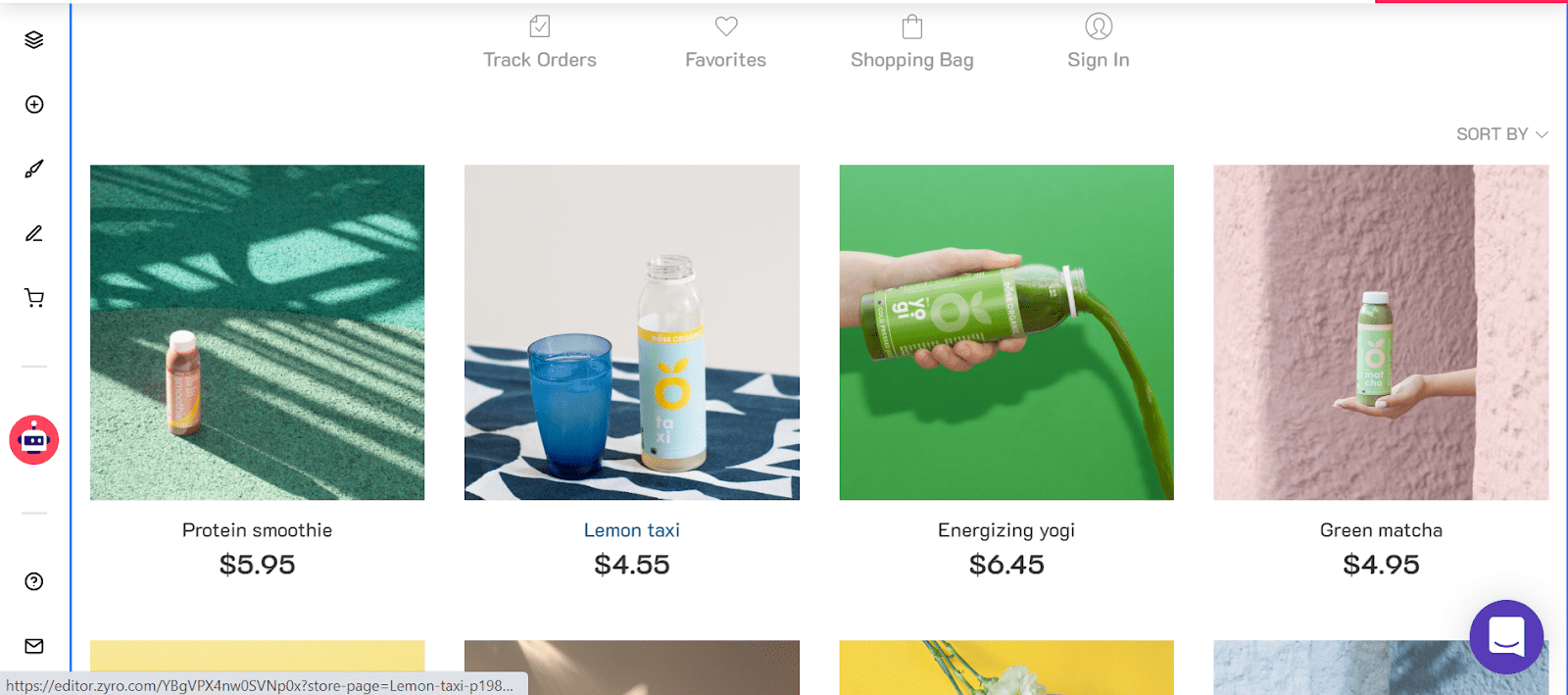 Zyro offers all the standard e-commerce features,
 like inventory tracking, order management, shipping and tax management, gift cards and discount coupons, and dozens of payment and shipping options. There's even a CRM (customer relationship management) tool and an app to manage your store from your phone. If you want to go a little bigger, the eCommerce Plus plan lets you list up to 2,500 products, sell directly via Facebook, Instagram, and Amazon, and even set up a multi-language store – a great option if you've got an international customer base. WordPress.com offers more of a DIY approach to online stores. For a fully-integrated online store with all of the bells and whistles (like the ability to accept payments in 60+ countries, integrations with shipping carriers, and special online store design options), you'll need the top-priced eCommerce plan. However, the price tag makes it clear that
this plan is for large e-commerce stores only
. If you're not on that level yet, you've got a couple of options. You can accept payments with Stripe on any paid plan, so you could make one of the lower-tier subscriptions work for you if you've got a very small store with just a few products. Or, another option is to get a Business plan and install an e-commerce plugin like WooCommerce (to learn more, read our
in-depth WooCommerce review
). Just bear in mind that
it may cost extra to access additional functionality
 like SEO tools and payments.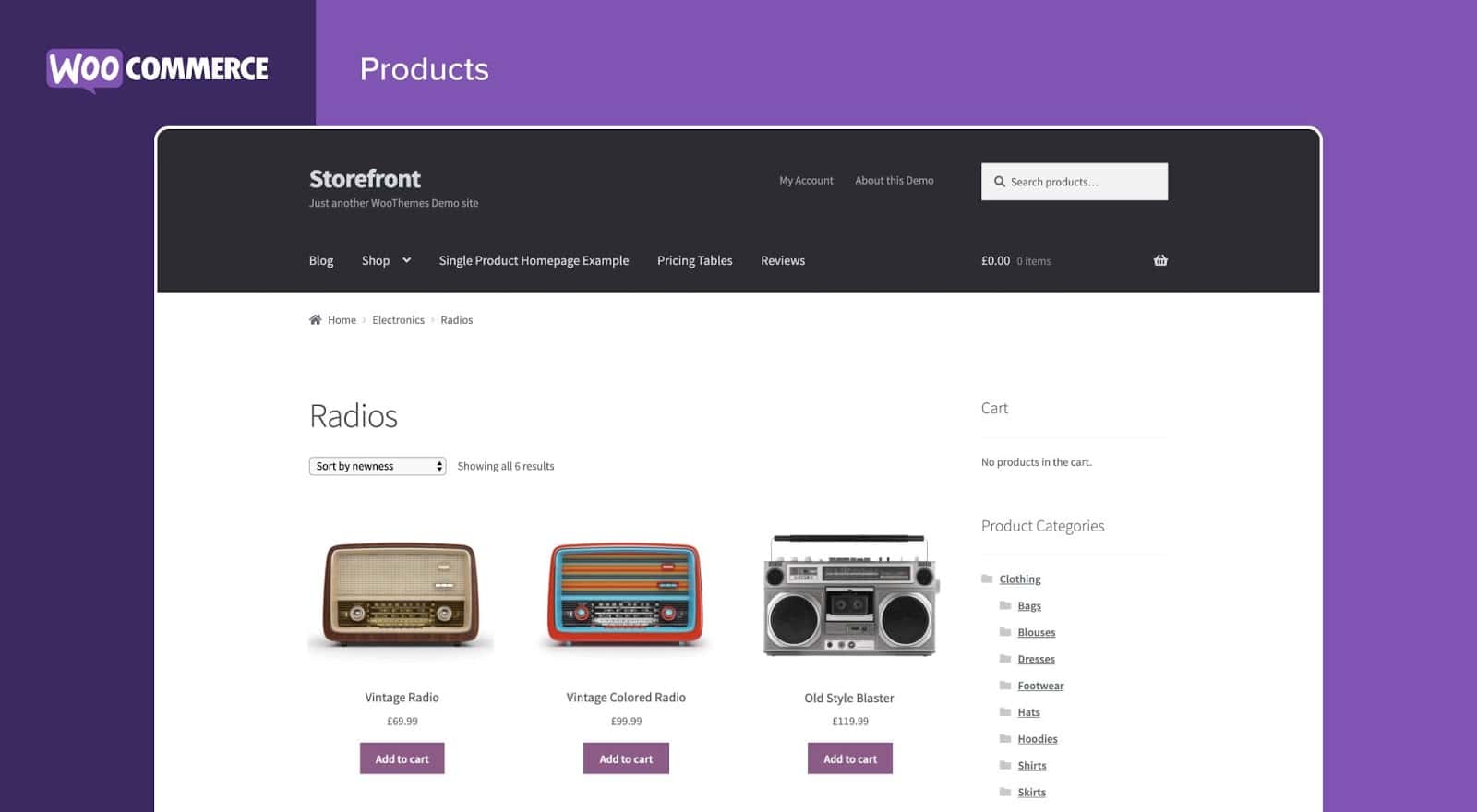 I'm going to call this one in favor of Zyro.
 For someone who just wants a simple, built-in solution, Zyro offers all of the basics (plus some nice extras) in a neat, affordable package.
 WordPress.com is more flexible and scalable,
but it's more expensive too – and not as easy to use.
6. SEO
Zyro Does It For You; With WordPress.com It's DIY
You might have noticed that
Zyro's integrations are mostly focused on marketing and SEO functionality
. And yes, Zyro gives you some tools like Google Analytics and Tag Manager, Facebook Pixel and – uh – the AI Writer.
But overall, Zyro's SEO strategy is more along the lines of "we do the hard work so you don't have to".
Rather than offering lots of complex tools, Zyro works good SEO into the builder itself – by making web pages fast loading, secure, and automatically optimized for mobile. This might be music to your ears, if the letters S – E – O make you recoil in horror, but if you want to take a bit more of a hands-on approach, it might not quite cut the mustard.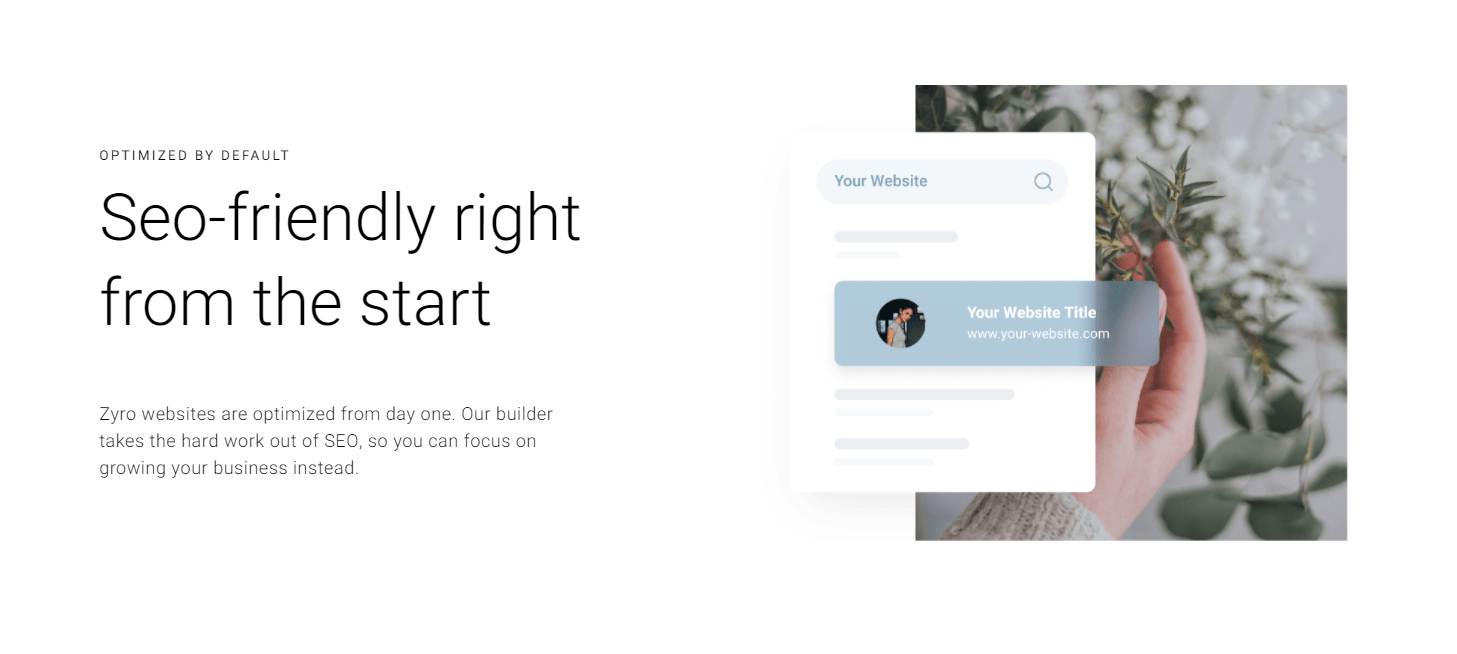 WordPress.com, on the other hand, takes a more hands-on approach.
There's pretty much no limit on what you can do, especially once you factor plugins into the mix, but apart from a few guides and blog posts on SEO, you'll be on your own. You can edit meta descriptions, title formats, and social previews on any plan, and you also get a
free integration with MailChimp
. In terms of plugins, the possibilities are pretty much endless. I got 49 pages of search results for the keyword "SEO" alone.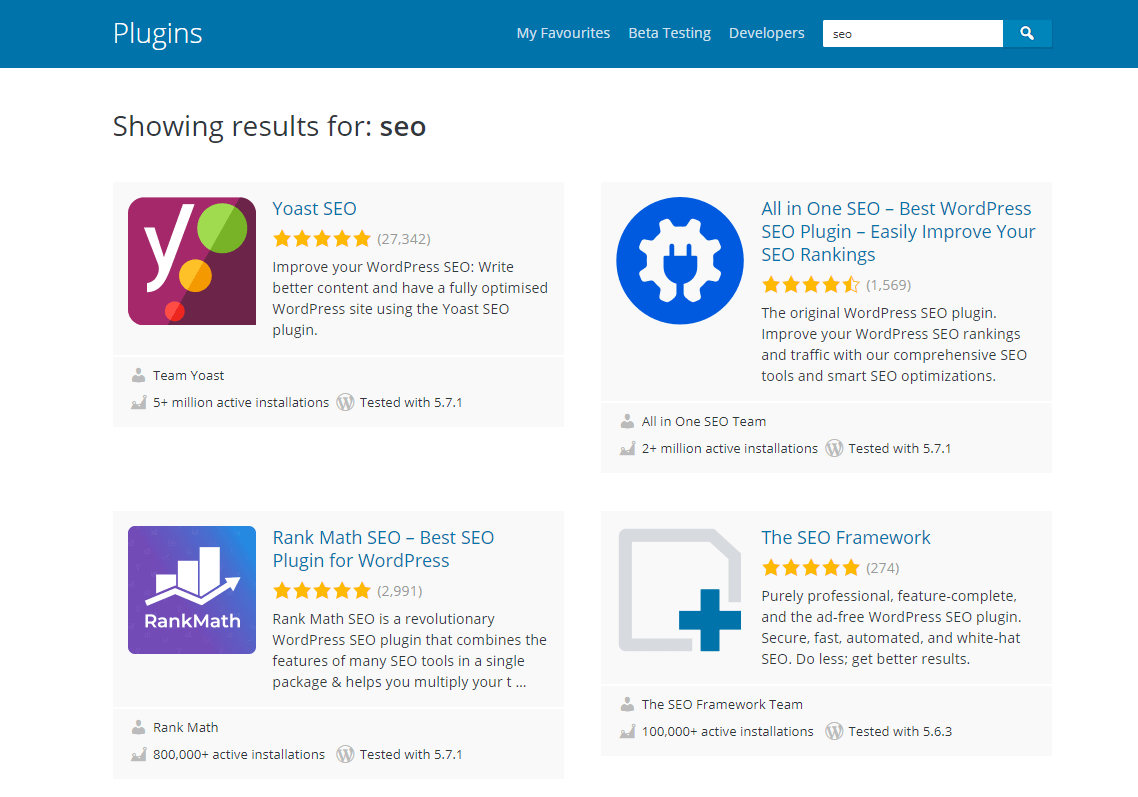 When it comes to SEO, the two builders take very different approaches. So it's up to you: do you want a website builder that will do most of the hard work behind the scenes? Or would you rather go it alone, with no limits to what you can do? Since it's a matter of preference,
let's call this point a draw.
7. Pricing
When Zyro did its revamp, it also overhauled its pricing structure. But do you still get good value for money? Well, it depends what you're looking for. Zyro is still
one of the cheapest website builders on the market
, starting at around $3 per month for the most basic plan and going up to nearly $15 per month for the most expensive (e-commerce) plan.
The catch is that these prices are only available if you pay upfront for several years.
 The renewal price is a bit
higher as well, so if you plan to build a website that will be around for a while, you'll need to make sure you're OK paying the higher fee in a year's time. The major difference post-revamp is that Zyro no longer offers a free plan, or even a free trial. Instead, you now get a
30-day money-back guarantee
. In all fairness, I've tried it out, and they're absolutely true to their word – I got my money back, no questions asked.
WordPress.com, on the other hand, does offer a free plan
, which gives you an SSL certificate, 3 GB of storage space, and access to free themes. The cheapest WordPress.com plan is priced similarly to Zyro's bottom-tier plan, and it gives you more data, unlimited bandwidth, a free domain, and the ability to accept PayPal payments. However, as I mentioned, WordPress.com only really comes into its own once you add its 50,000 plugins into the mix. This gives you virtually unlimited options for extending your site's functionality, a power that Zyro really can't match.
The catch is that you'll pay a lot more for those plugins – because you can only install them on the Business plan and up.
So, if you're not interested in wading through a huge DIY library of plugins and don't care about building a fancy website with all the bells and whistles, Zyro might be a better, more attractively-priced option. That's particularly true when you look at the two builders' highest-tier e-commerce plans. While you can build an enormously powerful store on WordPress.com's top plan, it costs almost
three times as much
as Zyro's – which matches all the basic WordPress.com e-commerce features and presents them in a neat, user-friendly solution. Let's see how this works by comparing the cheapest (and most expensive) Zyro and WordPress.com plans:
Plan
Zyro Basic
WordPress.com Personal
Zyro eCommerce Plus
WordPress.com eCommerce
Monthly cost (billed yearly)

$

2.61

$

45.00

$

8.01

$

8.00

Storage
1 GB
3 GB
Unlimited
200 GB
Bandwidth
3 GB
Unlimited
Unlimited
Unlimited
Free domain
Connect your own
Free for 1 year
Free for 1 year
Free for 1 year
Website analytics
No
Basic
Yes
Yes
Integrations / Plugins
No
No
Yes
Up to 50,000 plugins
E-commerce features
No
PayPal payments
Yes, including multiple payment options, shipping and tax management, abandoned cart recovery, and Facebook, Instagram & Amazon integrations
Yes, including integrations with shipping carriers, accept payments in 60+ countries, and premium design options
Customer support
Live chat
Email support
Live chat
Email and live chat support
As you can see,
WordPress.com covers both extremes of the pricing spectrum
 – from the cheap, basic solution to the expensive, all-powerful builder – while
Zyro sticks closer to the bottom
, without a huge price difference between the highest and lowest plans. In other words, Zyro gives you the tools you need for a decent website at a lower price point.
8. Support
Zyro's Live Chat Goes Against WordPress.com's Forum
Support is another area where WordPress.com and Zyro really diverge. Whereas
Zyro offers 24/7 live chat support on any plan, WordPress.com has a "you get what you pay for" system
. The free plan gives you access to the WordPress.com knowledge base, video tutorials, and support forum. The personal plan gives you email support, and only after that do you get live chat assistance. I'm just going to put it out there: I hate forums. I feel like they can be very hostile spaces where newbies are demonized for having the audacity to ask simple questions. The typical response seems to be, "We already discussed this xx years ago, just read this thread,
dummy
." But in the name of research, I gave it a go. After I posted my question on the support forum,
I had to wait a few hours for a reply
. When it came, it was helpful – although it had a hint of the "read it yourself" vibe. When I tried via email support as well, the response was similar.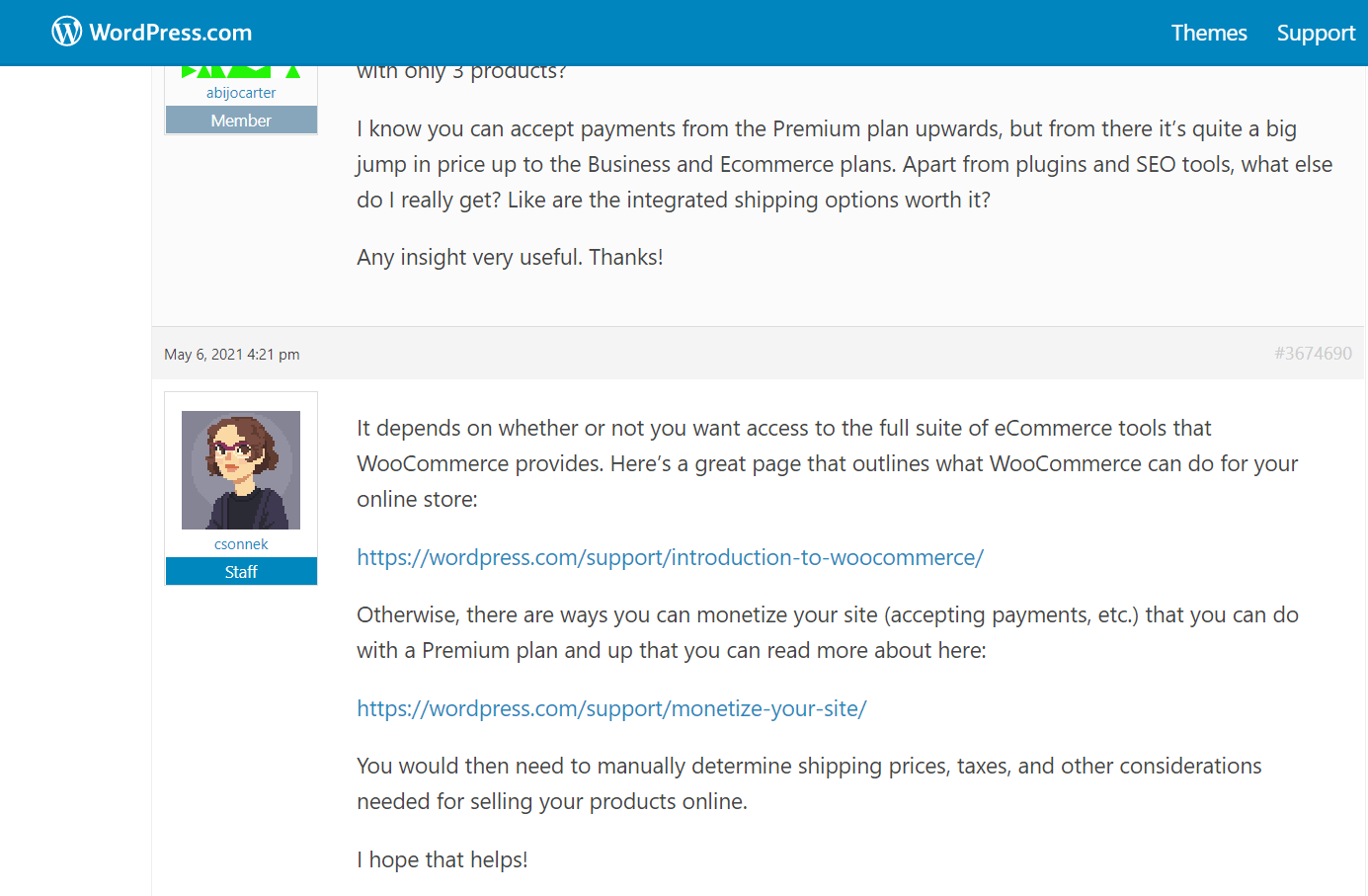 Snowflake millennials like me will therefore be happy to hear that
Zyro offers live chat support staffed by super-friendly agents
 who act like your message is the highlight of their day. To access the live chat function, please ensure that you are signed into your account. Initially, a bot will attempt to provide assistance; however, based on my past experiences, it tends to struggle in understanding your requirements (not the most helpful bot!). Rest assured, though, that an agent will join the chat to assist you. I was informed that there might be a brief waiting period, but my own encounter involved approximately 15 minutes before an agent joined the chat. He offered some friendly advice on choosing a plan for my small online store.
His message definitely had more of a personal touch
: I'm talking emojis after every sentence and gifs of dogs hugging – nice, if a bit weird.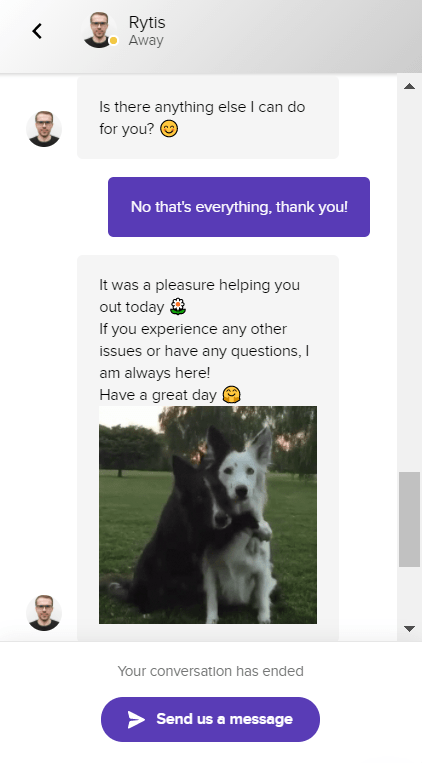 After that, I tried the live chat a few times, with mixed results – sometimes an agent joined the conversation within a few seconds, and other times I was left waiting a while. Still, we're talking minutes, not hours or days. Overall,
I've got to hand this one to Zyro.
 Its support staff was just
nicer
.
The Difference Is Clear: Do You Want Ease, or Power?
Comparing Zyro and WordPress.com is a bit like comparing apples and oranges.
On the surface, they offer similar services,
but cut a bit deeper and a whole gulf of differences open up
. Ultimately, your choice is going to depend on what you want. If you want the Big Daddy™ of web building to make a huge, fancy site and you don't care how much it costs – I'd recommend
WordPress.com
.
It's got virtually unlimited options for extending your website's functionality, especially on the higher-tier plans
. On the other hand, if you want to build a relatively simple website without investing a lot of time in learning how to build it – or you want an affordable, comprehensive e-commerce builder that will do a lot of the hard work for you – then
Zyro is a pretty solid option
. It can't do everything WordPress.com can, but sometimes you just don't need it to.
Free plan available
No
Yes
Templates
100+
200 + 3rd-party themes
Features and Ease of Use
User-friendly drag-and-drop editor with fewer features
Block editor with steeper learning curve
Apps, Add-Ons and Integrations
Limited integrations
Up to 60,000 plugins
Blogging
Essential blogging features
Extensive blogging features, including commenting, tagging, and social integration
E-commerce
Robust e-commerce features available on two most expensive plans
E-commerce features on higher paid plans
SEO
Basic tools like analytics, Facebook Pixel & Hotjar
Robust SEO tools plus extra options via plugins
Pricing
Not a huge variation in price, 30-day money-back guarantee
More variety in pricing structure: top-end prices much higher, with features to match
Support
24/7 live chat support
Support forum and guides, plus email and live-chat support (for higher-tier paid plans only)
FAQ
Which is cheaper, Zyro or WordPress?
It's hard to say, since Zyro and WordPress.com have very different pricing structures. WordPress.com has a greater range, from a free plan with very limited features all the way up to an expensive e-commerce plan with all of the bells and whistles. Zyro, on the other hand, is generally quite affordable, but all its plans fall between these two extremes. Before you commit to a paid plan with either builder, make sure to check out our coupon page to take advantage of the latest deals.
Is Zyro a good website builder?
In many ways, Zyro is a good website builder, offering simple yet solid tools at fair prices. However, it is undeniably a basic builder, and its third-party integrations in particular are quite limited compared to the competition. To see if Zyro is right for you, read our in-depth review.
Is Zyro easier to use than WordPress?
As a drag-and-drop website builder, Zyro is far easier to use than WordPress.com, which has a block editor that's less intuitive and takes a bit of getting used to. However, WordPress offers far more power and functionality (particularly if you subscribe to a plan that offers access to its 50,000+ plugins) for those who invest the time to learn it.
What is the best website builder?
It all depends on what you want out of a website builder. Should it be cheap (or free)? Should it have the most powerful tools and features, the best-designed templates, or something else? Head over to our list of the 10 best website builders in 2023 to figure out which builder is the best for you.