Zyro's cheap prices may seem tempting, but can it really provide all the features you need for a professional website? WordPress.com, on the other hand, offers you endless possibilities, but are you just going to end up paying more for a bunch of features you won't really use?
These two website builders are very different, so I decided to test them both to see what they really can (and can't) do. I've compared them in seven different categories to help you make the best decision for your website.
I can tell you right now that WordPress.com is the clear winner when it comes to features, add-ons, and advanced capabilities. I'll explain in detail how it gives you much better value for your money. If you're in a rush, you can click here to see WordPress.com's best deals.
1. Templates
Zyro Has 20 Templates. With WordPress.com, the Possibilities Are Endless
Most website builders like to boast about how many templates they can offer you, but WordPress.com doesn't even bother putting a number on it because there are so many. By my count, there are well over 200 free themes on WordPress.com itself, and that number rapidly increases once you consider third-party themes that can be installed on a Business plan or higher.
WordPress.com themes (its term for templates) are organized in eight broad categories, such as portfolio and blog, and 28 sub-categories, called "subjects." These subjects include types of sites, site topics, and even aesthetics, in some cases getting as specific as "scrapbooking." You can sort and search by any combination to help you narrow in on exactly the theme you want.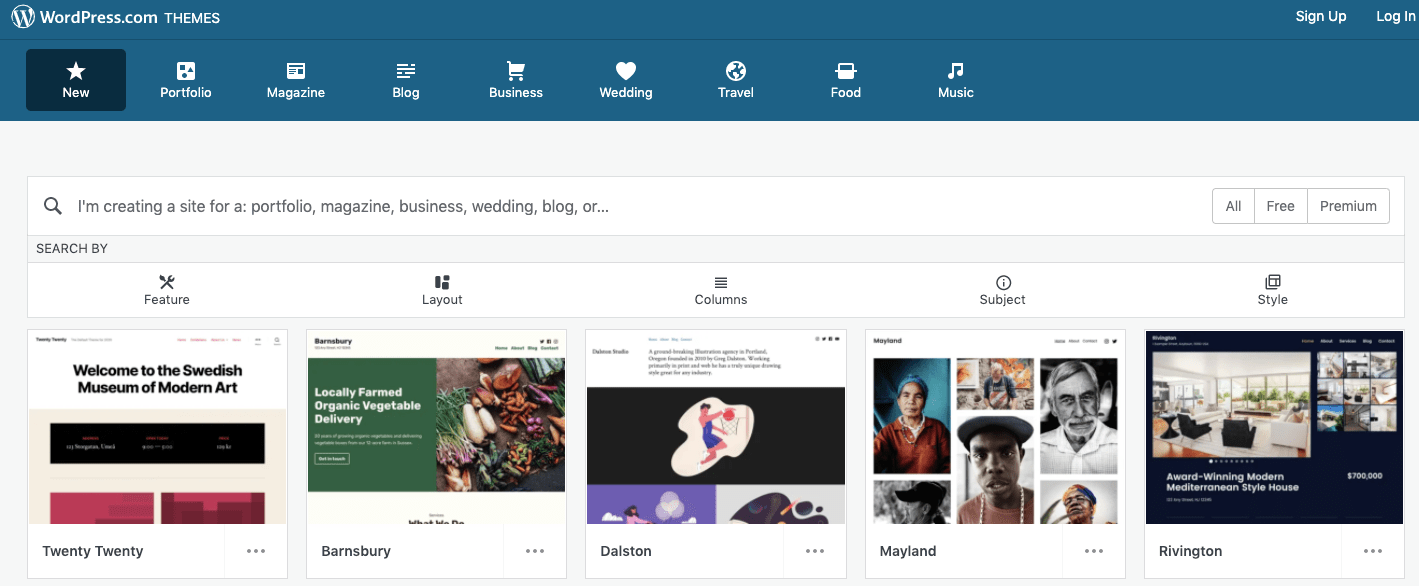 You can easily search WordPress.com's theme library by category
Zyro claims to have "dozens" of templates, but I couldn't find more than 20 available. Most of them have very specific names, like "Bed and Breakfast" or "Fashion Pop-Up Store," but you could adapt any of them to fit a basic business or professional website.

An important note is that each Zyro template is only for the homepage – adding a new page returns a completely blank canvas. This can be a perk to the more creative minds among us, but if you're looking for an easy way to put your site together, this one isn't particularly convenient.
You can duplicate the homepage and work from there, but you won't get different page types as you would with WordPress themes.
At first, it certainly seems easier to customize your site on Zyro – there's a drag-and-drop editor and a cool grid layout to properly align your elements, but you can't change basic things, like the font.
You'll get more customization options with WordPress, although this does vary widely, depending on the theme and your plan. The site editor uses blocks to help you customize the layout, and some themes will let you use CSS to expand on the existing customization options.
WordPress.com also gives you the ability to change themes. You can switch your theme at any time, and pretty much everything already on your site will come with you. You may need to tweak some custom menus and widgets to ensure they work correctly, and any custom CSS will be lost, but you won't be starting from scratch.
Zyro locks you into your chosen template as soon as you start editing, so you'll have to choose wisely to avoid losing your work.
In every aspect of templates, WordPress.com simply has more: more templates, more customization options, more flexibility. WordPress.com is the clear winner of this category.
2. Features & Ease of Use
Is WordPress.com's Block Editor Actually Easy to Use?
At an extremely basic level, Zyro and WordPress offer similar features—built-in SEO tools, vast image libraries, and third-party integration capabilities for Google Suite and other major tools. From there, these two site builders get very different pretty quickly.
WordPress has the upper hand even in basic features. For example, where Zyro only offers an image library from Unsplash, WordPress.com has its own image library and a partnership with Getty Images. It also has robust blogging and e-commerce features (more on those in the next two sections).
For SEO tools, both website builders offer fields to edit your page title and meta description – that's the most you'll get from a free, built-in SEO service. WordPress, however, enables you to automatically generate page titles according to a preset formula that you determine, so you'll still get SEO benefits if you forget to update the title on each individual page.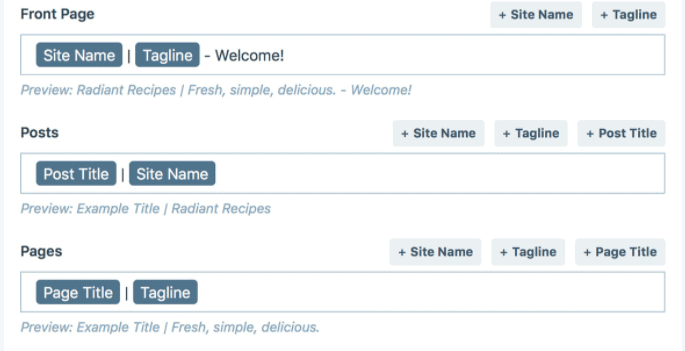 Zyro does have a unique set of AI (artificial intelligence) tools, including a text generator, heatmap, and logo and slogan maker. I tried the AI Writer tool to see what it could do, and was asked to select a topic, category, and paragraph type for it to generate.
The topic selections were broad enough, but the specific categories were somewhat bizarre and limited. The text itself is not anything I would actually put on my website, unless in some extreme circumstance where having anything was truly better than nothing at all.

Zyro's AI Writer
Zyro's AI Heatmap is a bit more useful. You upload a screenshot of a webpage you're designing, and it will tell you which areas of the page are most likely to get the most attention or clicks. Then, you can place your most valuable or conversion-oriented information there.
When it comes to ease of use, however, Zyro has a bit of an edge over WordPress. The drag-and-drop editor is fun to use and lets you move things wherever you want, while WordPress's block editor feels a bit clunkier in comparison. Zyro's grid backdrop helps you align elements to others, but WordPress always feels like it requires a bit more fiddling and coaxing to get a block just where I want it.
WordPress does have far more options when it comes to types of blocks, and you can save certain settings or blocks to reuse sitewide. Once you get used to the editor itself, it's a much more powerful tool.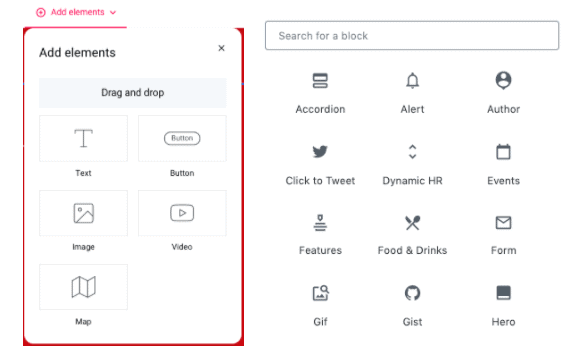 There's an important distinction here: Zyro wins in pure ease of use, but this comes at a price of pretty strict limitations. WordPress offers far more options in terms of customization.
The winner here? WordPress.com, but by a smaller margin than other categories. Zyro has some unique and compelling features and it is genuinely fun to play with, but you can still accomplish much, much more with a WordPress site.
3. Blogging
WordPress Is a Blogging Giant – Can Zyro Compete?
The quick answer is a big "NO." There is no competition when it comes to blogging: WordPress is a blog content management system (CMS) at its core, and Zyro has exactly zero blog-oriented features to offer you.
Zyro does claim you can host a blog on their site, via a page titled "How to Start a Blog." But the instructions there are the same steps they offer for creating any kind of website, with no mention of a comment or tagging system, how to organize your posts, or even blog-specific templates. Theoretically, I suppose you could build a new page for each post, but you'd still be lacking extremely basic blog functions.
WordPress, on the other hand, is the gold standard for a blogging platform. Categorize and tag your posts to your heart's content, schedule posts and social shares, and enable commenting through Facebook, Disqus, or the native system. Dozens of other features are available through plugins (more on those later) so you can basically make your blog do anything you want.
The winner? WordPress, no contest. Learn more about WordPress' unmatched blogging features in our in-depth WordPress.com review.
4. E-commerce
WordPress.com Makes You Pay for E-commerce, but Zyro Has Nothing to Offer
The e-commerce feature comparison is the same as blogging: WordPress.com has robust tools for online stores of any size. There's a Zyro blog post that claims you can use the platform for e-commerce, but the functionality just isn't there.
I reached out to Zyro support to ask about e-commerce features and was told that the functionality does not yet exist, but is in their long-term plans. You could hypothetically set up a very rudimentary store with static pages and people placing orders over email, but it is likely more trouble than it's worth.
WordPress.com has store functionality available to Business plan subscribers and higher, that lets you accept payments and set up shipping rates and taxes. You can also install the WooCommerce plugin for more advanced options (learn more in our in-depth WooCommerce review). On the lower-tier plans, you can accept payments through PayPal, which may be a viable option for very small online stores with just a few products.
For large e-commerce stores, WordPress offers a specialized subscription plan with Storefront themes, extra customization, and more WooCommerce integrations. It truly has the capability to build and scale an e-commerce site of any size.
Once again, WordPress comes out on top in this category. It has such a range of e-commerce capabilities that it seems extremely unlikely that any features Zyro develops will be able to compete anytime soon.
5. Plugins & Add-Ons
With Plugins, The Score Is 50K to Zero
With WordPress, there's a plugin for everything. Want more SEO support? Anti-spam filters? Drag-and-drop design? Quizzes? Forms? If you can think of something you want your website to do, there is almost certainly a WordPress plugin for it. It's estimated that there are over 50,000 available WordPress plugins.
On Zyro, there are no add-ons or plugins. There are a handful of third-party integrations once you upgrade to a paid plan – you can add Google Analytics and Tag Manager, Facebook pixels and Messenger live chat, and Hotjar heat mapping – but there's no option for expanding the existing functionality.
Zyro attempts to make up for this with their AI tools. It's intended to be a simpler way to build your site, without having to sort through extras and figure out how to use them. For the most basic of sites, this can be a good thing, but if you want any sort of advanced features (or even intermediate ones), you won't be able to add them to a Zyro site.
It should be noted that Zyro includes their AI tools on the free plan, while WordPress requires a Business plan or higher to install plugins. That doesn't change the limitations of Zyro's builder, but it may be an important factor if you're on a tight budget.
WordPress wins this matchup too. As interesting as Zyro's AI tools are, there's just no way to compete with the endless functionality that WordPress can provide through plugins.
6. Pricing
Zyro's Prices Are Unbeatable, But Do You Get What You Need?
Zyro's biggest draw is undoubtedly its pricing. At the time of this writing, Zyro's highest plan at full price was just slightly more per month than WordPress's lowest paid plan. It's tempting to pay less than $5 per month for a website.
But as I've covered in this comparison, Zyro's functionality is extremely limited. There are a few core features, and not much else. If you go with the cheap option, you're going to get a cheaper experience.
WordPress keeps its best features behind a much higher paywall, but for good reason. If you upgrade to a Business plan, you can do…well, anything you want with your website. Any plugin, any theme, any third-party integration – it's all yours.
Comparing Zyro and WordPress pricing is a perfect example of getting what you pay for. A more expensive plan will be worth it in terms of the options and features available to you.
Here's a side-by-side comparison of the free plans for each website builder, as well as a plan that is under $5 per month. (Note: Zyro's Unleashed plan is its highest tier, while WordPress's Personal plan is its lowest. These plans are the most similar in pricing.)
Plan
WordPress.com
Zyro
Free
SSL Certificate

Anti-Spam Protection

SEO Features

Social Media Integrations

3GB Storage

SSL Certificate

All AI Tools

500MB of Storage

500MB of Bandwidth

Personal/
Unleashed
No Ads

Email & Chat Support

Free Domain for 1 Year

Accept Recurring Payments

6GB Storage

No Ads

Connect a Domain

Third-Party Integrations

Unlimited Storage

Unlimited Bandwidth
Zyro wins in terms of absolute lowest prices, but since WordPress's basic features are better than Zyro's, you'll likely get better value even from its lowest plan. However, you can get third-party integrations like Google Analytics for a lower price on Zyro than you can on WordPress – that functionality doesn't come until WordPress's Premium plan, at roughly twice the cost of the personal one.
7. Support
You Can't Talk to a Human, But WordPress.com Has a Guide for Everything
WordPress and Zyro both claim that support is readily available whenever you need it, but there were some funny differences in trying to access that support for the purposes of this test and comparison.
WordPress.com claims its support team is "just a click away," but it took me approximately seven clicks through a rather circular set of support pages to land somewhere that seemed like I would actually interact with a human being – and that's only after logging into my WordPress account.
I ended up asking a question about e-commerce features on the forums, which are more accessible than email or chat support. Forum questions aren't answered by WordPress staff, but experienced users who volunteer to answer questions. After three days, I still hadn't received an answer to my forum question.
WordPress does include more robust support tools, like 24/7 live chat, on higher paid plans, but for a free or personal site, you'll have to do a lot of figuring it out yourself.
With Zyro, it took exactly one click to email the support team, but I didn't hear back for three days. (I emailed on a Thursday evening and got a response Monday morning, so technically it was just one business day.)
In both cases, I asked about e-commerce features for a small online store with three or four products. This was Zyro's response: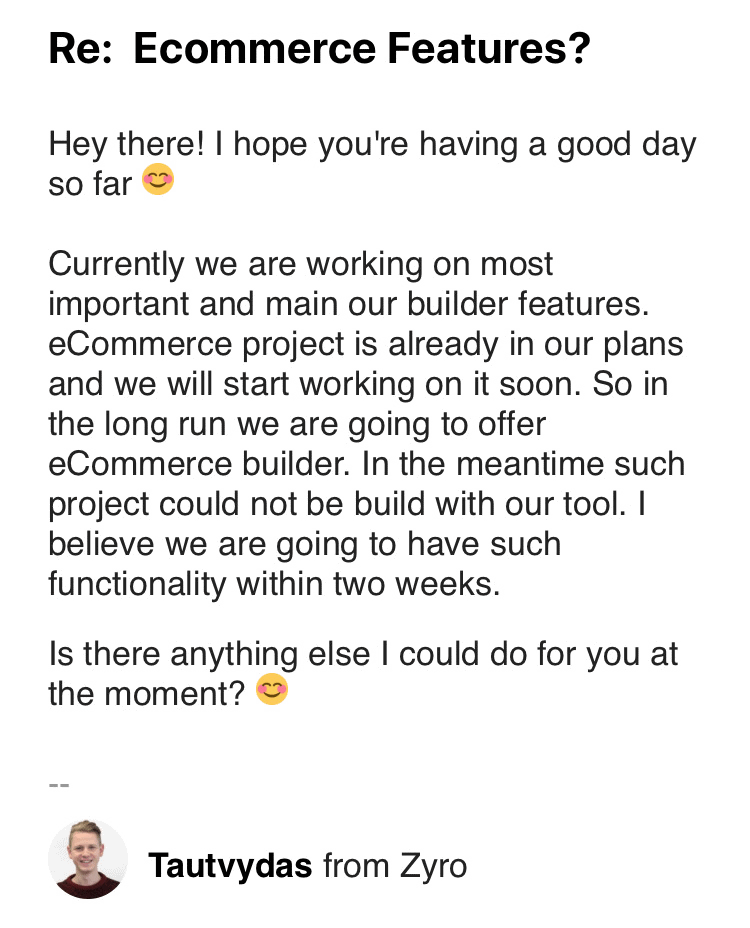 It does answer my question – there aren't any e-commerce features – but I'm skeptical of the claim that this functionality will be available in two weeks when he also says they "will start working on it soon."
To make up for the lack of immediate support from a human being for these builders, both have pages dedicated to support information. Zyro's support page consists of a couple of vague and ultimately unhelpful FAQs – there's nothing about how to change fonts or set up third-party integrations or other specific tasks.
WordPress's support center is quite extensive, with step-by-step guides, definitions, and explanations for virtually everything you could want to know. It's easy to navigate and search, and the tutorials are detailed and have plenty of screenshots to guide you through.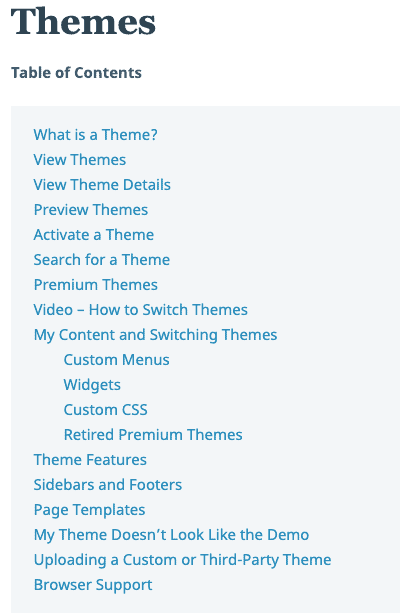 WordPress.com's Support Center menu
Both Zyro and WordPress were equally frustrating when trying to get a personalized answer to my support question, but since I could easily find that information in WordPress's support center (as well as answers to every question I had while researching and testing for this article), WordPress ultimately comes out on top.
WordPress.com Wins without a Real Fight
In every category but pricing, WordPress is the clear winner. Yes, Zyro draws you in with fancy-sounding AI tools and a fun drag-and-drop editor, but if you're trying to build a site with any sort of real functionality – even something as simple as a contact form – WordPress is the way to go.
There are some very specific cases in which Zyro could be a useful site builder. It would work well for a short-term website on a budget, like a wedding, fundraiser, or other event. It might work for small, lead generation-focused businesses, like consultants, freelancers, or specialized practitioners. In short, if your business is one of the highly specific template names or AI Writer options, you could probably make Zyro work for you.
But you'll need WordPress.com if you want to do anything more complicated. You can scale and modify your site to meet any needs your business has. If those needs change, your site can change and expand right along with it, in any direction you can imagine.
For more on these website builders, check out our expert WordPress.com review and our in-depth Zyro review to see what features will work best for you.
| | | |
| --- | --- | --- |
| Feature | WordPress | Zyro |
| Templates | Over 250 + 3rd-party themes | 20 single page templates |
| Features | Block editor, built-in SEO, and social shares | Drag-and-drop editor & AI tools |
| Blogging | Expansive CMS with commenting, tagging, and social integration | No blogging platform or blog-oriented features |
| E-commerce | Store feature on higher paid plans with shipping, payment, and tax features | No e-commerce features |
| Plugins | Thousands of plugins for limitless functionality | No add-ons, but some select 3rd-party integrations |
| Pricing | Pricier, but with the features to match | Extremely cheap, but you get what you pay for |
| Support | Difficult to reach a human being, but massive support center to guide you | Slow response from support team, and no real resources on site |
| | | |