WP Engine is incredibly
pricey
, and many of its best features, such as the Smart Plugin Manager, are paid premium add-ons or locked into high-tier plans. I've found this is a recurring problem with a lot of managed WordPress hosts. However,
there are alternatives out there that offer much better value for money while meeting the standard of performance set by WP Engine.
To find them, I tested a vast number of WP Engine's competitors, then I narrowed down my findings to a list of the top six. Read on to see if any of them could be a better fit for your needs.
Short on time? These are the best alternatives to WP Engine:
Liquid Web – Guaranteed support and free automatic plugin manager
Kinsta – High-performance hosting that's easy to work with
Hostinger – Heavily-optimized WordPress at low prices
What We Look For in the Best Alternatives to WP Engine
Affordability. Even WP Engine's barebones entry-level plan might be out of your price range. I found hosts that provided more free features with a lower monthly fee.
Free security software. WP Engine's enterprise-level Global Edge Security solution is only included as an add-on. All of the hosts on the list below include robust advanced security packages as part of their plans.
Email hosting. WP Engine does not currently offer hosting for email accounts, and it imposes a hard hourly limit on the number of emails you can send from WordPress or its plugins. Many of the hosts below include email hosting at no extra cost.
Money-back guarantee. WP Engine offers a generous 60-day money-back guarantee. I've picked hosts that offer a comparable guarantee or a free trial period, allowing you to try their services risk-free.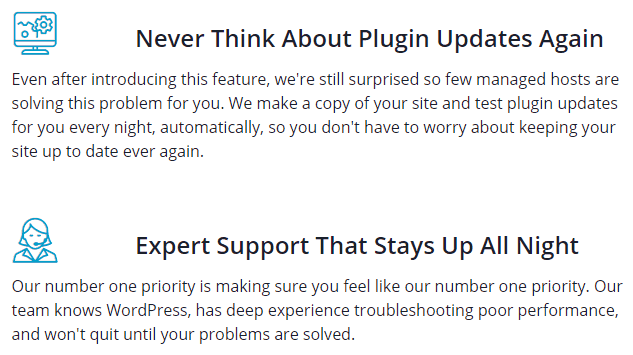 There's plenty to like about Liquid Web's managed WordPress plans. Notably,
it includes a similar visual AI-driven plugin updater to WP Engine, but it's available for free, even with the cheapest plan.
Additionally,
Liquid Web's expert support service guarantees maximum response times.
For example, you should always get a response to a live chat query within 59 seconds. If you don't, you may be compensated with service credits. WP Engine's support is responsive, sure, but it doesn't hold itself accountable in the same way. Liquid Web's managed WordPress plans are far less expensive than WP Engine's. In fact,
Liquid Web's Spark plan
 is initially a third of the price of WP Engine's Startup plan
. You lose this discount when you renew, but the renewal prices are still significantly lower. While Liquid Web's performance is by no means poor, WP Engine offers a slight edge in loading speeds and several more data centers in more locations around the world.
Features
14-day free trial. Liquid Web's trial period lets you try out the entry-level Spark plan for two weeks. You don't even need to register a credit card.
Free premium plugins. Every plan comes with access to iThemes Sync and iThemes Security Pro. iThemes Sync lets you manage multiple WordPress sites from a single dashboard, while iThemes Security Pro monitors unauthorized file changes and protects your sites from bot attacks.
Email add-on. Liquid Web offers a Business Email Hosting add-on. This incurs only a small monthly fee, offering 25GB of space in each mailbox with support for up to 10,000 outgoing emails per day.
100% uptime guarantee. If your site goes down, you may request compensation via service credits, and you may then be credited for 10 times the amount of downtime. For example, one hour of downtime would result in 10 hours of credit.
Read our
expert Liquid Web review
for more details.
Money-back guarantee

14-day free trial

Data center locations

2 in the US, 1 in Europe

Customer support channels

24/7 live chat, phone, and tickets

Starting price

$

15.83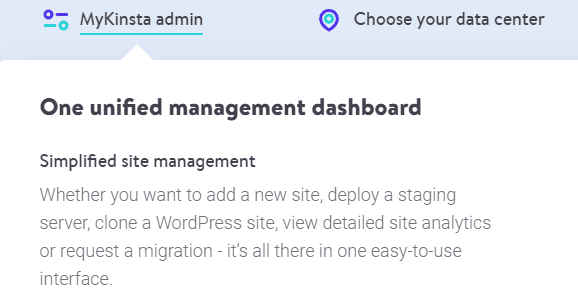 Kinsta is similar to WP Engine in many ways.
Kinsta's infrastructure is also hosted on Google Cloud's hardware.
Additionally,
the entry-level prices
 are identical between these two hosts. However, Kinsta stands out in some key areas. First of all, Kinsta is much better suited to beginners. WP Engine is largely developer-focused, featuring a complex control panel that may be daunting if you lack technical know-how.
Kinsta's control panel is an absolute breeze to use – every critical setting is easy to find and configure.
Auto-scaling is also included with every plan. This automatically adjusts your resource limits in response to surges of traffic. This feature incurs a small fee, but it grants a level of flexibility that isn't explicitly provided by WP Engine. In spite of its similar pricing, Kinsta lacks AI-driven WordPress plugin updates. Of course, your plugins can still be set to update automatically via the WordPress admin panel.
Features
24/7 uptime monitoring. As part of its managed service, Kinsta will check that your site is still up and running every two minutes. If problems are detected, it will immediately take measures to get your site back online.
Hack and malware removal. If your site is ever somehow compromised on Kinsta's platform, the support team will restore it for free.
Extensive analytics. The MyKinsta control panel shows detailed statistics for your WordPress sites. This includes the number of unique visits, response times, and resource usage.
Generous money-back guarantee. Kinsta's 30-day money-back guarantee includes any purchased add-ons. This allows you to test every aspect of the service without risk.
Read our
expert Kinsta review
for more details.
Money-back guarantee

30 days

Data center locations

7 in the US, 2 in Canada, 7 in Europe, 2 in Australia, 9 in Asia, 1 in South America

Customer support channels

24/7 live chat, tickets, email, and phone

Starting price

$

24.00

If the eye-watering prices of WP Engine's plans are totally out of your budget, then Hostinger could be a better choice.
Hostinger's managed WordPress packages
 start at prices that are 10 times cheaper than WP Engine's basic plan.
Of course, with these prices, Hostinger can't always match WP Engine's impressive performance – but
Hostinger is one of the best-performing budget hosts out there.
It employs LiteSpeed web servers and the LiteSpeed Cache for WordPress plugin, an all-in-one optimization package that offers a significant speed boost for WordPress-based websites. Hostinger also gives you a lot of freebies. I'd recommend the WordPress Starter plan, which includes a free domain for a year, a Google Ads credit, and up to 100 email accounts for just a small increase in price over the entry-level plan. The downside? As is the norm with budget hosts, support can be slow to respond.
Features
Site-building wizard. Every plan comes with the WP Starter wizard, which allows you to choose an appropriate theme and install any necessary plugins without any tedious web searches.
Support for multiple sites. While the entry-level plan only supports a single WordPress site, the WordPress Starter plan lets you host up to 100. Compared to WP Engine, multi-site plans with Hostinger are many times cheaper per site.
Bitninja security. The BitNinja security solution is included for free with all plans, and it consists of a web application firewall, malware scanning, and protection against bot attacks.
Extensive knowledge base. Although Hostinger's support can be unreliable, the knowledge base features plenty of detailed tutorials and guides to help you along.
Read our
expert Hostinger review
for more details.
Money-back guarantee

30 days

Data center locations

1 in the US, 3 in Europe, 2 in Asia, 1 in South America

Customer support channels

24/7 live chat and tickets

Starting price

$

2.99

FastComet is certainly worth considering if you're looking to target an audience in Asia or Oceania. With a wide network of data centers,
FastComet is the only budget-friendly host on this list that matches WP Engine's global coverage.
However, that isn't the only reason to choose FastComet.
It also features truly helpful support.
Whether it was a simple billing issue or a complex technical problem, FastComet always went above and beyond to solve my issues quickly and thoroughly. While it isn't as cheap as Hostinger, FastComet is still much more affordable than WP Engine. Disappointingly, the lower price comes with issues regarding performance. Page loading times are good if your audience is near your chosen data center, but poor elsewhere, even with a CDN (content delivery network) enabled.
Features
Highly-reliable SSD. FastComet's SSD drives use a RAID-10 configuration, providing multiple levels of redundancy in case of drive failure.
Free email hosting. Unlimited email accounts are included with every plan. You can send up to 400 emails per hour.
Managed migrations. FastComet can transfer your WordPress site to its servers in one hour. Your site shouldn't experience any downtime during the process.
45-day money-back guarantee. You can cancel your contract and receive a full refund within 45 days of your initial purchase.
Read our
expert FastComet review
for more details.
Money-back guarantee

45 days

Data center locations

3 in the US, 1 in Canada, 3 in Europe, 3 in Asia, 1 in Australia

Customer support channels

24/7 live chat, phone, tickets, and email

Starting price

$

2.19

InterServer's Standard plan offers unlimited SSD storage space, data transfer, and email accounts
, whereas WP Engine only offers 10GB of space and 50GB of bandwidth on its entry-level plan. Like Hostinger,
InterServer employs LiteSpeed web servers for optimized WordPress site delivery.
Its proprietary caching solution – which incorporates LiteSpeed's caching technology – delivers impressively quick loading times that aren't too far behind WP Engine's. However, InterServer only offers two data centers, both in the US, so it only really manages to perform well in the United States and Western Europe. Also, it offers nowhere near the same degree of managed support as WP Engine.
Features
Generous discount for new customers. For the initial payment term, you can enjoy significantly lower prices than all of the alternatives on this list besides Hostinger. Although this discount ends upon renewal, the regular monthly rate is quite reasonable and does not require a long-term commitment.
InterShield security. InterServer features a robust security solution that includes a machine-learning firewall and an in-house malware database. And if your site is ever somehow compromised, it will be restored for free.
Surplus server capacity. While the Standard plan is a shared hosting option, InterServer always ensures it's servers are at no more than 50% capacity.
Budget WordPress VPS. If you're looking for something more on par with WP Engine's quality of dedicated performance, InterServer offers VPS specifically fine-tuned for WordPress. It starts at a low price and features full root access, with managed service available at higher levels.
Read our
expert InterServer review
for more details.
Money-back guarantee

30 days

Data center locations

2 in the US

Customer support channels

24/7 live chat, phone, Facebook chat, and email

Starting price

$

2.50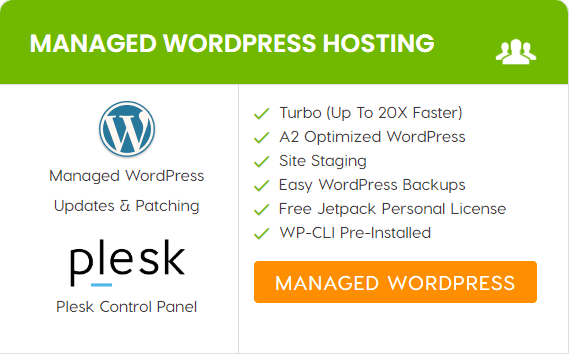 A2 Hosting's managed WordPress plans are hosted on its fine-tuned Turbo Servers,
with top-of-the-line AMD EPYC processors and NVMe SSD drives, which outperform the standard SSDs offered by WP Engine. In addition to LiteSpeed web server software, A2 Hosting offers a proprietary plugin that allows your WordPress-based site to take advantage of all its caching and compression optimizations.
This results in terrific performance that competes with WP Engine at just half the price.
The primary drawback revolves around the outsourced support service, which often exhibits unresponsiveness. When you reach out to an agent, you may encounter insufficient assistance.
Features
Site staging. Want to test design changes or new plugins without disrupting your live website? A2 Hosting's managed WordPress plans offer a single-click site staging area.
Unlimited data transfer. A2 Hosting offers unlimited monthly bandwidth, so no need to worry about traffic spikes. Storage space is somewhat limited on every plan, however.
Patchman security tool. This nifty security tool will regularly scan your site and automatically quarantine any infected files. It will also notify you if any installed web applications are out of date.
Prorated refunds. Even if you cancel outside of the money-back guarantee period, you are still entitled to a refund for the unused portion of your contract.
Read our
expert A2 Hosting review
for more details.
Money-back guarantee

30 days

Data center locations

2 in the US, 1 in Europe, 1 in Asia

Customer support channels

24/7 live chat, tickets, email, and phone

Starting price

$

11.99
Which WP Engine Alternative Is Best for Me?
While each of these competing providers stands out from WP Engine in one way or another, there's no perfect host for every case.
The best choice for you is wholly dependent on your needs
. Here are my personal recommendations for various specific use cases.
If you're looking for high-quality managed WordPress hosting, I'd go with Liquid Web.
 It features plugin update technology that is similar to WP Engine's along with a guaranteed high standard of customer support.
Kinsta is a great user-friendly option.
The control panel is a joy to work with, and the auto-scaling service can deliver consistent performance from Google's Cloud Platform during heavy traffic surges. Looking for the most affordable option?
Hostinger
is the cheapest on the list
, with competitive WordPress performance.
However, if you're looking for an option somewhere in between budget and premium,
A2 Hosting's Turbo Servers
offer comparable performance to WP Engine, at a much lower price.
FastComet offers amazing support that goes above and beyond,
which is perfect for those who require a reliable helping hand. Finally,
if resource limits are your primary concern, InterServer offers unlimited SSD space and data transfer,
allowing your website's audience to grow without you having to worry about overage fees. Need a side-by-side comparison of all your options? Check out this nifty table below:
Standout feature
SSD space
Automatic backups?
Starting price
Liquid Web

Free plugin manager and guaranteed support

15GB – 800GB

Daily

$

15.83

Kinsta

Beginner-friendly hosting which autoscales in response to surges in traffic

10GB – 250GB

Daily

$

24.00

Hostinger

Super-cheap and highly-optimized WordPress platform

30GB – 200GB

Weekly (daily in Business WordPress plan and up)

$

2.99

FastComet

Responsive and exceedingly helpful support team

15GB – 35GB

Daily

$

2.19

InterServer

Unlimited SSD space, data transfer, email accounts, and more

Unlimited

Weekly

$

2.50

A2 Hosting

Powerful AMD EPYC processors and NVMe SSD drives

10GB – 40GB

Daily

$

11.99
FAQ
Which is the best WP Engine alternative?
The best WP Engine alternative for you is dependent on multiple factors, such as your budget and the necessities of your website(s). If none of the alternatives above seemed like a good fit, you can check out our list of the best web hosting services for 2023 to find more options.
Are there free alternatives to WP Engine?
You will not find a free solution that comes close to the performance, reliability, and features offered by WP Engine. If money is tight, it's much wiser to pursue a quality budget solution, such as Hostinger or InterServer.
How do I cancel a plan with WP Engine?
You can easily cancel your plan through the User Portal. Select Billing on the leftmost menu, followed by Invoice. Then, click Cancel Account. Be sure to download any essential backups beforehand, as the deletion of your account will take place instantly.
Which is the cheapest and most reliable WP Engine alternative?
Hostinger is the most affordable alternative. It is very reliable, despite the low prices. In fact, it achieved a near-perfect 99.997% uptime score over several months of testing. But if you're looking to snag an even better deal, you may want to check out our coupon page for the latest deals in 2023.