free website builder
, but as a matter of fact, building and maintaining a successful WordPress website can add up to a fat monthly fee. To counter that, WordPress offers a free version of its popular website builder, called WordPress.com, which is basically a very limited version of WordPress.
So which one of those should you choose for your next web project?
Stay with me as I play "spot the differences" between two versions of the most popular content management system in the world.
The History of WordPress
When Matt Mullenweg first launched WordPress some 15 years ago, he had this utopic vision that the internet is a free zone where everyone could publish whatever they wanted, for free. WordPress was quickly gaining popularity as a blogging platform, and indeed it was free. But over time, WordPress websites began requiring a lot of resources, so in 2005 they decided to open it for external hosting by creating two main divisions:
wordpress.com, which is a free hosting server for WordPress blogs.
wordpress.org, which is the actual WordPress platform.
While the WordPress.org platform is freely available on the web, it requires a web server in order to function. So WordPress.com is a hosting server and is just one of many hosting providers that you can use to host your site (like
Bluehost
or
SiteGround
), except it's free.
The Catch with WordPress.com Free Hosting
Considering what I just told you, you might be thinking,
hang on, why should I pay for external hosting when I can get it on WordPress.com for free?
Well, here's the catch. WordPress.com only allows you to use a very basic version of the WordPress platform. Although it's been regularly updated, WordPress.com has remained the same old blogging platform that it used to be. You can use it to publish blog posts, but that's about it.
In order to use the fully featured version of WordPress, you'll need a paid hosting account
and again, this could be powered by WordPress.com upgraded plans or any external hosting provider.
The Features You Won't get with WordPress.com Free Hosting
Installing plugins and themes
One of the best features of WordPress.org is its clever architecture, which allows you to easily install external packets of code and use them to extend the website functionality and visibility. These include design templates and
plugins
, either free or paid, developed by the open source community. WordPress.com, on the other hand, cannot allow free sites to add external plugins or themes, because that would introduce a vulnerability to their servers and would drive up the costs, making it impossible for them to offer the service for free.
So popular plugins like WooCommerce, Yoast SEO, WordFence and others are all out of reach with WordPress.com unless you upgrade
, and so are all other external tools that make WordPress so powerful.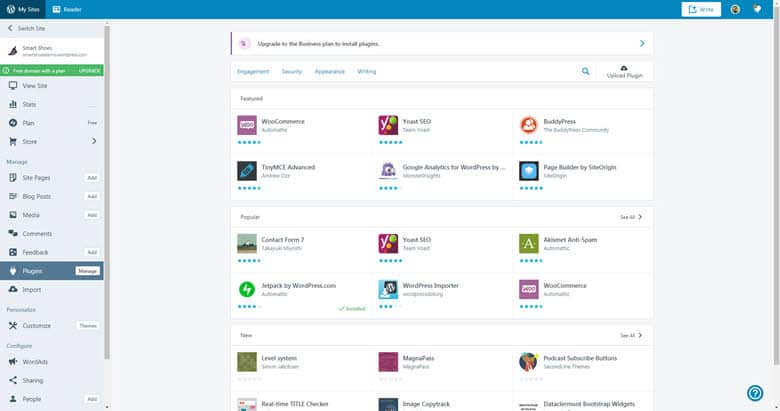 The only plugins you can use with WordPress.com free hosting are the ones freely published by Automattic, the operator of WordPress, namely Jetpack suite and Akismet anti-spam.
Editing code
Unlike most website builders, WordPress.org lets you access and
edit the code of your site
, so you can customize those parts of WordPress that aren't quite up your ally. You also get access to
cPanel
, which includes a variety of advanced tools like staging, backups, chron jobs, databases, and redirects, to name a few.
With WordPress.com free hosting, you cannot do all that.
This means you'll have to use the default settings, and those are extremely limited.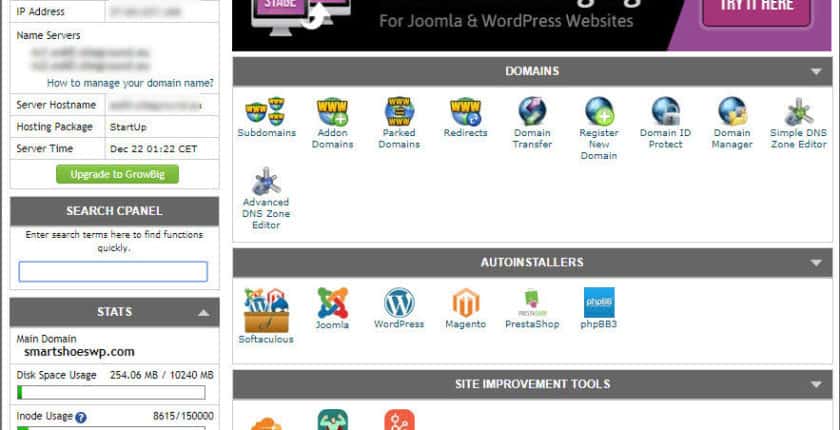 WordPress.com Branding and Ads
Websites require a
domain name
in order to be accessible for users. Usually, with private or shared hosting, you'd have the ability to buy a domain of your choice and use it for your site. But with WordPress.com free hosting, you'll always have the WordPress.com suffix at the end of the URL. Also, you probably won't notice this if you're using the Chrome AdBlock extension, but try incognito browsing and you'll quickly see the difference.
WordPress.com free hosted websites are packed with externally generated ads
that make websites look suspicious in the eyes of visitors. If the website is for a business entity, that could seriously damage your reputation and public image.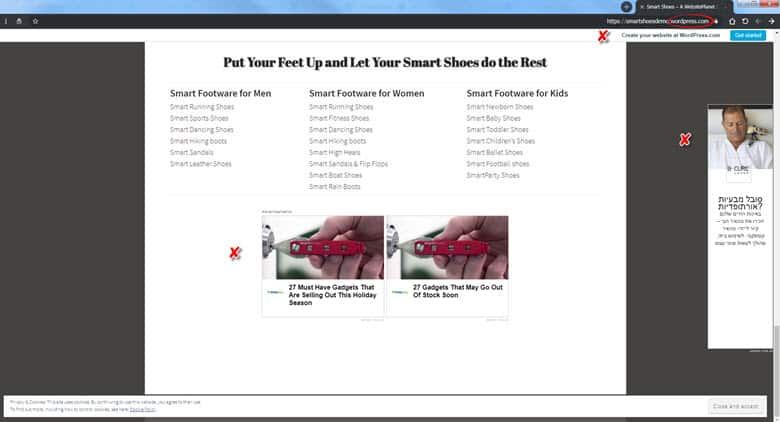 What Will You Get with WordPress.com?
Fast and easy one-click setup
With WordPress.com, you don't have to set up a hosting account, connect a domain or buy and download themes and plugins externally. Everything is done for you on a single, easy to use dashboard.
Backups
WordPress.com's daily backup service is powered by Automattic so that you don't have to do it yourself. If anything ever goes wrong and you need to restore your site, WordPress.com will have a backup ready for you to use.  Mind you, this type of service is not unusual and most hosting providers also offer it as part of their hosting plans.
Uptime, Performance & Security
WordPress.com takes away the pain of having to look after your site's security.
In addition, because they have servers pretty much everywhere, you're very unlikely to ever have to deal will downtime or performance issues, and that's a huge advantage, especially for inexperienced users.
Multi-site dashboard
If you're managing more than one WordPress.com blog, you'll be able to edit all of them from
one single dashboard with the same login credentials
. This time-saving feature that is currently not available with WordPress.org unless you're using a multisite installation, which is far too complex to cover in this article.
To Sum Things Up
WordPress is the world's most popular content management system.
According to W3techs* 2018 reports, around 32% of the entire web is built with WordPress, and its market share is 58.55%, which is more than all other systems combined. But
the credit for WordPress's success resides in capabilities that WordPress.com simply cannot provide
. If you're looking to build a free website, I advise you to check more flexible alternatives like
Wix
or
Weebly
. Otherwise, I recommend trying out the fully featured WordPress platform and experience the difference yourself. If you're planning on building a serious WordPress-based website, you should definitely look into
managed WordPress hosting
. With a premium host like
WP Engine
, You can leave all the server monitoring, backups, and updates to the experts, allowing you more time to focus on building and improving your site.
Sources
https://w3techs.com/