really
look? Have you ever considered the power that the platform has to connect people and spread good across the world? These seven women from all walks of life and industries are using their status as influencers to inspire far and wide.
#1: Sarah Drew (Actor/Producer/Director)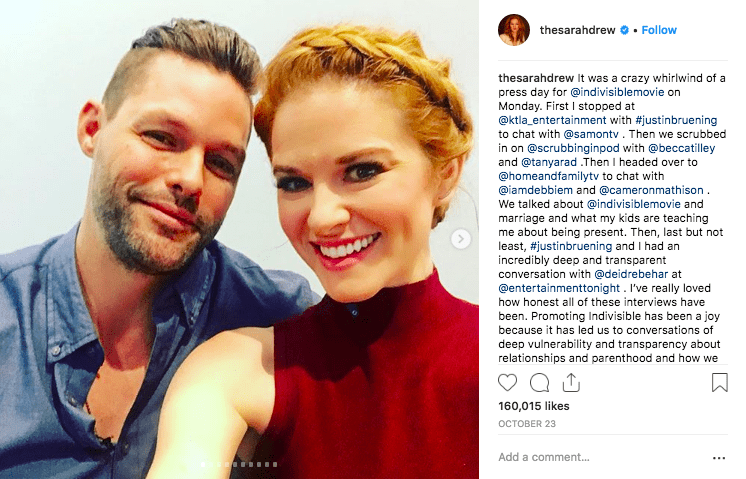 Actress Sarah Drew is best known for her role as April Kepner on the medical drama
Grey's Anatomy
. Since her exit from the show in mid-2018, her Instagram feed has shifted from behind-the-scenes to content focused on self-awareness, authenticity, and positivity. Along with promoting her upcoming projects, Drew posts about her struggles with work/life balance and thoughts on living in the moment. She shares entries her kids have written in her family's gratitude jar, book recommendations, and other positive content. Drew's job affords her the opportunity to go to events supporting important causes, most of which she writes about on Instagram. Recently she went to an event supporting Adopt Together, an organization that helps families raise money to complete adoption processes. She was also invited to an event supporting The Rape Foundation to surprise a woman who said that remembering April Kepner's speech changed the course of her life.
@TheSarahDrew
#2: Jillian Mercado (Model/Disability Rights Advocate)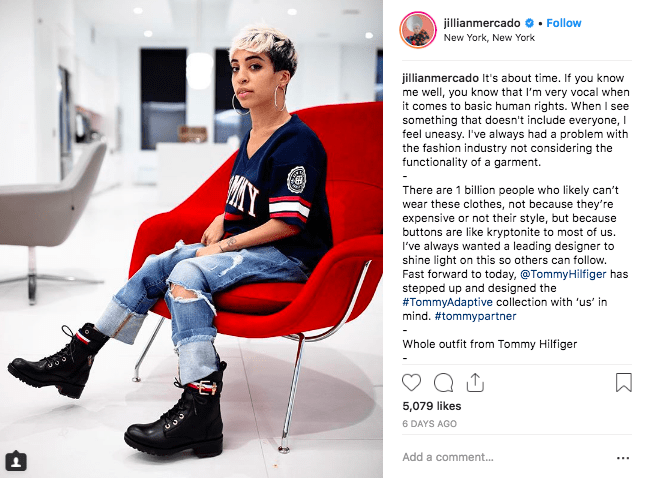 Jillian Mercado is a model and disability rights advocate who is constantly using her privilege to help other disabled individuals use their voices. When a major airline damaged her wheelchair recently, she was able to get it fixed quickly. But she knows that airlines damage wheelchairs all the time and that not everyone gets efficient help. She uses Instagram Stories to share her followers' experiences and bring awareness to disability rights issues on a larger scale. But let's not forget Mercado is also a model. Just by posting photographs from her photoshoots and behind the scenes (which she does often) she's making huge strides in providing an authentic representation of individuals with disabilities.
@jillianmercado
#3: Zaria Forman (Artist)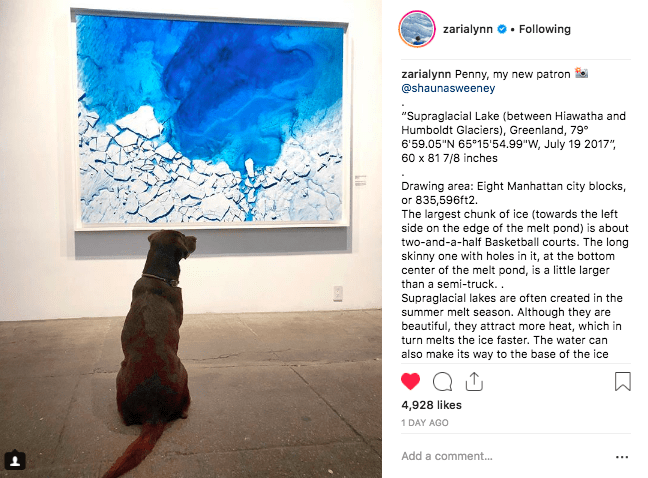 Zaria Forman is an incredible artist, using only shades of white and blue pastel to create large-scale drawings of icebergs, illustrating the dramatic and devastating effects of climate change on the Arctic and Antarctic world. While Forman tends not to be overtly political, her work creates a subtle and inviting platform for a larger discussion about the rate that the polar ice caps are melting, and what we can—and should—do to curb this dangerous trend. Many people have a difficult time understanding the effects of climate change because they do not see it happening on a daily basis, Forman's artwork helps to bridge this divide.
@zarialynn
#4: The Woke STEM Teacher (Educator)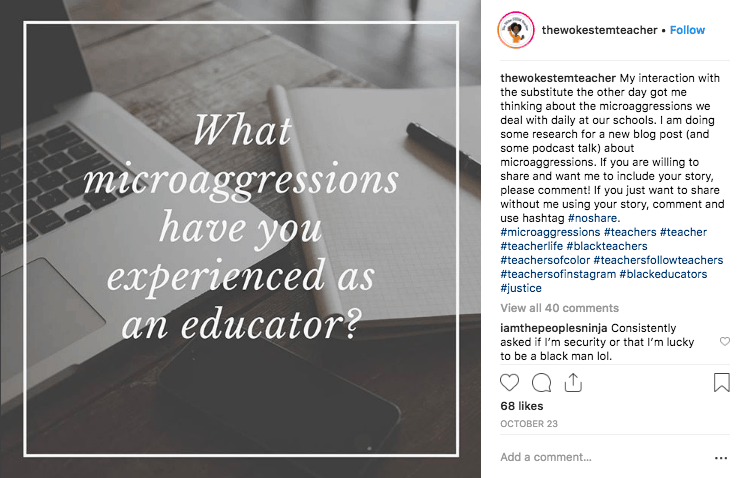 In education, STEM stands for Science, Education, Math, and Technology and there's a shortage of teachers in the industry qualified to teach these subjects. On her Instagram account and podcast, The Woke STEM Teacher proudly flaunts her qualifications while digging into important issues in the industry. Her most recent podcast tackled hot topics like charter schools, zero tolerance policies, and the importance of student activism. On her Instagram, she starts conversations with followers and fellow teachers about issues like the microaggressions they face at work, balancing teaching with their own further education, and the importance of building a school culture. Every once in a while, she'll share a proud teaching moment she's recently experienced, like when all of her students passed a test or the amazing portrait one of them did of singer Miguel. Every educator should give The Woke Stem Teacher a follow.
@TheWokeSTEMTeacher
#5: Sarah Anne (Influencer/Life Coach)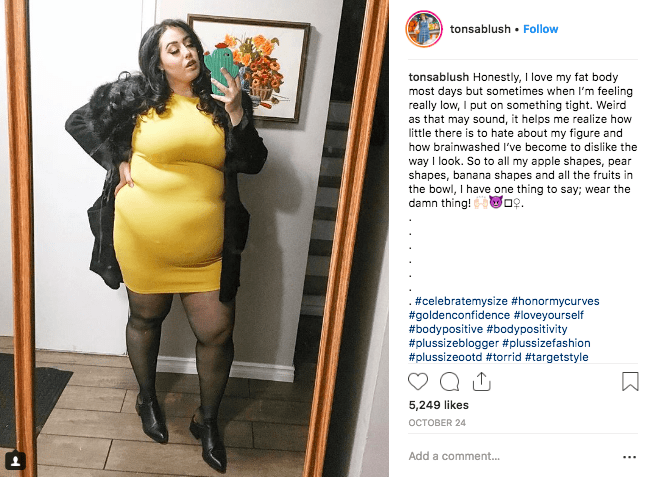 In her early 20s, Sarah Anne's life changed when she discovered what she refers to on her website as "fat activism" and "fatshion." When she realized there were people out there celebrating the aspects of themselves that made her insecure about her own body, her whole world opened up. She's now a certified life coach, blogger, YouTuber, and body positivity influencer with 57K+ Instagram followers, opening up the world for other plus-sized women. On her feed, she's constantly posting outfit ideas, product recommendations, and motivation for her followers to "just wear the damn thing!"
@TonsaBlush
#6: Issa Rae (Actor/Writer/Director/Producer)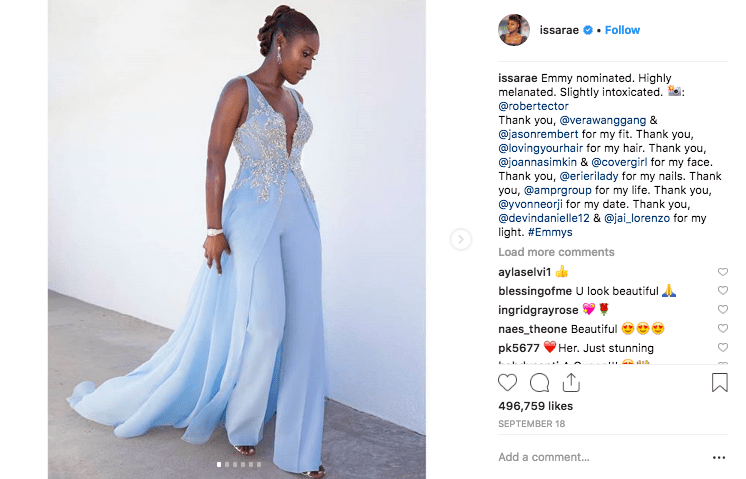 Issa Rae is best known right now as the creator and star of HBO's
Insecure
. But she started her career on YouTube with the web series
Awkward Black Girl
. The internet has been a part of her journey every step of the way to the top, and her Instagram feed right now is a celebration of that. A recent post about the Emmys is captioned "Emmy nominated. Highly melanated. Slightly intoxicated." She's constantly highlighting the importance of authentically representing the black experience. Along with being nominated for an Emmy, and the third season of
Insecure
just ending, Rae recently hosted the Council of Fashion Designers of America Awards (CFDA), and oh yeah, she's also a
CoverGirl
. Keep watching her rise, she's not finished yet.
@IssaRae
#7: Alexandra Elle (Writer/Self-Care Advocate)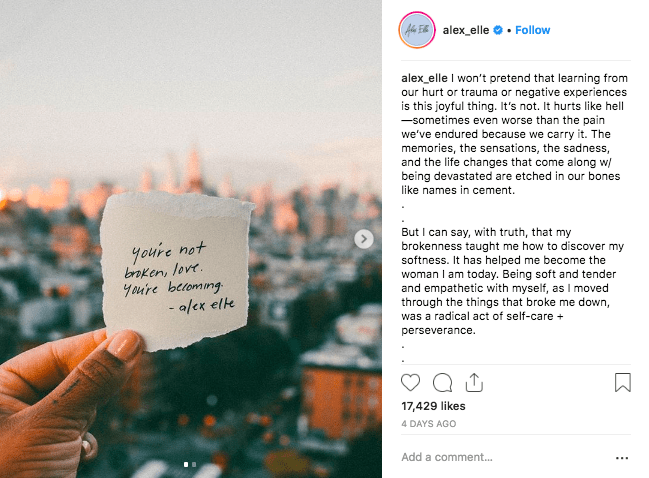 Alexandra Elle is a writer and self-care advocate who celebrates self-love through storytelling. She hosts a podcast,
Hey Girl
, on which she celebrates womanhood, and teaches self-care workshops across the U.S. She regularly offers inspiring advice to her almost 500K Instagram followers, presenting it in various forms such as typed text and handwritten notes on post-it memos. Additionally, she posts stories and images featuring her husband and two daughters, providing followers with insights into her events and retreats through her Instagram stories.
@alex_elle
Find Your Sweet Spot on Instagram
These seven women have the power to spread positivity because they are experts or renowned in their respective fields. It doesn't matter if you have a dozen or bazillion followers, anyone can use their Instagram for good. Do you want to make your posts really count? If so, don't just copy and share the first inspirational quote you come across. Instead, think deeply. What do you have to say? What are you truly passionate about? You can use what you love to inspire others. Just be true to yourself and the authenticity of your feed will draw people in.