For a website to be viewable on the internet, it needs a domain name and web hosting.
A domain name is like the "address" of your website, and web hosting is the rental of computer server space to make your website available for public viewing. You must purchase web hosting from a web host (like Hostinger), and you must purchase a domain name from a domain name registrar (like Namecheap).
Both a domain name and hosting can often be purchased from the same company
(although this is not required). We've tested all of the major web hosts and domain registrars extensively, and
I've compiled this information into a range of options to consider for both a domain name and web hosting
.
The most straightforward way for a beginner to create a website is to use an all-in-one service like Wix
. Wix provides web hosting, a domain name, and a very simple (but powerful) website builder, all in the same online account. Read on for more information about domain names and web hosting, and for more hosting options.
What Is Web Hosting?
Web hosting is the rental of space on a computer server for all of your website's pages, images, and other content
. The server then allows the public to view your website's content via a web browser, but without being able to change or delete it.
There are several types of web hosting that can range significantly in price
, but when you're first getting started, the only two types of hosting that make any sense are the aforementioned website-builder hosting, and shared web hosting. "Shared web hosting" simply means that your site will share the resources of a server with many other websites.
This is the least expensive solution for a new site that isn't yet getting large numbers of visitors
, and it can sometimes include a site setup wizard or even a website builder to help get you started. Usually, though, you'll use a content management system (CMS) like WordPress to build and manage your site with a shared hosting provider.
Not all web hosts are of equal quality, so it's imperative to select one that provides good value for money
. The best web hosts have good server performance, are easy to use, and provide free security features like SSL certificates to ensure your website is up to current standards. In our testing, we've found that
Hostinger offers the best price-to-performance ratio
 on the market for shared web hosting. It offers everything you'll need for your first website at an affordable price.
What Is a Domain Name?
A domain name is an address for your website, like "websiteplanet.com
." To access any website, you must type its address – also called a domain name, or a uniform resource locator (URL) – into your web browser. Or, you can click on a link that brings you to that address.
To get a domain name, you must register an available one with a domain name registrar
. As most web hosting companies are also domain name registrars, you can often register your domain name (or get one for free) with whichever company you buy hosting from.
You'll need to select a domain name extension when you choose a domain name
. The most desirable domain name extension for businesses and individuals has traditionally been ".com" since it's the most common and the most memorable. If you can't get your domain name with a .com extension (if it's already been registered by someone else),
you can always try another one like .co, .net,
or one of several others. You may prefer .org if you're a not-for-profit organization, or a country code extension (like .ca if you're a Canadian company or .co.uk if you're a British one).
You don't necessarily have to purchase web hosting and your domain name from the same company
. If you ever decide to switch web hosts, it is sometimes easier to do so when you have registered your domain name with a registrar other than your web hosting company. However, the simplest and quickest way to get started is to get your hosting plan and domain name from the same place.
Here Are My Top Web Hosting Recommendations (Some Include a Free Domain Name, Too!)
My top recommendations below start with web-builder hosting, because this is the easiest method for beginners. I then list some shared hosting providers that offer WordPress, which gives you more flexibility when building your site, but will present you with a slightly steeper learning curve.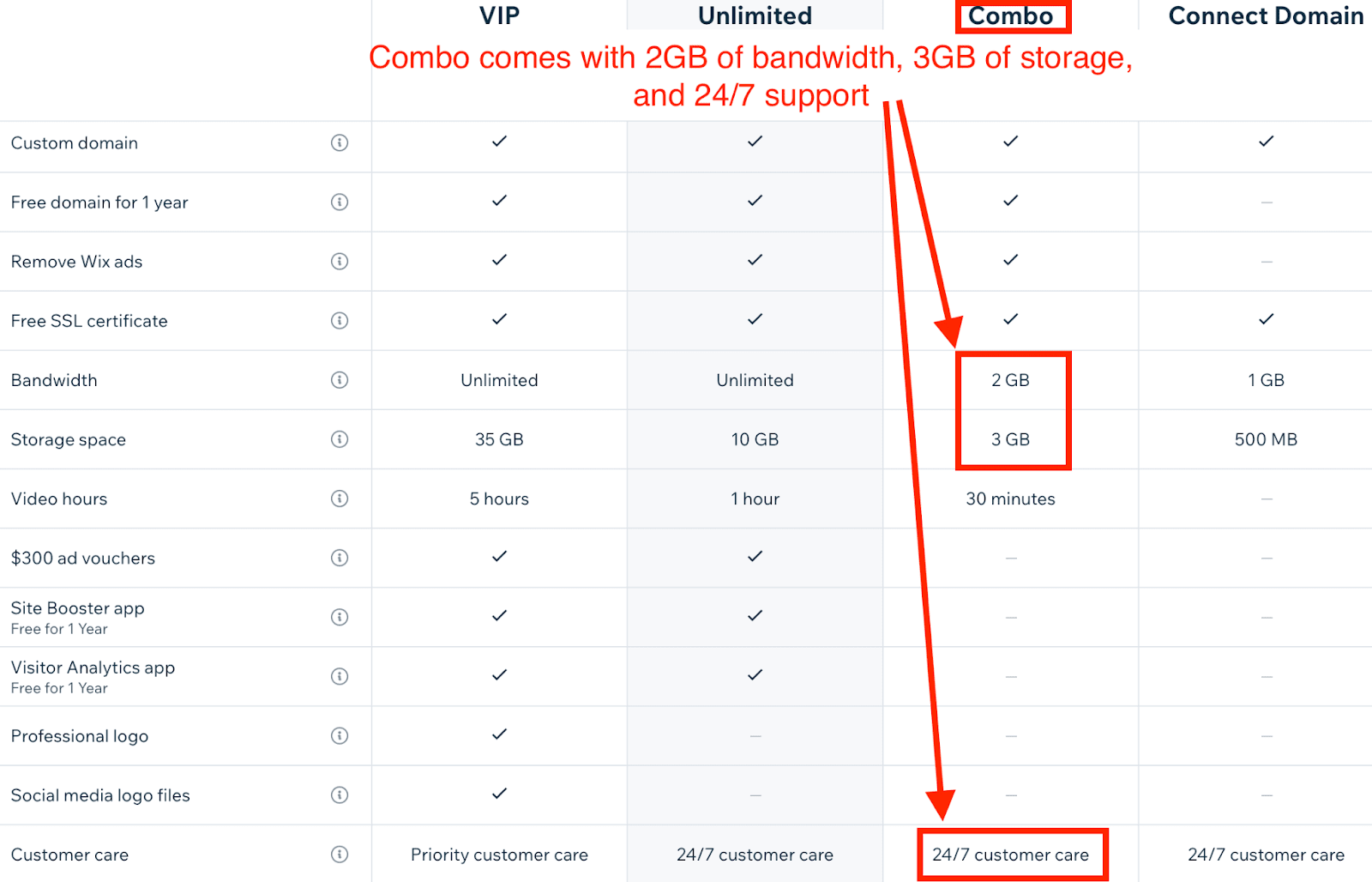 Wix's
Combo
plan gives you everything you need to launch your first website
including a domain name, web hosting, and a website builder. But what makes Wix an ideal option for beginners, however, is its easy-to-use, drag-and-drop style website builder.
The builder, along with its 900+ website templates, will enable you to set up the framework for virtually any type of website in minutes
. It's reasonably easy to make changes to the layout, as Wix does not put any constraints on where you position page elements (text, images, menus, etc). If you're not much of a designer, it's probably a good idea to leave the template-based layout as it is. Then,
you can simply swap out the placeholder text and images with your own content
.
Features:
Wix ADI. If you want to create something different from the standard template-based designs, Wix's artificial design intelligence (ADI) will make major layout decisions for you based on what it thinks is most effective. This can help you to build your website's pages in a way that is unique, but still follows the principles of effective user interface design.
Free domain name registration. With most of Wix's plans you get one free domain name registration for your first year, and you can choose from the following extensions: .com, .net, .org, .info, .biz, .rocks, .pictures, .co.uk, .club, .space, and .xyz.
14-day free trial. Wix offers a 14-day free trial so you can try out the service risk-free.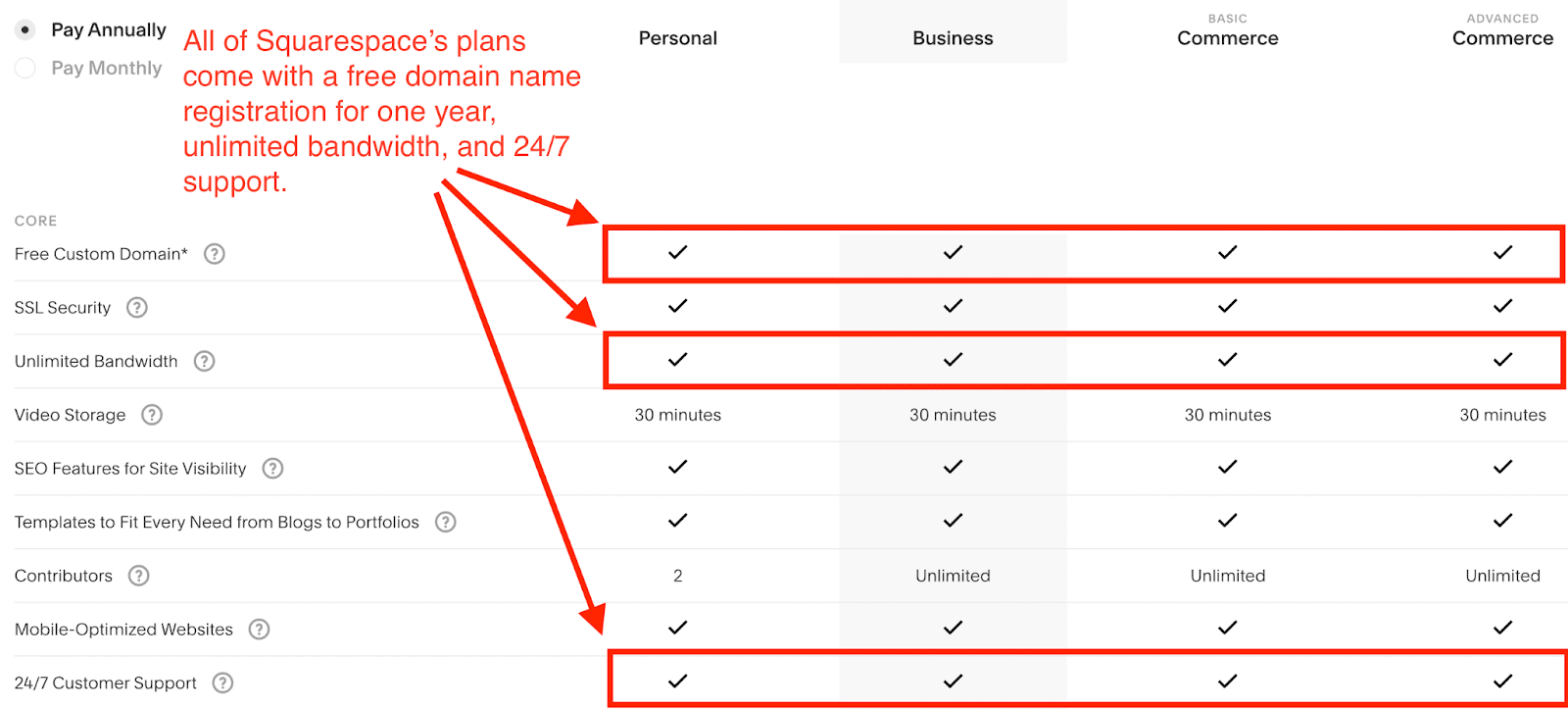 Similar to Wix,
Squarespace is an all-in-one solution
for your hosting, domain name, and website-building needs, and is another good choice for a complete beginner. Squarespace's website builder is more rigid, and doesn't let you move page text, images, and menus wherever you want on each page. But that's not necessarily a bad thing, as there's less of a chance for things to go awry.
Your Squarespace website will already follow proper layout principles
, so you won't need a college degree in user interface design. Squarespace's plans tend to be costlier than Wix's, but you do get a free domain name registration on the entry-level plan, and
it may be worth the higher price if you prefer the way the builder works
.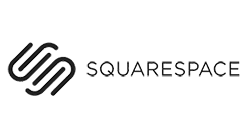 Save up to 30 % on your Squarespace plan today!
Plus get a free domain for one year!
1031 users used this coupon!
Features:
Unlimited site traffic. Squarespace offers something with its two entry-level plans that Wix doesn't: unlimited bandwidth, or site traffic. What that means is that the number of visitors your website can handle can grow without you having to upgrade your plan.
Free domain name registration. Just like Wix, Squarespace offers a free domain name registration for your first year.
14-day free trial. Again, just like Wix, you can try out Squarespace absolutely free for 14 days to see if it's right for you.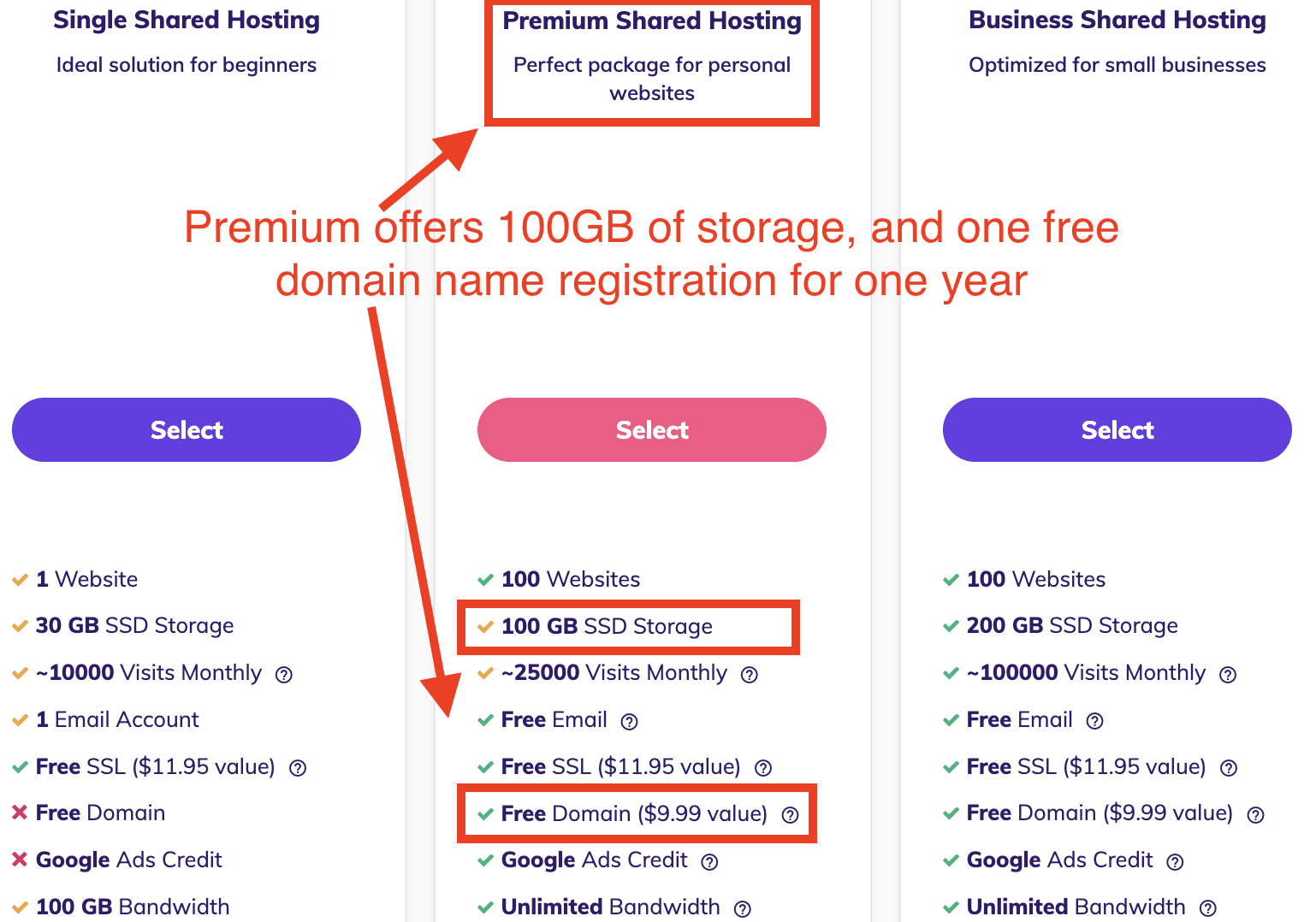 Hostinger's Premium shared hosting plan offers you the best value for money
as it includes free domain name registration. However, to get the lowest possible price with Hostinger, you'll have to sign up for a long-term plan of one, two, or four years. Since Hostinger doesn't offer a website builder with its shared plans,
its platform is geared towards building a website with a content management system (CMS) like WordPress.
Though it has a steeper learning curve, WordPress is still a straightforward way to publish your very first website, as
it offers access to thousands of free and premium themes.
A WordPress theme is like a template for your website's design. Once you install WordPress and select a theme, you can begin creating pages and blog posts. All you need to do is check out the left-side menu bar, and click on either "Posts" or "Pages" to get started.
A free domain name is included with some hosting plans from Hostinger
Features:
WP Starter. A WordPress-specific site setup wizard. This can help you install WordPress and choose a theme.
Free email addresses. You can set up a custom domain-name-specific email address with Hostinger's entry-level plan, and with its Premium Shared Hosting plan or higher, you can have up to 100 custom email addresses.
Optimized for WordPress. Hostinger uses LiteSpeed web server and other technological upgrades specifically geared towards running WordPress-based websites efficiently.

InterServer's range of unlimited features – like bandwidth, storage, email addresses, and the allowed number of websites – stands out from the competition
in shared hosting.
InterServer's Standard shared hosting plan
includes access to the SitePad drag-and-drop website builder, but you also have the option of using WordPress, which you can install in just a few clicks. So you can try either – or, try one of the other content management systems InterServer offers. Unlike many other hosts,
InterServer's shared plan has a straightforward monthly fee
, so you don't have to commit long term to get a decent price. You will have to pay extra to register a domain name, but the annual fee isn't outrageous.
Features:
"Inter-Insurance." InterServer offers a robust security solution, and it backs this up with a promise to clean up your website if it is ever compromised.
More reliable email delivery. InterServer ensures customer satisfaction by allowing an unlimited number of email accounts, but also takes proactive measures to prevent spam usage. Our dedicated team meticulously filters all customer emails through a comprehensive series of checks. As a result, you can rest assured that your emails will remain free from any flags or interruptions. We stand by our commitment to guarantee the successful delivery of all your messages.
Plenty of server resources. Many shared hosting providers load up their servers with as many customers as possible, reducing overall performance. InterServer's policy is to run servers at only 50% of capacity, so another customer's busy site won't slow your site(s) down.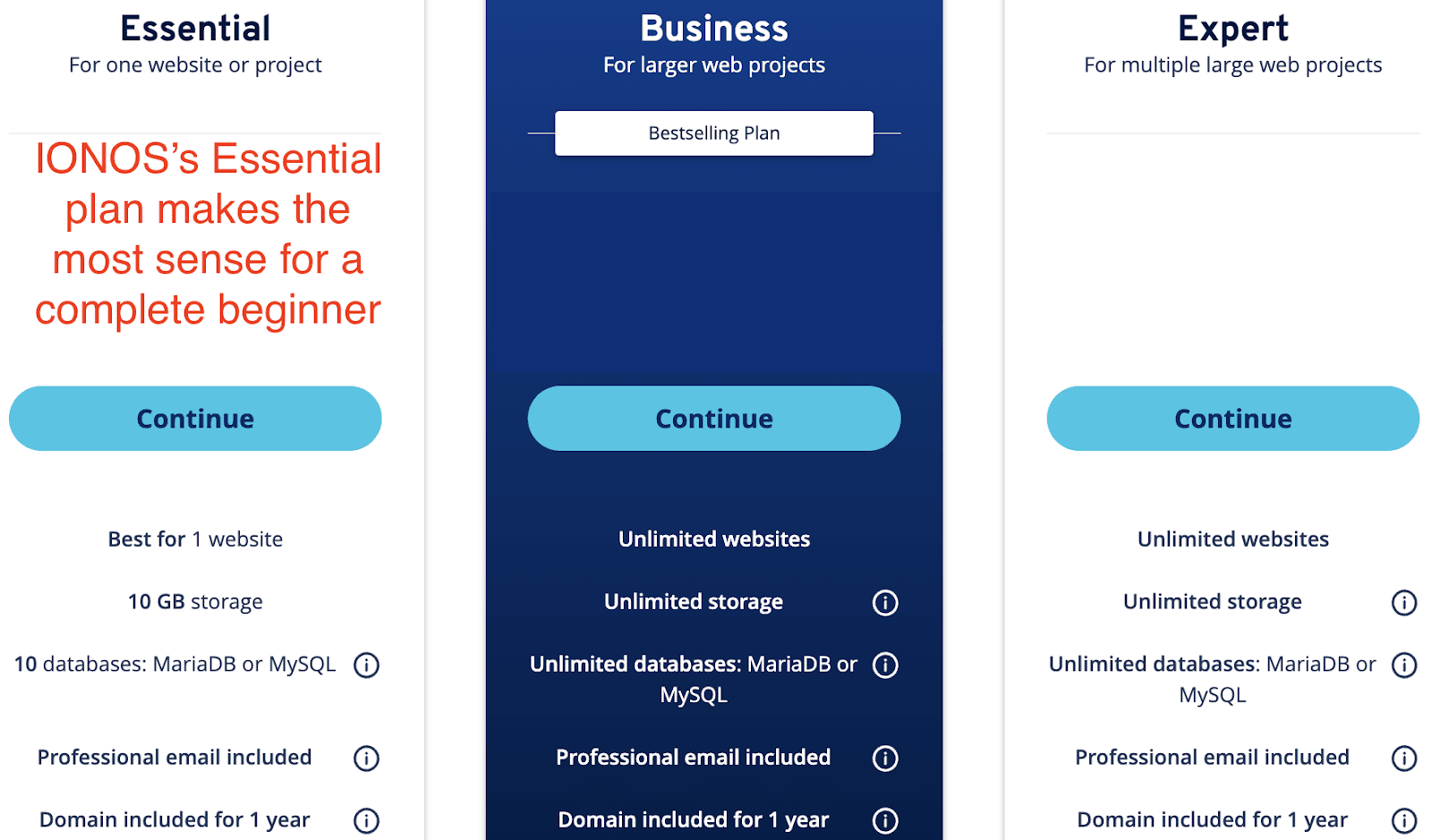 Though the introductory offer for 1&1 IONOS's WordPress Business plan is the cheapest on this list,
that price only applies to your first year
. After that, the price goes back to normal, and it isn't very competitive. As such, if you're just getting started,
IONOS's Essential WordPress plan makes a lot more sense
as its features will more than suffice for a single website, and the long-term price is much more reasonable. And you'll get one free domain name registration for your first year as well.
IONOS also offers a separate set of website builder plans
with templates to suit several different types of online businesses. However, the price increases significantly if you want to include functionality for an online store.
A free domain name is included with some hosting plans from IONOS
Features:
One-click software installer. Install WordPress in a matter of seconds, and use any one of its thousands of available themes to build a framework for your website very quickly.
Daily site backups. Your website and all its content will be backed up at least every 24 hours, so if you make a huge mistake and break your site, you can restore it to an earlier version.
Unlimited traffic. With IONOS, you get unlimited bandwidth (traffic) to your website so you don't have to worry about any limitations or overage charges.
A Domain Name and Web Hosting Are Necessary for Your Website – And It's Easy to Get Both
To make a website visible on the internet, you'll need to register a domain name, and purchase a web hosting plan
. After you've acquired both of those things, you'll also need a way to
build
your website. Wix and Squarespace are
all-in-one website builders
, hosting platforms, and domain name registrars.
Wix's Combo plan,
for example, gives you 2GB of bandwidth, 3GB of storage, and a free domain name for one year
, which is more than enough for a beginner. This allows you to build your first site with little to no web development experience. Instead of a website builder,
Hostinger's Premium shared hosting plan comes with a free domain name for the first year, and the WP Starter wizard
to help you install WordPress and select a theme (site design template). It also includes 100GB of storage and unlimited bandwidth, which will be enough to support your new website for a very long time.
FAQ
What is web hosting and how does it work?
Web hosting involves making your text, image, and other digital content available on a server for visitors to view through a web browser. For a full explanation, please see What Is Web Hosting above. If you're looking to launch a website, have a look at our step-by-step guide to choosing a host and launching a website in 2023.
What's the difference between web hosting and a domain name?
While web hosting is the process of making your website available to the public on a computer server, the domain name is the online address of your website that allows people to locate it.
What is a domain name?
Sometimes called a uniform resource locator (URL), a domain name is an online address that prospective site visitors can use to locate your site with a web browser. Without a domain name, a website wouldn't be able to exist online as there would be no way to locate it, or even know that it exists. Check out the What Is A Domain Name section above for more information.
How do I get a free domain name?
This isn't really possible, because there are always fees levied by governing bodies when a domain name is registered anywhere in the world. However, all of the providers on our list of the top web hosting companies in 2023 offer very reasonable prices for domain name registration, and some will include a domain name with their long-term hosting plans.