WordPress.com has long been the most popular website building option for professionals and amateurs alike. But what about a competitor like Webflow, which lets you do advanced customization without knowing a line of code? While they both come with powerful sets of features, Webflow can't quite match WordPress's blogging and e-commerce capabilities. Also, despite taking a no-coding approach, Webflow still has a learning curve and is best suited for web designers, while WordPress.com caters to a more diverse audience. Click here to explore
the latest WordPress offerings
, or read on to find out which website builder best fits your needs.
Templates
WordPress Has a Much Wider Selection
Webflow has about
40 free templates and over 100 paid ones
. All of them are mobile responsive and divided across 16 categories, encompassing personal projects and businesses. The free options aren't too exciting, but they look decent enough.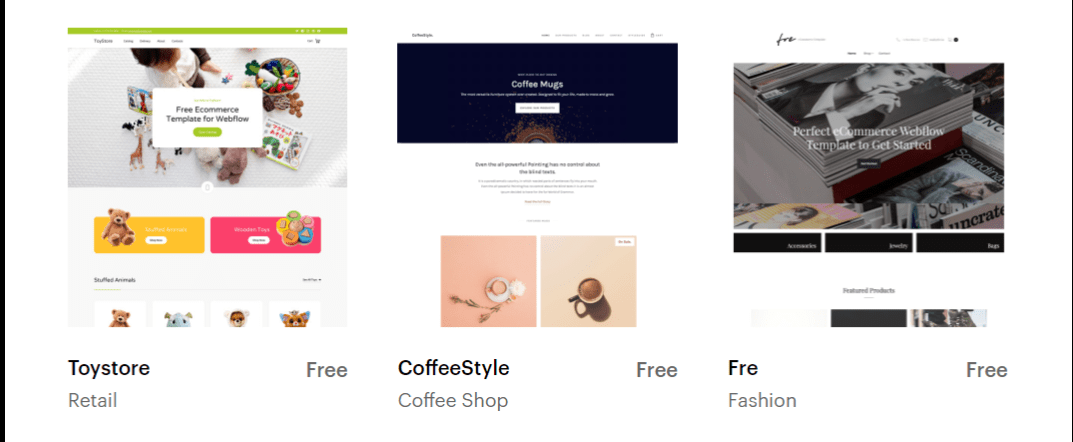 Webflow templates are fully customizable on
the free plan
 and you can switch between them at any point. You can also create animations for virtually every section of your website without having to code. On the other hand, WordPress offers
over 250 mobile-friendly and professional-looking themes
, which you can customize to a different extent depending on your subscription. Users on a Business plan get premium themes for free, while subscribing to a Premium plan gives you access to CSS editing.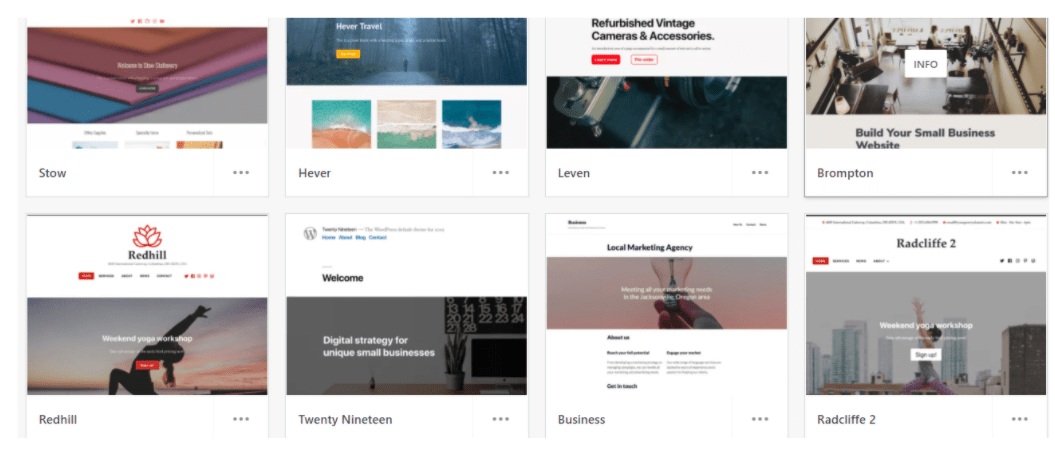 Since it was primarily built as a CMS, the majority of WordPress themes are blog-oriented, but there are also some designs intended for businesses. If you don't like the options available, you can get more themes by browsing through third-party providers like
ThemeForest
 and
TemplateMonster
.
Ease of Use/Features
Webflow's Interface Can Be Challenging for Beginners
Webflow has a
drag-and-drop editor
 that resembles Photoshop's interface, which makes it great for designers. It's pretty cluttered with customization options, which can be overwhelming for newbies, but it does offer a guiding tour of the interface to help you get started.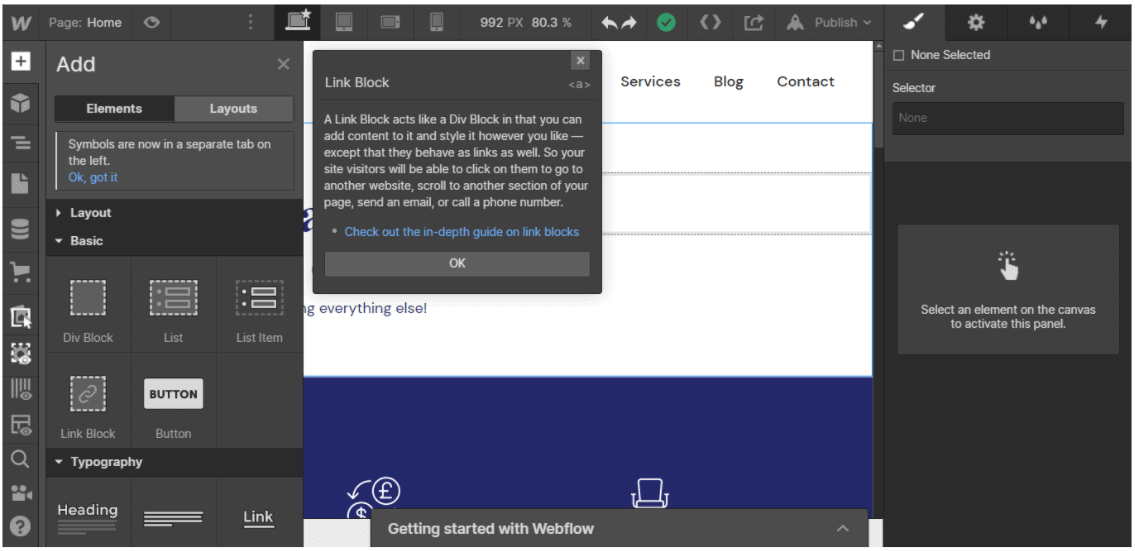 You can choose different layouts, fonts, add assets and buttons, and
create animations
 for menus, images, content blocks, and more. You can also
integrate social media
, including Instagram, Facebook, Twitter, and Pinterest. WordPress.com has a
point-and-click theme customizer
 that lets you modify elements like font color, title sizes, sidebars, and header and footer. If you want advanced customization options, the sky's the limit, but there is a learning curve, and the process can become quite complex if you're a beginner. Let's compare some other important features.
Blogging
Webflow has an integrated CMS platform that allows you to set up different types of content, including blog posts, listings, events, recipes, and more. These projects are called
collections
, and you can modify every collection by changing its name, URL, and by adding custom fields. While the content editor is easy to use, the formatting options are limited.

Needless to say, WordPress has impressive blogging capabilities. Its content editor is incredibly easy to use and it functions in the form of
blocks
 – every time you add a new heading, text, or image, you add a new block. You can reorder blocks around the page any way you like. Plus, you can embed videos from various platforms, and add social links like Reddit, Twitter, and Instagram.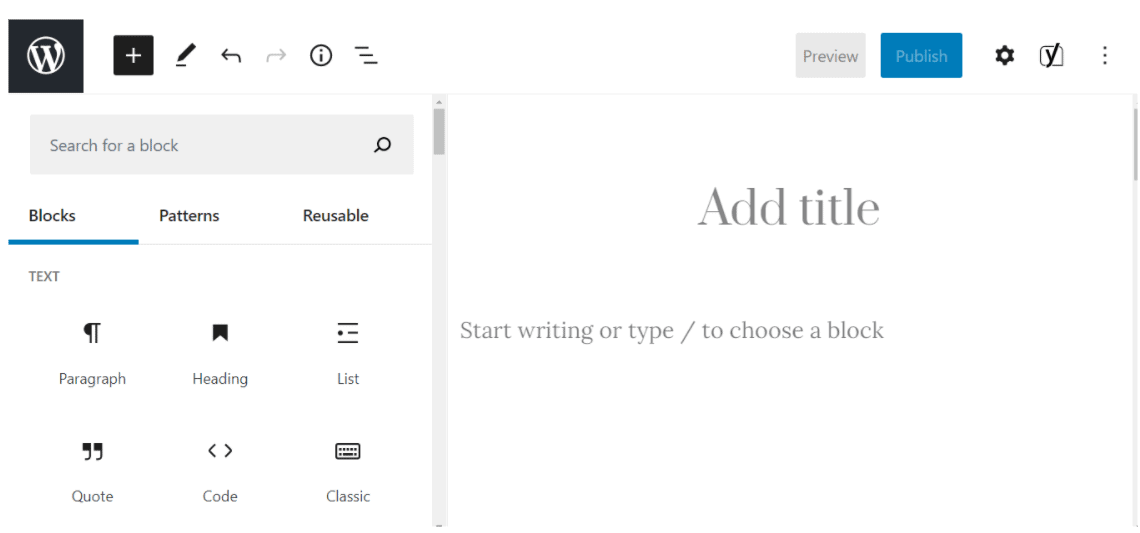 E-commerce
Webflow has a built-in e-commerce tool that helps you build and grow your online store. You can add and manage product collections, customize a shopping cart, set tax, shipping, payment parameters, and much more. WordPress.com doesn't have a built-in e-commerce tool, but it has loads of plugins (mainly paid) geared specifically towards online stores. The most popular and all-inclusive is
WooCommerce
, but other options include BigCommerce WP Plugin, Ecwid, and eCommerce Store.
SEO Features
Webflow has solid SEO tools that enable you to adjust SEO parameters manually, including keywords, titles, descriptions, and alt tags. Plus, it generates a sitemap for you automatically. At WordPress.com, we assist you in optimizing your site by offering a wide range of plugins with varying price points and functionalities. One of the most effective SEO plugins available is Yoast SEO, but you have the flexibility to select from several other options, including Ahrefs, SEMRush, SEO Press, and Google Keyword Planner.
Plugins and Integrations
WordPress Provides Unlimited Choice of Plugins
Webflow has a limited number of integrations, but it's worth mentioning the
animation-related Lottie and AfterEffects, as well as Lightbox Gallery
, which lets you create amazing galleries out of photos or videos. Other features include adding Google Analytics for free, and if you have Shopify or Zapier accounts, you can easily connect them. WordPress.com has a rich selection of
free and paid plugins
 for virtually anything you can imagine, but unfortunately,
WordPress plugins are available only if you subscribe to the Business plan or above.
 Google Analytics is available from Premium plan on up.
Pricing and Plans
Webflow's Paid Plans Are Pretty Confusing, WordPress Keeps It Simple

WordPress has five straightforward options – there's
a free plan
 and four paid plans: Personal, Premium, Business, and E-commerce
. The free plan offers limited selection of themes and plugins, which is great for personal projects. Paid plans are oriented toward professional business websites.
On the other hand, Webflow offers a
free plan
, but you're limited to only two projects. However, you can still use interactions and animations, custom fonts, and the client billing option, which is very convenient if you're a freelancer. Paid plans are divided into two main groups –
Site plans and Account plans
, which are further divided into subgroups, each with their own set of subscriptions. To be honest, this can be super confusing.
Site plans
 are divided into Website plans and E-commerce plans. Website plans offer four subscriptions: Basic, CMS, Business, and Enterprise, and these work best for personal sites, blogs or businesses. E-commerce plans are intended for online stores and they offer three subscriptions: Standard, Plus, and Advanced, all of which enable checkout on your domain.
Account plans
 are divided into Individual plans and Team plans. Individual plans offer three subscriptions: Starter (free), Lite, and Pro, which differ in the number of projects and pages you can have. Team plans include Team and Enterprise options, which allow you to work collaboratively from a shared dashboard. In case you want to take advantage of either Webflow's or WordPress's free plan, I've compared the two side-by-side in the table below:
| | | |
| --- | --- | --- |
| | Webflow | WordPress.com |
| Plan | Free | Free |
| Storage | Not specified in GB; Up to 2 static pages and 50 CMS items | 3 GB |
| Free Domain | Included | Included |
| Website Analytics | Google Analytics | Google Analytics; Other analytics plugins available |
| Support | Support documentation, a community forum, and email support | Support documentation and a community forum |
Support
WordPress Has Multiple Support Channels, Webflow Has Email Only
Webflow has a community forum and it provides helpful guides on all aspects of building and managing a website, collectively known as Webflow University. However, it
only offers email support
 regardless of your subscription level, which is available during business hours Monday through Friday. I reached out to their email support, and the answer was helpful.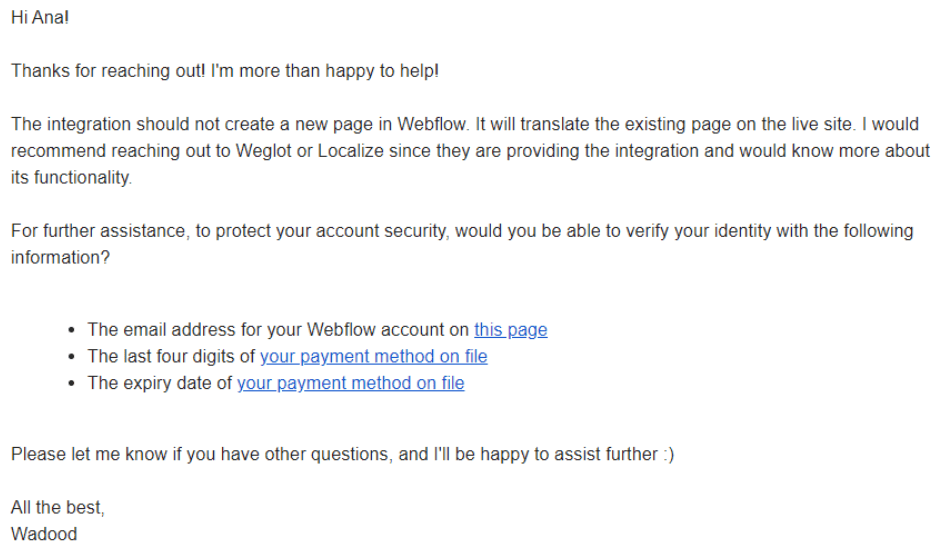 WordPress.com offers
support documentation and forums
 only for free plan subscribers, while email and 24/7 live chat support is available for users on paid plans. The WordPress community is always happy to help, and you'll typically get a response within 24 hours.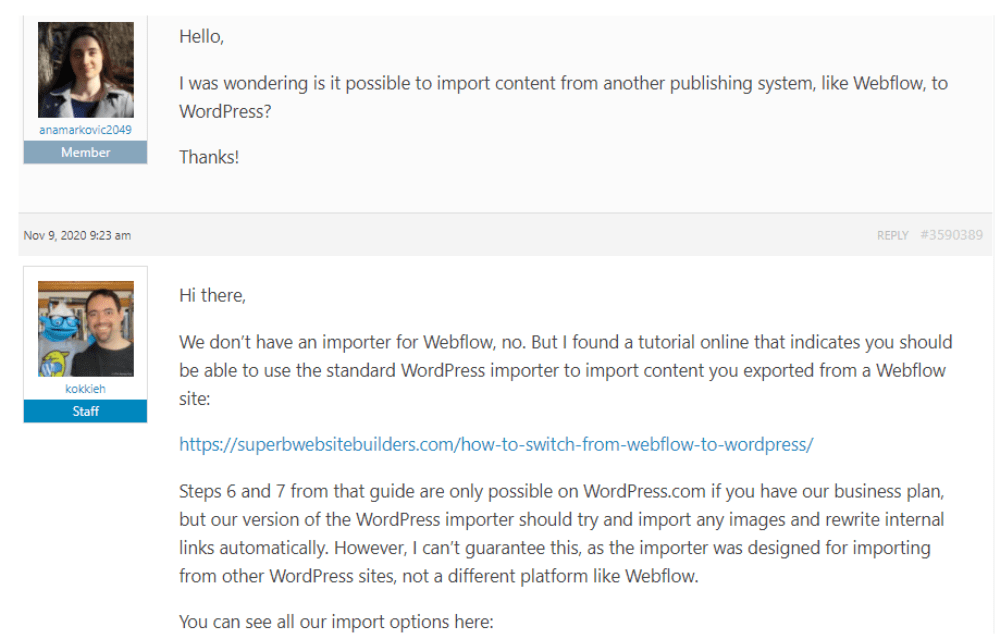 A Close Competition, but Only One Winner
Both Webflow and WordPress.com help you create functional and visually attractive websites, but they are geared toward different users.
WordPress is a great option
regardless of your level of technical expertise (and you can always hire a developer for more advanced customization options if you're not willing to invest time in learning), while Webflow seems to be designed
primarily for web designers.
WordPress is not only the winner in this comparison – it also made it into
our list of the best website builders in 2023
.
Templates
100+ templates to choose from
Hundreds of available themes
Ease of Use / Features
Drag-and-drop editor with tons of features
Easy block-based editor with advanced features
Apps, Plugins, and Add-ons
60+ integrations available
Unlimited plugin options, free and paid
Pricing and Plans
Two main groups of plans
Free, plus four paid plans available
Support
Support documentation, community forum, and email support
Support documentation and forums on free plan; email and live chat support on paid plans
FAQ
Which is cheaper, Webflow or WordPress.com?
Webflow has a free plan, but its prices vary more due to the complexity of its paid plans. WordPress also offers a free plan, as well as affordable prices on paid plans. Regardless of which site builder you decide on, make sure you take advantage of any coupons or discounts.
Which is easier to use, Webflow or WordPress.com?
Both builders have a learning curve, but Webflow seems to be geared primarily toward professional designers, so it can be challenging for beginners. WordPress also involves some learning process, but (as we discuss in our expert review) it's fairly easy to use if you don't require advanced customization, and its content editor is extremely intuitive.
How do I decide what website builder is best?
It all depends on what you are looking to achieve with your website, and whether you want to use it for personal projects or business. To help you make a decision, take a look at our list of the top website builders in 2023 to review all the best options.