Pain Points Are an Invaluable Guide For Addressing What Your Audience Values
Pain points are your audience's needs. By extension, they give you insight into the value your audience is looking for.
Use pain points as a guide to create email copy that explains to your audience how your product or service will provide the value that meets their needs
. Research from Harvard shows that the more specifically you express the value your business offers to your audience, the more effective your messaging will be at convincing customers to make a purchase.
A best practice is to create emails using specific content formats known to create content that answers value questions
. Here are a few examples:
Product comparisons. Break down the relative strengths and weaknesses of your product versus its competitors at relieving specific pain points.
A list of "best" products. Survey your audience's options to address their need, presented in a way that showcases why your product or service offers the most value.
Pricing breakdowns. Show the value-versus-price breakdown between your product or service and your major competitors in the market to alleviate your audience's pain points.
Pain Points Help You Segment Your Contact List and Deliver Relevant Content
Your leads' needs change as they move through your sales funnel, and effective emails will map out these pain points onto your customer's journey
. This lets you create highly relevant copy that spurs action every step of the way. Your goal is to answer the questions your buyers have at every step of their journey. Once you know the questions that are being asked, you can superimpose them onto the stage of your sales funnel, and begin creating emails to address every stage. Accomplishing this requires that you think of your email content the same way you'd think of any other content piece you write. A good best practice here is to start by doing keyword research to see the topics that your customers feel are most relevant to their pain point. A second best practice is to
go one step further and not only look for the individual, topical keywords, but also find the long-tail keywords that show how your customers' are manifesting their pain points when they search for answers
.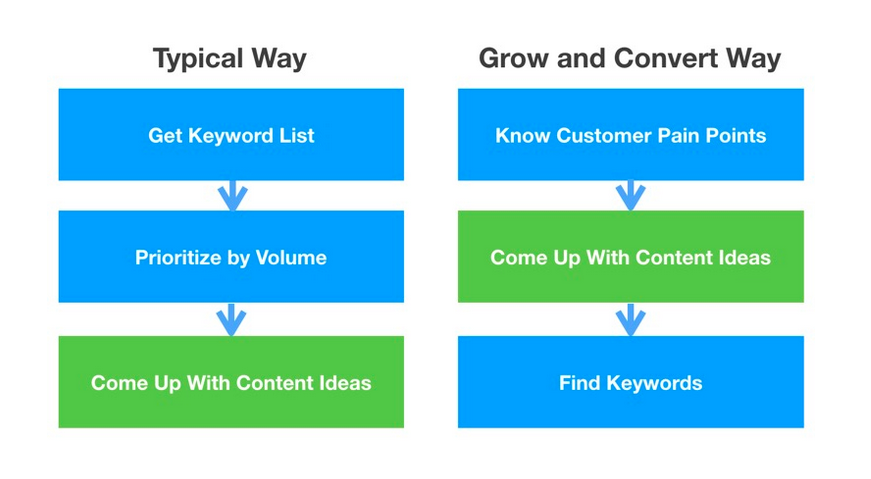 A great case study is from the highly authoritative digital marketing blog "Grow and Convert." They showed how app developer ThinkApps was able to focus on long-tail keywords that showed what their audience was trying to create in order to build content that answered those questions. Because ThinkApps builds applications for startups, they searched for the most popular apps people were looking to replicate. A search for this kind of content indicates that the searcher has an idea of what they want to build but is still not looking for specific programming details. Therefore, they knew the pain point was fact-finding about where to even begin with developing that kind of application — the exact kind of content that's perfect for top-of-funnel leads.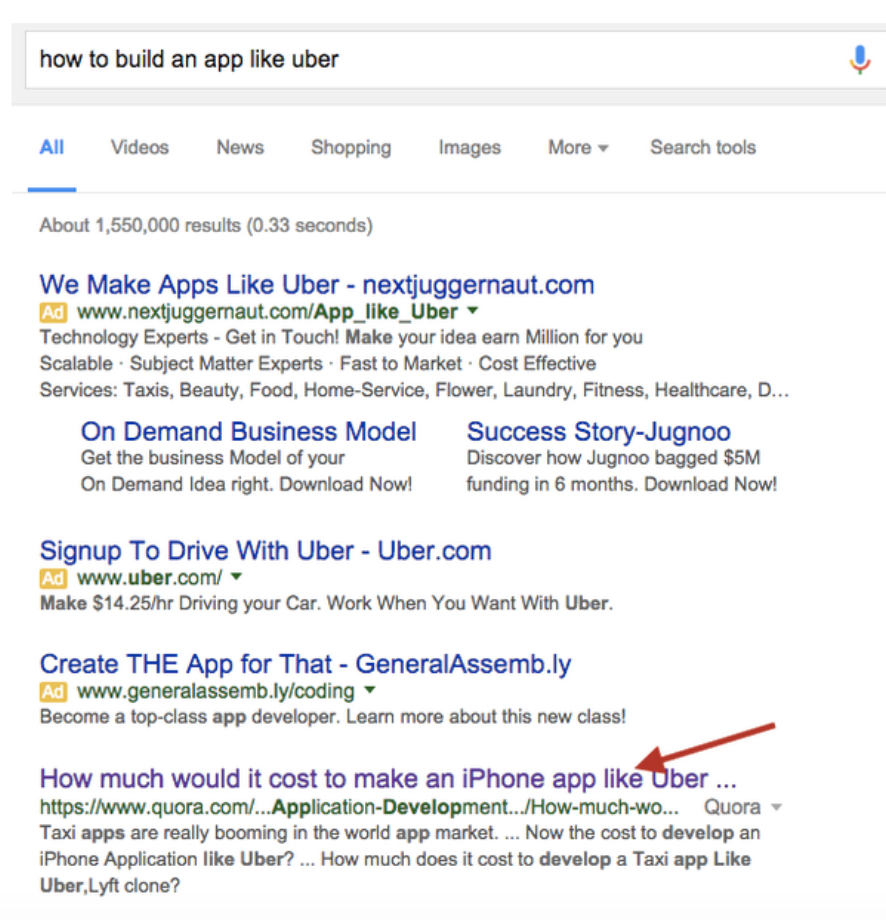 Once you know what messages are relevant to different stages of your pipeline, you can then use the audience segmentation functionality in email services like MailChimp to create lists by pipeline stage and provide content you know will resonate with them
. To learn how, check out our MailChimp
expert review
.
Pain Points Can't Be Ignored Because They're the Future of Your Customer Experience
As we observed earlier, pain points enable you to focus on understanding your customers' desires and providing them with relevant content through email. However, paying attention to the pain points customers encounter throughout their journey offers an additional advantage: it consistently renews the customer experience. Research from leading business consulting firm McKinsey shows that a customer's sense of his or her holistic journey through your pipeline is much more important than any individual touchpoint. A focus on touch points like website visits or sales calls doesn't reflect the reality of how customers interact with you.
A best practice is to constantly renew the customer experience you offer, and there's no clearer, more actionable way for you to do that than by continually asking your customers what problems they're having at every stage of their journey
. Using the indirect techniques like the keyword research described above is effective, but you can also take a more direct approach and simply ask leads to tell you about their pain points up front. One good technique is to ask when they subscribe to your email list. If you have a large list already, send out an email with a survey asking what current problems need solving. Developing a better understanding of pain points lets you reverse-engineer how your competition is handing them, and then do better. As McKinsey points out in its report,
a best practice is to use pain points as reference points to look at what's currently being done in your space, and then disrupt with innovative approaches to your customers' unmet needs
.
Pain Points Are Just The Beginning Of Effective Email Marketing
Providing value is the core mission of any good email marketing campaign. Pain points are a great way to guide you in your efforts, but it's also important to remember that they're just one tool in a toolbox full of techniques. The
best email marketing services
offer functionality that supplements your pain-points research by giving you effective ways to deliver your message. For example, GetResponse provides 500+ pre-designed email templates and 1,000+ images to help you format your email copy and design. See our
expert review
to learn about all of GetResponse's features available to help you with your own email marketing pain points. And as you deliver your message, make sure to follow the best practice of giving empirical weight to your pain-points research. Thorough email marketing solutions like MailJet have analytics features that will show you the data about open rates and click-through rates you need to verify your methodology. Check out our MailJet
expert review
and get started eliminating not only your customers' pain points, but also your own!
---
Sources
http ://www.getspokal.com/how-to-create-content-based-on-your-customers-pain-points/
https ://hbr.org/1998/11/business-marketing-understand-what-customers-value
https ://growandconvert.com/content-marketing/seo-content-conversions/?utm_campaign=Submission&utm_medium=Community&utm_source=GrowthHackers.com
https ://www.mckinsey.com/business-functions/marketing-and-sales/our-insights/linking-the-customer-experience-to-value