With WordPress being the most popular CMS (content management system) out there, plenty of hosts claim to provide specialized WordPress hosting,
 though many provide little more than basic shared hosting with WordPress pre-installed
. SiteGround and WP Engine both offer what they refer to as managed WordPress hosting – but is either worth your money? To find out, I've tested both hosts thoroughly. I've looked at both hosts' speed and reliability, compared their features and pricing in detail, and tried out their support options to see if they were up to scratch. My result?
SiteGround is the superior host
 for most. It's much more user-friendly, it contains a similar set of features for a much lower price, and it provides robust security features for free, unlike WP Engine.
Click here to see SiteGround's latest deals,
 or read on to find out how I came to this conclusion.
1. Plans and Pricing
SiteGround Includes All the Essentials for a Lower Price
While neither are budget hosts,
SiteGround's WordPress plans are definitely much cheaper
, even when you account for its high renewal fees. The entry-level plans from both hosts feature similar resources, except for bandwidth – WP Engine supports up to 25K monthly visits, while SiteGround only supports 10K. Premium plans from both hosts increase these limits.
SiteGround WordPress Hosting
A free domain name is included with some hosting plans from SiteGround
Both hosts offer plenty of freebies, including free SSL certificates, free access to CDNs, and even free daily automatic backups.
WP Engine's Startup plan offers a few nice features that SiteGround doesn't, such as site staging and Git integration.
 You'd need to pay for a higher-tier plan to get these features with SiteGround.
SiteGround includes a more robust security solution for free with all its plans. You only get basic security with WP Engine unless you pay a lot more,
as you'll see below in the Security section.
WP Engine offers a refund anytime during the first 60 days of your plan, whereas SiteGround only offers a 30-day money-back guarantee.
Overall, though, SiteGround provides better-value options for much lower prices.
2. Support
SiteGround Provides Enthusiastic Support – WP Engine, Not So Much
Both SiteGround and WP Engine offer 24/7 live chat and ticket support with every plan.
 SiteGround also includes 24/7 telephone support if you prefer
, but WP Engine doesn't offer phone support with its entry-level plan. This gives SiteGround a slight edge right off the bat. I tested SiteGround's live chat support first.
 It left me waiting a long time for an initial response
, over twenty minutes. Weirdly enough, once the chat began, responses seemed to be very fast – almost
too
 fast. The messages were detailed and helpful enough, but it made me suspect the agent was copying and pasting from a script.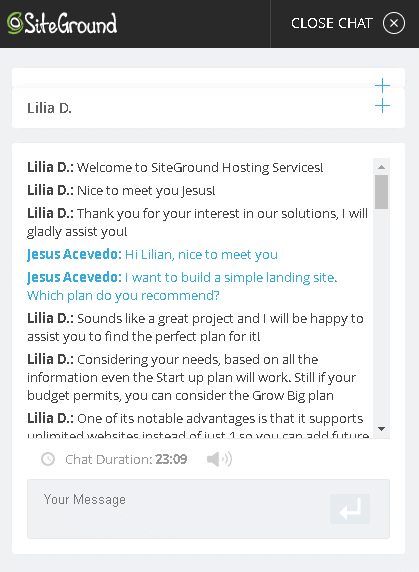 Regardless, I was very happy with the help I received from SiteGround. Responses were as technical as they needed to be, and while there was a soft upsell for a more expensive plan, the agent moved on from this quickly. WP Engine's support agent also provided very quick responses. To the agent's credit, these replies didn't come across as robotic – I felt like I was having a genuine conversation.
They were lacking in detail, though
 – many were simple "yes" and "no" answers without further information.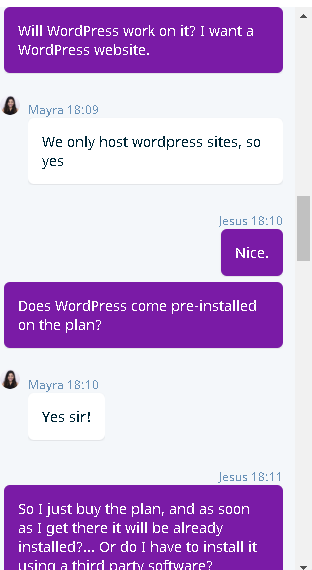 I received further details when I asked for clarification, but it did leave me feeling that a beginner to web hosting might be left without key information. All in all, while it was very close,
SiteGround provided a more helpful experience than WP Engine.
3. Features
WP Engine Can't Beat SiteGround's User-Friendly Control Panel and Email Service
Neither of these hosts employ any popular control panels, such as cPanel or Plesk. Instead,
they use proprietary dashboards.
SiteGround's offering, Site Tools, is an absolute joy to use
, featuring a modern and responsive design that is very easy to navigate. On the other hand, while WP Engine's control panel isn't bad, it could be overwhelming for beginners. Unlike WP Engine, SiteGround features support for email. Even SiteGround's cheapest hosting plan allows you to create an unlimited number of email accounts along with the ability to set up autoresponders, email forwarders, and so on.
However, WP Engine does not provide email hosting at all
, and instead recommends that you host any email accounts through a third-party service. Both hosts provide automatic daily backups with every plan. However, WP Engine's backup solution is more extensive, allowing you to perform manual backups on demand. SiteGround's StartUp lacks this functionality, but you can get it with higher-tier plans. Ultimately, SiteGround's easy-to-use control panel and inclusion of email services make it the winner in this category.
| | | |
| --- | --- | --- |
| | SiteGround | WP Engine |
| Hosting Types | Shared, managed WordPress hosting, WooCommerce hosting, cloud hosting, reseller hosting, enterprise hosting | Managed WordPress hosting only |
| Free Domain | ✘ | ✘ |
| Free SSL Certificate | ✔ | ✔ |
| Disk Space | 10GB – 160GB | 10GB – 1TB |
| Bandwidth | 10,000 -100,000 visitors per month, or 5TB with managed cloud hosting | 25,000 – millions of visitors per month |
| Automatic Backups | Daily | Daily |
| Control Panel | Proprietary control panel | Proprietary control panel |
| Email Accounts | Unlimited | None |
| Free CDN | ✔ | ✔ |
| Free Site Migration | Free WordPress automated migration plugin, professional premium migration service also available | Free WordPress automated migration plugin |
| Money-Back Guarantee | 30 days | 60 days |
4. Performance
WP Engine Leaves SiteGround in the Dust
Both of these hosts claim to provide optimized WordPress hosting with powerful CDNs (content delivery networks) to help deliver your site's content faster.
WP Engine includes its proprietary EverCache front-end caching system on all plans,
 while SiteGround's advanced caching tech is only fully included on its most expensive GoGeek plan. While I didn't have time to test WP Engine's uptime myself,
users of the hosting provider report near-perfect uptimes of 99.99%, and sometimes even 100%
. This is protected by a 99.95% uptime guarantee, which entitles you to service credits in the event of downtime.
I did manage to test SiteGround's uptime for myself to great results – it received an almost perfect score.
 It only guarantees 99.9% uptime, but you can receive an entire month of hosting for free if this guarantee isn't met within an annual period. Unfortunately,
SiteGround was slow on my speed test, with an average loading time of around 2 seconds
. You can see the tests for yourself in our expert
SiteGround
 review.
I didn't have time to test WP Engine's speed (soon!) but users have reported loading speeds of less than a second
. You can find out more about how WP Engine achieves these speeds in our
WP Engine review
.
5. Security
SiteGround Has a Full Set of Free Security Features – WP Engine Charges Extra
Robust security is critical – without it, your site can be subject to DDoS attacks, malware, and hack attempts. To help mitigate these potential threats,
SiteGround employs the use of a custom ModSecurity web application firewall and an AI-based anti-bot system to keep potential attackers at bay.
While both SiteGround and WP Engine provide automatic updates for WordPress,
WP Engine provides only basic security monitoring for free, and charges extra for plugin updates
. If you wish to enjoy a security level comparable to SiteGround, including features like DDoS protection and a managed web application firewall (WAF), you can do so by acquiring either the Global Edge Security add-on or a Secure Hosting plan. These two options will notably raise the cost of WP Engine's already premium packages.
SiteGround Is My Winner
SiteGround provides a competitive range of WordPress features, along with email services and a more robust default security solution, all for a much lower price than WP Engine. For that reason,
I recommend SiteGround over WP Engine
 for most users. WP Engine may be a better fit than SiteGround if you're looking to run a high-traffic site, as WP Engine offers more bandwidth with its cheapest plan. It also provides much faster page loading speeds.
However, SiteGround offers better value for money overall, and its dashboard is much more beginner-friendly
. Still unsure if either of these hosts is right for you? Check out our list of
the best web hosting services
 for more recommendations.
Plans and Pricing
Much cheaper overall, along with more free security features and a 30-day money-back guarantee
More expensive, but includes more bandwidth, site staging, and Git integration in the cheapest plan; 60-day money-back guarantee
Key Features
User-friendly control panel, unlimited email accounts, free automatic daily backups with no on-demand backups in the cheapest plan
Control panel a bit daunting for beginners, no email support, free automatic daily backups with on-demand backups included
Performance
Slower, with an average loading speed of 2s, but with near-perfect uptime
Faster, with reported 1s loading times and almost perfect uptime
Security
Extensive security features included for free along with automatic WordPress core software and plugin updates
Only basic security monitoring and WordPress core updates included for free, top-end security features and automatic plugin updates cost extra
Support
Long wait for an initial response, but very fast and helpful support once you're in touch; includes 24/7 live chat, phone, and ticketing support in all plans
Fast responses but lacking in detail; no phone support in the cheapest plan
FAQ
Is SiteGround the best host?
While SiteGround is a very good host, there are hosts that provide a similar set of features with better performance at much lower prices. Check out our list of the best web hosting services to learn more.
Is WP Engine hosting worth it?
WP Engine charges premium prices, but it can be worth it if you are in need of its strong performance and higher bandwidth. It's more developer-oriented than SiteGround, and you can get access to Git integration and useful staging tools without the need to pay for a premium plan. That said, if you're a beginner, SiteGround offers much better value for your money.
How do I install WordPress on SiteGround?
SiteGround allows you to automatically install WordPress with just a few clicks in its website setup wizard. The setup wizard also allows you to install WooCommerce, the Weebly site builder, or a variety of supported plugins.
Does WP Engine offer shared hosting?
WP Engine only offers managed WordPress hosting with the WordPress CMS and a proprietary control panel. SiteGround offers shared hosting plans that allow for a lot more flexibility at a lower price. If you're interested in shared hosting, you should have a look at our article on the six best shared web hosts available today.