Choosing your web host is never as simple as it sounds – and if you've already decided to go with either SiteGround or WP Engine, how do you know which one is really right for you?
I'll let you in on a little secret: I'd choose SiteGround over WP Engine. SiteGround offers you a lot of great features for less (like excellent security), and while it's not 100% focused on WordPress, like WP Engine is, it still has plenty to offer for your website.
For this expert review, I've evaluated SiteGround's managed WordPress hosting vs WP Engine in the five areas that matter most:
1. Performance
WP Engine's Performance Is Excellent – Can SiteGround Match It?
Research conducted by Google estimates that over 50% of people will click away if your website takes more than two seconds to load. No one wants that.
WP Enginehas invested a lot of effort into optimizing its servers for the best possible performance, with its own "secret sauce" in the form of EverCache. This includes a bespoke, fully integrated CDN (content delivery network), NGINX servers, and caching that refreshes automatically when new content is added – making it suitable for all kinds of content, not merely the static variety.
In performance tests, WP Engine's speeds are impressive, with server response times of around 0.2-0.4 seconds: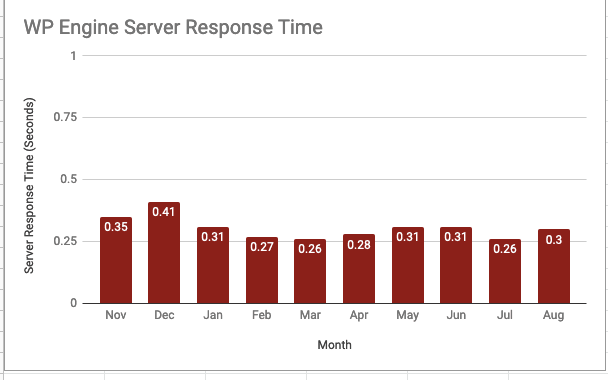 SiteGround also has great performance-boosting features, including Cloudflare CDN, NGINX servers, and its own SuperCacher for fast page loading times. However, on SiteGround'scheaper plans, you only get static caching – to use dynamic caching you have to be on one of the higher-priced plans.
Compared to many shared hosting providers, SiteGround's page loading speeds are relatively fast. However, as you can see, it's no match for WP Engine: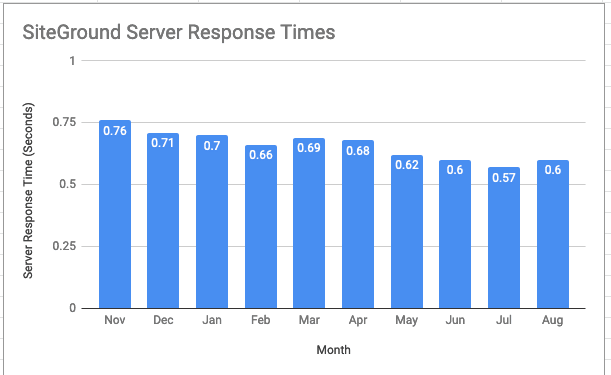 Reliability is something you need – and should expect – from your web host. Like the majority of web hosts, WP Engine and SiteGround both come with 99.9% uptime guarantees. Just remember that 99.9% still allows for almost 45 minutes downtime per month.
So what are their stats in reality?
Over a ten-month period, SiteGround's uptime was an impressive 99.98% – which equals around 8.5 minutes of downtime per month. But wait – WP Engine's average over the same period was 99.99% uptime, or 3.4 minutes of downtime per month. Hardly enough to even think about.
And the winner is: WP Engine. In terms of speed and reliability, WP Engine takes the lead, leaving the usually impressive SiteGround trailing behind. You can read more about what our experts think in ourin-depth WP Engine review.
2. Features
Easily Expand Storage with WP Engine, but Don't Expect the Same with SiteGround
Since we're looking at WordPress hosting, the features are a little different compared to shared hosting. At first glance, WP Engine's storage allocation seems quite small – offering a maximum of 20 GB, compared to SiteGround's maximum of 30 GB. However, WP Engine has introduced LargeFS into its plans. While the name may be ambiguous, its features are hugely beneficial.
Essentially, LargeFS is a WP Engine product that allows you to store and transfer large amounts of data. It's built on Amazon S3, one of the big names in file storage. LargeFS means you can expand your server storage onto Amazon S3 – and with S3, there are virtually no limits.
You will, however, have to create an Amazon S3 account, and the free tier of S3 only includes 5 GB of storage/transfer per month. If that's not enough for you, each additional GB of space only costs a couple cents.
Bandwidth, however, is limited with WP Engine. The basic plan offers 50 GB, and you get up to 200 GB with the more expensive plans. To put this in context, an e-commerce website receiving fewer than 5,000 visitors per month, with an average page size of 3 MB would use around 60 GB of bandwidth. WP Engine's basic plan is only really suitable for smaller businesses. SiteGround, on the other hand, offers unlimited bandwidth.
Both SiteGround and WP Engine offer staging areas – so you can make changes to your website without affecting the live content or having to put your website into "maintenance mode". With SiteGround, staging is available on all but the cheapest plan.
Now, let's look at how SiteGround and WP Engine compare on more "standard" features:
Feature
WP Engine
SiteGround
Storage Space
10 to 20 GB, depending on the plan, but expandable to Amazon S3
10 to 30 GB, depending on the plan
Money-Back Guarantee
60 days
30 days
Free Domain Name
No
No
Automatic Backups
Yes, daily, kept for 30 days
Yes, daily, kept for 30 days
Free SSL Certificate
Yes, on all plans
Yes, on all plans
Free CDN
Yes, built in
Yes, Cloudflare CDN
Bandwidth
50 to 200 GB, depending on the plan
Unlimited, but with "recommended monthly traffic" (e.g., 10,000 monthly visitors on the StartUp plan)
Free Site Migration
Yes, auto-migration tool
Yes, WPMigrator tool on all plans, plus free WP Transfer by experts on higher-tier plans
Extras
Three staging areas (Dev, Stage, and Prod) for building your website
Staging area on all plans except StartUp
Genesis Framework and 35+ premium StudioPress themes
Add collaborators to your control panel and assign roles to them
Transferable sites, so you can build a website for someone else and transfer the ownership to them
And the winner is: WP Engine. This web host simply has more features compared to SiteGround – however, WP Engine's bandwidth is limited. If that's not a problem for you, then WP Engine is definitely a winner.
3. Security
SiteGround's Rapid Response Security Is Great – But WP Engine Security Is No Joke
Your website security is something you can't really afford to cut corners on. If your website is infected with malware or malicious code, it can be an expensive process to get rid of the infected files and scripts. Your web host should keep your website protected, but often that's not the case.
SiteGround and WP Engine both have a decent set of security features, including firewalls, malware scanning, intrusion-detection systems, and protection against brute-force attacks. However, SiteGround has a slight edge over WP Engine.
That's because SiteGround utilizes a kind of rapid-response system where it develops its own security patches rather than waiting for third-party developers to release them. Vulnerabilities are patched faster and your web space isn't at risk from malicious code and traffic. It's impressive security gets the thumbs up in our expert SiteGround review too.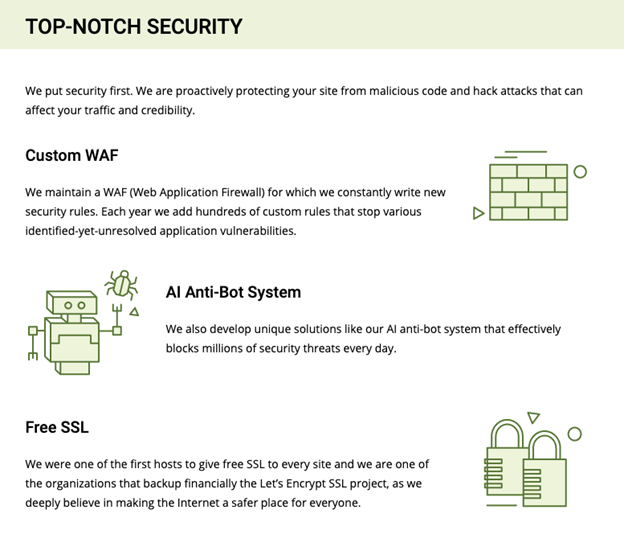 WP Engine includes disk write protection, which aims to prevent malicious code, and it has a list of banned plugins that WP Engine considers a risk to the security of your website. But even with those features, it doesn't develop its own security patches, so your website will be vulnerable for longer than if you were hosting with SiteGround.
And the winner is: SiteGround's security patching system is virtually impossible to beat, though WP Engine still has a high level of security. Really, both have pretty stellar security features.
4. Pricing
SiteGround Is Cheaper, but WP Engine Gives You Lots of Freebies
Value for the money often comes down to your budget, so if you're looking for really cheap hosting, then WP Engine isn't going to seem like a great deal. The monthly fee on its basic plan is 10x higher than SiteGround's comparable plan, but you do get freebies worth around $2,000 with WP Engine.
WP Engine bundles the Genesis framework and 35+ premium StudioPress themes with its plans. The Genesis framework is one of the most popular frameworks for WordPress themes, with lightweight structures for better page loading speeds and tons of customization options. With the Genesis framework, it's easy to build your own themes, and the StudioPress themes that are included will ensure your website looks amazing.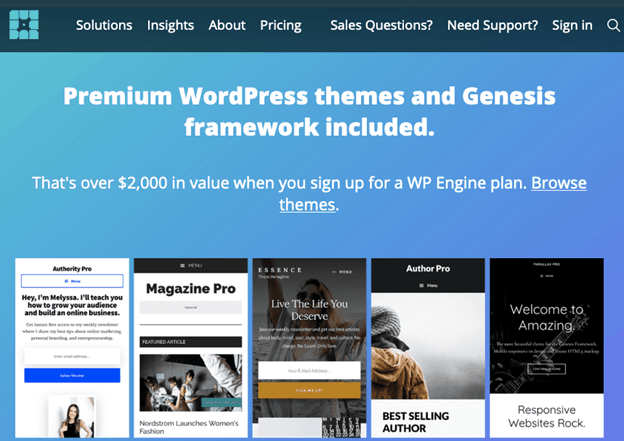 The cost of WP Engine, however, might put it out of your reach if you're on a tight budget. Its mid-level Growth plan is 3x the cost of SiteGround's highest-level managed WordPress plan (GoGeek), after the initial term.
SiteGround's fees are much more pocket-friendly, and you can get the staging feature on the GrowBig plan for a fraction of the cost of WP Engine. If you don't have the budget for WP Engine, then SiteGround is a great value alternative that has some (but not all) of the features of WP Engine.
Just keep in mind that with SiteGround, you have to pay upfront for a minimum of 12 months (there's no monthly option). WP Engine allows you to pay monthly, which means there's less of an initial shock to the wallet.
And the winner is: It's a tie. Depending on your available budget, WP Engine offers great value with its freebies, but SiteGround is a better value if you don't have so much cash to spare. The winner in this round depends on how much you're able to spend on your hosting.
5. Support
SiteGround Delivers Superior Live Customer Service, but WP Engine Has More Tutorials
It's inevitable that you'll need to get support from your web host – no matter how experienced you are with web hosting. Having 24/7 support is something that's pretty essential, and WP Engine and SiteGround don't disappoint with this.
WP Engine's 24/7 support is available via live chat and phone, with regional phone numbers available to avoid international charges. It doesn't, however, offer ticket or email support. WP Engine also has an extensive support center with articles, tutorials, step-by-step instructions, and videos to help you resolve issues yourself.
I tried to test WP Engine's live chat feature, but there were no agents available and I was advised to phone instead. I was placed in a queue, and after waiting over 15 minutes, I gave up. I was disappointed by WP Engine's support, but other users have reported good experiences.
SiteGround has exceptional customer support – available 24/7 via live chat, phone, and email/ticketing. Its response times for email support are some of the best in the industry, with an average eight-minute wait for a response from a human support agent (rather than an automated system). Likewise, its live chat and phone support are equally fast. When I called, I was connected to a support agent in under a minute, and with live chat I was connected in seconds.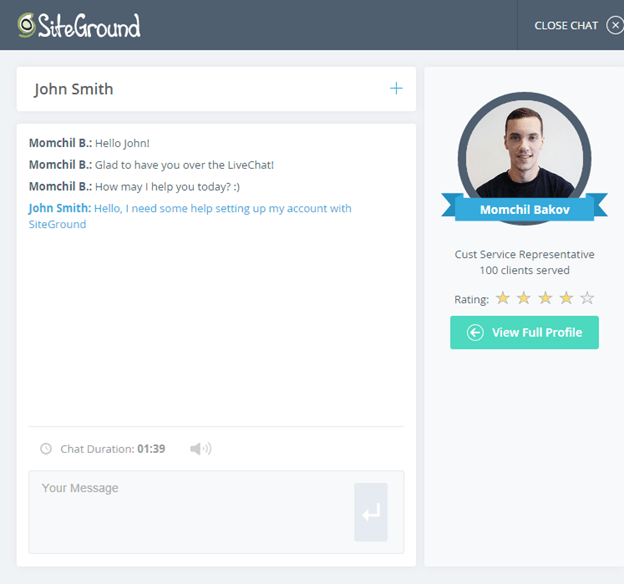 And the winner is: SiteGround. Its customer service is exceptionally good, making it the obvious winner in this round. Since others report good experiences with WP Engine, I'm hoping my experience was an exception.
Choose SiteGround for Low-Cost WordPress Hosting
Our Recommendations
While I'm really impressed by WP Engine's great set of features and freebies, its pricing may be an obstacle. If you have a decent budget for your WordPress hosting, though, I would recommend you give it a try. You can opt to pay monthly, which always feels like it costs less than paying up front for an annual plan, and there's a 60-day money-back guarantee, too.
In this battle, I do think SiteGround is the overall winner, since it offers WordPress hosting, with staging and excellent security, for a much more pocket-friendly price. Sure, you miss out on the Genesis framework and free themes that WP Engine offers, but there are plenty of free (and low-cost) WordPress themes available.
Make sure you check out our list of the best web hosting services this year.
| | | |
| --- | --- | --- |
| | WP Engine | SiteGround |
| Performance | Excellent performance, thanks to the built-in CDN and aggressive caching | Page-loading speeds are excellent, and uptime is around 99.98% |
| Features | LargeFS option means you have virtually unlimited storage for your files | Staging areas available on the GrowBig plan and above |
| Security | High levels of security, but lacks SiteGround's patch development | High levels of security and immediate vulnerability patching to keep your website secure |
| Value for the Money | Monthly prices are high, but you get the Genesis Framework and free themes | You have to pay for 12 months up front, but prices are much more affordable |
| Customer Support | 24/7 support available via live chat and phone, but wait times can be long | 24/7 support via ticket, phone, and live chat, and fast response and resolution times |
| | | |