You're looking for a web host, maybe for your first website, your WordPress site, or maybe because you're tired of your current host, and you're torn between SiteGround and GoDaddy. Do they both provide what you're looking for, or are their claims just hype?
Before you make your final decision, you need to know what features you absolutely can't do without:
Do you need unlimited storage for your website, or can you cope with less storage in exchange for faster speeds and better reliability? One of these hosts excels for performance but limits your storage – is that a sacrifice you can make?
Are you new to web hosting and need to know you can get customer support 24/7, without having to wait, or is customer support less of a priority for you? One of these hosts has incredibly long wait times for live chat support.
Do you need daily backups that are kept for 30 days, or are you happy with weekly backups?
To save you the time and effort of combing the internet for user reviews and experiences, I've done the research for you, testing SiteGround vs GoDaddy in the areas that matter most:
Round 1: SiteGround Focuses on Boosting Speed, While GoDaddy Wants You to Upgrade
Having a website that loads quickly is essential, since your website visitors will quickly click away if your pages take more than a couple seconds to load. Reliability – your web host's uptime – also matters, especially if you're using your website for business.
SiteGround has a whole page dedicated to its speed-boosting technology, which includes:
SSD drives for better efficiency
NGINX server technology
SuperCacher for boosting your content loading
CDN (content delivery network) for utilizing servers closest to your visitors' locations
HTTP/2 to help your pages load faster
PHP 7.3 for speed and reliability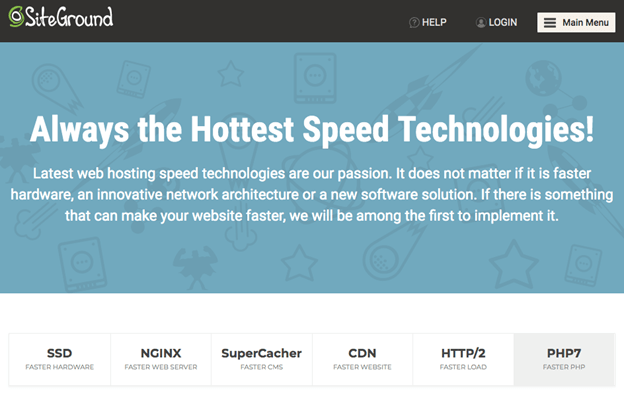 SiteGround's speed technology means that your pages load faster – the average load time is 1.6 seconds (compared to GoDaddy's average speed of 2.8 seconds) – and that your site can sustain a large number of visitors. For example, page loading speeds with SiteGround remain at the 1.6-second mark with up to 8,000 visitors (compared to GoDaddy, which struggles to cope with more than 50 concurrent visitors).
GoDaddy doesn't give a lot of information about its performance-related technology, unfortunately. It claims "industry-leading load times," but clearly this is hype rather than truth. I contacted support to ask what GoDaddy does to make web pages load faster.
After a 42-minute wait, I was connected and able to ask about performance. GoDaddy's support agent couldn't tell me anything about any speed-enhancing features that were included but was happy to try to upsell me to an expensive CDN (content delivery network) package with malware removal. In fact, the support agent tried to tell me that the only reason my web pages could be loading slowly was due to malware on my website.
Both SiteGround and GoDaddy have a 99.9% uptime guarantee, but while SiteGround users report very few periods of downtime, GoDaddy's users are not so lucky. In the first ten days of July alone, GoDaddy experienced six periods of downtime, lasting between one minute and nine minutes – totaling 20 minutes. By comparison, in the same period, SiteGround had one period of downtime lasting two minutes.
And the winner is: SiteGround's technology comes out on top ensuring the fastest page-loading speeds possible, better performance, and more consistent uptime, leaving GoDaddy far behind. You can discover more about SiteGround's performance-boosting technology, from its Optimizer to its Site Scanner in our in-depth review on the web host.
Round 2: GoDaddy Gives You More Storage, but SiteGround Has More Features
Comparing the features web hosts offer can be time-consuming, so to make it simple, here's a glance at what SiteGround and GoDaddy include:
| | | |
| --- | --- | --- |
| Feature | SiteGround | GoDaddy |
| Storage Space | 10 GB to 30 GB, depending on the plan | 100 GB to unlimited, depending on the plan |
| Money-Back Guarantee | 30 days | 30 days |
| Free Domain Name | No | Yes, for one year |
| Automatic Backups | Yes, daily, kept for 30 days | No, backups are only available as an add-on or with GoDaddy WordPress hosting |
| Free SSL Certificate | Yes, on all plans | Yes, but only on Ultimate plan and above |
| Free CDN | Yes, Cloudflare CDN | No, paid option only |
| Bandwidth | Not strictly limited, but with "recommended monthly traffic" (e.g., 10,000 monthly visitors on the StartUp plan) | Unmetered |
| Free Site Migration | Yes, completed within 24 hours | No |
| Email Accounts | Unlimited | One free Microsoft 365 account for one year |
| One-Click Application Install | Yes | Yes |
And the winner is: It's a tie. Both SiteGround and GoDaddy have a decent array of included features. Ultimately, the winner in this round really depends on what specific features you're looking for. GoDaddy also offers thousands of free WordPress templates and many other features, you'll want to read up on in our expert review.
Round 3: Value Is in Up-Front Costs with SiteGround vs GoDaddy
There are a variety of factors that decide whether a hosting package is a good value for the money – you can't just go by the advertised prices on hosting companies' websites and assume that one is a better value because it's cheaper. Particularly since, for the majority of hosts, those prices depend on you paying up front for two or three years.
SiteGround is one of the few hosting companies that doesn't demand you pay outright for three years to get the best prices. The introductory rates you see on its pricing page are what you pay (as a monthly rate) whether you sign up for one, two, or three years.
Unfortunately, GoDaddy does require you to sign up for three years for the best price. Signing up for one year will increase your monthly price by around 17%, and if you opt for paying for just three months up front, your monthly rate is almost double.
Renewal prices are also important to consider because these are (almost always) much higher than the introductory rates. SiteGround's prices on renewal are almost 3x the introductory rate, while with GoDaddy the renewal rate is only around 1.5x the introductory rate (as long as you sign up for the same amount of time).
However, value for the money also relates to the features that one provider includes that the other doesn't, and the amount you save by not having to buy these features as add-ons. SiteGround offers a free SSL certificate, automatic backups, and free website migration. GoDaddy only gives you a free SSL on its Ultimate plan and will charge a monthly fee if you want automatic backups.
And the winner is: SiteGround takes this round because you don't have to pay up front for three years to get the best prices, and there are more value-adding features included in the base price. You get less storage, but you need to weigh up whether this is really a deal-breaker for you or not.
Round 4: SiteGround Puts Security First – GoDaddy May Let You Down
Keeping your website data secure – and ensuring your visitors' data isn't compromised – is an essential part of web hosting. Knowing that your website is not going to be at risk of being hacked, infected by malware, or affected by a brute force attack means you can focus more on your website's content.
SiteGround is among the best shared hosting companies when it comes to security. It offers a rapid response to any recognized vulnerabilities and creates its own security patches at the server level. This means your website is much more secure than hosts (like GoDaddy) that wait for security patches to be released by developers.
SiteGround also uses account isolation on its shared hosting, so if another website on the same server is hacked or infected by malware, your website won't be at risk. In addition, it employs an "anti-bot" artificial intelligence (AI) system that automatically recognizes and protects against brute force attacks.
Security with GoDaddy has been problematic, to say the least. It has had issues with sites on its server being infected with malware – and this is an ongoing problem. Recently, it was #3 on a list of top malware hosting networks, according URLhaus: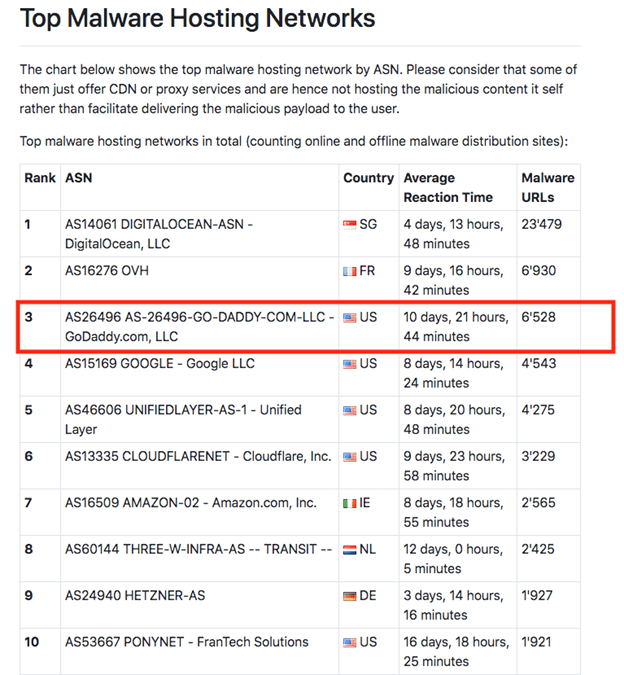 What's more, with GoDaddy, if your website is affected by malware, you have to remove it yourself or pay for a security "upgrade." GoDaddy users have reported that the support team is generally unhelpful when it comes to security issues, too.
And the winner is: SiteGround's security measures mean that you're constantly protected from threats and vulnerabilities, giving it the edge over GoDaddy, which doesn't even spell out its security features.
Round 5: SiteGround's Speedy Support Puts GoDaddy's Wait Times to Shame
Customer support can be one of the biggest deciding factors when choosing your hosting provider. You want to know that no matter what time of day – or night – it is, if something goes wrong, you can quickly and easily access the support you need.
This is an area in which SiteGround really shines. You get support 24/7 via live chat, phone, and a ticketing system. Not only can you be sure you'll get the support you need when you need it – even at 4 a.m. – SiteGround's customer support is both fast and efficient:
It boasts the fastest response time in the web hosting industry for ticket submissions – usually within ten minutes. I tested this and got a reply (from an actual person, not an automated response) in just eight minutes. The industry average human response time is around eight hours.
There's (virtually) no wait time when you phone customer support – compared to other hosts that generally have at least a five-minute wait before you can speak to someone.
Live chat support is really fast to respond, too. When I tested this out, not only was I instantly connected to a helpful support agent, my issue was resolved within five minutes. Most hosting companies take at least ten minutes to resolve issues.
GoDaddy's support system is poor in comparison to SiteGround. First, GoDaddy doesn't offer ticket support at all. Chat support is only available Monday through Friday, and although phone support is available 24/7 in many countries, some countries only offer support during specific hours (for example, support in Germany is only available 8 a.m. to 8 p.m. Monday through Friday).
In addition, GoDaddy's support wait times are simply awful. Reading other customer experiences, I tested this out myself and was shocked by the length of time I was expected to wait for a live chat agent. I was eighth in line but was told to expect a wait of 73 minutes! I thought maybe this was because it was an American holiday, but I tried again a few days later and still faced a 42-minute wait.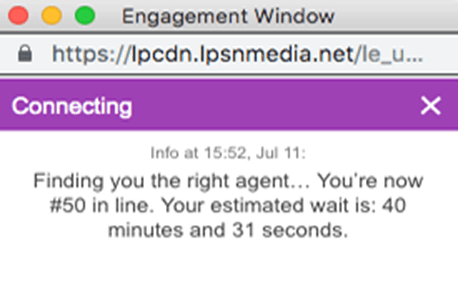 And the winner is: SiteGround's support team's 24/7 availability and quick response times and resolutions to your problems make it the clear winner. GoDaddy's support is limited and slow – and not particularly helpful, either.
SiteGround Comes Out Ahead in Almost Every Area
The bottom line: SiteGround is the superior choice for web hosting in almost all situations. It offers better performance and reliability than GoDaddy, gives you customer service you can depend on, and is pretty great when it comes to value for the money, too. If you want to find out more about SiteGround before you get started, you can check out our expert review.
Our Recommendations
If you're running a business website and need fast-loading web pages, reliable hosting, excellent security, and quality customer service, then SiteGround is absolutely the best choice for you.
There's really only one situation when I'd recommend GoDaddy – if you need a lot of storage space for multimedia files such as videos. If that's the case, then you can read our expert review of GoDaddy to discover more details about what this hosting company provides.
| | | |
| --- | --- | --- |
| Round | SiteGround | GoDaddy |
| Performance | Page-loading speeds are excellent, and uptime is around 99.99% | Mediocre page-loading speeds and less-than-great uptime records of around 99.9% (up to 45 minutes of downtime per month) |
| Features | Free SSL and automatic backups, plus free website migration | 100 GB to unlimited storage (depending on your plan) and a free domain name for a year |
| Value for the Money | No up-front cost for three years to get the best prices, but renewal costs are higher | Advertised prices require a three-year up-front commitment, and you don't get automatic backups |
| Security | High levels of security and immediate vulnerability patching to keep your website secure | A history of malware problems reported on its websites |
| Customer Support | 24/7 support via ticket, phone, and live chat, and fast response and resolution times | 24/7 phone support in some countries, but no ticket support and long wait times for live chat (only available Monday–Friday) |