Which web host is better for you,
SiteGround or Bluehost?
Keep reading for our expert opinion on the surprising differences between these two giants. 
Comparison websites will often rank Bluehost at the top of every list. Does that mean it's the world's best hosting company? No, absolutely not. But Bluehost does have a really good affiliate program that gives reviewers a
lot of incentive to promote it.
I've tested both hosts to give you expert, impartial advice on which one to choose. I focused on the web hosting features that really matter to you, and compared Bluehost vs SiteGround in five crucial areas:
Round 1: SiteGround Focuses on Speed – Bluehost's Overloaded Servers Slow It Down
Page loading speeds and uptime rates are particularly important if you're using your website for business. Surveys and statistics show that if a page takes more than 2–3 seconds to load, your visitors are much more likely to click away, especially if they're using a mobile device.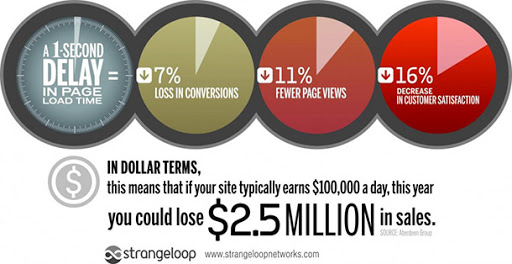 SiteGround is focused on ensuring that your pages load rapidly. It has a page dedicated to its performance-boosting technology, such as:
SSD drives for greater efficiency and faster speeds

NGINX server technology to improve server response times

SuperCacher for storing static content for better speeds

CDN (content delivery network) for utilizing servers closest to your visitors' locations

HTTP/2 to help your pages load faster

PHP 7.3 for speed and reliability
The result of SiteGround's performance-boosting technology is pages that fully load in around 1.6 seconds
–
or 1.3 seconds when using the SuperCacher.
SiteGround is also able to sustain these speeds under immense pressure. There's no reduction in page loading speeds with up to 8,000 visitors – and with the SuperCacher enabled, this grows to an (almost) unbelievable 230,000 concurrent visitors.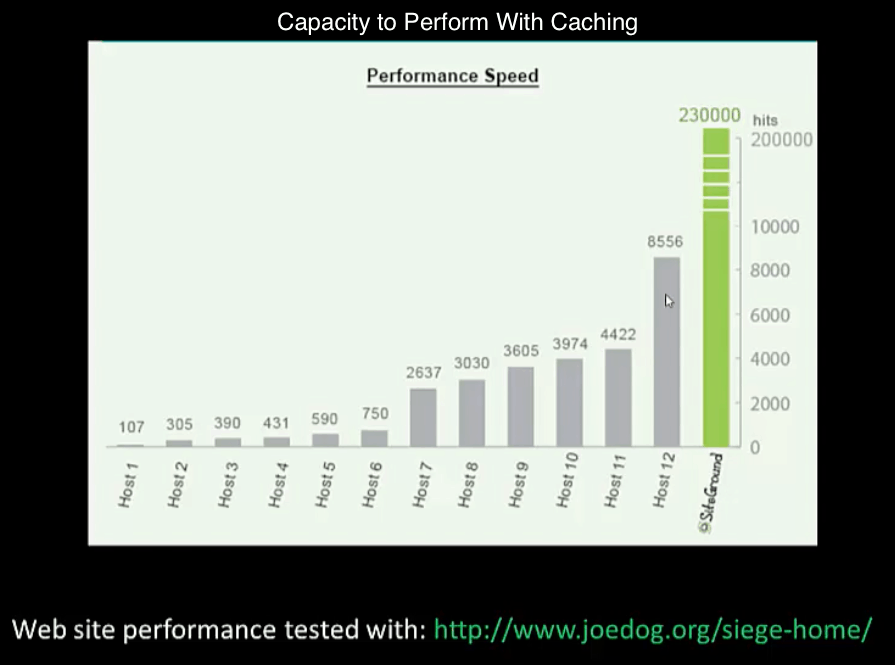 In addition, SiteGround utilizes QUIC, which is a technology developed to help improve page loading speeds for people with unreliable or poor internet connections.
Bluehost also uses performance-enhancing technology such as SSD drives, CDN, and NGINX, but the company is known for having too many websites hosted on its servers, which has a dramatic impact on page loading speeds. 
Bluehost's page loading speeds range between 2.3 seconds and 9.7 seconds
–
and these speeds are very inconsistent.
What's more, page loading speeds deteriorate with as few as 20 concurrent visitors.
While SiteGround offers PHP 7.3, known for better performance, Bluehost offers PHP 7.2 to new customers and has no immediate plans to upgrade – as I was informed during a web chat with Bluehost. Further, long-standing customers may still be on PHP 5.6 (which can expose other users on the same server to vulnerabilities).
Bluehost often expects existing customers to cancel their existing plans and sign up for new (more expensive) plans if they want access to PHP 7.2.
This means it's unlikely for new customers to get free PHP updates in the future.
In the reliability stakes, SiteGround has a 99.9% uptime guarantee, and its recent uptime record is around 99.99%. Bluehost doesn't have an uptime
guarantee
, but it claims to have 99.9% reliability in its uptime. That's not always the case, however. In a 30-day test, Bluehost had almost 3x more downtime than SiteGround.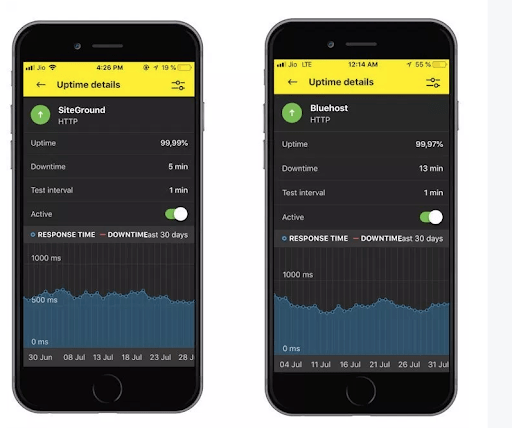 And the Winner Is…
SiteGround.
Although Bluehost uses some of the same technology as SiteGround, SiteGround's page loading speeds and ability to cope with thousands of concurrent visitors puts it in the lead.
Round 2: SiteGround Offers Exceptional Customer Support – Bluehost Offers Add-Ons
If you're working on your website at 4 a.m. and hit some kind of problem, you expect to be able to get in touch with your web host for help, right?
Having access to around-the-clock customer support is one of the essentials with web hosting, and both SiteGround and Bluehost offer 24/7 support.
However, it's not enough to just be able to contact customer support. How quickly your host is able to respond and fix problems is also important. Here, SiteGround really stands out, for three reasons:
SiteGround has the

fastest response in the web hosting industry

when it comes to ticket support – under ten minutes. Bluehost doesn't even offer ticket support.

The customer support agents with SiteGround can resolve issues quicker than most hosting providers – with live chat, issues can be sorted within 10–20 minutes, and with ticket support, issues are resolved in an average of 40 minutes.

When you call SiteGround for support, you don't have to wait – calls are almost always answered immediately, 24/7.
While Bluehost is available to help night or day, the customer support you receive varies greatly from issue to issue.
For example, just to connect to a live chat agent, you could be waiting up to an hour, and the agents often have difficulty resolving simple issues. If you have a WordPress website
, customer support is often particularly poor.
Reviews of Bluehost customer service reveal some fundamental issues with Bluehost's support team, such as suggesting add-on packages to resolve issues with malware, deleting files by mistake, and being unable to resolve simple SSL issues. Customers also report support agents who have refused to cancel recurring billing plans and who refuse to unlock domain names for transfer.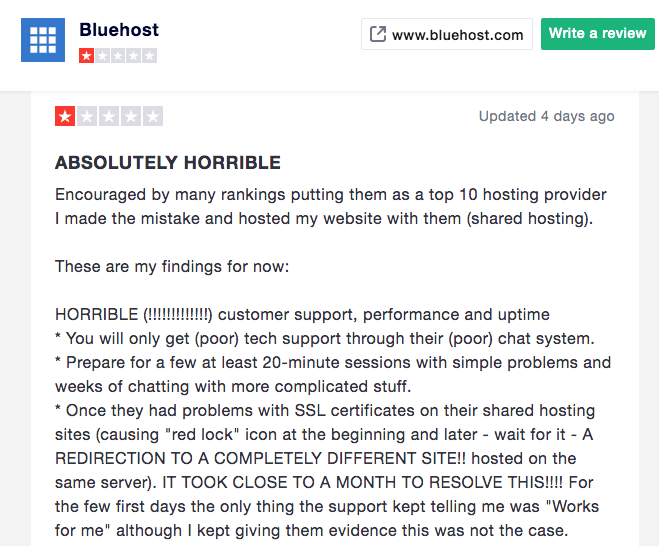 And the Winner Is…
SiteGround.
With fast response and resolution times, SiteGround's customer support is excellent. Its agents are extremely knowledgeable and able to resolve your problems without difficulty. Read our in-depth review of SiteGround
to find out more.
Round 3: SiteGround Gives You Security – Bluehost Wants You to Pay for It
With hacking attempts and brute force attacks on the rise, you need to know that your web host is going to keep your website and data secure.
While no shared hosting platform is 100% secure all of the time, most hosting companies have security measures in place to protect their servers and your website.
SiteGround is one of the more secure
shared hosting providers
, with advanced anti-bot AI systems to protect against brute force attacks.
It also uses account isolation to ensure that your website isn't affected by vulnerabilities on another website on the same server.
Unlike many shared hosts (including Bluehost), SiteGround doesn't wait for third-parties to release security patches when vulnerabilities are detected. Instead, it develops its own patches and automatically applies them to its servers far more rapidly than other hosts. It also keeps its firewalls updated with the latest rules to ensure no malicious traffic can get through.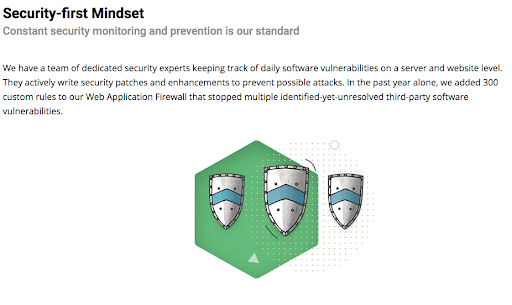 Bluehost, by contrast, takes a different approach to security. Its included security features are relatively limited
– largely because by limiting its security it can "encourage" you to purchase a paid version of its SiteLock security suite. The included security, for example, will only scan up to five pages per month for malware. If you want decent protection against malware, spam, DDoS (distributed denial-of-service), and other brute force attacks, you have to pay extra. 
There are some concerns about the level of Bluehost's server security, too. In January 2019, Bluehost was among five top hosting providers in which a
high-risk security vulnerability
was identified. 
A bug-hunting specialist was able to take down any of Bluehost's sites.
This vulnerability enabled the attacker to modify a user's server file and inject it with malicious code just by clicking a link sent by the attacker. Although the vulnerabilities have been patched, it's still a concern.
And the Winner Is…
SiteGround
. Quite frankly, Bluehost's (lack of) security is quite shocking. SiteGround's approach shows that it cares about its customers and doesn't expect you to pay extra for more than basic security features.
Round 4: SiteGround Gives You Free Migrations – Bluehost Gives You a Domain Name
To compare Bluehost and SiteGround on their features, I put together this at-a-glance table to see where they differ.
Storage Space
10 GB to 30 GB, depending on the plan
50 GB to unlimited, depending on the plan
Free Domain Name
Yes, a free domain for your first year when you sign up for 12 months
Automatic Backups
Yes, daily and kept for 30 days
No, backups are only offered with CodeGuard Basic, for an additional monthly fee
Free CDN
Yes, Cloudflare CDN, but this is not automatically enabled
Bandwidth
Not strictly limited, but with "recommended monthly traffic" (e.g., 10,000 monthly visitors on the StartUp plan)
Unmetered, but Bluehost often limits websites due to "performance issues" 
Free Site Migration
Yes, completed within 24 hours
No, you have to pay for this service
Email Accounts
Limited to five on the basic plan (unlimited on all other plans)
One-Click Application Install
And the Winner Is…
It's a tie.
The winner of this round really depends on what you're using your website for. Bluehost offers more in the way of storage and offers a free domain name, in addition to the free SSL and Cloudflare CDN that SiteGround also offers. If storage space is what matters to you, then Bluehost is your winner. Find out what else Bluehost has to offer in our expert review
.
However, SiteGround doesn't charge you for automatic backups and will migrate your website from another provider for free
. If you're not worried about the storage space (which, unless you're hosting a lot of large multimedia files, isn't a big issue) and you don't mind buying your own domain name, then SiteGround is definitely superior to Bluehost.
Round 5: Bluehost May Be Cheaper, but SiteGround Gives Better Value
Value for money is not necessarily about which provider is the cheapest.
It's especially important that you don't choose your provider based on the prices advertised on its sales pages. With most hosting companies, you'll get a shock when you arrive at the checkout page and find that the appealing low prices only apply if you pay up front for three years.
SiteGround is actually one of the rare hosting providers that doesn't inflate its prices for shorter initial-term plans.
You pay the same monthly equivalent whether you sign up for one, two or three years. However, when you renew your plan, the monthly equivalent price will be around 3x the introductory rate.
Bluehost requires a 36-month (three-year) up-front payment for its lowest prices. You'll pay 25% more if you choose a two-year plan and 50% more for a one-year plan. When it's time to renew, your monthly equivalent will be around 2x your introductory price.
Value is often determined by the things one provider offers that the other doesn't. This is where SiteGround leaves Bluehost trailing behind:
SiteGround offers free automatic backups – with Bluehost, you'll pay extra – almost doubling your monthly equivalent on the Basic plan

SiteGround gives you advanced security features – with Bluehost, you have to pay for a SiteLock plan to get the same level of security – again, almost doubling your monthly equivalent on the Basic plan

SiteGround gives you exceptional customer support – with Bluehost you're not really supported, and customer support agents are more focused on selling you "upgrades" rather than resolving your problems.
And the Winner Is…
SiteGround.
Although the advertised prices for both Bluehost and SiteGround are similar, SiteGround doesn't require a three-year up-front payment. It also includes other features that Bluehost expects you to pay extra for.
SiteGround Outshines Bluehost in Almost All Areas
Bluehost may top many lists of "best web hosts" – but it's not because of Bluehost's service and performance. In my opinion, SiteGround leaves Bluehost far behind in a head-to-head competition. To discover more about SiteGround, read our full review.
Our Recommendations
If you're looking for reliable, secure hosting for your business or personal website, you can't go wrong with SiteGround.
For the majority of people, the storage limits won't really be an issue, and the value-added features make SiteGround much more budget-friendly.
The only situation in which Bluehost would be preferable is if you're planning on hosting a large number of videos or digital downloads. In that situation, you absolutely need more storage than SiteGround offers on its shared hosting plans.
Performance
Page loading speeds are outstanding and don't slow when there are thousands of visitors on your website
Page loading speeds aren't terrible, but they are inconsistent and can't cope with a lot of concurrent users
Customer Support
You can access 24/7 support via ticket, phone, and live chat – and expect fast response and resolution times
There's 24/7 support by phone and live chat, but customers report poor levels of customer service and long wait times
Security
High levels of security and immediate patching of vulnerabilities keep your website secure
Only very basic security is included, and Bluehost has been affected by high-risk vulnerabilities
Features
Automatic backups, plus free website migration
Free domain name and 50 GB to unlimited SSD storage
Value for the Money
You don't have to pay up front for three years to get the best prices, but renewal costs are 3x higher
You have to pay extra for important features like backups and security