Netregistry and VentraIP are two of Australia's largest web hosting providers that offer cPanel hosting, VPS, and other domain registration and email services. To compare Netregistry and VentraIP, I tested both services across different areas, including security, performance, features, customer support, and pricing. I found that VentraIP is slightly cheaper, offers free SSL, and SSD storage with its cPanel hosting packages, unlike Netregistry. Keep reading to see what else makes VentraIP the winner in this head-to-head challenge.
Click here to see VentraIP's latest deals
or keep reading to find out what makes VentraIP the winner of this comparison.
1. Plans and Pricing
VentraIP Has Cheaper cPanel Hosting Plans than Netregistry
Netregisty and VentraIP aren't the cheapest hosts in the market. However, VentraIP has slightly lower prices for its shared hosting plans. Let's take a look at the cPanel offerings. Netregistry provides three cPanel hosting packages – Starter, Business, and Premium+. The Starter plan comes with 20 GB of storage, 500 GB of bandwidth, one database, and 50 email accounts. VentraIP also has three plans – Starter, Freedom, and Premiere. The Starter plan comes with 5 GB of SSD storage, unlimited bandwidth, unlimited email accounts, and unlimited databases.
A free domain name is included with some hosting plans from VentraIP
Netregistry is more generous when it comes to storage. Still, VentraIP offers premium resources and freebies such as site migration and an SSL certificate with all its cPanel hosting packages at a cheaper rate. Netregistry doesn't have a money-back guarantee, but it does provide a one-month free trial. VentraIP comes with a 45-day money-back guarantee. Neither host offers a free domain name – even with annual subscriptions. The winner? VentraIP wins this round by offering more resource allocations, free extras, and lower prices than Netregistry.
2. Features
VentraIP Provides More Premium Features Than Netregistry
Both Netregistry and VentraIP offer cPanel and VPS hosting. However, VentraIP also provides reseller hosting. Netregistry only has basic features with its cPanel hosting packages, plus a free DIY site builder and Installatron CMS installer. VentraIP doesn't come with a free website builder; however, its shared hosting packages have plenty of premium features, such as Comodo SSL certificate, hourly backups through Acronis (to safeguard your data), and both Softaculous and Installatron app installers. VentraIP uses LiteSpeed Web Server and CloudLinux OS for fast and stable performance. See more differences between Netregistry and VentraIP below:
| | | |
| --- | --- | --- |
| | Netregistry | VentraIP |
| Hosting Types | Shared, VPS | Shared, reseller, VPS |
| Free Domain | ✘ | ✘ |
| Free SSL Certificate | ✘ | ✔ |
| Disk Space | 20 GB – 200 GB (depending on the plan) | 5 GB – 200 GB (depending on the plan) |
| Bandwidth | 100 GB – Unlimited | 2 TB – Unlimited |
| Automatic Backups | Daily (for VPS only) | Hourly |
| Control Panel | cPanel | cPanel |
| Email Accounts | 50 – Unlimited | Unlimited |
| Free CDN | ✘ | ✘ |
| Free Site Migration | ✘ | ✔ |
| Money-Back Guarantee | ✘ | 45 days |
The winner? VentraIP has more advanced and useful features than Netregistry, especially with its hourly backup feature.
3. Performance
VentraIP Has Slightly Faster Loading Speeds Than Netregistry
VentraIP offers a 99.9% uptime guarantee. However, when I tested it on Uptime Robot, it scored an impressive 100% uptime over 30 days. Meaning there were no downtimes in one month, which is pretty awesome. For more information,
read our full VentraIP review
.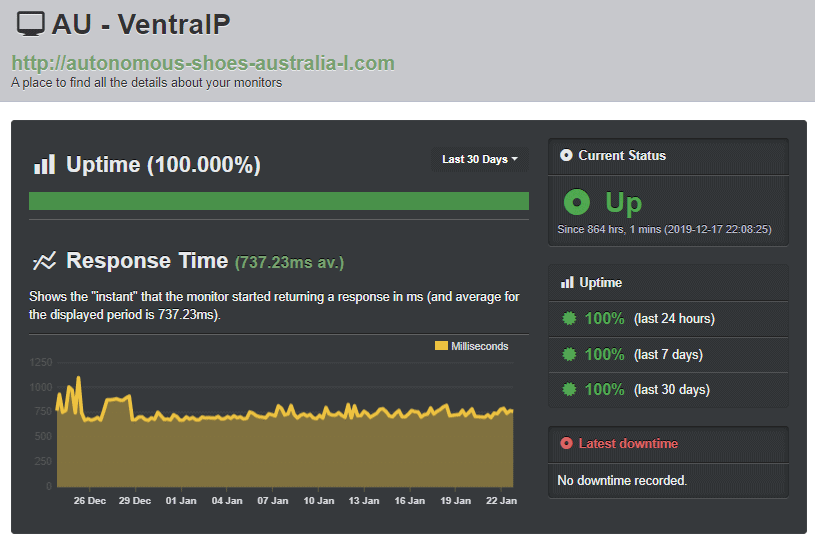 Netregistry also promises a 99.9% uptime guarantee, but it scored an average uptime of 99.98%. This is an excellent score, but still lower than VentraIP.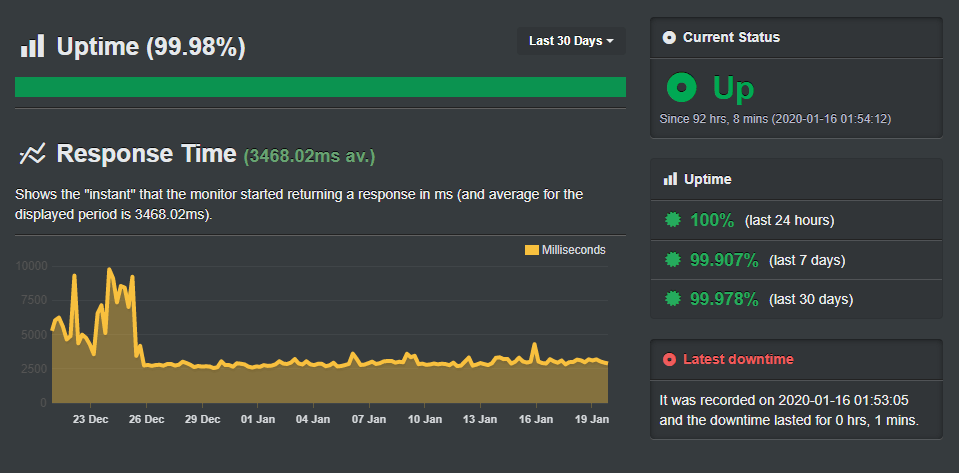 Let's move on to the loading speeds, which depend on several factors, including data center locations, server hardware, and some performance optimizing software such as CDN. Both Netregistry and VentraIP only have data centers in Australia. So if you try accessing the websites from other locations, such as Europe or the U.S.A., it is normal to experience slow loading speeds. For more performance tests,
see our in-depth Netregistry review
. Unlike Netregistry, VentraIP uses SSD storage with all its servers. SSD performs much faster than regular HDD storage to increase page loading speeds and your website's overall performance. On the downside, neither host provides a CDN (Content Delivery Network). A CDN places your website on a global network of servers that boosts your loading speeds. Despite its performance-boosting efforts, when I tested VentraIP's page loading speeds using Securi, I was disappointed when it scored an F. The overall loading times were terrible, as the optimum score should be an A+.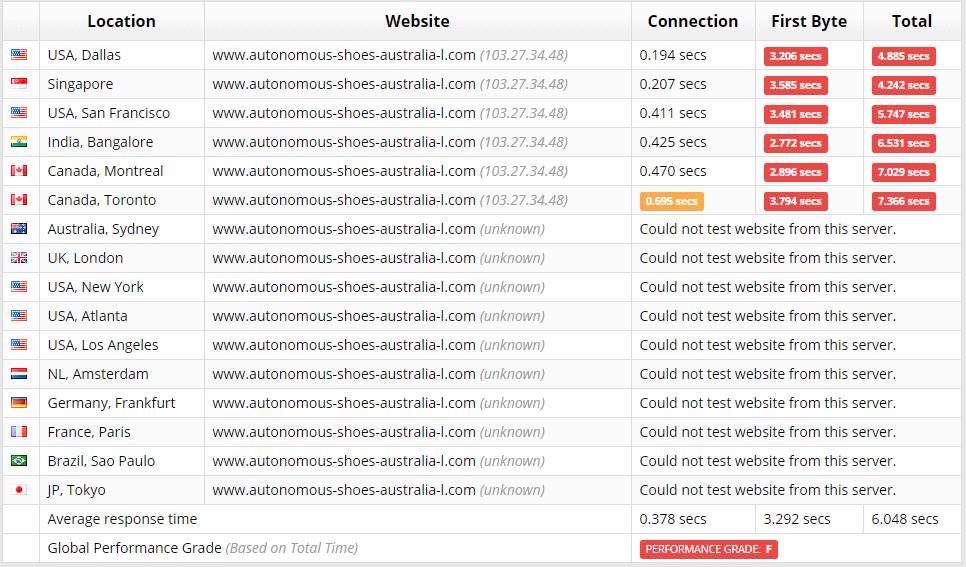 On a slightly brighter note, when I tested VentraIP using GTMetrix, it scored a B at 89%, which isn't bad.

In contrast, when I tried to test the page loading speeds of Netregistry using Securi, I failed to get an accurate score as the servers refused to connect for some unknown reason.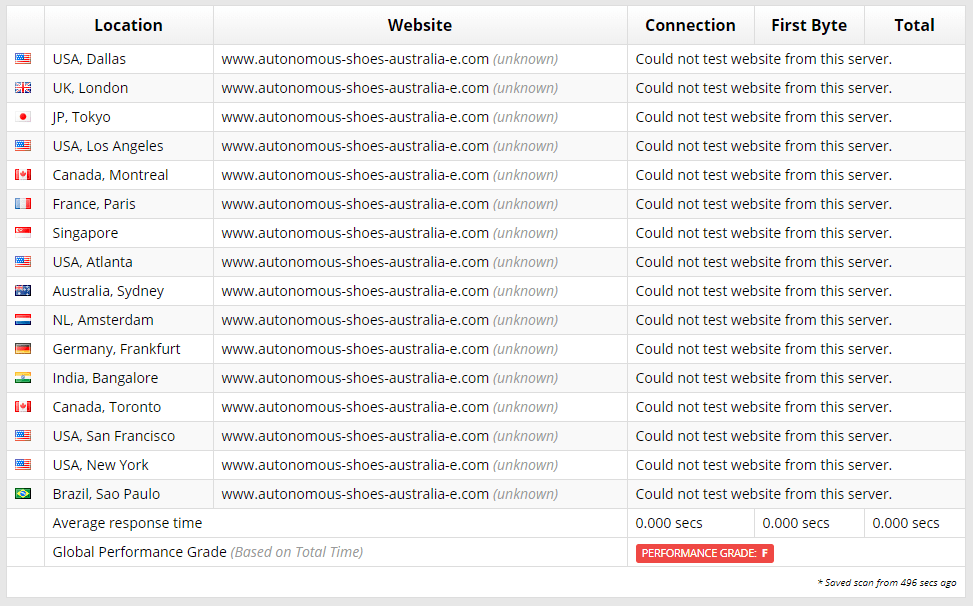 Netregistry scored a D at 67% on GTmetrix, which is even more disappointing and slower than VentraIP. Both vendors proved to have great uptimes, but VentraIP had slightly fewer downtimes. While both hosts had relatively slow loading speeds, VentraIP was marginally faster, making it the better performer overall.
4. Security
Netregistry Isn't as Proactive About Your Website's Security as VentraIP
While VentraIP provides free Comodo SSL certificates with all its plans, SSL certificates are an optional add-on with Netregistry. VentraIP secures its servers and accounts with Corero DDoS protection and Fortinet Hardware Firewall. It also uses SpamExperts to secure emails from spam and viruses as well as preventing email server blacklisting. On the other hand, Netregistry hardly takes any security measures by default. When I sought advice from its support team about this matter, the reply to almost everything was a "do it yourself" approach.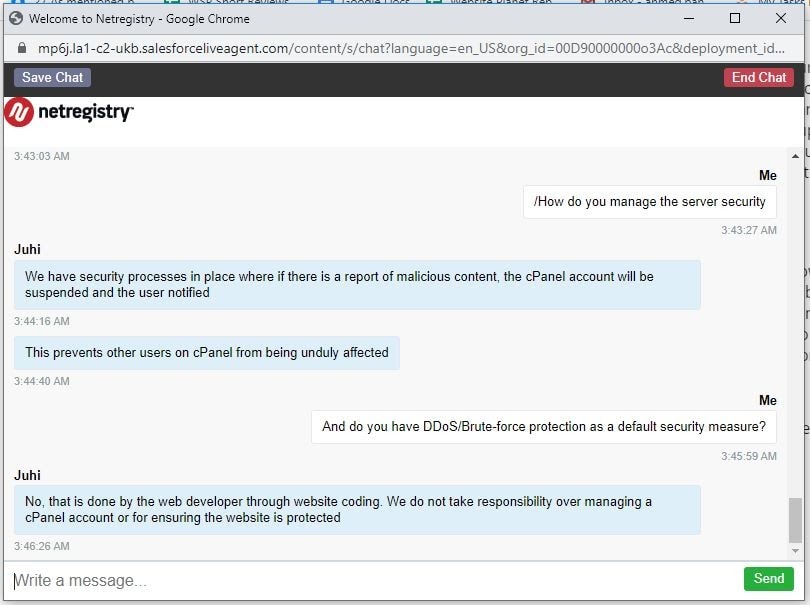 However, Netregistry has a system of automatically detecting malicious attacks and notifying you before suspending its service. The system also detects potential phishing attacks. VentraIP places your website's security at a higher priority than Netregistry with its range of default security measures, making it a more secure vendor.
5. Support
Netregistry Has Slow Support – VentraIP Is More Responsive
Both Netregistry and VentraIP have information-packed websites that include excellent knowledgebase sections. You can contact Netregistry's customer support through live chat or ticket. Both are only available during working hours (8:30 am – 8:30 pm AEST). When I contacted the live chat, I was connected to a representative instantly. It was a long back-and-forth conversation, and the representative wasn't very knowledgeable. Eventually, I was able to get all the information I needed.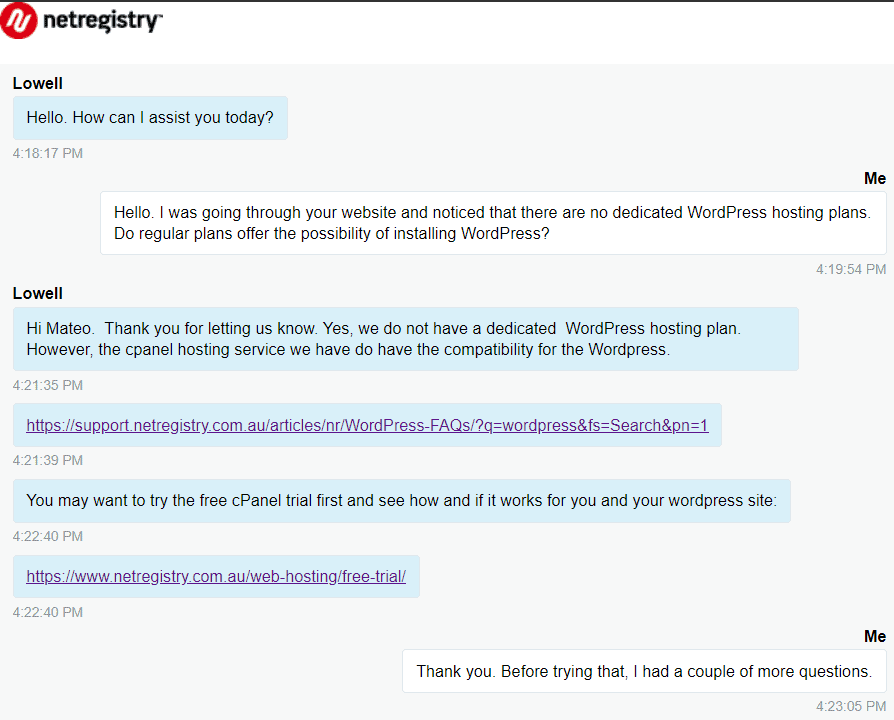 VentraIP offers 24/7 customer support through live chat, phone, email, and support ticket. I personally experienced their assistance by utilizing both the live chat and support ticket options. I got an instant response from the live chat team, and my questions were promptly answered. My ticket's response came a few hours later than I expected, but all my questions were responded to as well.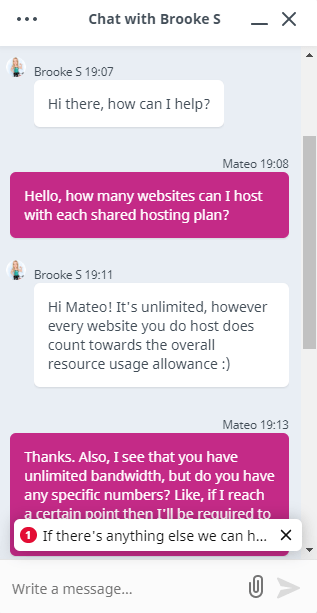 The winner? VentraIP easily wins the support round by providing more responsive and knowledgeable customer support than Netregistry.
VentraIP Is the Winner
Even though Netregistry and VentraIP aren't the best hosting providers or the cheapest, they offer reasonable plans. In saying that, Netregistry has many limitations and doesn't provide the features, security, support, or performance of VentraIP.
See VentraIP's pricing and deals
.
In the end, it all depends on your hosting needs. If Netregistry and VentraIP aren't quite right for you, you should look at
the best web hosting services today.
Plans and Pricing
More expensive than VentraIP. Free trial for one month
Slightly cheaper plans. 45-day money-back guarantee
Key Features
Free website builder and up to unlimited email accounts
Free website migration and unlimited email accounts
Performance
99.9% uptime guarantee, few downtimes, no CDN, slower loading speeds
99.9% uptime guarantee, fewer downtimes, SSD storage, free CDN, slightly faster loading speeds
Security
SSL certificates available as an optional add-on, Malicious content detector, no DDoS protection by default
Free Comodo SSL certificates, Corero DDoS protection, Fortinet Hardware Firewall, SpamExpert
Support
Comprehensive knowledgebase, support available during working hours, live chat, and support ticket, less knowledgeable agents
Comprehensive knowledgebase, 24/7 support via live chat, phone, email, and support ticket, responsive and knowledgeable agents
FAQ
Does Netregistry offer VPS hosting?
Yes. Netregistry offers four managed VPS packages – VPS 1, VPS 2, VPS 4, and VPS 8. All VPS plans come with daily backups and 200 GB SAN storage. RAM varies from 1 GB to 8 GB and from 2 to 4 Xeon CPUs. If you find Netregistry's VPS prices expensive, you should consider these cheap and reliable VPS services instead.
Where is my cPanel on VentraIP?
The easiest way to access your cPanel on VentraIP is through your VIPControl account:
Login to your VIPControl account.
Click on My Services on the top-left of the page, then select Hosting from the menu options.
Finally, click on the cPanel button to access the hosting service you want.
Does Netregistry offer WordPress hosting?
No. Netregistry doesn't offer WordPress hosting packages. However, all cPanel hosting plans come with Installatron one-click application installer which you use to install all popular CMS apps and scripts including WordPress. If you need better managed WordPress hosting, I recommend these WordPress-optimized hosting services.
Does VentraIP use SSD?
Yes. All VentraIP's cPanel hosting and VPS (managed and unmanaged) plans are powered by SSD storage. The cPanel hosting plans come with 5 GB to 25 GB SSD storage, whereas the managed VPS plans include 100 GB to 200 GB SSD web space. VentraIP isn't right for you? Take a look at these fast and cheap SSD hosting services.