Both Namecheap and GoDaddy are
well known for their domain name offerings and affordable web hosting, but that's where the similarities stop
– behind the scenes, they're more different than you can imagine. In my mind, there's no real question as to which web host offers you the best plans and domains. Both give you a lot for your money, but Namecheap is super easy to use. It offers a seamless managed WordPress platform, and comes with an extensive range of features including SSLs on shared plan. Plus, it's even cheaper than GoDaddy. But let's not rule out the competition just yet – GoDaddy has got its benefits and it still puts up a fight in this battle. While
I'd choose one of Namecheap's cheap plans over GoDaddy for hosting,
if you want to see why Namecheap gets my vote, you'll have to keep reading.
Domain Names
Namecheap Offers Freebies That GoDaddy Charges For
Buying a domain name for your new website is exciting, but it can be confusing, too. The same domain name, with the same extension, can vary in price from one registrar to the next – just like you'll find in this Namecheap vs GoDaddy battle.
For example, I searched for the domain name aryehphoenix.xyz on both GoDaddy and Namecheap.
The screenshots below show the different pricing options I encountered for exactly the same domain name.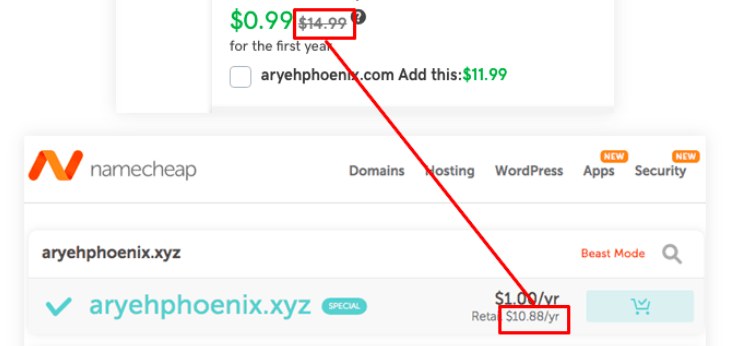 Both Namecheap and GoDaddy offered me the domain at a low starting price, but when you look at the renewal fees, it's a different story, with GoDaddy's prices on renewal around 40% higher than Namecheap.
Both also suggested the domain aryehphoenix.com to me – but again, there's a big difference in the price for this top-level domain (TLD).
GoDaddy's price is 25% more than Namecheap's. The differences don't stop there, either.
With Namecheap, you get free custom nameservers and free WhoisGuard
(to protect your personal information that's otherwise made public when you register a domain name). GoDaddy charges extra for both of these features. Earlier this year, GoDaddy's DNS (Domain Name System) was hacked, which allowed hackers to set up fraudulent subdomains on websites pointing to GoDaddy's nameservers. While the
security breach
was fixed, the fact that it happened in the first place makes me cautious about using GoDaddy for my domains. Namecheap also comes out on top when you look at the domain name interfaces. Namecheap's is a lot clearer and easier to navigate but with nothing unnecessary to get in the way. Its simple and straightforward are no match for GoDaddy's more complex interface.
And the winner is:
Namecheap. It pulls ahead in the first round thanks to domain prices that are lower on renewal and its privacy protection. GoDaddy's prices are significantly more expensive for renewals.
Monthly & Renewal Pricing 
GoDaddy Charges More for Hosting Than Namecheap
It's well-known in the web hosting industry that introductory rates are designed to lure you in with low prices and then hit you with inflated prices when it's time to renew your plan. However,
Namecheap stands out because its prices stay the same when you renew – if you opt to pay monthly
. If you prefer to pay yearly, you
save 50% on your first year of hosting with Namecheap
. In other words, your rate will double after the first year. While that sounds scary, the renewal rate is still a fraction of GoDaddy's. GoDaddy's renewal prices aren't tremendously higher than the introductory rate – you'll pay around 25% more when you renew your GoDaddy plan. This is much lower than some hosting companies, but still a significant extra chunk of money.
Unfortunately, GoDaddy requires you to sign up for three years for the best price.
Signing up for one year will increase your monthly price by around 17%, and if you opt for paying for just three months upfront, the monthly breakdown cost is almost doubled. Ultimately,
GoDaddy's monthly plans
cost over 3x more than
Namecheap's monthly plans
.
And the winner is:
Namecheap. Not only is Namecheap cheaper for hosting than GoDaddy, you can also pay monthly without hugely inflated prices.
Features
A Free Domain Name or More Storage – Which Feature Is More Important for Your Website?
Comparing hosting plans can get complicated, so I've put all the details you need in an at-a-glance table so you can see which host offers the features you absolutely can't do without.
| | | |
| --- | --- | --- |
| Feature | Namecheap | GoDaddy |
| Storage Space | 20 GB, 50 GB, or unlimited, depending on the plan | 100 GB to unlimited, depending on the plan |
| Money-Back Guarantee | 30 days | 30 days |
| Free Domain Name | Yes, a .website domain for one year; all other extensions have a fee | Yes, for one year, with annual plan |
| Automatic Backups | Yes, twice weekly on all plans, plus the AutoBackup tool on all plans except the most basic | No, backups are only available as an add-on or with GoDaddy WordPress hosting |
| Free SSL Certificate | Yes, up to 50 free SSL certificates | Only on Ultimate plan and above |
| Bandwidth | Unmetered | Unmetered |
| Free Site Migration | Yes | No |
| Email Accounts | 30 to unlimited, depending on your plan | One free Microsoft 365 account for one year |
| One-Click Application Install | Yes | Yes |
And the winner is:
Namecheap. If having less storage space isn't a problem for you (the storage space you get on the cheaper plans will be more than enough for most users), then Namecheap quite simply gives you more. You get SSL certificates no matter what plan you're on, there's
free website migration
, and you have more email accounts, too. However, if you're going to need a large amount of storage space, GoDaddy might be the better solution for you. Find out more in our
in-depth GoDaddy review
.
Performance
How Much Downtime Should You Expect?
Namecheap claims it has a 100% uptime guarantee on its sales pages, but when you check out the SLA (service-level agreement), it turns out that it's actually just a standard 99.9% uptime guarantee.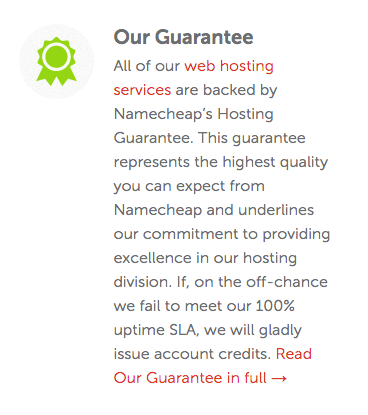 This isn't a surprise, but it is misleading. Besides, the actual uptime record for Namecheap isn't the best. Our lab regularly checks the numbers and
Namecheap's uptime has fallen significantly below 99.9% in recent months
, and although you will get credits for the downtime, you have to consider the impact it could have, especially if you use your
website for business purposes
. GoDaddy also has a standard 99.9% uptime guarantee. Unlike Namecheap, however, GoDaddy has a
more impressive uptime record
, with no instances of uptime dropping below 99.9%. In one recent month, for example,
GoDaddy's uptime was a mediocre 99.94%, equating to around 26 minutes of downtime
over the month. By comparison, Namecheap's 99.81% uptime record for the same time period equals 82 minutes of downtime – almost 4x more downtime as GoDaddy.
And the winner is:
GoDaddy! It finally takes a round! Namecheap's less-than-impressive uptime record is a disappointment, and GoDaddy is more reliable overall.
Support
Namecheap's Support Is Available 24/7 – GoDaddy Has Limitations
Customer support might not be the most important factor when it comes to web hosting, but you do want to be able to get help when you need it, especially if you're new to building websites.
GoDaddy claims to have 24/7 customer support, but this is a bit misleading.
It doesn't offer ticket support at all, and chat support is only available Monday through Friday. Phone support is available 24/7 in many countries, but some countries only offer support during specific hours. For example, support in Germany is only available 8 a.m. to 8 p.m. Monday through Friday. You have to check the Global Support page to find out the hours for your country.
Not only is support limited to certain hours, but the waiting times are simply awful.
You don't have to look very hard to find customer experiences where people have had to wait over 75 minutes to connect to an agent via live chat. I wanted to see for myself how long it takes on a regular day, during the stated hours, to connect to live chat support. However, when I tried to connect, I got this message:

It appears that not only is GoDaddy's live chat support limited in its hours, but it's not always available when you'd expect it to be. Namecheap's support is better.
There's 24/7 live chat support, for example, meaning you can quickly and easily get in touch with a support agent.
You can also use the ticketing system. When I tested the live chat, I was relieved to be connected quickly – within 48 seconds!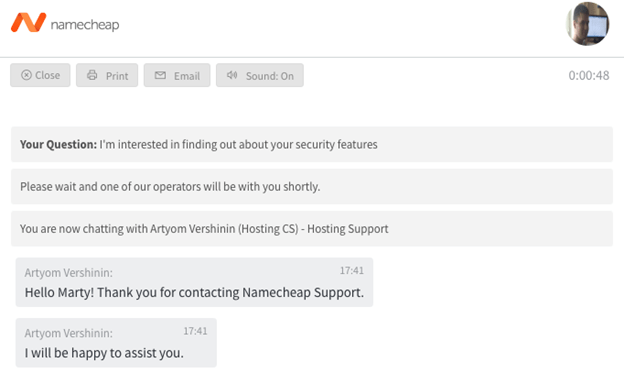 The support agent I chatted with was quickly able to answer my questions, and I didn't have to wait for responses, which is often the case with live chat for web hosting.
And the winner is:
Namecheap
.
With fast live chat responses and 24/7 customer support no matter where in the world you are, Namecheap is light years ahead of GoDaddy. See what our expert thought of their online support in our
in-depth review of Namecheap
.
Namecheap Is Better for Domains and Hosting
Namecheap is the clear winner here, because even though GoDaddy has a slightly better uptime record, you're better off with Namecheap for its customer support, range of features available and its excellent pricing.
Our Recommendations
If you're looking for cheap domain names that will renew at reasonable rates, choose Namecheap. It's easier to manage your domain names with Namecheap, too.  Free backups and SSL certificates make it better value than GoDaddy.
GoDaddy's plans may offer more storage, but it's way more than most users will ever need, so you're better off with Namecheap for its service and support. And don't forget that if you do really need the extra storage, you can upgrade and get 'unlimited storage' on Namecheap's premium plans.
Domains
Cheaper prices for renewals and you get WHOIS protection
Rates are much higher when it's time to renew
Pricing
You can pay monthly without hugely inflated prices
To get the best prices, you need to pay up front for three years
Hosting Features
Free backups and SSL certificates
Unlimited storage on most plans – and a free Office 365 email address for a year
Uptime
Some uptime issues, missing its 99.9% SLA on several occasions
Uptime isn't outstanding, but it does meet its 99.9% uptime guarantee
Customer Support
24/7 live chat support gives you quick access to the help you need
Support is only 24/7 by phone in some countries, and with live chat, you should expect long waiting times and times when live chat is offline