GoDaddy is no longer the best option
. The modern hosting market is filled with innovative companies that keep pushing the limits, and there's really no reason for you to lag behind. Sadly, there are quite a few areas where GoDaddy has let itself go. It claims to offer "award-winning" 24/7 support, but any of their customers can tell you how the chat tends to be unavailable. In my attempts to contact support, I experienced exactly that. Prices are another problem, with
shared hosting services costing several times more than what GoDaddy's competitors offer
. Factor in the lack of common features and the number of upsells, and the conclusion is quite simple. It's time to look for alternatives to GoDaddy. Worry not, as I've scoured the internets for you. Some of the providers on my list are better for beginners, while others are a match made in heaven for you heavyweights.
The important part is that they will all improve your hosting experience—and probably save you money, too
.
In a hurry? Here are our top picks for GoDaddy alternatives in 2023:
Hostinger – Bargain-priced hosting that still delivers great performance across the board.
SiteGround – Packed with extra features to boost your website's speed worldwide.
What We Look For in the Best Alternatives to GoDaddy
All of the GoDaddy alternatives I lined up here will provide you with more value in the following areas:
Powerful extra features – GoDaddy provides a basic package that's good for basic websites. Great websites require performance-boosting features, security suites, backup services, and more. With the following hosts, you'll simply get more for less.
Included SSL – SSL certificates haven't been optional for a long time, as Google ranks websites with an SSL higher. Instead of selling you the SSL for an additional price, like GoDaddy does, most of these hosts include it for free.
Available, professional support – It's nice that GoDaddy promises to be available, but I'm looking for support that actually will be. Not only that, I want them to be pros. Real pros who know the ins and outs of hosting and can actually help you.
Better-priced plans – The bottom line matters, and GoDaddy's pricing just doesn't cut it. Better value for money is the name of the game here.
All right, let's begin.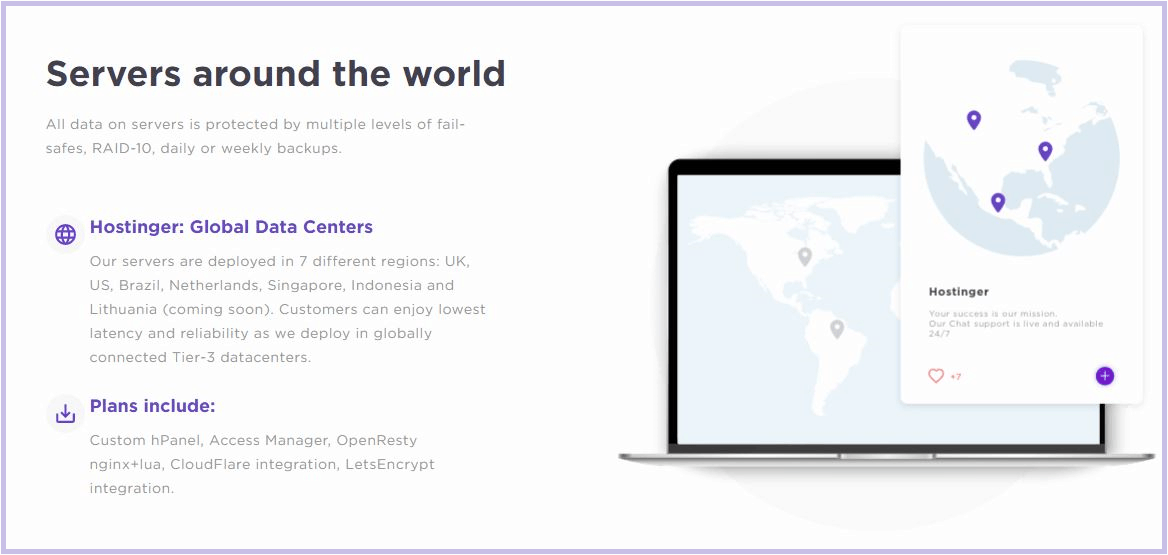 Hostinger serves nearly 30 million customers, and has not one, but two aces up its sleeve: price and support. A quick visit to
the company's homepage
, and you'll probably find yourself in a state of disbelief. Signing up for the bi-yearly plan can net you a monthly price that is
up to six times cheaper than GoDaddy's
. The best part is, the hosting is consistently reliable—with over 99.9% uptime and great page-loading speeds. It's easy to see why Hostinger gets such
great reviews
.
With regards to support, Hostinger puts GoDaddy to shame
. Live chat support will answer you in minutes, if not seconds, 24/7/365. The agents have been properly trained and can help you with anything from connecting your domain to optimizing WordPress. One caveat is the lack of SSL certificates in the basic plans. They have to be purchased separately, but the total will still be less compared to GoDaddy.
Hosting prices — They're low to begin with, but can go under a buck a month during sales.
Free domain names — Available with Premium and Business plans, when signing up for a year or more.
Support — Knowledgeable and readily available, a far cry from GoDaddy's "Chat Support is currently offline."
Generous disk space and bandwidth — Starting from the most basic plan.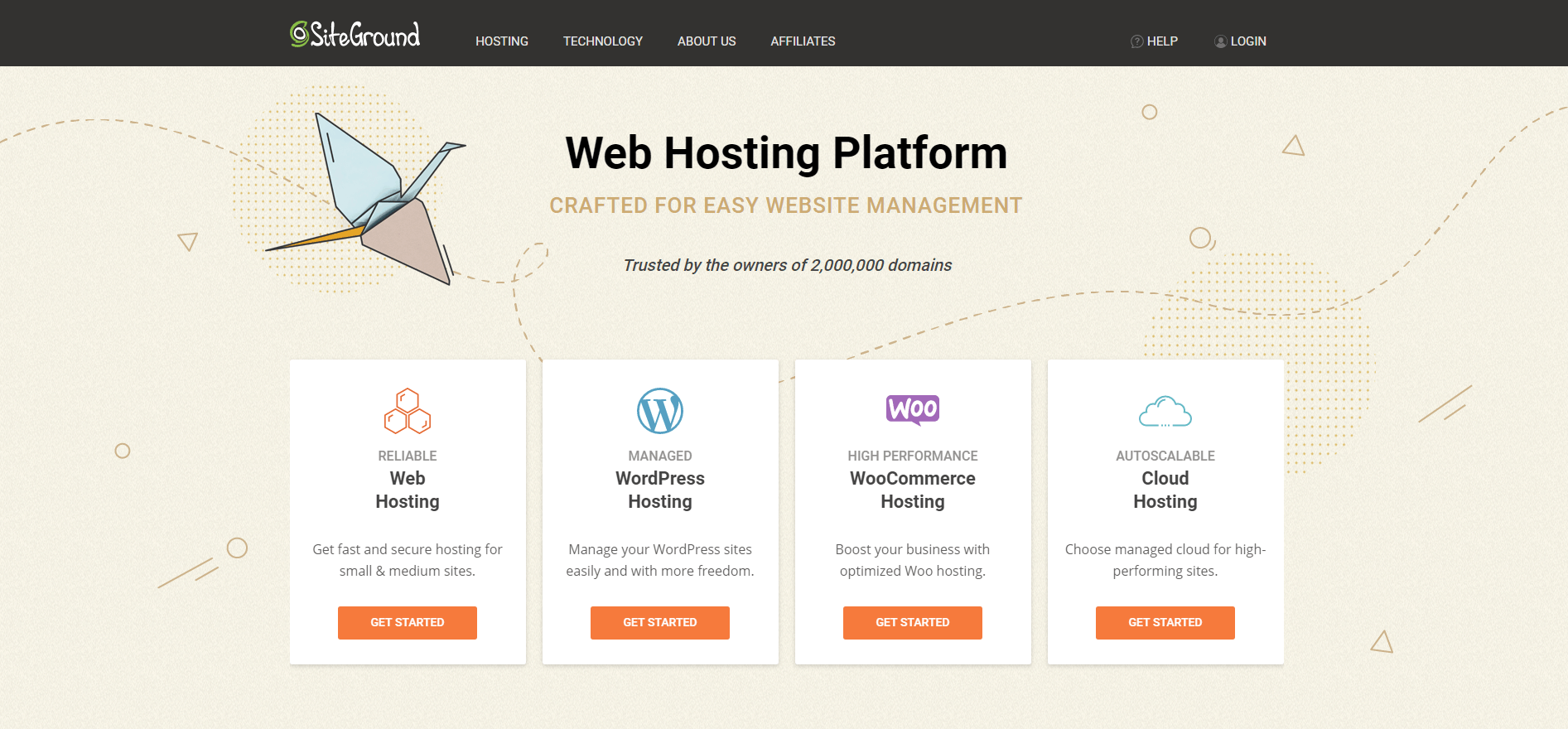 SiteGround is one of the first choices for anybody looking for quality hosting, from beginner to serious developer.
Reviewers certainly love it.
 Prices might seem a bit high at first sight, but it's important to understand what the plans contain. Even the basic SiteGround plan, StartUp, comes with an
SSL certificate, free daily backups, and ready-to-go integration with a Cloudflare content delivery network (CDN)
. The CDN is my personal favorite, as it really puts your website on the global map.
With a CDN, the location of your visitors becomes a non-issue
, as your website is hosted on many intermediate servers. If your audience is all over the world, this feature will ensure they can all load your website fast.
Free SSL certificates — A cinch to install and configure. Just point and click, and your website will be padlocked.
Free daily backups — In case anything ever goes wrong (it still does for me, sometimes), just restore from yesterday's backup.
Cloudflare CDN — Rarely included with basic plans, this service will really let you serve a worldwide audience.
Website migration — Whether by using the automatic tool or asking SiteGround's support for help, your GoDaddy website can move to a better home in no time.

A2 Hosting isn't defined by some killer feature;
the service is simply superior to GoDaddy's
. Reminiscent of GoDaddy's early days, A2 really understands the needs of its customers. The company offers various hosting solutions, from shared to reseller.
Reseller plans are significantly cheaper than GoDaddy's prices
, and there's no competition in terms of speed, uptime, and the level of support. If you're looking for a new and improved version of GoDaddy, go with A2.
Most reviewers agree.
99.9% uptime guarantee and fast loading speeds — To keep your visitors happy and give you peace of mind.
24/7/365 support — Prompt and highly professional, these guys will help you set up your website and solve any issue you might encounter.
Plan value — Compared to GoDaddy, plans are cheaper and with better specifications.
Unlimited resources — Unlimited disk space and bandwidth, even on the basic Lite plan.

A household name in households that appreciate good hosting, InMotion Hosting is one of the last privately owned big companies in the market. Why does it matter? Because, sadly, getting purchased by a big corporation tends to have a negative effect on quality. InMotion is still run by the team that started the company almost 20 years ago, and it shows.
Support is personal and attentive, plans have been customized to fit today's needs, and performance is guaranteed
.
For U.S.-based customers, this one is a no-brainer
. Data centers on both coasts and American support representatives are hard to come by these days. For worldwide customers, I do recommend finding a company with a data center near you.
Free SSL certificates — Included with all plans.
BoldGrid builder — A proprietary drag-and-drop builder for WordPress that allows for great customization. I was very happy with my results.
Free domain — With the 12- and 24-month plans.
SSD hosting — High-quality hardware in state-of-the-art data centers is the key to good hosting.
If you'd like to know more about InMotion Hosting,
read our expert review.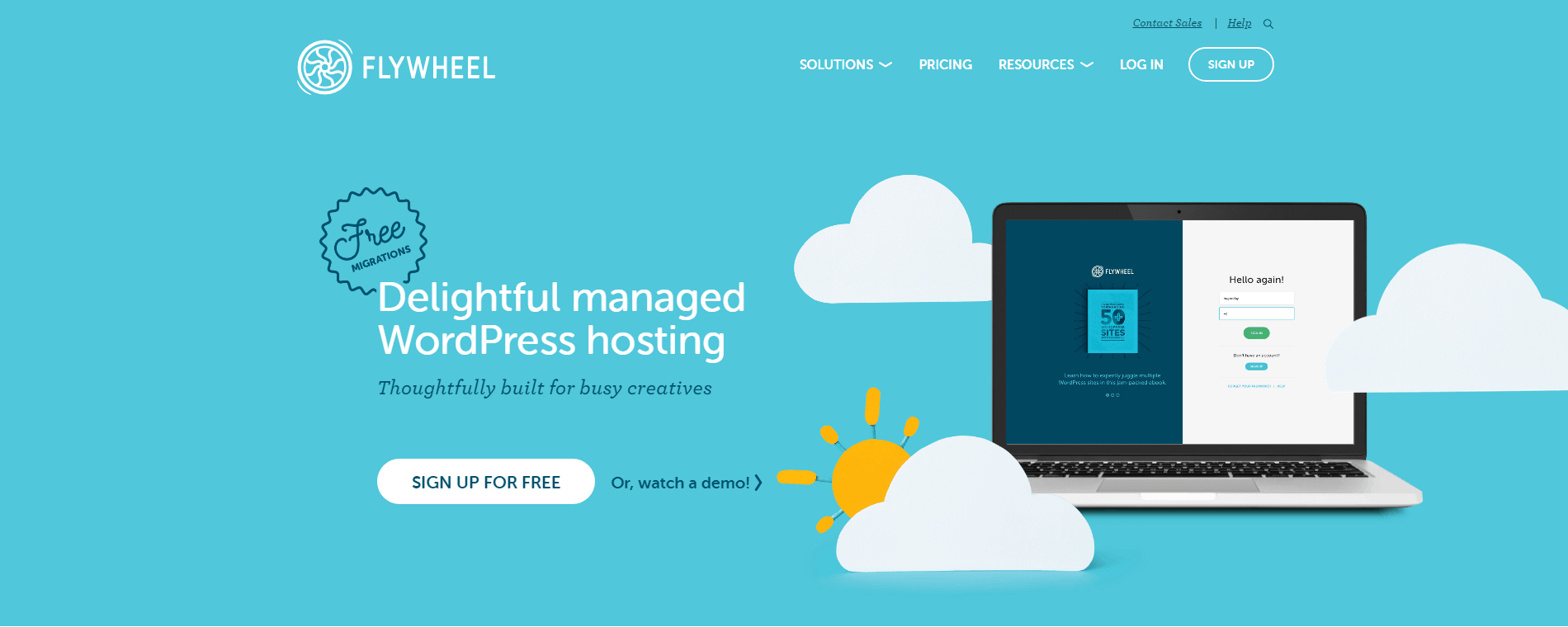 Flywheel is a bit different from the other hosts on this list. The company focuses on providing an all-in-one hosting service and puts a lot of emphasis on ease of use.
From caching plugins and restore points to a CDN and team workflow tools, Flywheel's plans are perfect for managing your online business
. No need to pick and choose services from different providers.
Domain names are the one exception, and you will need to purchase them from a separate vendor
. Luckily, Flywheel will go to great lengths to help you connect yours with the hosting. Plans are more expensive than the other hosts on this list, and it's important that you go over the feature list before signing up. Depending on how many of the tools you find useful, Flywheel will either be a fantastic investment or an unnecessary expense.
Find out what our expert reviewer thinks.
Blueprints — Quickly build a website using one of Flywheel's blueprints. This allows for speedy deployment of new projects and temporary pages.
Google Cloud infrastructure — Websites hosted with Flywheel are delivered through Google Cloud, and resources can be scaled according to need.
Unique hosting panel — Instead of cPanel, Flywheel uses a specially developed dashboard. In my opinion, beginners will find it much easier to manage.
Freelancer platform — Website developers can use Flywheel to create websites and easily transfer them to clients.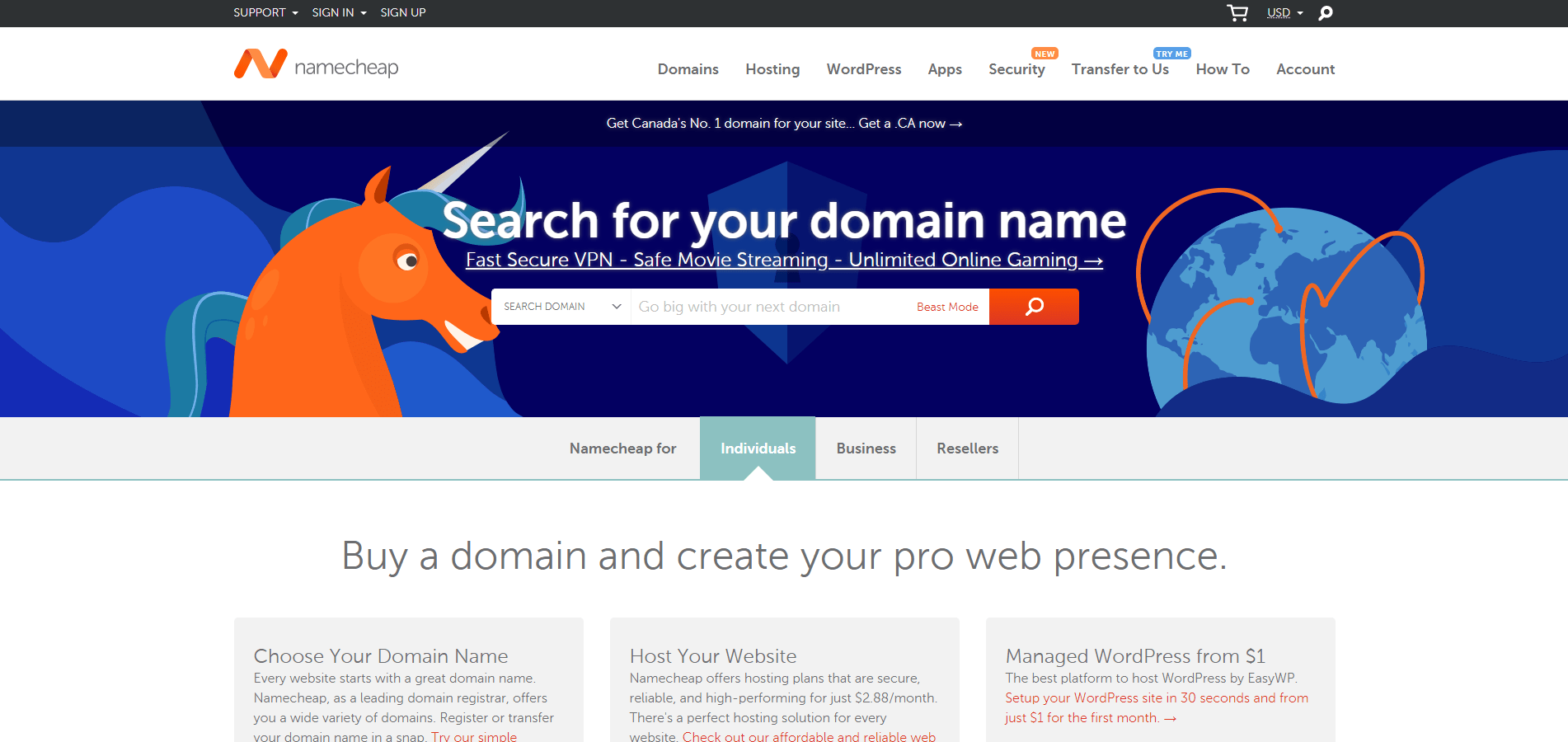 GoDaddy is a popular choice for hosting websites, but it made its name on selling domains. It's still the biggest domain registrar in the world, but here, too, the competition has become stiff. Why should you buy a domain from a specialized vendor like Namecheap, and not just get a domain with your hosting provider? Easy. You might want to change hosting in the future, but you'll always want to keep your domain. If you're ready to purchase your domain separately, Namecheap should be first on your list. It provides
the cheapest domain names on the market (I checked), and even adds a WhoisGuard subscription for free
.
Great prices — Cheapest domain names on the market.
WhoisGuard protection — Included with all domains. Without WhoisGuard, anyone can run a Whois search on your domain and get your registration details, including full name and address. WhoisGuard makes that information private.
Easy-to-use management platform — Just log in, choose your domain, and easily update the nameservers with your web host's.
Hosting services — The company also provides hosting solutions, and they might actually be on par with GoDaddy's. My recommendation is to stick with domain names, though.
To learn more about Namecheap,
read our in-depth review.
It's Time to Move On from GoDaddy
To me, GoDaddy's website cost is the real deal-breaker.
When it's possible to get more and pay less, why would anyone stick with GoDaddy
? Whether you're looking to host a website, purchase a domain name, or start a reseller business, the market presents many excellent choices. In addition, most of these choices provide an impressively simple method for moving an existing website to their platform. Which one should you choose? That depends mostly on your own needs.
Hostinger
 really does provide a fantastic service at a ridiculous price, but for power and features,
I'd personally go with SiteGround
. One recommendation that I will give is that you
purchase your domain name from Namecheap
. It's the exact same domain, only cheaper. The following table can help in comparing the vendors:
Domain Name
SSL Included
Reseller Plans
Extra Features
Starting Price
Hostinger
Can be purchased; free for one year on annual Premium and Business plans
On Business plan

✘

Website builder

$

1.99

SiteGround
Can be purchased
On all plans

✔

CDN (Cloudflare), daily backups, website builder, free migration and migration tool

$

2.99

A2 Hosting
Can be purchased
On all plans

✔

Unlimited resources, free migration

$

2.99

InMotion Hosting
Can be purchased; free for one year on any 12- or 24-month plan
On all plans

✔

Website security suite, backups, unlimited resources, BoldGrid builder

$

3.29

Flywheel
Not available
On all plans

✔

Caching, CDN (Fastly), backups, staging environments, free migration

$

13.00

Namecheap
Can be purchased for very cheap; free for one year with all plans
On all plans

✔

WhoisGuard included with all domains

$

1.88