WordPress is one of the most popular platforms for hosting websites, thanks to its ease of use and flexibility, but it is also one of the most popular targets for cybercriminals. WordPress sites get thousands of attempted attacks every day from hackers who want to bring down your site, along with many others. Sometimes, more "natural" causes – such as a sudden surge in traffic to your site or issues at your hosting company – can also bring down your website. For these reasons (and others) it is crucial to be alerted anytime your website or server goes down and is suddenly unavailable to visitors.
Why Does Downtime Mean?
Simply put, uptime is all the time when your website is accessible and working properly. Downtime is the opposite – when visitors to your site can't get to some or all of the areas they want to visit. Not surprisingly, uptime is what you want. When your site is down, no one can access it. That means that you could be losing money on the sales you can't make or losing readers who are frustrated that they can't access your content. Search engines also penalize websites that have too much downtime, costing you valuable SEO points. Both money and your online reputation are at stake.
Why Monitor Your WordPress Uptime and Downtime?
There are multiple reasons why your site or parts of your site could go down. You might be the subject of a DDoS attack, someone could hack into your site to post unauthorized content. With so many potential causes for your site to go down and so many web pages, it's impossible for anyone to check a website manually. If your site goes down, you may not be aware of it until you get complaints from angry visitors or happen to visit it yourself. The longer your site is down before you fix it, the more visitors will decide not to return, and the greater your chances of losing SEO points. A website health monitor for your WordPress site is what keeps you on top of your site's status and notifies you if any of these events occur so that you can fix them before anyone else notices.
7 Ways to Monitor Your WordPress Site
To monitor your WordPress site, you basically have two options – you can use a WordPress plugin, or you can use an external monitoring tool.
WordPress Monitoring Plugins
WordPress plugins are created specifically for WordPress websites. Here are my recommendations for reliable WordPress plugins for monitoring your site's uptime.
Jetpack is a multi-purpose, free plugin that was developed and is supported by the creators of WordPress. It offers many components to improve the functionality and management of your WordPress site, including monitoring your website. You'll need to go to the plugin's Settings to set the configurations and enter your email address to receive notifications about your site's uptime and downtime, speed, security status, and visitor metrics. Unfortunately, you can only receive alerts by email – there is currently no option for SMS notifications.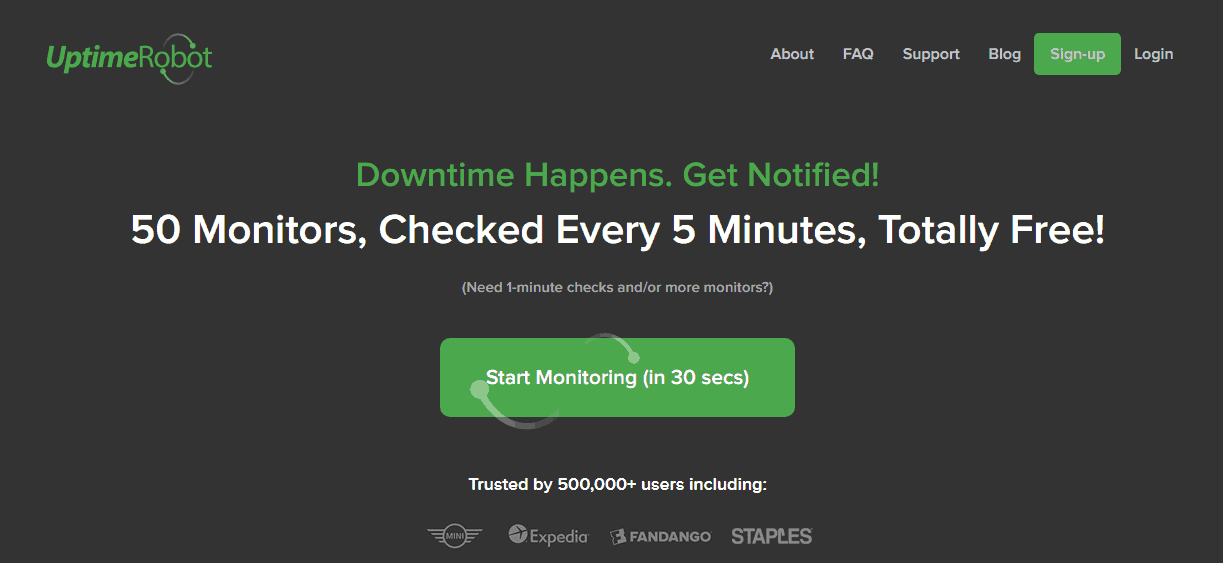 To use Uptime Robot, you'll need to install the plugin, activate it, and configure the API to connect it to your website. Once you're set up, you'll get alerts through Twitter, SMS, and push notifications that show statistics from multiple places on your site. You can view metrics from any page or widget, or go to the central dashboard. Uptime Robot is free for the basic version, but to monitor more sites, receive SMS alerts, or change the monitoring frequency, you'll need to upgrade to the premium paid version.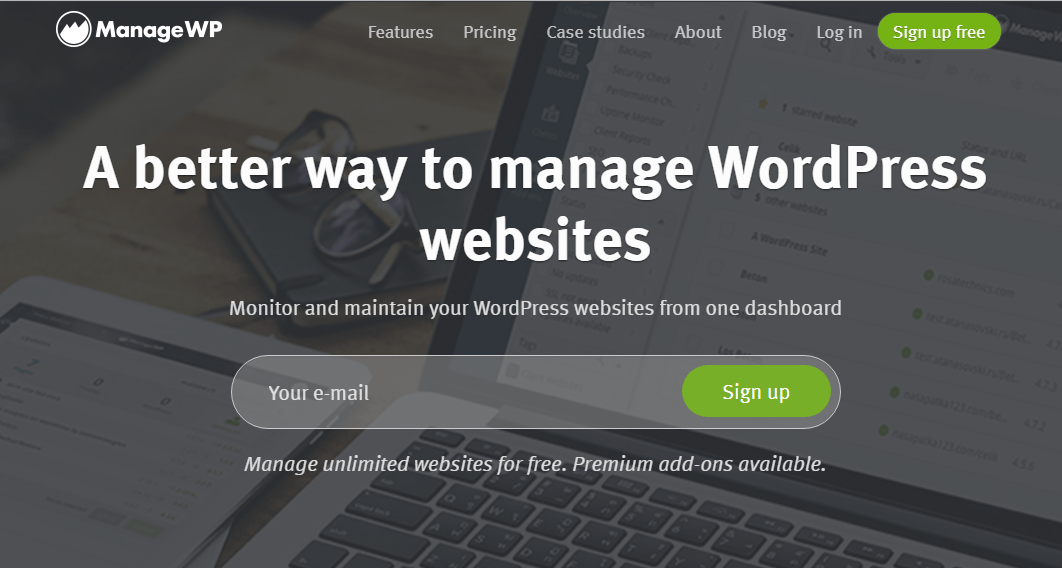 ManageWP is another multi-purpose plugin for WordPress management that includes site monitoring. You can track uptime and downtime, monitor your site performance, and check for security as well as running automatic backups through the plugin. ManageWP lets you track multiple sites on their dashboard, but you have to pay for the premium business plugin in order to receive alerts through email or SMS.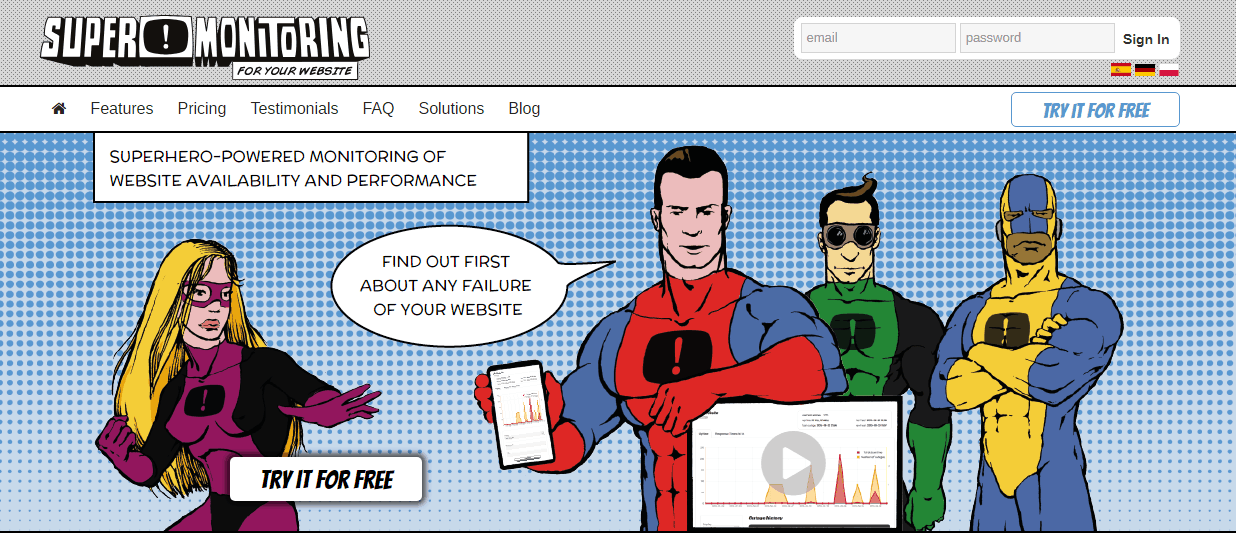 Super Monitoring is a very powerful and effective WordPress monitoring plugin. However, the plugin is really only an interface to the external Super Monitor tool, that is integrated into the WordPress dashboard. You can choose from many monitoring intervals including every minute. You can also check performance and Google analytics, as well as downtime from within the plugin, and view your site's health from multiple locations. However, there's no free version (there is a free trial), and you'll have to pay an extra fee for SMS alerts.
External Monitoring Tools
External testers are created to suit many different hosts. They don't use up any of your website's memory space, and you can use the same monitoring tool for multiple websites, including those, which aren't hosted on WordPress. We recommend these external testing tools for your WordPress account.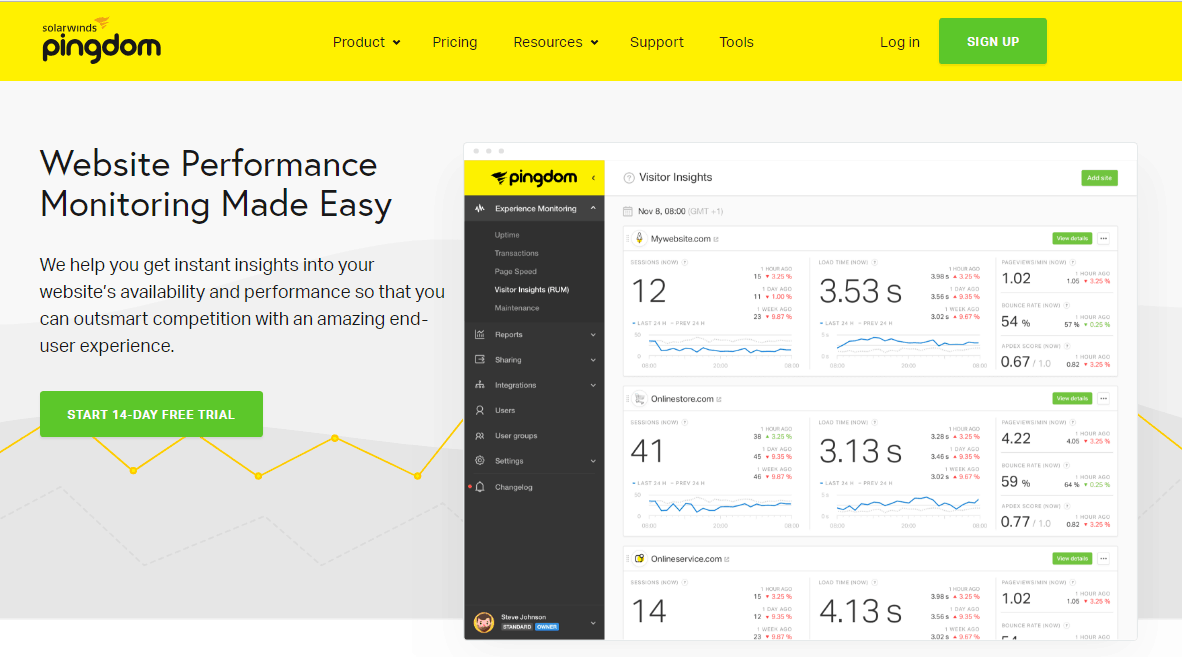 Pingdom, a widely favored website monitoring service, employs servers positioned globally to consistently assess your site's status and oversee its condition from numerous locations. Pingdom has some impressive premium features like double-checking faults before sending an alert, root cause analysis to reveal the cause of the issue so that you can fix it faster, and tracking load time on a page-by-page basis, but you'll have to pay well for this level of service. You can access data and dashboard through the website or the app, but SMS alerts are a premium feature.

Site 24×7 is a flexible monitoring service that can track mobile apps, mobile websites, and all types of servers, as well as your WordPress, hosted site. Like Pingdom, it uses servers in dozens of global locations to check real-time end user experience around the world, but it adds checks on internal networks, server-side monitoring, DNS server, FTP uploading and downloading, and other services. Not all of these are included in the free version. Site 24×7's free plan covers 5 websites, and you'll need to upgrade to the premium plan for more sites. You can view uptime results on the dashboard or receive alerts through email, Twitter, SMS, or RSS.