Keep reading to find out how you can hire a logo designer for only $5!
---
9 Best Modern Logo Designs
My colleague tested and ranked the most popular logo design services on the market. Head over to his
expert logo design services review
 to see how they performed, and which service created our new Website Planet logo.
How to Get a Pro Logo for $5
If you're looking for a professional designer, you've probably run across some exorbitant pricing. Graphic designers can be incredibly expensive to hire and on the odd occasion that you stumble on a cheaper designer, the worry is that they will produce sub-par work. That's why I'm so excited to share my logo-design solution: Fiverr. Fiverr is a freelancing platform where creatives can offer their services with packages beginning at only $5! This includes thousands of skilled logo designers from all over the world. These experienced graphic designers specialize in all sorts of styles, so you're sure to find one that suits your needs.
Head to the Fiverr homepage
and type "modern logo" into the search bar to begin your designer hunt. You don't need to create a profile until you're ready to hire, so you can search completely commitment-free. Scroll through the results until you see a design that piques your interest. Click on it to find out more information.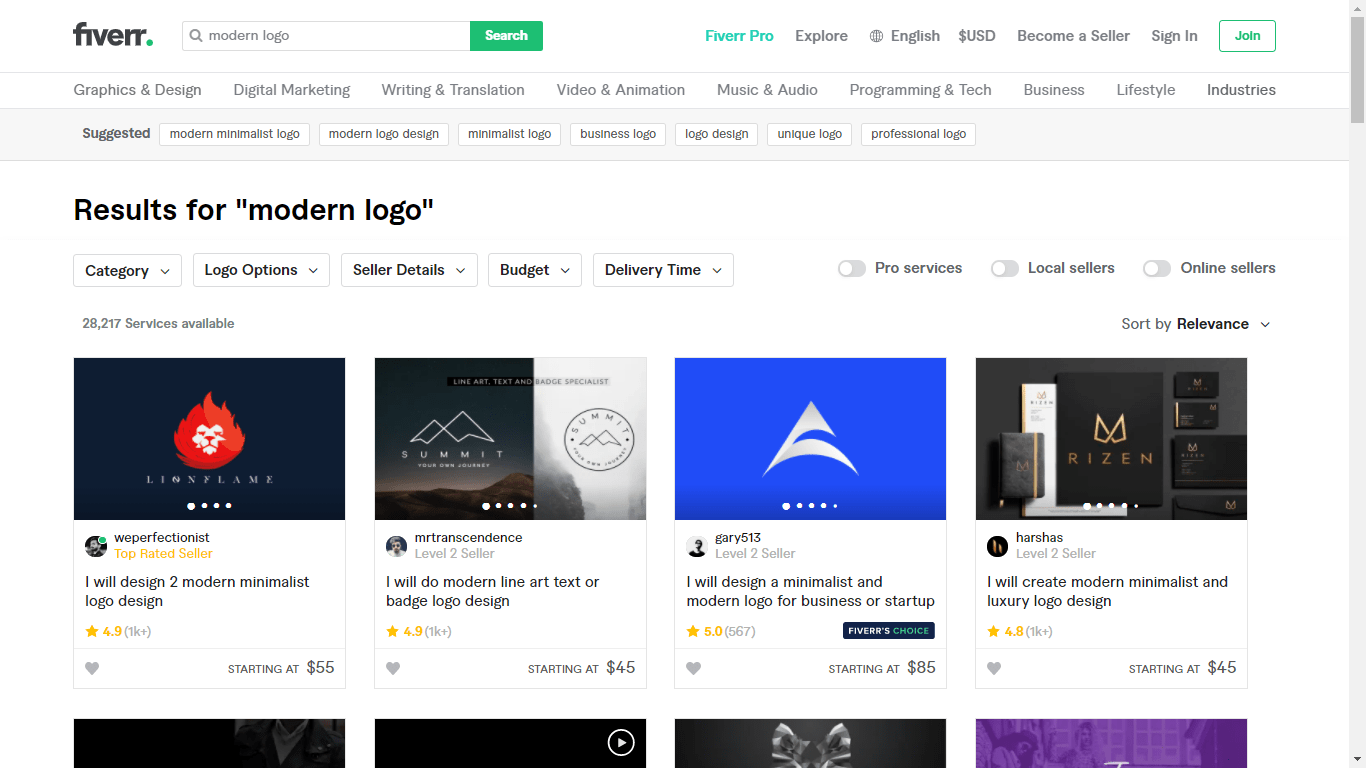 This will open up the full view for that specific gig and designer. You'll see their package pricing for Basic, Standard, and Premium packages and the services they offer in each. Their customer reviews and portfolio are also here for easy viewing. Still have unanswered questions? Hit
Contact Seller
to reach out to the designer directly.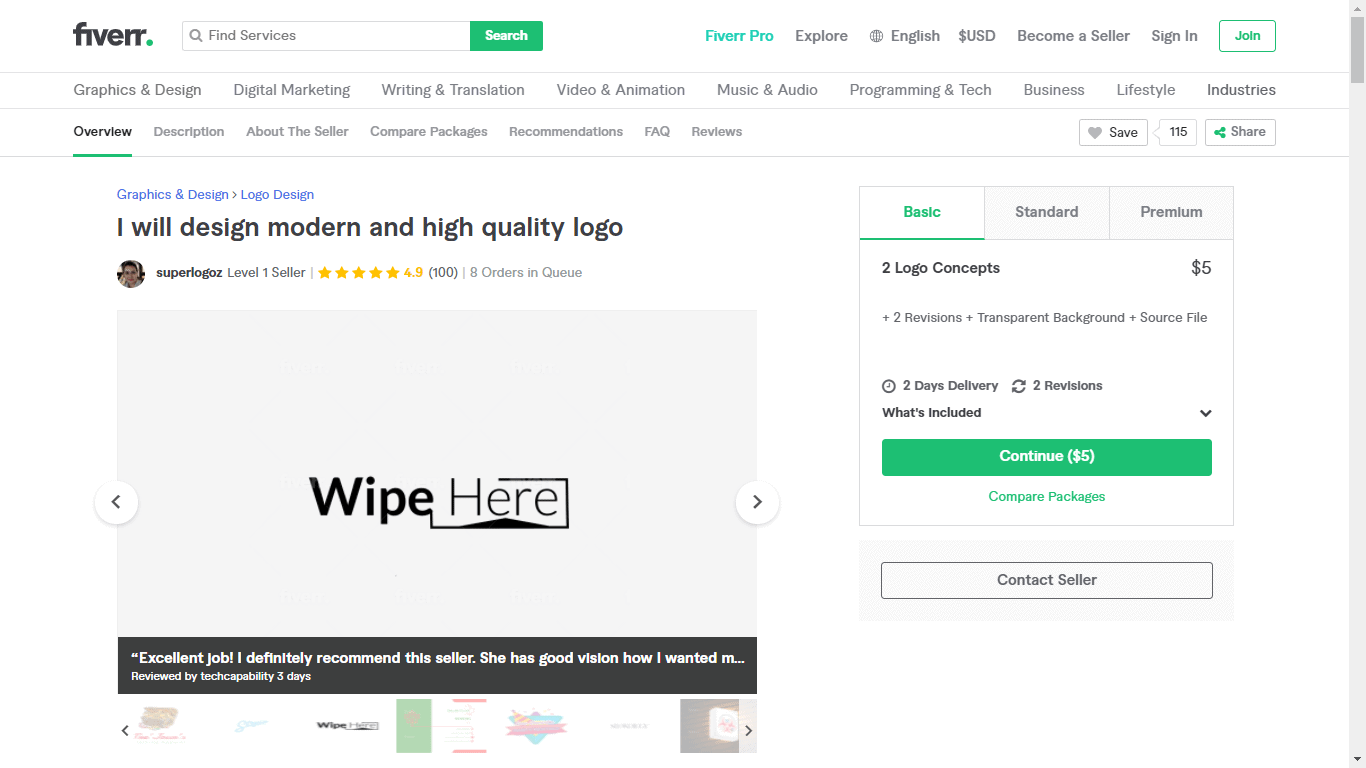 When you're ready to book, the
 Continue
 button will take you to the payment preview page. Here, the final cost of your chosen package is displayed, along with a listing of its services. If everything is covered and you're ready to pay, click
Continue to Checkout
to enter your details and finalize the hiring process.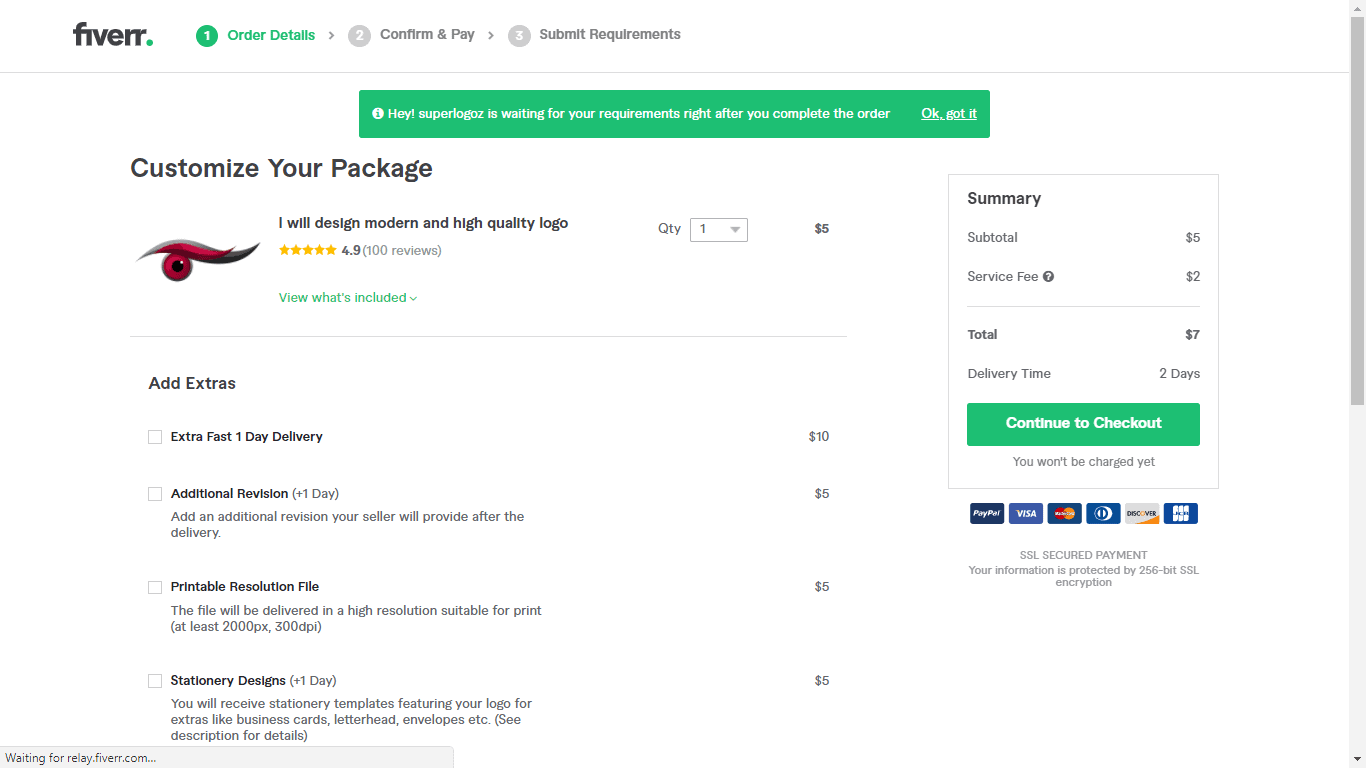 Lastly, you just need to fill out a short questionnaire with your logo requirements for the designer and they'll be in contact. Once they've confirmed your requirements, your new modern logo design will be delivered to you in just a few days! Here are a few other notable Fiverr perks:
Fiverr Pro – If you've got a more flexible budget, you can consider hiring a Fiverr Pro designer. These designers are assessed by Fiverr employees and are certified as having excellent design skills.
Customizable packages – Some designers offer package add-ons like 3D mockups and printable resolution files for an extra fee. You can select these right before checkout.
Helpful designer filters – If you need to narrow down your search results, you can use filters such as logo style, budget, and delivery time.
No surprise fees – Your designer can never add extra fees or overcharge you once they've been hired. So you can shop with peace of mind.
Interested in finding a freelancer? Check out our
full Fiverr review
for more tips on hiring designers.
How to Create Your Own Logo
Making your own logo is a task that shouldn't be taken lightly. If you use the wrong tools or don't have an artistic eye, you may end up with a finished product that looks amateur. If you have the skills and the time to design your own modern logo, then using a logo maker is the easiest way. My #1 recommendation is always Wix Logo Maker. This logo-making tool uses an intuitive AI to make the process foolproof. All you have to do is answer a series of questions, then the AI uses this information to generate logo suggestions for you. To get started,
head to the Wix Logo Maker homepage
. You'll need to create a profile to use the free service and your logo (and any others you may make) will be saved here for easy access later. When you're signed up, type your company name and tagline into the space provided and click
Let's Go
.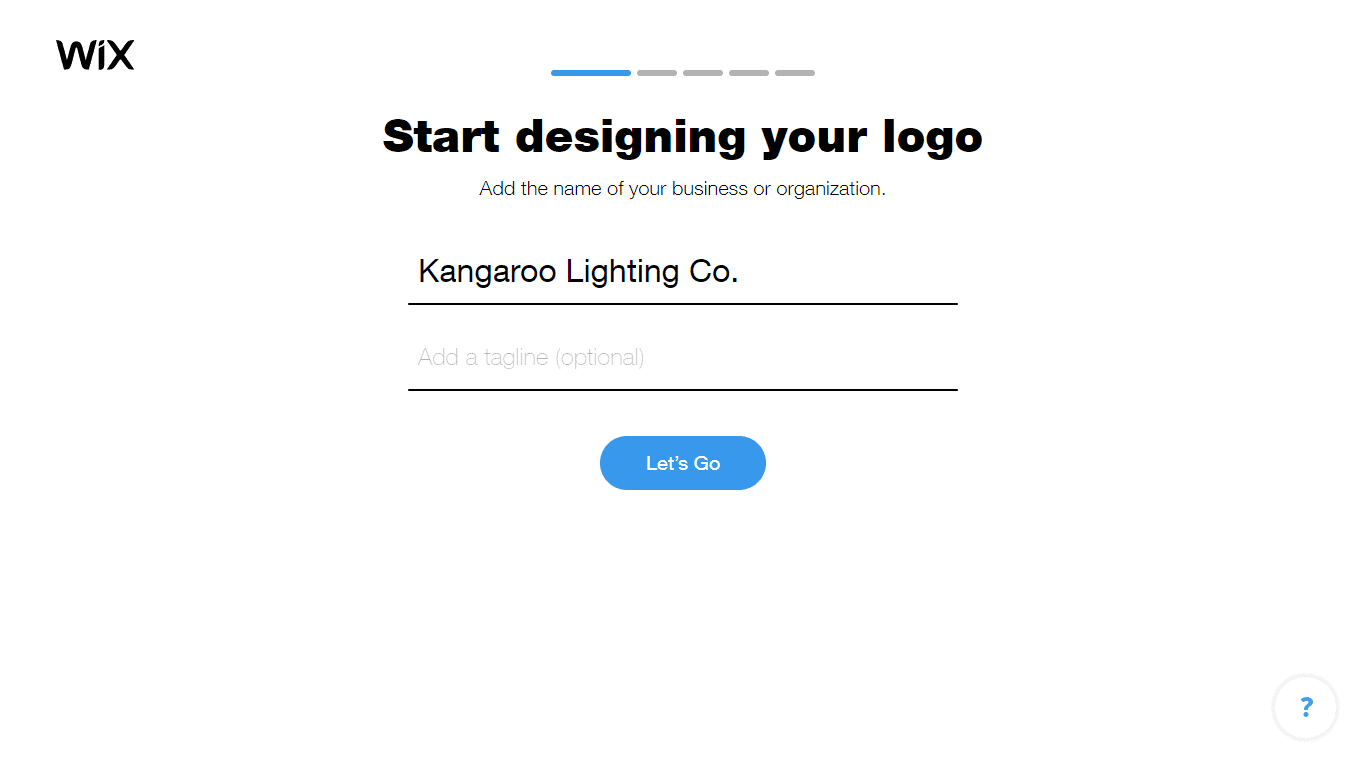 Start typing your company industry into the search bar to bring up your options. Choose the correct industry from the dropdown menu and click
Next
to move on to the next question.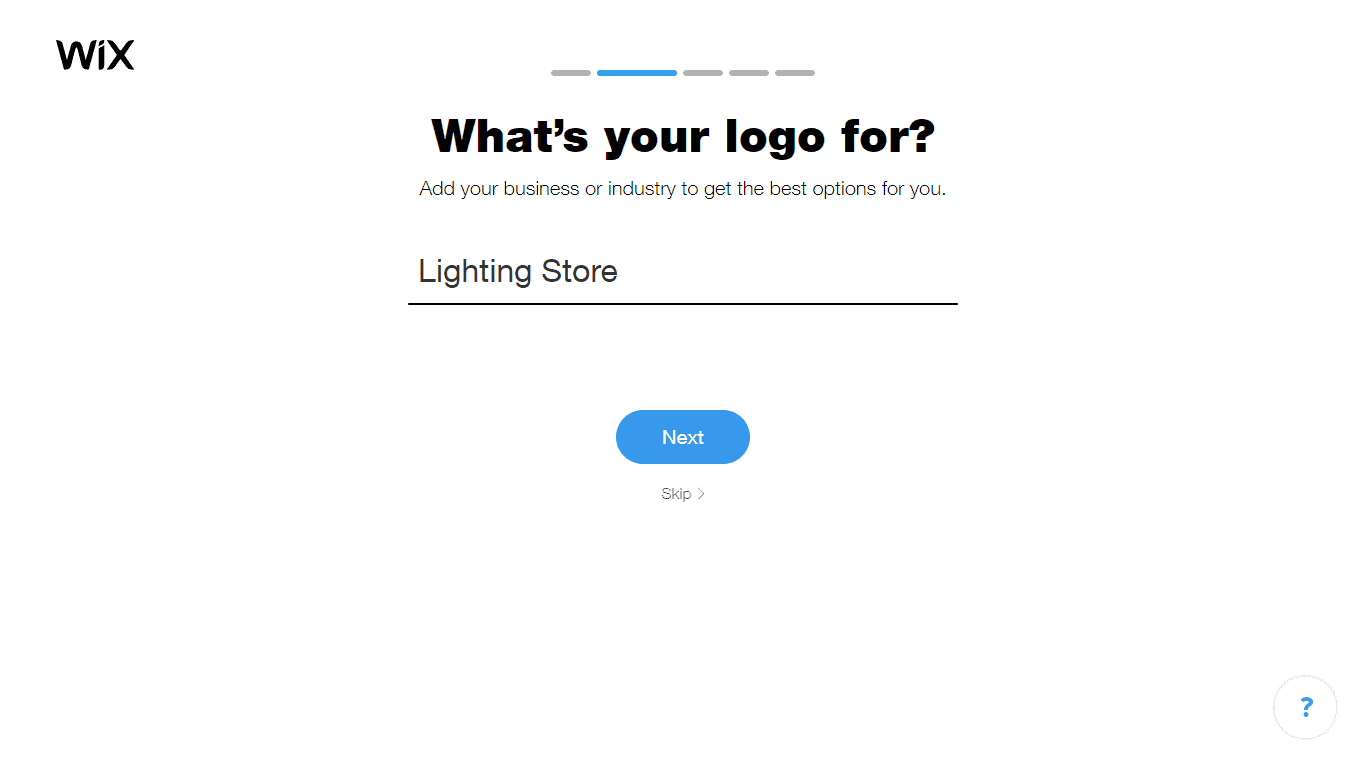 What do you want your final logo to look and feel like? Choose words from the list of adjectives that match the characteristics of your perfect logo. The word "modern" is included on the list, so be sure to select that one and any others that may apply.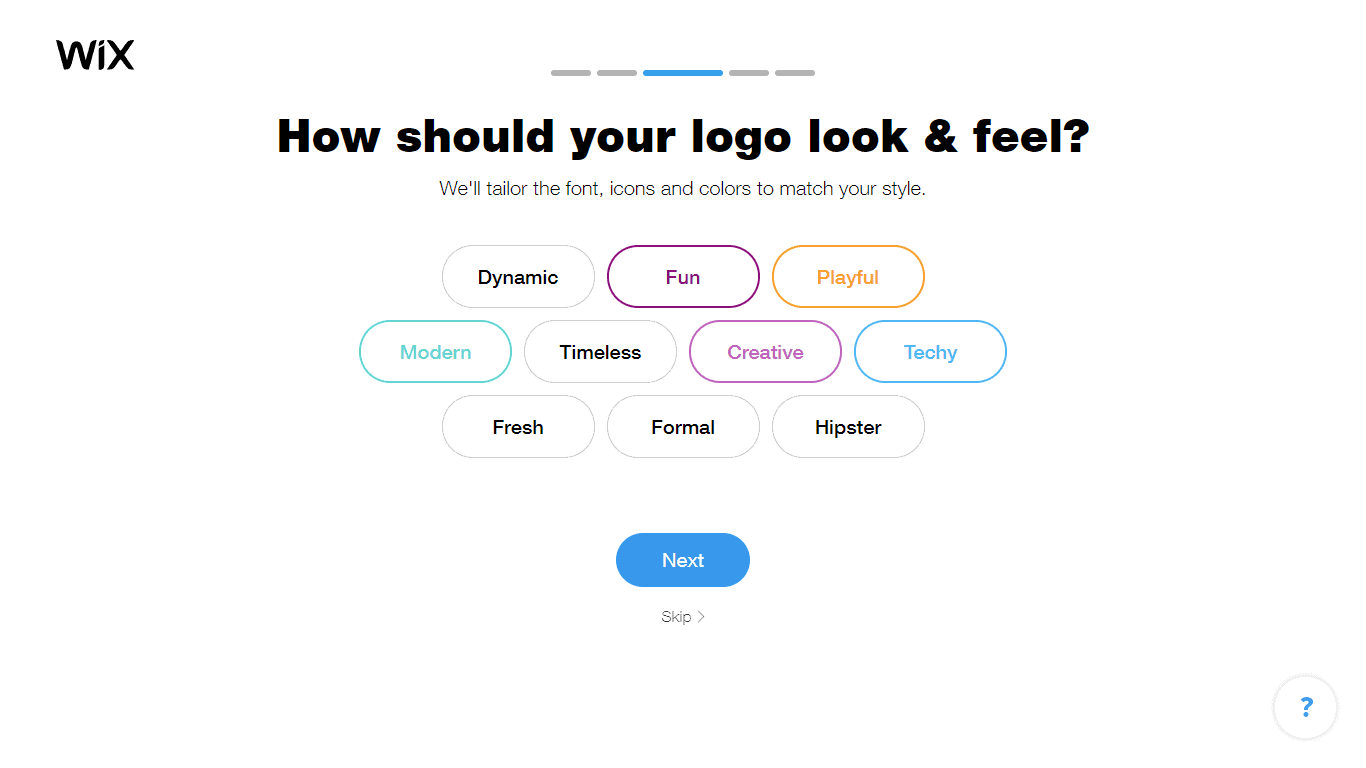 The logo pairings are up next. The AI will show you a sequence of five logo pairs and you'll be tasked with selecting the logo you prefer. This helps the AI determine which style of logo best suits you. If you don't like either design, click
I don't like either of them
to skip the pair.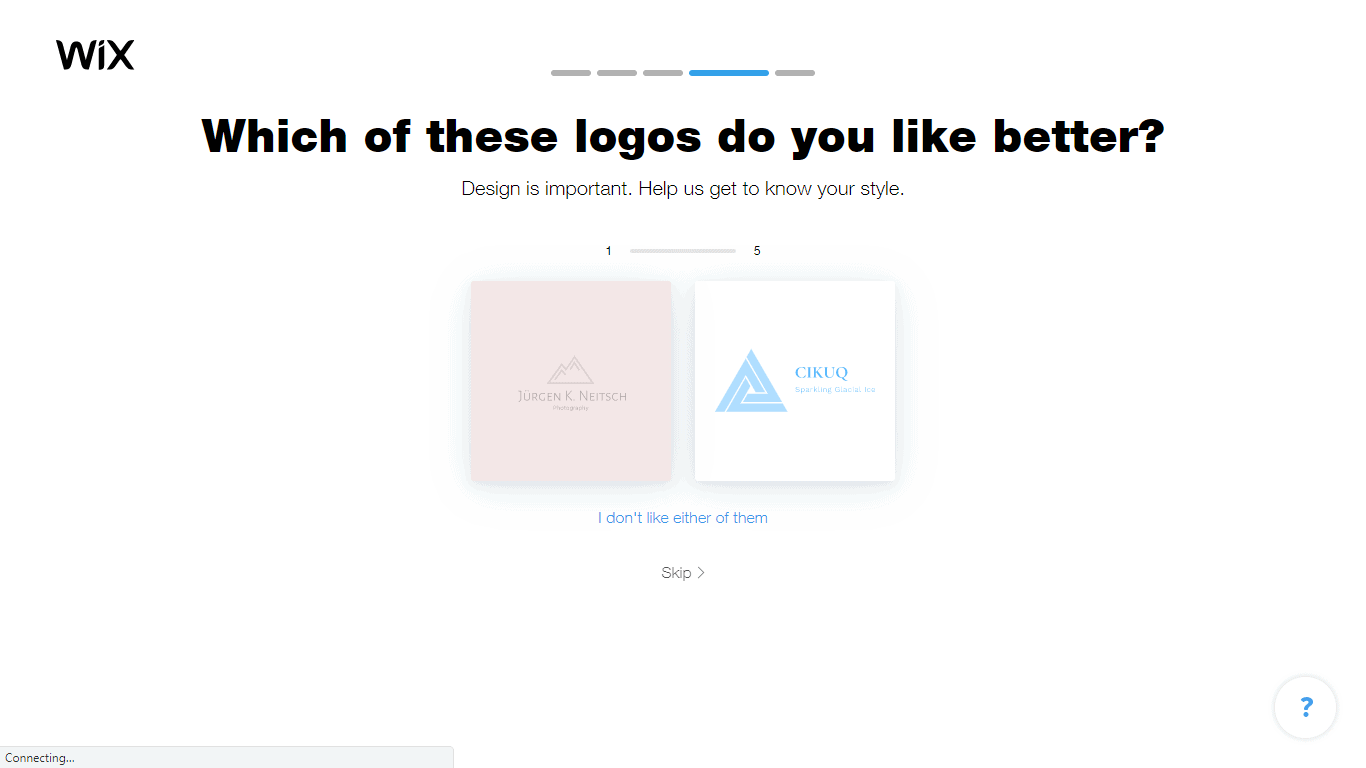 Lastly, tell Wix Logo Maker where you intend to use your logo, such as on social media, a website, or merchandise.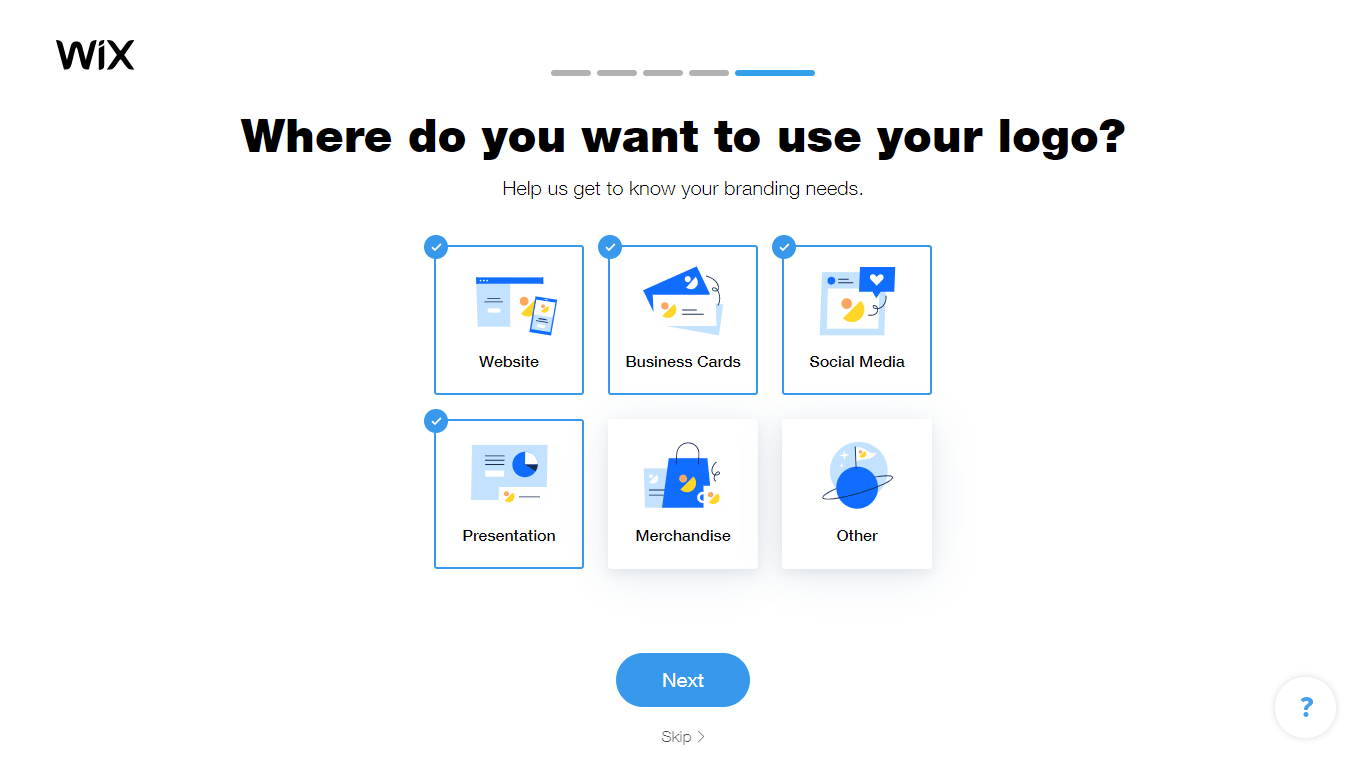 The AI will take a few moments to do its thing and generate your logo suggestions. Take your time scrolling through your results. Wix Logo Maker always generates lots of options, so click
Load More
if you reach the end of the page and want to continue.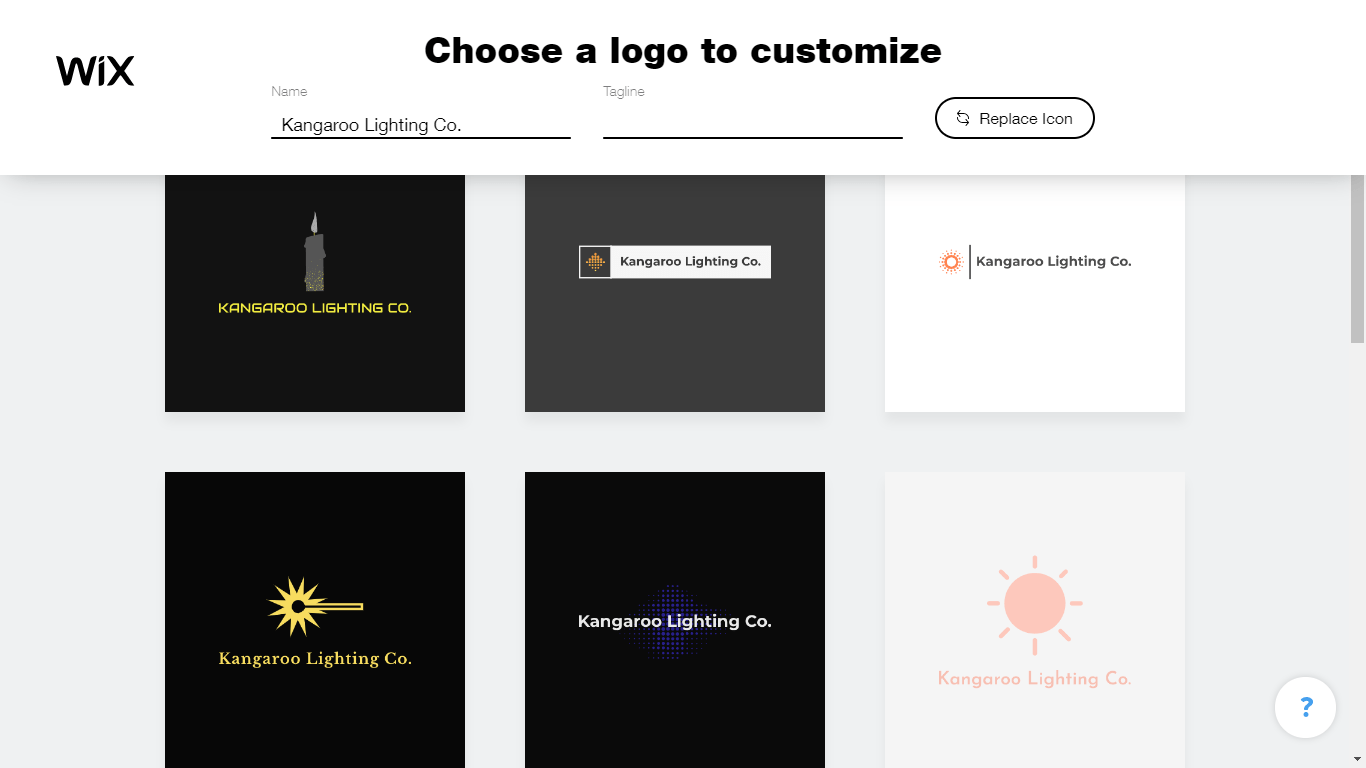 To see more icon options, click
Replace Icon
in the top right corner and search for a new image. You could try "modern" or "abstract, but in my example, I searched "lighting" icons to match my industry, and then found a modern-looking icon from those results.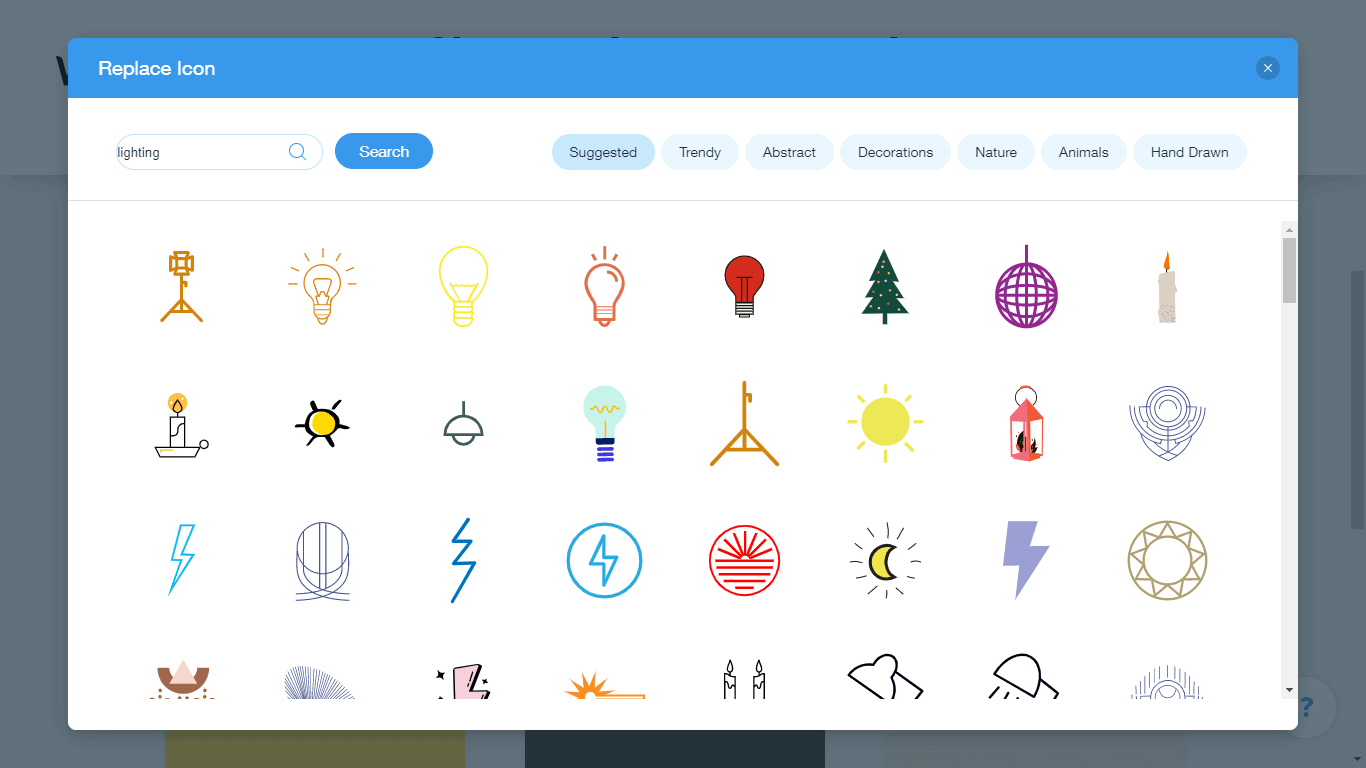 When you're ready to edit, click
Customize
on your logo of choice to be redirected to the logo editor. This is where you'll really be able to express your creativity! Wix Logo Maker has more than 70 unique preset color palettes, 200+ font styles, and thousands of icons to choose from. The design combinations are endless, which means you'll be able to create something unique.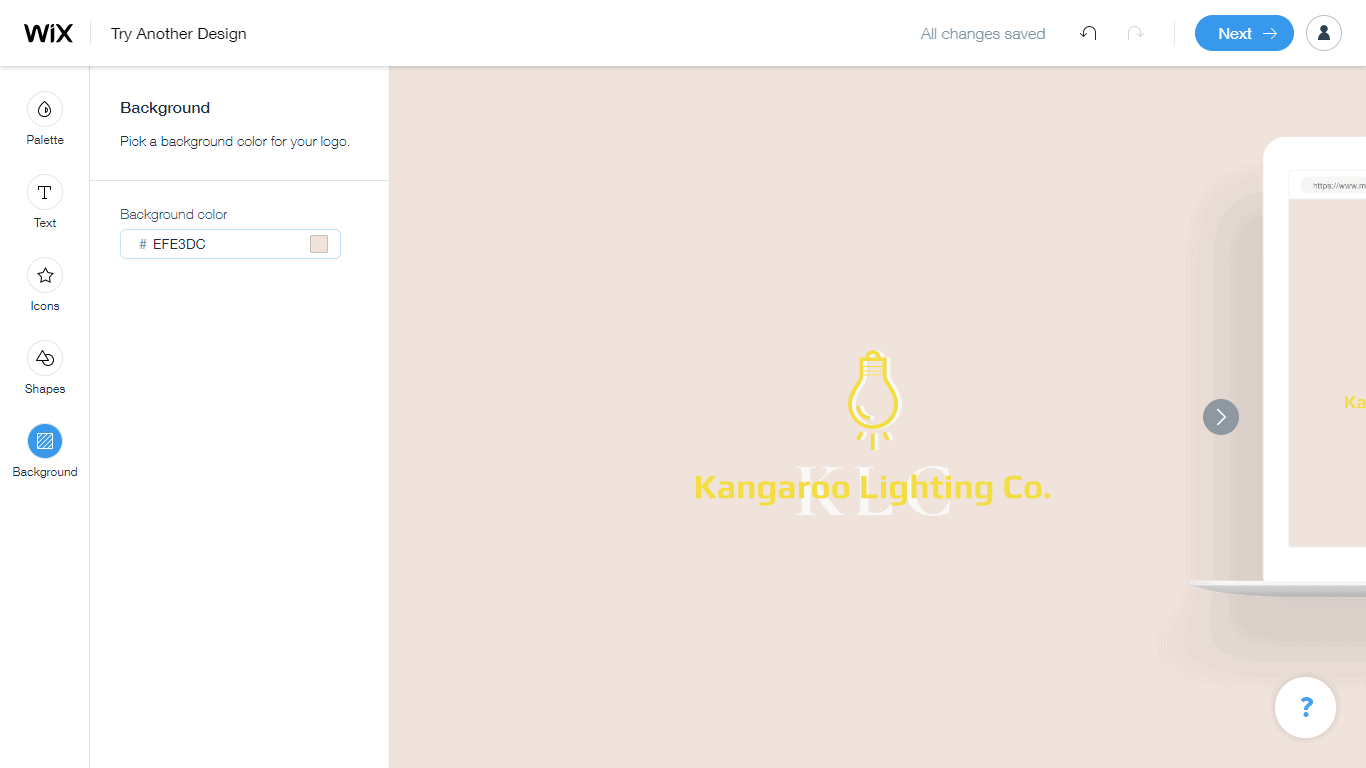 Once you've finished your edits, click
Next
to choose your package and pay for your logo to be able to download it in a usable, high-resolution format. You can also opt to download a free, smaller-size logo to use in comparisons as you continue your logo search.
Wix Logo Maker Alternatives:
LogoMaker – If you require a simple design for your modern logo, the ideal tool to use is Logo Maker. You can achieve a complete logo with quality results in just four easy steps, taking you from 0 to 100.
DesignEvo – DesignEvo is home to more than 10,000 quality logo templates. Use the search bar on the left of the homepage to find suitably modern designs among the thousands of options.
Find out more about Wix Logo Maker, including more logo examples, in
our in-depth Wix Logo Maker review
.
Final Thoughts
Fiverr is the only platform where you can access design packages from thousands of pro designers for as little as $5
. Even if you have a small budget, Fiverr should be your first stop, as you may be able to get more for your money than you may think.
Wix Logo Maker is an amazing logo alternative for the artistically-minded logo seeker
. The tool's advanced AI technology will help you design a logo that doesn't look like a sloppy DIY project. Creating your own logo design has never been this simple or straightforward. Still on the lookout for the perfect logo design service? Check out my colleague's
detailed logo design services comparison
 to see how some of the popular services, including Wix Logo Maker and Fiverr, held up in his experiment.